26 Best Ways to Wear Curtain Bangs for a Round Face
Shaggy Curtain Fringe for Short Hair
@amberhendersonhair
A shaggy curtain fringe for short hair is the perfect addition to any haircut. This fringe softens your whole look while supplying an alluring and feminine frame for your face. Ask your stylist if he or she thinks bangs would be good for you, your personality, and your lifestyle.
Bob with Longer Curtain Bangs for Older Women
@olyakuzochkina
A bob with longer curtain bangs for older women is a timeless classic. Keeping the length at the chin and adding a blended curtain bang is an ideal cut for round faces. To achieve that curtain look use a lightweight styling cream on wet hair and dry with a round brush, drying away from the face.
French Bob with Curtain Bangs for Women Over 60
@shelly.philippelusi_cranberry
A French bob with curtain bangs for women over 60 is ideal if you're looking for a haircut that is youthful and on-trend. A French bob is a chic take on a classic shape and any cut with curtain bangs is very contemporary and stylish. Try using a styling tool like the T3 Airebrush Duo to give those curtain bangs that extra polished flip. Plus, they help hide forehead wrinkles and crow's feet!
Cute Pixie Bob with Middle-Part Bangs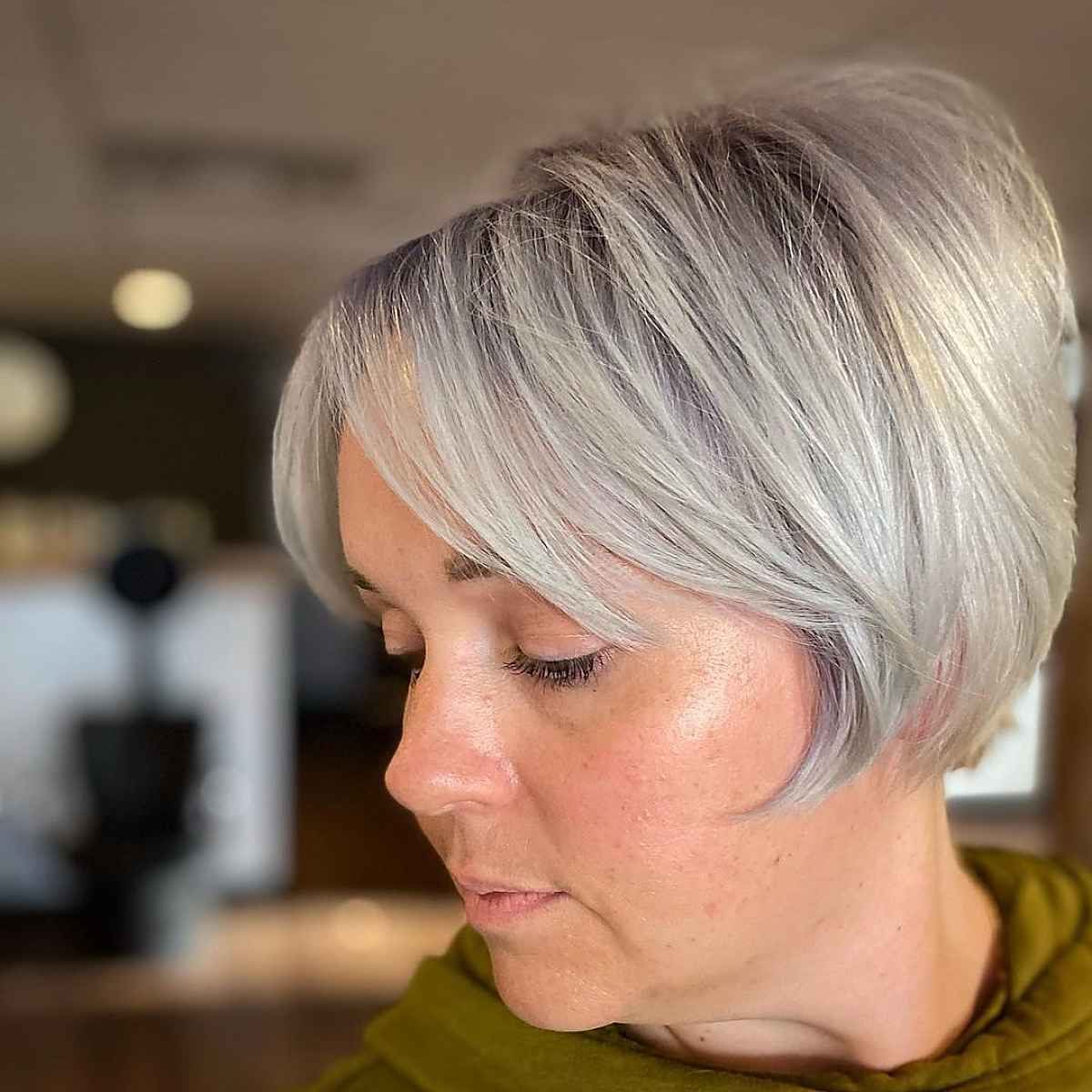 @artistrybyrachelp
A cute pixie bob with middle part bangs for women with chubby cheeks is a great option if you're looking for a short cut that won't make your face look fuller. Short hairstyles for round faces should have lots of texture throughout the ends so it does not create extra visual weight. Asking your stylist for a graduated, a-line pixie bob can also help to further slim the face.
Wispy Curtain Fringe for Women Over 40 with Round Faces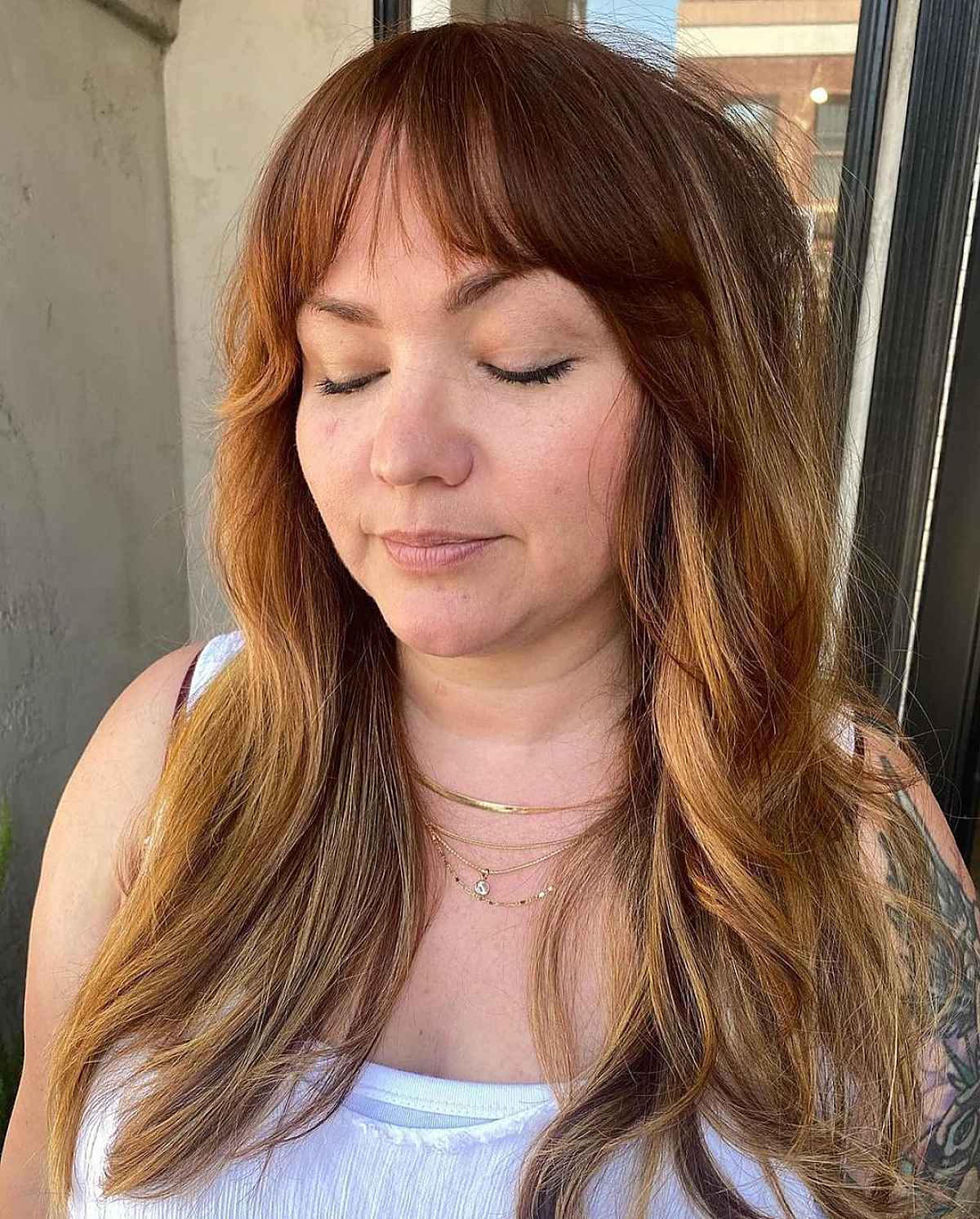 @jonmichaelsalon
A wispy curtain fringe for women over 40 with round faces is a beautiful contemporary and flattering fringe idea. A center part with length on each side and wispy texture is a perfect style for round faces and will help give a slimming effect. Use a hairspray like Davines. This is a medium-hold hairspray to accentuate the texture and keep them in place all day.
Lob with Middle-Part Bangs for Women Over 70
@atmosphaircopenhagen
Wearing a lob with middle-part bangs for women over 70 keeps things simple. Bangs can be any length that compliments a woman's eyes, face shape, and length of the lob. Cuts with curtain bangs allow for face-framing with a low ponytail, a twist, or a half-up style.
Layered Shag with Longer Curtain Bangs
@ernestomeneses
A layered shag with longer bangs might be what you need to upgrade your style in an instant. If you like to keep your hair long, but you're tired of the same old look, you should give this style a try! After styling, spray some Moroccan Oil Dry shampoo at your root area and rub it in for extra texture and volume.
Related: See more layered haircuts with curtain bangs.
Curtain Bangs for Straight Hair
@xelamack
Curtain bangs for straight hair and fat faces complement each other. Styles with curtain bangs are often soft, feminine, and flattering. If you love your long-length hair but want to upgrade your hairstyle, ask your stylist if they think this haircut would suit you best.
Feathered Curtain Fringe for Round-Faced Women
@christopherluis_vivid
A feathered curtain fringe for round-faced women is flattering! Curtain fringe and round faces go hand in hand. The weight line of the fringe frames the face in a way that compliments round face shapes, making them look slimmer. Ask your stylist if this look would suit you!
Related: See more hairstyles for women over 40 who are plus-size.
Razored Cut with Parted Bangs for a Softer Jawline
@bareeminimum
A razored cut with parted bangs for a softer jawline is flattering. Curtain bangs and round faces are two components that work well together. A cut like this will make you stand out from the crowd. This style would work very well for women with wavy hair and an edgy, stylish personality.
Low-Maintenance Shag with Bardot Bangs for Round Faces
@xelamack
A low-maintenance shag with Bardot bangs for round faces is one to remember. This chic style with curtains bangs will have you looking into every mirror you pass. To get this style, spritz some Redken Guts 10 at your root area before blow-drying for big volume and hold.
Related: See more ways to wear bangs for round faces.
Cute Ponytail with Curtain Fringe
@hannahlouise.hair
Can you even with this cute ponytail with curtain fringe? Try this fun style if you're looking to wow everyone without being too formal. The fringe softens the face while the upstyle lifts the eye.
Medium-Length Shag with Parted Bangs for Women Over 50
@allisoncarrollbeauty
Opt for a medium-length shag with parted bangs if you're a woman over 50! Not only is this a great style for round faces, but it will also have you feeling youthful without trying too hard. If you're looking for a soft but stylish cut for your medium hair, do yourself a favor and try this out.
Short Bob Hairstyle with Curtain Bangs
@hairbykarafina
A short bob hairstyle with curtain bangs is so popular right now! Decades ago, haircuts for round faces weren't anywhere near as flattering and soft as this. Ask your stylist if they think curtain bangs are for you!
70s Shag Cut for Long, Thick Hair
@alchemyxhair
A 70s shag cut for long, thick hair is such a chic style. This cut will turn heads but is extremely low-maintenance. With this style you get the best of both worlds, long and short!
Curtain Fringe Haircut for Round Faces
@drethings
A curtain fringe haircut for round faces is so cute! This style is perfect for those of you who love your long hair but want to try something new that gives you more lift and volume, especially if you have thin hair. After styling, spray a heavy layer of Redken Wind Blown all over and tousle for a messy but gorgeous look.
Related: See more long hairstyles for round face shapes.
Mid-Length Shag with Parted Bangs for Round Faces
@carlie_creammelbourne
A mid-length shag with parted bangs for round faces can be the perfect option for you, especially if you have curls or fine hair. Haircuts for round faces tend to be slimming and this cut is wonderful for that. This style is perfect for those of you that like messy hair!
Curtain Fringe on a Long Bob for Women with Round Jawlines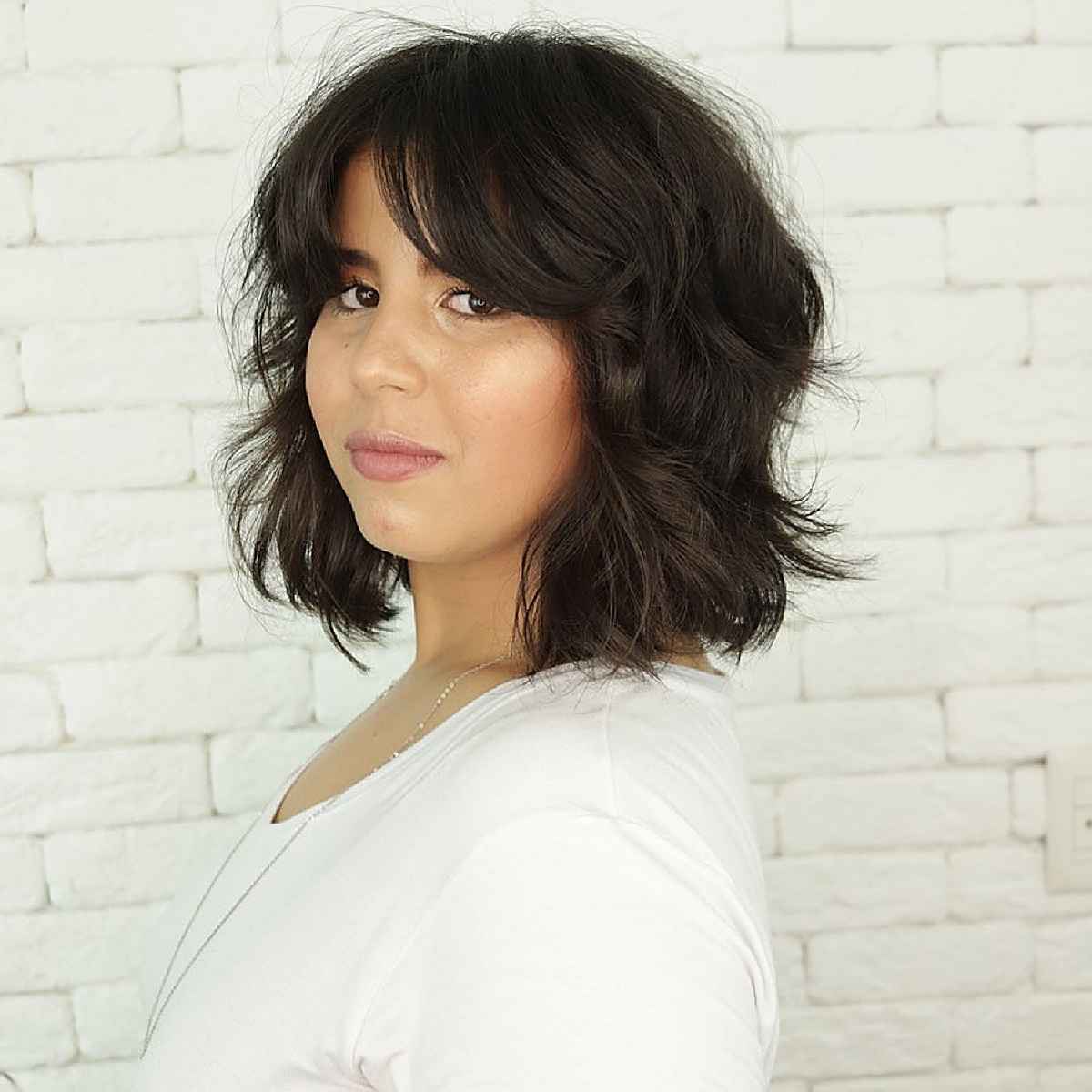 @giboazhair
Try a curtain fringe on a long bob for women with round jawlines if you love a soft style with tons of movement. Women with curtain bangs have the best of both worlds. Cute bangs when you want them yet easy to pin back when you don't. Talk with your stylist to help you come to a decision about what length to try.
Shoulder-Length Shag with Long Curtain Bangs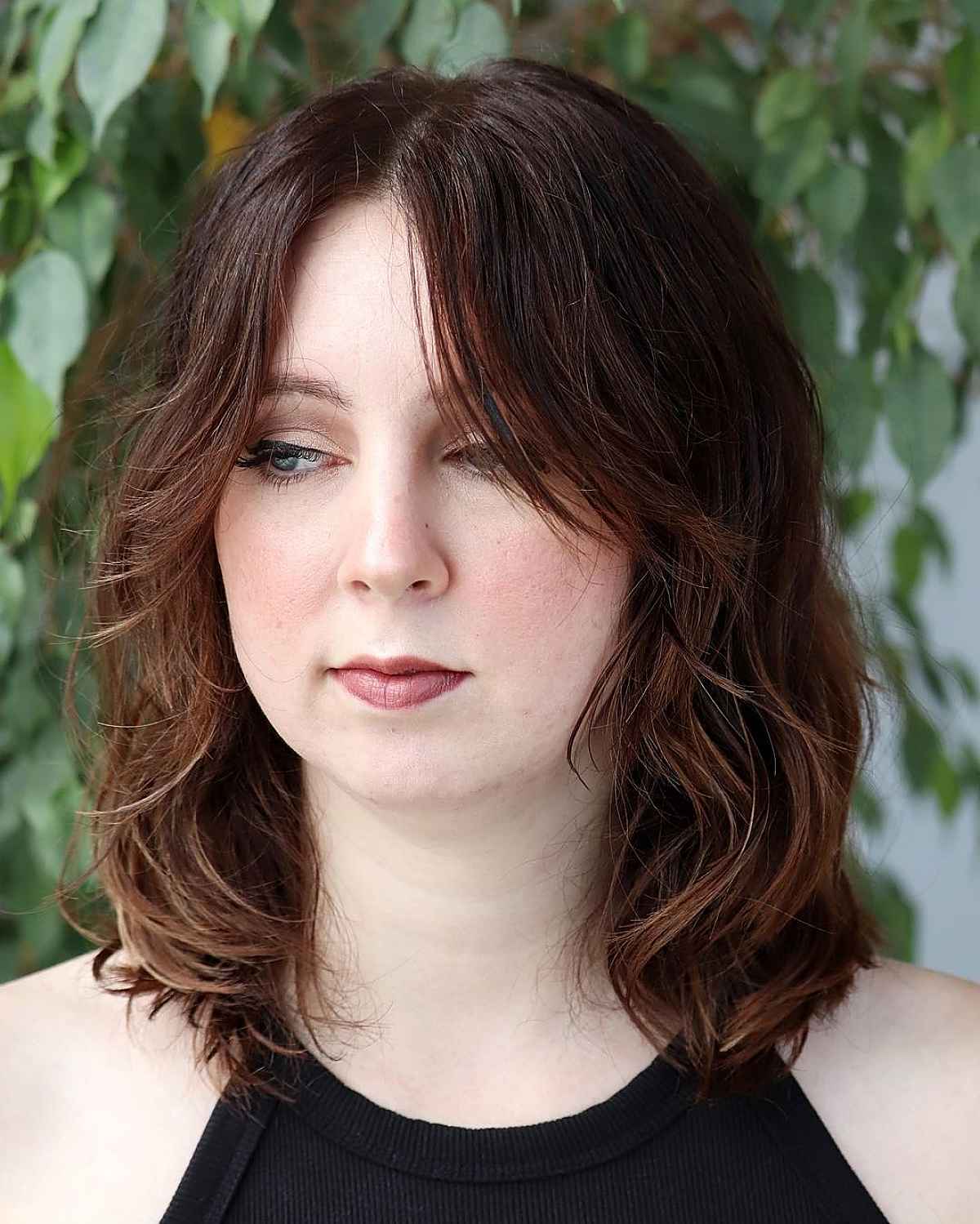 @thebeautyfactorysalon
A shoulder-length shag with long curtain bangs for chubby faces can be perfectly slimming. Hairstyles with curtain bangs soften and slim down the face to make them one of the most flattering accessories you can have! Ask your stylist to show you how to style your curtain bangs so that you can keep them looking amazing at home.
Long Shaggy Hair for a Round Face Shape
@ashley.loves.hair
Long shaggy hair for a round face shape switches up your hairstyle from dull to glamorous! This hairstyle for round faces highlights your facial features quite well. After styling, sprinkle a small amount of Schwarzkopf's Osis+ Dust It on your root area and rub it in for added texture and volume.
Curly Shag for a Soft Jawline
@hollythehairslayer
A curly shag for a soft jawline is the epitome of an edgy style. A haircut with curtain bangs softens your facial features. It's perfect for women with wavy or curly hair. Apply a quarter-sized drop of Moroccan Oil's Curl Defining Cream to keep your style frizz-free and shining.
Curtain Bangs for a Rounder Face
@alchemistamber
Try curtain bangs for a rounder face if you're looking for a haircut that slims down your face shape. Haircuts with curtain bangs can work for almost any face shape, but especially for women who want to soften the roundness of their faces. Ask your stylist if they think this style would suit you.
70s Curtain Bangs for Round Face Shapes
@hairbycalliesmith
70s curtain bangs for round face shapes are popular for a good reason! A style with curtain bangs can be a fresh look for women with thick, wavy hair. After styling, spray a fine layer of Redken's Control Addict. Let it dry, then comb through with your fingers for a bouncy finish.
Edgy Curtain Fringe for Women Over 30 with Round Faces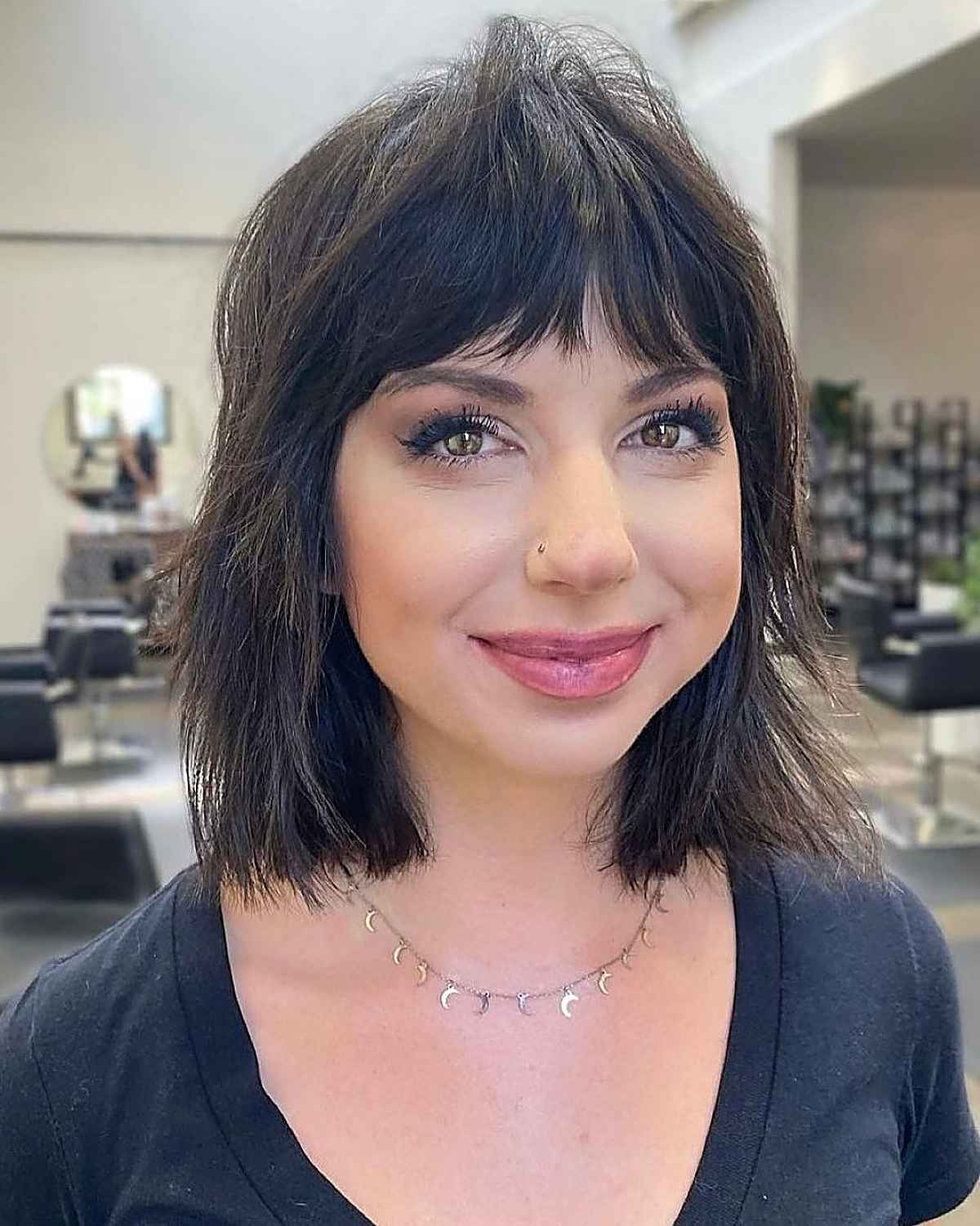 @societystylelounge
Trying an edgy curtain fringe for women over 30 with round faces could be the best thing for you! This cut for round faces will give you a modern and stylish look that is not difficult to maintain and style. In styling, spray your damp hair with Redken's Quick Blowout before drying to cut down your blow-dry time.
Curtain Bangs for Long, Wavy Hair
@hollygirldoeshair
Curtain bangs for long, wavy hair are the cutest addition to any cut. Women with round faces can benefit from this softening style. The layers and fringe soften the face in the most feminine way. Find a stylist who specializes in shag cuts to give you this look.
Traditional Curtain Bangs for Round, Chubby Faces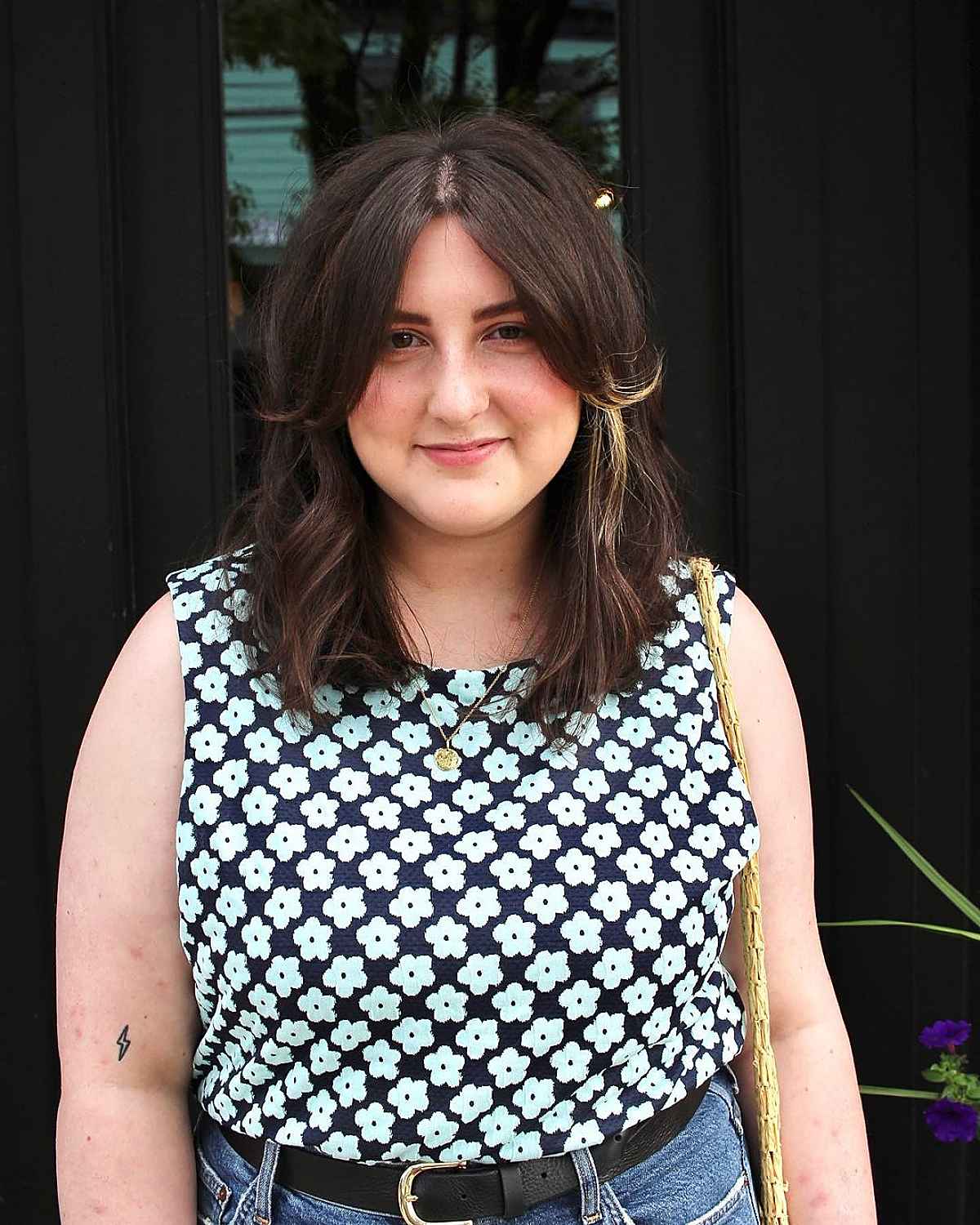 @haireanne
Traditional curtain bangs for a round chubby face are lifesavers! A woman with a round face will benefit from these curtain bangs to soften and highlight her facial features. Try this look if you want something new that won't accentuate any harsh angles and lines.
Related: See more hairstyles for curtain bangs.