16 Stylish Bob Haircuts for Women Over 70 Who Want a Fashionable Look
Short Stacked Bob
@amy.farrahhair
A short stacked bob is the most common choice as it is particularly flattering on women over 70. Bob hairstyles can complement almost anyone, but when applied to older women, the results are ravishing. This short stacked bob creates lift, texture, and distracts from the low density of the hair.
Chin-Length Stacked Bob
@thebeautydistrictnaples
A chin-length stacked bob is the pinnacle of bob haircuts for ladies over 70. It's the most well-known and for good reason! Women over seventy will benefit from a bob hairstyle as these cuts tend to hide signs of aging hair.
Rounded Bob Cut
@thebeautydistrictnaples
A rounded bob cut is a universally flattering choice for women over 70. This short style is an easy way to achieve a full, sleek, and age-appropriate finish. A bob haircut also compliments any hair color preference, including silver hair or grey hair.
Curly Bob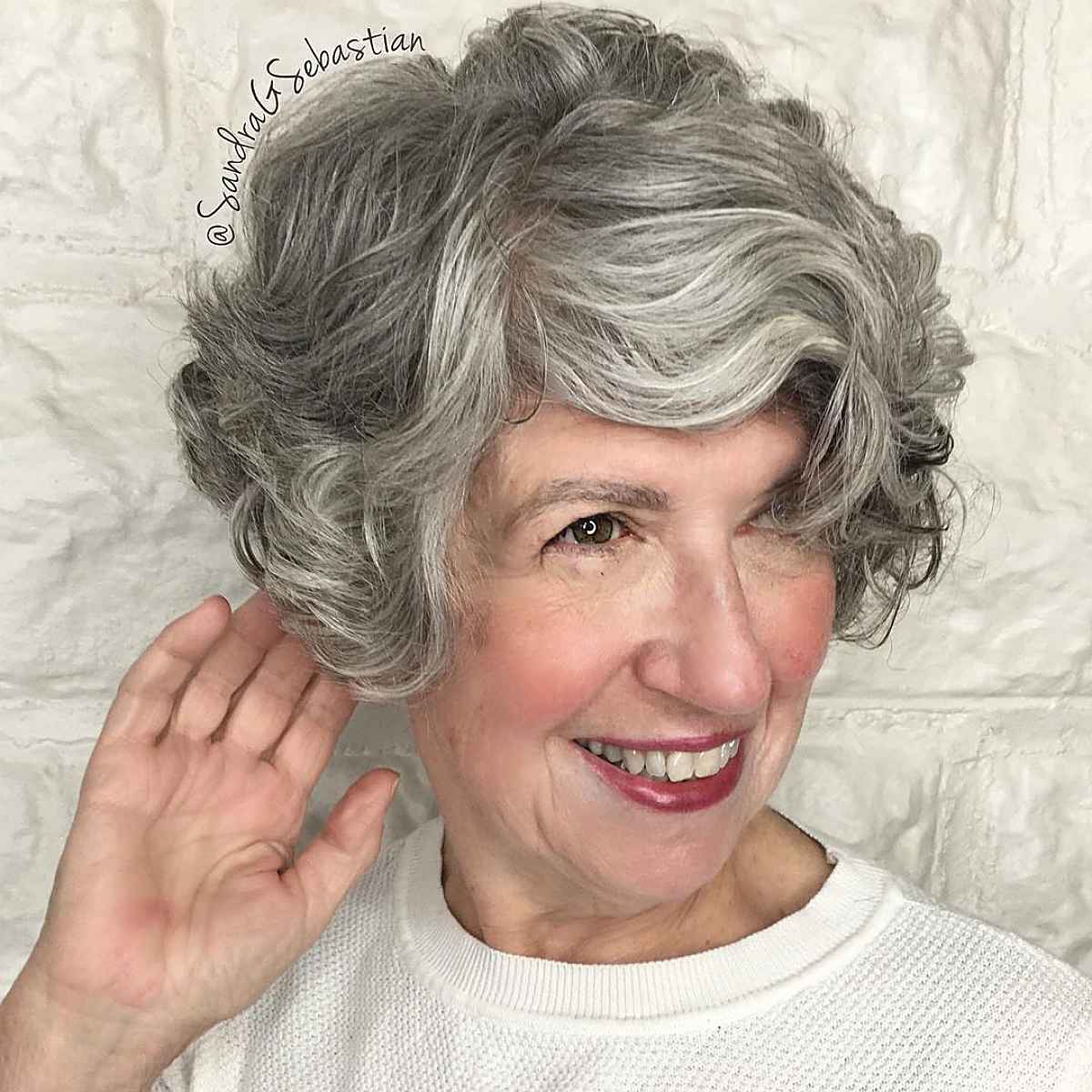 @peacockbeautystudionj
A curly bob is the best way to avoid "style fatigue" for women in their seventies. This timeless curly hairstyle is particularly flattering on naturally wavy or curly hair. Transform your look, embrace your texture, and opt for this chop!
Wash-and-Wear Shaggy Bob Haircut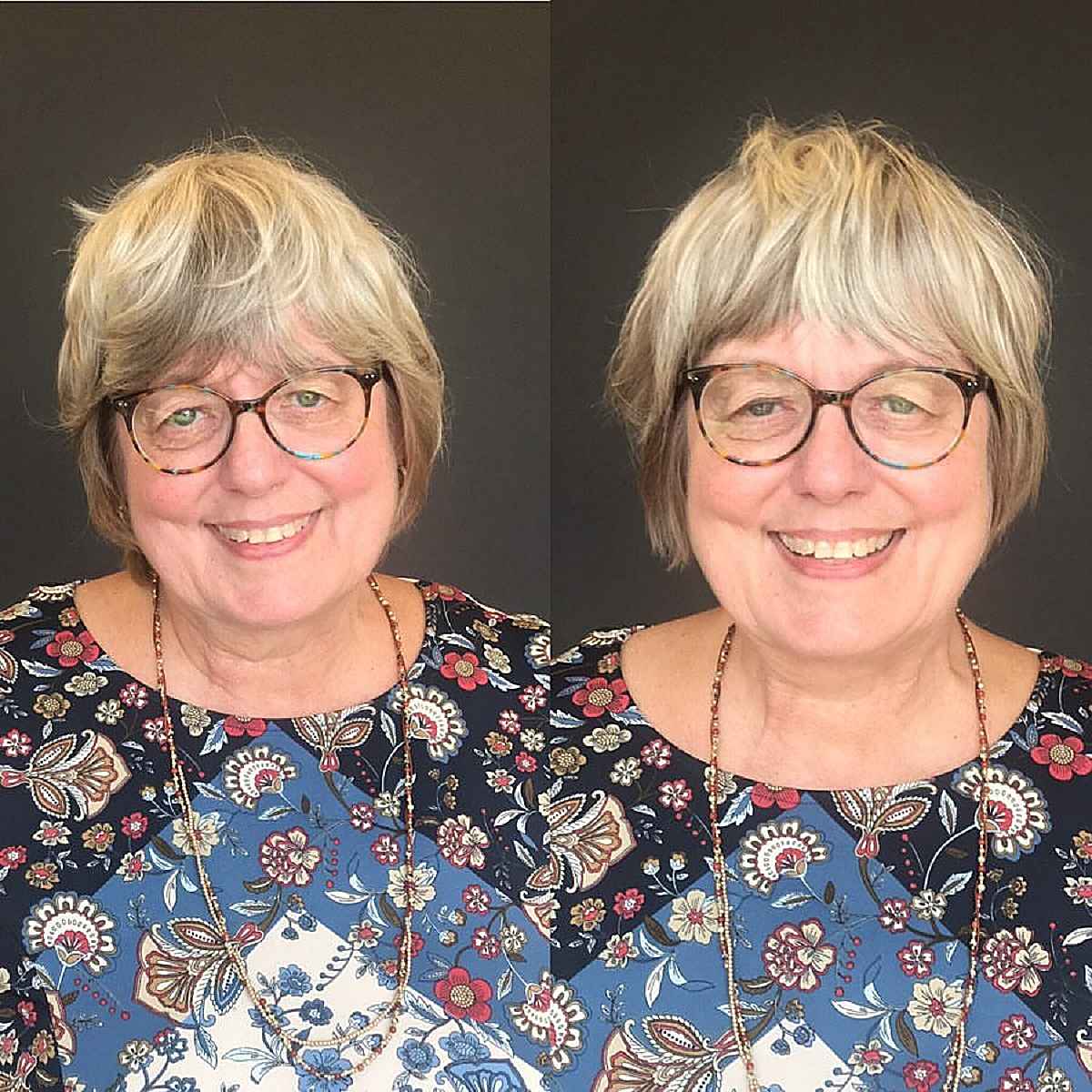 @swankyhairdesign
A wash-and-wear shaggy bob haircut is a flattering style choice for women in their 70s who wear glasses. Short, wash-and-wear looks not only save time on styling, but also add a youthful edge that can be easily dressed up for any occasion. Pro Tip: don't forget to keep a tub of Amika's "Got Grit" or mousse in your arsenal to add texture and definition to your tresses.
Related: See more hairstyles for women over 70 with glasses.
Youthful Blunt Bob
@nikki_musecreative
70-year-olds who prefer a sharp and elegant cut should try a youthful blunt bob. The precision of this coif really shines with a smooth, beveled finish. When styling this layered hair, reach for Paul Mitchell's "Super Skinny Smoothing Balm" and massage it into the hair before blow-drying.
Younger-Looking A-Line Bob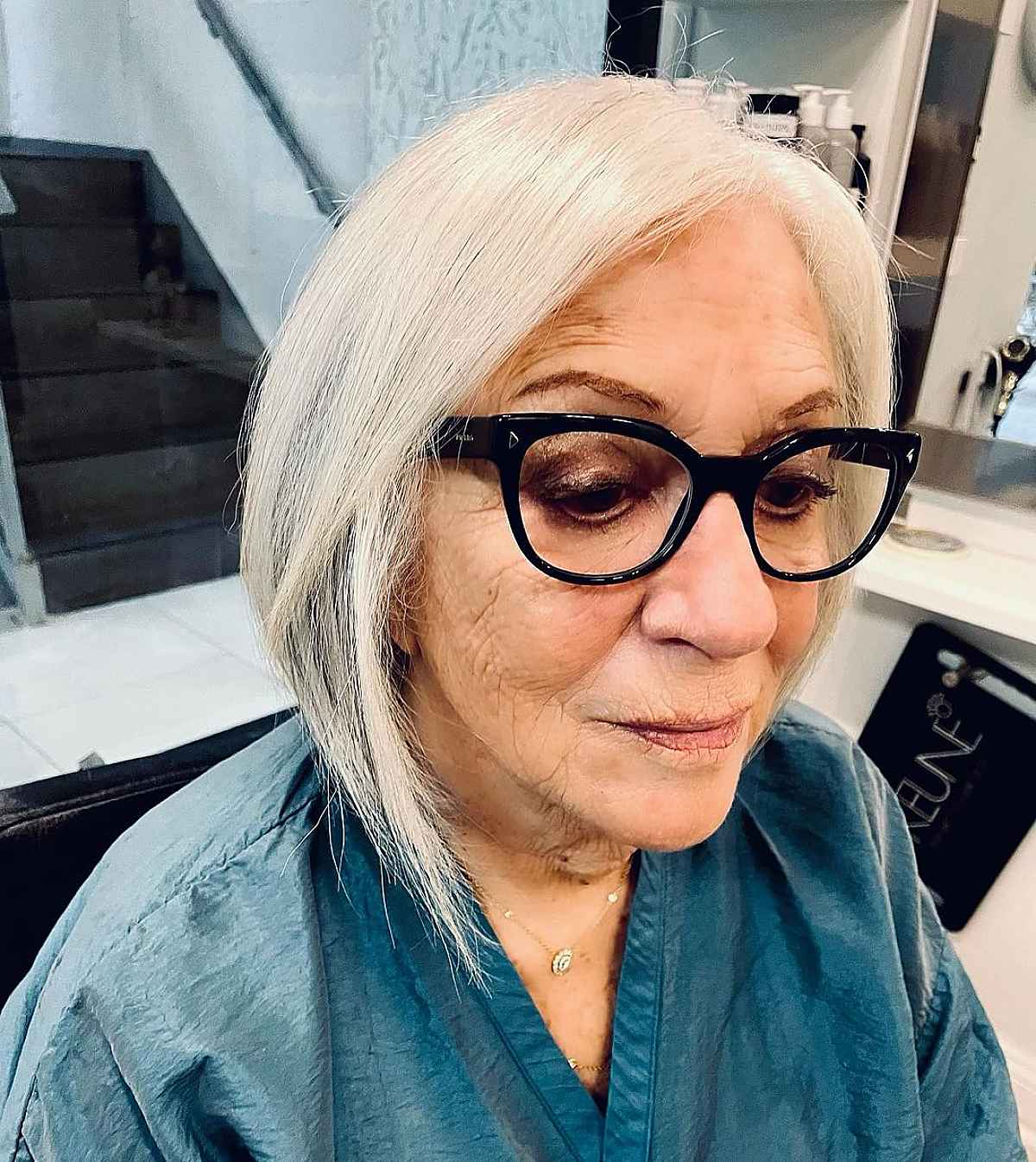 @suedejaxbeach_carolking
A younger-looking a-line bob is a key to the time machine! With a few simple snips, women who try this hairdo will look 10 years younger. Be sure to ask your stylist for a "slight angle forward" around the face, as this will offer a slimming effect.
French Bob with Bangs
@cgcut
A French bob with bangs will suit a multitude of faces. 70-year-old women with oval, heart, and/or long face shapes will find this look to be very complimentary. French bobs with wispy bangs are "timeless" and fit seamlessly into any style era. Plus, the bangs can help to hide any forehead wrinkles.
Edgy Asymmetrical Bob
@junecroken
When a unique cut is the goal, women aged 70 and up should try an edgy asymmetrical bob. If you already have a bob but want to try this look, ask your stylist to shorten the back while maintaining length in the front. The best part about this style? The front can still be tucked or pulled back when hair needs to be kept out of the face.
Salt-and-Pepper Classic Bob with Bangs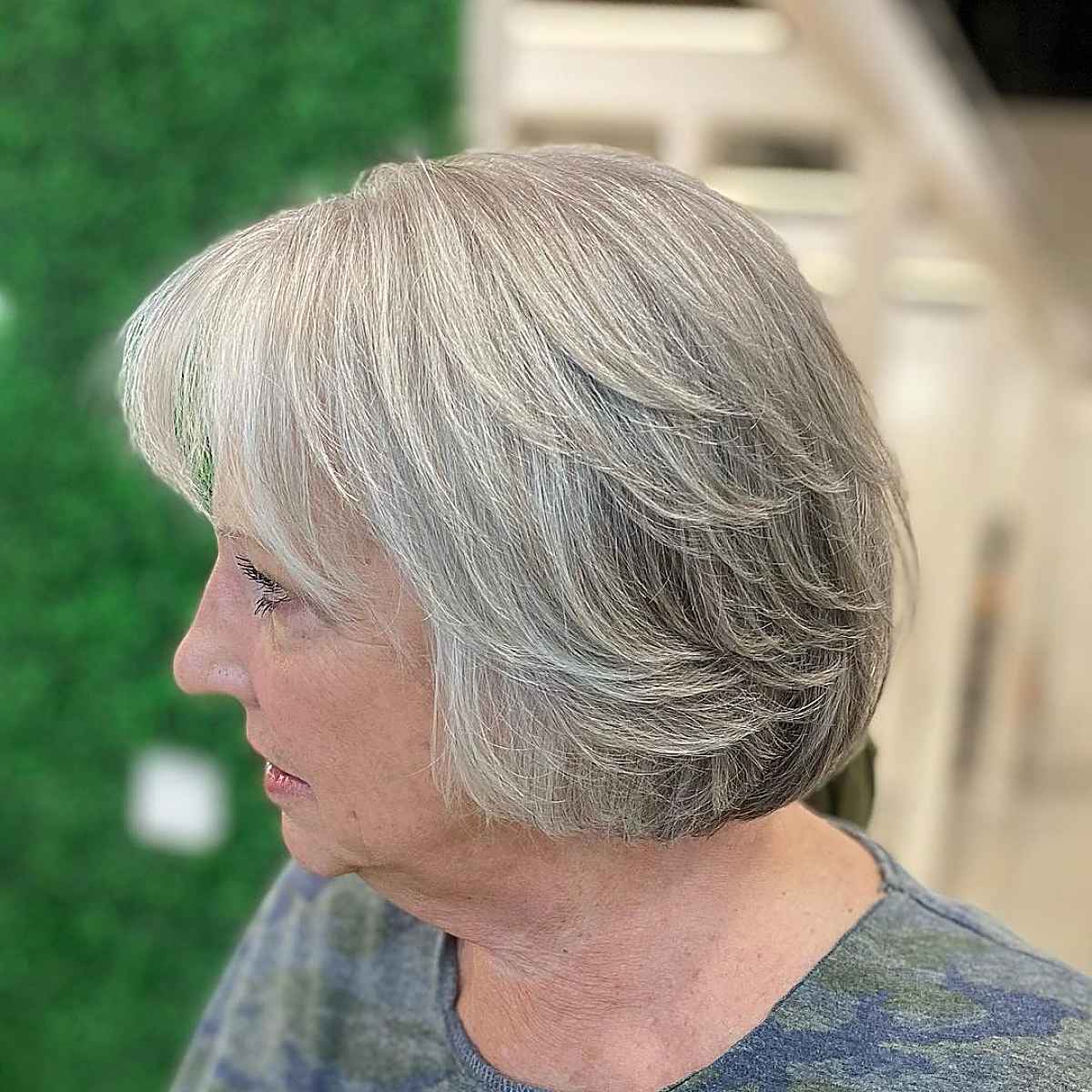 @amy.farrahhair
When youthfulness is the goal, a salt-and-pepper classic bob is the way to go! Bobs with bangs do wonders for aging hair. The blunt ends, bangs, and blended layers harmonize to create the illusion of density and volume.
Long Inverted Bob
@hairbangers_salon
Silver and white-haired women should try a long inverted bob. Precise bob cuts like this one are particularly gorgeous when paired with the bright tones of aging hair. Additionally, the sharp angles of this crop draw the eye down, ensuring that this look will complement any face shape.
Graduated Bob Cut
@hairsalon_llandrillo
A graduated bob cut is a popular style for ladies over 70. A senior citizen looking to keep hair off their neck, while staying stylish, should definitely try this look. Take this cut to the next level by asking your stylist to freshen up your fringe.
Easy Bob for Thinning Hair
@hair_by_brandiez
Ladies over seventy look ravishing in an easy bob for thinning hair. When straight hair begins to lose its density, opting for shorter lengths will make strands seem fuller. The blunt angles and layers of this cut create definition and allow for more bounce and movement.
Concave Bob Hairstyle
@dinh_hairsalon
A concave bob hairstyle is the ultimate way to create the illusion of opulence. This chin-length cut is a classic that never goes out of style. Don't forget to ask your stylist for soft and blended layers to complete your bobbed hair.
Low-Maintenance Pixie Bob
@cindyhstyles
If you're looking to "get up and go," try a low-maintenance pixie bob. Bob styles are perfect for women looking to keep their prep time to a minimum. Choppy layers at the crown paired with soft, side-swept bangs make this crop easy to dress up (or dress down) in a matter of minutes.
Classy Bob with Layers
@knh.hair.and.beauty
A classy bob with layers is especially stunning on salt and pepper hair. Opting for a layered bob hairstyle with soft curls will make silver strands shine and showcase dimension. Give your gray hair an extra boost of brightness by adding a toning wash to your shower routine, like Aveda's "Blue Malva Shampoo."
Related: See more haircuts for women over 70.