28 Stunning Curly Shag Haircuts for Trendy, Curly-Haired Girls
Edgy Shaggy Cut for Curly Girls
@mal.hair
Show off your style with an edgy shaggy cut for curly girls. Asking your hairstylist for a razor cut will soften the perimeters and remove any unwanted bulk. Shaggy hairstyles with curls are sure to turn heads wherever you go.
Curly Shag with Bangs
@chumeaterhair
If you're looking for some variation with your current curly shag try it with bangs. This will add interest to the haircut and frame the face beautifully.
Curly and Wavy Shag
@lilia_dzhadraeva
A curly or wavy shag is perfect for that authentic, lived in, easy maintenance hairstyle. Shags are a great way to give new life to curly or wavy hair without heat styling or chemical styling. A shag like this lends itself to thicker hair because thin hair can look more stringy if not cut and styled properly.
Curly Shag with Curly Curtain Bangs
@andy_doesyourhair
The curly shag with curly curtain bangs adds a modern twist to the classic shag haircut. The curly shaggy hairstyles have lots of layers, starting at the crown. The layers create a beautiful shape for women, especially for women with thicker brown tresses.
Shaggy Long Bob with Bangs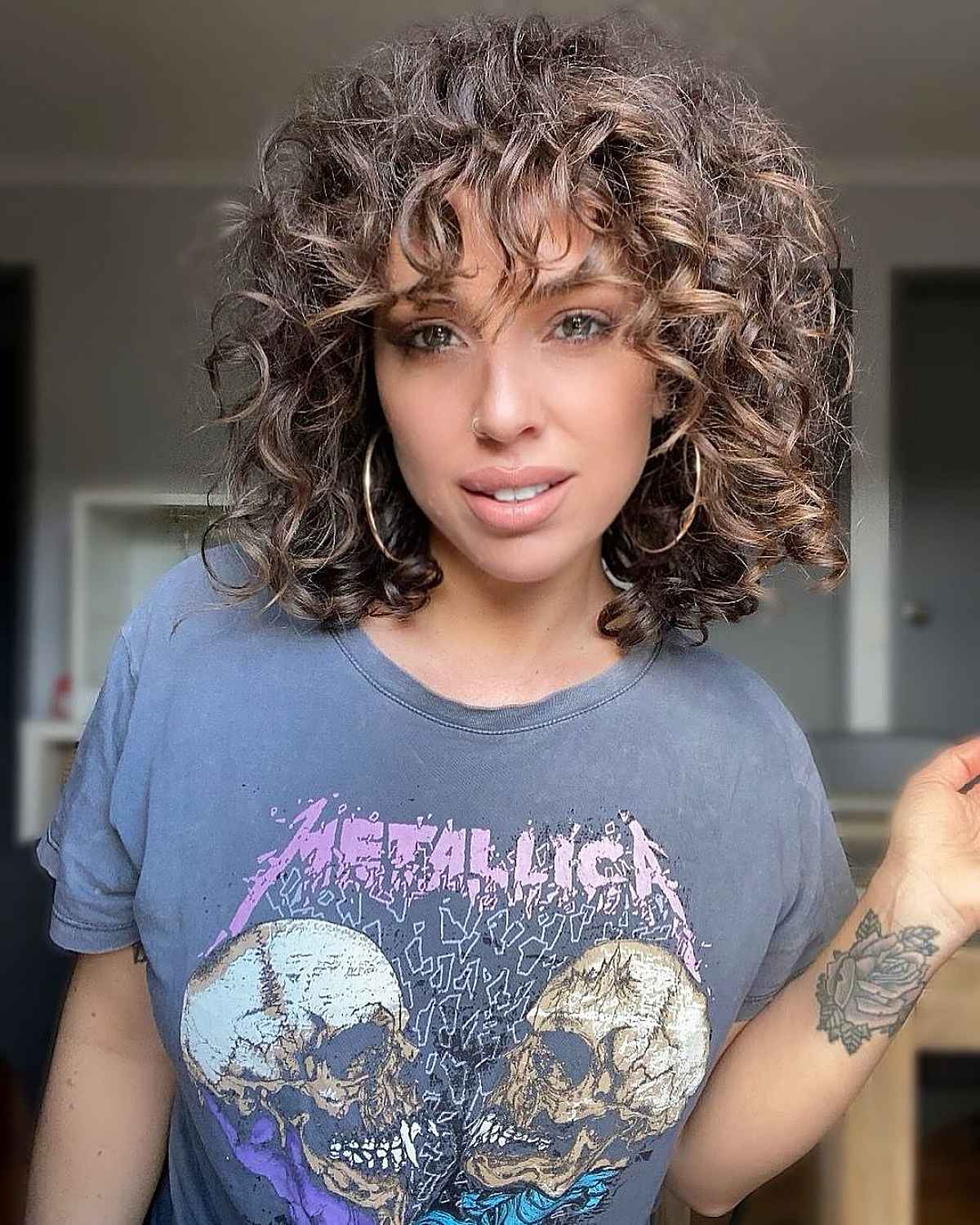 @courtneytreyvaud_hairartist
Give a shaggy long bob with bangs a try if you're looking forward to upgrading your current hairstyle. Adding a shorter fringe will add interest to your overall look. Shags and curls work so well together as they frame your facial features in the best way possible.
Related: See more shaggy bob hairstyles.
Shag Cut for Naturally Curly Hair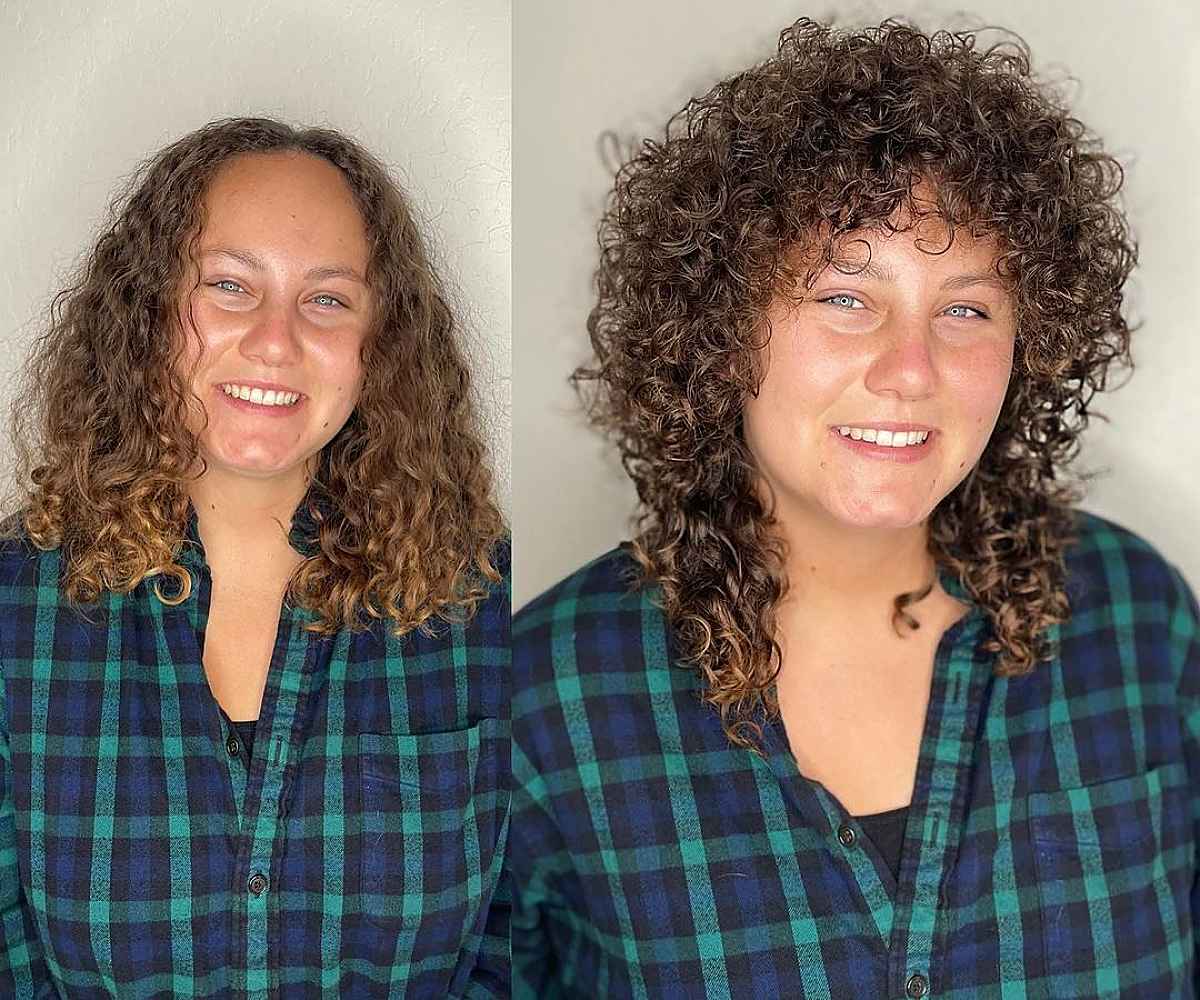 @bareeminimum
A shag cut for naturally curly hair will add instant volume to women with fine hair. Curls and shags go hand in hand as they compliment each other. In styling this cut, use Hairstory's New Wash and Cult+King's Set Spray.
Shaggy Curly Bob for Women Over 70
@annet_v_h
A shaggy curly bob for women over 70 will keep you looking young and stylish. As we mature, our hair tends to go gray so, why not showcase it by keeping your hair color and sporting shaggy curly hair?
Curly Shag for Women Over 60 with Glasses
@hair.by.trianna
A curly shag for women over 60 with glasses is a wonderful way to bring attention to your stellar frames. If you love wearing glasses, then this layered shag haircut will help draw attention to the eye area.
70's Curly Shag
@auric.alchemy
The 70's curly shag is perfect on women with textured tresses. Your natural curls add body and volume, flaunting your facial features in the best light. Razor cutting this shag cut adds softness to the edge of your face, giving you an instant glow.
Shaggy Long Pixie Cut for Curly Hair
@kristinakatsabina
A shaggy long pixie cut for curly hair can make any woman beautiful and confident. This cut is a shorter version of curly shag hairstyles. It draws attention to the eyes and accentuates your cheekbones, making them look well-defined.
Long Shaggy Cut for Curly Girls
@jikaiahstylist
A long shag haircut for curly girls is a must-try. The shorter layers in a shaggy curly hairstyle allow added texture, volume, and dimension to flow seamlessly with the intricacy of the curls.
Curly Textured Haircut for Women Over 50
@lizcameronehair
A curly textured haircut for women over 50 is trendy and alluring that suits women who prefer a hairstyle that is easy to maintain and style. Add a fringe on your curly shags to create a youthful radiance, making you look half your age!
Retro Long Curly Shaggy Hairstyle
@ernestomeneses
A retro long curly shaggy hairstyle is the next best thing. Curly hair is now being layered for a fuller shape. Try swapping out your brush for a wide-tooth comb to keep those curls beautiful. For bigger hair, diffuse upside down with a curl creme, and for a flatter finish air dry. Curly-haired women embrace a new you.
Curly Shaggy Bob
@amityloft
Consider a curly shaggy bob at your next salon visit. Many women have one-length bobs, and it might be time to change things up. Ask your stylist for a bob with 90-degree layers and go from flat to fuller hair. A little fullness can really perk up your face. To keep your shaggy haircuts with curls in the best condition, try wrapping your hair in a towel instead of rubbing, and definitely use curly hair products.
Wash-and-Wear Shag for Curly-Haired Women
@mouseybrowne
A wash-and-wear shag for curly-haired women could be your go-to haircut. Many curly-haired women are afraid to change their style. Don't be, because this shape is trending and super cool. A shaggy haircut with curls is a rounder style and is achieved with lots of layers. A rounder shape is best suited for oval or long face shapes. Transform your ringlets into something fresh.
Short Shaggy Cut for Curly Women Over 30
@davidwbullen
You'll want to try a short shaggy cut for curly women over 30. A wash-and-go hairstyle, this cut has all the right moves. Ask your stylist for 90-degree layers all around, and razor cutting can add texture. Texture helps your haircut last longer and is especially helpful with bulkier short hair textures. Shaggy curly haircuts are easy to air dry and can make your routine a snap.
Modern Shag Haircut with Loose Curls
@hairbyac_alcorn
Try a modern shag haircut with loose curls and glam up your long hair. Angles around the face and lots of 45-degree layers enhance movement away from the face and create a trendy visual. If you have wavy hair, blow-dry the bangs with a medium round brush slightly off the face and diffuse the rest. If you have straighter hair or thin hair you can add curl with a 1 1/4 inch iron. Curly shag haircuts look best messy and organic, so don't try to make them look too perfect.
Medium-Length Shaggy Curls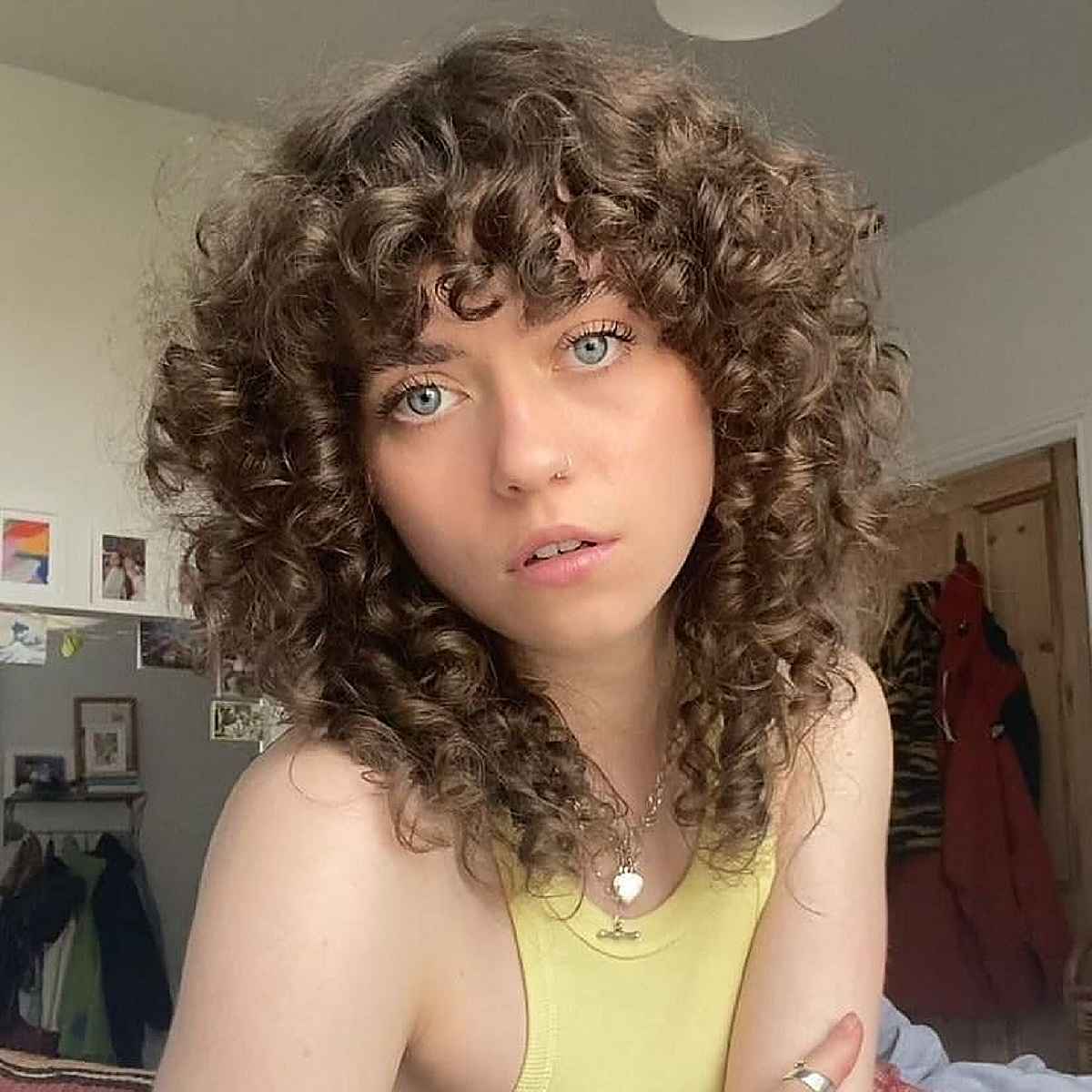 @lukeccastillo
Embrace your natural texture with medium-length shaggy curls. Square layers are just the thing here, to create width and leave the top flatter. This face-framing, medium shag haircut looks great on women of any age group. Curly shaggy haircuts are fairly low-maintenance and should be cut about every 6-7 weeks.
Curly Mullet Shag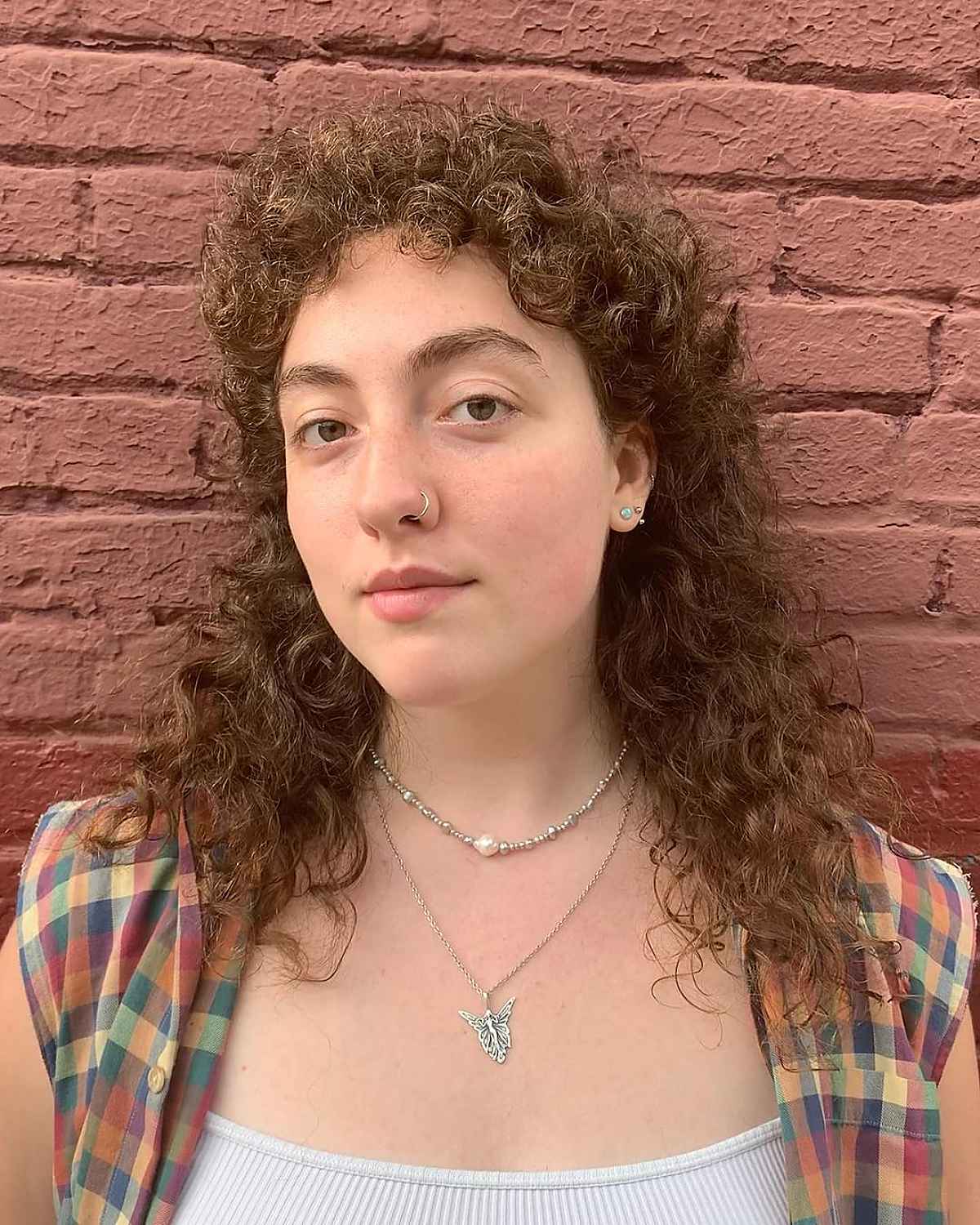 @sam_garner_hair
A curly mullet shag is a cute style if you're looking to change up your ringlets into something different. Ask your stylist to create a steep angle around the face, leaving the length in the back. Layers should be short on the top and longer in the back to maintain that length. A curly shag haircut could be just the change your looking for if you find it difficult to change up curly hair. Air-dry this style or diffuse in place with some curl amplifier to reduce frizz.
Low-Maintenance Curly Shag
@lcs.hairdesign
Choose a low-maintenance curly short shag and you'll be out the door in no time. Ask your stylist for short layers and short piecey fringe, leaving the ears covered for a soft cute cut. The nape can be tapered, making it lay flatter for an interesting shape. Curly shaggy hair looks the best air-dried or diffused in place with some gel. Avoid touching it while it dries to achieve the best finish.
Related: See more short curly hairstyles.
Shoulder-Length Shag for Curly Hair
@becurlyrussia
Embrace your hair texture with a shoulder-length shag for curly hair. Curly hair does not have to be a struggle, with the right cut it can be effortless. Find a stylist who is great at cutting curly hair. Ask someone whose hair you admire for their recommendation. A curly shaggy hairstyle spruces up your ringlets and creates a cute shape.
Related: See more shoulder-length hairstyles for curly hair.
Gypsy Haircut for Curly Hair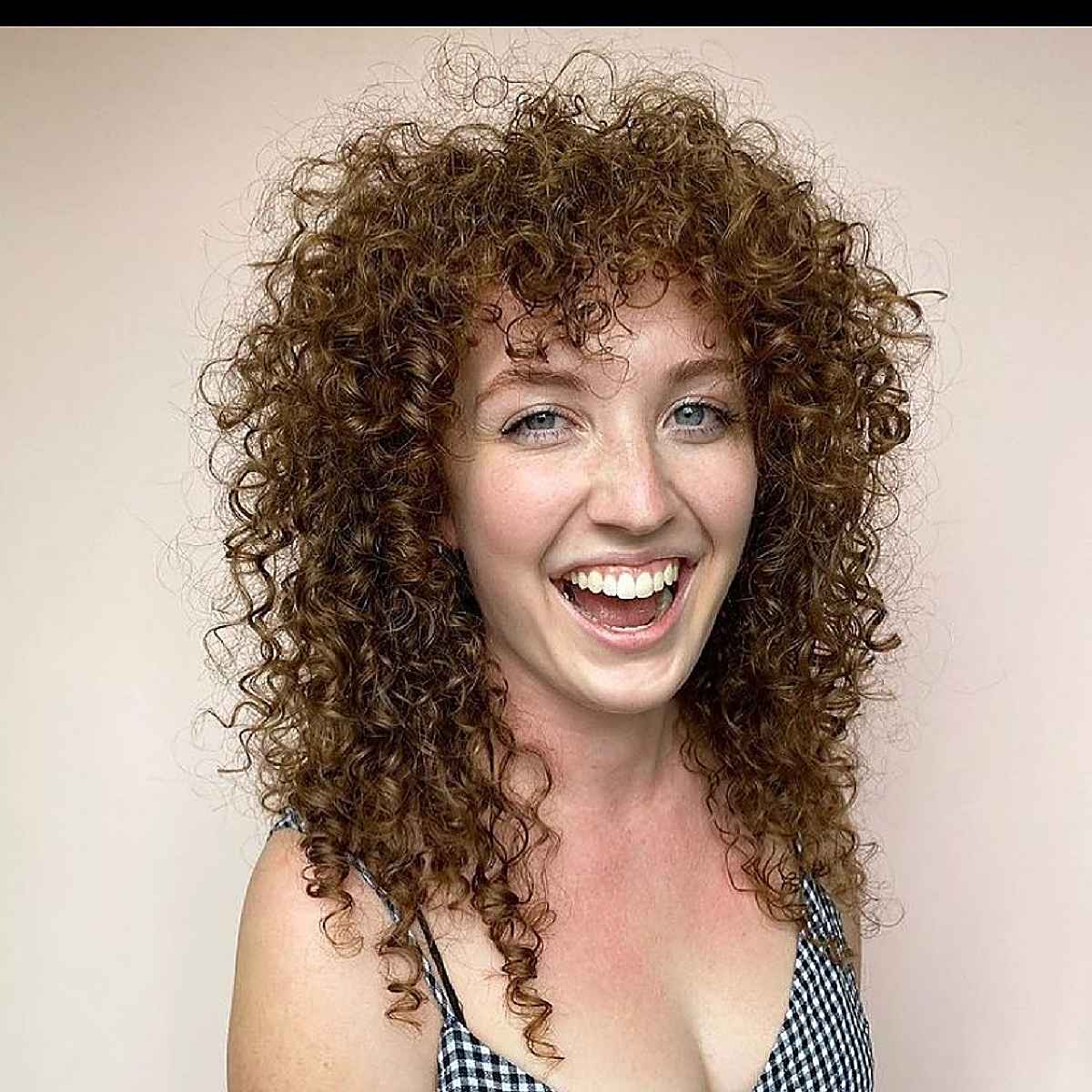 @ashadoeshair
Create a new you with a gypsy haircut for curly hair. You'll want to ask your stylist for layers at a 45-degree angle. Keep in mind this will make your curly hair fuller so make sure you are ready for that change. A curly shag will work well on all curly hair textures and adds width to narrow face shapes. Diffuse this style with a curl refiner for the perfect finish.
Razored Shag for Older Women with Curly Hair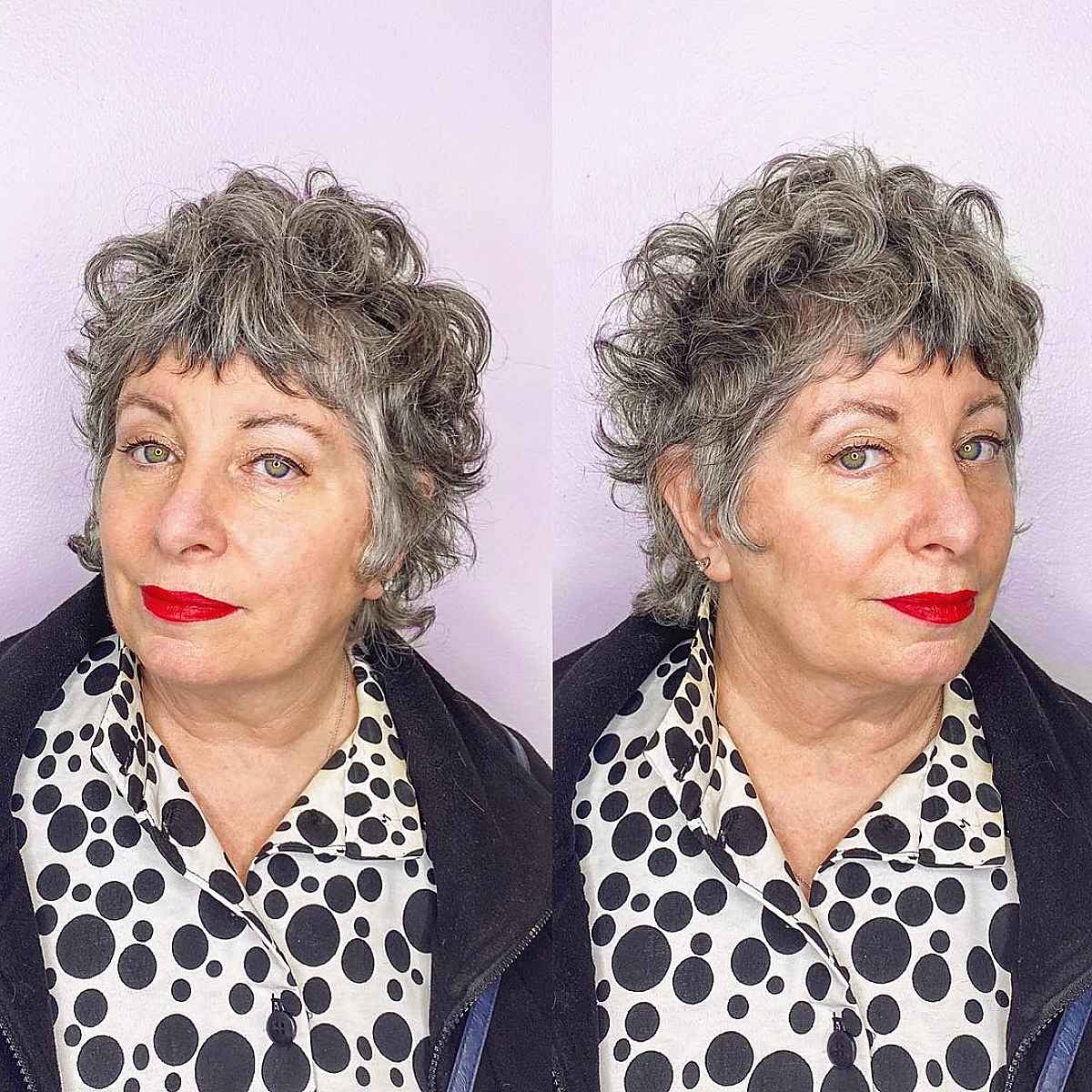 @davidwbullen
Razored shags for older women with curly hair offers an added layer of volume, texture, and definition to your tresses. Shaggy curls highlight your best features while canceling out any harsh lines, creating a youthful-looking glow.
Curly Shaggy Cut for Women Over 40
@madison.n.williams
A curly shaggy cut for women over 40 offers a youthful-looking radiance. Shaggy curly hairstyles offer a lived-in finish with a shape that flatters your face in the best light!
Shaggy Curly Hair with Bangs
@erikast.pierre
with bangs offers a stylish, lived-in finish. Shaggy hairstyles with curls provide an extra layer of volume, definition, and texture with little to no styling and upkeep.
Shaggy Bob for Curly, Thick Hair
@mouseybrowne
A shaggy bob for curly, thick hair highlights the intricate shape of your curls. A shaggy curly haircut is perfect for women who want an effortless, lived-in look with a volumizing finish.
Mid-Length Curly Shag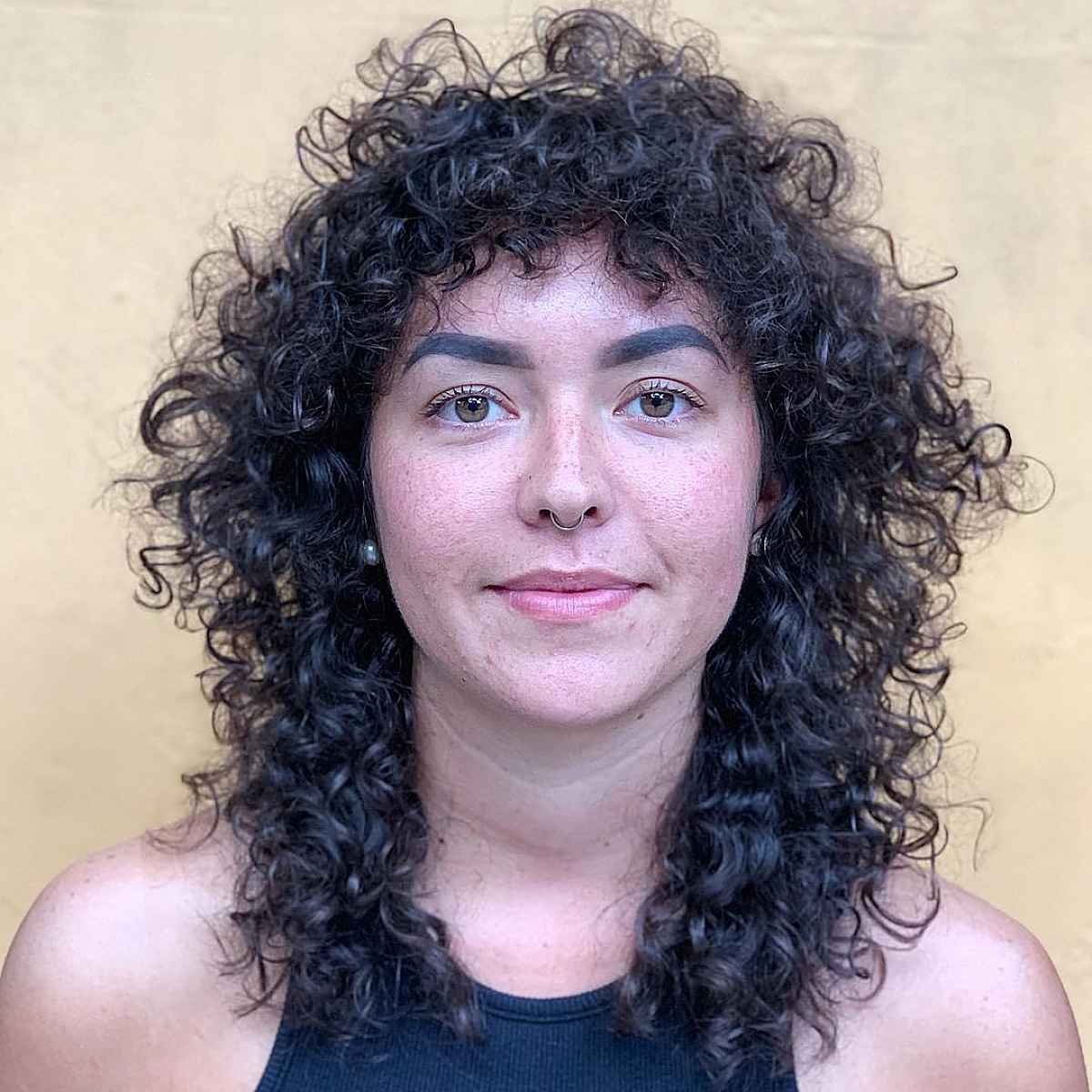 @mouseybrowne
A mid-length curly shag is a haircut consisting of several layers and graduation that leave each strand of hair disjointed and volumized. Style a curly shag hairstyle with a hair mousse for added volume and texture.
Shaggy Hairstyle for Curly Hair
@chrissycollins_hair
A shaggy hairstyle for curly hair is a haircut that is chopped into several layers of various lengths. A choppy curly shaggy haircut can be styled with curl-defining products and using a diffuser when drying the tresses.