15 Spiky Pixie Cuts for a Bold, Yet Super Cute Look
1. Undercut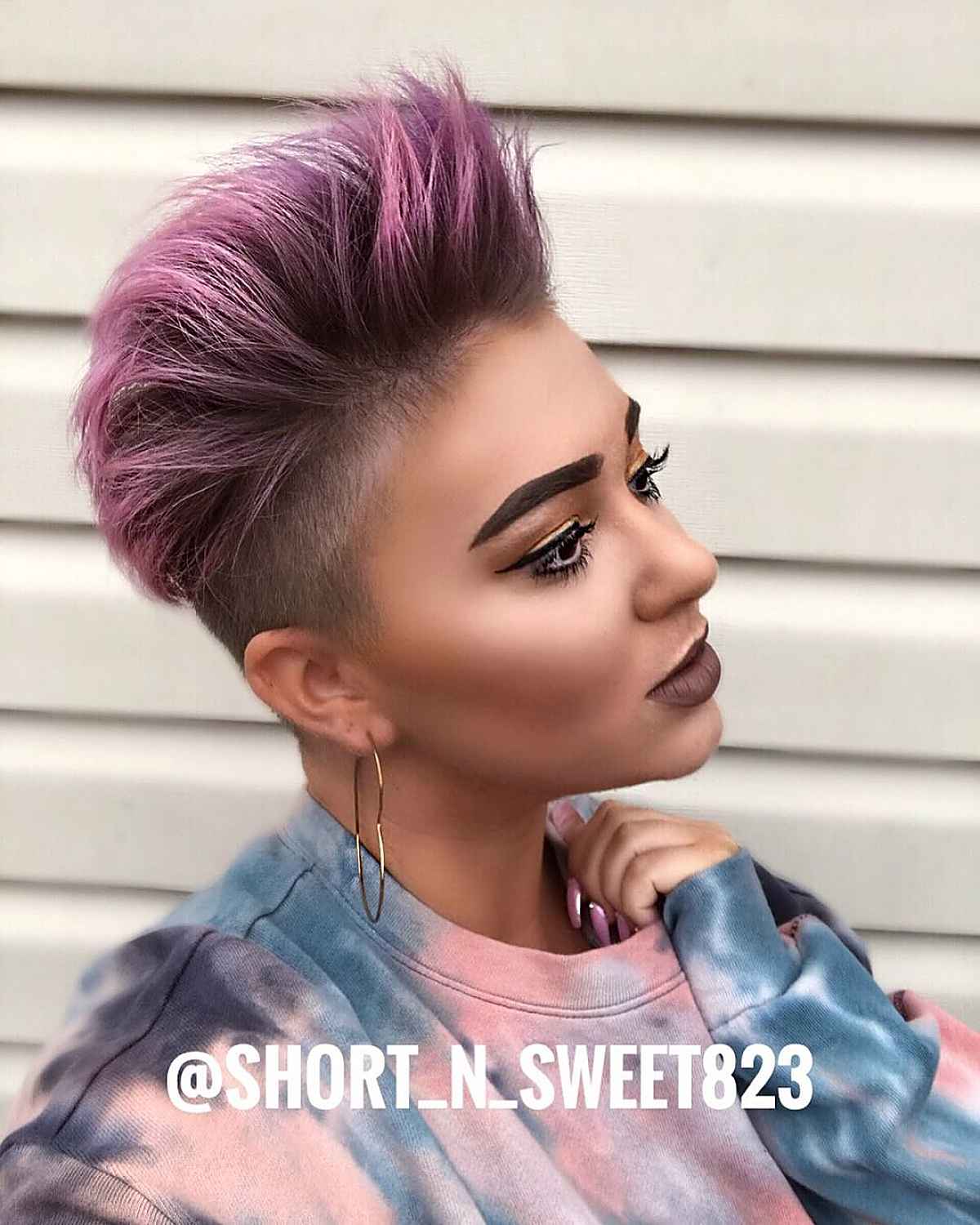 @short_n_sweet823
An undercut can work for almost anyone, accentuating your best features like eyes and cheekbones. Having an undercut with long hair makes styling time much shorter and easier. Trying a spiky undercut pixie gives you an edgy, unique look that can't be matched!
See more edgy pixies!
2. Textured for Fine Hair
@shorthairforlife
Spiky, textured pixies also do wonders for fine hair. If you struggle with a softer, less dense hair type, opting for a shorter length will help. Keep in mind that such a spiky pixie cut for fine hair requires daily styling.
3. Flattering Cut for Thick Hair
@shmoakin_hair
This short undercut pixie is extremely flattering for women with black, thick hair. Styling thicker locks when it's long can seem like a daunting task because it's so time-consuming. Trying something short and sweet, like this textured pixie cut, lessens your styling time, giving you more time to have fun.
4. Very Short and Spiky
@shorthairforlife
Try something very short and spiky for something new this season. This spiky short pixie cut is extremely easy to style. There are many ways to keep a pixie with a spiky texture looking feminine yet also edgy.
5. Messy and Spiky
@angela_lewis_hair
A messy pixie could be the perfect thing for you to try out a spiky pixie hairstyle that's super low-maintenance when it comes to styling. This tousled pixie hairdo looks effortless yet put together, which makes for the perfect look. Shorter, crown layers in this spiky pixie hair are added to create extra height and volume to the style.
6. Shaggy and Spiky
@kokokut
A shaggy and spiky pixie is fun, funky, and best at expressing personal style. This spiky pixie with shagged, wispy layers is one part cut another part style and highly customizable. Seek a stylist that has this work in their portfolio or request a razor cut upon booking to achieve this cut.
Upon styling short spiky shaggy haircuts, texture paste can help to last longer. Depending on your hair texture, blow dry or air dry can set the style in place.
7. Spiky Pixie with Bangs
@uskova.tatiana.official
A spiky pixie cut with bangs is gorgeous. This spiky pixie is shorter in the back with various layers in the front and around the crown. A fringe is a great option when wanting to conceal a big forehead. To achieve the spiky look, ask your stylist the best way to add strength and volume to your hair to stand on its own.
8. Asymmetrical Spiky Pixie Cut
@nikitenko_elen_
Take your short straight hair to the next level with this asymmetrical spiky pixie, a look for the bold and daring. A texturizing clay is a styling must-have for maximum definition in this asymmetrical pixie. Expect a salon visit every 4-6 weeks for maintenance.
More stunning asymmetrical pixies
9. Edgy for Women Over 60
@myarootedculture
If you're a woman over 60, then here's a pixie for you! This style for middle-aged women is super fun and feminine but will make you feel young when you need a pick me up. Make sure to ask your stylist about the upkeep of this cut before getting it.
See more pixies for ladies in their 60s
10. Sassy and Spiky for 50 Year Olds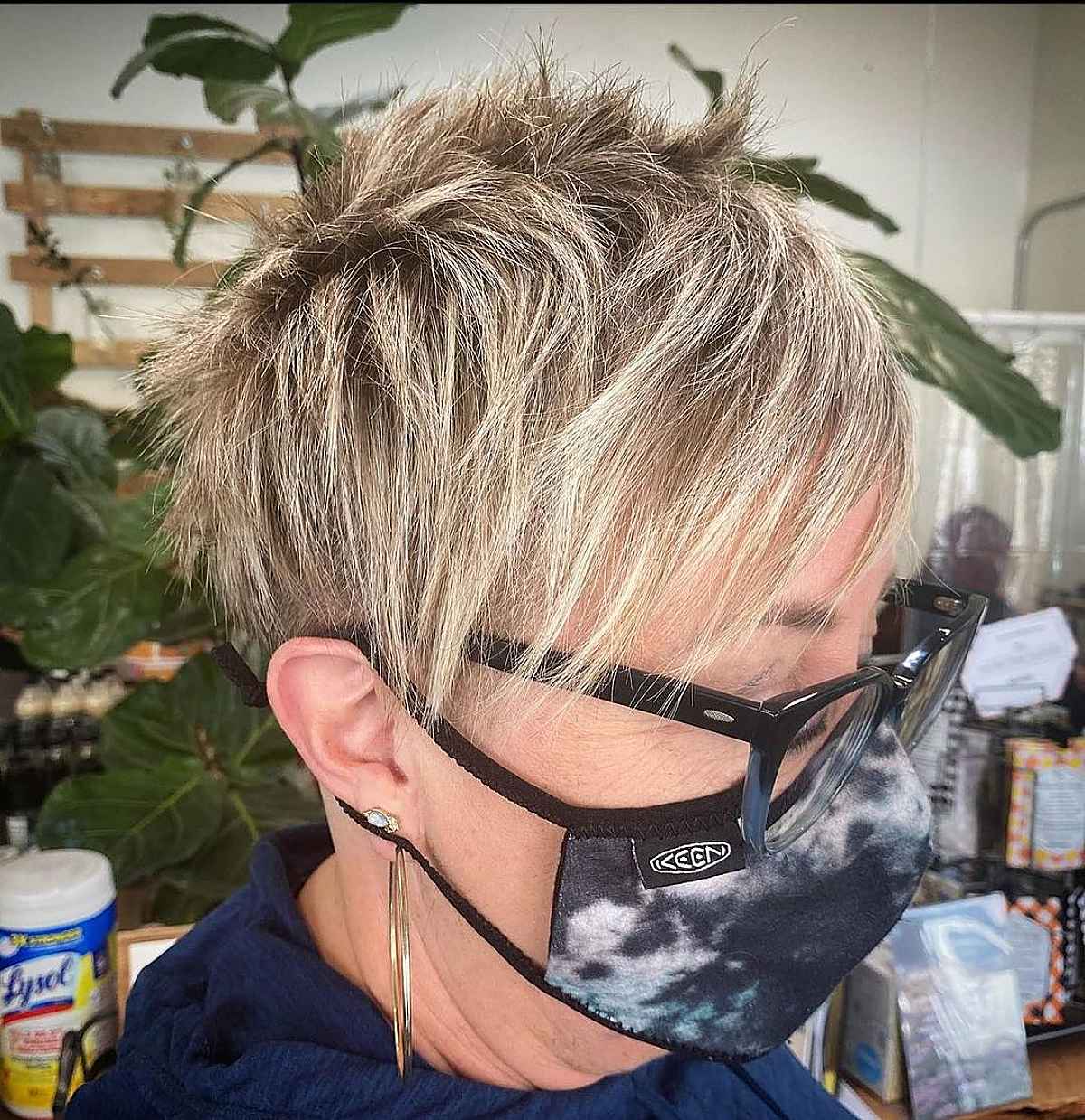 @crownandcarving
50-year-olds can do any crop, but a sassy and spiky pixie with long choppy layers is the perfect cut for this age group. Messy short spiky pixie cuts tend to pair well with aging hair as they create a youthful appearance while allowing for less maintenance. Pairing this cut with blonde highlights will create a flattering dimension and edge.
11. The Choppy Pixie
@moon_hair_bygaby
A choppy pixie can also make thick hair, or even curls, more manageable. Shorter sides help keep the heat off your neck, while a choppy texture at the top allows unruly tresses to lay where you want, when you want. To achieve choppy messy short spiky hairstyles, reach for a medium-hold wax to help control texture and create shine. EuforaStyle's Fixation wax is a good choice for such a piece-y blonde pixie.
12. Funky Spiky Pixie
@hairmakesupbee
This funky pixie cut with upright spikes would be the perfect thing to try this month. Wanna wow the crowd and stop the room when you walk in? Try out this cropped pixie and hair color. Ask our stylist about the maintenance and process before taking the plunge and trying out spiky pixie hairstyles.
13. Spiked Pixie
@moon_hair_bygaby
A spiked pixie is great for ladies with more fine hair as it gives the illusion of more full, voluminous hair. Tapered pixie cut that gives extra body for thin hair is shorter on the sides and longer on top, bringing out punky style. This can be styled in many ways!
14. Layered and Spiky
@nikitenko_elen_
Pixies have many options for styles. A layered and spiky pixie can have a gorgeous undercut with a beautiful design with many soft pieces on top to create a voluminous style with extra movement and body. Such spiky hairstyles for ladies over 50 work well for straight to wavy hair types.
15. Spiky with Long Bangs
@roshan_hairlove
Spiky pixies have many options. Adding a longer fringe can be perfect for ladies with oval-shaped faces. This spiky pixie cut with long bangs can help shorten the face while achieving a spiky, voluminous look.