21 Types of Choppy Pixie Cuts Women Are Asking for This Year
Punk Pixie Cut for Short Hair
@amyspencerhair
Embrace your short hair with a punk pixie style! Notice the darker undercut really showcases the angles of the lighter hair on top. Keeping some of the choppiest pieces longer maintains a feminine look. For added height, dry hair thoroughly and use a molding paste to place hair.
Very Short Choppy Pixie Haircut
@vanillasalonsp
A short choppy pixie haircut is for anyone who is on the go and doesn't want to spend too much time fussing over the style. The messier the better and it can all be done in 5 minutes or less. A textured pixie cut mixed with soft wispy hair around the ear adds to the playfulness of the cut, which can easily be styled right out of bed with a light pomade.
Related: Very Short Pixies
Choppy Pixie with Buzzed Sides
@kamila.seksenalina
Buzzed sides on a short choppy pixie is more than a little edgy! Great for any hair type, especially thick hair that needs to lose some bulk. The sides of this choppy undercut pixie blend flawlessly with the tapered back and nape. Even if you have some curl, this funky, piece-y choppy pixie cut for thick hair can easily be obtained by flat ironing and adding hair paste and a light spray.
Choppy Pixie with Fringe
@eduardomagri9
Keeping a heavy fringe on a choppy pixie adds so much softness around the perimeter of the cut. Choppy pixie hairstyles don't have to be boxy and boyish to be edgy and cute. Keeping the layers soft and messy is just as easy to style as it doesn't need to be overdone.
When styling a choppy pixie cut with bangs, blow-dry hair towards the face, and finish with texture spray for light hold and a lived-in look.
Feathered Pixie with Side-Swept Bangs
@marciomello
Side-swept bangs on a feathered pixie add a lot of character to a short style. Consider this chic option when wanting a more feminine take on a sassy cut that also accentuates your cheekbones. Super short at the nape and back of the head, the hair blends toward the front with longer, textured layers. Style forward and piece-y in the back and don't be afraid to get messy with it.
Pixie Bob with Choppy Layers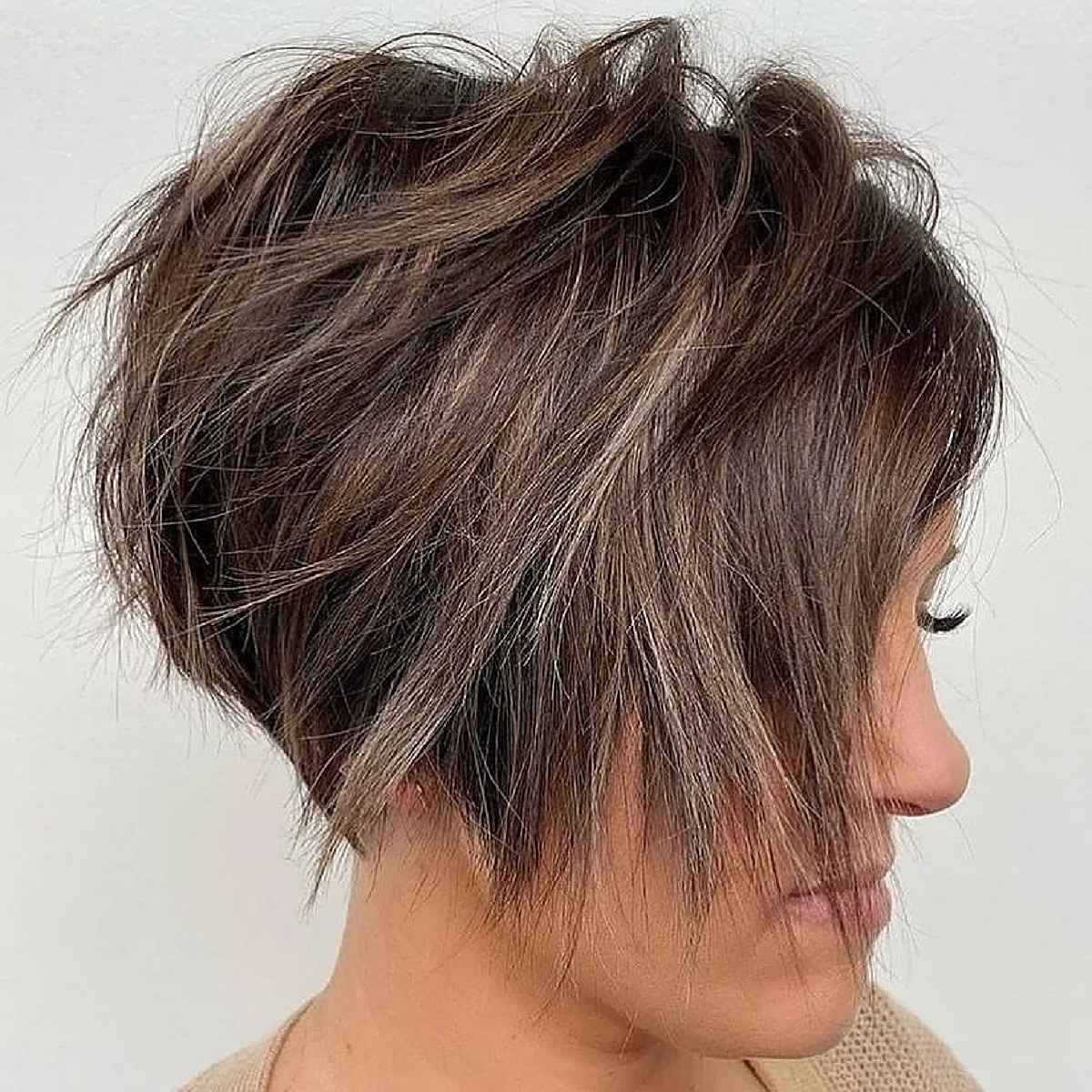 @maddnesshairdesign
Angled and choppy layers just above the chin is the perfect pixie bob combo. Cropped and stacked super short in the back, plus layered with tons of texture, this cut is great for fine to medium hair as it tends to add the illusion of fullness. This layered pixie cut is a great step to help you decide if you're ready for shorter hair. Style this short choppy pixie bob haircut with loose waves by bending the hair with a flat iron and finishing with a texture spray.
Choppy Pixie with Baby Bangs
@chroma.moscow
Disconnection is the name of the game with this chopped pixie and baby bangs. Very eye-catching and easy to style, this edgy pixie cut is great for most hair types, as long as you're willing to book frequent salon appointments as this unique shape will require more maintenance. Blow-dry forward from the crown and really piece out the longer bits with a pomade or paste when pulling off a tousled choppy pixie.
Voluminous Pixie Crop
@daveydoeshair_
A voluminous pixie crop is for women's thick voluminous hair, too! Don't let a lot of locks hold you back from going for the big chop. Notice the edges are clean cut then tapered up to the parietal ridge, connecting the choppy pixie fade to where the soft choppy layers begin. Be sure to keep the texturizing towards the ends of the hair as cutting close to the scalp will cause shorter hairs to stick straight up.
Spiky Pixie with Choppy Bangs
@joeltorresstyle
Choppy bangs on a spiky pixie make for an edgy haircut that gives you instant confidence. This style looks amazing on all facial features of an oval face shape. Consider using Aveda Control Paste to give your pixie the spiky look and hold it all day.
Brown Choppy Pixie Crop
@alexandrade_hair
A choppy cropped pixie on brown hair can give texture and spunk to your style. Choppy pixie styles are a great choice for women with wavy hair. It's for those who don't color their hair because they add dimension without the upkeep of color. Try a small barrel curling iron to give a wavy look to your pixie.
Grunge Asymmetrical Pixie Cut
@nikitenko_elen_
Get your grunge on with an asymmetrical pixie. Super short on one side and blending into a bob length on the other is an accessory unto itself. Choppy cuts can be as unique as the person wearing them. From the micro bangs on down, this pixie can be blown out and styled with a round brush for lift at the root to smoothness on the longest parts.
Messy Pixie Cut
@lalalindsey814
Ladies with short hair may be looking to spice up their hairstyle and a messy pixie cut is the best way to go. A choppy pixie hairstyle is best when styled with extra texture, volume, body, and many layers.
Shaggy Pixie Cut for Choppy Hair
@denovosalon_
A shaggy pixie cut is best for choppy hair as the curls and layers give extra body, volume and the illusion of fuller hair. The cut works like a charm for textured types like wavy and curly hair. A choppy pixie cut for a round face like this blonde pixie is best styled with extra texture and grit for that added movement and volume.
Trendy and Low-Maintenance Pixie
@alexei.fedorko
Ladies with straight hair wanting a trendy, low-maintenance pixie cut should ask their stylist for short, graduated sides and longer, spiky layers at the top for the extra volume. Extra texturizing may be needed for the added volume.
Choppy Pixie Cut for Women Over 50
@mousseandcowindsor
Women over 50 may want a choppy pixie cut for thin hair since they are easy to style, maintain and give the impression of fuller hair. Choppy pixie cuts for over 50 have many options but tends to have many, voluminous layers on top with shorter, shaved sides.
👉 See more pixies for women in their fifties!
Short Choppy Pixie Style with Bangs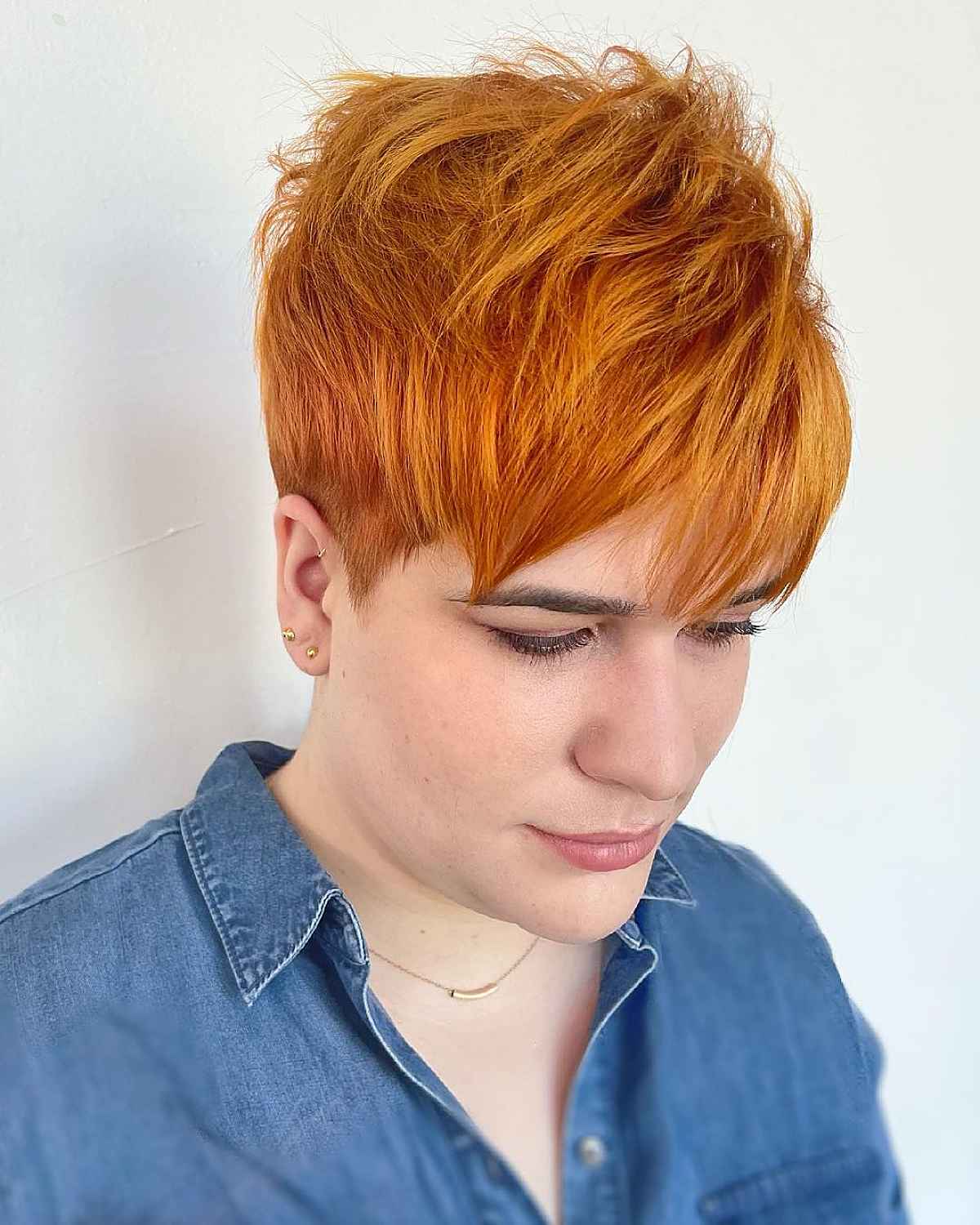 @prettypeople_bykatie
A short, choppy pixie style with bangs is absolutely stunning with oval face shapes. Choppier layers on top are perfect for a pixie cut with bangs as it gives the extra length needed for bangs.
Platinum Pixie with Choppy Ends
@chroma.moscow
Platinum pixies with choppy ends need extra layers, volume and texture. Choppy haircuts give the illusion of fuller hair and are perfect for fine to medium hair textures.
Modern Pixie Hairstyle with Choppy Layers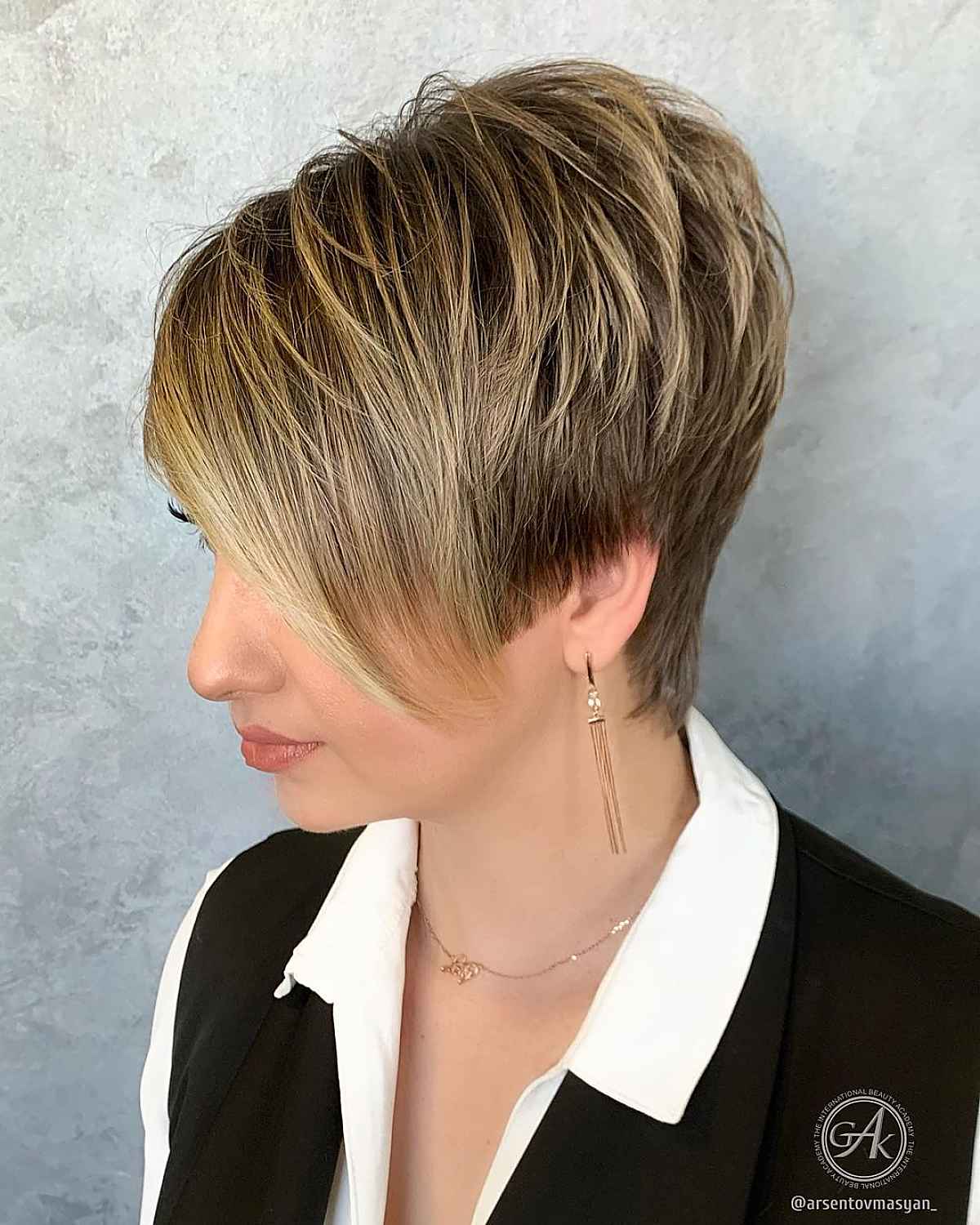 @arsentovmasyan_
A modern pixie hairstyle with choppy layers can vary in lengths. A medium choppy pixie cut doesn't have to be extremely short, instead, longer sides and inverted layers are also an option. This allows for gorgeous swoopy long bangs and voluminous layers.
Sassy Pixie Hairstyle for Older Women
@salonsantinas
Sassy pixie hairstyles are popular with older women as they give the illusion of fuller hair. A choppy pixie cut for over 60 is easier maintenance but with all the layers and added texture, allows for stunning and chic hairstyles.
👉 See more pixies for older ladies
Layered and Choppy Pixie
@anzhelika_gricenk_kst
A layered and choppy pixie cut is gorgeous on many face shapes, especially oval. Such a choppy long pixie cut has many styling options but short sides with long, choppy bangs can be worn straight, wavy, or curly!
Textured Pixie Hairstyle
@tulaybayankuafor
Pixie hairstyles look best when texturized for the added volume. Choppy pixie haircuts are very versatile, easy maintenance and stunning on many face shapes.
👉 See more textured pixies