15 Trendiest Pixie Mullet Ideas Taking Over 2022
Miley Cyrus-Inspired Pixie Mullet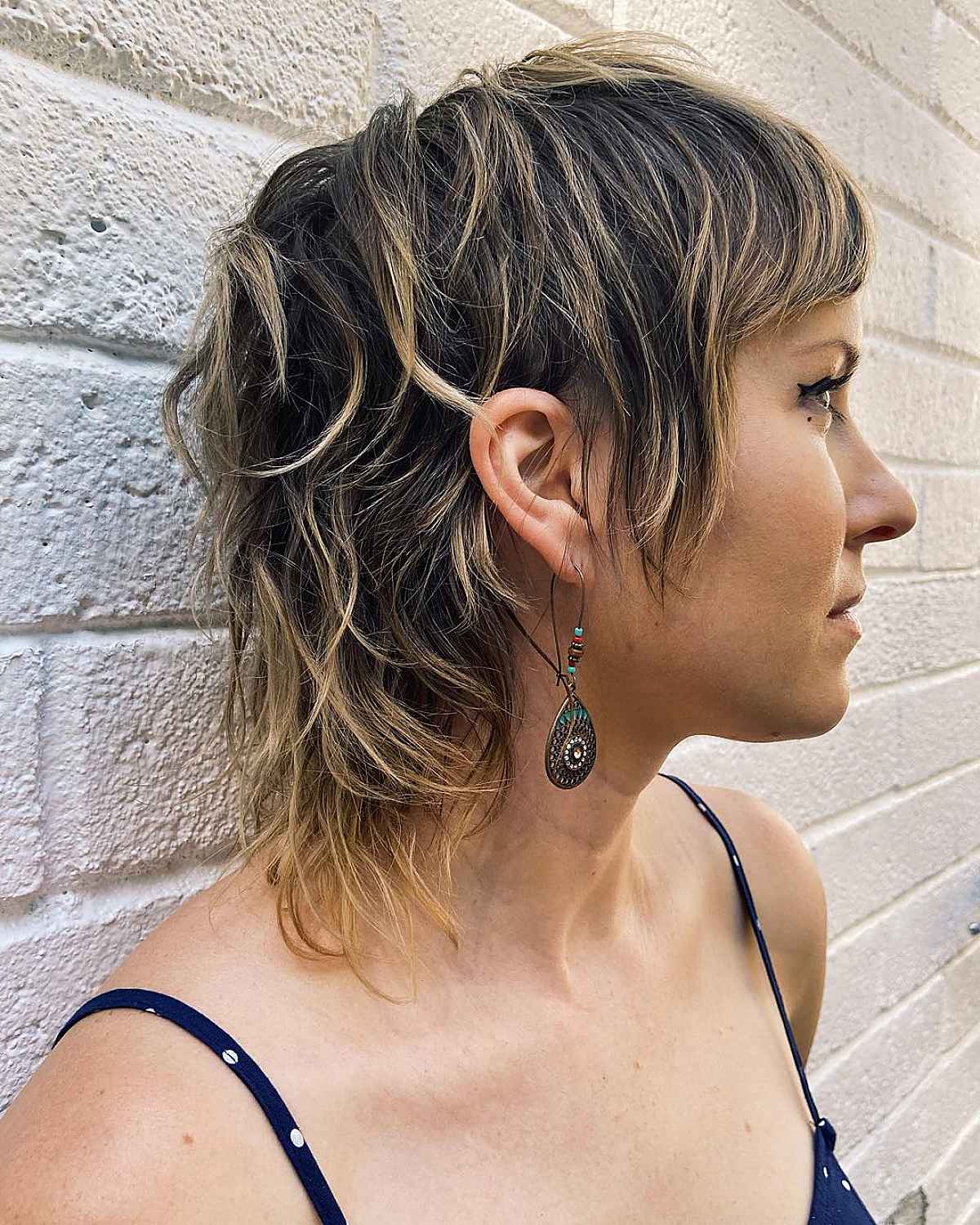 @brooke.studio17
Consider this Miley Cyrus-inspired pixie mullet to showcase your natural texture in the back, while keeping it soft and structured framing the face. Having dimensional color and highlights is a very easy way to help visualize the texture in pixie mullets. This cut would be most flattering on a medium thickness but can be easily given texture with a hot iron if you do not naturally have any bend to your hair.
Low-Maintenance Short Pixie Mullet Style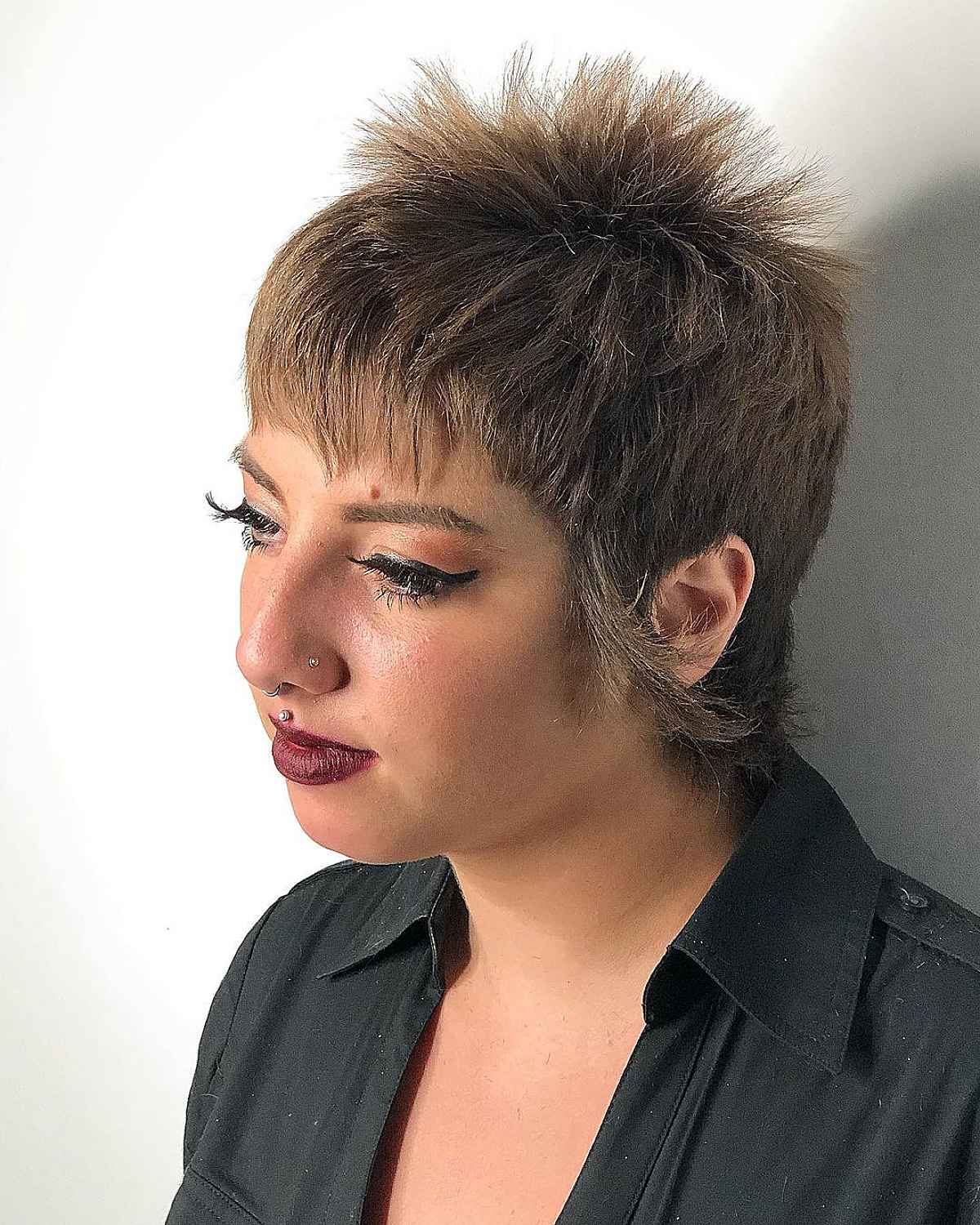 @chopchopbangbang_official
A short pixie mullet that is low-maintenance is going to be a great option to have an edgy look, without spending too much time styling. When achieving this look, it's important to keep your length and texture on the top, fringe, and nape area, while keeping the cut tighter around the sides. Styling a pixie mullet cut at home can be done simply with either a texture paste, powder, or spray for definition and volume.
Emo Pixie Mullet Hairstyle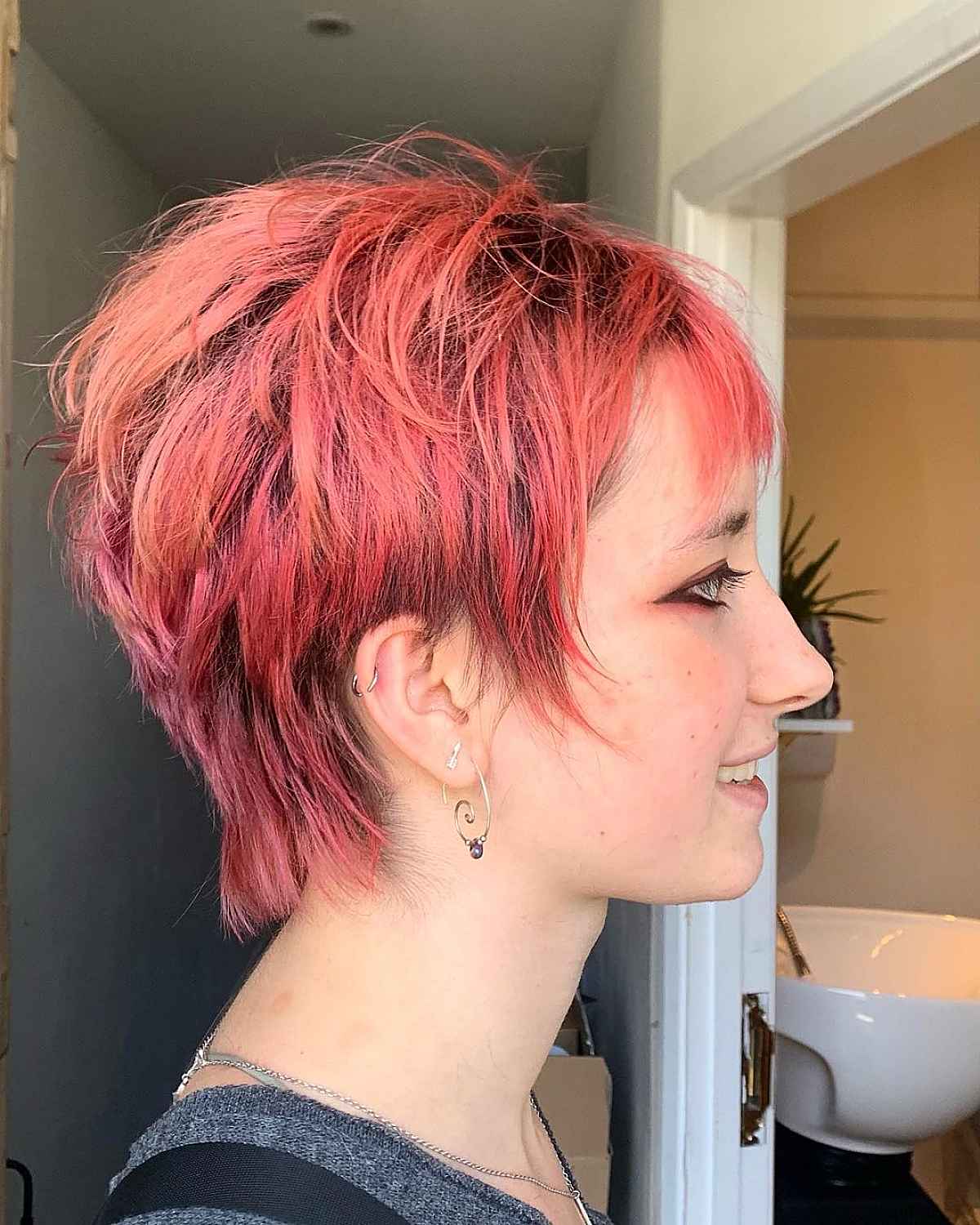 @hairbycamilla123
Consider an emo pixie mullet hairstyle to really edge up a short cut. Short haircuts can styled in many different ways and can be worn at any age. Plus, it works for all hair textures. Ask your stylist to use a razor to create a lot of texture and movement.
Shaggy Pixie Mullet
@ivealreadyforgotten
Pixie shaggy mullets are a hot trend and very versatile. Creates a lot more movement and texture and gives edgy flair to a pixie mullet style. Can be styled easy or just wash and go. Use dry shampoo for added volume and texture.
Sally Hershberger-Inspired Cut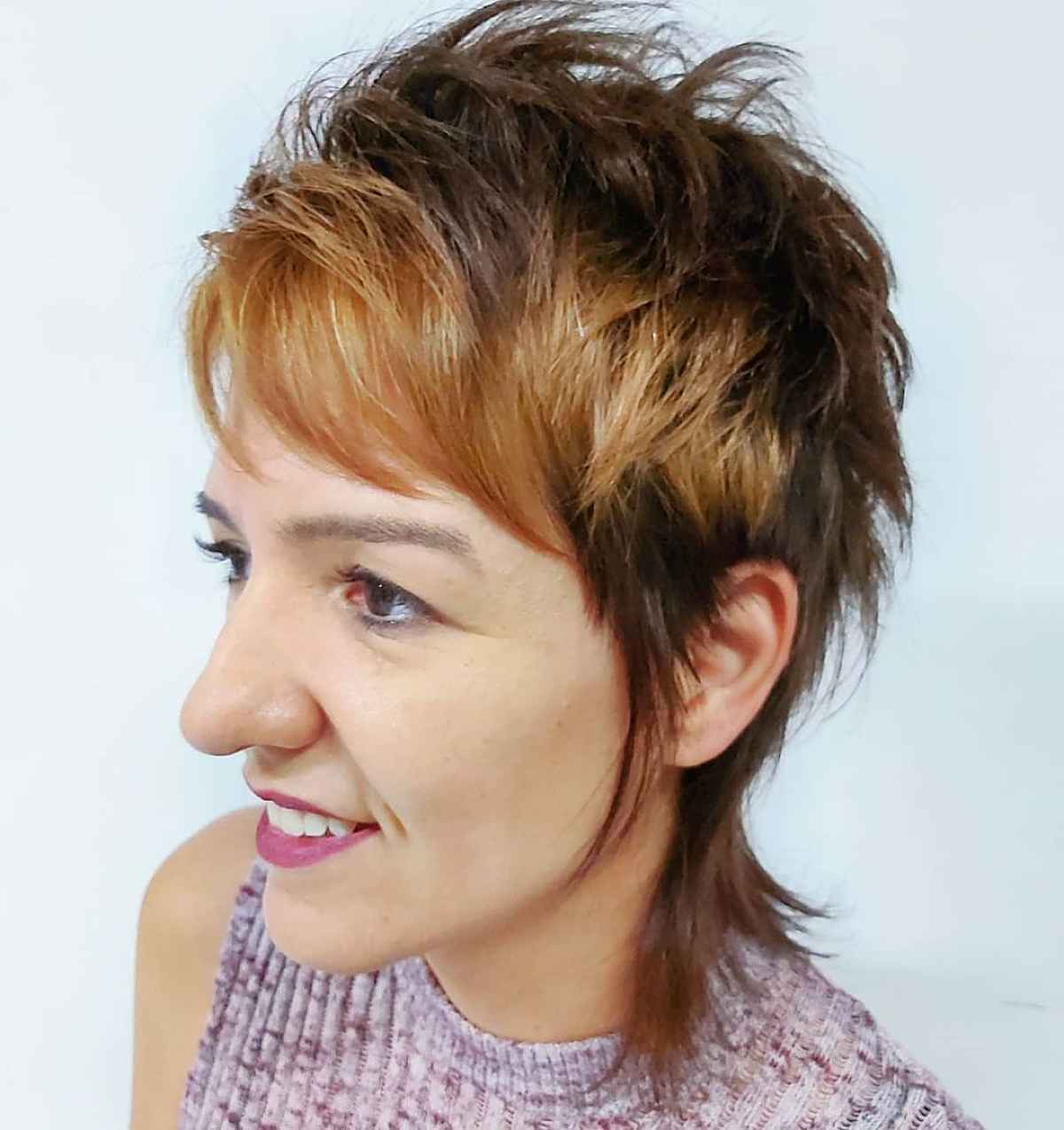 @verosainzpeluqueria
For the ladies that love that shaggy mullet consider a Sally Hershberger-inspired cut. Perfect for women who want to have more than just a pixie. Gives more sass to a short haircut with more texture to play with and style. Can be easily grown out or cut to change the shape completely.
Androgynous Pixie Mullet for Round Faces
@jasmine4beauty.aveda
For round faces, an androgynous pixie mullet is a great option to help visually elongate your face shape. With a short buzz on the sides and added volume and height on top, this short hairstyle will give a slimming effect by adding length to the face. A clipper cut on the side will be more high maintenance, anywhere from 3-6 weeks in between appointments.
Messy Pixie Mullet
@jacksandbuckley
A messy pixie mullet is a fun alternative to keeping your length but adding some edge in your internal layering. Giving the top of this cut a lot of wispy layering will help create that messy, bed head look. The maintenance for a longer pixie mullet will be around 6-10 weeks in between appointments.
Pixie Cut Mullet
@wendycuts_hair
A pixie cut mullet is a subtle way to change up a dainty short cut. This look can be achieved on most hair types, although check with your stylist that your neckline is suitable for this pixie style. A neckline that grows toward the center or has cowlicks can prevent the back from laying straight down if the sectioning is too thin. Maintaining this fun look will be around 4-6 weeks.
Pixie Mullet with an Undercut
@hayleyswanbeauty
An undercut with a pixie mullet is a great option to balance clean cut and edgy. A skin fade is best accomplished with a straight razor, so make sure your stylist or barber is well trained in that for the best outcome. The taper transition on your fade starts around the same area as the front hairline where your fringe will be. This pixie haircut is best suited for fine-medium textures, and maintenance could be anywhere from 2-6 weeks.
Long Pixie + Mullet Hairstyle
@sarahjosilvestera
A long pixie mullet hairstyle can balance out soft and hard shapes in the hair. Keeping it soft and textured around the face and back, and going in with a "scissor/trimmer-over-comb" around the ears adds a sharper shape to the silhouette of mullets and pixies. This look can be achieved on all thicknesses of hair and requires 4-6 weeks maintenance.
Feminine Modern Mullet Pixie Combo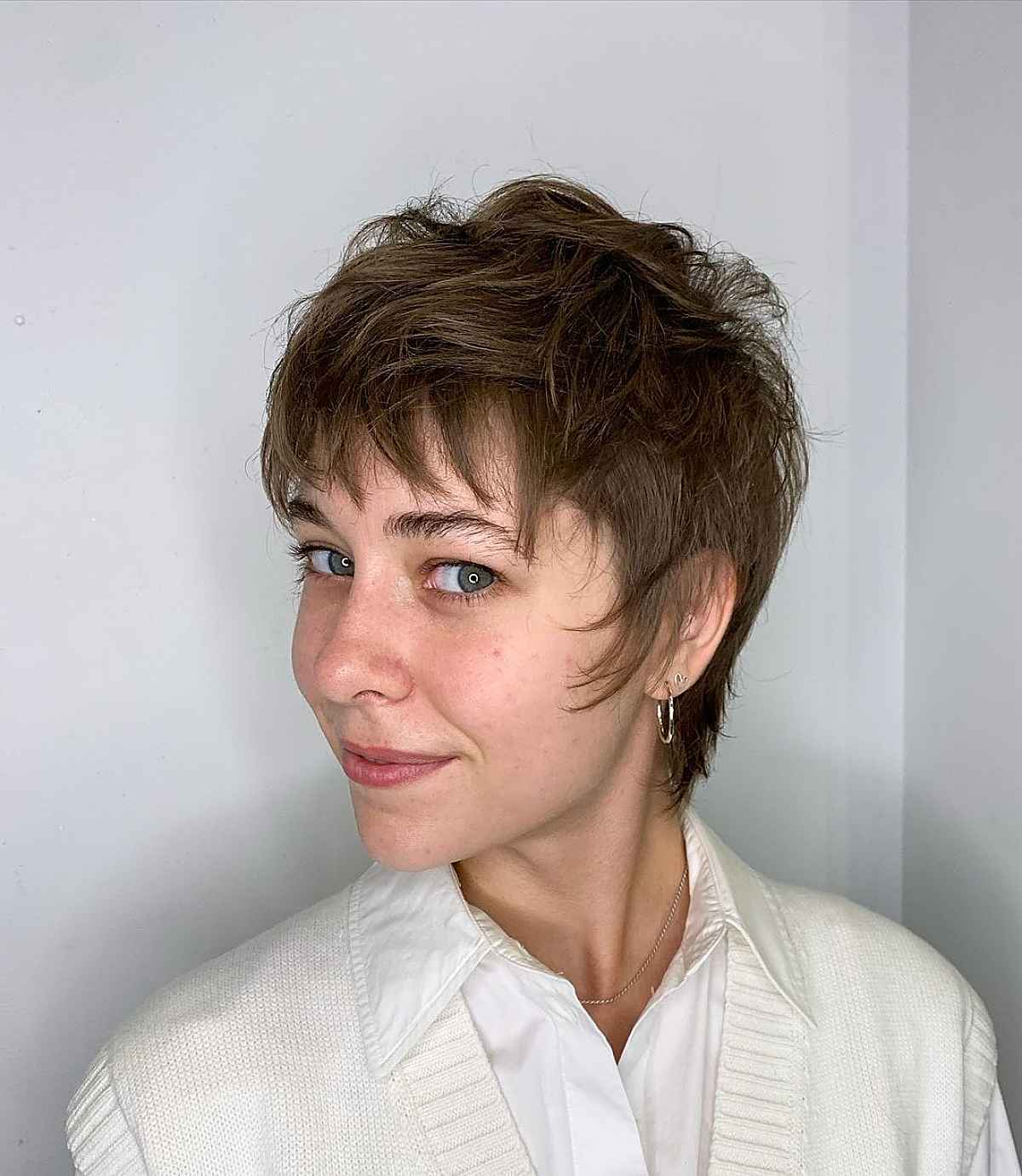 @deleon.delfin.nyc
A way to keep a modern mullet pixie combo feminine is by adding pieciness into your fringe and side area. The texture cut into the hair can add a lot of visual movement to a short style while still keeping it delicate. Styling can be very minimal, but adding a touch of texture dust or a light hold hairspray after a blowout may be needed.
Punk Lixie Mullet
@cat_hair_by_catherine_
A punk long pixie mullet is a really cute look to try! Keeping the layering wispy can help soften out a strong bone structure while removing excessive bulk to prevent the shape from getting too round. This pixie mullet hairstyle is very bed-head friendly, with the style moving forward from the apex of the head with a texture-enhancing spray or paste.
Layered Pixie Mullet Haircut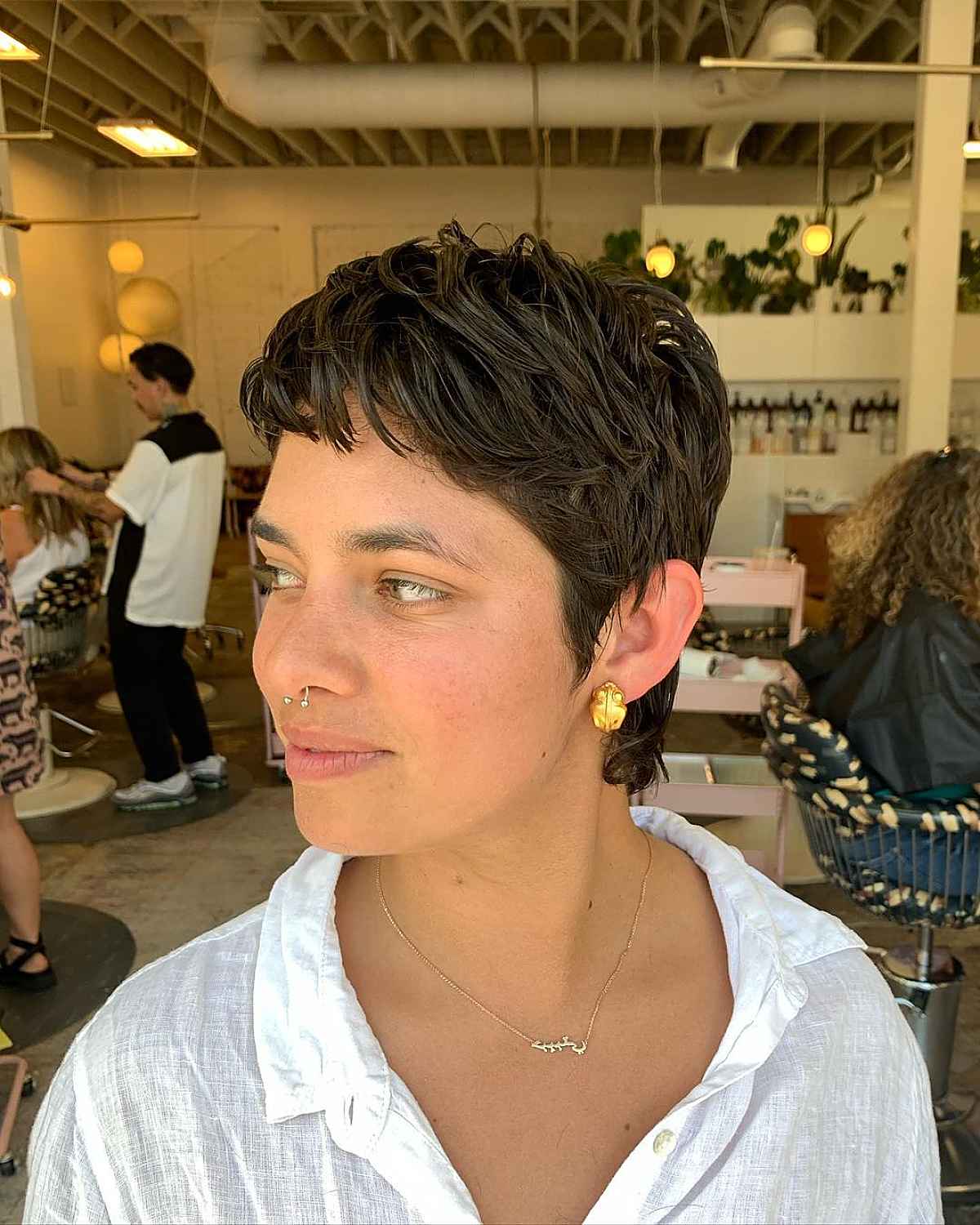 @curlcraft
A pixie mullet haircut that is layered is a subtle approach to this trending cut. These layers are cut from a 90-degree angle from the head, creating a tight contour to the head shape, and keeping a little more length on the ends to perfect this pixie mullet haircut. Styling can be very minimal with a gel mousse and a diffuser if you have any natural texture to your hair.
Edgy Pixie Cut Mullet with Fringe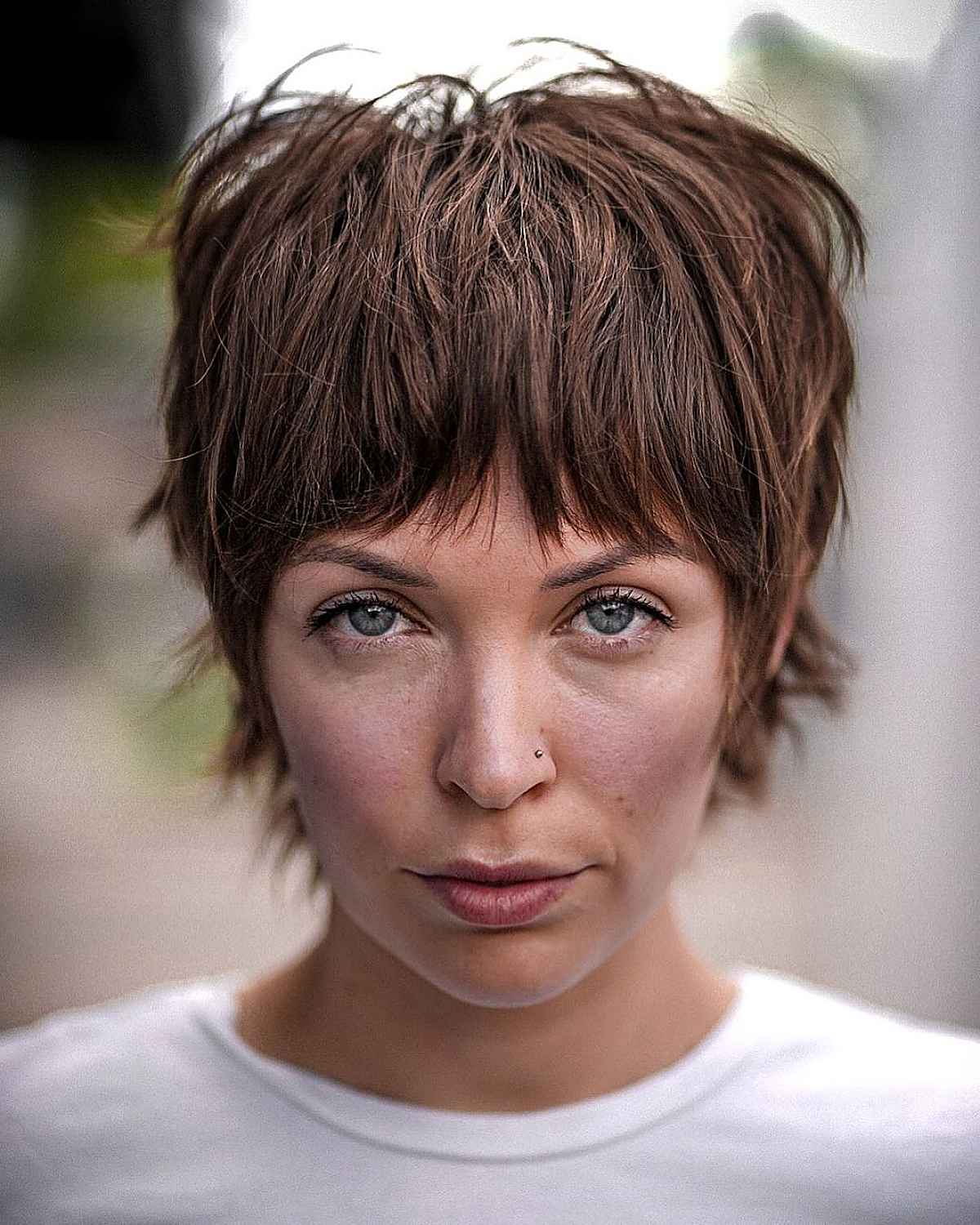 @travisanthonyhair
A pixie cut mullet with fringe is an edgy take on shorter haircuts. The styling of this fringe is best achieved on medium to thick hair, directing the hair from the top center of the head forward. This look is a great mix between pixies and mullets and can be customized to any thickness or texture to create a unique style that is realistic for your lifestyle.
Choppy Pixie Mullet with Bangs
@angelarose.hair
A pixie mullet that is choppy with bangs is a great way to accentuate natural texture in your hair and can be a very versatile style if you are nervous about wearing a pixie hairstyle for the first time, or even growing out a short, tapered pixie. The styling is soft and delicate, flattering to most face shapes, and will help define weaker jaw structures or conceal larger foreheads.