26 Low-Maintenance Pixie Cuts That Are Still Super Cute!
Disconnected Pixie Bob for Short Hair
@mademoiselle_pixie
If you are looking for a soft, feminine hair trend, a disconnected pixie bob for short hair with a side part is a beautiful choice. The back of this cut is cropped tighter against the head, while the crown and front still maintain a soft length. It's easy to turn into an undercut pixie if you shave one side.
Don't forget to utilize a mousse and texture spray to pump up the volume. Natural curls work great, too, creating loads of movement to this cut.
Low-Maintenance Short Pixie Hairstyle
@alexei.fedorko
Keeping some extra length can create a simple, low-maintenance short pixie hairstyle. There's just enough disconnection in the nape and sides of this short style, that allows some wiggle room in-between appointments, but still keeps it fun and versatile! Sleeking out your strands with a flat iron and finishing with a texture spray is all you need to amp up your appearance.
Audrey Hepburn-Inspired Pixie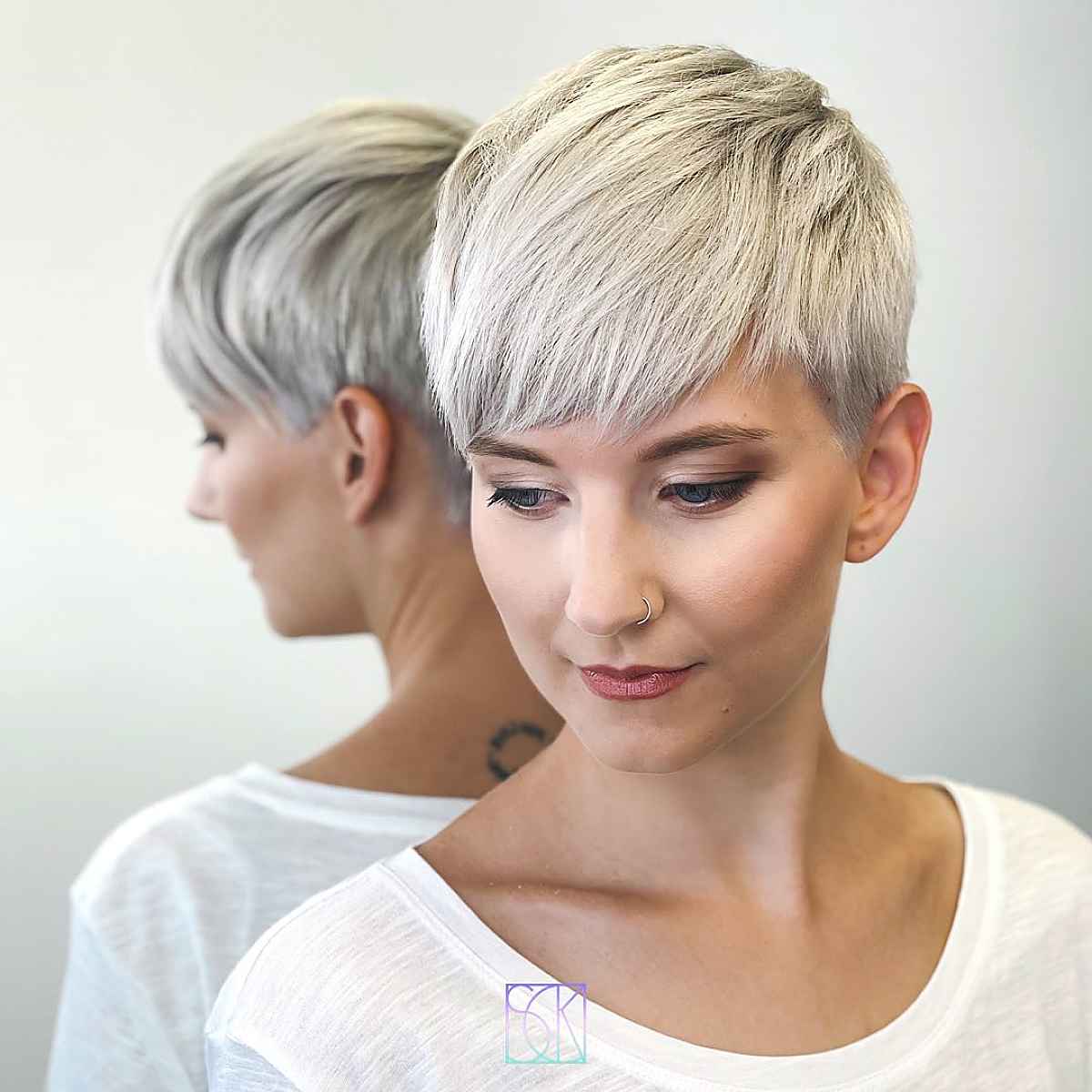 @sanja_carica_karasman
Keeping it classic with an Audrey Hepburn-inspired pixie is always a great staple for a low-maintenance haircut. Styling is very minimal a quick wrap dry and a texture paste will add just enough definition to your look. All hair densities can be customized to keep pixie hairstyles tight and tucked against the head shape.
Short Androgynous Pixie for Women Over 30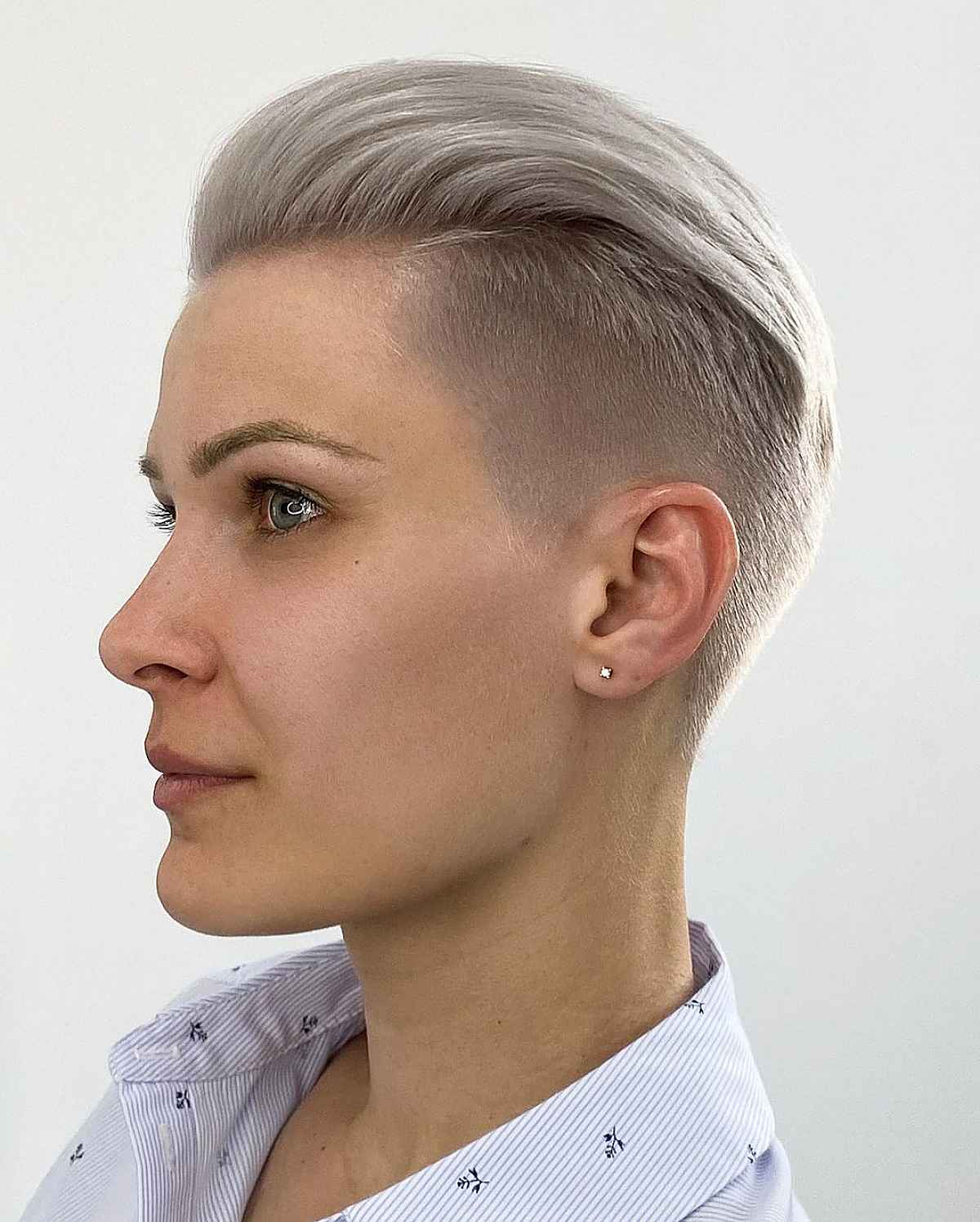 @alexei.fedorko
A short androgynous pixie for women over 30 will keep an edge to your look, while still being versatile and age-appropriate. Wearing this chic, tomboy style in this sleek pomp keeps things bold and sophisticated, but could also give softness when worn forward with a bit of texture. Maintenance may range from 3 weeks to clean up the sides, to 6 weeks to shape up the sides and top of this short hairstyle.
Short Wavy Pixie Cut
@rosies_space
A balanced approach of soft and edge with a short wavy pixie cut is a fun option for low-maintenance hairstyles. The disconnected length on top will conceal the grow-out underneath, allowing cutting maintenance to extend up to 8 weeks for the average head of hair. This wavy hair was styled with a soft curling iron curl, but could also be worn in a smooth pompadour style.
Very Short Pixie Cut
@lauramac.hair
A bold approach to your look will wow everyone with a very short pixie cut! This flatters oval face shapes. A visit to the salon will need to be scheduled every 3-5 weeks, but this approach creates a look for short hair that's low-maintenance. Styling will be very little to none, a pomade or paste may be all that is needed to keep this look sleek and laid down.
Pixie Cut for Black Women
@lamacevisions
A tapered pixie cut for black women can be a great option for wearing your natural hair with a sophisticated vibe. Finding a professional that is familiar with coiled hair is strongly recommended, as they can give you different options of smoothing services like relaxers, keratin treatments, or a press to maintain these smooth, short hairstyles.
Short Pixie with Fringe
@alexei.fedorko
Trying a short pixie with fringe can be a bold take on short hair! The length on top allows for a low-maintenance cut, and the cut can be customized for any hair type. For styling, a quick wrap dry and a little texture spray is all you need to obtain this look.
Long Pixie Cut with Bangs
@alexei.fedorko
A low-maintenance long pixie cut with bangs is a great way to keep your shape fun and feminine. Thicker hair density will utilize a lot of debulking using choppy layers to show off the texture, while fine hair density may need a texture paste or spray to accentuate movement. A long layered pixie cut with bangs like this looks great in both sleek and messy styles.
Wash-and-Wear Pixie for Women Over 50
@brittanygstyling
For women over 50 with a never-ending schedule, try out a wash-and-wear pixie! After your wash, use a product targeted for air drying to bring out your natural texture and add height that lifts your roots. Finish with a texture spray to add volume and definition. This soft fringe in front will aid in concealing any fine lines on the face while giving a youthful shape to low-maintenance cuts.
See more pixies for women in their 50s
Shaggy Pixie for Short Hair
@hairbydanfisher
If you're interested in wearing short hair, then a shaggy pixie cut might be a perfect choice! Added face-framing layers are a plus to accentuate your features. The benefit of the wispiness in this cut makes it less high maintenance, allowing 5-8 weeks between appointments.
Keep in mind, the texture of your hair will play a big role in the silhouette of the shape, so a coarser texture may require more debulking to keep the shape light, but still nicely shaped around the head.
Soft Pixie for Ladies Over 40
@zinoveva_elena
Wearing a soft pixie for ladies over 40 will create a youthful, but age-appropriate look by keeping the layering wispy, and sweeping the fringe over the forehead, concealing those fine lines or a recessive hairline. Low-maintenance short haircuts for thicker heads of hair would benefit from this look with the undercut, taking out plenty of bulk and keeping a nice shape.
Halle Berry Inspired Pixie Cut
@hairmakesupbee
A Halle Berry-inspired pixie cut can be a versatile choice whatever your aesthetic may be! A soft curl on top will give a very glamorous feel while going for a straighter, textured look can add an edge. These looks can be low-maintenance haircuts when the neckline is kept wispier, allowing for 5-8 weeks in between salon visits.
Straight Pixie Haircut
@demetriusmodel
When looking for fresh and short styles, try a straight pixie haircut. The style is swept to the side with bangs to flatter a square face shape. Accentuate eyes and cheekbones with razored textured layers and face-framing. Lightly stack layers at the nape to add body.
Textured Pixie with Wispy Bangs
@jeanclaudeelmoughayar
When looking for low-maintenance hair that's short, try a textured pixie cut with wispy bangs. When cut on fine or medium hair, a razor will add the perfect amount of texture and softness. Choose the side-swept bangs that can be kept long or short, accentuating the features of a heart-shaped face.
Low-Maintenance Pixie for Fine Hair
@simahaircut
Channel your inner Anne Hathaway with this low-maintenance pixie for fine hair, but with a brown color. It's a great way to make the tresses appear as thick as possible. A razor or point cutting with shears will give this cut a textured look. Styling low-maintenance pixie cuts for fine hair requires blow-drying with fingers and dryer, then finish with styling clay or pomade.
Low-Maintenance Pixie for Women Over 60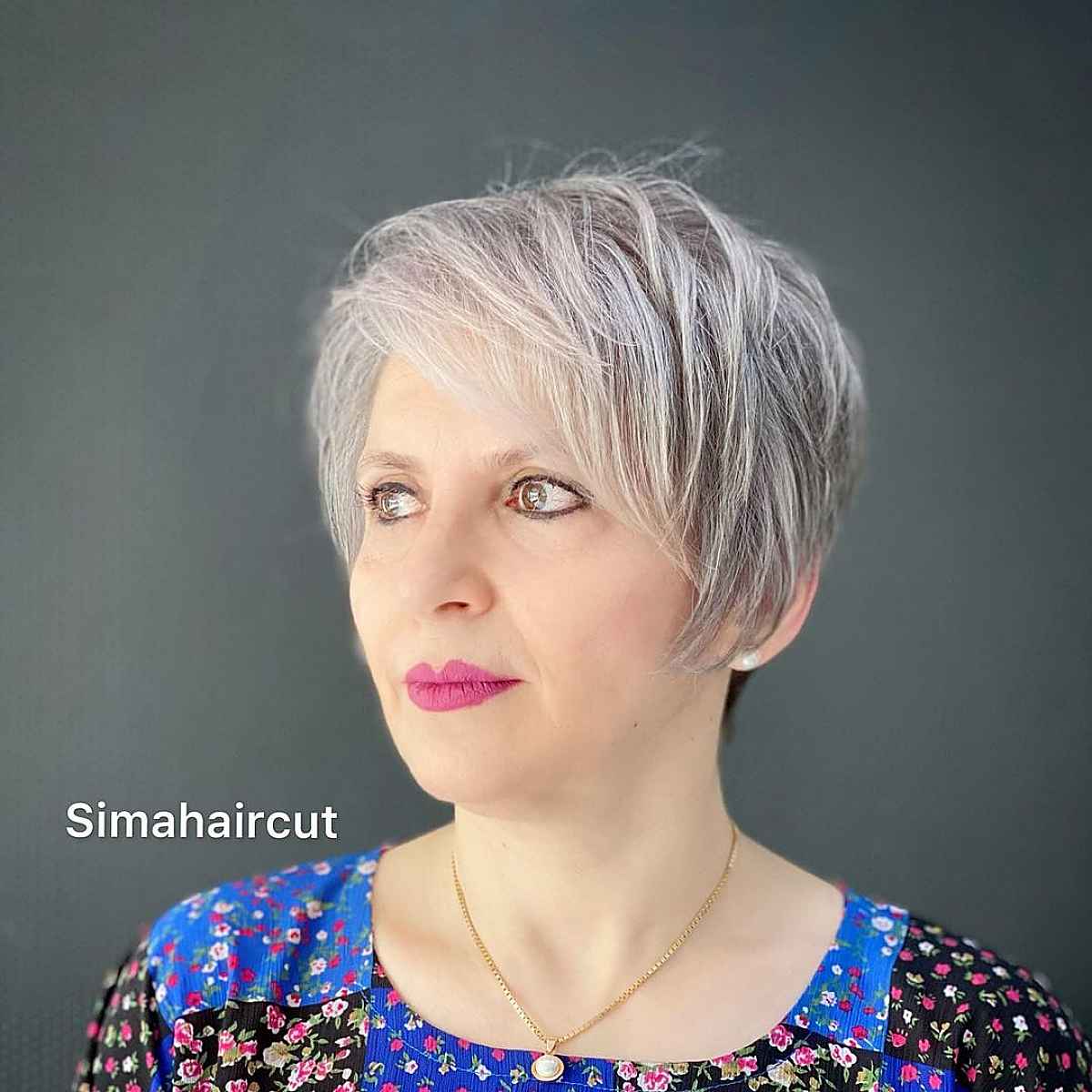 @simahaircut
Consider a low-maintenance pixie for women over 60 with side bangs. Softly stack the hair at the nape to build fullness and body. However, do not cut layers in the crown too short, as thinner hair can cause cowlicks harder to control. For this low-maintenance style, use volume mousse and create lift with fingers or a round brush.
See more pixies for ladies in their sixties
Asymmetrical Pixie for Shorter Hair
@zinoveva_elena
For fine to medium density, try an asymmetrical pixie for shorter hair. The side-swept front gives the illusion of more length while still blending into a short haircut. The style also makes an ideal low-maintenance pixie cut for a round face or any woman who's plus size. Clipper cut above ears and nape, then shears or razor for wispy layers on top. Style this cut with a texturing paste or clay for definition.
Short Textured Pixie for Thick Hair
@knigahair
If your hair is dense, you can still rock a short textured pixie for thick hair.Using a razor on short cuts can remove a lot of weight and add the desired wispiness. For low-maintenance pixie cuts for thick hair, thinning shears can be used to remove bulk. Style with pomade on dry hair for a messy look.
Easy-Maintenance Lixie (Long Pixie)
@knigahair
An easy-maintenance lixie, or a long pixie cut with long bangs, is perfect for fine hair to achieve a fuller look. Lightly stacking the back builds volume in the crown, making it a low-maintenance cut. Style this long pixie crop with a dryer and fingers. Use a small round brush if needed on stubborn pieces.
Short Low-Maintenance Pixie Cut for Thin Hair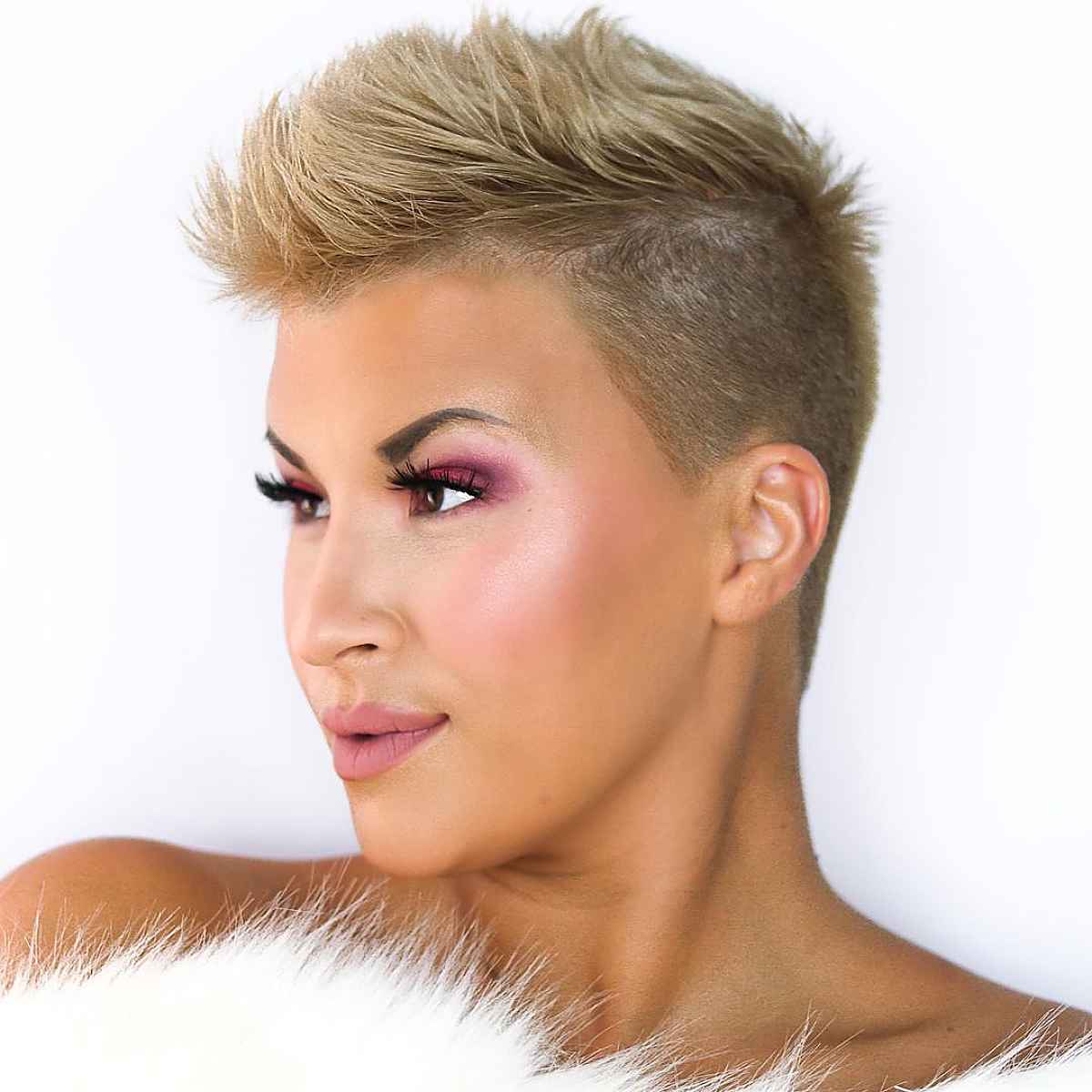 @kassiabarbo
Consider a short, low-maintenance pixie cut for thin hair. This easy hairstyle takes minimal effort and can make hair feel denser. Clipper cut the sides and back, then razor the top. Low-maintenance pixie cuts for thin hair look stunning when you style them with a medium hold pomade.
Short Pixie for Low-Maintenance 70-Year-Olds
@joe.cuttingedgesebastopol
For an updated style on mature women, try a short pixie for low-maintenance 70-year-olds. Hair thins and becomes more coarse as women age, but pixie cuts are always low-maintenance styles that make the hair look and feel thicker. Cut with shears and remove weight where necessary, but be careful of over texturing that might cause more frizz.
Edgy Pixie for Older Women with Glasses
@kelly.numberthree
If in need of a new look that's easy to style, try an edgy pixie cut for older women with glasses. Cut front fringe above glasses to avoid hair flipping. With fine or medium density, these low-maintenance pixie cuts for older ladies with glasses must have lots of layers to create great texture and movement.
See more pixies for older ladies with glasses
Feminine Pixie for African-American Women
@serenityluxuryhair
Consider a flattering, feminine pixie for African-American women. This short cut for a black woman can be done on dry or wet hair, using shears to blend. If cut wet, keep in mind shrinkage as it dries, so leave a little extra length. Use oil to style and add shine to your black hair.
Messy Pixie Haircut
@tatavorobyova
Try a modern, messy pixie haircut. Ask your stylist for a razor cut to add more texture. Diffuse or air dry and finish with a texturizing spray. Pops of colors would definitely add an edge and dimension to this messy pixie cut.
Tapered Pixie for Low-Maintenance Women
@bailey_aesthetics
For time-saving styles that work for straight hair, try a tapered pixie for low-maintenance women. Avoid shears on the sides, and use clippers to create a seamless taper through the sides and back. Remove extra bulk and blend with thinning shears.