15 Flattering Ways to Wear Bangs for Square Face Shapes
Curtain Bangs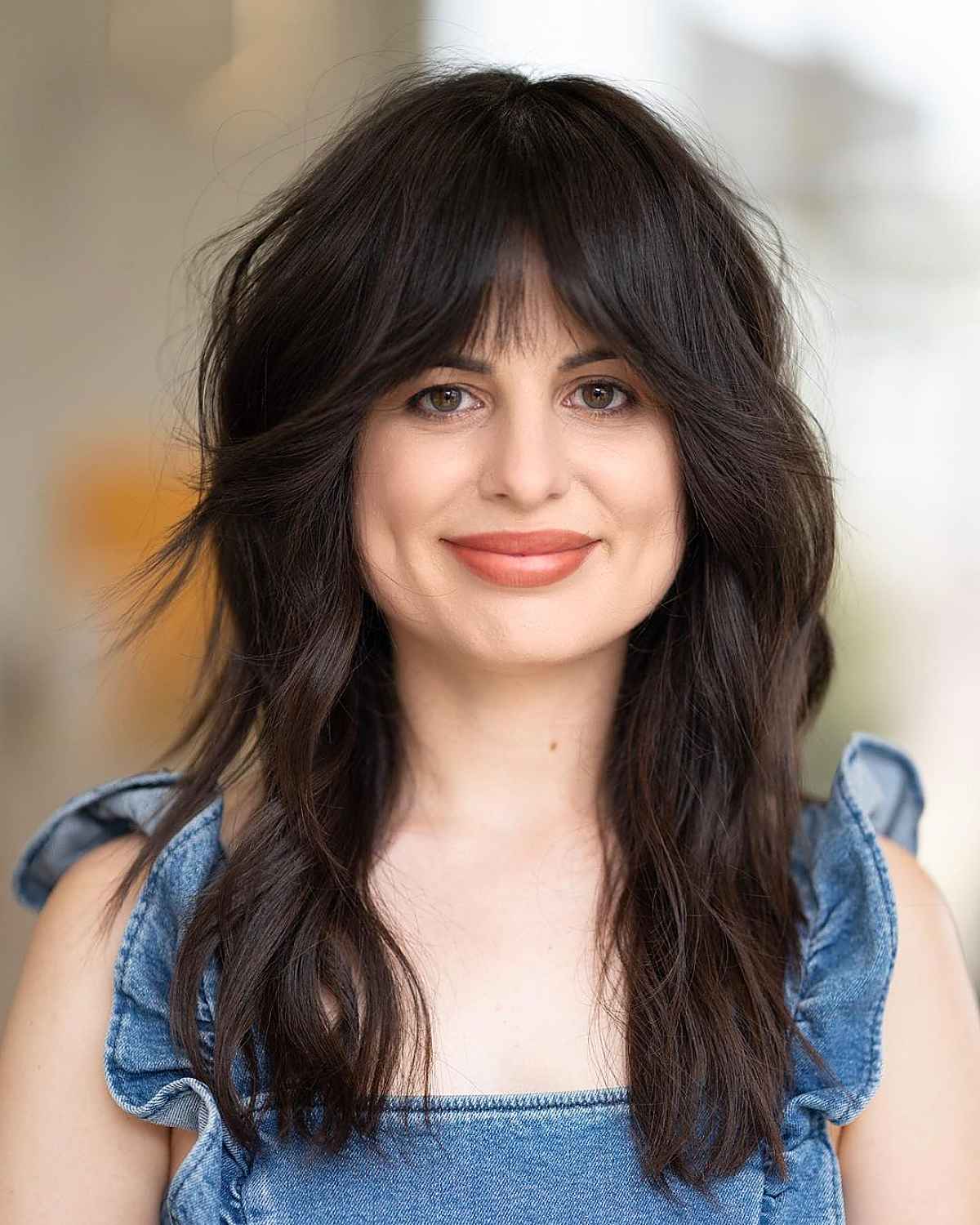 @brianaguilarhair
Curtain bangs are the trend to try this year. Curtain bangs can be easily sprayed or pinned back, so it isn't too much of a commitment. They can also take attention away from the jawline and soften the features nicely.
Blunt Bangs
@viorosie
Blunt bangs give a bold statement. Strong lines in a haircut can highlight strong lines in a square shaped face.
Long Curtain Bangs
@fernanducruz
Long curtain bangs are a great way to elongate the face. Keeping softer lines within the haircut is ideal for those with a square facial shape wanting to soften their face shape.
Side-Swept Bangs
@nunziosavianosalon
Bangs for a square face brings a much needed softness to a strong face shape. Side-swept bangs are the most low-maintenance of any bang type.
For Women Over 40
@bareeminimum
For women over 40, adding bangs can be flattering and will help elongate the face. Plus, adding bangs are perfect for covering fine lines.
Long Hair with Bangs
@rachelwstylist
Long hair with bangs helps break up the length, giving it more shape and making the haircut more interesting.
Shaggy Curly Hair with Fringe
@nubiarezo
A shaggy crop with a fringe looks incredible with curly hair and on a square face! If you're lucky enough to have both, this is a cut you have to try. To flawlessly finish this look, add in a sculpting product before air drying or diffusing. EuforaStyle's "Sculpture" Glaze is a great choice as it defines and de-frizzes curls without weighing them down.
Lob with Bangs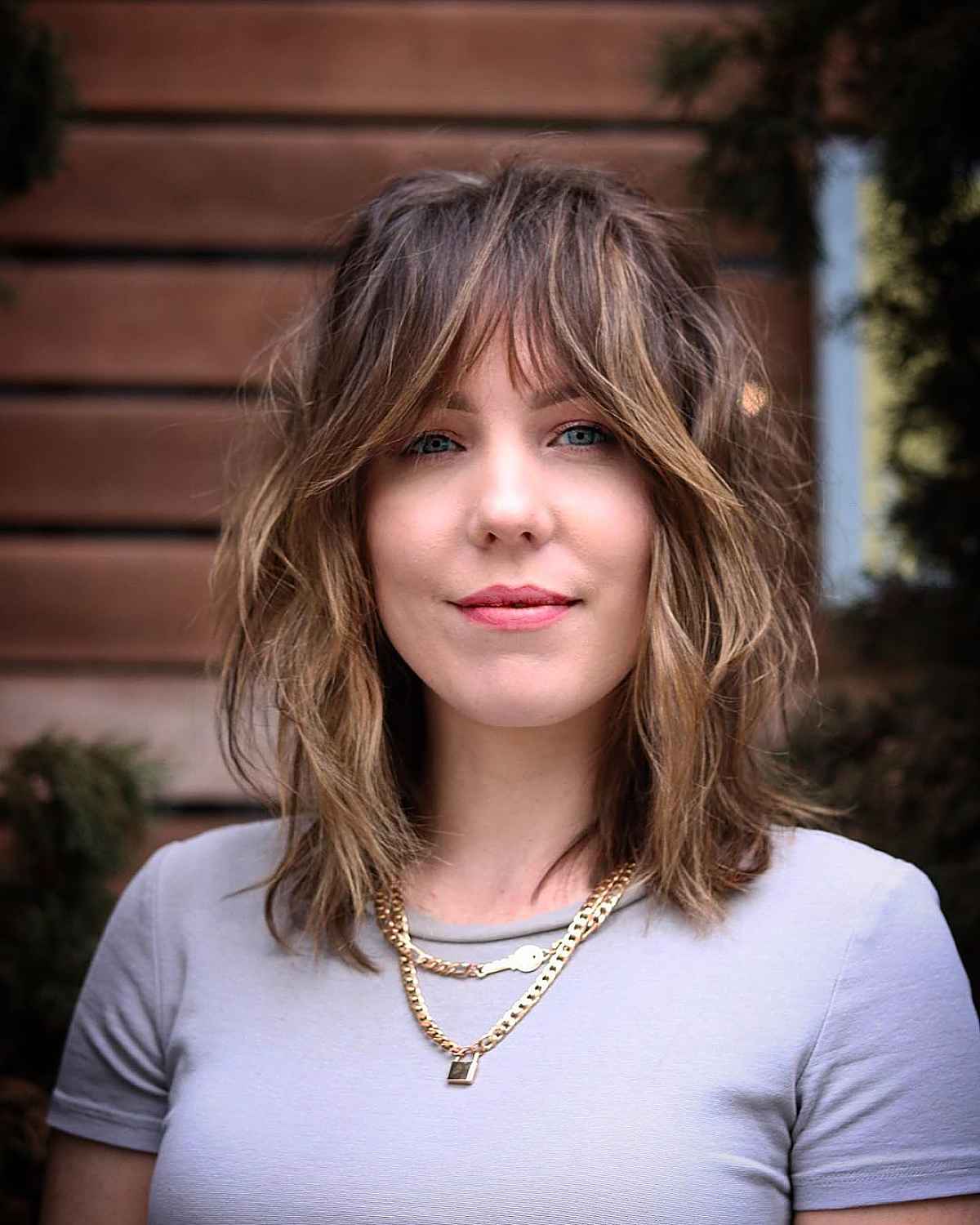 @hairbyelvisp
A lob with bangs is another "must" for square faces. To make this cut the most flattering, keep your length below the chin but above the shoulder, and go for the curtain bang. This will compliment your face shape and draw attention to your best features.
Wispy Bangs
@sophie_daem
Wispy bangs are a great way to contour a square face. Purposeful snips paired with little peekaboos of the face will shine light where you want and hide what you don't. Wispy bangs tend to look best with smooth tresses, so be sure to utilize a smoothing serum or cream during your blow dry. REF of Sweden's "Stay Smooth" is a great option as it works for any hair type.
For Women Over 50
@jayne_edosalon
Women over 50 are hitting the rewind button by choosing textured crops and choppy bangs. This youthful cut brings life to aging hair by utilizing endless layers and razored edges. Ultra high fashion and super on trend, this choppy crop serves major movement, huge volume, and a playful spirit.
For Older Women
@felix.lynn
Softer, rounder bangs for a square face helps change the face shape for a more flattering style. For older women, adding texture and accentuating high points in the face gives a youthful look.
For Women Over 60
@maygovintage
This cut is the perfect cut for women over 60! The layering in this style is so soft and flattering, making your face shape look its best. If you're on the fence about trying this style, talk to your stylist and take the plunge.
Face-Framing Bangs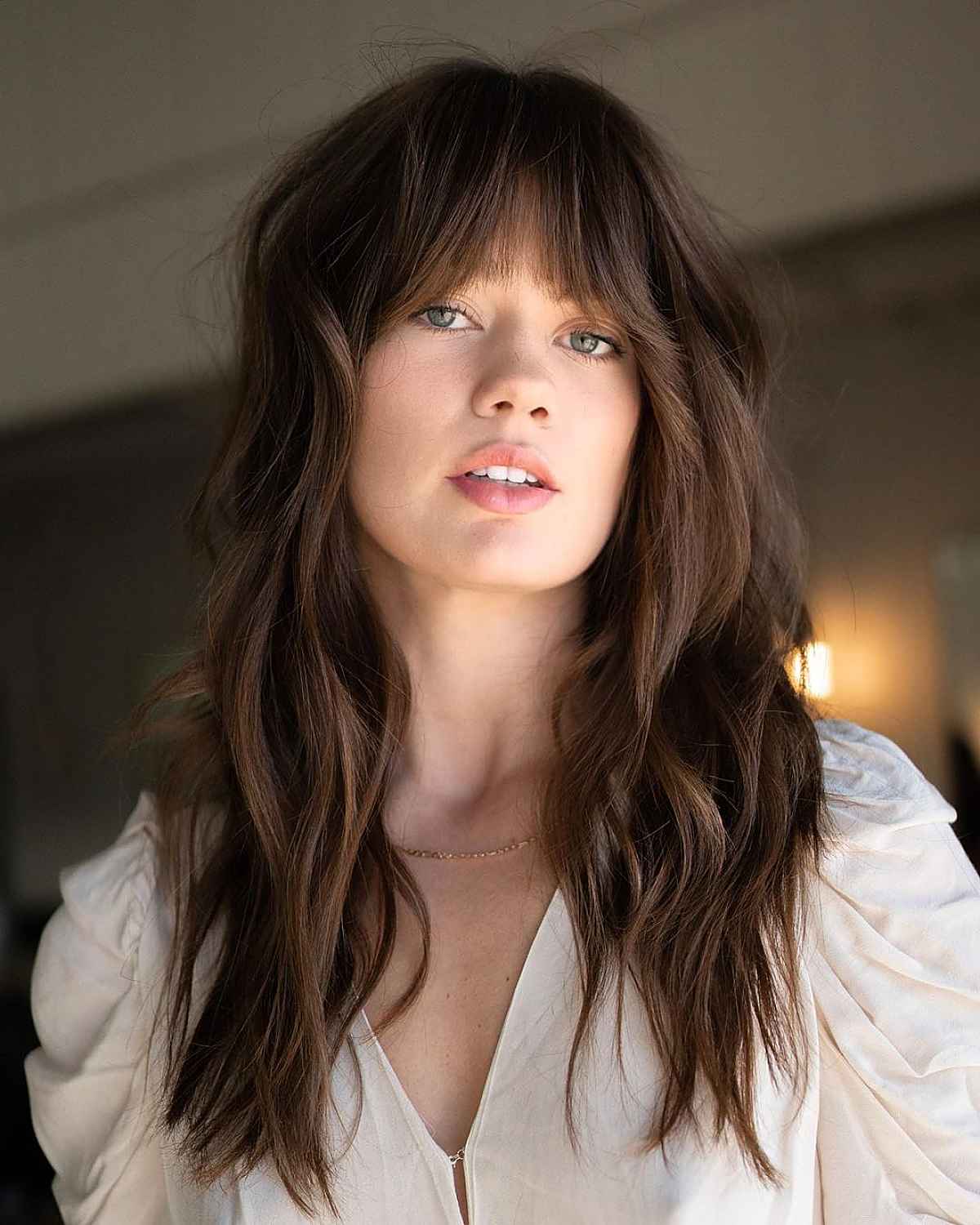 @brianaguilarhair
A face-framing fringe works on a variety of face shapes. When tailoring bangs on a square face, a rounded "short point" and blended texture will create the most compliments. Seamless blending around the jaw line will soften the shape of the face, drawing attention away from the chin and up toward the eyes instead.
Long Bangs
@evgeniya_bukhlitskaia
Long bangs are another flattering option for a face that's square. Utilizing soft, gradual angles around the eye line and cheek bones help balance the strength of the the jaw line.
Styling Tip: To get your bangs to lay just right, try a soft bump with a flat iron, or XL curling iron, after they're dry. Try the BaByliss Pro 1.5″ Spring Curling Iron or the 1.5″ Vented Flat Iron to get this look.
Short Hair with Bangs
@brentdanielbasore
Short hair with bangs can be a challenge on angular face shapes, but it's totally possible! It's important to know how to tailor bangs for a square face shape so you can achieve the look you desire. The key is seamless texture and a lot of blending. Keeping things blended around the face and ends will soften the jaw line and distract from harsh angles.