15 Stacked Short Curly Bob Haircuts to Enhance Your Natural Curls
Permed Short Stacked Bob
@dogancammm
Perms are popular again and a short stacked, layered curly bob looks amazing with this hair texture!. Short, curly stacked bob hairstyles are great for showcasing the perm texture. The elevation of layers leaves room for each and every curl to really POP!
Short Stacked Bob for Curly Hair
@camyhairstylist
Curled hair types can be enhanced when cut into a short, stacked bob haircut. If your hair is super heavy in the back, stacked layers will remove weight and give your curls more life. Style a curly layered bob with a curl-enhancing creme or hydrating gel for hold.
Short Curly Stacked Bob with Bangs
@hemilycabelosnaturais
A short, stacked curly bob with bangs is a choice that defines one's personal style. Curly bangs, layers and lengths are all customizable elements in this choice of curly hairstyles. Photos of a curly bob with a fringe for inspiration during a consultation can help create a unique style along with establishing routine salon visits to maintain the ideal structure and style.
Curly Stacked Bob for Round Faces
@kittyvarco_mod
A curly stacked bob for a round face can vary in haircut options. Short hairstyles for curly hair distribute weight, creating balance in length and feature ratio. It allows for a swift styling routine and a graceful grow-out.
Salon visits can vary from 8-12 weeks and can be worn diffused or air dried. The length, stack, and fringe area can be customized during service with a few choices of photos of stacked bobs for inspiration, discussed during consultation.
Shorter Stacked Bob with Loose Curls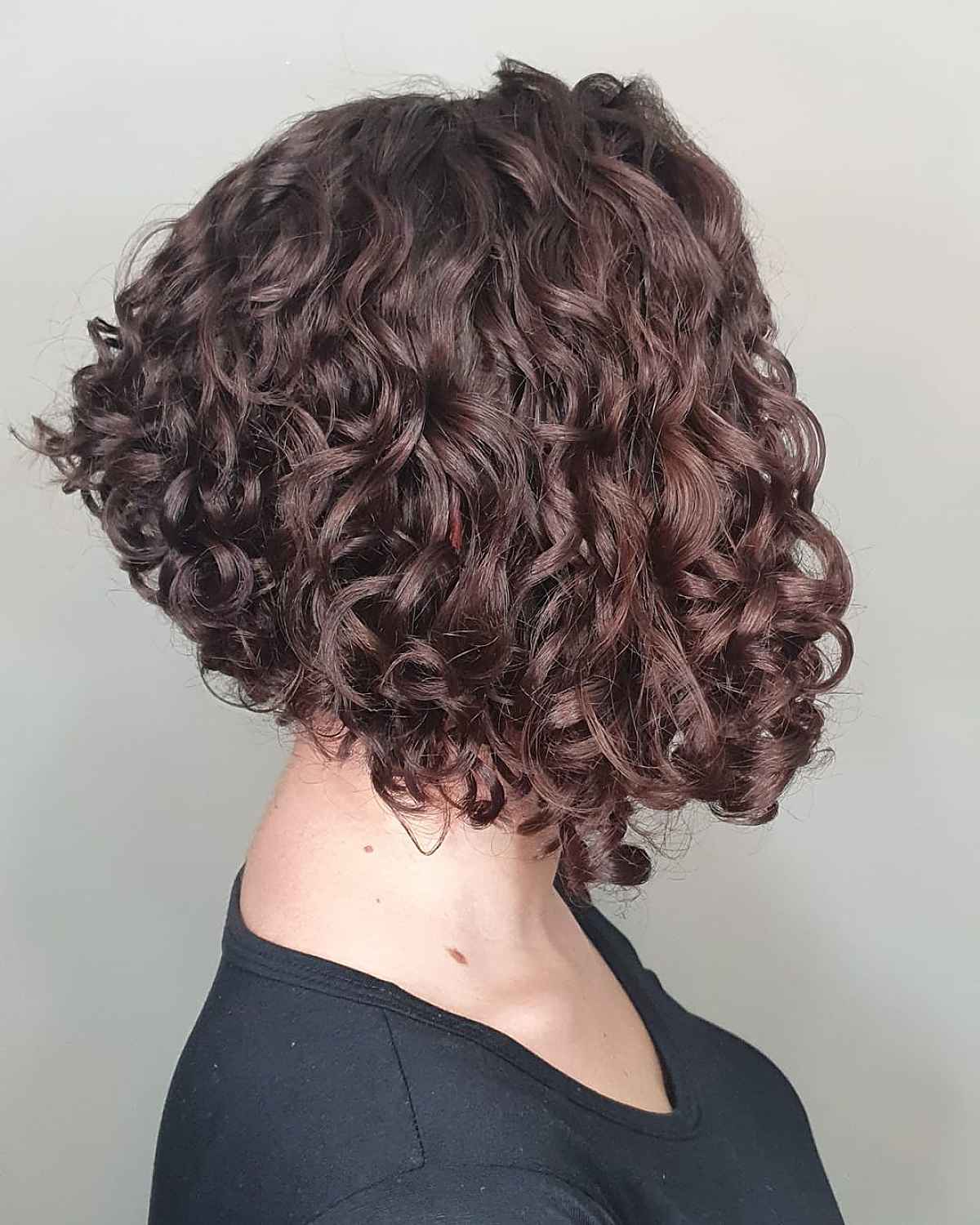 @borboletascabelonatural
A shorter stacked bob with loose curls is a flattering way to showcase natural texture. When void of weight, short bobs spring into a full silhouette and can be customized during the curly cuts service.
Mousse and air dry creams are common styling aids for a such curly wedge haircut to help enhance texture. Diffusing or wash-and-go are common means of styling.
Low-Maintenance Stacked Lob with Natural Curls
@hemilycabelosnaturais
A shoulder-length low-maintenance stacked lob with natural curls is a style that allows for a natural silhouette to be worn without the need for routine presentation. This choice of a curly haircut is ideal for the natural curl, which is easily defined with a hydrating formula, like creams or lotion. Gel-cream hybrid formula can help provide hold in more humid regions and diffusing can help seal the style and hold.
See more curly lob haircuts
Chin-Length Stacked Curly Bob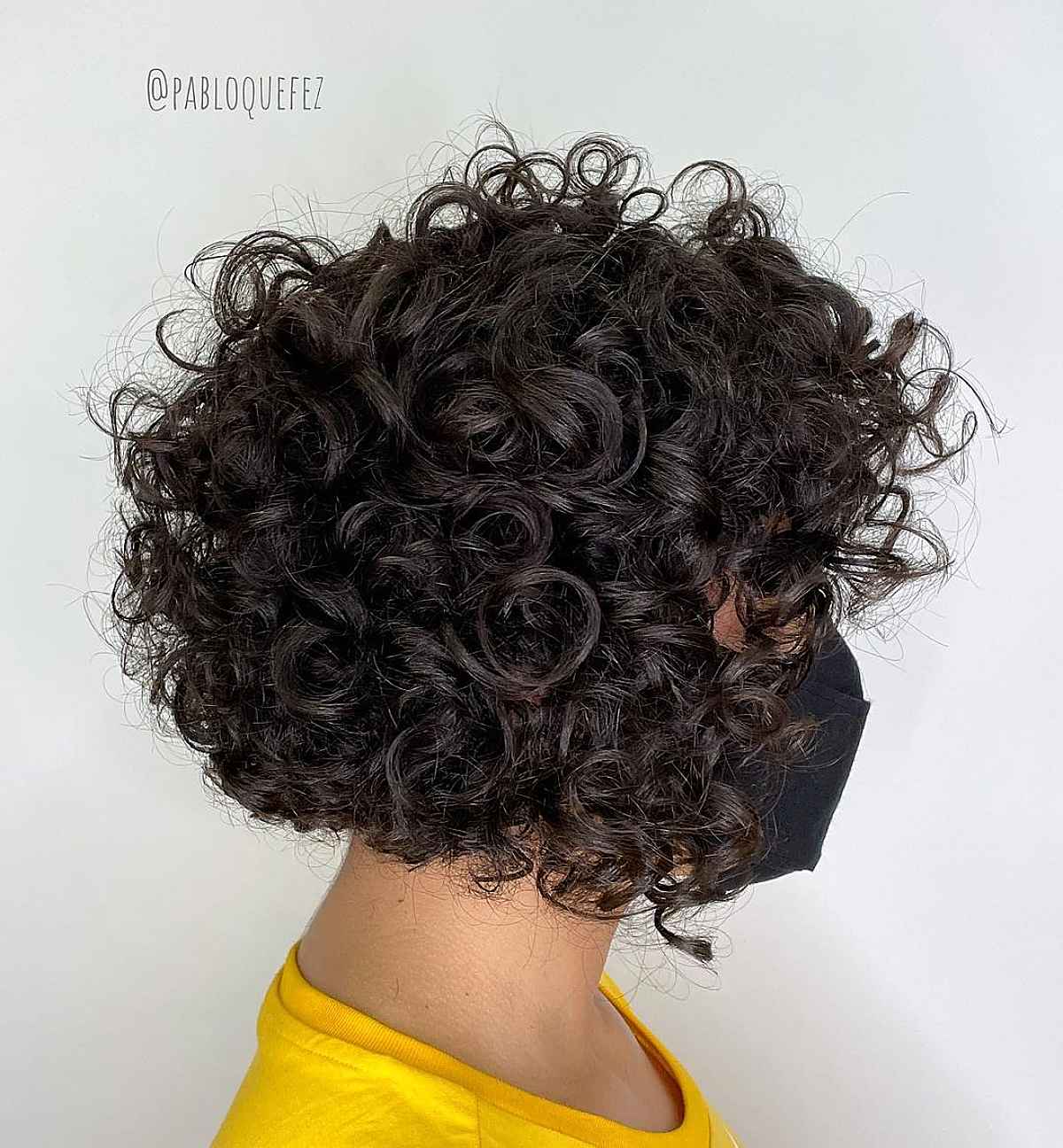 @pabloquefez
A chin-length stacked curly bob is a modernized and textured style of the classic French bob. Maintenance can vary with this naturally curly bob on short hair – depending on curl textured into the cut and your desired length. A consultation with a curl specialist can help determine the maintenance and routine for this chin-length curly hair.
Tightly Coiled Stacked Bob
@kellyhaircare
A tightly coiled stacked bob is a flattering way to distribute the weight of a coiled mane. Add baby bangs for a much adorable result.
Short, stacked curly bob hairstyles give a full body silhouette with the coils sprung in a layered shape. Styling and definition can be created with a Denman brush, or finger coiling paired with a styling aid like Ouidads Coil infusion Good Shape Defining Gel.
Messy Curly Bob That's Stacked
@hair_by_janesmane
A messy curly bob haircut that's stacked can provide a low-maintenance styling routine for the woman on the go. Enhancing the pattern of tousled curls with diffusing, air drying, or light styling can help achieve the natural texture of the curl. A curl specialist can best help pair a product and routine tailored for your needs and desired stacked short bob hairstyle.
Short Stacked Bob for African-American Women
@curlsbycat
A short stacked bob for African-American women can showcase a natural texture with full body style. Short stacked curly bobs can be a great fit for kinky to afro-textured hair. Photos of reference during consultation can help determine desired style and ideal maintenance. Texture can be enhanced when styling Bantu knots, two-strand twist, or with the help of a Denman brush.
Edgy Stacked Bob for Curly Girls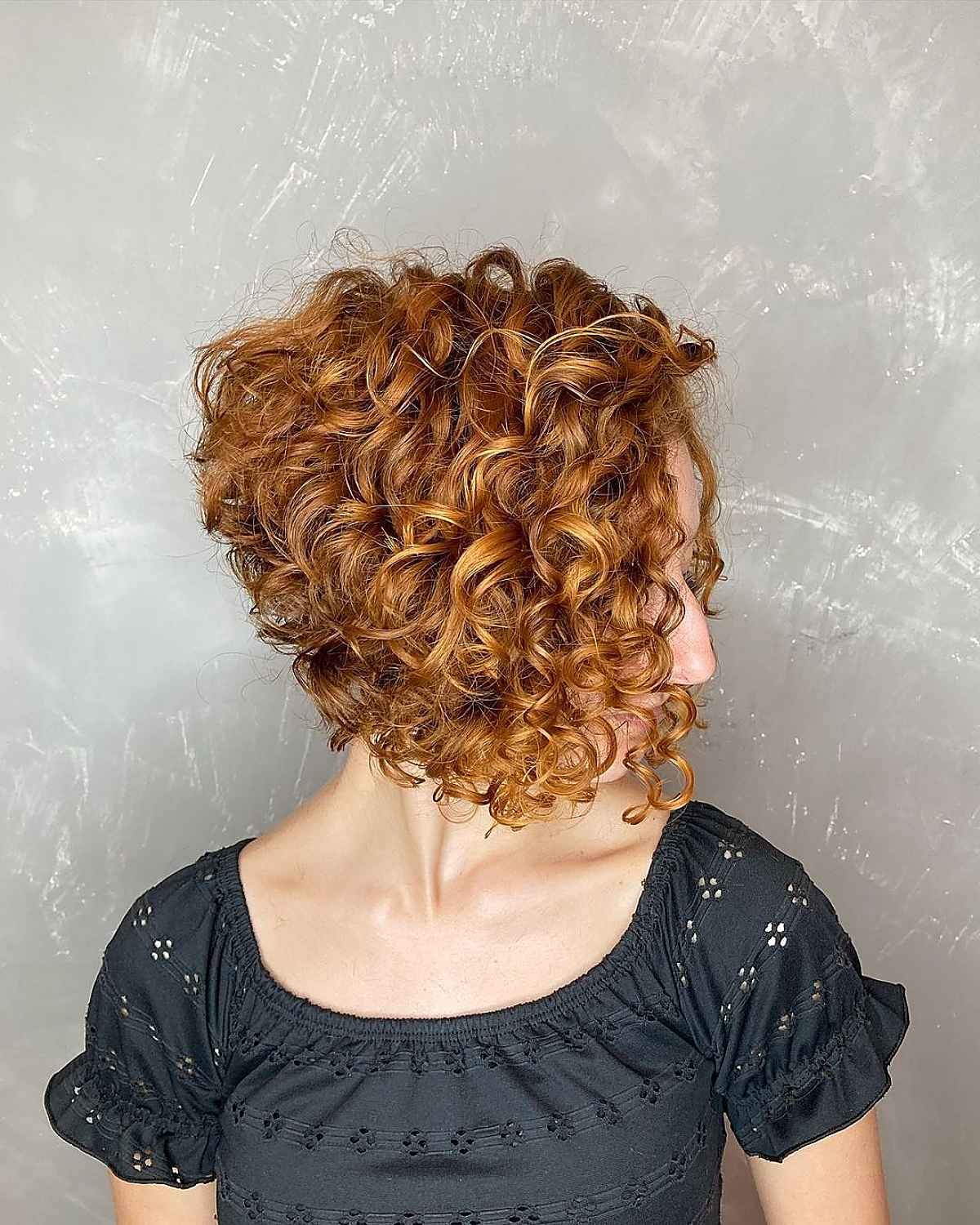 @alice.pagno
An edgy stacked bob for curly girls is a customizable style per the curl patterned and desired angle. A short stacked bob for curly hair can create a strong sense of identity through style especially when paired with color. Products for styling can vary with gels or texturizing mousse, diffusing or air drying. Salon maintenance can vary from 6-10 weeks.
Curly Bob with Stacked Layers
@katieperryhair
Add stacked layers to your choppy curly bob to remove weight and add volume at the crown. This short curly hairstyle is a great way to lighten up your look. This would fit any curl type from soft waves to super curly.
Very Short Stacked Bobbed Hair
@curls.and.love
Very short stacked bobbed hair can come in many different shapes. Short haircuts like this are for women of the curly hair community looking to show off their neck and jawline. A little more maintenance is required to keep this shape of a very short curly stacked bob looking sharp, about every 6 weeks.
Neck-Length Curly Bob with a Stacked Back
@cfbeautybymaddie
If drama is what you're looking for in your curly bob, try a stacked bob at neck length. Keeping length in the front for a curly graduated bob will make any face shape look great. These curly haircuts are perfect for ladies of all ages!
Stacked Short Curly Bob Hairstyle
@linda_carmineandco
Try a short stacked bob hairstyle if you want to get the most out of your curls. A stacked, angled bob cut for short hair is ideal to create a flattering shape for women. This adds volume, definition, dimension, and plenty of style.