25 Best Wavy Shag Haircuts to Consider for an On-Trend Look
Shag with Loose Waves and Curly Bangs
@joannatruminohair
What do women want? A shag with loose waves and curly bangs, that's what! If a shaggy wavy haircut is what you desire, don't be afraid to add product into your life! Utilizing thickening sprays, body building mousses, and flexible hold hairsprays will all make your wavy or curly shag shine. But the best place to start? It's in the shower. Always opt for a volumizing shampoo and conditioner at the beginning of your routine.
Soft Shag Haircut with Waves
@zenzorganic
Looking for a more modern shag haircut? Try a soft shag haircut with waves. The seamless blending and softer layers of this cut offer an updated, romantic take on the classic shag crop. If you have straight hair, use a curling iron to enhance the cut's body and shape, then secure with a texture spray.
Collarbone-Length Shag Haircut with Bangs and Waves
@rokk_ebony
A collarbone-length shag haircut with bangs and waves is a true head-turner. If wanting to flaunt your natural texture, this shaggy wavy bob haircut is for you. When styling, use a hair diffuser to keep the natural pattern of your locks and avoid a frizzy result.
Razored Shag Cut with Tousled Waves
@coastalhair_sf
Talk about texture! A razored shag cut with tousled waves is ideal for women's brown, coarse hair. When getting layered haircuts, asking for a razored style will increase movement and body all over. This technique works especially well with coarse hair as razored cuts reduce blunt lines and provide endless blending.
Medium-Length Shag with Bangs for Wavy to Curly Hair
@jess_saltybangs
Wavy, curly hair looks extra stunning when paired with a medium-length shag with bangs. The varying lengths of this cut play well with natural textures, making styling a breeze. Remember, shorter layers on a shoulder-length wavy shag mean more bounce and you can always ask for more!
Middle-Parted Shaggy Wolf Cut for Short, Wavy Hair
@elda.almodovar
Change it up! Flip your part! Take off some length! Try a short and shaggy wolf cut with some middle-parted waves! There are so many ways to play with shags, like this short shag for wavy hair. Think of it as a bob haircut with some wavy, shaggy layers added in.
Messy Shag Cut with Bangs for Wavy Hair
@emilyppt
Messy, wavy shag cuts with bangs are all over our social feeds right now. There's something about the feathered layers of this look that feel timeless, yet trendy. Such medium shaggy wispy haircuts are a must-try for every woman.
Wavy Blonde Shag with a Center Part
@jdoblehair
A wavy blonde shag with a center part is the definition of "bombshell hair." The wavy style is perfect to pair with a blonde hue as it enhances the dimension of the hair. To keep your blonde hair "bomb," incorporate a toning shampoo into your shower routine. REFs Cool Silver Shampoo is a great choice.
Medium Shag with a Fringe for Natural Waves
@lcs.hairdesign
I've said it before and I'll say it again—a medium shag with a fringe and natural waves are a match made in heaven! Naturally wavy hair lends itself to this crop as each layer will allow your curls and coils to spring to life. For an extra boost of texture, mist your hair with a Salt Spray when styling- like Sachjuan's Ocean Mist.
Layered Shag Haircut with Curtain Bangs
@jess_saltybangs
Women with a balayage should try a wavy, layered shag haircut with curtain bangs. This crop will compliment lightened lengths and show off the dimensions of your hue. For an extra burst of impact, ask your stylist to pull lightener up into your fringe.
Long Gray Shag with Wispy Bangs for Women Over 60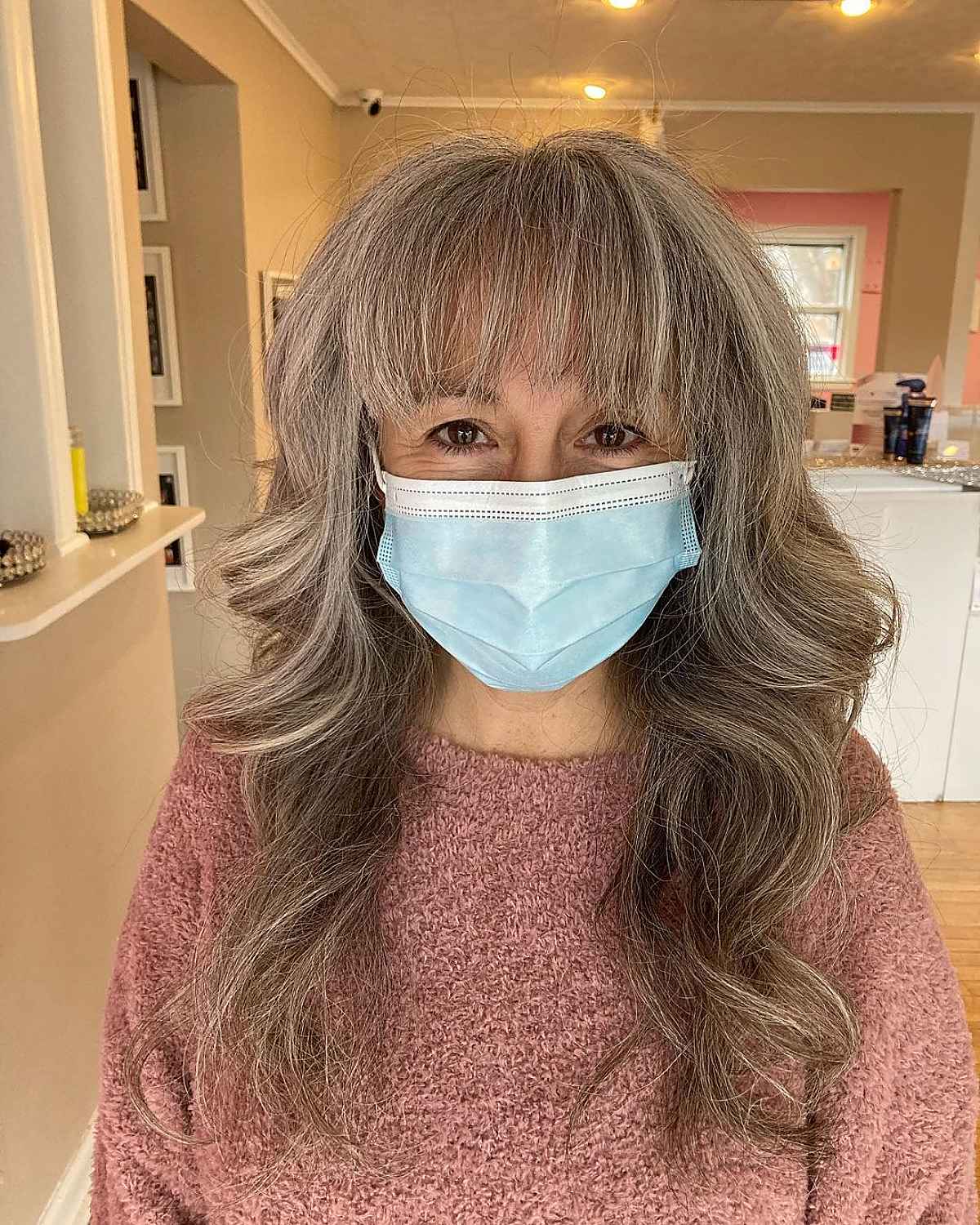 @elenakolor
Women in their 60s can let their long gray lengths shine with shag and wispy bangs. Long shaggy wispy shag haircuts look stunning when paired with gray hair and long layers. To keep your silver strands extra sparkly (and extra soft), incorporate a violet mask into your shower routine. My favorite is Lakme's Teknia White Silver Mask.
Here are more shags for ladies in their sixties
Shoulder-Length Shag with Curly Bangs for Older Ladies
@cuts.by.rasa
Older women looking to "pump up the volume" should try a shoulder-length shag with curly bangs. The layering and style of this wavy shag compliments all textures of aging hair. For curly girls, it's an absolute must! Keeping your length at the shoulders makes this cut extra voluminous from root to tip.
See more shags for older ladies
Long Shaggy Style for Thin, Wavy Hair
@hollygirldoeshair
Women with thin, wavy hair types are the perfect candidates for a long shaggy style. A long wispy shag haircut plays to this texture as the "shaggy" layers allow for more movement throughout the hair. To really boost the impact of shaggy haircuts for long wavy hair, add a thickening spray into your routine like REF's Thickening Spray No 335. Spritz this throughout your lengths and style as usual.
Layered Wavy Hair with Shaggy Bangs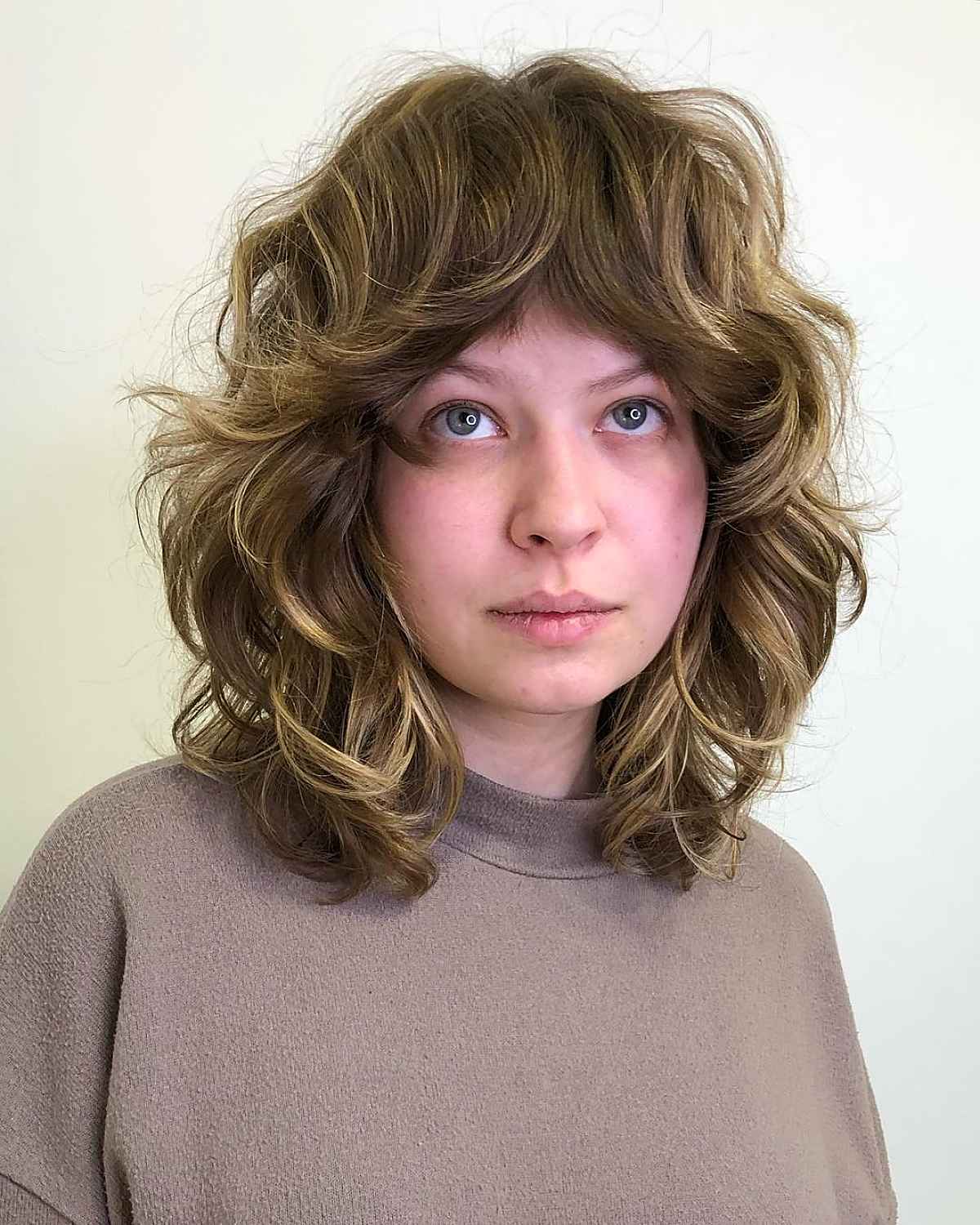 @zaroslovs
You don't have to go "full shag" to get the same layered, wavy effect. Opting for shaggy bangs and a layered haircut can create a style similar to a feathered shag. This shaggy bob haircut for wavy hair looks especially great on a mid to shoulder length of cut.
Shaggy Mullet with Thick Bangs
@modestspotcarrillo
A shaggy mullet with thick bangs can completely transform thick, wavy hair. Women looking to try something new should opt for this shaggy, layered hair.
Wavy Shag for Women Over 50 with Silver Hair
@katherineevahair
Women over 50 can rock a wavy shag, too! Silver hair or not, this crop with piece-y bangs can do wonders no matter your color, texture, or density. Women over 50 with fine hair will find that shaggy hairstyles are perfect for their tresses. The layers of the shag cut texture will allow lengths to bounce up naturally, creating more volume and movement throughout the hair.
View these flattering shags for ladies in their fifties
Natural Wavy Shag with Face-Framing Layers and Bangs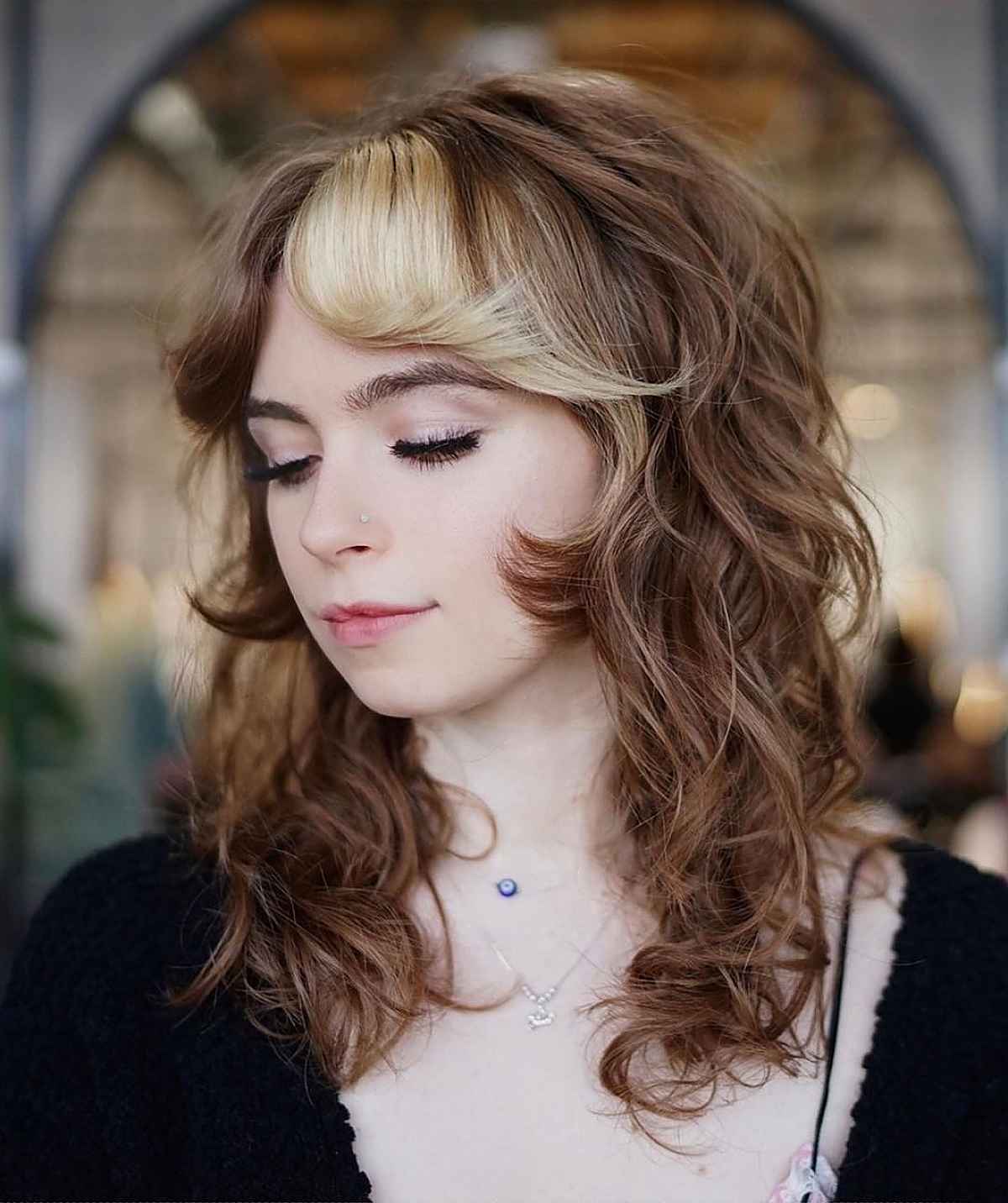 @beautiful_by_natalie
Shaggy crops are a great match for natural waves. If you incorporate face-framing layers and curtain bangs, you'll truly tie this haircut together to accentuate your best facial features. Curtain bangs are low-maintenance and blend seamlessly with shags.
Rockstar Wavy Texture for a Shagged Haircut
@ernestomeneses
Calling all rockstars! Here's a wavy, shagged haircut just for you! Women with thick hair looking for major texture and a long shaggy hairstyle will LOVE this look. This long shag haircut will thin out the thickness while providing major volume and lift to the roots. This cut is also a great option for a woman with a round face shape.
Modern Wavy Shag Cut with Beach Waves
@bleachfuzzz
While the wavy shag cut might be 70s-inspired, it is easily modernized with the addition of beach waves. In general, a shaggy cut will do wonders for long wavy hair, but that doesn't mean you can't make your own waves! Try styling your crop with a waving iron like the BaBylissPro Triple Barrel Ceramic Waver to achieve S-waves.
Mid-Length Shag with Soft Waves and Layers
@liseloveshair
Shag cuts come in all shapes and sizes, but a mid-length shag looks particularly gorgeous with soft waves and layers. This shaggy, wispy haircut of yesteryear has made its comeback and can easily be done in a medium length. To make your S-pattern waves last, incorporate a body building mousse into your routine. REF's Fiber Mousse No345 is a great option.
Shaggy Bangs for Thick, Wavy Hair
@nataliarok
Shaggy bangs are a great choice for women with thick, wavy hair. In many cases, ladies with thicker hair will shy away from bangs thinking that fringe won't work with their hair texture. This isn't the case! It's all about finding the right trim. Ask your stylist for a shag with curtain bangs and watch how well they work with your hair without taking out its fullness.
Mullet Shag for Wavy Tresses
@badapplehair
An angelic mullet shag is a great cut for wavy tresses. Pair this crop with choppy bangs and you'll look like a 70s dream.
Shaggy Wolf Cut with Choppy Layers
@clubglam2.0
The term "Wolf Cut" has been buzzing lately, and it describes this shaggy, choppy layered style. It's a 70s shag haircut with choppy layers for even more texture and edge. The best part of of this look? You can embrace your frizz! Frizz is in and the Wolf Cut is a great way to showcase your natural texture.
Wavy Shaggy Hairstyle with Brow-Grazing Bangs
@stevi.brooke.hair
Brow-grazing bangs and wavy, shaggy lengths are the "It girl" hairstyle. The feathery layers of this look keep this crop current while still serving major 70s vibes. Opt for this chop and you'll stand out wherever you go.
Long Voluminous Shag with Crown Layers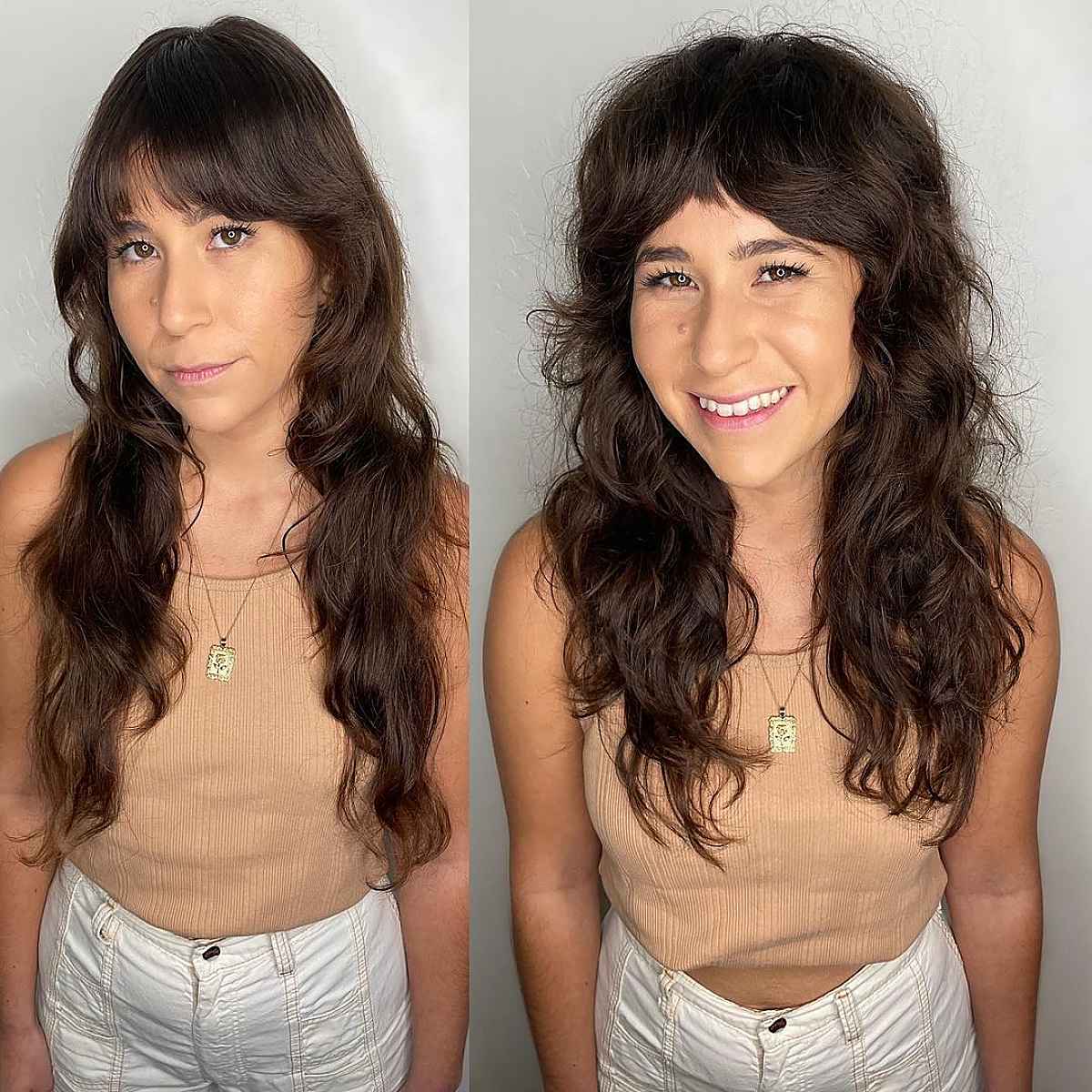 @bareeminimum
Crown layers are the key to creating a long, voluminous shag. If the body and bounce are your goals, then a layered haircut will get you there. This long wavy shag is a great example of how layers can create endless texture and volume.