15 Angled Bobs for Women Over 60 Who Want a Chic Look
Short Angled Bob Haircut
@peacockbeautystudionj
A short angled bob haircut is a perfect choice for the chic grandma. There's nothing boring about this cut – it can be choppy and fun with subtle layers and texture to create a look that is as vibrant as you are! Short layered bob hairstyles for over 60 are ideal for oval face shapes – round faces should try a slightly longer angled bob to elongate the face.
See more short bobs for ladies your age
Easy Angled Bob with Soft Layers
@hairshegoesbykristy
60-year-old women with salt-and-pepper hair should opt for an angled bob with soft layers. It's a great option for a stylish haircut for women that isn't too much to handle. Oftentimes, as we age, our hair can feel thinner, so an angle added to short bobs for older women can give some length without losing the ability to create volume in the back. With a round brush and a volume spray, soft layers can add texture to any type of angled bob cut.
Grey Angled Bob with Wispy Bangs
@hair_by_roxyfoxy
For a woman in her 60's who has embraced her natural grey, an angled feathered bob is a great option for versatile style. This short bob with bangs for older ladies features a natural color to show so much dimension given from all over grey – something to be proud of, no doubt! Want to cover up some expression lines without injections? Go for some wispy bangs, they aren't too heavy and won't take away from the original goal of being an angled bob hairdo.
Angled Bob with Feathered Bangs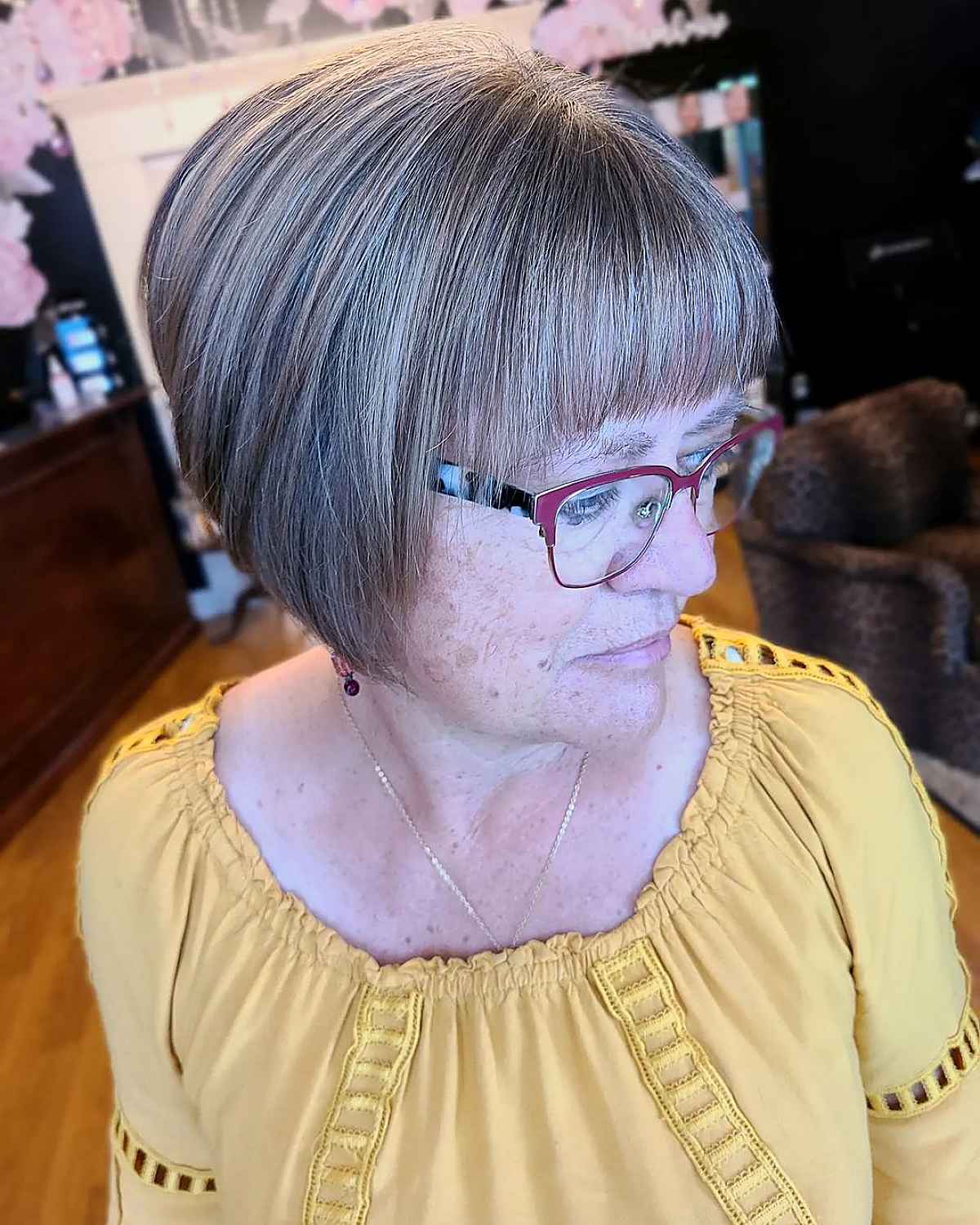 @hair_by_luciaperry
Seniors with gray hair that have limited time to spend styling can focus on the front with feathered bangs. Angled bob haircuts for women over 60 are a fashionable choice for all face shapes and hair textures. Having a knowledgeable stylist is key to knowing the perfect angle for each individual. Feathered bangs are a great added bonus for a more youthful style.
Long Angled Bob Hairstyle
@usalon_collingwood
When we reach our sixties, we can be torn between keeping our length or taking our hair very short. Current social standards are, luckily, embracing how you feel not what your number is. A long angled bob on grey hair creates stunning medium-length hairstyles for women over 60. It's a fantastic way to show the world you have spirit and a flare for fashion.
Avoid taking your angle more severe than what is best for your hair type. Thin hair is typically harder to have a longer angle, extensions for thickness are definitely something to chat with your stylist about.
Edgy Angled Lob
@sallys_flair_for_hair
Looking for an edgier haircut to match your wild inner self? The blonde angled lob with thin bangs is something that pairs well with a lady who maybe went against-the-grain growing up and doesn't want to stop now. For an edgier style of bob hairstyles for over 60 with glasses, try adding extra texture with a waver (like a curling iron) or a beachy curl with a 1 1/4" curling iron.
See more edgy cuts for ladies over 60
Low-Maintenance Angled Bob
@_tieladoeshair
For a low-maintenance angled bob, ask your stylist to leave the hair longer in the front and shorter in the back. Such wash-and-wear haircuts for over 60 will help give the appearance of more definition along the jawline. Adding layers and graduation in the back will also produce more movement in the tresses. Use a heat protectant such as Pulp Riot Tripoli and smooth with a flat iron to finish the look.
Angled Bob for Curly Hair
@devadoll10
A curly-haired woman past her 60's should try an angled bob for curly hair. This wash-and-go style simply needs a curl enhancing cream such as R + Co Turntable applied to wet hair and the crop will air dry beautifully. For this short inverted bob haircut, you should seek out a curly hair specialist in your area, as they know techniques that help create the proper shape for angled bob styles and enhance the pattern of your natural curls.
Youthful Angled Bob for Thinning Hair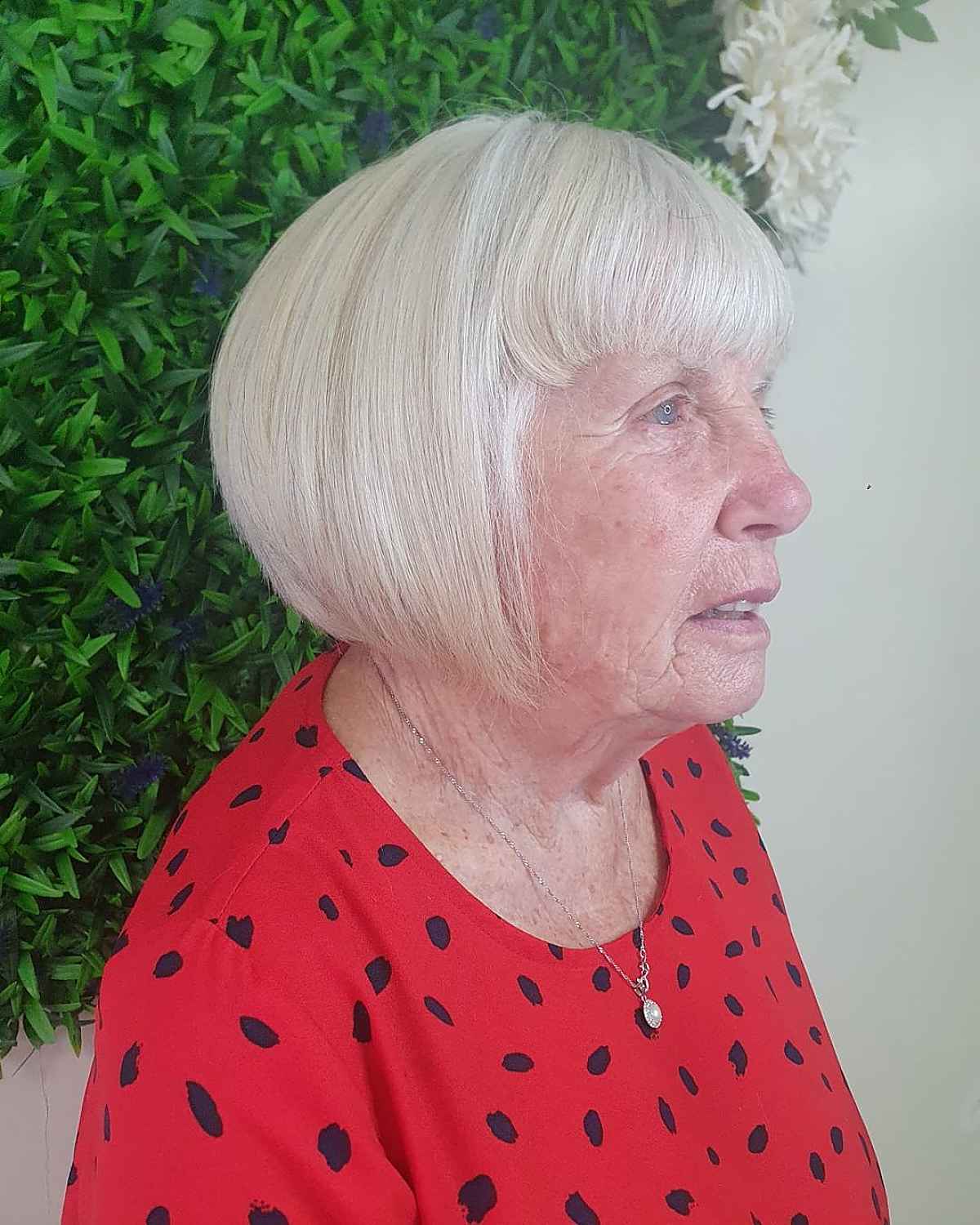 @cosmic.halo_hair
A youthful angled bob for thinning hair helps add shape and an appearance of fullness to fine hair. Properly placed graduation around the base of the occipital bone can help the back of the head appear more curved than flat. Creating volume with angled bob hairstyles for fine hair can make you look 10 years younger.
The best way to style angled bobbed hair is by prepping with a heat protectant, such as Foundation Mist by Oribe, then using a wrap dry technique to blow-dry the hair around and against your head to smooth and accentuate the shape of the cut.
Classic Angled Bob for Fine Hair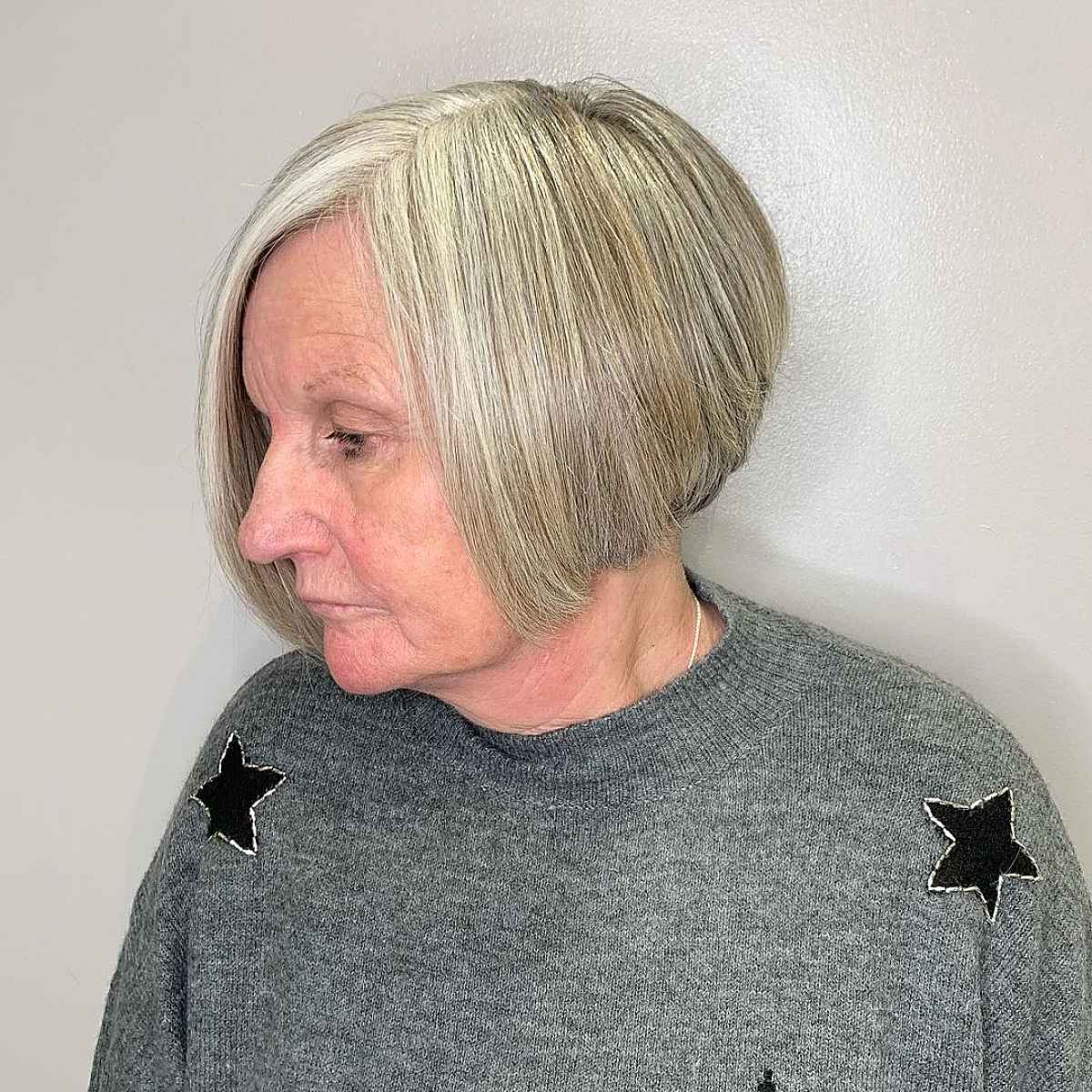 @kirsten_finnigan_hair
A classic angled bob for fine hair is a timeless haircut for ladies over 60. The stacked strands in the back helps build weight and thickness, which women with fine and straight hair are always looking for in a haircut. For chin-length hairstyles for over 60 that have a bit of a wave in the back, add a smoothing product that has a light hold, such as Oribe Gel Serum, prior to styling for a polished finish.
Angled Bob with Stacked Layers
@venners_vibrant_hair
For women over sixty with thick hair, try an angled bob with stacked layers. The heavy layering will remove bulk from the bottom of the haircut, which will help avoid the dreaded triangle shape and create a lot of gorgeous movement. Keep in mind this short layered bob for older ladies helps remove weight, so it is not recommended for fine hair.
Layered Angled Bob
@thehairandbeautyloungenj
There's just something about a layered angled bob with bangs that offers the ideal balance between sophistication and edginess. For 60-year-olds that like something bolder, pair this rounded bob with vibrant hair color such as copper or red for hair that's anything but boring.
An angled, choppy bob hairstyle can be worn straight and sleek or consider adding beachy waves for a tousled look. Finish with a product such as Oribe Texture Spray for soft hold and volume.
Check out these layered bobs for women in their sixties
Classy Angled Bob Cut for Thick Hair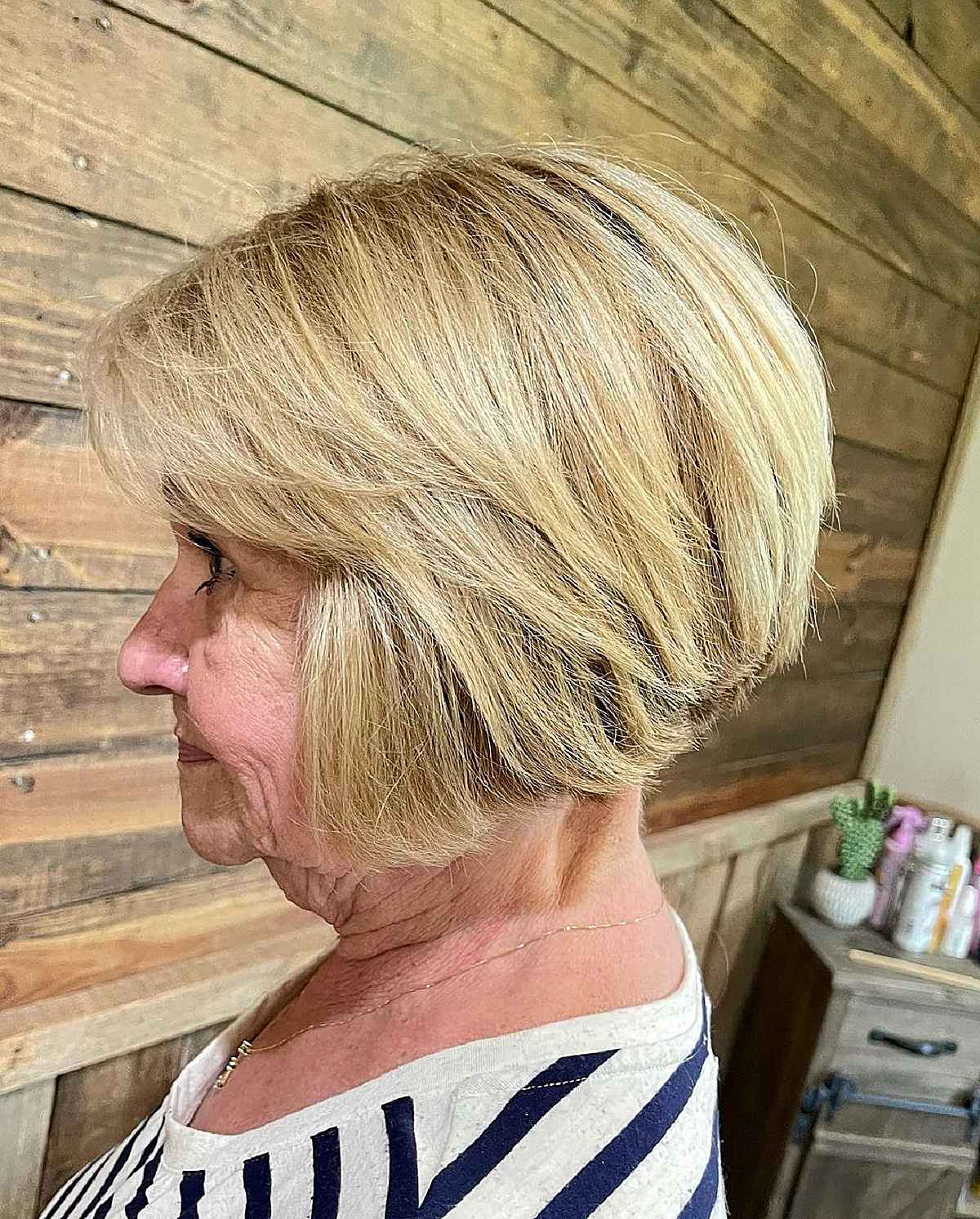 @emazing_headquarters
A classy angled bob cut for thick hair looks amazing on women over 60. Stacked bob hairstyles for over 60 with side bangs are easy and fast to prep – something mature women are often looking for with their lifestyle. Most of the time, you can blow-dry this cut with a round brush and don't need to spend any extra time using hot tools. Just mist a light hairspray to control flyaways and you're good to go for the day.
See more classy bobs like this one
Younger-Looking Angled Bob
@dilettisalonandspa
Women looking for a younger-looking angled bob should consider adding long side-swept bangs. The side-swept bangs cover the forehead and draw attention to the eyes and cheekbones, enhancing the youthfulness of the cut. Bobs are angled shorter in the back and longer in the front which pushes the hair forward around the face and beautifully accentuates the wearer's feminine features.
Slightly Angled Bob with Bangs
@staceyleigh_hair
A slightly angled bob with bangs is a conservative take on the edgy angled bob haircut. Mature women look more youthful with straight bangs, and the gentle angle still allows for the beautiful and flattering shape of an angled bob haircut. Talk to your stylist about how long you want the front pieces to be, whether it be at your jawline or a little past it, and then together you can discuss how much to angle towards the back from there. Clear communication with your hairdresser is key to short hair cuts.