15 Stylish & Easy Medium-Length Hairstyles for Ladies in Their 60s
Flattering Medium-Length Cut for Fine Hair
@hairbygemxo
If you're wanting to go sleek but still soft and with a side part, think about a classic neck-length long bob for fine hair and thin hair. Keeping the length above the shoulder will encourage the hair to curve around the natural shape of the face with some easy round brush styling and smoothing cream.
Entering your senior years isn't a sentence for a blue-haired, stiff-sprayed helmet. Let your short hair grow out a bit and look 10 years younger with the most ideal hairstyles for over 60s with fine hair.
See these flattering mid-length cuts for fine hair
Very Long Lob with Highlights
@lorrainelambehair_
A very long lob with highlights is a striking haircut for women over 60 looking for a youthful way to wear their straight, sleek tresses. The A-line silhouette and heavy long fringe give off a bold effect that is both timeless and modern.
Meanwhile, the light blonde highlights add brightness to the face and camouflage any unwanted grey hairs, allowing many hairstyles to make you look younger.
Mid-Length Long Bob
@goodys.hair.salon
Women over 60 that want to make their tresses appear fuller and thicker should consider a classic mid-length long bob. It has minimal and wispy layers, textured ends, and side-swept bangs to accentuate cheekbones and other facial features.
Medium-length bobs with side bangs have an age-defying effect on older women. These are for those with active lifestyles that want the option to wear their hair up without committing to long hair, and while still maintaining a sense of elegance.
Low-Maintenance Shag with Layered Ends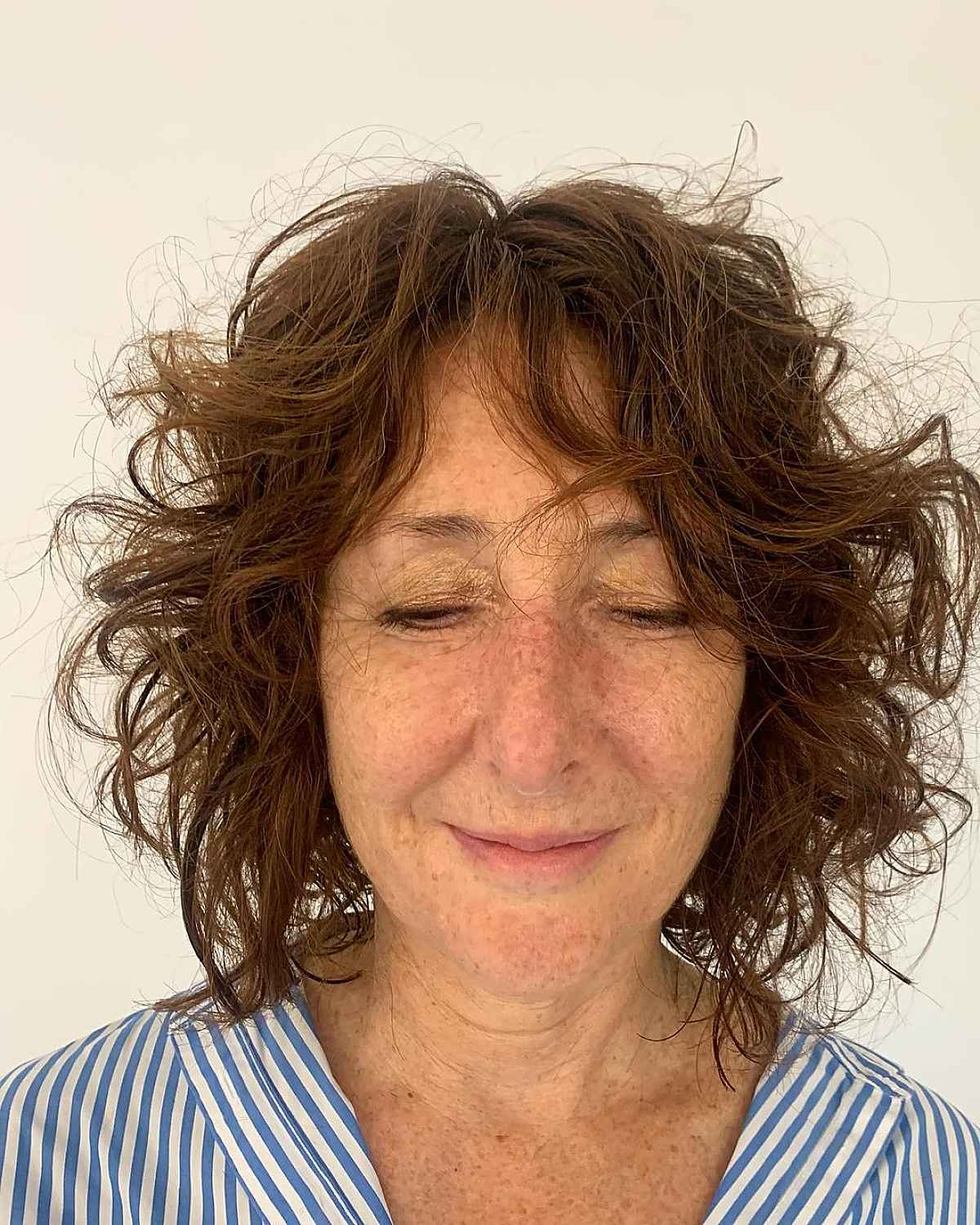 @katiecofferonhair
A shag haircut with layered ends for curly hair is the perfect low-maintenance look for women over 60 seeking medium layered hairstyles. Playful, unpredictable, and youthful—naturally curly and wavy hair can be brought to life by asking your stylist for carved layers and a messy fringe.
Be sure to use curl-enhancing products to maximize the hair texture and add extra volume to your curly hairstyles.
Medium-Length Shag Cut with Curtain Bangs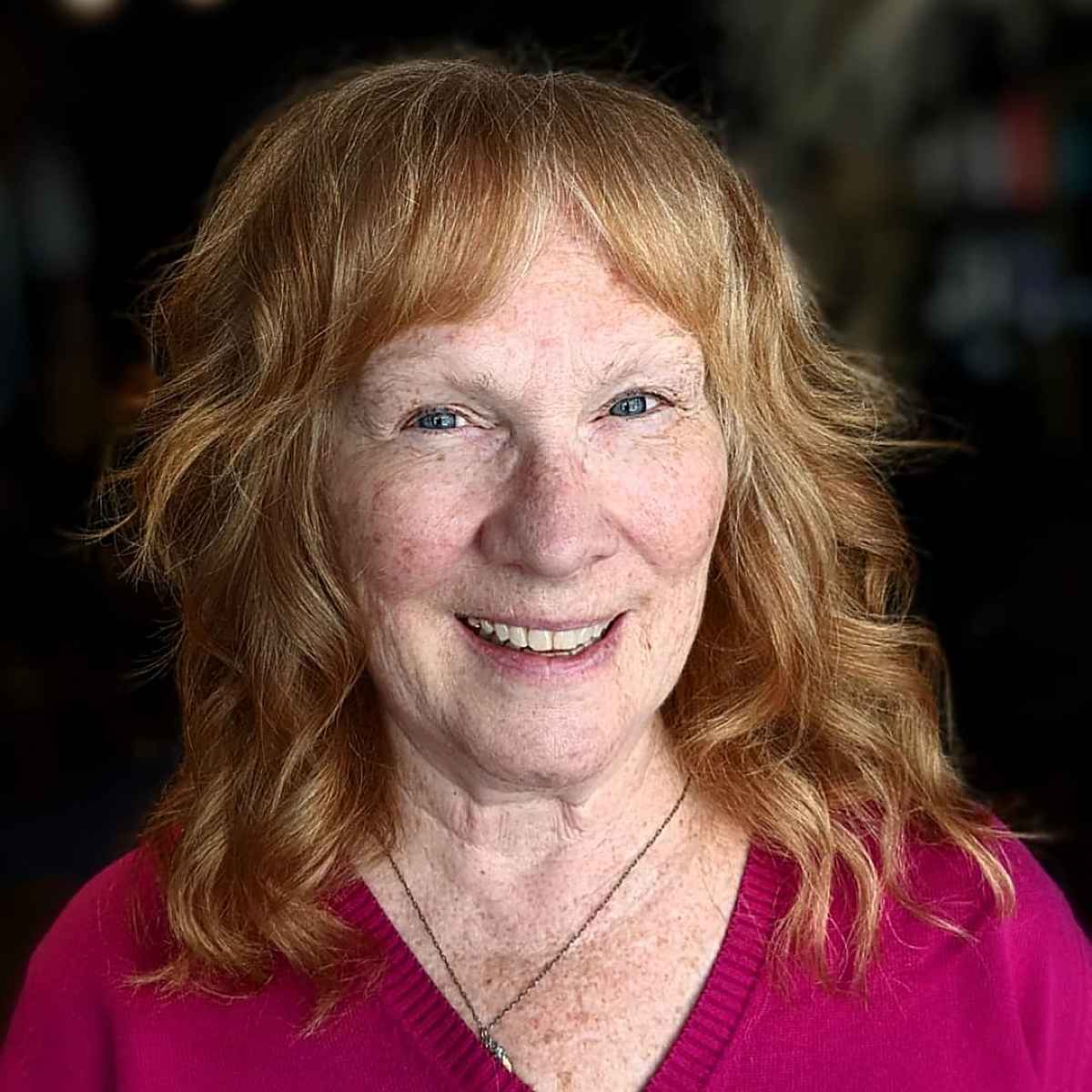 @nicolehealeyhair
Ideal for all hair types and women of all ages, a medium-length shag cut with curtain bangs is a fantastic way to add interest and texture to lackluster hair.
Variations of these medium shaggy hairstyles for over 60 range from soft and natural to bold and high-fashion. Be sure to talk with your stylist about what works best for your lifestyle and how to achieve loose waves or curls with the right products.
Medium Layered Bob
@desertforesthairdesign
Talk to your stylist about a medium layered bob if you're looking for a change, but not quite ready to go short. Graduated layers in the back add tons of volume and fullness to the crown. Medium layered bob haircuts like this one are great cut for 60-year-old-women who want to stay on trend without a lot of fuss.
Extra Long Inverted Bob
@nylahhair
Consider a longer inverted bob if you're a grandma with silver hair. The best medium-length hairstyles for women over 60 are easy to style while looking beautiful.
Mid-Length Cut with Feathered Layers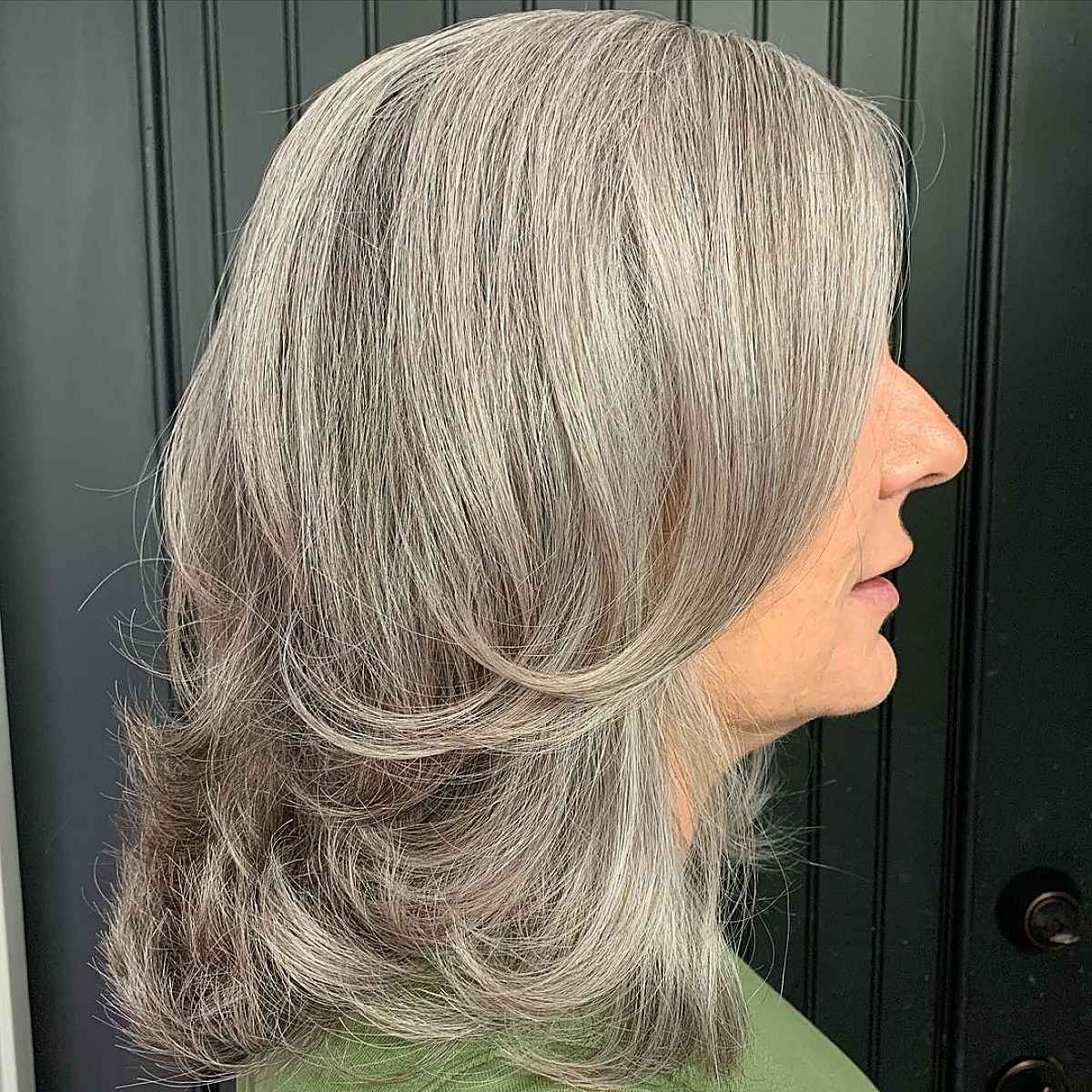 @bellissimobytrianna
Whether you're a wizard with the round brush or a hot roller kind of gal, this mid-length cut with feathered layers is the ticket. For your naturally gray hair, it's easy to wear day after day with a little dry shampoo at the roots between wash days. Medium layered haircuts are a sure thing for thin, fine hair as well as thicker hair. After drying and styling, mist with a light-hold hairspray.
Wash-and-Wear Shaggy Hairstyle
@hairbyalaunaheller
This wash-and-wear shaggy hairstyle with feathered bangs is an instant facelift as it draws the eye up and out while concealing forehead wrinkles. Layering and shaping natural curls in shorter layers around the face brings life back into bouncy hair.
60-year-old ladies will remember the popularity of shaggy, layered hair on its first go-round, but it's just as relevant today. Such wash-and-wear haircuts for over 60 require a curl cream to allow the natural curl pattern to take shape.
Collarbone-Length Angled Bob
@hairbyamandarichardson
Step out of the ordinary with a collarbone-length angled bob that features streaks of blonde for added dimension. The back sits up high with stacked layers, curving just below the occipital bone, for straight hair to have a shape.
Shoulder-length haircuts can be a bit more drastic with the right angles. Notice the clean line from back to front, where the hair sits below the chin, barely brushing the shoulder. Style with a round brush for smooth locks.
Shoulder-Length Razored Cut
@adriannemarie_hair
A shoulder-length razored cut with wispy bangs can be done on most types of hair. Thick and long layers can give shoulder-length hairstyles a younger-looking vibe, especially if you style these with messy waves. Start with soft layers to help you decide if you're ready for these medium layered bob hairstyles for over 60.
Easy Haircut for Greying Hair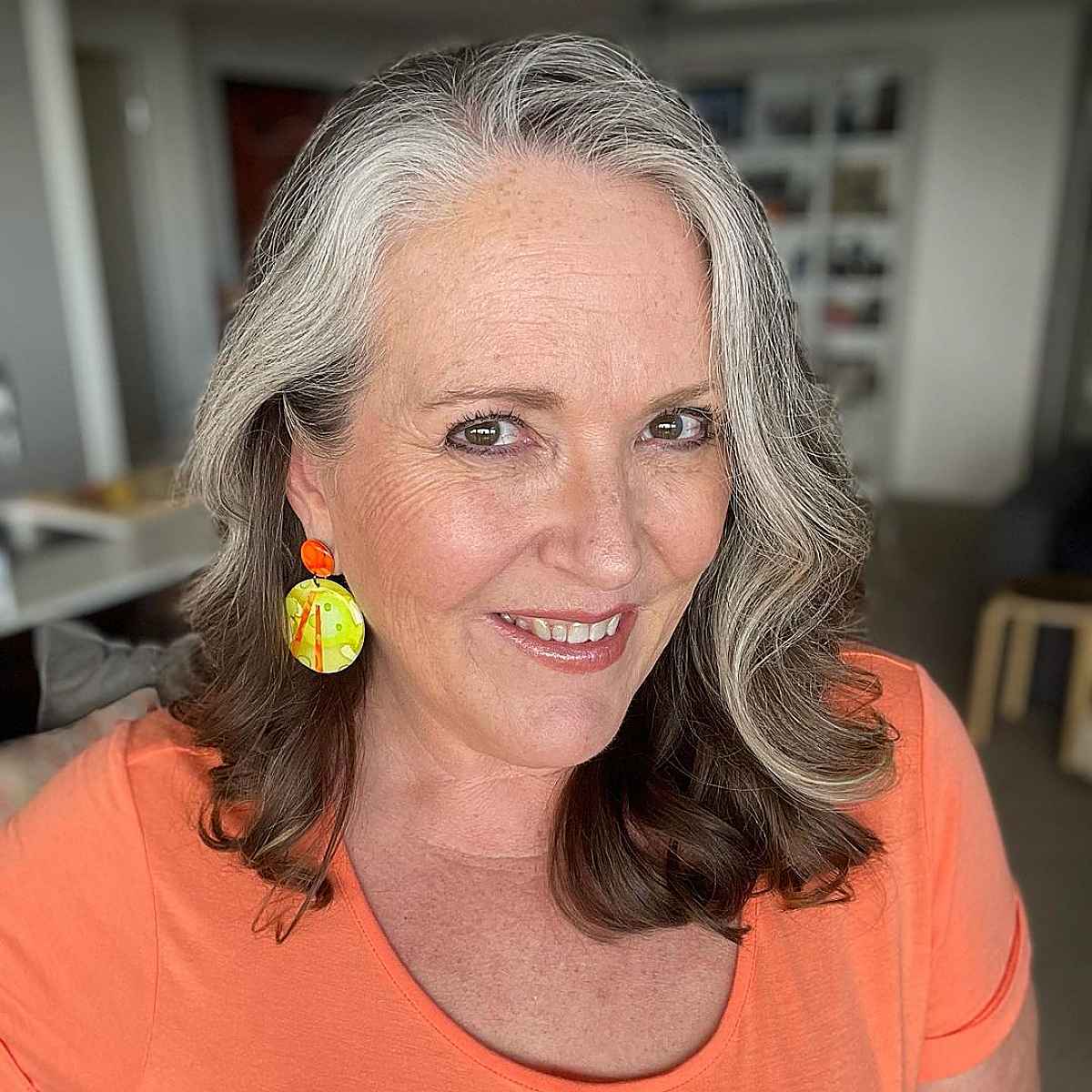 @melisainoz
Shoulder length with lightly textured ends is an easy haircut for greying hair. Growing out grey is a process and keeping the length short to medium is a great way to avoid anything too drastic as growing out natural color is a big change.
If you're thinking about going grey, go for the best mid-length hairstyles for women over 60. It's a movement!
Classic Layered Hairstyle
@studio.a.salon
You can't go wrong with a classic layered hairstyle. You know it's the best hairstyle for women over 60 when the youthfulness is present with all the softness of face-framing layers. When the hair is sitting just atop the shoulders, it allows the ends to kick out playfully. Easy to style with a round brush, be sure to lift at the root when drying for extra body.
Medium Shaggy Cut for Thick Hair
@hairbyemiliel
Consider a medium shaggy cut for thick hair if you're contemplating a carefree style. If you're moving toward low maintenance, keeping relaxed medium-length hairstyles with bangs for women over 60 that's easy to do is for you.
Don't forget to talk to your stylist about texturizing thick hair so it's not as bulky. While the medium-length shaggy hairstyles for women over 60 are not quite wash-and-wear, ask for styling tips in the salon so you can focus more on seizing the day!
See more medium-length hairstyles with bangs
Shoulder-Length Hairstyle with Glasses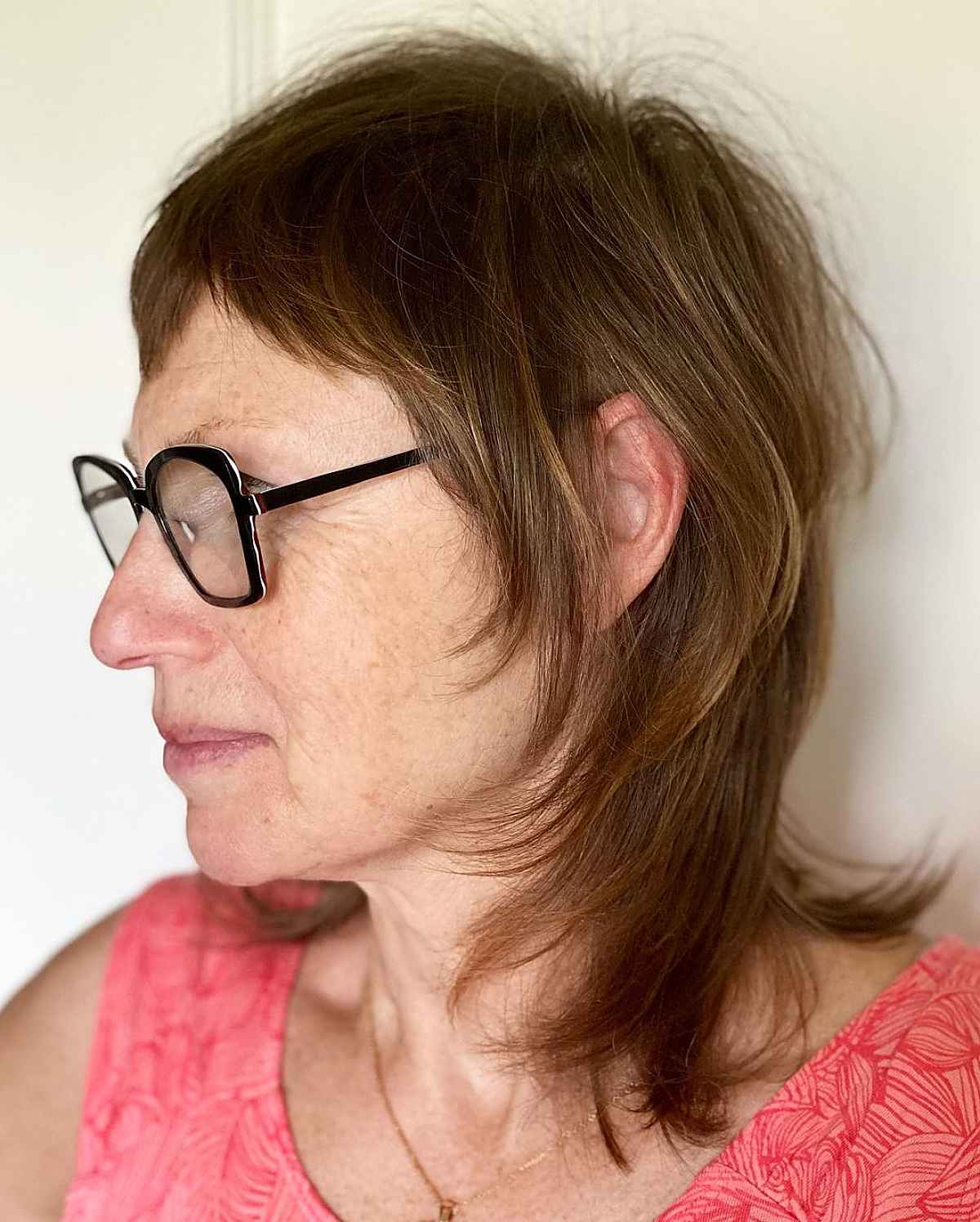 @layde_j
Rocking a funky shoulder-length hairstyle with glasses is a look unto itself. Jagged cut baby bangs and super short face-framing, choppy layers not only set this cut apart but bring attention to cool frames, too.
A woman in her 60s can often have fine hair and this classic hairstyle focuses on anything but that. Layers bring a lot of lift and anyone with fine hair will benefit from the illusion of thickness and the boost. Now, who's ready to rock medium-length hairstyles for women over 60 with glasses?