26 Flattering Haircuts for Big Foreheads to Appear Smaller
Low-Maintenance Shaggy Hair with Curtain Bangs
@mal.hair
Low-maintenance shaggy hair with curtain bangs is a soft and effortless look with lots of added hair volume. This haircut is one good example of cuts for big foreheads perfect for women who want to hide their forehead. To get this haircut, ask your stylist for soft layers and heavy curtain bangs.
Big Hair with Blunt Bangs
@yukistylist
Big hair with blunt bangs makes a bold statement. It goes out well for women looking for a style for big foreheads and thick tresses. In cutting your fringe, make sure your stylist cuts a substantial amount. You need to have full dense bangs to balance out the thick texture of your tresses. Style this cut with a texturizing spray or a dry shampoo for an airy, tousled finish.
French Braid with Wispy Bangs
@untangled.by.timber
Try a French braid with wispy bangs for a whimsical, low-key style. Wispy bangs are also wonderful for disguising the forehead.
Face-Framing Bangs for Large Foreheads
@madisonvillohair
Consider face-framing bangs for large foreheads if you are a little concerned with the size of your forehead. It's the go-to cut for big foreheads, and it's playful and flattering when paired with other hairstyles. The length of the fringe can be tailored to your face shape. Ask your stylist about the best option for you, considering your lifestyle, personality, and needs. Style your new fringe with a texturizing paste or cream to keep them in place all day long.
Pixie Bob for Women Over 30 with Big Foreheads
@zinoveva_elena
Consider a pixie bob for women over 30 with big foreheads. This look is great for a variety of face shapes and hair textures. The extreme graduation and layers can be tailored and personalized depending on each woman's preference and needs. Style with a round brush and a volumizing spray or hair mousse for a chic and polished finish.
Related: See more haircut ideas for women over 30.
See-Through Bangs for Mid-Length Hair
@inwooxx
See-through bangs for mid-length hair are a perfect choice for women with sparse hairlines. To add, it's a cut for a big forehead. Keeping the fringe longer also adds versatility to different styling options. You may opt to wear them forward or pin them up. Keeping the hair at a medium length balances out the wispier bangs and keeps the look proportional.
Braided Bangs for a Big Forehead
@adorabeautys
Consider braided bangs for a big forehead. Adding a fringe to cuts for women with big foreheads is an easy and flattering way to customize your look. Bangs may require a little more maintenance, so talk to your stylist about their best option for you.
Long Hairstyle for Women Over 50 with Large Foreheads
@glamorousaging
A long hairstyle for women over 50 with a large forehead is achievable when done correctly. For women with thick or dense hair, make sure to have some layers integrated into your tresses to achieve a lift. Face-framing layers are vital so as not to lengthen the face. For an easy, lived-in look, style your long hair swept to the side with no definite partition.
Pixie Cut with Bangs for Women Over 60
@orriginalhairstudio
Try a pixie cut with bangs for women over 60 to get a youthful-looking glow. This style is perfect for women with fine hair or thinning hair, especially with a receding hairline. Style this haircut using a small barrel curling iron or a thin round brush and some medium hold hair spray for a stylish and polished finish.
Related: See more pixies for women over sixty.
Cornrows for African-American Women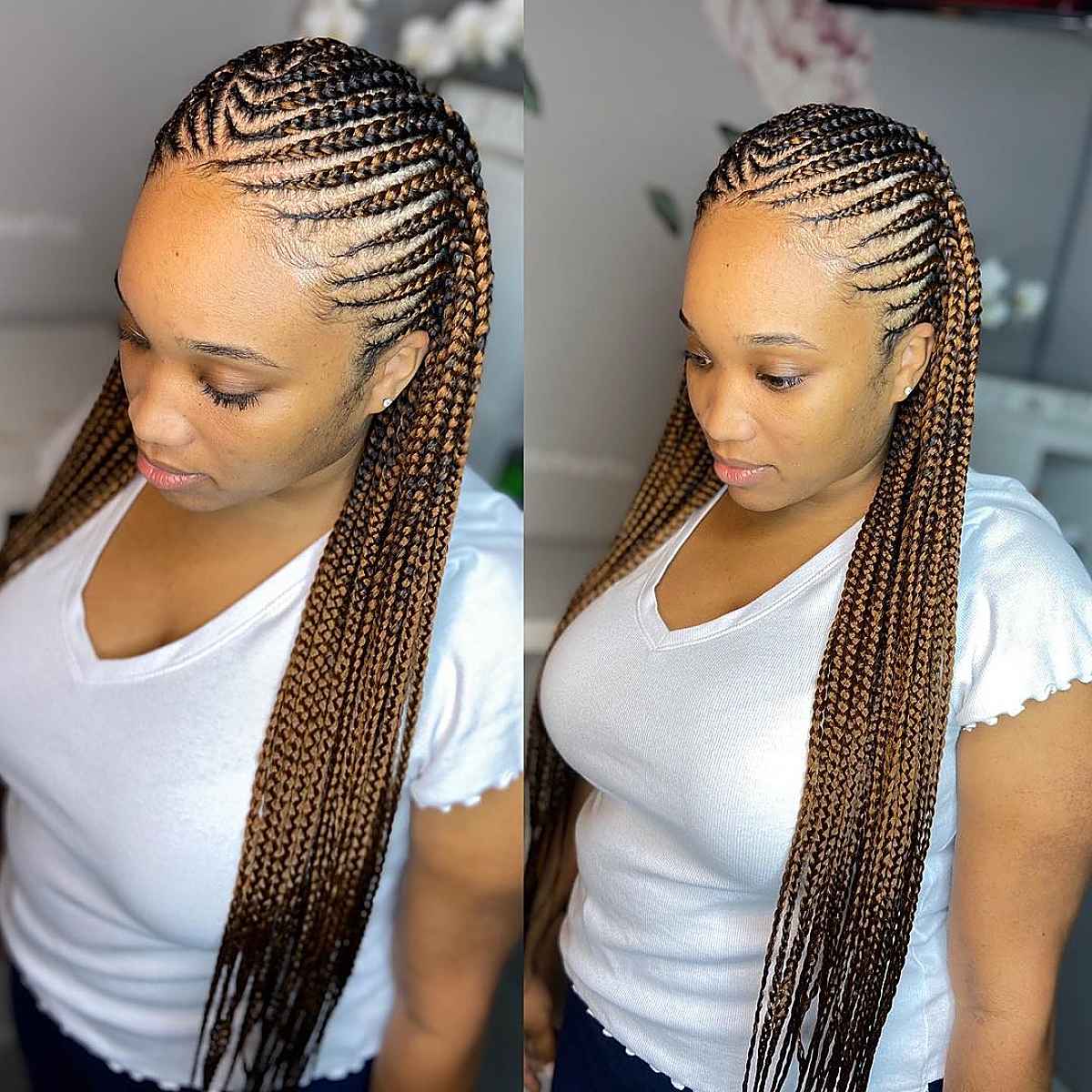 @handsnheartss
Cornrows for African-American women are a low-maintenance style that looks trendy and stylish at any time of the day. Aside from a lengthy initial appointment, braids stay for a while, and daily styling is a breeze. Ask your stylist to play with the length of your hair to achieve a fun, stylish, and sophisticated finish.
Razored Cut with Long Curtain Bangs
@randa.rivera
A razored cut with long curtain bangs is a cut designed for a woman with a big forehead. The cheekbone-length layers conceal parts of the forehead without the commitment of a full fringe. Curtain bangs accentuate the eyes and lift the rest of your facial features, giving you a youthful-looking vibrance. The razored texture makes for an easy beautiful grow-out.
Wispy Bangs for a Prominent Forehead
@kylie_doesmyhair
Wispy bangs for a prominent forehead help provide coverage without being too heavy. Haircuts for women with big foreheads include a fringe to hide the forehead seamlessly.
Ponytail with Thin Bangs
@pinkage.global
A ponytail with thin bangs is great on casual or elegant occasions. Thin, wispy bangs and a long curly ponytail offer a stylish and polished finish.
Edgy Shag Cut with Blunt Bangs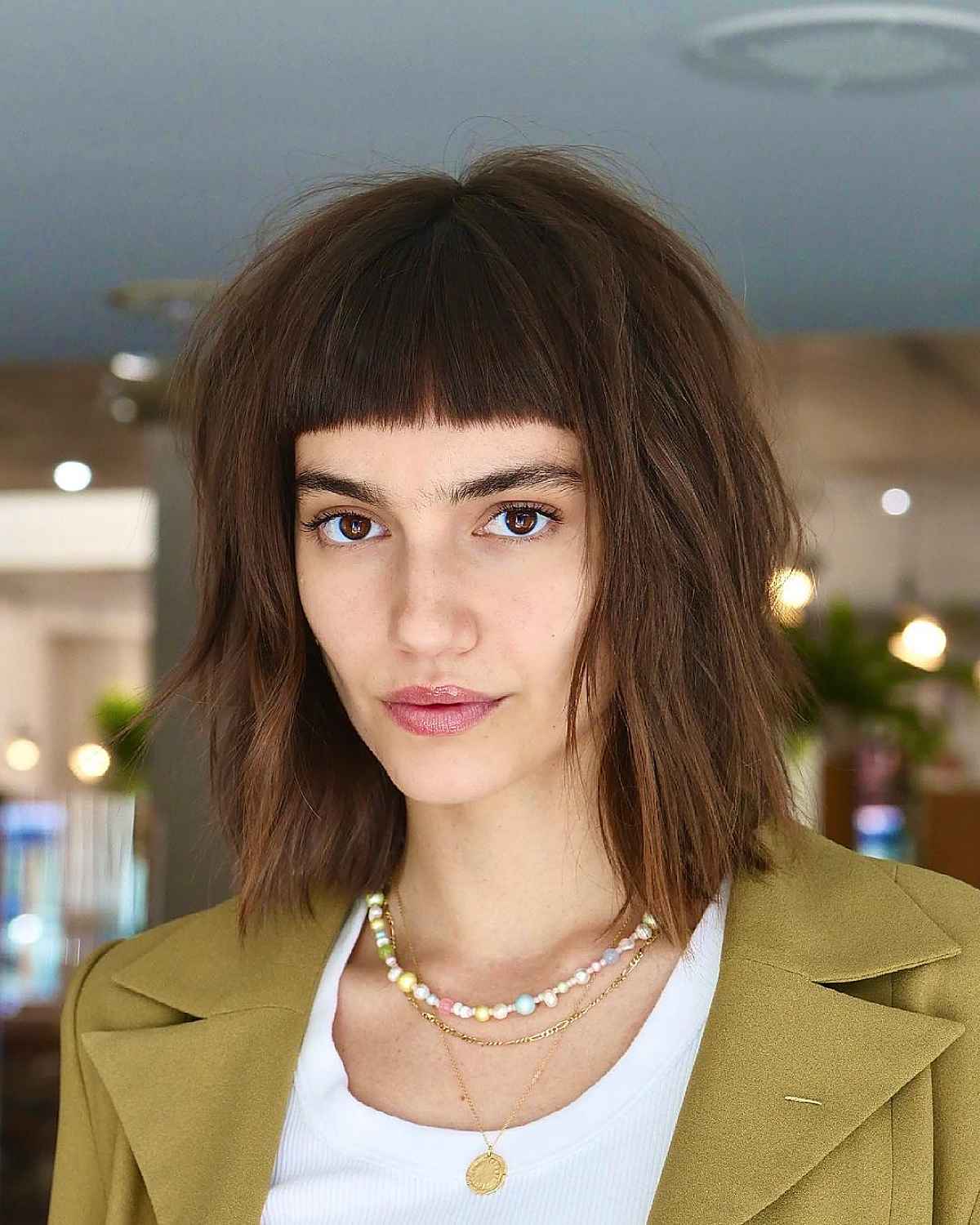 @yukistylist
An edgy shag cut with blunt bangs is a simple and bold haircut. Blunt bangs look best with naturally straight, thicker hair.
Long Bob with a Middle Part
@hairbyallybarone
A long bob with a middle part is a great hairstyle for a woman with a big forehead. To get this haircut, ask your stylist for a blunt straight bob.
Asymmetrical Cut for Wide Foreheads
@eblackdoeshair
An asymmetrical cut for wide foreheads is for women who want to hide their huge foreheads. Styles for big foreheads need to create facial balance. To get this haircut, ask your stylist for an asymmetrical bob with a side part.
Messy Pixie Cut with Fringe
@haircomesandy
A messy pixie cut with fringe works well on wavy to slightly wavy hair. The perfect style for a big forehead has come easier as the years go. Make sure you leave the layers long enough to accentuate the curls. It will give you a soft and messy finish. Add a soft curl booster like Ringlet by Redken for added texture.
Pixie Cut with Fringe for Big Foreheads
@vivianncristilli
A pixie cut with fringe for big foreheads can work for you. Ask your hairstylist to leave the bangs a tad longer to balance out your facial features. Enjoy easy styling with this short layered hairstyle. Make sure you bring the top forward to maximize the fringe on the face. A haircut for a big forehead coupled with a dark hue complements each other.
Layered Bob for a Huge Forehead
@mainpointsalon
Choose a layered bob for a huge forehead. The key here is to create a thick fringe to camouflage the forehead. Soft layers throughout the bob and around the face complement each other. Choosing the perfect hairstyles for women with big foreheads is vital in providing symmetry to your look.
Ponytail with Bangs
@erika_mew
A ponytail with bangs is a hairstyle for a big forehead. The fringe hides the forehead seamlessly while keeping the look classy and effortless. Dry shampoo can be used to keep the cut looking fresh. Make sure that your eyes aren't irritated by the length of your fringe.
French Bob with Micro Bangs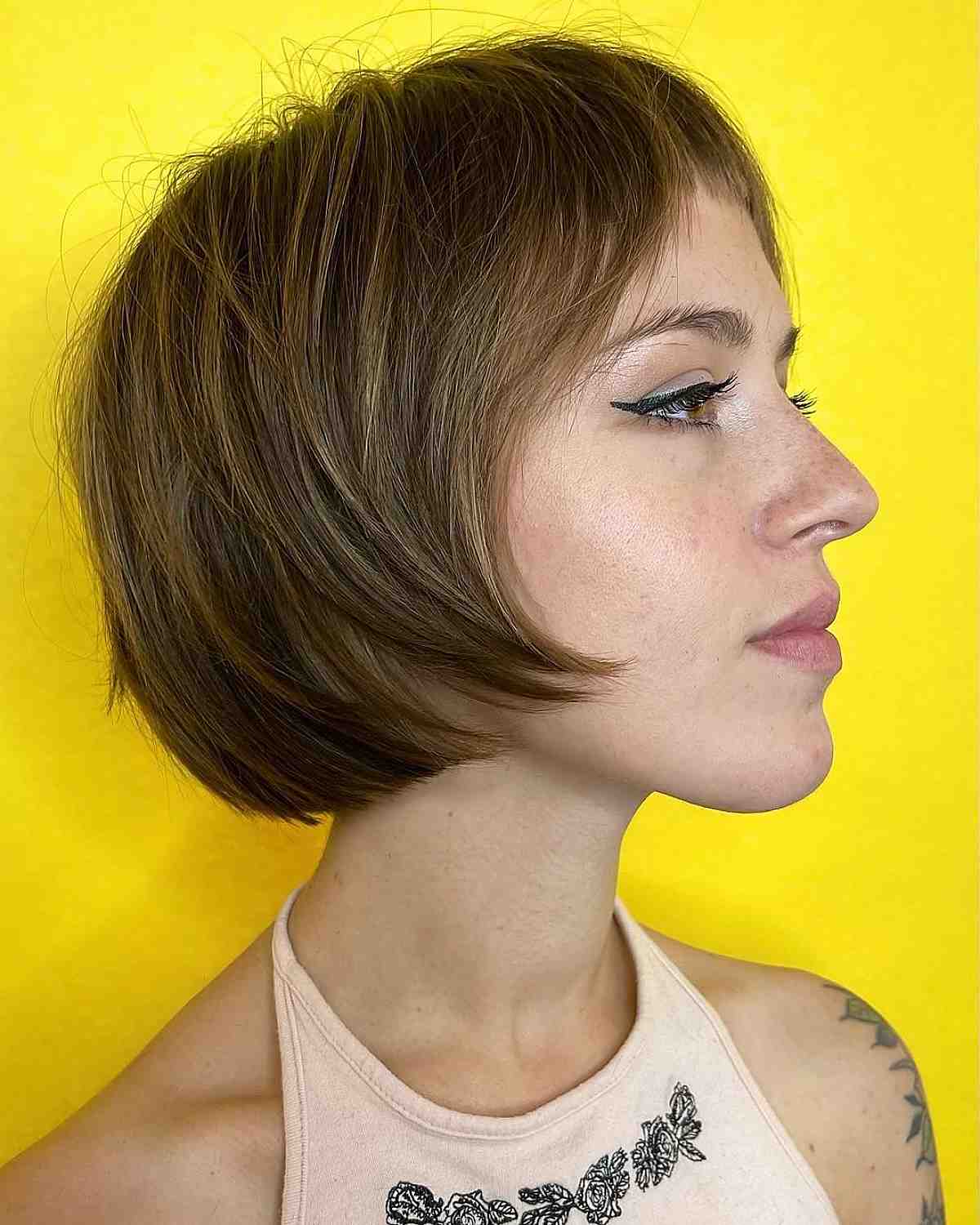 @leahbillingsbyhair
A French bob with micro bangs is a chic cut. If you are looking for hairstyles for big foreheads, this shape will work well on anyone. If you have a long face shape you'll want to keep the bob lip-length. It evens out your facial features. Keep in mind, micro bangs are cute, but if you have cowlicks in your fringe, they might present problems when styling.
Voluminous Large Side Bangs
@mademoiselle_pixie
Voluminous large side bangs offer an alluring look that complements women of any age. Ask your hairstylist to cut a deep fringe to help create thicker bangs. Style this cut by bringing the top forward and slightly to the side for a dramatic finish.
Androgynous Haircut with Fringe
@randa.rivera
Try an androgynous haircut with fringe and revamp your image in an instant!. The short layers all around make this cut easy to style. Blow-dry with your fingers for a messy shape and add some texture wax. The fringe makes it a good haircut for a woman with a big forehead with a long face shape. Keep in mind shorter hairstyles will need trimming every 4-6 weeks.
Shaggy Medium-Length Hair for Women Over 40
@_hair_by_sar
Shaggy medium-length hair for women over 40 is a fun haircut with tousled, loose waves. The medium-length layers frame the face and give a sexy lived-in style. If you have slightly wavy hair, you can let your hair air-dry or blown-dry straight or curly with an iron. A shaggy cut requires low upkeep and only needs trimming every eight weeks.
Short Cut for Women Over 70 with a Big Forehead
@_hair_by_sar
A one-length bob is a short cut for women over 70 with a big forehead. You'll want to make sure that you style your hair flatter and closer to the forehead. Avoid pushing the short hair off of the face since this will make your face shape look larger. For best results, blow-dry with smoothing lotion and a round brush towards the face.
Side-Swept Bangs for Long Hair
@mina.luvcraft
Side-swept bangs for long hair are a popular choice. Bangs are cuts for women with big foreheads since they help cover them up. The side-swept bangs can be styled by blow-drying with a round brush. Do not rotate the hairbrush too much. Instead, try gently pulling the ends to the side you'll get a more stylish finish.