26 Stylish Wash-and-Wear Haircuts for Women Over 60 Short On Time
Grandma-Inspired Round Bob Haircut
@nellcarmo
A grandma-inspired round bob haircut is one of those perfect hair cuts for women over 60 who are no longer coloring their hair. This classic stacked bob is very classy when paired with silvery-white locks. The graduated cut in the back elevates the hair giving lots of effortless volume.
Razored Cut for a 60-Year-Old Woman with Mid-Length Hair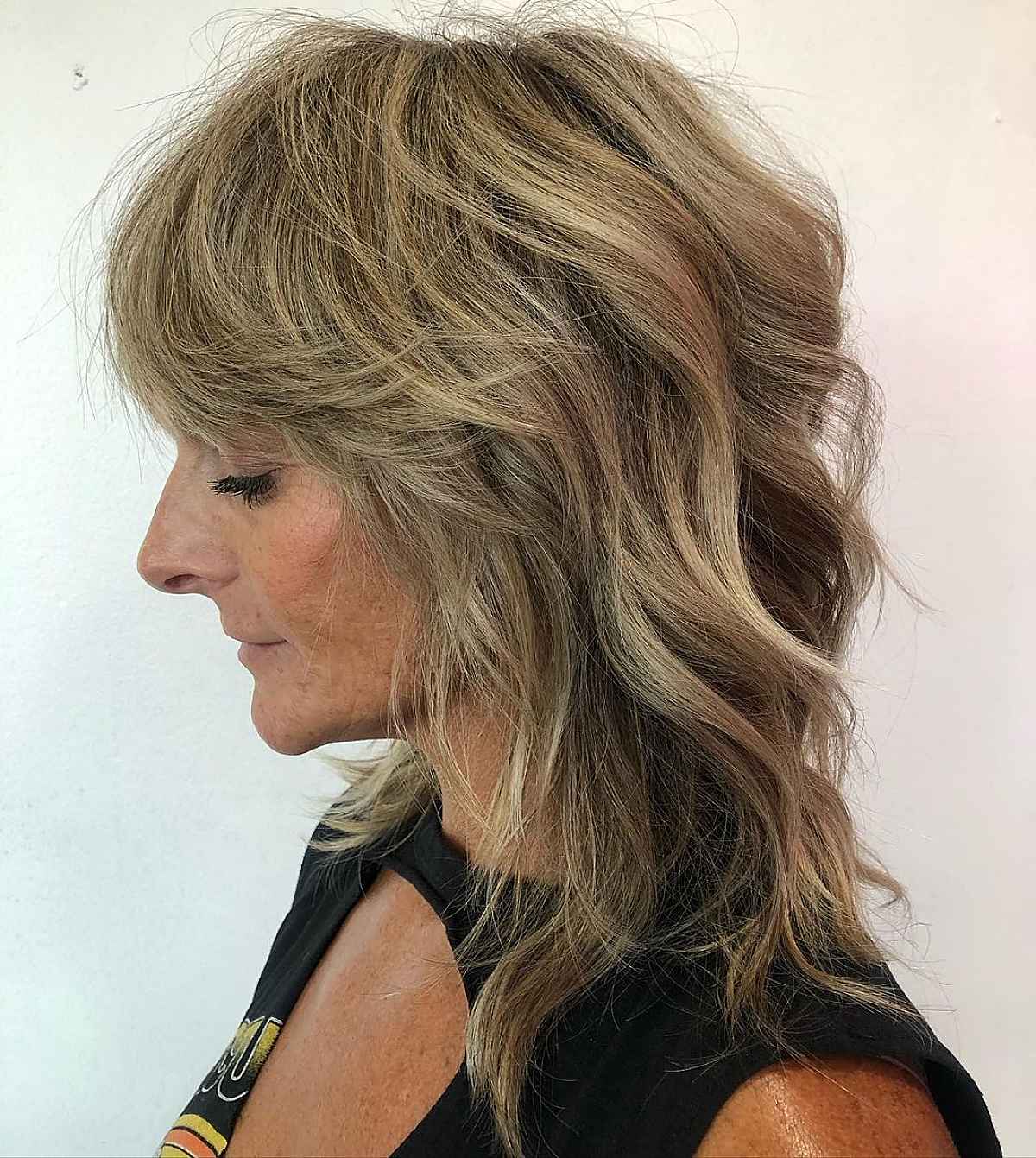 @sistergoldenhairartist
A razored cut for a 60-year-old woman with mid-length hair is a very fun style if you are looking for tons of volume and body. Razor cuts leave the hair with a very light and feathery texture that creates movement. Razored shag cuts are timeless, they are from the '80s and still are a trend today.
Salt-and-Pepper Short Shag for Women Over 60
@meghanlandis.hair
A salt-and-pepper short shag for women over 60 is an easy to manage hairstyle. Wash-and-wear haircuts are great for women who don't like to style their hair too often. To get this look, ask your hairdresser for a short haircut that would look good on your hair when air-dried.
White Choppy Bob with Side Bangs for Older Women
@boazhair
Opt for a white choppy bob with side bangs if you're an older woman. It's a youthful color and haircut combo. To get this look, ask your hairstylist for a short bob with a side-swept fringe.
Wash-and-Wear Wavy Long Bob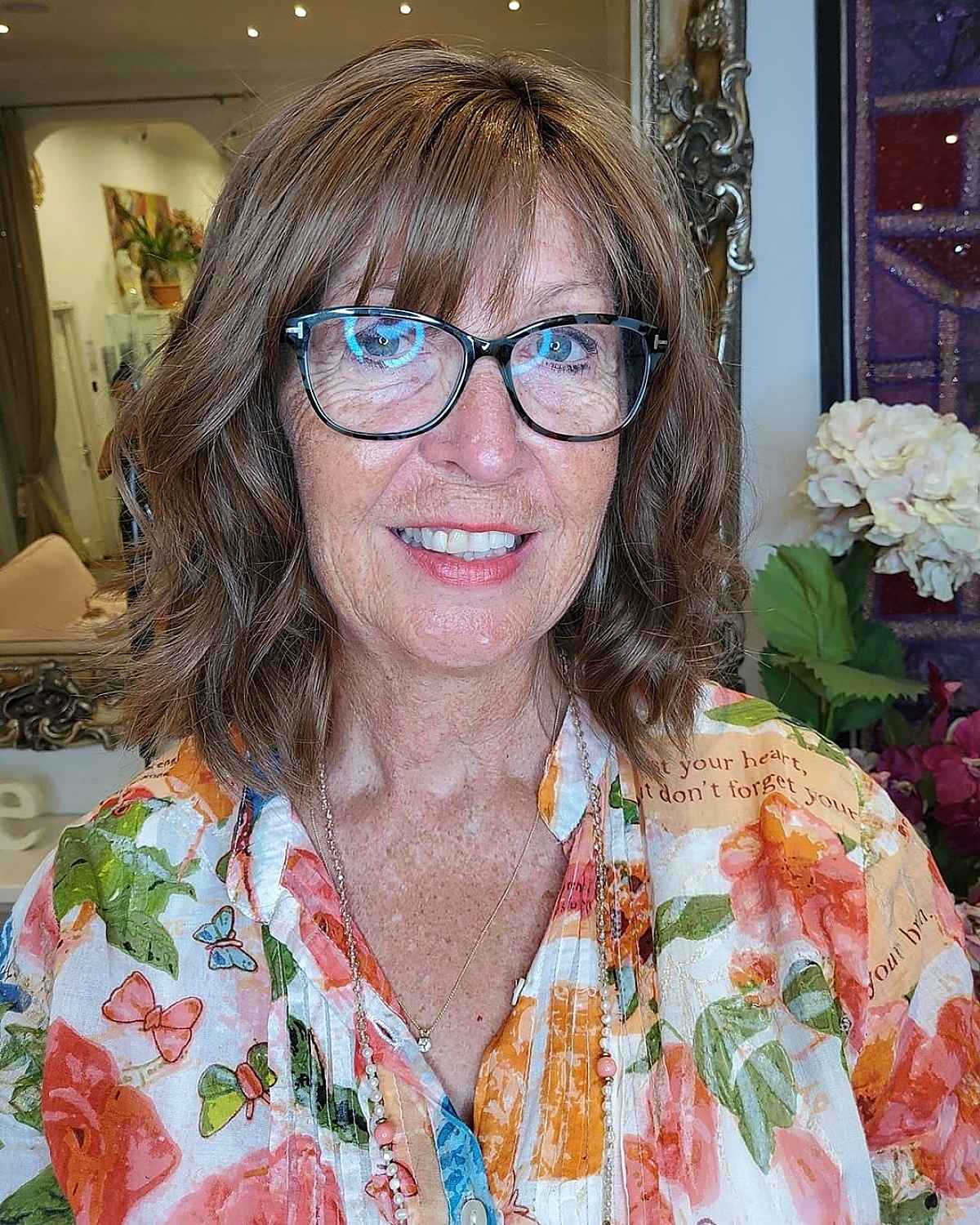 @lucindaelleryconsultancy
A wash-and-wear wavy long bob is a classy short hair style. To get this look, ask your hairdresser for a medium-length bob with a fringe.
Asymmetrical Bob for Mature Women
@l.v_hair_styling_grafton
An asymmetrical bob for mature women is a fun and unique haircut. This haircut can be a wash-and-wear style. To get this haircut, ask your hairdresser for a short asymmetrical bob.
French Bob for Women in Their Sixties with Fine Hair
@jimk_hair
A French bob for women in their sixties with fine hair is a very dramatic modern cut. The blunt shape creates maximum density leaving fine hair looking thicker. The dense front bangs also help to conceal and hide wrinkles.
Wash-and-Wear Shaggy Hair with Curtain Fringe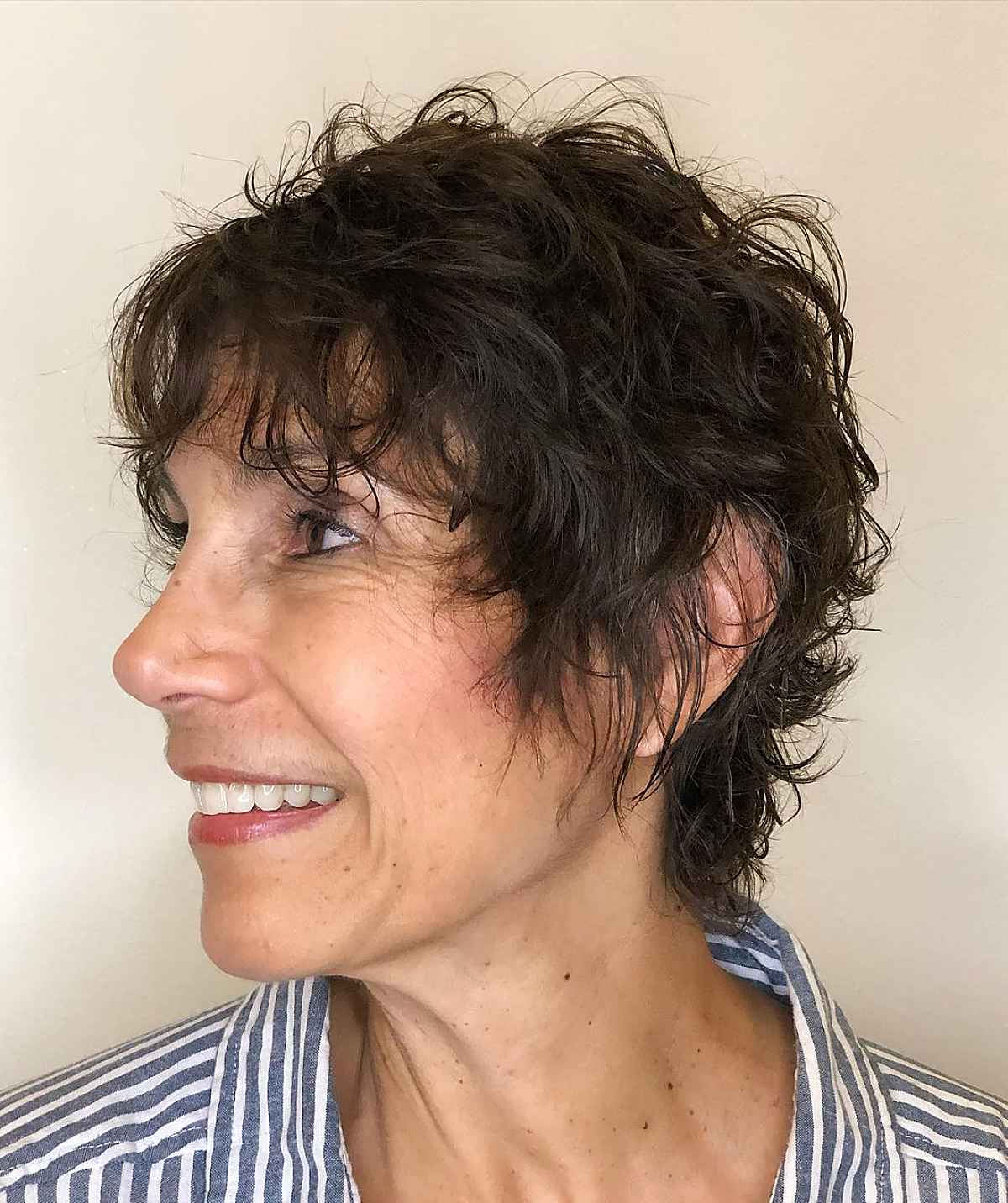 @carleyquillbeauty
Wash-and-wear shaggy hair with curtain fringe is a perfect cut for wavy or curly textured hair. This is a low-maintenance haircut that is still on-trend and a classic style. The bangs really frame your face, taking years off immediately.
Fuss-Free Waves for Women 60+
@spotlightthesalon
Fuss-free waves for women 60+ are a sexy, soft beachy wave. Beach waves take only a few minutes of styling to achieve. They can turn any haircut more modern, automatically making you look 10 years younger. Since the ends of beach waves are straight they give volume but don't take away any length on shorter cuts.
Curtain Bangs for Women Over 60 with Short Hair
@erika_cuts
Curtain bangs for women over 60 with short hair are very trendy. Curtain bangs are a perfect combination of front bangs, side bangs, and a little face-framing. They look great on any face shape and are a wash-and-wear style that doesn't need much styling to look cute.
Cute Pixie Bob for Women with Gray Hair
@halosalonrossville
A cute pixie bob for women with gray hair is a great length. It's shorter than a traditional bob but not too short, perfect if you're looking to try out pixie haircuts for the first time. Wash-and-wear hairstyles are great if you are looking for a low-maintenance style.
Younger-Looking A-Line Bob for Women 60 and Older
A younger-looking a-line bob for women 60 and older is a very modern take on a bob. If the right haircut isn't chosen it can age you and give frumpy old lady, elderly vibes. A sharp dramatic angle gives a bob edginess.
Wispy Bangs for Women in Their 60s
Wispy bangs for women in their 60's are low-maintenance bangs that don't need trimming every 4 weeks like traditional front bangs. Wispy cuts give the hair a light airy texture and volume since they remove weight. Embrace your gorgeous face with a short haircut that shows your jawline and cheekbones.
Shaggy Mullet with Bangs for Women Over 60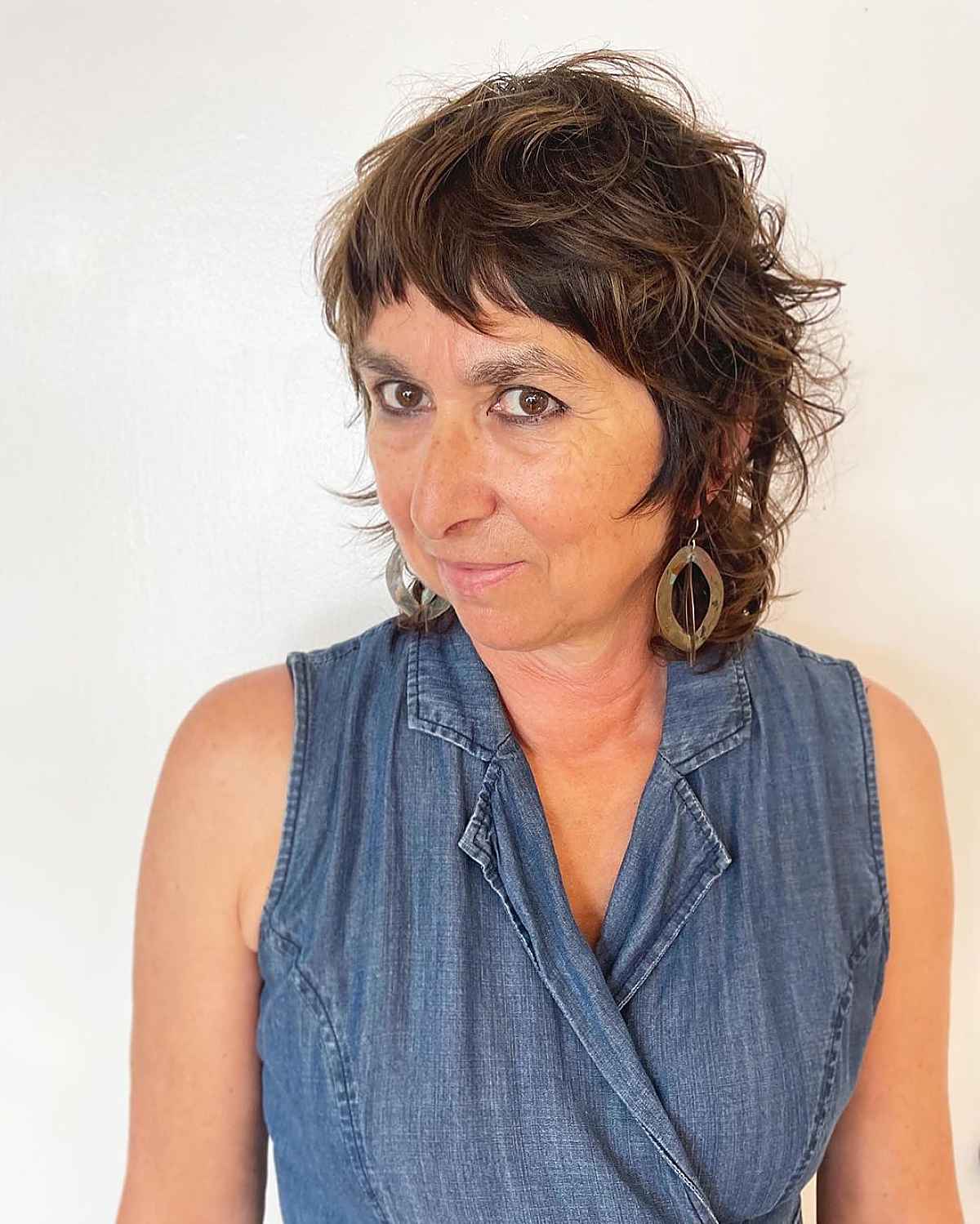 @elevate_salon_experience
A shaggy mullet with bangs for women over 60 brings back the 80's classic mullet with a modern twist. This is a great hairdo for women over 60 looking to have big 80's hair and still stay on-trend. Shaggy haircuts are cut with a razor to give the hair texture and messiness.
Silver Pixie Cut with Bangs and Glasses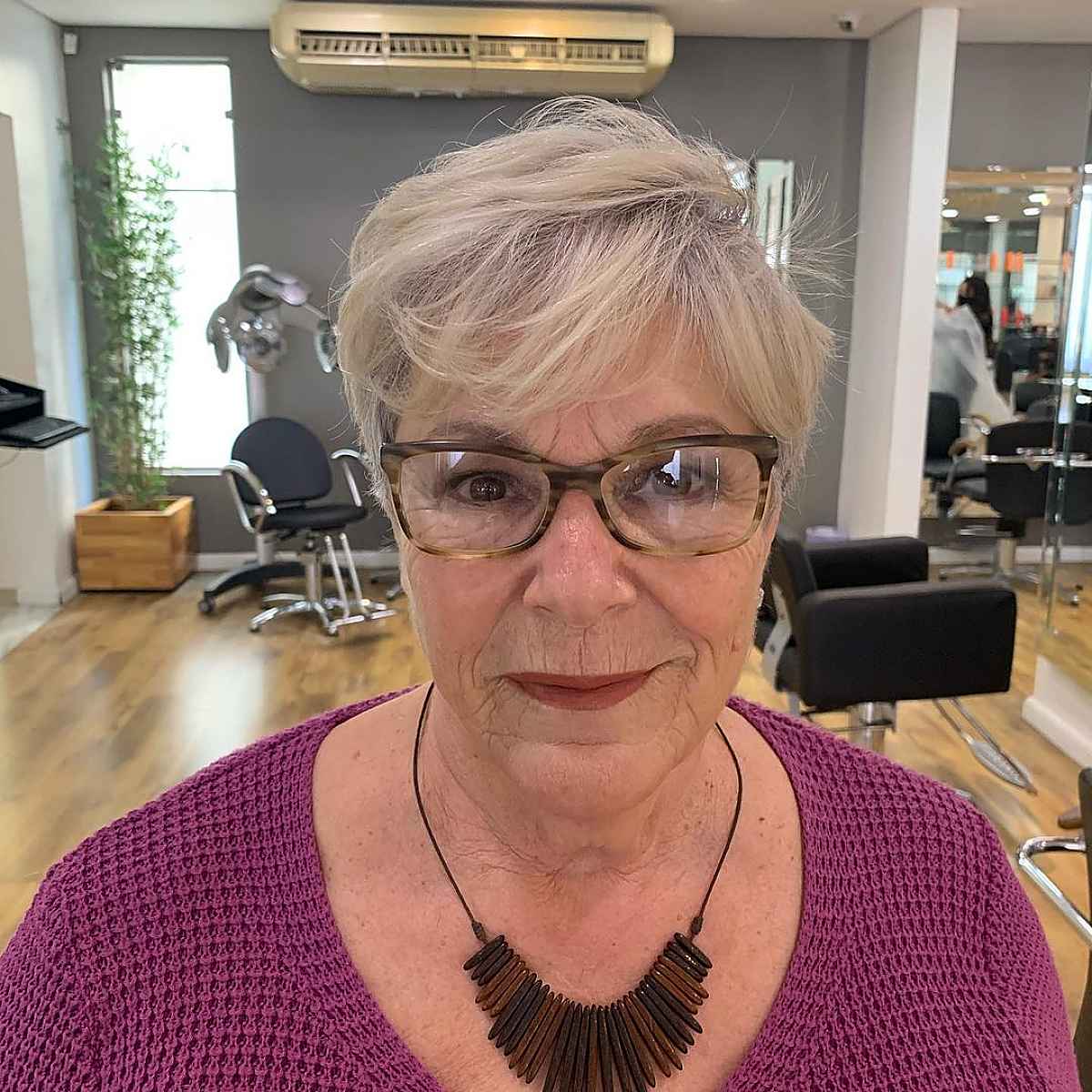 @rcgimenes
A silver pixie cut with bangs and glasses gives short hair lots of volume and movement. The contrast of the dark rims pops against her face and light silver hair. Bangs help to soften harsh lines of eyewear and frame your frame.
Low-Maintenance Lob for Thin Hair
@stephstwogirls
A low-maintenance lob for thin hair is great for 60-year-old women looking to wash and go. This blunt lob creates maximum density making thinning hair look much thicker. A lob also has a very subtle angle which grows in very nice.
Related: See more low-maintenance hairstyles for women over 60.
Edgy Pixie with Bangs
@beauty.by.ivonne
An edgy pixie with bangs is a great cut for fine thin hair. Low-maintenance, wash-and-wear cuts don't require styling. It's the perfect balance of funky but soft and feminine.
Related: See more edgy hairstyles for women over 60.
Messy Grey Pixie Hairstyle for Women Over Sixty
@the_pixie_lady
A messy grey pixie hairstyle for women over sixty is a great way to rock your natural color. If someone is no longer looking to color their hair a fun haircut can keep things exciting. A pixie cut can help to conceal thinning hair and hair loss. The shorter the hair, the fuller the appearance and more natural volume created.
Choppy Bob for Women Over 60 with Glasses
@hair.by.christina
A choppy layered bob for women over 60 with glasses is a cute modern take on a bob. The choppiness and texture of the layers turn a classic bob into a modern edgy bob to give seasoned women a younger look. Wearing glasses can be very harsh on your face but when paired with flowy side-bangs, they outline the face and frames perfectly.
Youthful Bob with Bangs Haircut
@aliwehrhair
A youthful bob with bangs haircut is such a fun and playful cut. Bobs with many feathered layers give it tons of texture and movement. It's a great wash-and-wear cut that looks cute styled or messy and air-dried.
Wash-and-Wear Pixie for Senior Women
@bob_deskins_hair
A wash-and-wear pixie haircut for senior women is perfect for older women seeking a low-maintenance hairstyle. For styling, wash-and-wear haircuts only need a little styling product. To get this look, ask your hairdresser for a low-maintenance pixie that is meant for your hair texture.
Long Layers and Feathered Ends for 60-Year-Old Women
@dina_creates
Long layers and feathered ends for 60-year-old women are a great choice for a mature woman looking to still maintain length and style. When it comes to hairstyles for women over 60, super long hair is not flattering. Feathered wispy layers and face-framing give the hair life and bounce while still keeping the overall length past the shoulder.
Low-Maintenance Shag for Older Women
@focohairgirl
A low-maintenance shag for older women is perfect for ladies with a natural wave or curl. The wispy layers give you a wash-and-wear hairstyle that's effortless. Shag haircuts frame the face and allow for great volume.
Tousled Bob with Bangs with Glasses
@hair_by_rae.m
A tousled bob with bangs and glasses is a very complimentary haircut for women over 60. The tousled curls give salt and pepper hair color a beautiful dimensional look. Front bangs pair very well with glasses to frame the face.
Graduated Bob Haircut for Women Passed Their 60s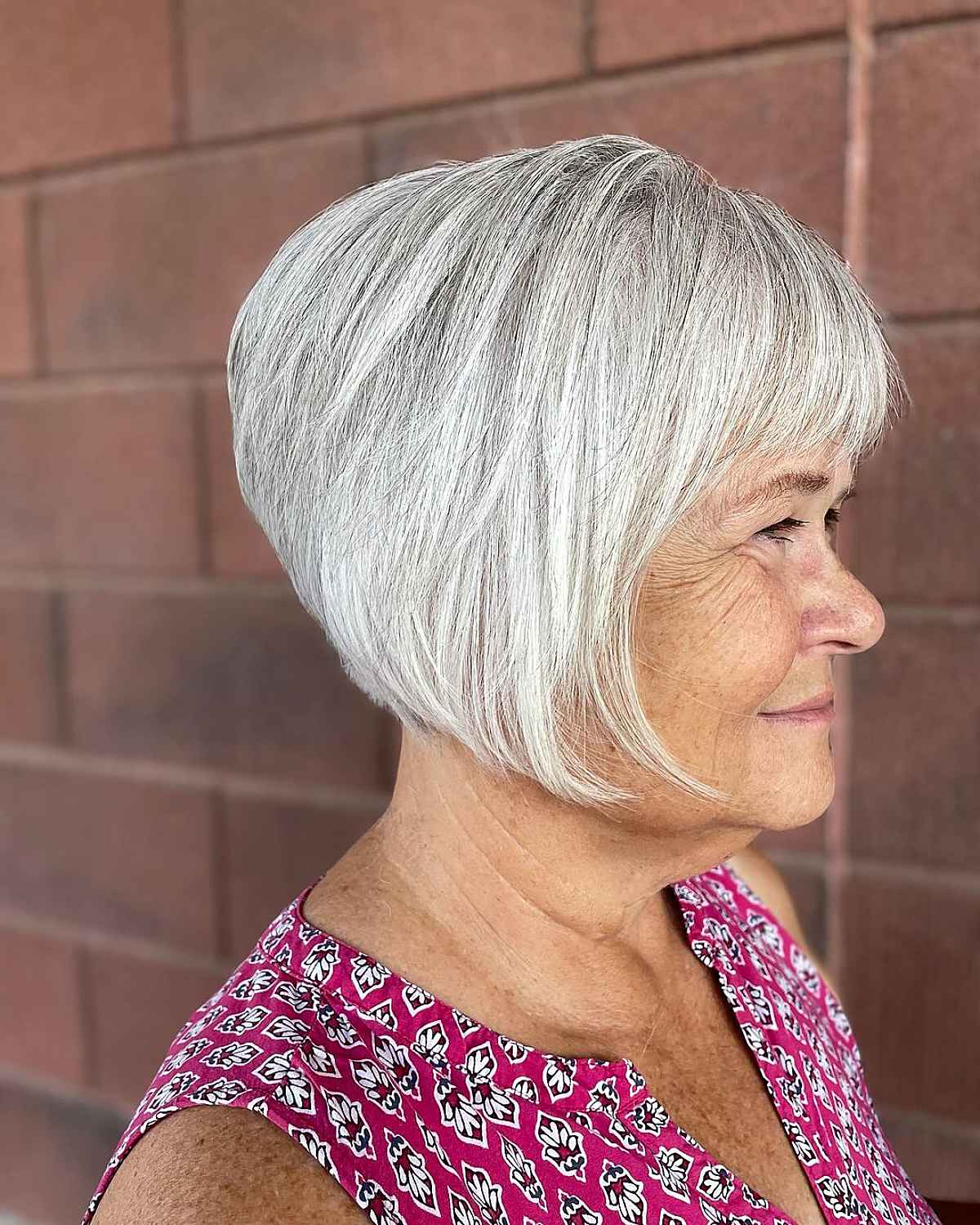 @hairwithlovebymariah
A graduated bob haircut for women past their 60's is a great low-maintenance style. This is a shorter cut to give aging hair the volume it needs. Bangs also help to frame the face and conceal wrinkles giving you an automatic younger look.
Related: See more hairstyles and haircuts for women over 60.
Easy Spiky Pixie for Older Ladies Over 60
@big_e_hair
An easy spiky pixie for older ladies over 60 is an edgy and youthful hairstyle. To style this cut, you can use a pomade to help spike up your hair. To get this look, ask your stylist for a short pixie.
Related: See more spiky haircuts for ladies over 60.