27 Best Wolf Haircut Ideas Trending Right Now
Trendy Wolf Cut for Straight Hair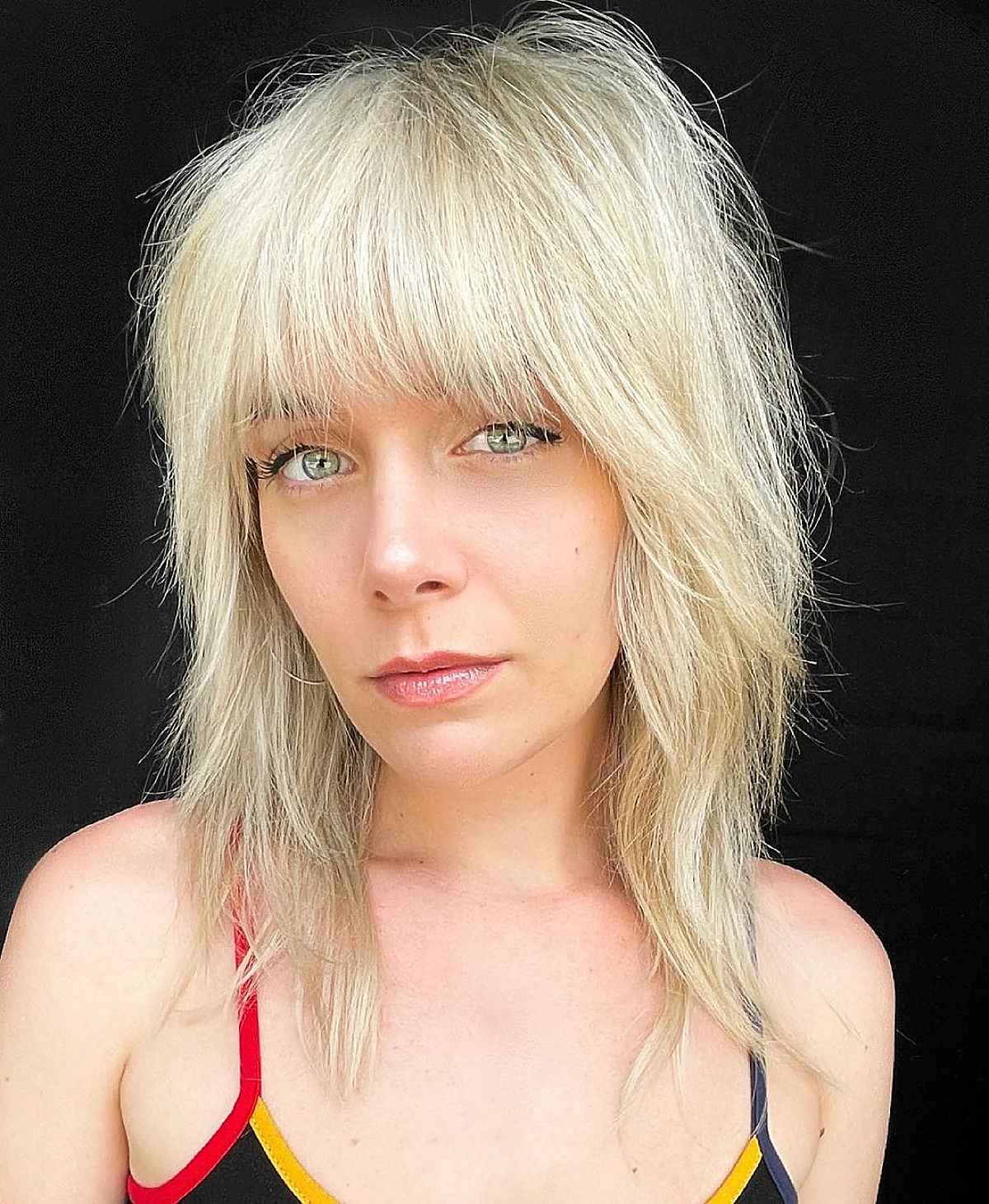 @rachelwstylist
A trendy wolf cut for straight hair is a great hairstyle to try! Shag haircuts are one of the trendiest styles and are so versatile you can rock it no matter what your hair texture is. A tip for styling straight hair with a fringe and lots of layers is to use hair mousse when blow-drying hair and to use a root volumizing powder to create a tousled, messy finish.
Razored Wolf for Thin Hair
@hairbyac_alcorn
A razored wolf haircut for thin hair adds so much body and volume to the tresses. Adding a heavy, layered fringe that can be worn straight across, side-swept, or with a middle partition is versatile and works great on women with fine, pin-straight hair or fine, curly hair.
Layered Wolf Cut with Bangs
@troycutshair
A layered wolf cut with bangs will make any woman look like a rockstar! Wolf cut hairstyles such as this one in the picture are cut with heavy layering around the face and in the crown and provide a ton of volume and texture to the black hair.
Shaggy Wolf Hairstyle
@shellyduffee_abch
Try a shaggy wolf hairstyle if you are seeking a cut that maintains the length of a shag but has the layers of a mullet. Wolf haircuts like the shaggy wolf are typically cut using a razor cutting technique that gives the hair a piecey and heavily textured style.
The Wolf Mullet
@home__sick
The wolf mullet is a cool and playful version of a mullet haircut. A wolf hairstyle is a trendy cut and easily styled with a little texture spray or paste that can be either air-dried or quickly blow-dried without the use of styling tools.
Messy Wolf Haircut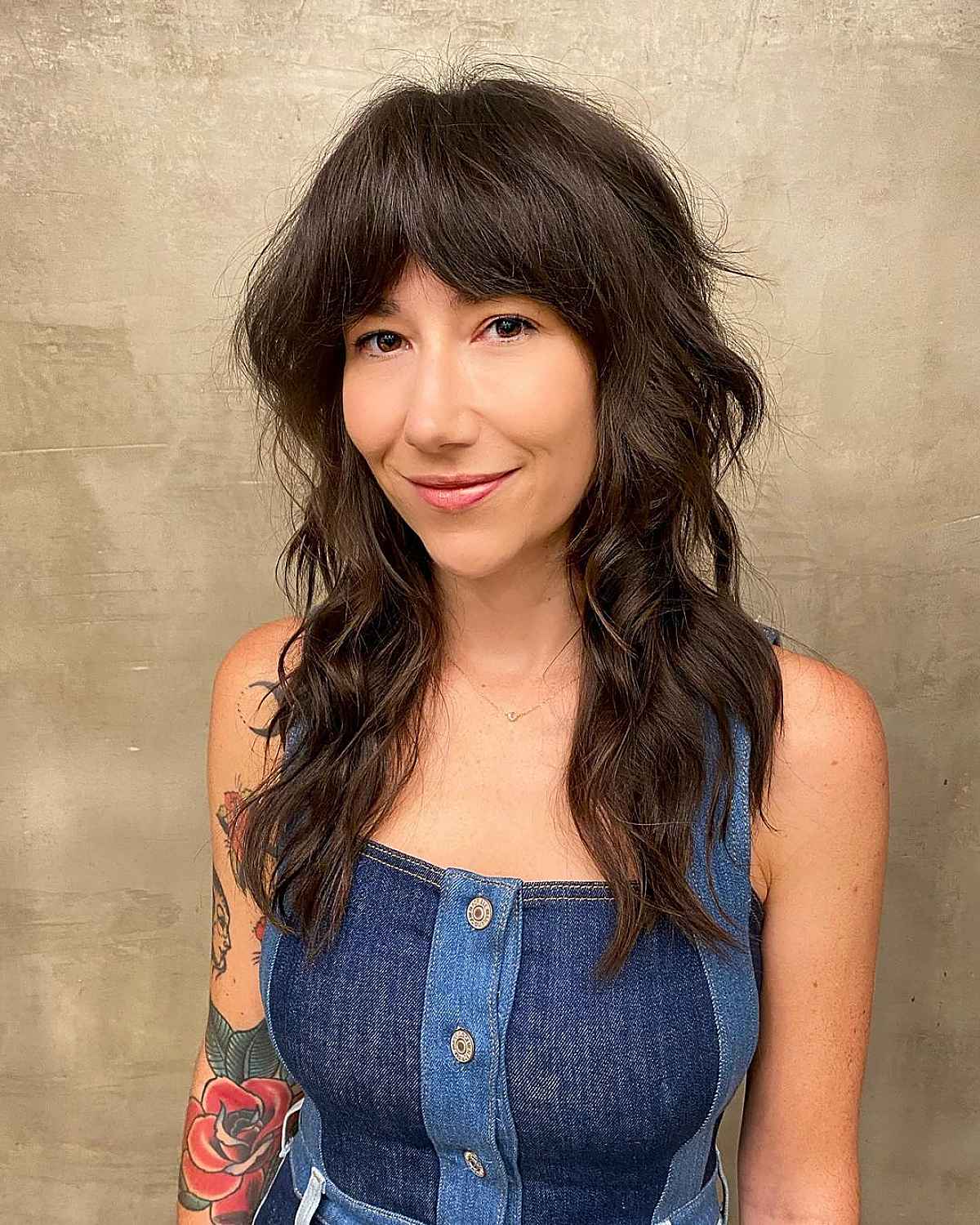 @hairbykarafina
A messy wolf haircut is an edgy yet pretty modern variation of a shag haircut. Wolf cuts are heavily layered and give women a lot of volume and texture to work with. They work well on almost every hair type and look great whether blown out straight or with waves.
Very Short Wolf Cut for Women Over 70
@studiocpb
A very short wolf cut for women over 70 is a more edgy and modern version of a pixie cut. As you age, hair tends to become thinner, so this short cut works well by providing volume and giving youthful-looking texture.
Wolf Shag for Women Over 60
@jomcintyrehair
Choosing a wolf shag for women over 60 is an edgy and unique way to showcase playful texture and volume on wavy or curly hair, that will also make a woman look 10 years younger. This aesthetic haircut is simple to style and will get a lot of attention.
Wolf Cut with Layers for Women Over 50
@danae_edwardsandco
A wolf cut with layers for women over 50 allows women to maintain their length while adding shape and movement to long hair. Extending the fringe into the face-framing pieces adds tons of texture. Using a finishing hairspray to tame flyaways and frizz helps you achieve this type of hairstyle on curly to wavy hair.
Voluminous Wolf for Fine Hair
@jasondahlstromhairstylist
A voluminous wolf haircut on women with fine hair gives the illusion of fullness and volume. Adding long curtain bangs that sweep outwards at the cheekbones gives the appearance of an oval-shaped face, drawing attention to the cheekbones. Use lots of volume styling products like mousse, texturizing spray, and volume paste to give height to fine hair.
Long Wolf Cut
@joeltorresstyle
A long wolf cut gives long-haired ladies the best of both worlds with shorter layers on both the crown area and top of the head together with face-framing pieces. Adding lots of layers gives bounce, texture, and fullness to long tresses. When styling, use a large round brush to create a smooth finish and sweep the layers away from the face.
Wolf Cut with Wispy Ends
@logicalharmony
A wolf cut with wispy ends gives a soft, subtle finish. To achieve this feathered style, ask your stylist to blowdry your haircut, then use texturizing shears to debulk the ends of the hair, creating a fine, soft result.
Edgy Wolf Cut for Wavy Hair
@modestspotcarrillo
If you are looking to add an edgier vibe to your style, try out an edgy wolf cut for wavy hair. With a wolf haircut, you can still maintain all your length by simply adding a choppy fringe and round layers. After blow-drying, finish your hairstyle with a soft wave spray and scrunch it in to create a messy, lived-in finish.
Evenly Layered Wolf Cut
@demetriusschool
An evenly layered wolf cut is classy and suits women who want to test out a shag haircut without changing up their style dramatically. A wolf cut with long layers, a softly layered fringe, and subtle face-framing is easy to style and maintain. When styling this cut, use a flat iron in making curls that create an effortless, lived-in finish.
Textured Wolf for Women Over 40
@lcs.hairdesign
A textured wolf for women over 40 is a type of haircut that instantly transforms your style. A messy, textured shag makes your eyes pop and is a great way to rejuvenate your haircut. Use a flat iron to add messy curls around the face that give volume and shape to the haircut.
Low-Maintenance Wolf Cut for Women Over 30
@skipdoeshair
A low-maintenance wolf cut for women over 30 is youthful and sexy. For easy maintenance, opt for a soft baby fringe to avoid having to trim your bangs too often. To achieve textured and voluminous results when styling, combine a finishing gum, dry texturizing spray & volume creator.
Layered Wolf Cut for Thick Hair
@andybateshair
A layered wolf cut for thick hair looks stunning on women who desire to remove some weight off their tresses. For thick textured hair with waves, use a razor to cut the hair to avoid thick, blunt ends. Talk with your stylist about texturizing and debulking your wolf haircut so that it doesn't feel too heavy or choppy.
Classic Wolf Cut for Older Women
@davidwbullen
A classic wolf cut for older women is youthful and rejuvenating. A younger-looking haircut paired with a salt and pepper hair color is a great combination that creates a fun and funky look. Ask your stylist for a heavy, feathered fringe with an above-the-shoulder haircut for this tousled, youthful yet age-appropriate haircut.
Short Wolf Cut with Bangs
@judeviola
A short wolf cut with bangs is a new take on the classic longer pixie cut. The best way to achieve this technique is to use a feather razor to shape the cut. A wolf cut style with longer face-framing pieces around the chin and cheekbone suits women with heart-shaped faces.
Korean Wolf Cut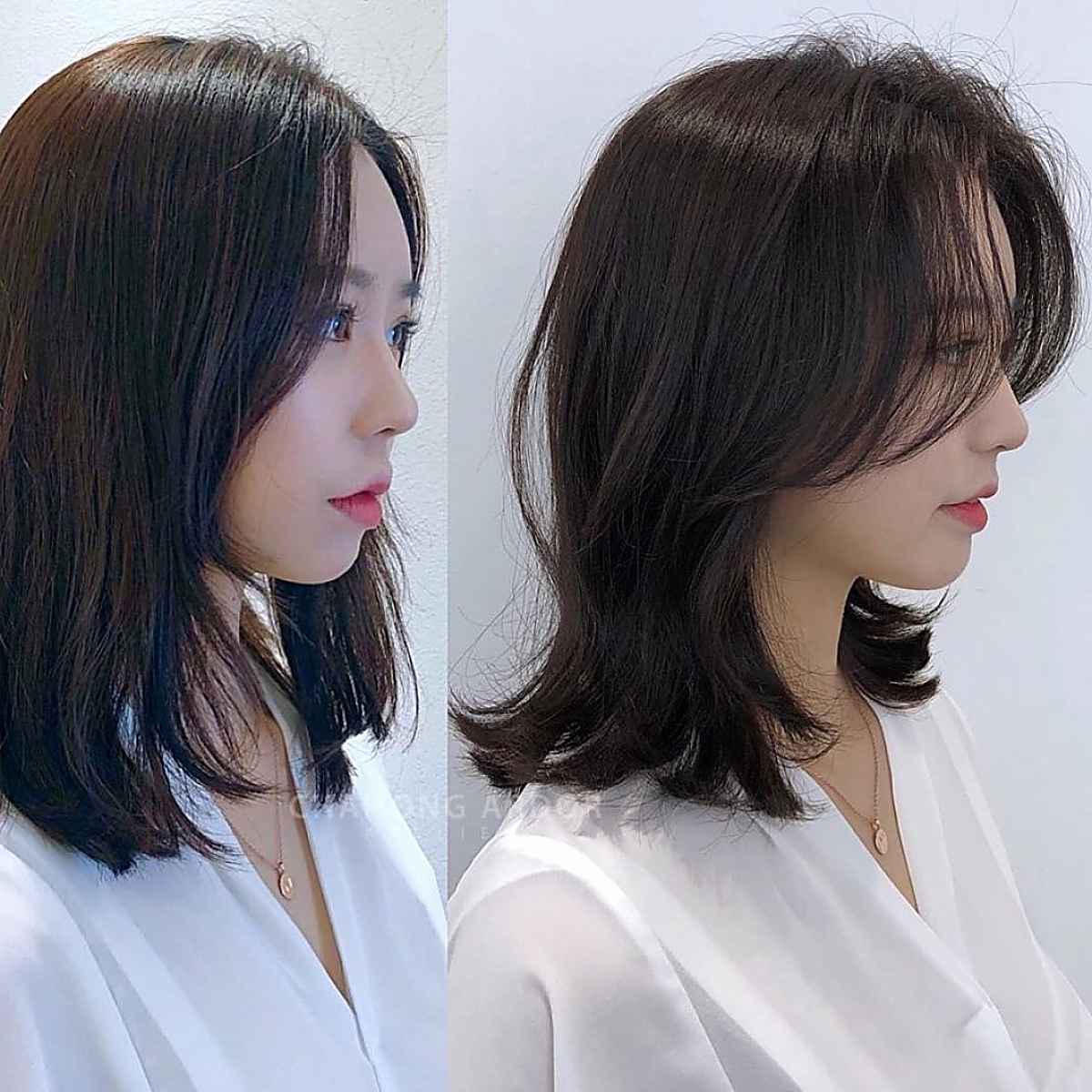 @chahong.official
A Korean wolf cut combines soft, round layers with long curtain bangs. Long, sweeping fringe with longer layers is much better suited for women with thick, pin-straight hair. Use a round brush when blow-drying to sweep bangs away from the face. Doing so also adds a smooth finish to your shaggy hairstyle.
Mullet Wolf Cut for Women with Glasses
@hairbyjoec
A mullet wolf cut for women with glasses adds an edgy, bold finish and 90's vibes to your style. With large-framed glasses, opt for a shorter "baby fringe" that won't hang in your eyes or hit the rims of your glasses. With wavy hair texture, add a sea salt texture spray, then attach a diffuser to your blow-dryer and dry hair upside down to add fullness while scrunching with your hands.
Choppy Wolf Haircut
@schylerdoeshair
A choppy wolf haircut adds life and bounce to fine hair textures. To help you decide if a shaggy cut will work on your fine hair, try out a fringe with tons of face-framing layers to get used to the heavily layered style of a wolf haircut.
Heavily Layered Wolf Haircut
@hairbyjoec
A heavily layered wolf haircut adds tons of height to your tresses. A full shaggy layered haircut looks great on women with square or round-shaped faces to add length and height, making the face appear more oval. Ask your stylist to use a razor or texturizing shears when cutting the fringe for a choppy, feathered finish.
Curly Wolf Cut for Curly Hair
@rayformakeup
A curly wolf cut for curly hair looks amazing and makes curls bounce with joy. Wolf cut haircuts on curly hair emphasize the intricacy of each curl. A tip is to ask your stylist to keep the fringe longer than the desired length when cutting so that they don't shrink up shorter than anticipated.
The TikTok Wolf Cut
@amiras_salon
The TikTok wolf cut is all the rage now. The beauty of it consists of several disconnected layers, fringe, and texture. A shaggy haircut adds tons of movement to your haircut and suits women with medium-textured hair to remove bulk while adding fullness.
Medium-Length Wolf with Fringe
@duo_mais
A medium-length wolf haircut with fringe is an edgy, bold, and stylish cut consisting of textured and choppy layers. Shoulder-length hairstyles give enough length to style. Adding lots of layers give shape and framing around the face.
Bleach Blonde Wolf Cut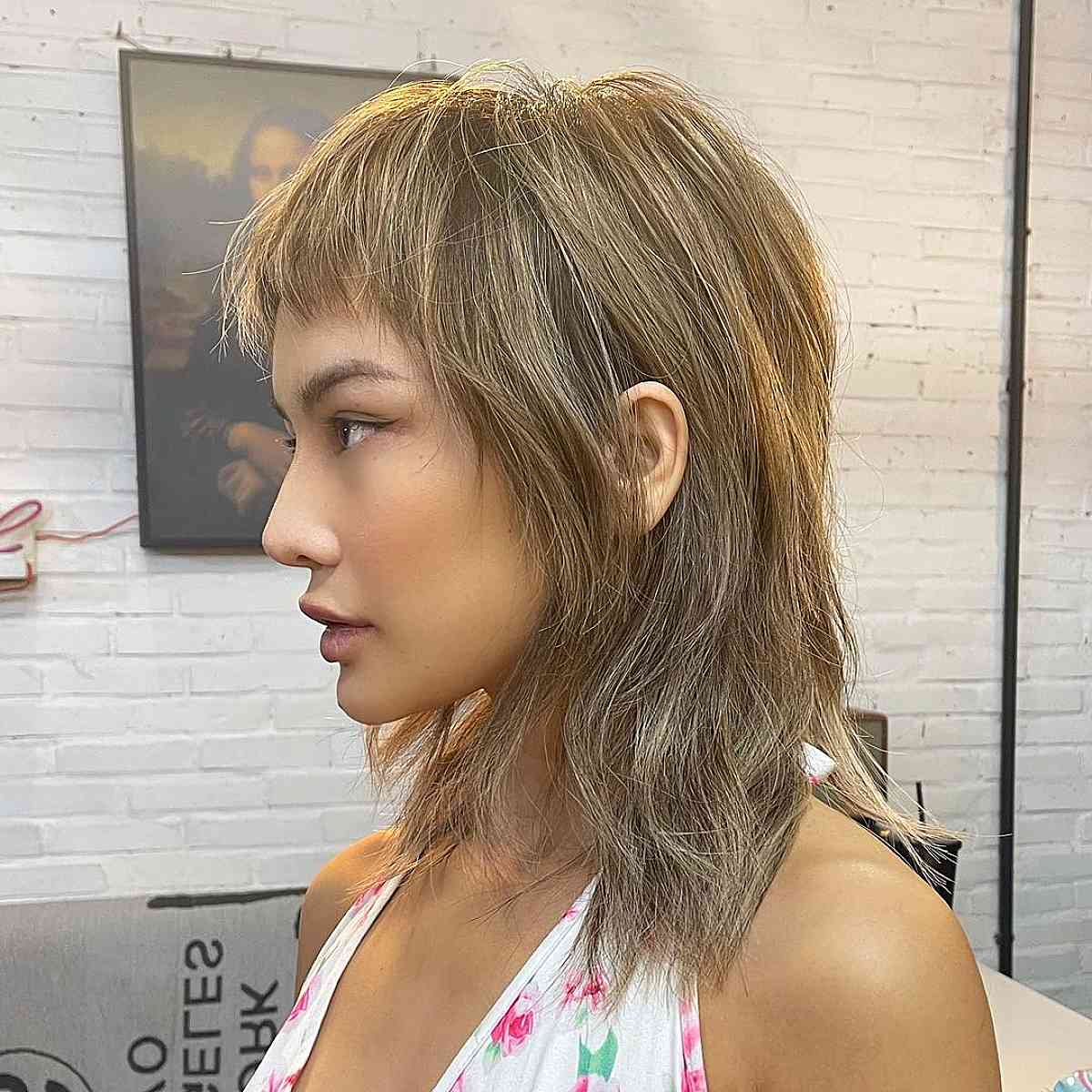 @893hairstyles
For a style that is very on trend, try a bleach blonde wolf cut. This shag style works on many hair textures and can be customized to the individual. Talk to your stylist about what version of this amazing shape would work for you.