The Shaggy Mullet Is Trending and Here are 26 Awesome Ideas!
Shagged Mullet for Mid-Length Hair
@katiepdxhair
A shagged mullet for mid-length hair has major rock chick vibes especially with a choppy baby bang and shorter crown layers. Shaggy mullets look great with blonde and black balayage or highlights to add to the natural texture of the hair and provide dimension so the layers are more prominent. The back length typically falls between the shoulders and the collarbone.
Mullet Shag with Curtain Fringe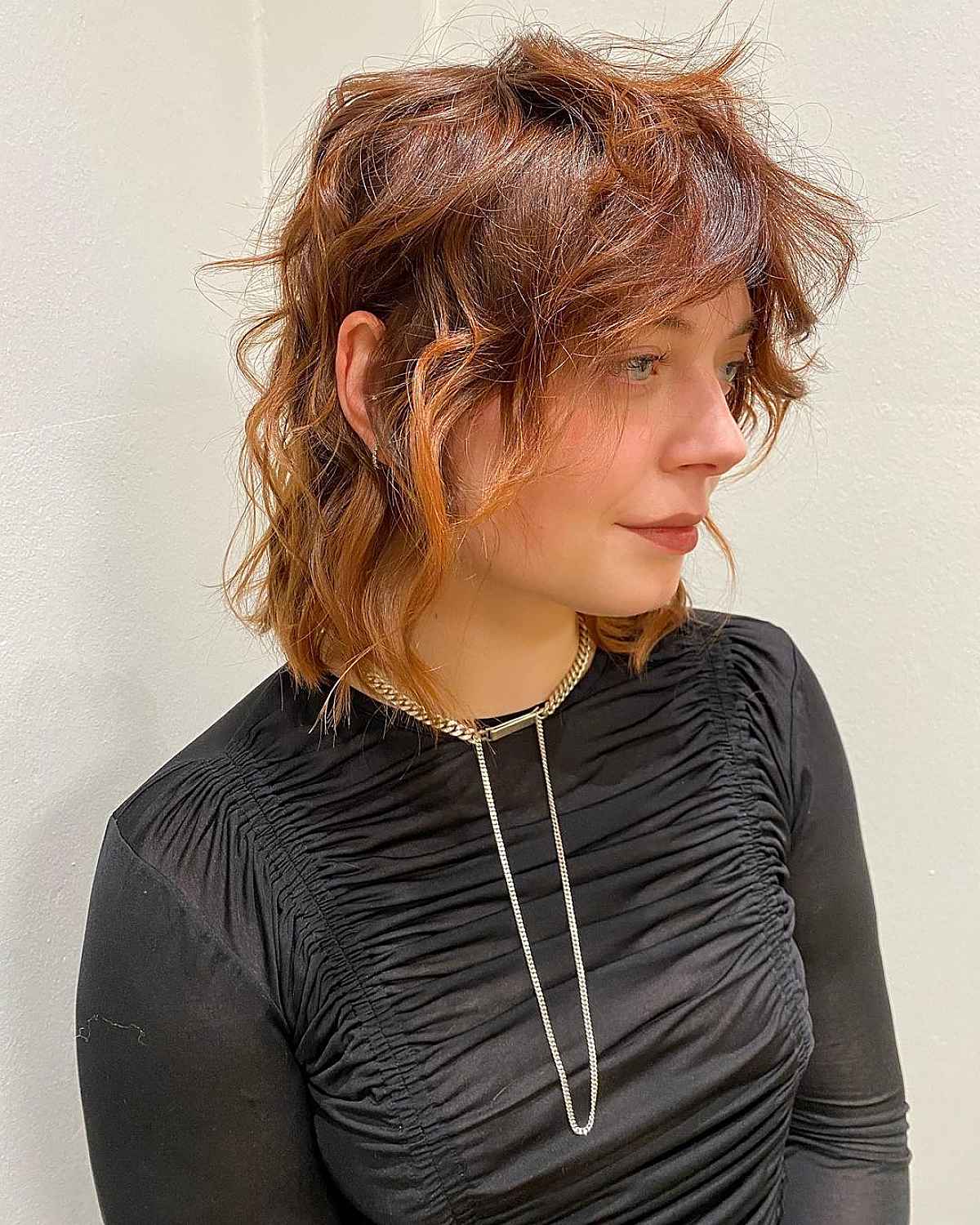 @christian_cartano_hair
A mullet shag with curtain bangs will bring out your inner pop star. A razor is used to cut a proper mullet shaggy style with tons of choppy texture. Dry cutting is necessary to blend the shorter layers into the longer hair at the nape of the neck. A clarifying shampoo can keep hair build-up free. Try the weekender from Unite.
Long Wolf Cut
@amariechihair
Try a long wolf cut for added sex appeal with loads of volume and body. A wolf cut hairstyle looks extra adorable with a flirty bang. Weight removal is necessary for thicker hair types so that the layers have lots of movement. Try a styling cream like Oribe super shine moisture cream and blow-dry with a large round brush for balance and shine.
Feminine Choppy Mullet
@shearpulp
A feminine choppy mullet has longer layers that hang below the ear on the sides which gives this version of the mullet some softness. The bangs are connected to the longer sideburns for a retro feel hugging the face. A shorter bang above the eyebrow opens up the face in shaggy mullet cuts. A beachy wave gives this cut lived-in vibes. When styling, try a one-inch T3 micro curling iron and twist the hair out of the iron while pulling the curl down to stretch it out.
Heavily-Layered Mullet
@shearlass
A heavily layered mullet has tons of short crown and side layers with super choppy thinned ends. Like metal music, this cut is not for the meek. For chic grunge vibes use a texture paste on dry hair like badlands from RnCo.
Edgy Shaggy Pixie Mullet
@hair_ritualist
An edgy shaggy pixie mullet is soft, feminine, and very easy to style. Expect more frequent visits to the salon when keeping your mullet shaggy hairstyle in shape. A shorter textured bang adds softness and accentuates the eyes.
The Wolf Cut Hairstyle
@lcs.hairdesign
The wolf cut hairstyle is a little bit 90s, a little bit retro, and a whole lot of attitude. A wolf cut haircut varies in shape and length, though all provide lots of volume because of the shorter crown layers at the top. A point-cutting technique is used to soften and blend all the fun layers.
Shoulder-Length Wolf Cut
@reyhairstylist
A shoulder-length wolf cut adds some extra disconnection with the longer length in the back and the rounded layers through the width of the head. Wolf cut hairstyles with a full bang opens up wider faces and creates fun pieces to play with. Blow-dry with a round brush to create volume and bend in the top layers.
Shagged-Out Mullet for Long Hair
@bymaggiekime
Try a shagged-out mullet for long hair to rock a cool bed head look with length to cascade down over the shoulders or put up and show off your textured bangs. Razor and shear cutting tools are used to get the right finish in shaggy mullet styles. Try a sea salt pomade like the one from Fatboy hair to add a beachy texture after styling.
Short Shaggy Mullet Cut
@barbierandrel
Try a short shaggy mullet cut with buzzed sides for an androgynous, punk rock style. On shaggy mullet hairstyles, super textured layers and shorter bangs show off eyebrows as well as facial features. Make sure to consult with your stylist on how short you want the sides to be and whether or not you want it faded.
Short Mullet with Choppy Layers
@bareeminimum
A short mullet with choppy layers is also known as the super popular 90's-inspired wolf cut. A razor and sheer carving technique are used for creating pockets of texture and wispiness. Try using Cult and King's set spray to protect hair from heat styling.
Modern Shag Mullet with Bangs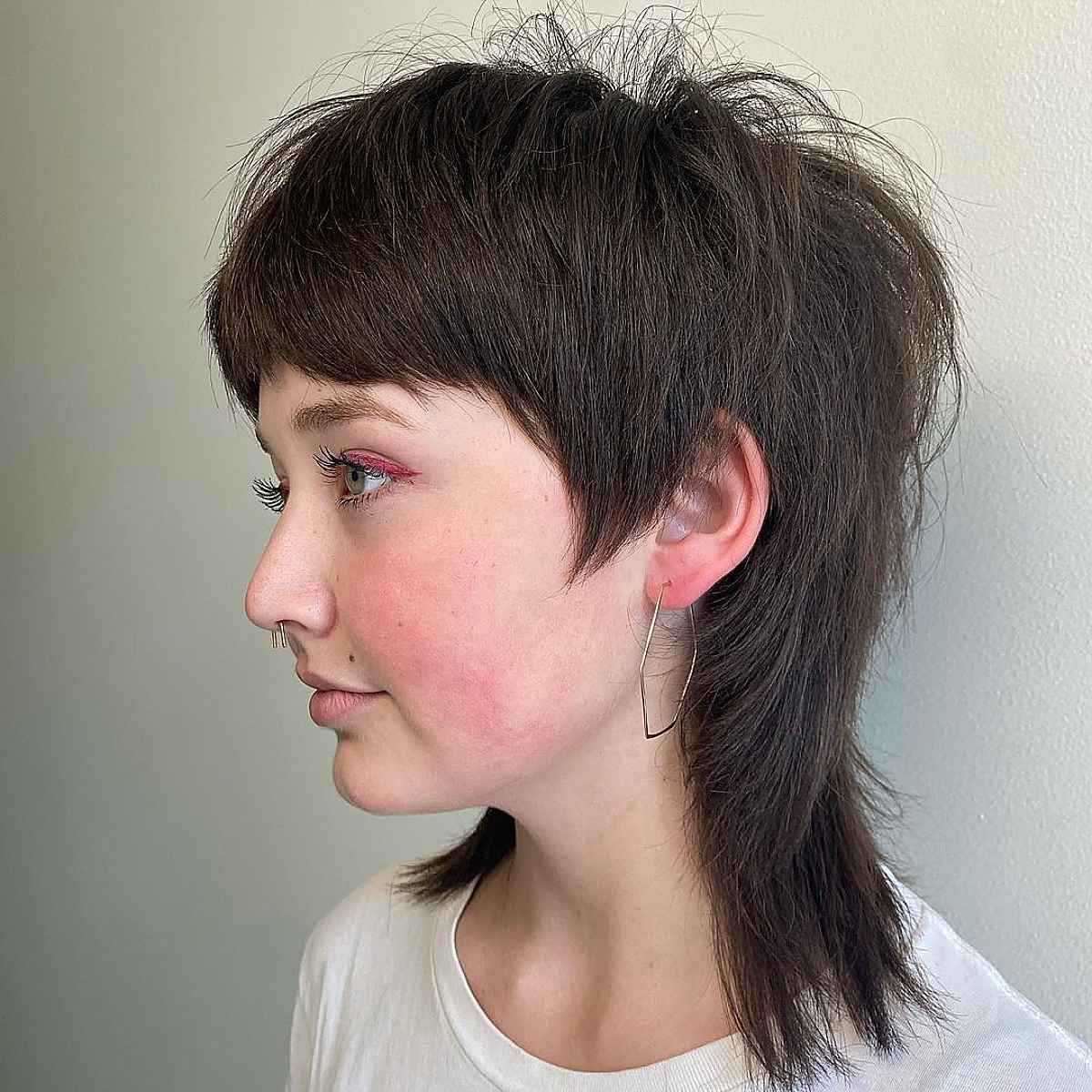 @thefringefairy
A modern shag mullet with bangs has lots of fun shorter layers at the crown that connects to the sides and is shorter around the ears. This shaggy mullet cut is great for any texture – curly hair or straight hair. The modern aspect of this shag is the layering on the length in the back. It's a bit longer and the ends are a little blunter.
Short Mullet with Textured Ends
@leahbillingsbyhair
Try a short mullet with textured ends for a wearable soft version of this popular cut. Layered bangs that are shorter in the center and curtain out around the face make this shaggy mullet hairstyle unique. The length in the back can vary, and the layers on the sides land right below the ear lobe. A small flat brush will help get a nice flick in the bangs when blow-drying your short hair.
Shaggy Mullet for Women
@fernanducruz
A shaggy mullet for women can be ultra-flattering on hair of all textures. A pixie in the front with bangs and layered into a longer length through the back gives the shaggy mullet haircut freshness. Use a mini flat iron to create bends to play up the texture.
Medium-Length Mullet Shag
@katiepdxhair
A medium-length mullet shag is a super versatile cut with enough length to make ballerina buns, ponytails, and braids while showing off the layers around the face. The crown layers of your mullet shaggy haircut can be as short or as long as you like depending on the vibe you want to create. Try using a volumizing powder to give your crown layers loads of height.
Shaggy Mullet with Curtain Bangs
@yukistylist
A shaggy mullet with curtain bangs makes a bold statement and adds retro rock vibes to every face shape and texture. Mullet shaggy styles are the perfect solution for those who want low-maintenance lived-in hair that embraces natural texture. Try a leave-in conditioner like Davines OI all-in-one milk to help tame frizz and keep hair moisturized.
Feathered Shag and Mullet Cut
@lulurichardss
Try a feathered shag and mullet cut and stand out from the crowd. The shag mullet cut is versatile and totally customizable from the bang length to the sideburns and face frame. Ask your stylist to create lots of texture. Use a texture-enhancing product like Oribe dry texture spray to enhance the look.
Long Shag Mullet
@lily.et.les.cheveux
A long shag mullet lets you keep your length but adds 60s style volume and texture to the top and sides. A razor cutting technique will seamlessly layer and create a piece-y finish. Bang length can vary so talk to your stylist about face-framing options.
70s-Inspired Shag and Mullet Combo
@lulurichardss
Try a 70s-inspired shag and mullet combo with a long bang that grazes the eyes and tapers down around the cheekbones. A mullet shaggy cut has longer hair over the ears whereas a mullet has shorter layers above the ears. A sea salt spray on damp hair will help encourage any natural waves.
Razor Cut Mullet
@hairbyashleyfillip
A razor cut mullet is the edgy answer to the too-cute pixie. The length at the nape of the neck has a feminine punk rock feel. The shaggy mullet style is the perfect undone tousle for wash-and-go styling. Try a finishing cream like second-day hair by Unite to bring down any puffiness caused by humidity.
Low-Maintenance Shag Mullet Hairstyle
@hairwizardtish
A low-maintenance shag mullet hairstyle is great for women who have fine hair to a medium textured hair type. Mullet shaggy haircuts can be low-maintenance because with this cut you should be able to wash and go. To get this hairstyle, ask your hairdresser for a short layered low-maintenance mullet, especially if you have naturally wavy hair.
Modern Mullet with Shaggy Layers
@dianakofidou_coiffure
A modern mullet with shaggy layers is a fun and edgy haircut. This haircut would work best for the girl who has soft textured hair. To get this hairstyle, ask your stylist for a layered mullet with a fringe.
Korean Shaggy Mullet Haircut
@reyhairstylist
A Korean shaggy mullet haircut is a style that works with straight hair. Mullet shaggy hairstyles can be styled with a blowdryer for extra body and volume. To get this haircut, ask your stylist for medium-length mullet.
Shoulder-Length Shag Mullet
@hollygirldoeshair
A shoulder-length shag mullet is a longer soft textured mullet. Mullet shags work great if you are looking for a haircut that gives a lot of textured face-framing layers. To get this haircut, ask your stylist for a soft textured mullet with a fringe.
Shaggy Mullet with Fringe
@wendycuts_hair
A shaggy mullet with fringe is a fun and edgy hairstyle for women of all ages. To get this hairstyle, ask your stylist for a heavily textured mullet with a short fringe.
Mullet Shag Hair for Older Women
@barbellehair
A mullet shag hair for older women works best with women who have textured hair. Mullet shaggy cuts look best with texture in thin hair. If you don't naturally have textured hair, try using a curling iron for some soft texture and spray your hair with texture spray. To get this shag haircut, as your stylist for a short mullet with short sides.