26 Flattering Hairstyles for Women Over 60 with Glasses
Helen Mirren-Inspired Bob
@good_gray_cious
The celebrity Helen Mirren-inspired bob is a polished and poised style for women that are past 60 years in grace. A varying length in fringe for short bob hairstyles for over 60 with glasses or point of swing around the face can be customized based on the facial structure.
Photos of reference can help determine length preference and salon maintenance. The classic bob hairstyles for over 60 with glasses work best with naturally straight to smooth texture or may be achieved with a blow-dryer and hot brush for style refresh.
Tapered Cut for Round Frames
@nadia.cutshair
A tapered cut can be easy to keep hair away from the face to showcase round frames. This crop is perfect for older women who wear frames as they still look sassy! Edgy hairstyles for over 60 like this one are just wash-and-go, no need to style.
Short Bob with Bangs
@blndbybethrembold
A short bob with bangs can open up the features of the face. The wispy bangs can fall at or below the eyes, concealing the forehead, making it easy for an old woman to style as it grows out. Length for point of swing can vary as can the layering of the bob. These hairstyles for ladies over 60 with glasses can be kept classic with a blowout or smoothed with a flat iron.
Long Bob for Salt-and-Pepper Hair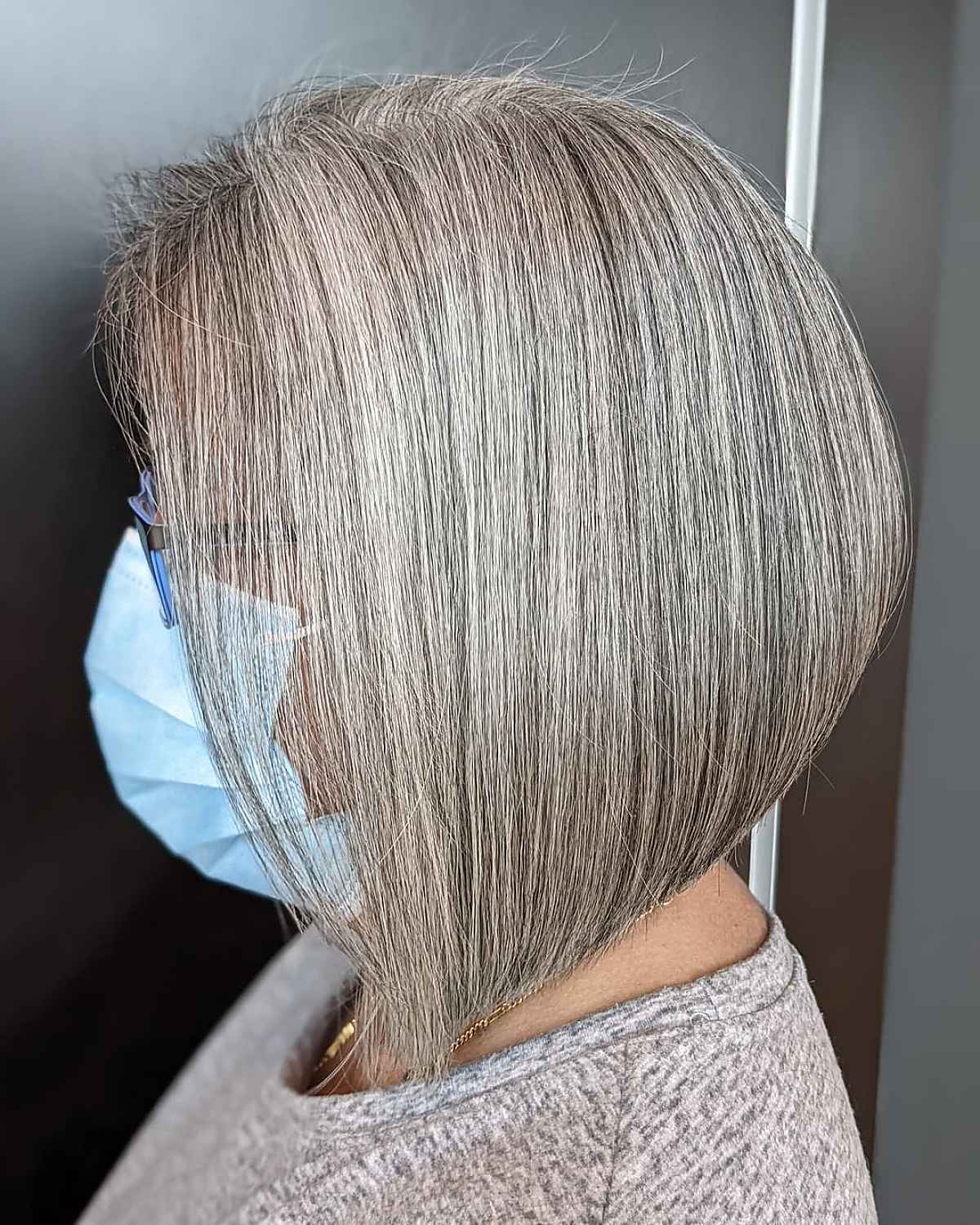 @thuy.anguyen
The perfect trendy hairstyle for women over 60, looking to embrace their gorgeous, salt-and-pepper hair color is an evenly cut, graduated cut. Long bob hairstyles for ladies over 60 with glasses can be styled any way and look absolutely gorgeous on all face shapes.
The Wedge
@karma_salon_yyc
The wedge is one of the classic short grey hairstyles for over 60 with glasses. It's chic yet spunky, depending on the desired style. Styling and maintenance for such wash-and-wear haircuts for over 60 with glasses can vary from a blowout to a lived-in tousle that is created with a wand or curling iron.
Medium-Length Layered Cut
@aliciamarie2204
A medium-length layered cut with long bangs works great on full face shapes or if women wear eyeglasses. Fringe can be kept at or below the frame while layers showcase features like natural color, highlights or natural texture of hair. Maintenance of layered hairstyles at the salon can vary between 8-12 weeks.
Round Bob with Bangs
@nina.wella
A round bob with bangs is perfect for fine-haired women past sixty looking for a youthful look. These hairstyles for over 60 with glasses and fine hair give instant body and volume. It's also ideal for a medium texture. Blow-dry for added lift or air dry.
Asymmetrical Pixie for Round Faces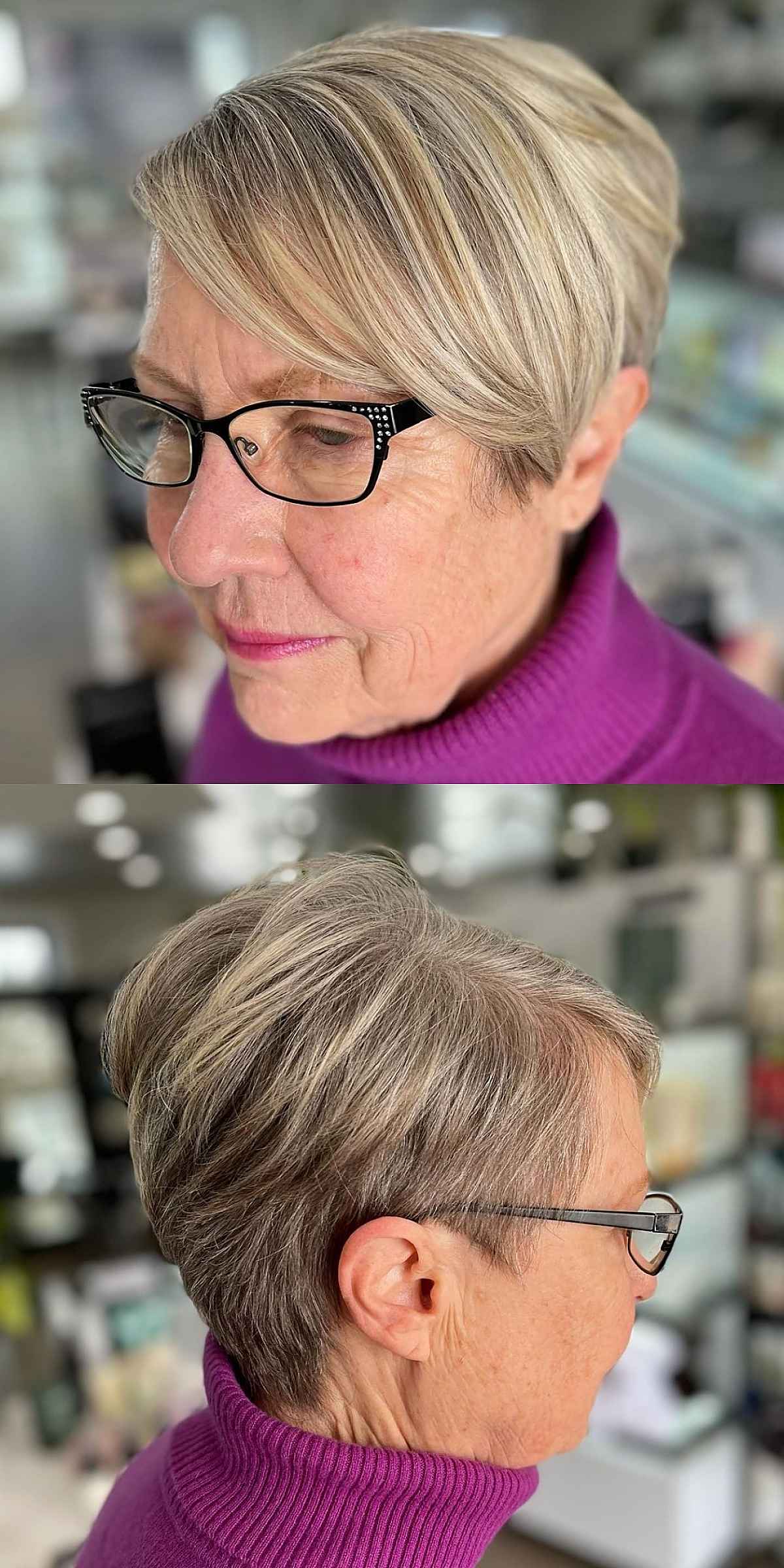 @beckykline.hair
An asymmetrical pixie is a perfect cut for round faces. The symmetry to one side helps elongate and slim down cheekbones with hair falling longer toward the face. Pixie haircuts make the best short and sassy style that still has some length to play with. Such short hairstyles for over 60 with glasses and a round face work on all hair textures and offer a younger-looking vibe.
Short Spiky Haircut
@rstyle78
A short spiky haircut is great when you want an effortless style that requires no styling. Perfect for the busy 60-year-old with spectacles that want to rock a spiky style! These hairstyles for short hair over 60 with glasses are a wash-and-go type!
Shaggy Mullet Hairstyle
@thedressupmom
A shaggy mullet is not for the faint of heart. This mullet is for the bold woman looking for something to match their already daring style. Medium-length hairstyles for over 60 with glasses like this show off the natural curls and waves of the tresses. Keeping it short around the face is a great way to let your favorite pair of eye frames or earrings be the star.
Chin-Length Bob with Large Frames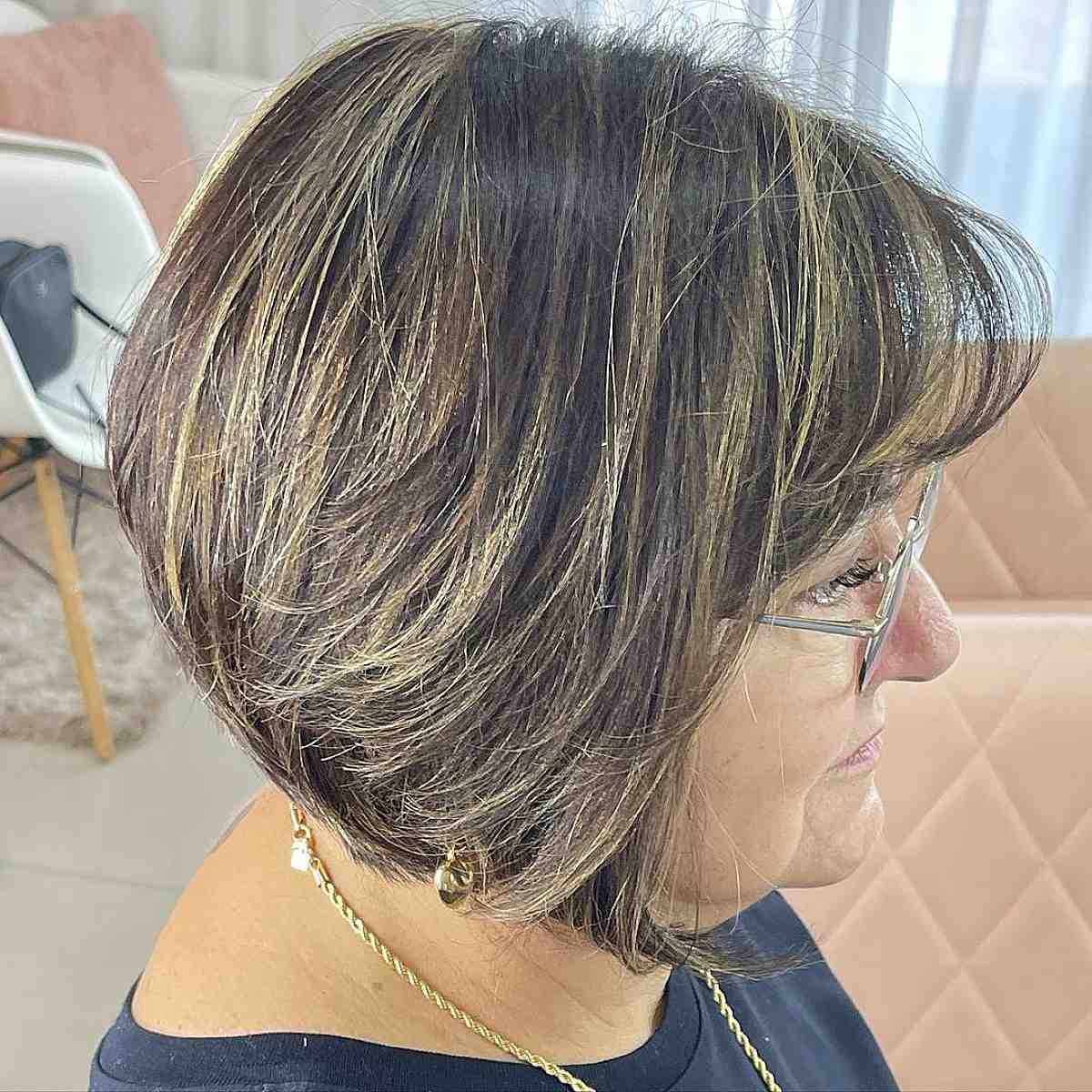 @anakumizaki
Short haircuts, like a chin-length bob, are an ideal style for older women that wear large frames. Consider stacked layers in the back if you have thick tresses to add fullness and a soft fringe that is cut above your glasses to flow seamlessly into the rest of the haircut.
Hairstyles for thick hair over 60 with glasses look great by simply tucking the strands on one side behind your ear. You can convey a sense of youthfulness and elegance while directing attention to your eyes and cheekbones.
Layered Bob Hairstyle
@haarsalon_
Let's talk about that layered bob hairstyle. Giving the illusion of extra volume and dimension, such layered bob haircuts are a go-to for women in their 60s. Shorter layers at the top remove weight and create that amazing volume. For more voluminous short hairstyles for over 60 with glasses, use mousse or lightweight styling cream applied to wet hair and dried with a round brush.
Audrey Hepburn-Inspired Pixie
@amyhair
Inspired by the beautiful Audrey Hepburn, pixies are a timeless and classic cut. Short hair for women over 60 is easy to maintain and style. Using a texture spray or pomade, apply to dry locks to create that textured lived-in look.
Edgy Choppy Layers
@the_wildwood_collective
There's no better way to say edgy than choppy layers that work well with fine straight hair. Look 10 years younger by adding tousled layers around the face. Choppy layers on hairstyles for over 60 with glasses and thin hair add a feathered look that can't be styled flipped under or flipped out.
Feathered Bob with Small Frames
@colourbybobbijo
If you are looking to complement small frames and thick silver hair, a feathered bob is the perfect solution. Wispy ends throughout the cut make a woman in her sixties look younger and frame the glass rims nicely. When styling hairstyles for over 60 with glasses for thick hair, blow-dry with a round brush away from the face for a feathered back look.
Angled Bob for Grey Hair
@hairbysammcbride
Angled bob haircuts are ideal for gray hair and women 60 and over. When a bob is angled it adds character and class to the cut. The more dramatic the angle the edgier the look. This short grey hair over 60 is a perfect complement to wearing glasses.
Grey Long Pixie Cut with Fringe
@michamenezeshair
Fringe adds style to any grey long pixie cut. A long pixie is longer than a pixie but shorter than a bob. Ladies over 60 enjoy this look for its easy styling time and maintenance. Opt for long pixie cuts for older ladies with glasses when the length of the cut is above the ears.
Shoulder-Length Shag
@cheerupsalon
Shags that are shoulder-length add amazing volume and movement to wavy hair. Medium-length hairstyles for grey hair over 60 with glasses are short enough to be sassy but long enough to be worn back in a ponytail giving you a little diversity. You can wash and wear this cut or curl the layers with a styling wand.
Slicked Back Pixie Cut
@a_bevyofbeauties
Enhance your features with a slicked back pixie cut. Slicking back a pixie opens up the face and is optimal for allowing those shades or eyewear to be center stage while flashing your amazing hairstyle. When styling pixie short hairstyles for over 60 with glasses, use the firm-hold gel for a wet look and a light hold gel for a little movement.
Long Shag Cut
@tiffmccoll
Rocking a long shag cut has been all the rage. Loose waves on long hairstyles for over 60 with glasses are flattering for all face shapes. A shag cut with feathered bangs is basically lots of layers varying from very short to longer layers.
Short Hairstyle for Fine Hair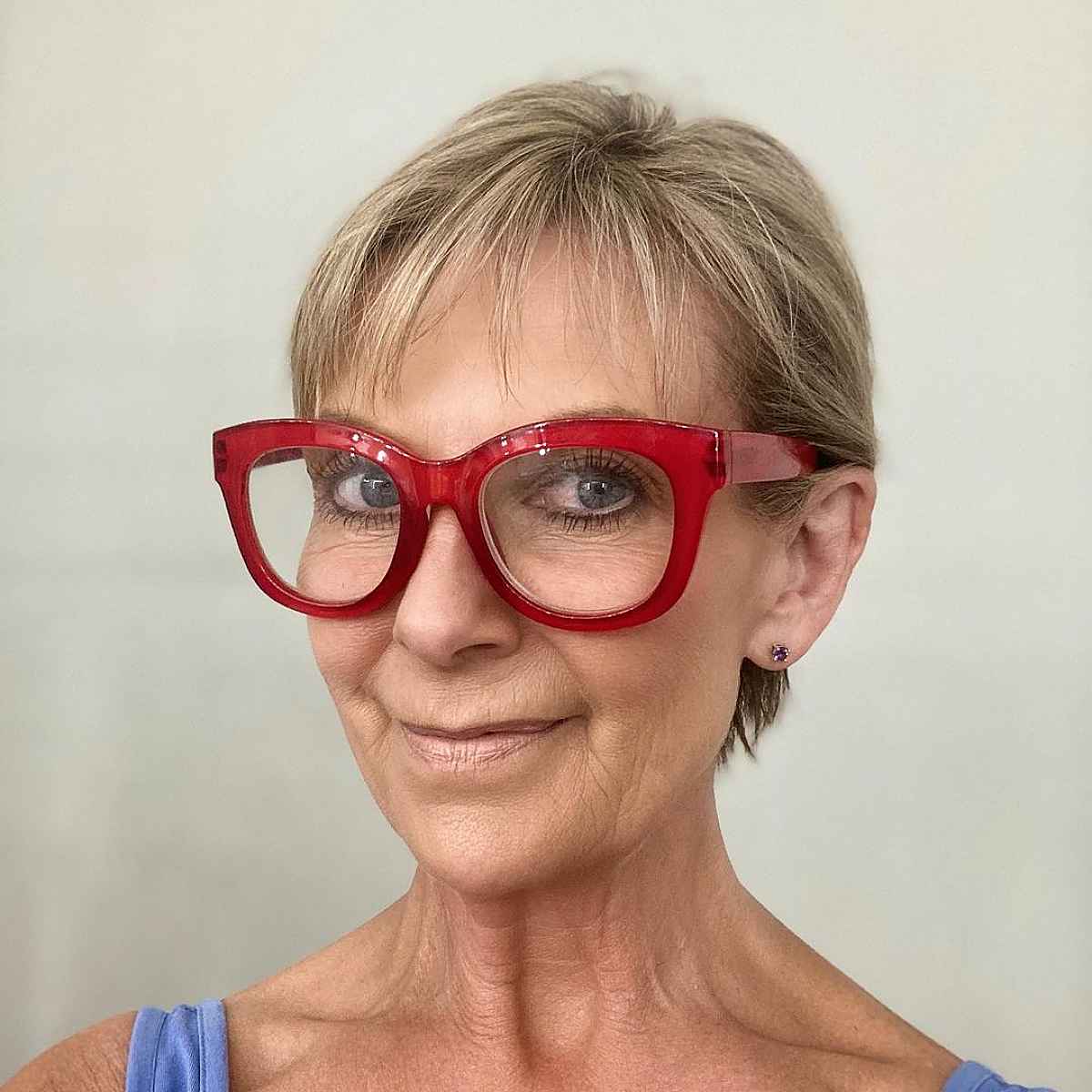 @caronw06
Fine hair requires a little finesse and short hairstyles are perfect for that. Short hairstyles for thin hair over 60 with glasses give the face a look of youthfulness. When using products to style fine hair, less is more. A lightweight styling cream or texture spray will do the trick.
Short Shaggy Hairdo
@idhairdressing
Hello, short shaggy hairdo! Don't forget to determine the length of the shag according to face shape. If your face shape is round you want a longer cut, but if face shape is more oval go for a shorter shag. Shags make the most fun short hairstyles for fine hair over 60 with glasses. These create a feathered look, which can be achieved by flipping out instead of under with a styling wand or round brush.
Wash-and-Wear Pixie for Thin Hair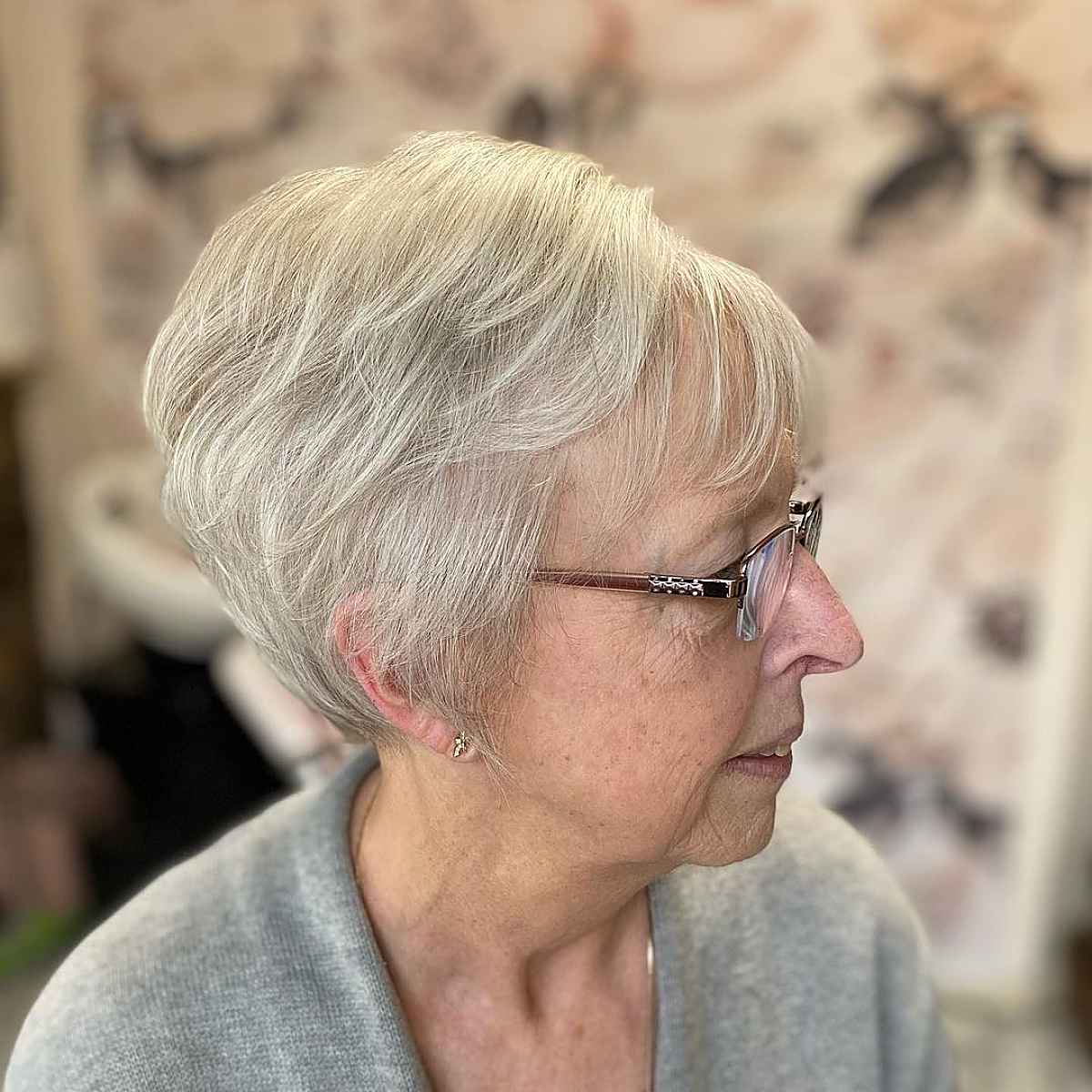 @amy.farrahhair
Let's compliment that fine hair with a wash-and-wear pixie. Wash-and-wear pixies are fast and easy. Add volume to fine hair by piecing out sections of hair with a texture spray or pomade of choice. Haircuts for women over 60 include pixies, bobs, and medium-length haircuts for easy maintenance.
Low-Maintenance Hairstyle
@kuljuntukkapulju
A low-maintenance hairstyle cuts back on styling time and how often you need a haircut. As we age, the low-maintenance haircut is key. Avoid fringe that is too short or too long. The perfect length when wearing glasses is right at the brow line or below the frames so you don't obstruct your view.
Curly Bob for Curly Hair
@snipstream
Nothing says curly hair like a curly bob. A bob with a side part is ideal for 60-year-olds because of its low-maintenance and wash-and-go style. This look is convenient for curly hairstyles. Less length creates a tighter curl. Hair colors are welcome, so feel free to try hints of blue or teal to amp up curly hairstyles for over 60 with glasses.
Sassy Pixie for Thinning Hair
@beauty_page_thulyna
Let's get sassy with the perfect pixie for thinning hair. A sassy pixie is ideal for thinning hair. By accenting those frames with short hair, women over 60 feel young and vibrant. The choppiness of the cut adds fullness to fine hair.