26 Flattering Haircuts for Women Over 30 That Are Still Trendy
Low-Maintenance Shag for Wavy Hair
@lcs.hairdesign
The best hairstyles for women over 30 are shags. And, a low-maintenance shag for wavy hair is very trendy right now. The heavy fringe and lots of layers encourage curl and texture. These styles for women over 30 with thick hair are ideal. Air dry or diffuse with a texturizing cream.
Medium-Length Beach Waves for 30+ Women
@ka_espacobeleza
Medium-length beach waves for 30+ women are perfect. The length is youthful and versatile, and the lived-in waves are very on-trend. Piecey mid-lengths are a wonderful option for women aged 30 and over. Style with a texturizing spray for a tousled finish.
Face-Framing Hairstyle with a Money Piece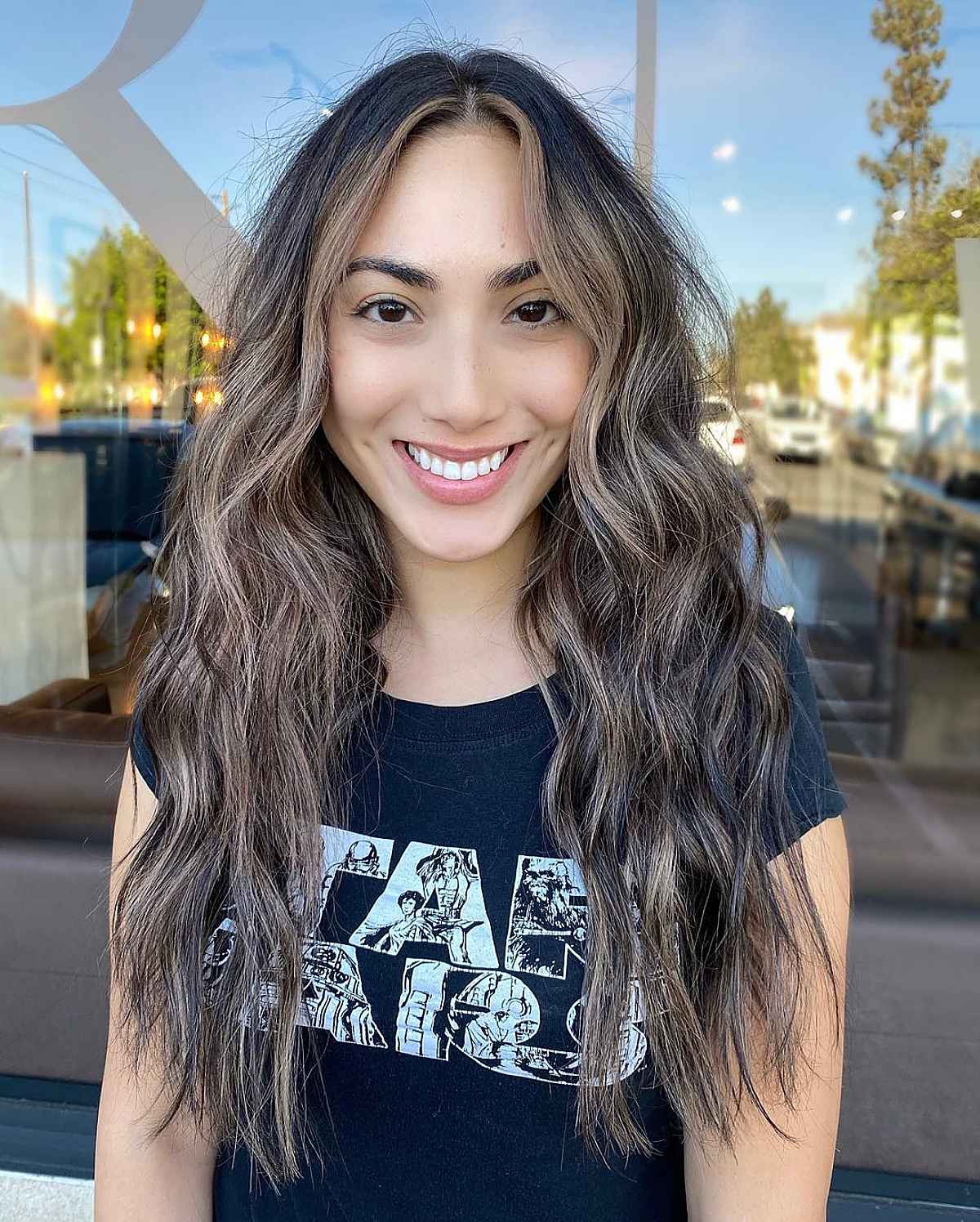 @hairbyjuudddyyy
A face-framing hairstyle with a money piece can help to elevate your haircut and add brightness to boost your complexion. Adding these lighter pieces into your hair is budget-friendly and low-maintenance.
Undercut with Bangs for Thick Hair
@hayleypullynhmua
An undercut with bangs for thick hair will make styling a breeze. By removing length and bulk you'll spend less time blowdrying. This style is very popular with women thirty or younger.
Mid-Length Wavy Bob with Bangs and Layers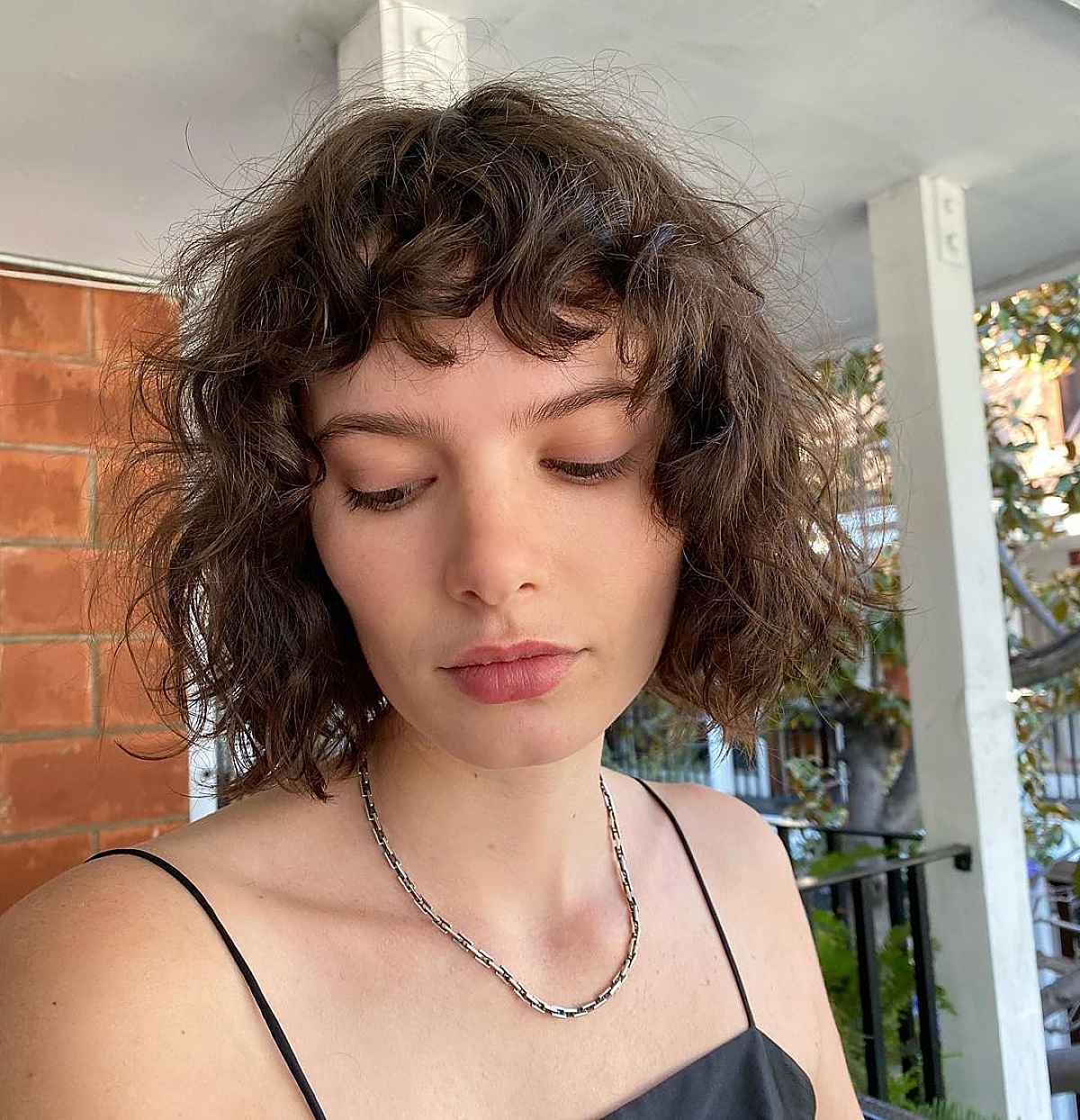 @erin_mckay
A mid-length wavy bob with bangs and layers is a great haircut if you have a lot of density and texture that you're looking to get rid of. Scrunching in a curl cream such as Virtue Labs 6 in 1 Styler will allow you the ease of air drying this cut.
Sleek Cut with Side-Swept Bangs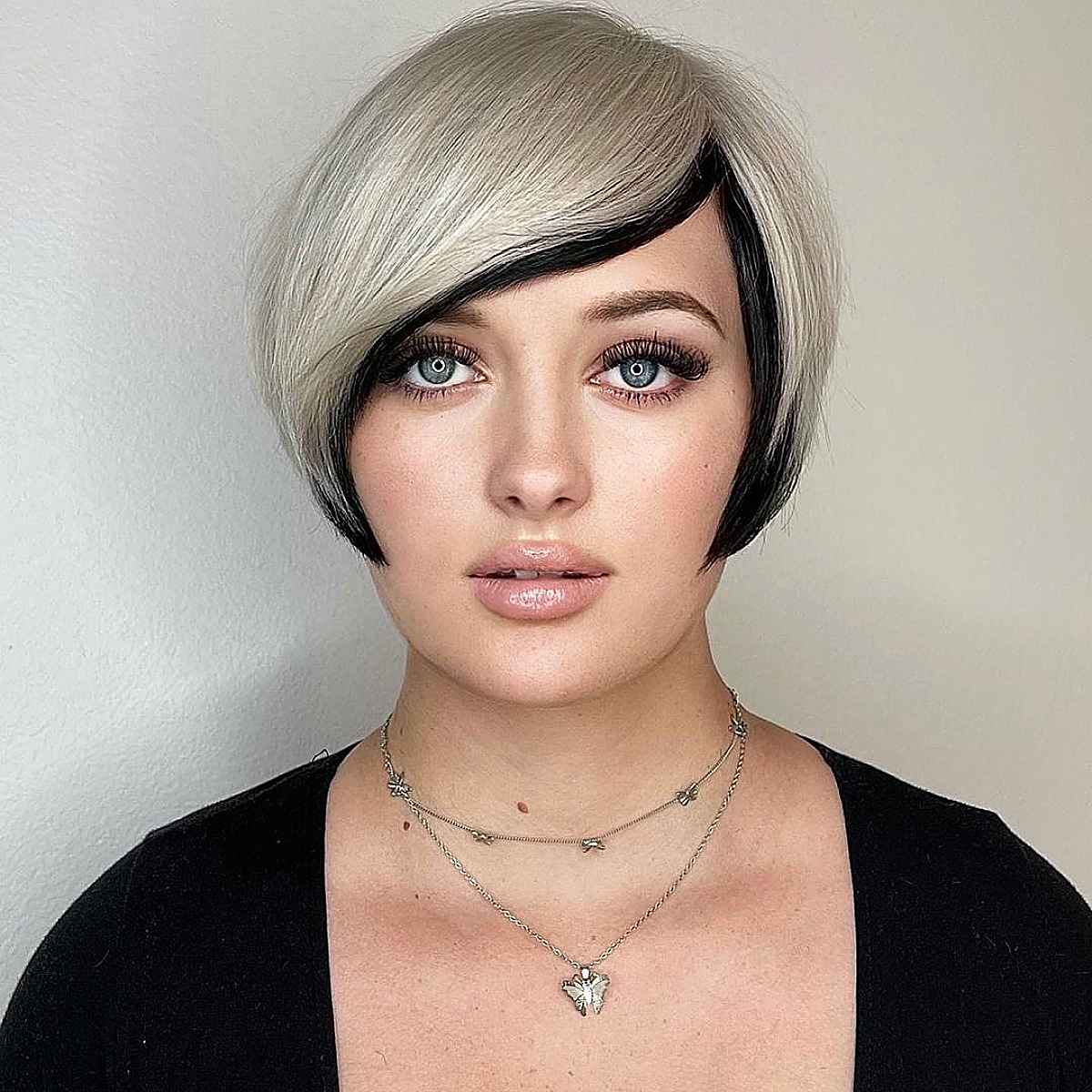 @schwarzkopfusa
If you'd like to show off your high cheekbones try a sleek cut with side-swept bangs. By keeping the length and weight line around the mid-face, you will draw attention here.
Edgy Pixie Bob for Fine Hair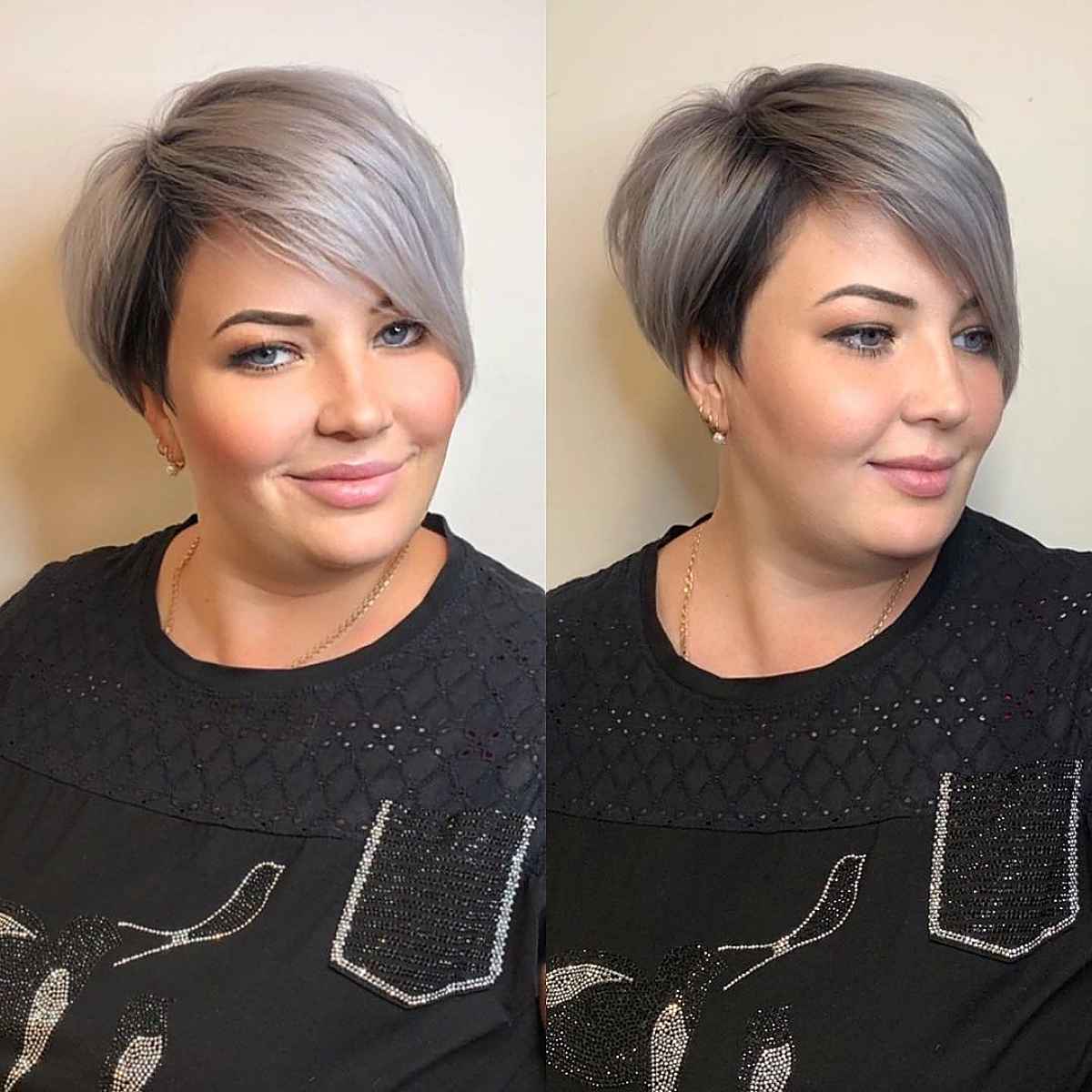 @zinoveva_elena
Try an edgy pixie bob for fine hair if you're looking for more life and movement in your strands. It's a flattering hairstyle for women over 30 and looks great on round face shapes.
Shaggy Cut with Long Curtain Bangs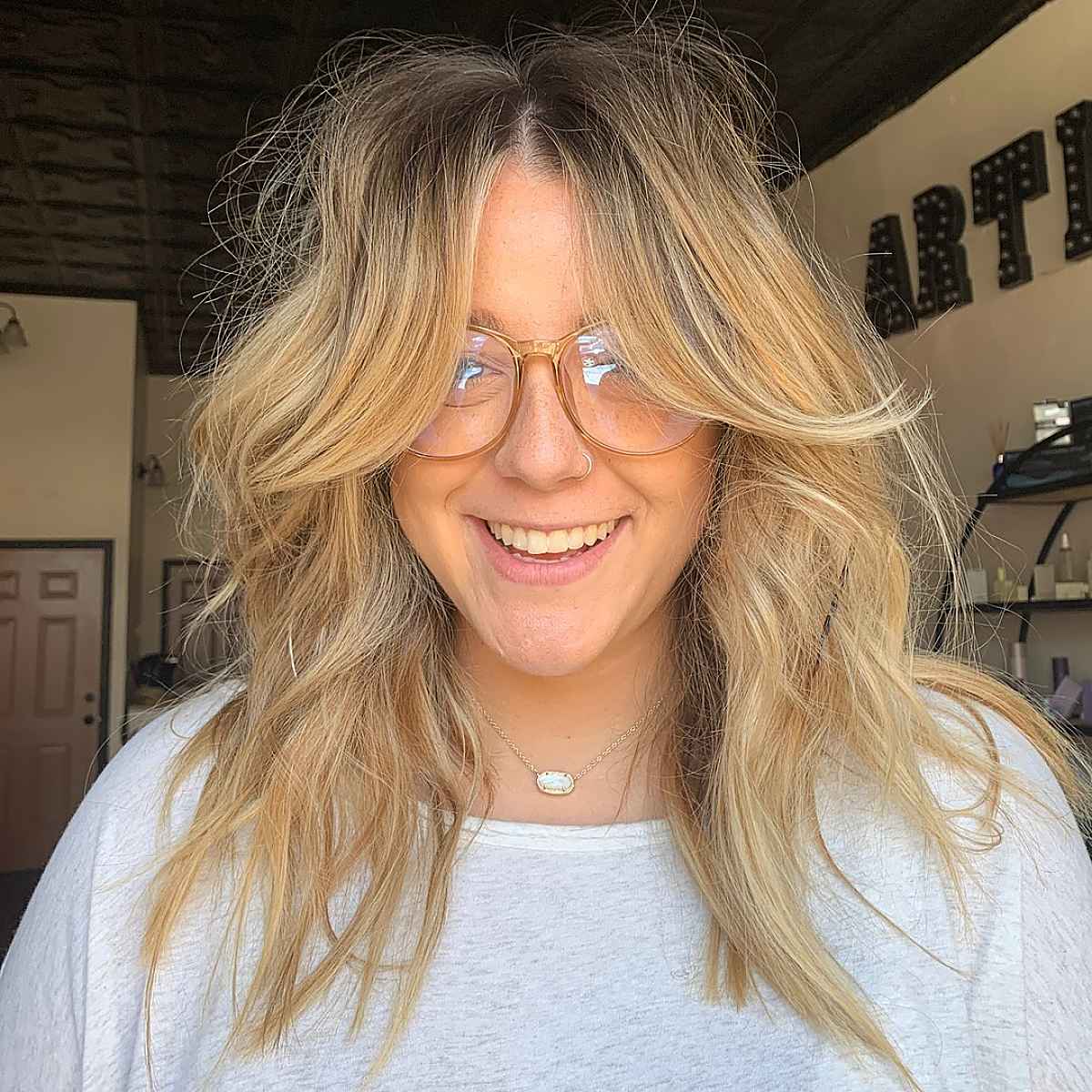 @hannahp_artistry
A shaggy cut with long curtain bangs will look great on just about anyone. This haircut is popular with women over the age of 30 because the bangs can help balance out a round or square face shape.
High Ponytail with Wispy Bangs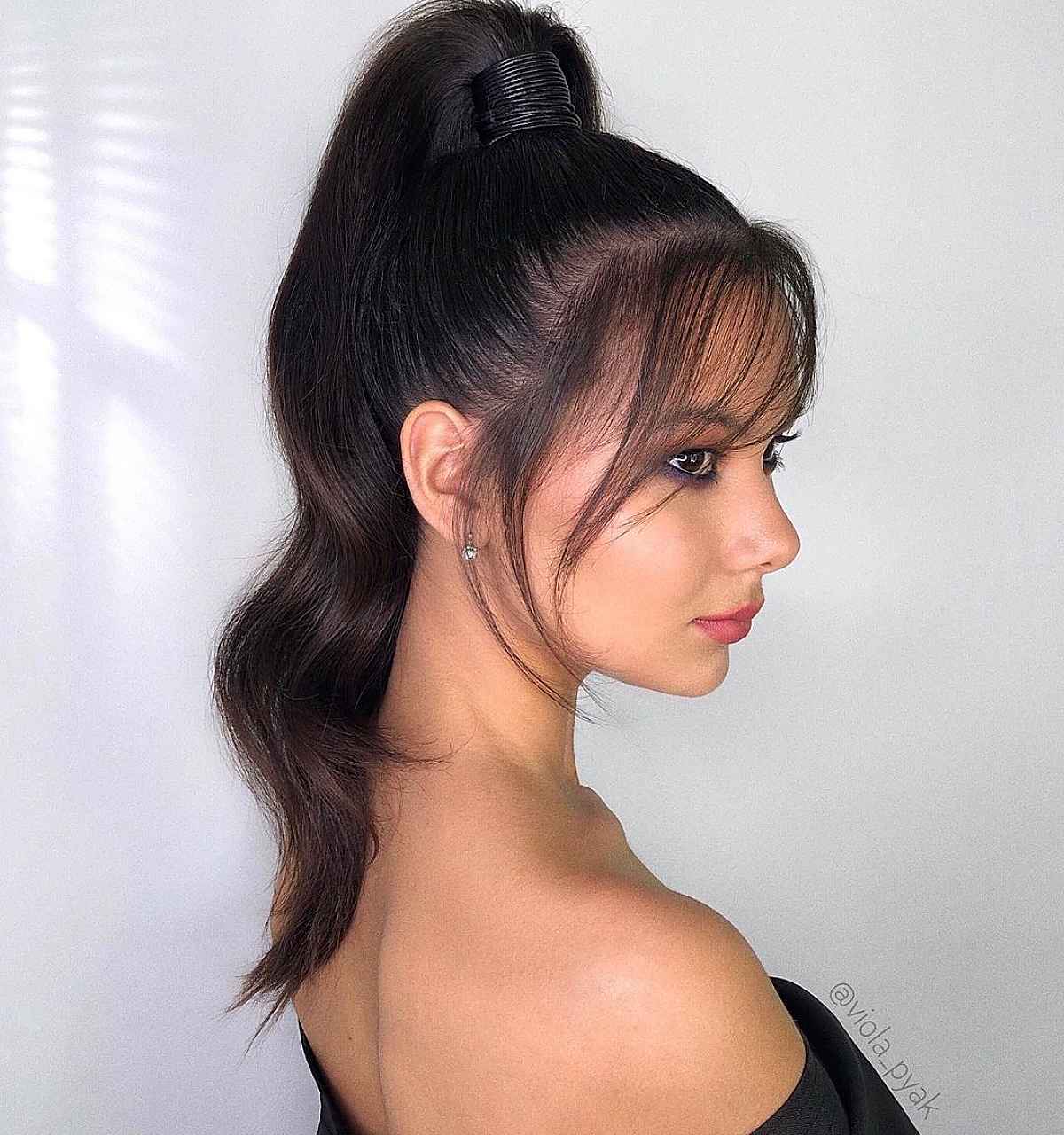 @viola_pyak
A high ponytail with wispy bangs is a chic look for a night out on the town. The fringe keeps the look from being too rigid and helps women that have a larger forehead. Add a weft or hairpiece for a dramatic and show-stopping updo.
Professional Inverted Bob for 30-Year-Old Women
@skareje
Consider a professional inverted bob for 30-year-old women. Professional hairstyles do not need to be boring, and this edgy chic shape is proof of that – from the front to the back. Style it super smooth for the office and wear it wavy for a night on the town.
Stacked Bob for Women Passed Their 30s
@ro.hsiqueira
A stacked bob cut for women passed their 30s is very flattering. This cut can be worn at a variety of lengths, and the angle can be subtle or extreme. Consult with your stylist about the best combination for you.
Silver Pixie Cut for a 30-Year-Old Woman
@tanya_amador
Consider a silver pixie cut for a 30-year-old-woman. Hair colors this bold can also be highly effective if you are transitioning into your natural gray. Being a woman over 30 does not mean you cannot wear gray hair. In fact, it means you can celebrate it! This hair color does require time and money though so be prepared for the investment of both.
Cute Pixie Cut for Thin Hair
@sarahb.h
Consider a cute pixie cut for thin hair. Short cuts for women over 30 are ideal, especially for fine or thin hair. The style adds fullness and the illusion of thickness. Keep in mind a pixie cut requires more frequent visits to your stylist.
Long Layers for Women Over 30 with Long Hair
@bluetitlondon
Consider long layers for women over 30 with long hair. Layering around the face is more flattering as we age, and 30-year-old haircuts should feel light and have movement. Style with a big round brush or a big barrel curling iron and a volumizing spray.
Layered Shoulder-Length Long Bob
@alissathesauce
A layered shoulder-length long bob takes years off your face. It's the perfect combo of youthful and professional. It's an excellent option for 30-year-old hairstyles, too. Pop in some highlights around the face to elevate the look even further.
Mid-Length Haircut for Women Over 30
@firatdncmn
A mid-length haircut for women over 30 is very trendy. For those thirty and older, it's a nice youthful and versatile length. Play around with layers or create a slight A-line with the perimeter. That is the beauty of this cut, it can be customized to anyone's look or lifestyle.
Popular Short Pixie for Straight Hair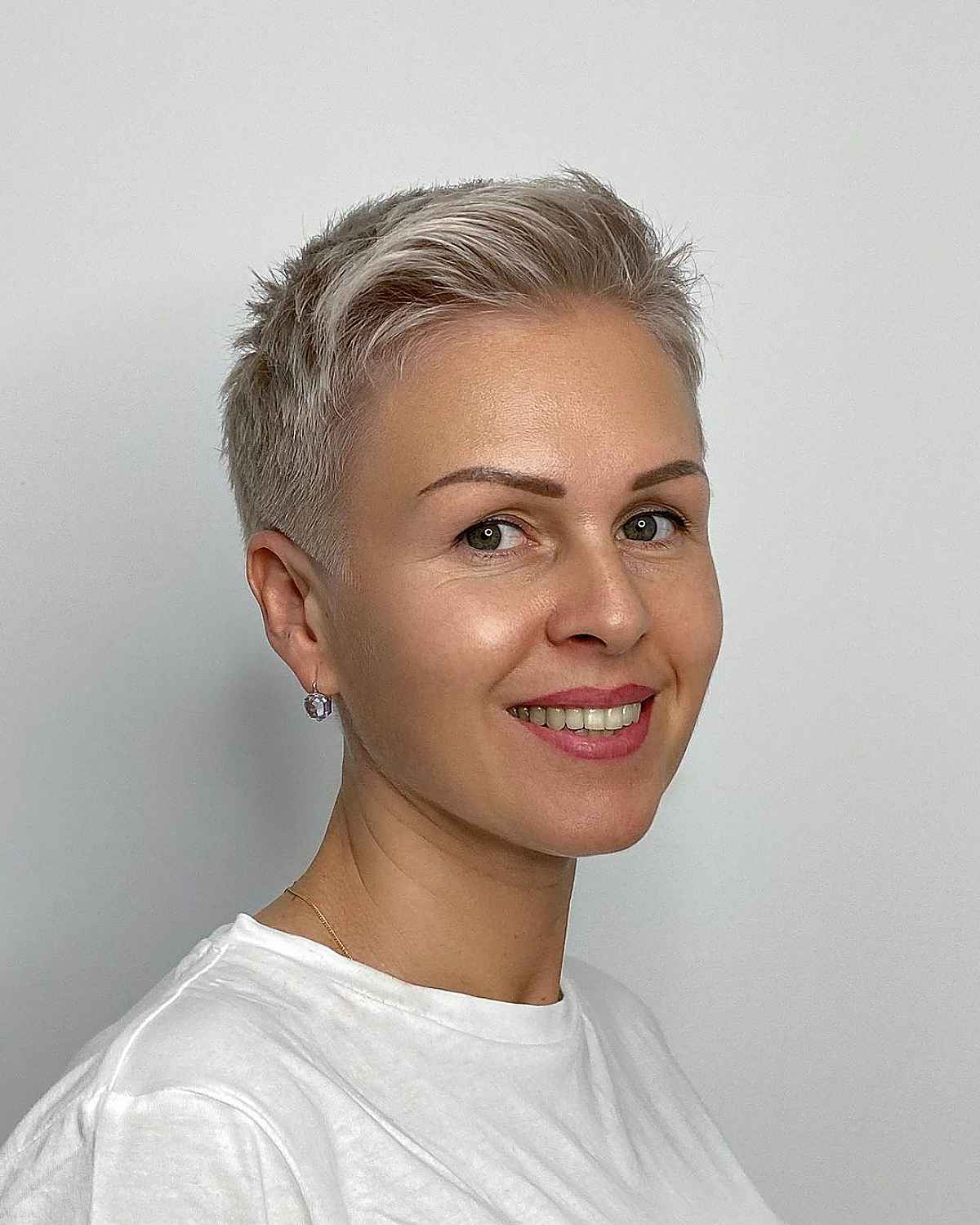 @alexei.fedorko
Try a popular very short pixie for straight hair. For women in their thirties, this cut is an excellent choice. It's still youthful, but also has sophistication. This style is perfect for ladies with little to no time for styling, but it does require frequent salon visits to keep it looking sharp.
Rounded Bob for Curly Hair
@dangginaaa
Consider a rounded bob for curly hair. It's a great haircut for women over 30. Layers in the crown and around the face encourage curl and volume, and the shorter length is very modern and youthful. Air dry or diffuse with a curl cream and use a conditioning mask weekly to keep hair hydrated.
Back View Messy Bun Hairstyle for Casual Women Over 30
@tumblrpicfly
A messy bun hairstyle for casual women over 30 is so practical. It's perfect for the girl on the go. Use a dry shampoo or styling powder before putting the hair up. It keeps the style from slipping so it will last all day.
Blonde Bob Hairstyle for Women with Glasses
@larisachis
Consider a blonde bob hairstyle for women with glasses. This cut works for women wearing eyeglasses with any style of frames. Wearing no bangs keeps this look low-maintenance, but a fringe can be added if desired. Remember that a fringe will need to be on the short side and require frequent trims to work with the glasses.
Asymmetrical Bob for Women in Their 30s
@demetriusschool
An asymmetrical bob for women in their 30's is a great choice. This look is an edgy twist on a classic style. Bobs are perfect 30-year-old cuts, and this spicy version keeps it fashion-forward.
Long Pixie Cut with Side Bangs
@alexei.fedorko
If you want to go short, consider a long pixie cut with side bangs. This flattering shape is great for fine hair and keeps the look feminine with a wispy fringe. Ask your stylist for a razor cut to add texture and softness to this gorgeous shape.
Classic Shaggy Mullet for Round Faces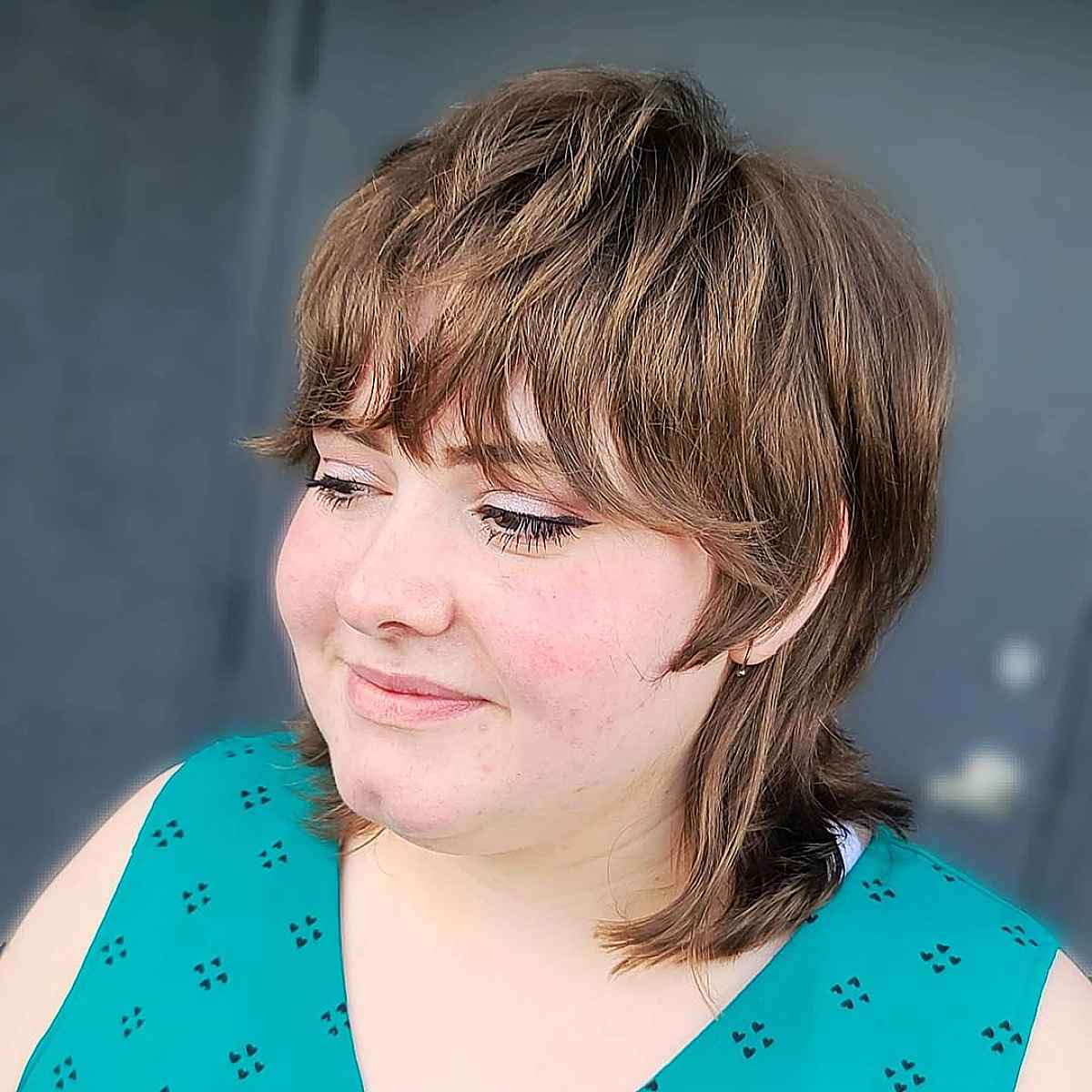 @kaytlynntessie
Consider a shaggy classic mullet for round faces. Air dry or diffuse with a texturizing cream or paste to encourage natural texture.
Trendy Long Hair with Balayage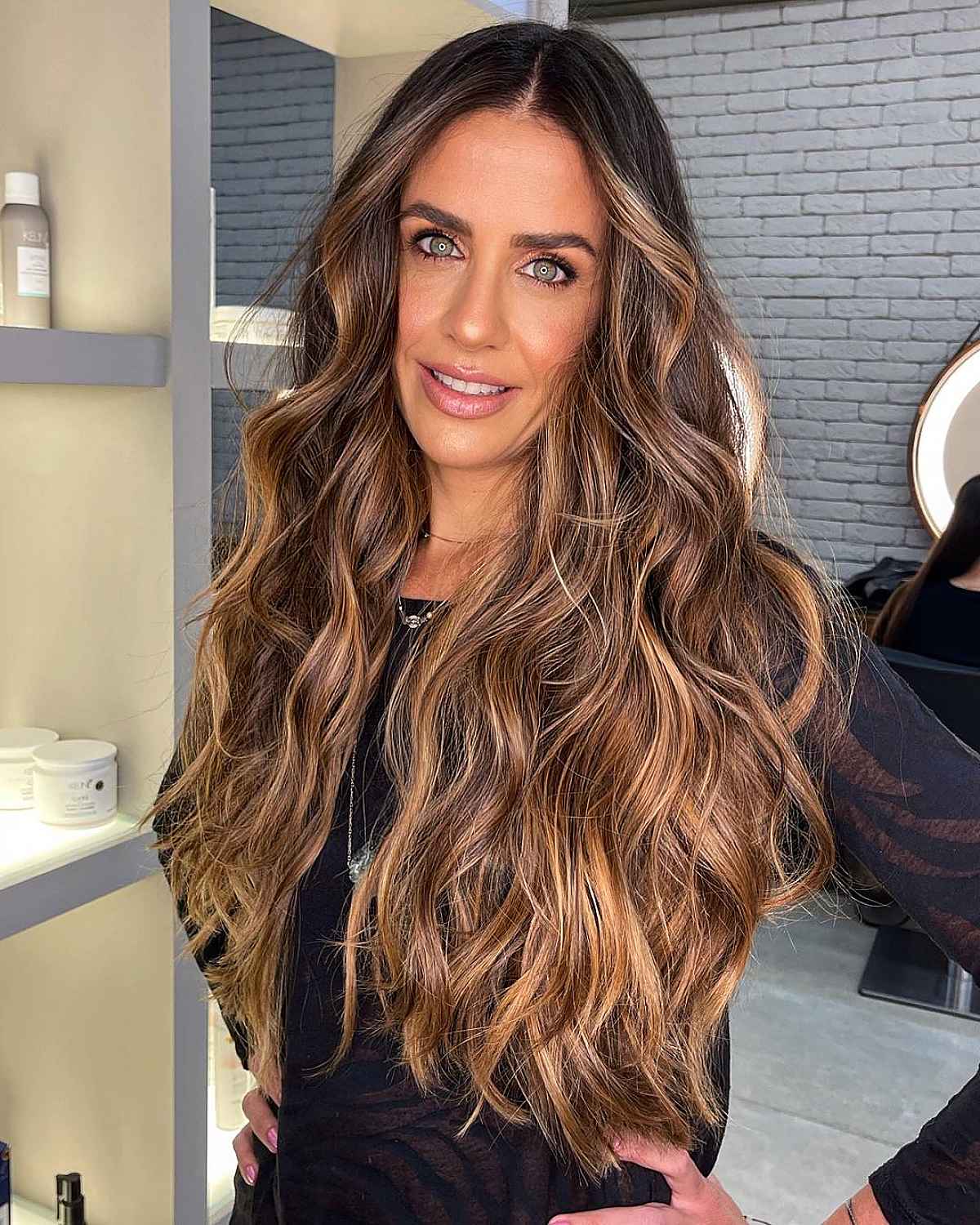 @romeufelipe
Trendy long hair with balayage is beautiful on thick hair. The darker root and sun-kissed ends offer up that perfect lived-in color and beachy vibe. Style with a big barrel curling iron, or waving iron, and some salt spray.
Blunt Cut Bob with Waves
@andernaindorf
Consider a blunt cut bob with waves for fine, straight hair. The blunt cut gives the illusion of thickness, and the waves are a very modern way to style the cut. It's the perfect blend of classic and trendy.
French Bob with Bangs for Short Hair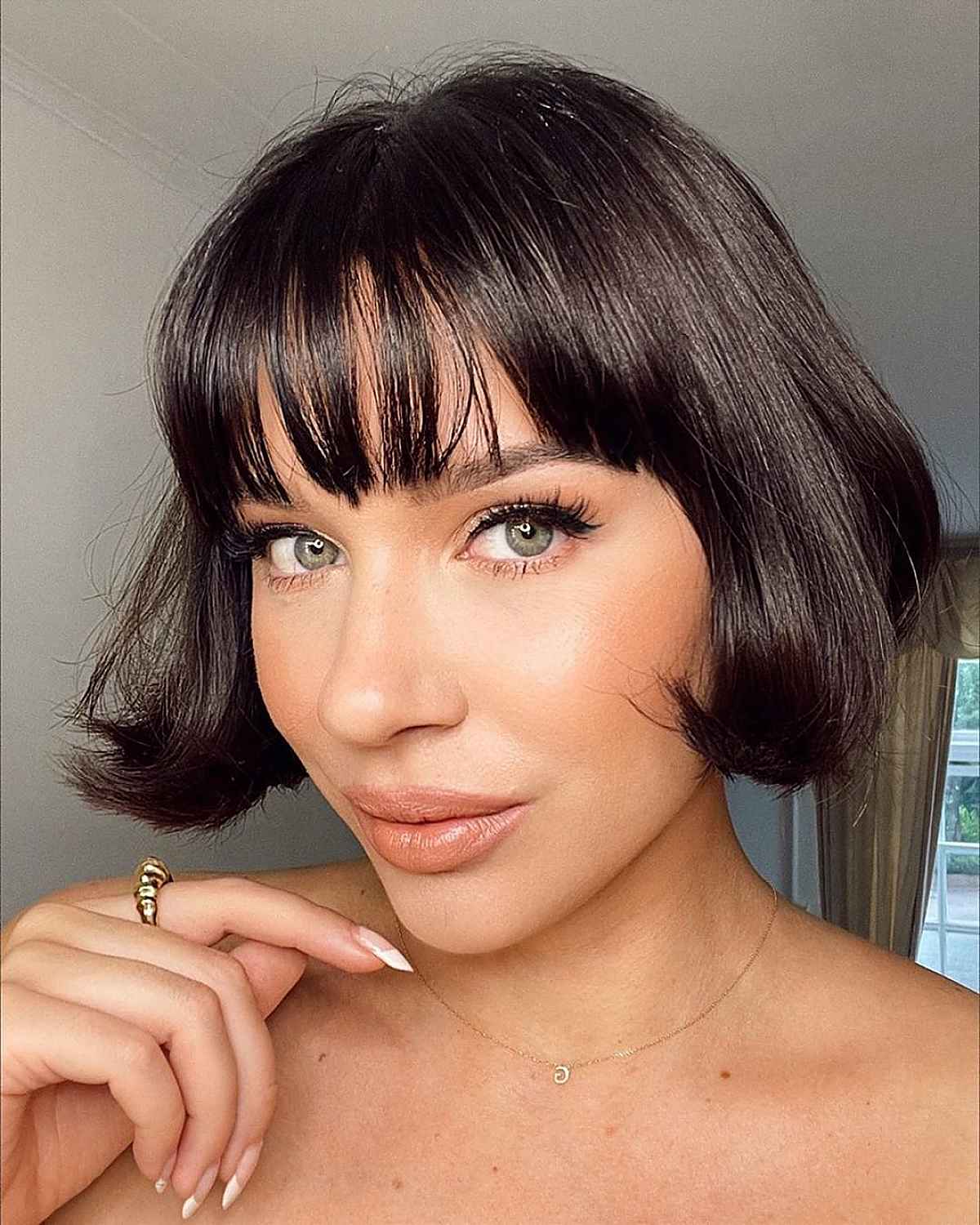 @gabriellebassett
Consider a French bob with bangs for short hair. This is a wonderful choice for women 30 and older. The shorter length adds fullness to the hair and lifts facial features. Try a cheekbone or earlobe grazing length for a trendy yet chic look. Style with a round brush or air dry for a lived-in texture.