28 Most Stunning Balayage Short Hair Color Ideas
Ice Blonde Balayage Highlights on a Soft Wavy Blonde Bob
@hairbysamcrawford
A fun and new sassy balayage hair short cut totally goes well with a vibrant metallic white like this. It also looks cool to leave in your natural dark blonde roots for a really edgy and interesting turn-out.
Dimensional Grey Balayage Highlights
@coloristjunkie_mo
Some layers on this amazing rounded short bob balayage work so well with the silver on black hair. The two neutrals create a deep dimension for the look.
Dark Blonde Balayage on Dark Brown Hair
@massi.longa
Play with a dark blonde balayage on dark brown hair for a super chic appearance. It carries out a warm and rich color melt effect. The result looks pretty awesome on a short haircut. To achieve a beachy bob style, finish this dimensional short hair with waves.
Midnight Blue Balayage
@spaceskum
What could be cooler and edgier than an A-line cut painted with an awesome azure on natural jet black hair? This short balayage hair color surely gives us the chills for its beauty and uniqueness.
Auburn Balayage
@ellie.noel
A nicely blended auburn/copper balayage with short hair is just what you need for this season. This short hair looks totally magnificent on waves!
Long Bob with Crimson Red Balayage
@hairbylaurenrulh
Go solid crimson on your dark hair for a totally cool vampire vibe! Not much upkeep is needed compared to going all out on this balayage on short hair!
Short Blonde Balayage Highlights and Lowlights
@shinetimes
Deepen your natural color by getting lowlights balayage for that wonderful dimension that is stunning even on short hair! Go bolder and consider balayage highlights and lowlights for short hair!
Short Razor Cut with a Light Ash Brown Balayage
@hair_bynikki85
Spice up a short razor cut with a light ash brown balayage—the outcome will be dashing! The razor cut offers more detailed hair ends that go well with a balayage. Both the haircut and the color give the tresses a more textured effect. Thus, choose this hair trend if you have fine and thin locks.
Layered Bob with Bangs with a Golden Brown Balayage
@qhairq
An effortless way to brighten your skin and frame your face is having vibrant gold highlights all-around your wavy hair! Adding layers on a short hair balayage will make it defined and textured at the same time.
Chin Length Bronde Highlights
@hotsaucehair
Chin-length bronde highlights make a chic addition to a short haircut. It's recommended for ladies who like to try a new hair color for the first time. A short hair balayage is an ideal technique to go lighter without damaging the tresses. What's great about it is that it goes well with beachy waves.
Q&A with style creator, Casi Stauffer
Hairstylist @ T. Salon in Mesa, AZ
How would you describe this?
These chin-length bronde highlights feature a brunette base. It has dimensional brunette and blonde pops of color throughout the ends, too. This is a great low maintenance, lived in color!
What's your best advice?
This is for women willing to put in the time both in the salon and at home to maintain this bronde balayage!
Short Blunt Cut with Honey Blonde Balayage Highlights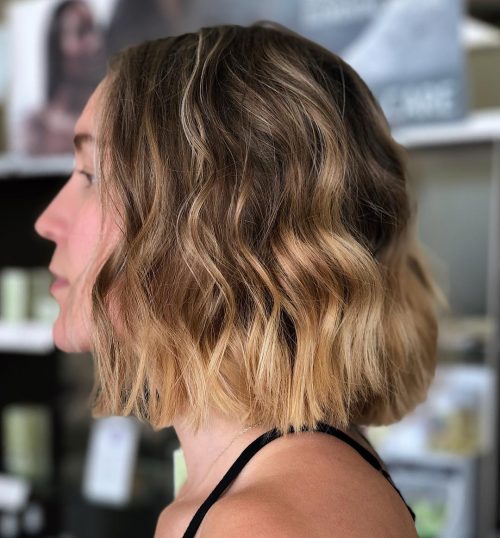 @hairbykailihall
Beachy and sharp – this edgy neck-length balayage short hair bob is a stunner! Perfect for any complexion!
Neck Length Balayage for Short Straight Hair
@themanehaven
A neck-length balayage for short straight hair offers a fuller finish. For babes with thicker locks, this is an excellent choice. The balayage straight hair blend brings out depth and dimension. Wear it and shine every single day!
Short Bob Platinum Blonde Balayage
@motherofcurls
This dirty metallic and ashy ombre is a totally unique and high-fashion hairstyle! It's perfect for a casual as well as a business look, and will suit any complexion. To balayage short hair, it takes great planning because the hair is shorter and there is less to work with. A colorist will measure the hair to make sure the colors streak perfectly.
Long Pixie with Mocha Balayage Highlights
@haleyj.watson
A long pixie with mocha balayage highlights offers an exciting and low-maintenance look. Most of the time, this pixie would only require texture when styling. For a piece-y definition, use a texturizing spray. Women with a pale skin tone can pull this short haircut balayage the best. Go for it if you're one of them!
Brunette A-Line Bob with Face Framing Highlights
@prissyhippiebeautyshop
An easy-breezy dimensional angled and layered wavy cut appears so gorgeous and brightening when painted with blonde highlights near the face. This is one short balayage hairstyle to have if you wanna keep the maintenance low with your hair.
Choppy Bob with Caramel Balayage Highlights
@hairbyyjosie
Q&A with style creator, Josie Lawrence
Freelance Hairstylist @ Hair by Josie in New Castle, AU
---
How would you describe this?
This is a concave choppy bob, with a lived in caramel blonde balayage color. Styled with a beach wave to show the dimension in the color.
What's your best advice?
This cut and color is for the low maintenance woman! Concave bobs on curly hair can also be amazing!
Dark Blonde to Light Blonde Ombre
@beautytrendsstudio
A dark blonde to light blonde ombre is one way of adding texture and dimension to locks. It may be suitable for most haircuts, but it does a better job on fine, short hair. This balayage idea offers a combination of warm tones to brighten up brunette hair. It's also a stylish option to highlight the layers of a short chop.
Light Brown Balayage Bob
@devynhairart
Q&A with style creator, Devyn Martinez
Hairstylist @ Cutting Edge Hair and Body Salon in Goleta, CA
---
How would you describe this?
This textured chin-length bob with dimensional lighter brunette balayage works perfectly straight or curly!
What's your best advice?
This color application is great for women who are seeing grays pop up but aren't ready to commit to a permanent color. The babylights and dimensional color can really disguise those new grays. This short sassy length with no fringe can elongate a square or heart face shape.
Short Shaggy Rose Gold Balayage
@kristiebrahcehair
Here comes a short shaggy rose gold balayage that shows a feminine style. This balayage shaggy hairstyle for short-length hair is for women with fair and pale skin tones. For women who have thin tresses, add dark or shadow roots. They help to create fullness.
Jaw-Length Maroon Hair with Subtle Red Balayage Highlights
@laurlahair
Q&A with style creator, Lauren Robinson
Redken Certified Colorist & Master Stylist @ Design 1 Salon and Spa in Portage, MI
---
How would you describe this?
This cute little asymmetrical bob has tons of added texture on the inside to add movement without shortening the layers on the silhouette that is a tiny bit longer than jaw length. The raspberry color is perfect for ladies who always want funky colors while maintaining "acceptable work hair color." This balayage short hair color really is a showstopper for shine and pushing the edge just enough to feel comfortably bold.
What's your best advice?
It's a very wearable short haircut for fine haired women, especially because it has a more full baseline! Change the length depending on if you have a strong or soft jaw and again, voila! Color like this can't be washed often so it's more for women who are into no-poo routines or wash 2-3 times a week.
Short and Messy Balayage Brown Bob
This short and messy balayage brown bob is such an inspiration! The waves and highlights come together very well. Balayage on short hair requires more emphasis. So, style the tresses with waves to boost the texture. Finish it off with hairspray for a longer-lasting effect.
Lob Cut with Blonde Balayage Highlights on Dark Hair
@hairbymare__
Get a lob cut with blonde balayage highlights on dark hair when craving a new style. A few balayage highlights can add freshness to any type of hair and cut. The balayage on this short chop creates a fuller-looking finish. Waves on bobs can also bring out a movement that ladies with fine tresses need.
Angled Bob Balayage for Very Short Hair
@carlybighamhairstylist
Q&A with style creator, Carly Anne Bigham
Hair & Makeup Artist @ Carly Bigham Hair Stylist in Rushville, IL
---
How would you describe this?
This balayage short hairstyle is full, textured, and sassy! The loveliest things about this short hairstyle with balayage is the lived-in tones, the low maintenance color, and the fact that you can have so much volume with little to no product!
What's your best advice?
Get yourself texture sprays such as sea salt or even a dry shampoo that will give you that grit for great volume and bounce. Any face shape is ideal for this short hair balayage. It's easy, fun, throw some beach waves in it, and go on your way!
Ear Length Silver Balayage
@baxehairstyles
Q&A with style creator, Bethany Axe
Hair Stylist @ Hair by Bethany in Phoenix, AZ
---
How would you describe this?
This ear length silver balayage is a balayage pixie!
What's your best advice?
This white blonde balayage is one that you need to style! Put in a little mousse to give it some body and grit.
Golden Blonde Balayage for Short Curly Hair
@thecurlninja
Q&A with style creator, Stephanie Lieblich Mero
Independent Hairstylist in Orlando, FL
---
How would you describe this?
This short 'do is a full head of warm dimensional painted highlights and a stacked curly bob with bangs. If you want this short balayaged hair, book a full balayage highlight and curl shaping. Find a stylist who only uses balayage on short hair (in French it means, "to sweep") because it's more gentle on the hair than foil highlights. It doesn't conduct heat as foil does which can cause the hair to overprocess and damages the curls. The result is a dimensional balayage highlight with lots of different tones in one process!
What's your best advice?
Be sure you're okay with an uncertain result. Since balayage (a true balayage, not foils used to try and create a dimensional look) does not use foil to conduct heat, you won't be guaranteed a blonde result unless you have never processed your hair and have naturally blonde hair. Sometimes it takes multiple sessions to get to blonde, especially if you have naturally dark hair.
Make sure you choose a stylist who is a strong colorist and can tone out unwanted brass if your hair lifts to a color you won't be pleased with. Toning is really where the magic happens in this process since really anyone can lighten hair, but not everyone knows how to properly tone to a beautiful result!
That being said, once you have reached your color goal, this balayage for shorter hair is very low maintenance as it grows out beautifully. You could go 3-12 months between touchup appointments depending on how tight their curls are (tighter curls take much longer to see the natural root come in).
Pixie Cut with a Purple Balayage
@katiebug_xo
This pixie cut with a purple balayage complements an edgy vibe. For ladies who want to carry out a strong impression, this fits the bill. This balayage short hair features neat sides and nape. If the hair on top is tousled, the style helps achieve greater density and volume. Try it if you have thin locks.
Ash Blonde Balayage Highlights
@chloedoeshairla
Q&A with style creator, Chloe Thomas
Color Specialist @ Salon Benjamin in West Hollywood, CA
---
How would you describe this?
This is a series of mushroom brown ash blonde balayage. If you want it more silvery than brown, play around with formulating with similar tones.
The money piece trend is in and women are very vocal about wanting a money piece.
Also, when getting a haircut the same day, do the haircut first. Then do the color application. It's a nightmare when you do such beautiful color and then all the bright bold pieces are gone.  Style it with beachwaves, it's the best way to show off the color and the tones of the hair.
What's your best advice?
Be mindful that these balayage highlights may not be achieved in one session. Be prepared to be there for about 4-5 hours, especially if you have darker hair.  Rushing through this is the worst thing you can have your hairstylist do.
It's definitely a high maintenance color so investing on products is a must. Try Isles Formula Shampoo, Conditioner and their Finishing Serum. It enhances the color and you can go a week without washing.
Caramel and Chocolate Balayage
@christinabhair
Q&A with style creator, Christina Burnett
Stylist & Colorist @ Laboratory Hair Studio in Morristown, NJ
---
How would you describe this?
If it's your first time getting highlights consider going with a balayage on your shorter hair for a low maintenance color with a soft honey tone. Adding the highlights will accent your cut, so opt for a short, slight A-line bob with some soft layering for movement.
What's your best advice?
This is a great example of how to balayage short hair, as almost any woman can wear even taking it a little shorter or longer. It has an easy effortless style with a shape that works for most hair types with styling options. With a blow out balm, you can do a smooth blow out. Then the next morning you can wand some loose waves with a little dry texture spray or scrunch some mousse in for a natural wave.