26 Lovely Layered Bob Haircuts for Ladies In Their 60s That Are Easy To Style
Longer Shaggy Bob for Women with Glasses
@sheerlock_combs
Curtain bangs are modern and stylish. A feathered curtain bang is an important part of a longer shaggy bob for women with glasses. Going for a longer bang frames the face and creates a flattering shape while also complementing eyewear as opposed to covering them.
Related: See more short hairstyles for women over 60 with glasses.
Choppy Bob with Side Bangs
@rock_hair_calhoun
A choppy bob with side bangs is ideal for women over 60 with thick hair. A bob with layers cut has movement, texture, and suits a variety of textures and face shapes. The length and amount of layering can be tailored for your individual needs, so consult with your stylist about the best version of this shape for you.
Grey Bob with Soft Layers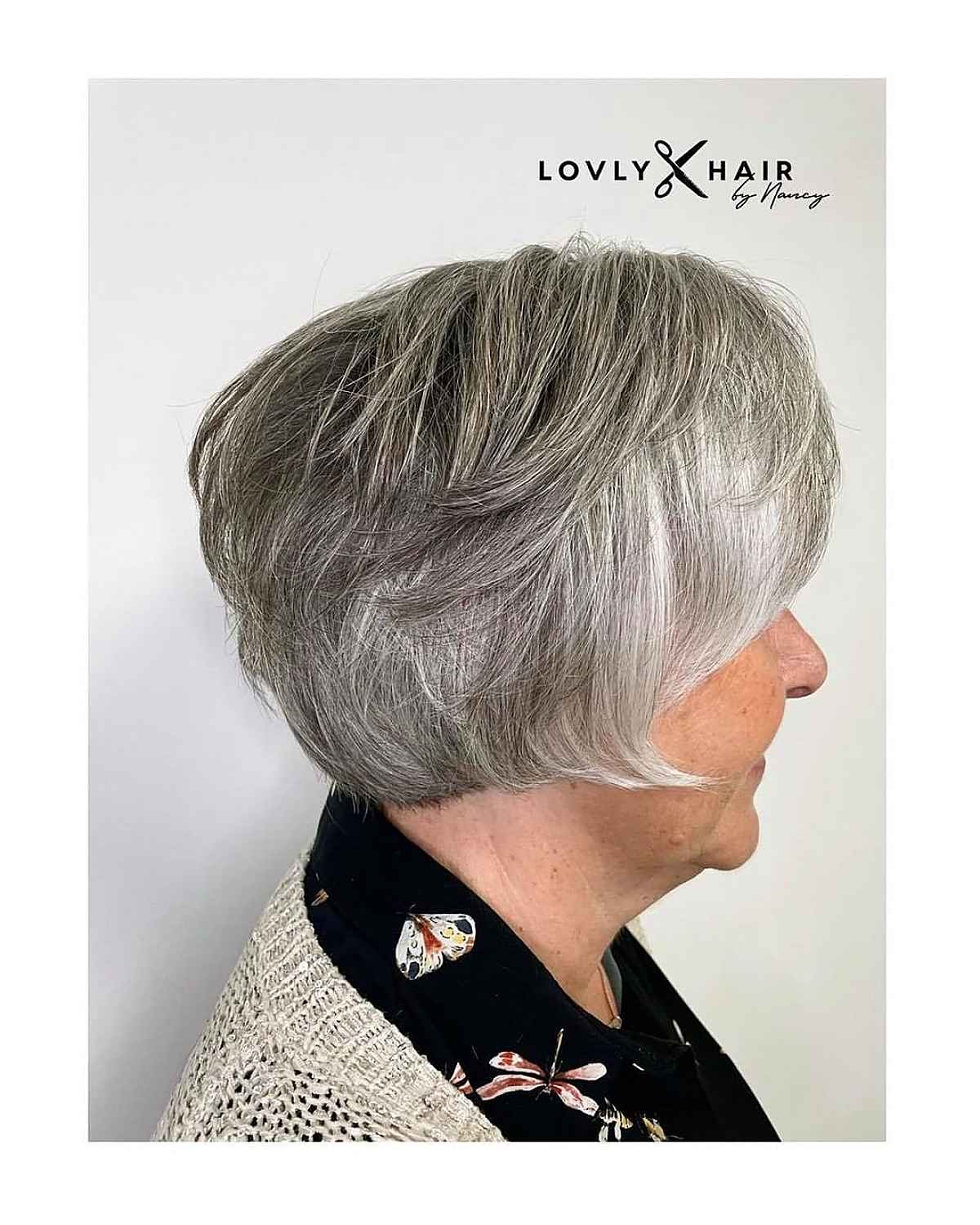 @lovlyhairveenendaal
If you're phasing out of coloring your aging hair, consider a grey bob with soft layers. Getting a bob with layers is the perfect way to remove colored ends and embrace the beauty of your natural hair color. The shape is chic, flattering, and timeless, and it grows out extremely easily if you want to regrow length later.
Curly Layered Blonde Lob
@robertacachos
Try a curly layered blonde lob if you are looking for a new shape. Layering creates movement and enhances curls and can lighten a bulky perimeter. This curly hair can be customized for every 60-year-old woman so ask your stylist what would look best on you.
Long Bob with Long Layers
@amy.farrahhair
Consider a long bob with long layers. A bob with layers style works for a variety of face shapes and hair textures. It's extremely low-maintenance and requires minimal upkeep. Visit your stylist every 6 to 8 weeks to keep your cut fresh, or go a little longer and enjoy the evolution of your grow-out.
Related: See more low-maintenance bob hairstyles for ladies over 60.
Salt-and-Pepper Razored Bob
@sakuracabeleireira
Embrace your gray hair and try a salt-and-peppered razored bob. A bob with layers haircut is perfect for someone with texture in their hair. The razor promotes wave and curls making this style ideal for a woman wanting minimal styling and salon maintenance.
Layered Bob Hairstyle for Thin Hair
@griffin_salonnine
Consider a short layered bob hairstyle for thin hair. Thinning hair can be a concern as we age. Keeping a short bob shape creates the appearance of fullness and volume. Shorter lengths also require minimal styling for those seeking something low-maintenance. Don't forget to consult with your stylist about what version of this versatile cut would work for you.
Layered Lob
@terralanehairdesign
A layered bob can be worn in a multitude of ways. A long and layered bob cut is perfect for women wanting fullness without sacrificing all their length. This shape is very versatile and can be styled with a round brush and a flexible hold hairspray.
Bob with Layers and Bangs
@annie_over60_lifestyle
A bob with layers and bangs is the best haircut for fine hair. A layered bob hairstyle gives the illusion of fullness on hair that tends to look wispy. It's possible to layer fine hair too much, so consult with your stylist about the perfect amount of layering for you.
Related: See more short bobs with bangs for 60-year-old women.
Bob with Blended Layering
@lusciouslocksbyliv_
A bob with blended layering is classic and chic. Layered bob haircuts for women over 60 are extremely versatile and require very little styling. This cut is great with a variety of textures, so ask your stylist if this shape would be a good fit for you and your lifestyle.
Layered Pixie Bob
@abby_wella
Consider a layered pixie bob for women over 60. A slightly longer front makes this an extremely versatile cut. A simple tuck behind one ear can transform the shape and give the illusion of asymmetry. Bobs are always in fashion, and this style keeps it looking interesting and trendy. Pixies for 60-year-old ladies are also hot and trendy.
Wispy Bob with an Undercut
@oomphhairology
If you have thicker hair, consider a wispy bob with an undercut. This is an excellent technique used for thinning hair that is extremely dense. Cutting an underneath section of the hair quite short allows for the remaining hair to have movement and lightness that an otherwise thick-haired lady might not be able to achieve.
Edgy Asymmetrical Layered Bob
@beautybykayleeanne
An edgy asymmetrical layered bob is a haircut that can completely change your appearance if you're over 60.This is an excellent choice for an older woman's hairstyle because the funky layers, angles, and sharp lines give a youthful vibe. For added volume, consider using Kenra's Root Lifting Spray 13.
Related: See more edgy hairstyles for 60-year-olds.
Jaw-Level Layered Rounded Bob Cut
@paulagrocock_hair
A jaw-level layered rounded bob cut is a hairstyle that suits all hair types. If you're considering a layered bob style, keep in mind the density of your hair. Women with thick or wavy hair will want trims more frequently than women with straight, fine hair.
Short Concave Bob
@bella_js_hair
A short concave bob is a great choice for women that love short, spunky hair. Ask your hairstylist to add some piecey layers for a younger-looking style. For added texture, use Moroccanoil Dry Texture Spray over the entire classic bob hairstyle.
Tousled Bob with Fringe
@katiecofferonhair
A tousled bob with fringe can make women sixty and over feel younger. Keeping the fringe at a mid-forehead length helps conceal fine lines and wrinkles while looking modern. It's literally one of the best haircuts for seniors.
Short Bob for Coarse Hair
@skhaarenmakeup
A short bob for coarse hair typically requires round layers to prevent heaviness. As we age, the texture of our hair changes. It typically becomes coarse and can develop a wave. Consider using a product like Aveda Smooth Infusion Nourishing Styling Cream for frizz prevention and moisture.
Angled Bob with Layers
@jcpenney_salon_saginaw_mi_
An angled bob with layers is a haircut that will add length to a 60-year-old round face. With the angle sloping down from back to front, this hairstyle draws the eye to the longest point. Adding a face frame or fringe to this haircut will make you look 10 years younger, too.
Graduated Bob for Fine Hair
@sophiehairrrx
A graduated bob haircut for very fine hair needs texture and movement in the cut. Women sixty and up will especially love this haircut because the graduation in the back and soft angle in the front are trendy and easy to style.
Wavy Bob with Bangs and Layers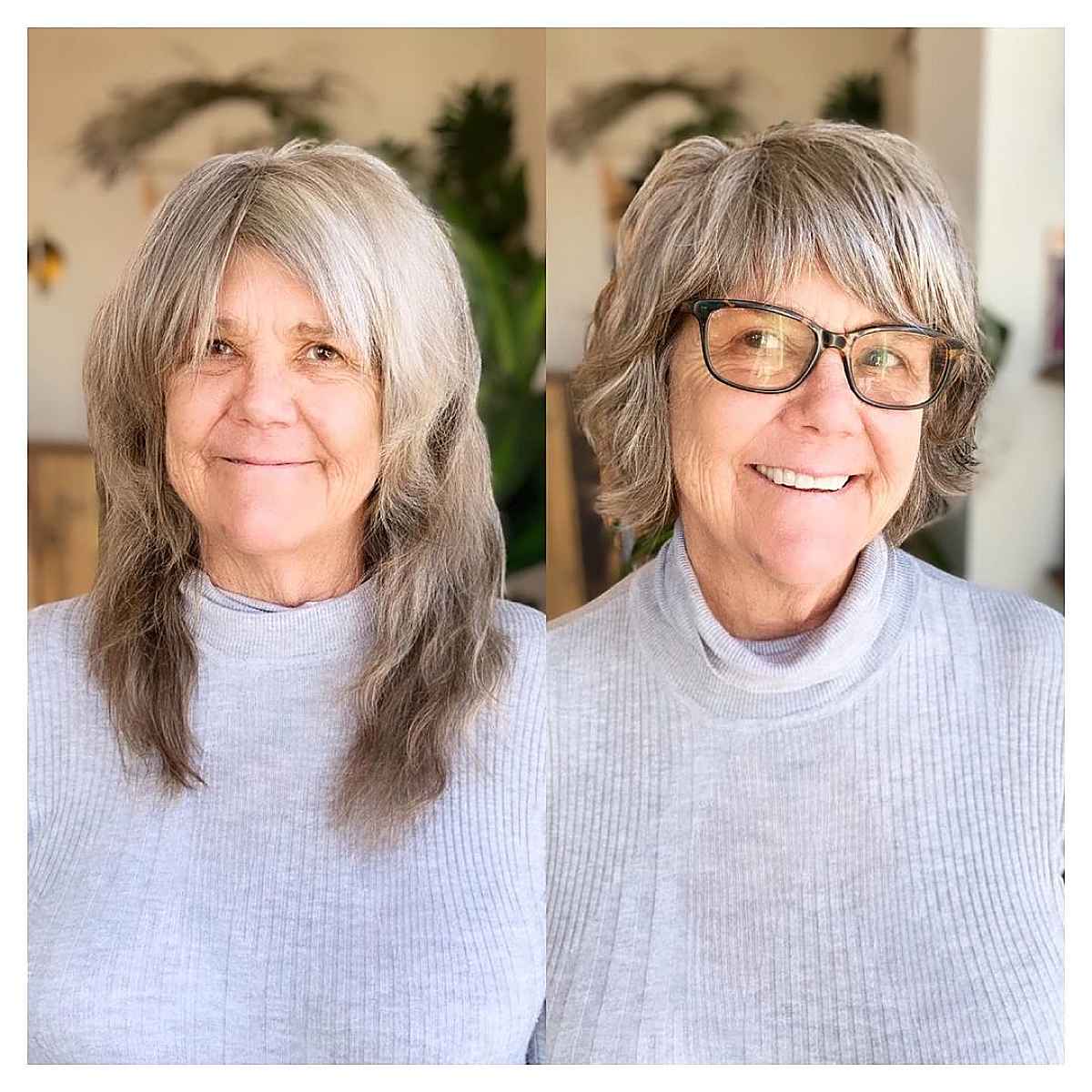 @loveculturesalon
Women that don't enjoy heat styling will love a wavy bob with bangs and layers. With this cut, you get to embrace your natural grey hair while keeping a modern style. As an added bonus, having a face-framing bang gives the illusion of larger, more prominent eyes.
Layered Inverted Bob
@brianbehindthechair
A layered inverted bob is a classic and elegant haircut. A bob style adds youthfulness to the face when given sassy, chic layers. This haircut can be styled smooth with a flat iron or curly with a small barrel curling iron.
Layered Stacked Bob with Balayage
@darrellbarrettsalon
If you're looking for a new, modern hairstyle, check out a layered stacked bob with balayage. Balayage is a hair color technique that beautifully accentuates the layering on a bob haircut for very thin hair. Be sure to avoid choosing colors that are extremely ashy, as they can make aged skin look dull.
Low-Maintenance Bob with Layers
@jessicasimmshair
If you're looking for a low-maintenance bob with layers, you'll want to keep your hair cut above your shoulders. When hair hits the shoulders it tends to flip out, which is why short haircuts can go longer in between salon visits than shoulder-length haircuts.
Layered Bobbed Hair
@grooms_hairstyling
Layered bobbed hair can be cut in many different ways. Choosing between different lengths and layering can completely change your face shape. Ask your stylist what kind of layered bob haircut would look best on you.
Wash-and-Wear Layered Bob Cut
@nicolebergenpaints
A wash-and-wear layered bob cut is a haircut that requires minimal styling. This cut is one of the best short hairstyles for women over 60 who want to embrace their natural texture. To dress it up a bit, use a large barrel curling iron to add some soft waves.
Related: See more wash-and-wear haircuts for 60-year-olds.
Voluminous Layered Bob Haircut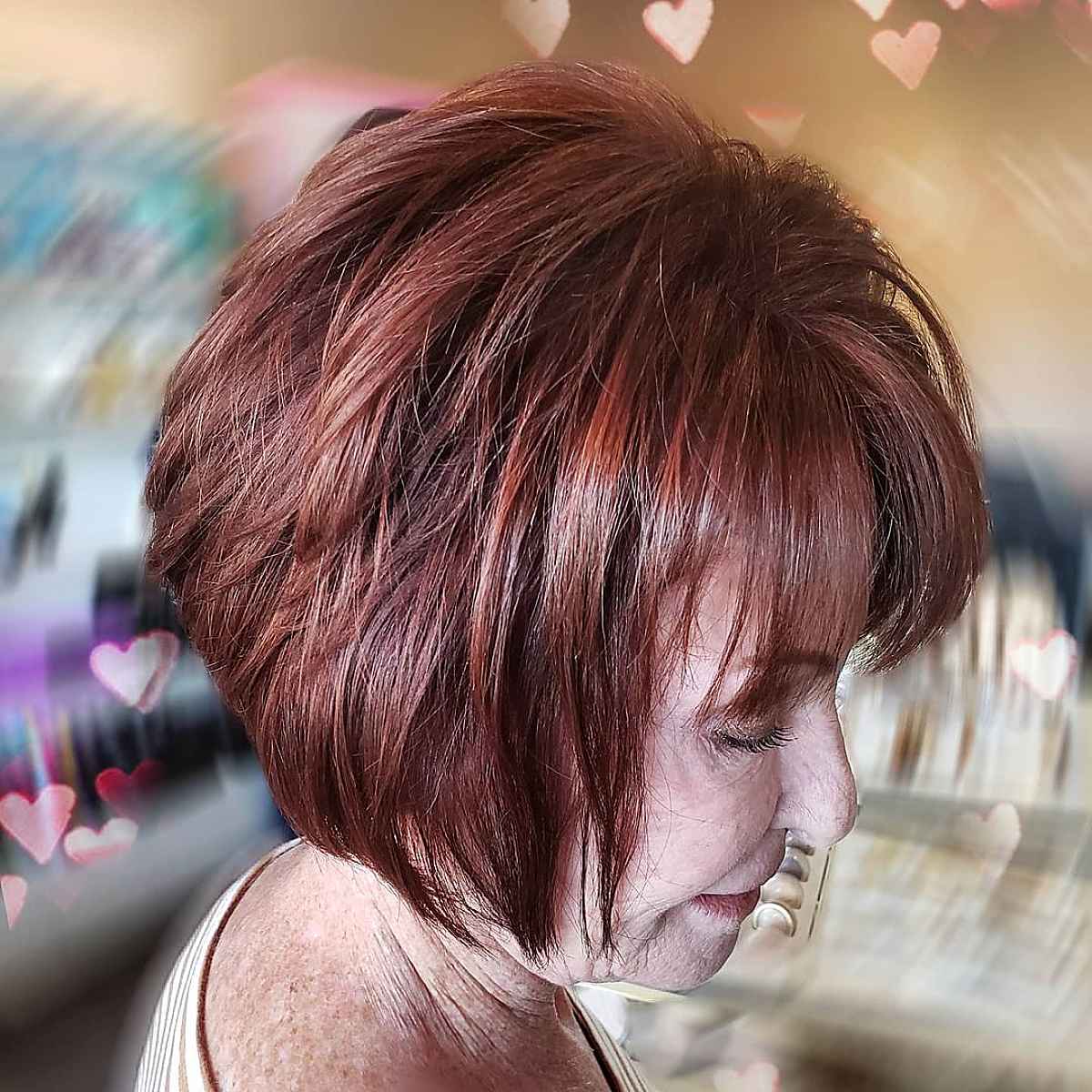 @beautyby_beanystylist
Try a voluminous layered bob haircut if you have fine hair. Having lots of layers on a short haircut makes adding height to soft, fine hair easy. A soft hold hairspray on a bob with layers hairstyle will give you hold without being crunchy.
Related: See more hairstyles for ladies over 60.