15 Perfect Pixie Haircuts for Women Over 70 to Pull Off
Shaggy Pixie with Bangs
@raechelcuts
Try a shaggy pixie with bangs if you want to embrace your natural hair texture. This is a feathered pixie cut with choppy bangs that often needs to be trimmed frequently to keep their shape, but keeping a shag look can extend the lifespan of each haircut. You'll appreciate how little styling is required when wearing these awesome haircuts for a 70-year-old woman.
Stylish Pixie for Fine Hair
@rene.hfdzk
A stylish pixie haircut that makes gorgeous hairstyles for over 70 with fine hair is here! This is for women looking for an easy-to-style, low-maintenance haircut. Fullness and volume can be achieved by cropping the sides and back super short while leaving the top longer and textured. Pixie cuts for ladies over 70 like this will combat any sparse areas you may have.
Asymmetrical Pixie Cut
@lindsey.brodeur.hair
Ladies over 70 that want to embrace their wild side should opt for an asymmetrical pixie cut to soften angular faces. The off-center part allows for extra volume and height, creating the most ideal hairstyles for seniors with thin hair. A splash of vibrant color is a perfect example of how pixie haircuts for older women can be versatile and flattering without being boring.
Audrey Hepburn-Inspired Pixie
@hairbyallaportlandor
An Audrey Hepburn-inspired pixie generally includes a side fringe and minimal volume. Such ladies' hairstyles for over 70 with glasses are a timeless trend that continues to be a favorite for women who love short hair. As we age, our locks can become soft and fine, so to keep an Audrey Hepburn-inspired pixie looking its best, try a thickening spray to plump up your hairstyle.
Edgy Spiky Pixie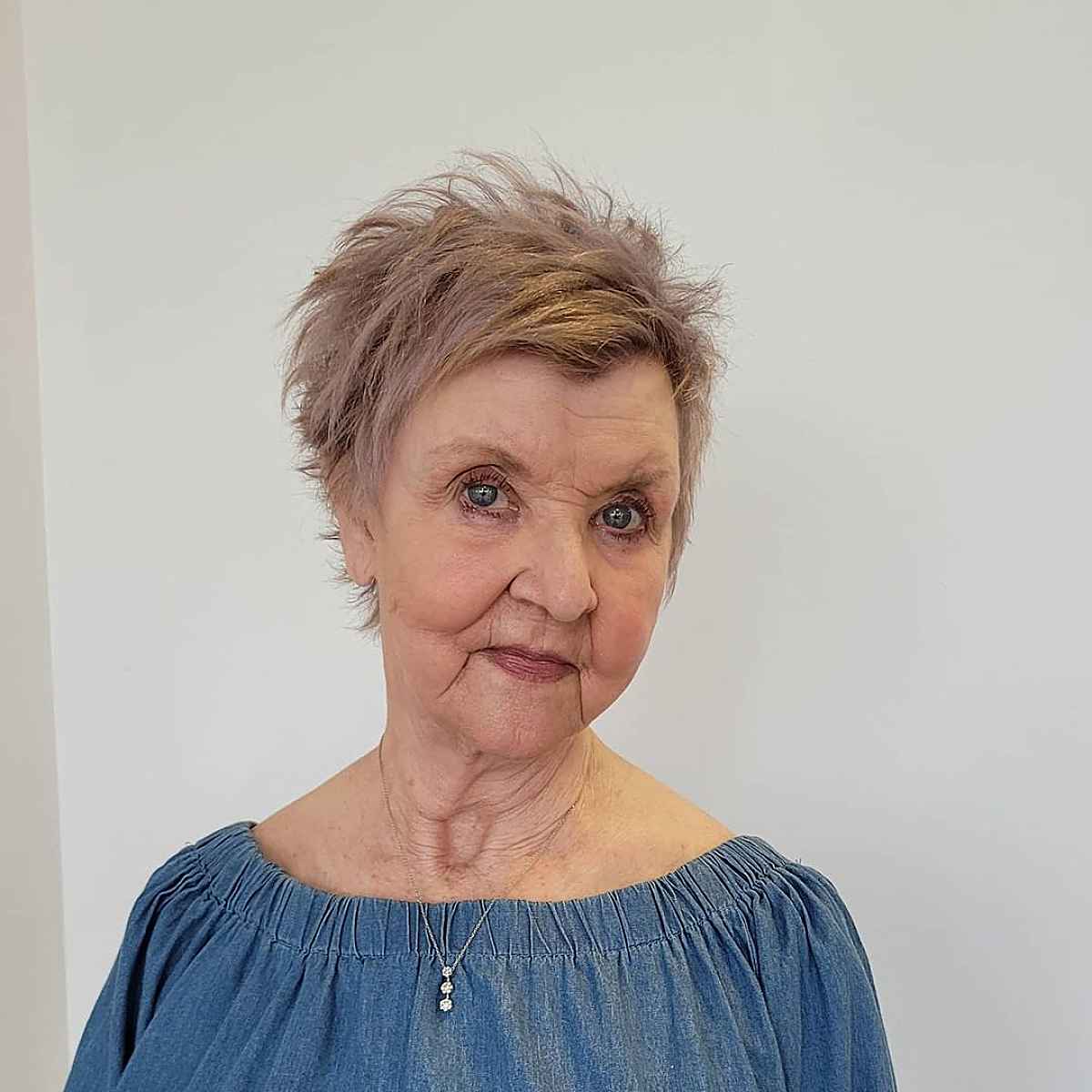 @kellybrewerstylist
An edgy spiky pixie can make women over 70 feel spunky again. Pixie hairstyles with choppy layers like this can be cut to many different lengths and still have the same sassy look. A dry texturizing spray will give you the lift and hold needed for these short choppy hairstyles for over 70.
Long Pixie with Bangs
@estilodiva__
A long pixie with bangs is a fun alternative to the classic short pixie. Women 70 and over can have a shaggy, short haircut but still look age-appropriate! The side bangs on a long pixie can hide forehead wrinkles and keep ladies looking trendy and chic.
Voluminous Pixie for Curly Hair
@spableu
Voluminous pixies for curly hair are longer than your average pixie. To account for the bounce in your natural curls, you'll want some extra length to keep your hair from becoming unmanageable. Pixie haircuts for ladies over 70 with curly or wavy hair should be styled with a volumizing mousse to give the tresses some lift and definition.
Short Pixie for Thin Hair
@mixd.salon
A short pixie for thin hair, with very short bangs, is one of the best haircuts active women in their 70's can choose. It makes fashion-forward and professional hairstyles for over 70 with white hair. Depending on how fast your silver hair grows, you'll want to get your haircut cleaned up every 4 to 8 weeks.
Pixie with Side-Swept Bangs
@the_wildwood_collective
Pixies with side-swept bangs are great for a senior citizen with any hair density (fine, medium, thick). Ladies past 70 will love the side-swept bangs in this choppy pixie cut if they're wanting to hide any age lines or sunspots on their forehead.
Very short hairstyles for over 70 need a little more love. So, consider using a product like It's a 10 Miracle Leave-In Conditioner to give it a boost of nutrients and moisture.
Wash-and-Wear Pixie Hairstyle
@diegomarcsant
The wash-and-wear pixie hairstyle ideas are a perfect option for women on the go. All this haircut needs is a volumizing mousse and a round brush for a gorgeous style that will make you look 10 years younger. When styling, wash-and-wear haircuts for over 70 must be air-dried 75%. After that, use your brush in a rolling motion through the top of your head as you blow-dry to add volume and youthfulness to this hairdo.
Silver Pixie Cut with Fringe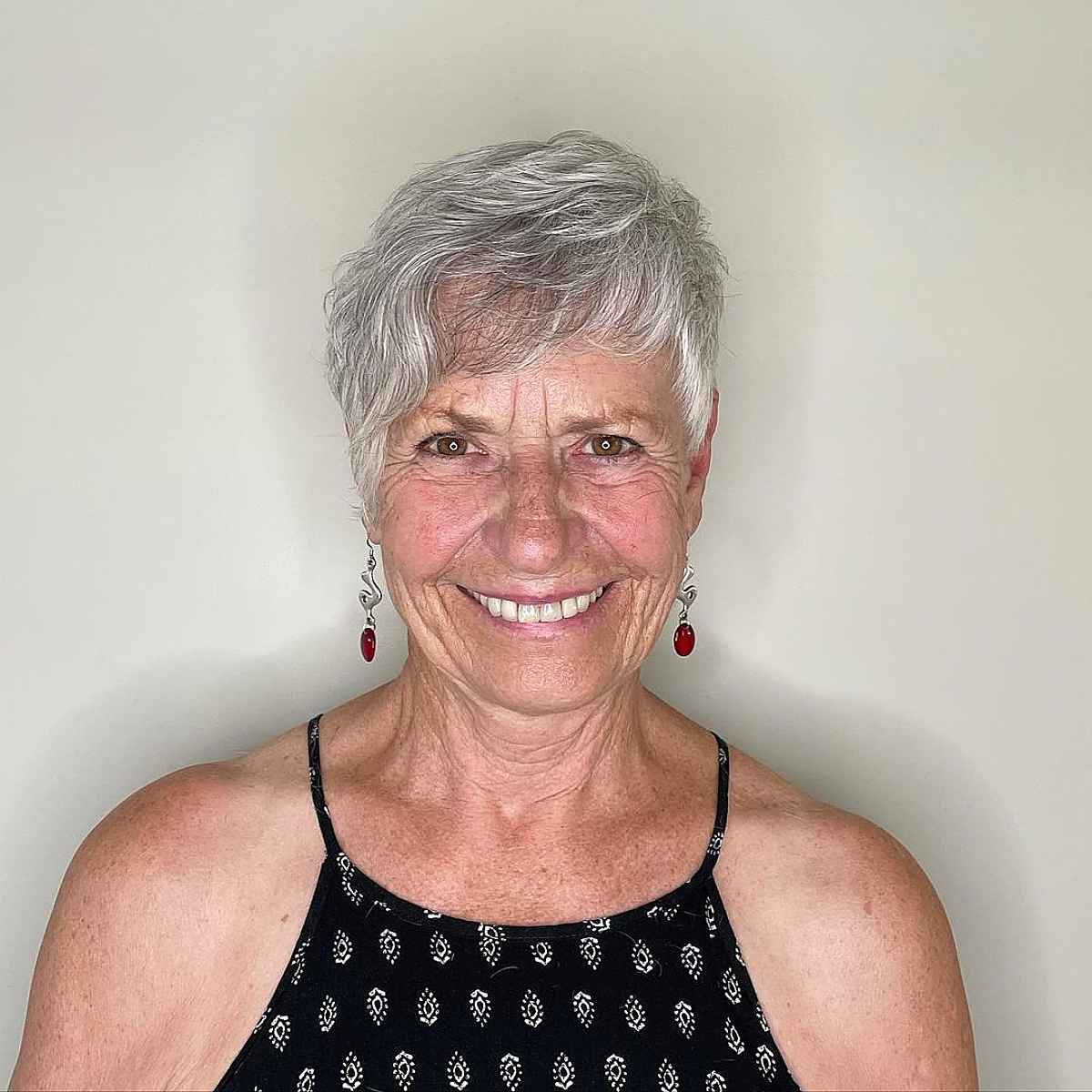 @milieusalon
Silver pixie cuts with fringe are a trendy haircut for aging women with natural waves. Keeping some wave or curl in the style gives women with fine strands the illusion of movement and having fuller hair. Having a textured, choppy look will also allow you to go longer in between trim appointments.
Beautiful Long Pixie Cut
@dustindavidsalon
A beautiful long pixie cut for thinning hair can be styled in many different ways. This is bleached pixie hair that even women past 70 will love the flexibility this look has. Consider moving your part for an easy way to change your new sassy short hairstyle.
Low-Maintenance Pixie Cut
@sozohairdesign
A low-maintenance pixie cut requires minimal upkeep and styling since it looks great on natural gray hair. Pixies that require only one product to style are convenient haircuts for women of all ages. When styling such grey short hairstyles for over 70 with glasses, try Redken Rewind 06 Pliable Styling Paste for flexible hold and volume that will last all day.
Youthful Pixie Bob
@the_wildwood_collective
Youthful pixie bob haircuts have round layers that work well for thick hair, adding height and fullness. This piece-y pixie bob elongates your face with the volume at the crown of the head. The face-framing bang on this short bob haircut will draw the focus away from fine lines and toward the eyes of women seventy and older.
Grey Pixie Haircut for Coarse Hair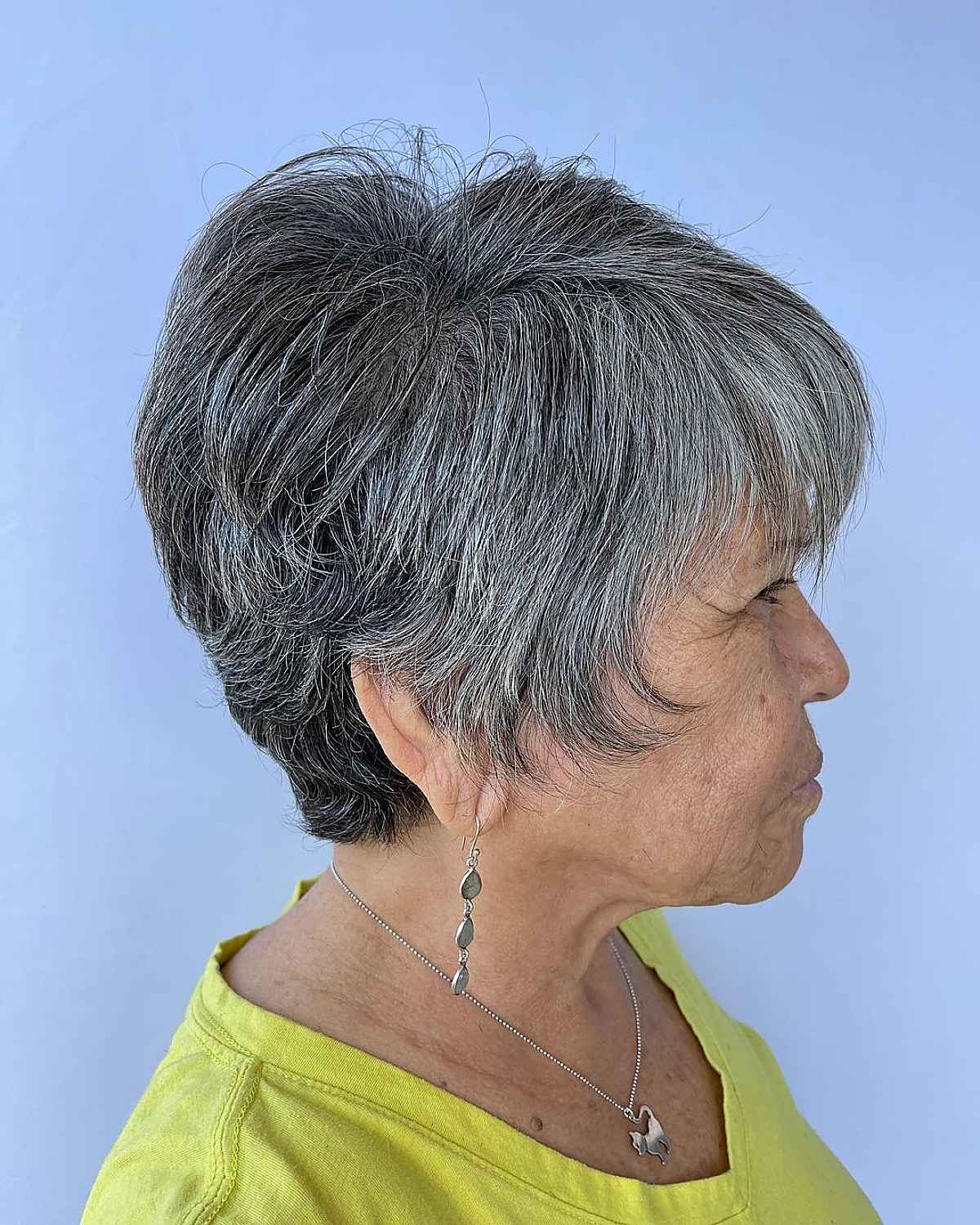 @raizagisselleblueoficial
If you're looking for a grey pixie haircut for coarse hair, ask your stylist to keep extra length through the crown of the head and some face-framing layers. The dimension looks natural with your salt and pepper hair.
Women who are 70-years-old will want the extra length to compensate for their coarse, grey hair that tends to stick straight out of the head if cut too short. Hair wax is an excellent option to hold your style and prevent flyaways.