15 Cutest Chin-Length Layered Bobs for a Fresh, Short Look
Chin-Length A-Line Layered Bob Haircut
@beto_fariaa
Consider a chin-length A-line layered bob haircut for fine hair. Chin-length haircuts are great for adding fullness to thin or fine hair. Combine with a slight graduation at the nape to accentuate the angle forward even further. Style with a round brush and a dry texturizing spray for a gorgeous and sexy finish.
Layered Bob with an Undercut
@hairpin_me_down85
Layered bobs with an undercut are great for thick, bulky hair. This sleek variation of a crop haircut gives the illusion of length around the jaw.
Short Bob with Blended Layering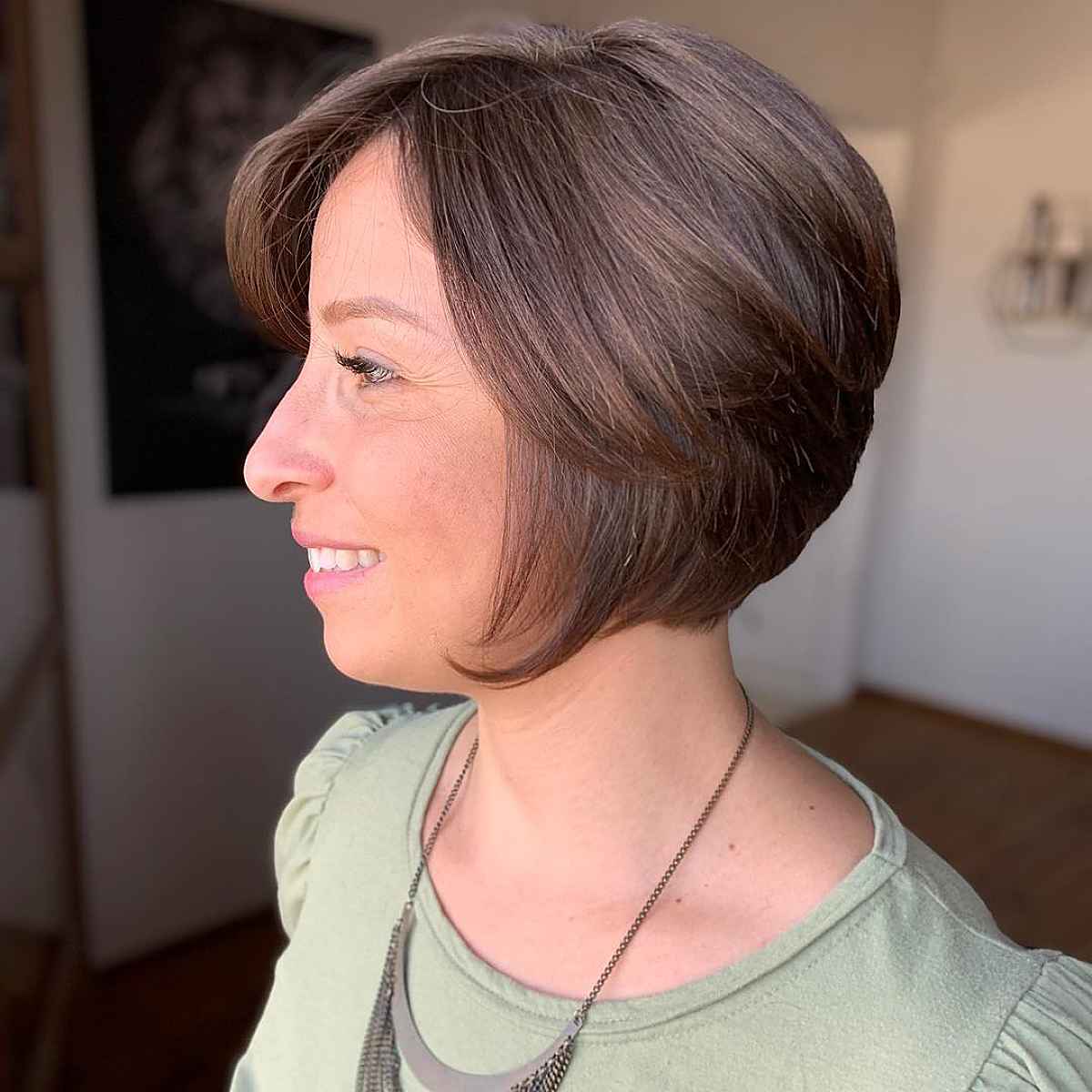 @studio_betinha_leao
For dense hair, consider a short bob with blended layering. Layering removes bulk and offers movement in thicker textures. This look may require more styling for some hair types so talk to your stylists to see if it wold works for your needs and lifestyle.
Flipped Out Bob Hairstyle
@nikcabral
Try a flipped out style to add movement to bob hairstyles. A chin-length bob with layers is an ideal haircut for fine hair to create a fuller looking shape. Add soft waves with a medium size curling iron or flat iron. Finish with a texture spray and shake the hair out a bit.
Short Bob with Layers and Bangs
@katiecofferonhair
A short bob haircut with layers and bangs is perfect for hair that's fine, medium, or thick. A layered bob cut can be made to create fullness or can be carved out to remove weight. Bangs are a great addition and highlights the eyes.
Layered Bob with a Side Part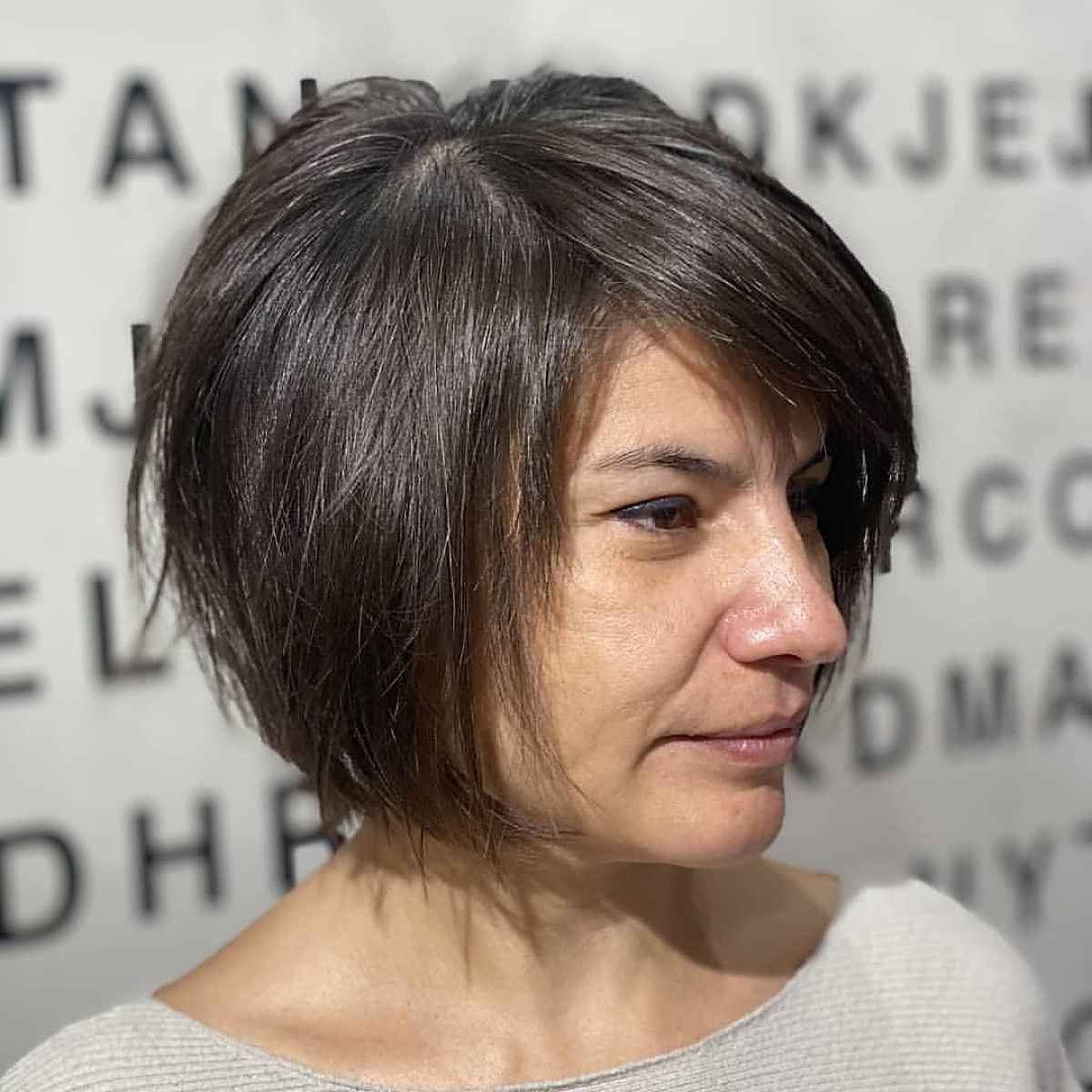 @dogukanbekirr
Bob haircuts with layers and a side-part are great for long and round face shapes and can add fullness to fine textures. Show off your bone structure with a chin-length cut and framing.
Blonde Inverted Bob with Layers
@shmoakin_hair
Blonde bobs with layers look fabulous inverted. You get a great shape by stacking the back slightly and longer over directed layers through the front. Beachy waves look amazing with chin-length hairstyles by adding some wave and style.
Wavy Chin-Length Bob
@classiclois_hairstylist
Chin-length bobs work well on naturally wavy hair. Bob haircuts with layers can be tailored to your hair texture and keep in mind your hair will shrink with curls and waves so have it cut a little longer than the desired length. Ask your stylist what length would look best with your face shape and curl pattern.
Razor Cut Bob
@brianacisneros
If you have fine straight hair try a razor cut bob. Razored bob hairstyles with layers look lived-in and effortless. Style with a texturizing cream or a beach spray for the perfect un-done finish.
Messy Bobbed Hair with Beach Waves
@casistauffer
Consider a messy bobbed haircut with soft beach waves and try adding a variation of blunt layers to a bob style for a fuller look. Beachy waves can soften the blunt bob and can be achieved with a bigger sections on a wand curling iron. Hold your style with a light hold hairspray to keep hair moveable and flowy.
Shaggy Bob for Thick Hair
@alymckeen
Shaggy bobs really soften the hairstyle for thick haired women. Chin-length layered bobs are a great style for heart and diamond shaped faces. A variation of thinning and texturing will lighten up your hair and give it a textured shaggy style.
Chin-Length Layered Bob
@zinoveva_elena
A layered bob that's chin-length compliments many looks and styles. Consider a layered bob haircut if you want fullness and shape for fine to medium textures. This style will require maintenance about every 4-6 weeks to keep it's shape.
Short Layered Bob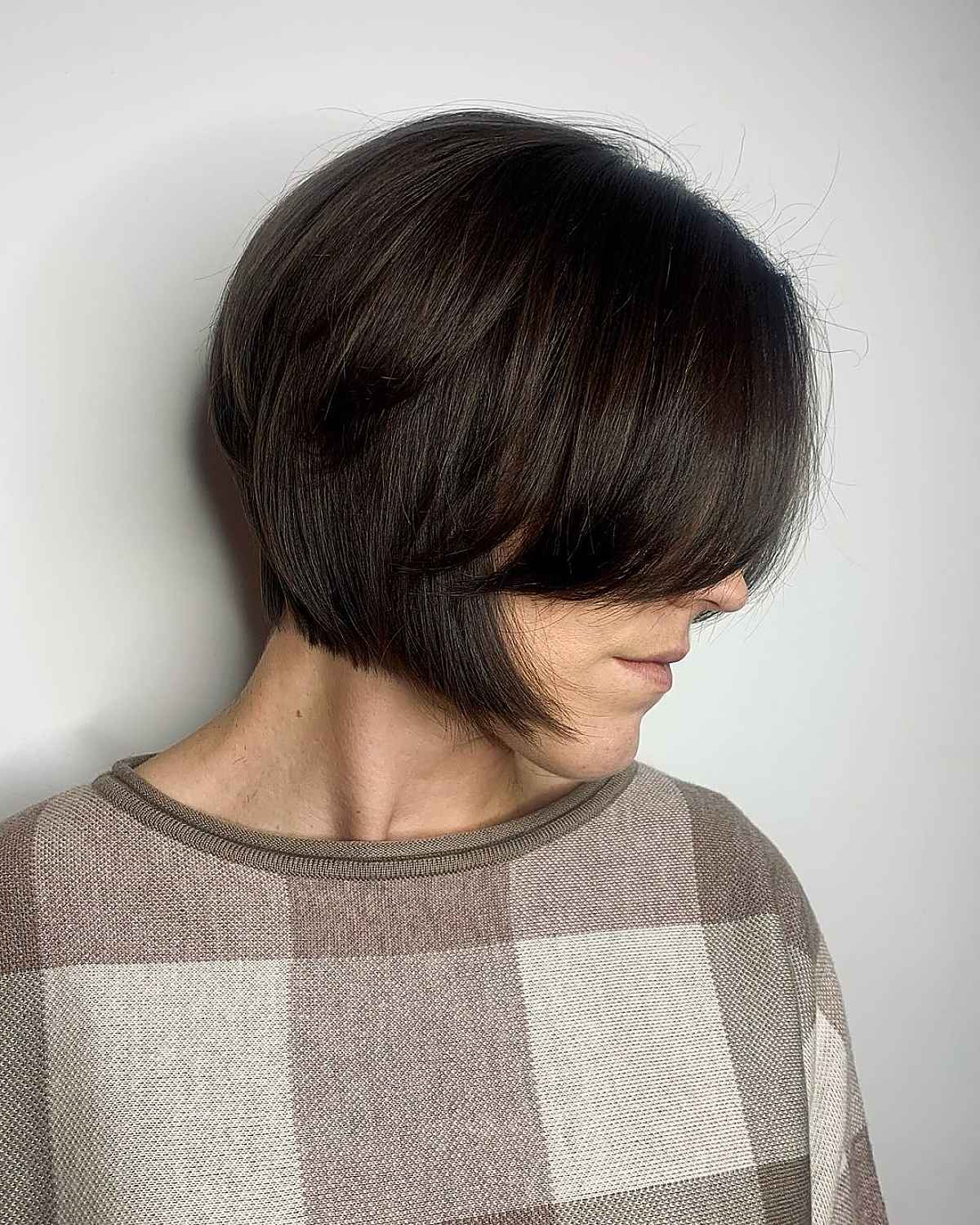 @locksxliv
Short bobs with layers are great for women who want to add fullness in the crown. Consider a layered bob hairstyle if you want a great style but don't want to spend too much time styling. You can easily blown dry with a round brush to give full volume effect, left in its natural wash and go texture, or flat ironed for a sleek look.
Chin-Length Bob with Layers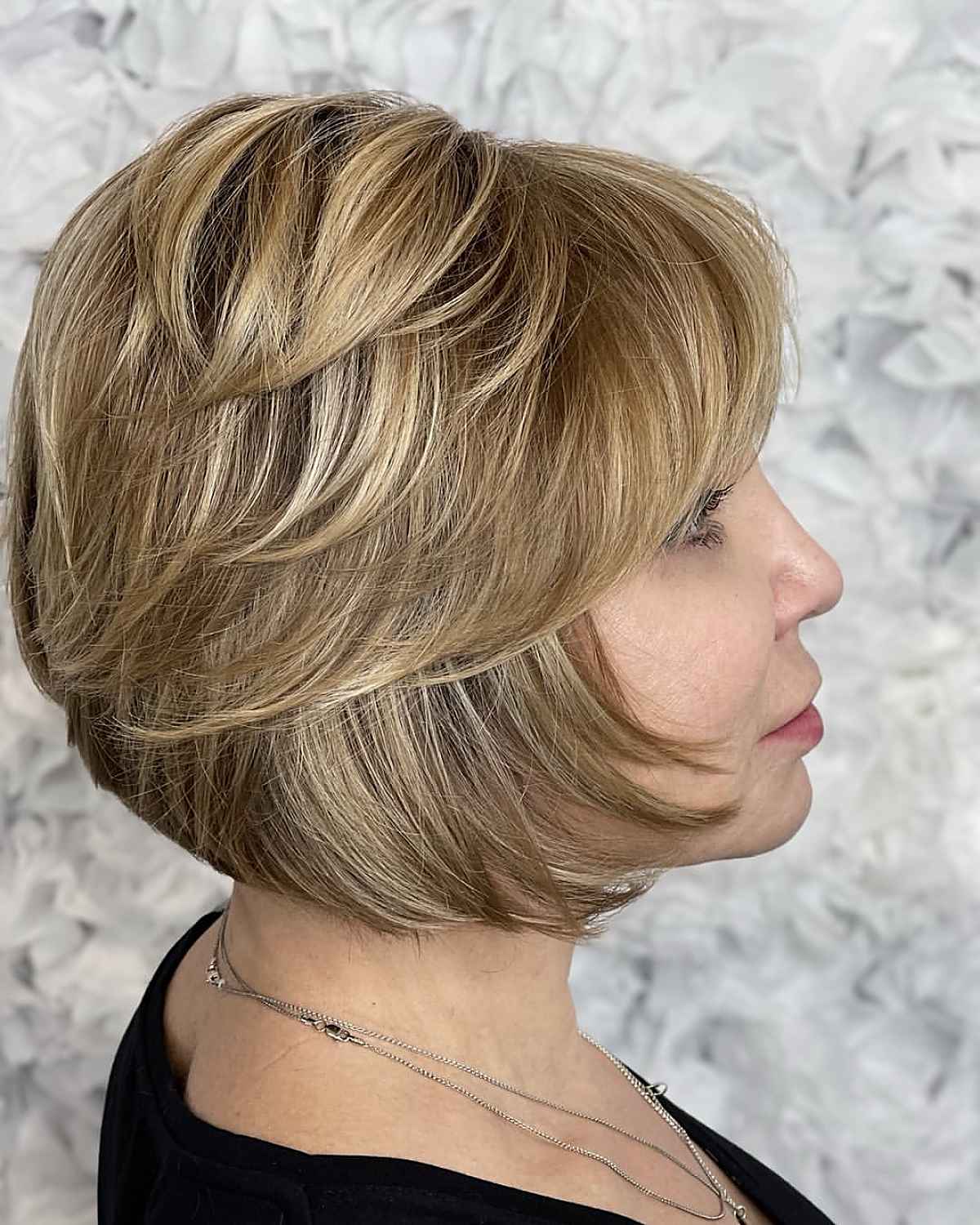 @edwardlemarierhairdesign
Layer a chin-length bob for fullness and texture. Layered bob styles are great for fine or medium textures to create luscious body to the hair. Ask your stylist to show you what size round brush works best with your hair to create volume in all the right places.
Short Bob with Balayage
@pearlandhoneysalon
Short Bobs with a balayage look beautiful and seamless. Create movement to your bob cut with textured mid-length layers, that work best with medium to fine textured hair. Balayage is a low maintenance color so it's great if you don't change your base color or have a lot of grey to cover.