15 Best Pixie Cuts for Fine Hair to Look Fuller
Edgy Pixie for Women Over 60 with Fine Hair
@oxsana.tkacheva
Rock this edgy pixie cut if you're a woman over 60 with fine hair. Edgy hairstyles for over 60 accentuate the eyes and builds texture in fine hair. You will need a dry wax spray to define all the beautiful choppy layers.
Pixie for Short, Fine Hair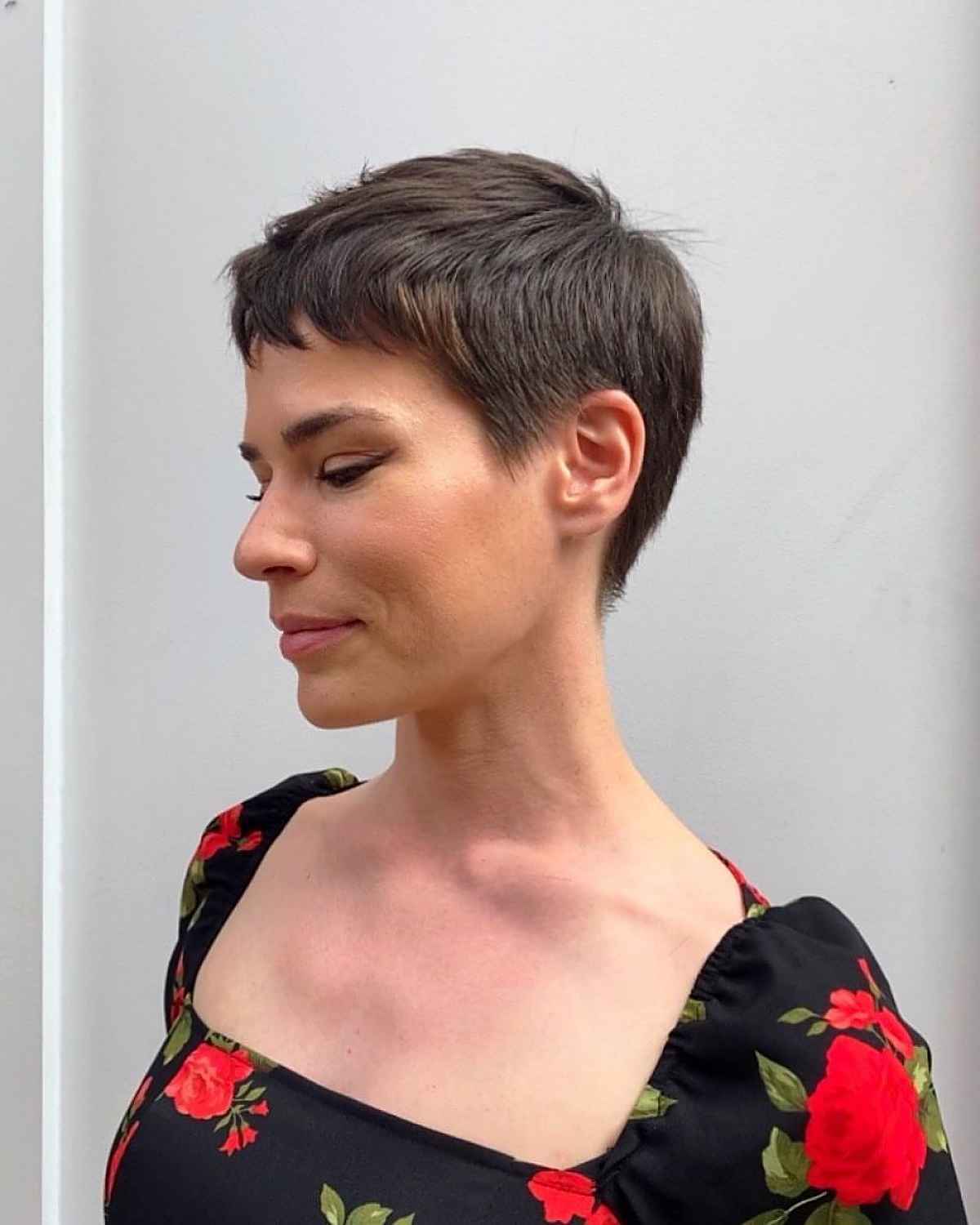 @inthetresses
If you have fine hair you may benefit from a short pixie cut that's textured. Feminine pixie cuts for thin hair cut are perfect if you want a "wash and go" style. Use a styling cream to style while the hair is still wet and air dry or blow-dry while finger combing the hair.
Tapered Pixie for Thin Hair
@angelicagrechkina
Show that sexy jawline of yours with a tapered pixie haircut on thin hair. It's very short at the nape of the neck and gradually gets longer as you go up the head. Graduated short cuts can be a perfect choice for thin hair as long as you know how to style it correctly. Ask your stylist to show you what products they recommend and how to use them to make your layered pixie cut for thin hair look perfect.
Short Pixie for Fine Hair
@masterskaya_koloristiki
If you have fine hair and a chubby face, a short pixie with side-swept bangs is still an option for you. A stacked pixie for fine hair can be high-maintenance when it comes to trims, but require very little time to style. Try asking your hairstylist what products they recommend when styling your asymmetrical pixie for thin hair.
Short Pixie Crop for Fine-Haired Women
@rastvorova_
A short pixie crop is a great cut for fine-haired women. Try a sea salt spray to give baby-fine hair some grip, and make this pixie for fine straight hair look more full and textured.
Very Short Pixie Cut
@cocoon_styling
Pixie cuts that are very short are sure to display a strong, confident impression. Since pixie haircuts are probably one of the most low-maintenance haircuts of all time for thin-haired women, it is suggested for those who are always busy, don't have much time to spend on their hair, or just want a new chic, edgy style.
Shorter Pixie for Women Over 40
@emmarose_hairdesign
Women over 40 will love this shorter pixie haircut because it is so refreshing and youthful. From the shaved back and sides, to the scissor-cut disconnected length on top, these short hairstyles give the perfect balance between polished and professional to fun and edgy. Depending on how your natural hair lays once dried, you may not even have to add any hair products to recreate the style in this disconnected pixie for fine hair. Just comb your hair in the direction you want it to lay and finish with a light-hold hairspray.
Low-Maintenance Pixie with Layers
/> @thebarnathome
Consider a low-maintenance pixie with layers and wispy bangs if you're someone that doesn't have a lot of extra time to spare in the mornings. These easy-to-manage short hairstyles for fine hair are complimentary with your natural hair texture, so you really don't have to do much to style it.
Textured Pixie for Fine Hair
@yuya__hair
Here's a stunning and very eye-catching textured pixie cut for fine hair. This wavy and high volume haircut is shorter on the sides with a gradual layering that blends into the longer length towards the front. Short piece-y haircuts for fine hair are best paired with a root-lifting spray once your hair is 85% dry and start round-brushing the layers towards your face to recreate this high volume style. Set your style with a finishing hairspray.
Audrey Hepburn-Inspired Pixie for Fine Hair
@yuya__hair
Looking for an Audrey Hepburn-inspired pixie for fine and dark hair? Look no further! This classic, timeless short messy pixie for fine hair looks best on women with a round or heart-shaped face and will accentuate all their feminine facial features. Finish off your style with a texture or tousle spray.
Wash-and-Go Pixie with Side Bangs
@krystayao_hair
It doesn't get much easier than this wash-and-go pixie with side bangs. A short pixie haircut with side bangs is perfect for all hair types and has just the right amount of volume with a soft stack tapering in the back. This choppy pixie cut for thin hair is chic and low-maintenance, so what more could you want?
Modern Pixie Cut for Finer Hair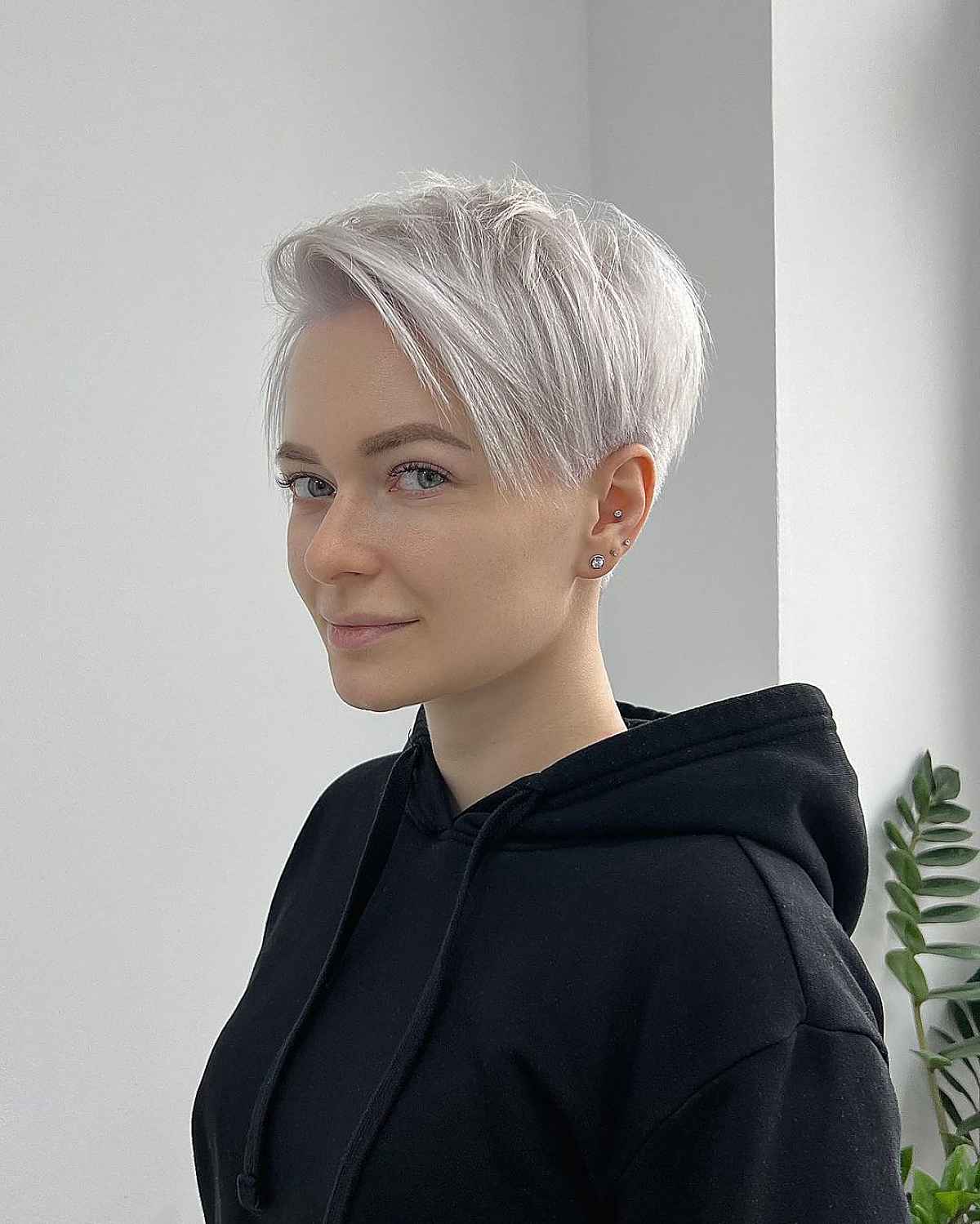 @alexei.fedorko
Consider a modern pixie haircut if you're someone with finer-textured hair looking for short haircuts that are effortless and versatile! Adding short layered lengths will create natural volume in a short pixie cut. You can try playing with different hair products to create different looks like a pomade or a clay, or if you're someone who doesn't like the feeling of lots of product in your hair, try something light and airy like an aerosol texture or tousle spray.
Cute Pixie Cut for Fine, Curly Hair
@seabrapaullo
A short pixie for fine curly hair will give your curls that extra little oomph and bounce they need. Such a curly pixie with your natural texture will require little to no product. Leaving the top a little longer than the back and sides will also help add more shape to your pixie cut.
Short Platinum Pixie with Bangs
@todchukstudio
This platinum pixie with short bangs is the perfect haircut for fine locks because it has so much texture. Find a hairstylist that is confident in using a razor and thinning shears to recreate the messy, edgy layers of your blonde pixie. You can help define your fringe and layers by using a small amount of clay or pomade to hold those hairs in place all day and all night.
Tousled Long Pixie for Older Women with Fine Hair
@salonestetica.aveda
A tousled long pixie cut for thin hair is ideal for older women because not only is it flattering, but it is also perfect to highlight the best features of an oval face shape. Short styles like this long pixie are great to help shape your face. Keeping that extra length in the front will help shape those with an oval-shaped face. Adding longer, wispy layers to the top will create more volume and body, and will give you a more tousled style.