19 Undercut Pixie Bob Haircuts To Consider for a Short & Easy Cut to Style
Modern, Messy Shaved Undercut Bob
@nivura_highlights
A modern, messy shaved undercut bob is not only an edgy and super fun haircut, but it cuts your blow-dry and styling time on thick hair virtually in half. For an extra wow factor, go for a platinum blonde color to fully embrace the life this pixie bobbed hair was meant to live. With such an edgy pixie cut, make sure to schedule regular maintenance trims every 4-6 weeks to keep the sides cropped tight.
The Hidden Undercut
@cesarvargaslb
Ah! The joys of having a pixie bob with a hidden undercut! The freedom of being able to flip your long pixie bob and show it off when you want is liberating. Don't be afraid to take the plunge! You can hide your sides whenever you need with this disconnected pixie cut bob.
Asymmetrical with a Buzzcut Underneath
@idadamyan
If your hair is very dense try something asymmetrical with a buzzcut underneath. The asymmetrical pixie bob is currently trending for those with thick hair. The pixie undercut allows for a shorter length without having the cut appear bulky or boxy. Style smooth for something chic or add some waves for a lived-in modern look.
Disconnected with a Deep Side-part
@davidroverihair
Can't decide between a pixie or a bob hairstyle? Get the best of both worlds with a deep, disconnected side part! Creating a disconnection on one side of your part line is one of the best pixie bob hairstyles you'll find. This length in such short hairstyles offers versatility, so you can style it with waves for the added body and texture.
Chin-Length Blonde Pixie Bob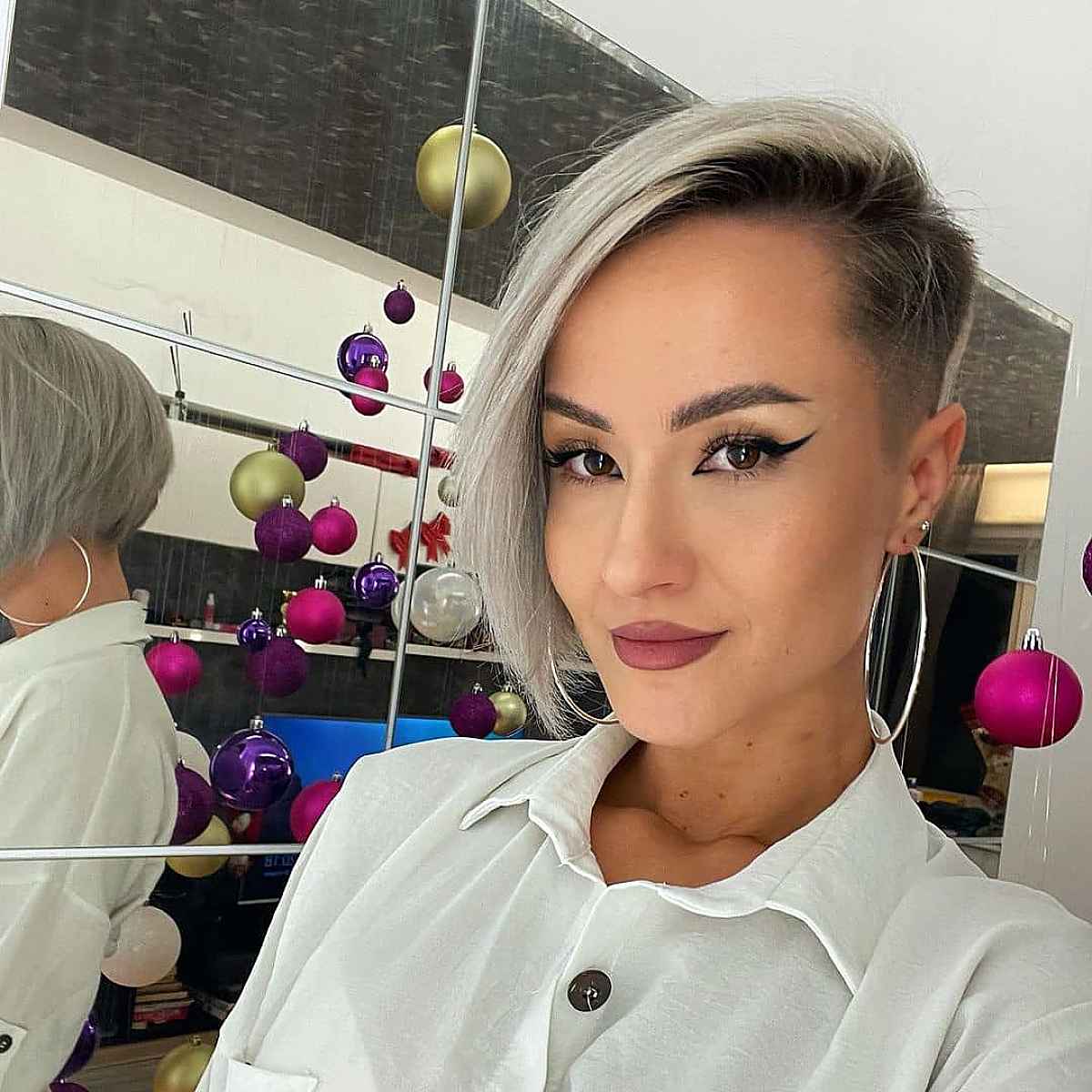 @theo__hair
A chin-length blonde pixie bob is a sharp cut for fashion-forward women. Natural dark roots create a depth that brings out a contrast in the style. Jazzing up your short hair with an undercut is a great way to stay on-trend. It works great with thicker locks as the buzzed area removes excess bulk.
Subtle Undercut for Women over 40
@nv_for_hair_golden_bay
A subtle undercut is a great way for women over 40 to get trendy with their short hairstyle. This particular pixie bob with an undercut and long bangs showcases how flattering this chin-grazing look can be. If your hair has a dark blonde balayage, the texture in the style is vital to show off a beautiful dimension.
Two-Toned Graduated Pixie Bob
@hairgod_zito
Don't be afraid to play with color! A two-toned graduated pixie bob is a sure fire way to show off your artistic side. Try toning the undercut on your pixie bob to shine a light on the sharp angles of this crop. This cut and style would work for ladies with a fine hair type but thicker density.
Grey Pixie Bob Crop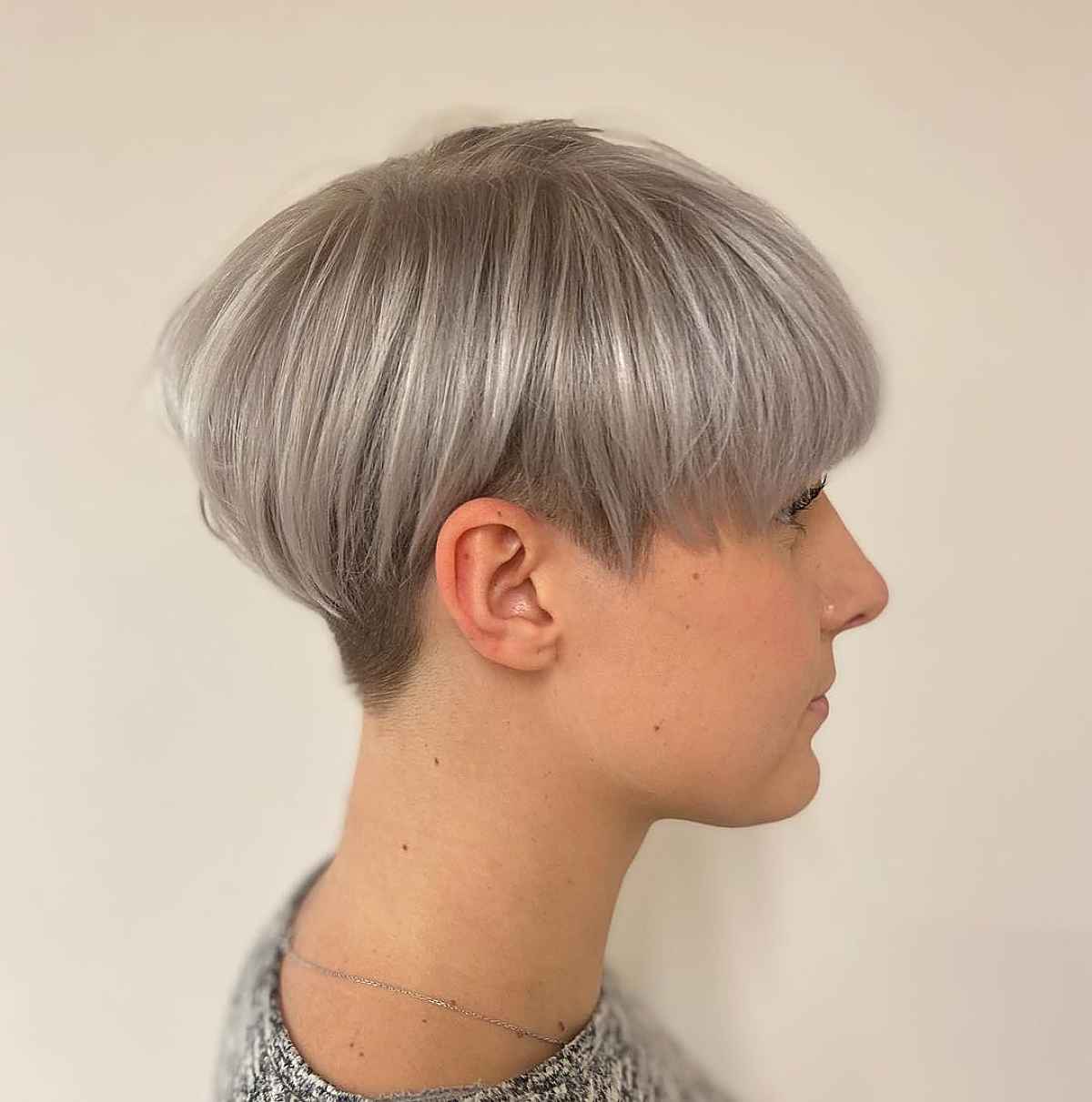 @haarstudiowaltraud
Go for grey with this modern take on the classic pixie bob crop. Short haircuts have been all the rage since actors like Audrey Hepburn and Jean Seberg first donned the look. Pairing this undercut bob with a fringe and the now-popular silver-grey hue keeps your hairstyle fashionable and current.
Asymmetrical with an Undercut Design
@sabrayna_
If you are looking for a bold style choice to amp up your hair, consider something asymmetrical with an undercut design. An asymmetrical pixie bob suits a variety of face shapes and hair textures. Talk to your stylist about which version and shape of asymmetrical undercut would work for you.
Purple Roots on a Stepped Undercut
@kadindediginkisasacliolur
If you are interested in a fashion forward cut and color, consider purple roots on a stepped undercut. An undercut pixie bob makes a statement on its own, but you can take that to another level by adding a shadowy purple root on platinum hair. FYI, this style and color require a lot of maintenance.
Angled Pixie Bob for Women Over 60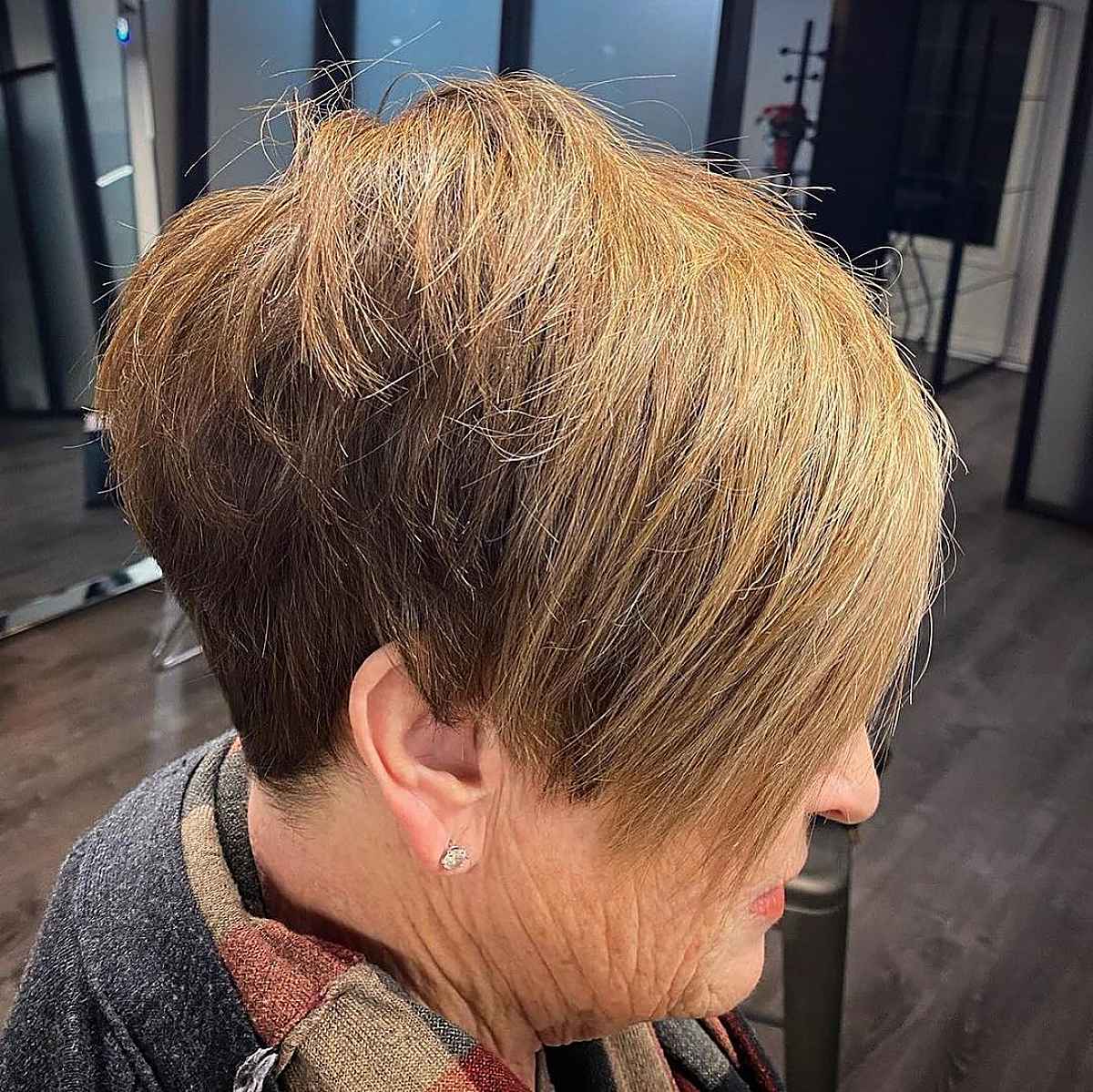 @detailshairstudio
An angled pixie bob is an excellent short haircut for women over 60. As your hair thins and changes texture with age, a tapered pixie with an undercut offers easy styling and the illusion of volume. Leaving the front a bit longer around the face keeps the style modern and gives the wearer some versatility. Keep the hairline and around the ears tight for a chic and edgy style or leave them soft and natural for something more feminine and whimsical.
Pixie Bob with Long Side Bangs
@kurzehaare
Try a pixie bob with long side bangs for straight hair. Pixie stacked bob haircuts keep hair styling manageable and effortless for those that have difficult textures. Keeping the front longer gives the cut a modern and versatile look. It can also help tame any cowlicks otherwise exposed by a shorter cut. A fringe length can be customized to you, so ask your stylist what suits your face shape best.
Simple Undercut for Women Over 30
@purejoy_hairlounge
If you're a woman over 30, try a simple undercut at your next hair appointment. A shaved pixie bob cut is a fun way to change up short hair and create a whole new you. A versatile length like this creates stunning styles with waves or curls.
Pixie Bob with a Nape Undercut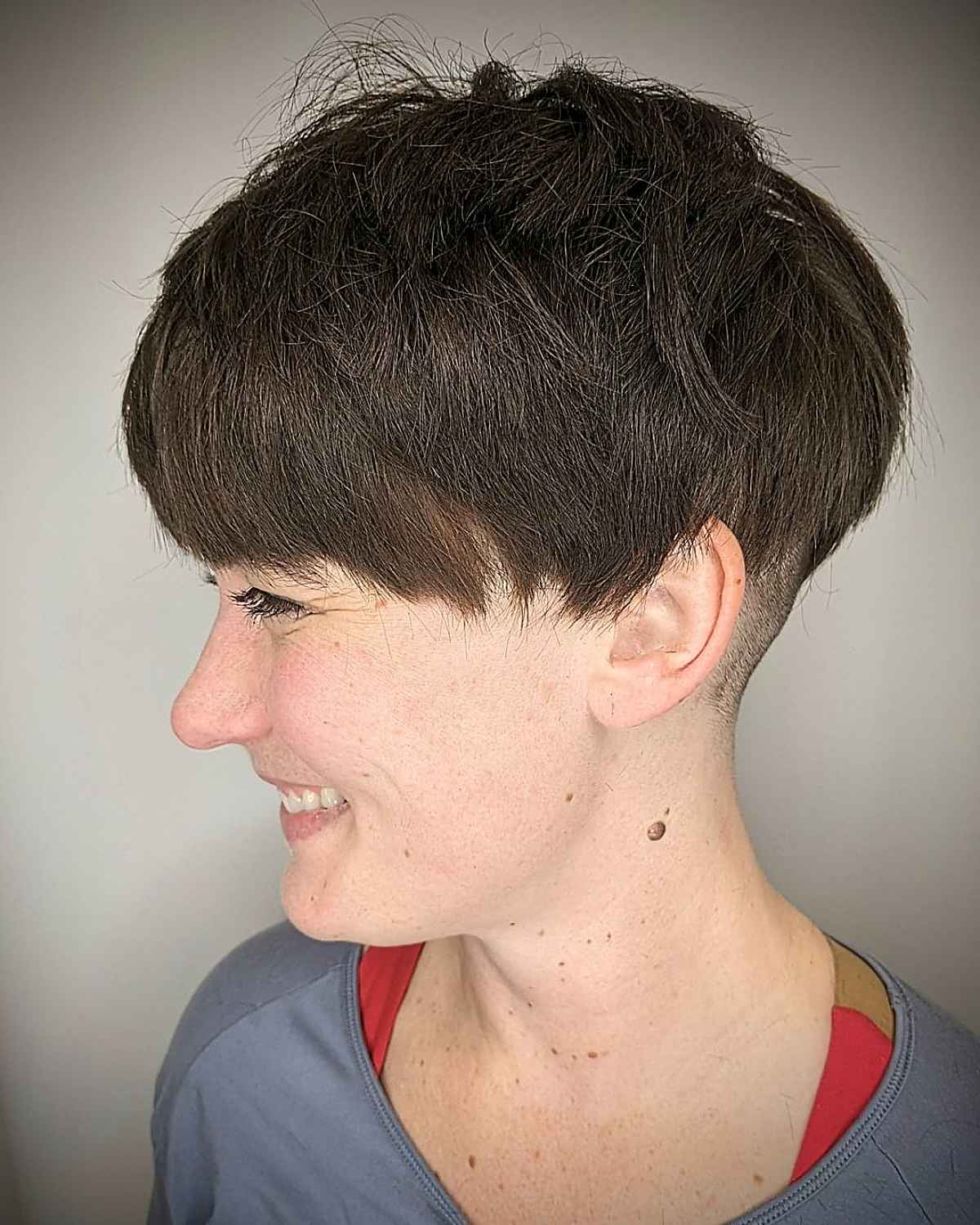 @chelsea_b_artistry
Women with dense hair should consider a pixie bob with a nape undercut. Crown layers in this textured hair are shorter to emphasize the movement. A messy pixie with a nape undercut is already statement making. Adding a disconnection to the nape area takes out some of the weight. This cut needs regular clean-ups so factor that in if time and budget are issues.
Edgy Emerald Green for Older Woman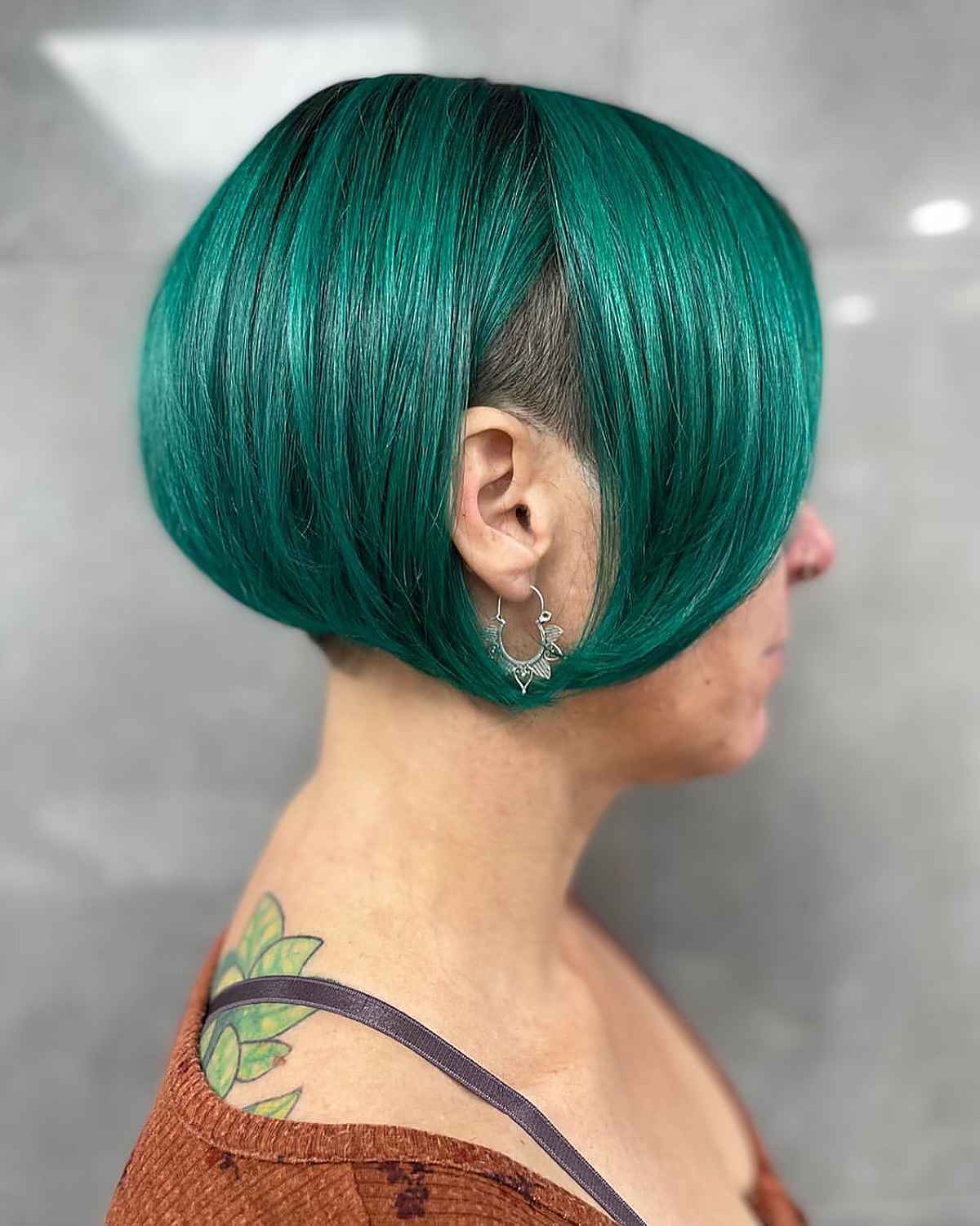 @annie_la_coiffeuse
If you are looking for something alternative, try this emerald green on a pixie bob undercut that's for edgy older women. Combine this color with a pixie bob haircut for a youthful and punk rock look. Remember that fashion colors require a lot of maintenance to remain vibrant so talk to your stylist to see if this would be a good option for you.
French Pixie Bob with an Undercut
@masonjameshair
Adding an undercut to your jaw-length French pixie bob will serve major "Amélie" vibes, but with an edge. Though it may look high maintenance, asking for a layered pixie bob that's shaved will actually create longevity for your cut. Having a pixie bob with shaved sides and an undercut at the nape will allow you to wear this short hair longer as it won't "bell out" as fast.
Pixie Bob with a Side-Part
@jordi_renee
For an edgy version of a classic shape, try a pixie bob with a side part. If you prefer a more textured look, opt for added choppy layers. A choppy pixie bob hairstyle is always fashionable, but it can be customized, depending on hair types, textured, and face shapes. Talk to your stylist about which style would best suit your facial features.
Blonde Pixie Bowl Cut
@melli.livelaughlove
If you have fine, dense hair, try a blonde pixie bowl cut with an undercut and side-swept bangs. Undercut with bangs on pixie cut styles prevent shapes on thick-haired women from looking too bulky. This is ideal for someone with a lot of hair that wants to wear a shorter shape. Air dry or blow dry with a texturizing paste for an effortless styling routine.
Textured Pixie Bob for Women Over 50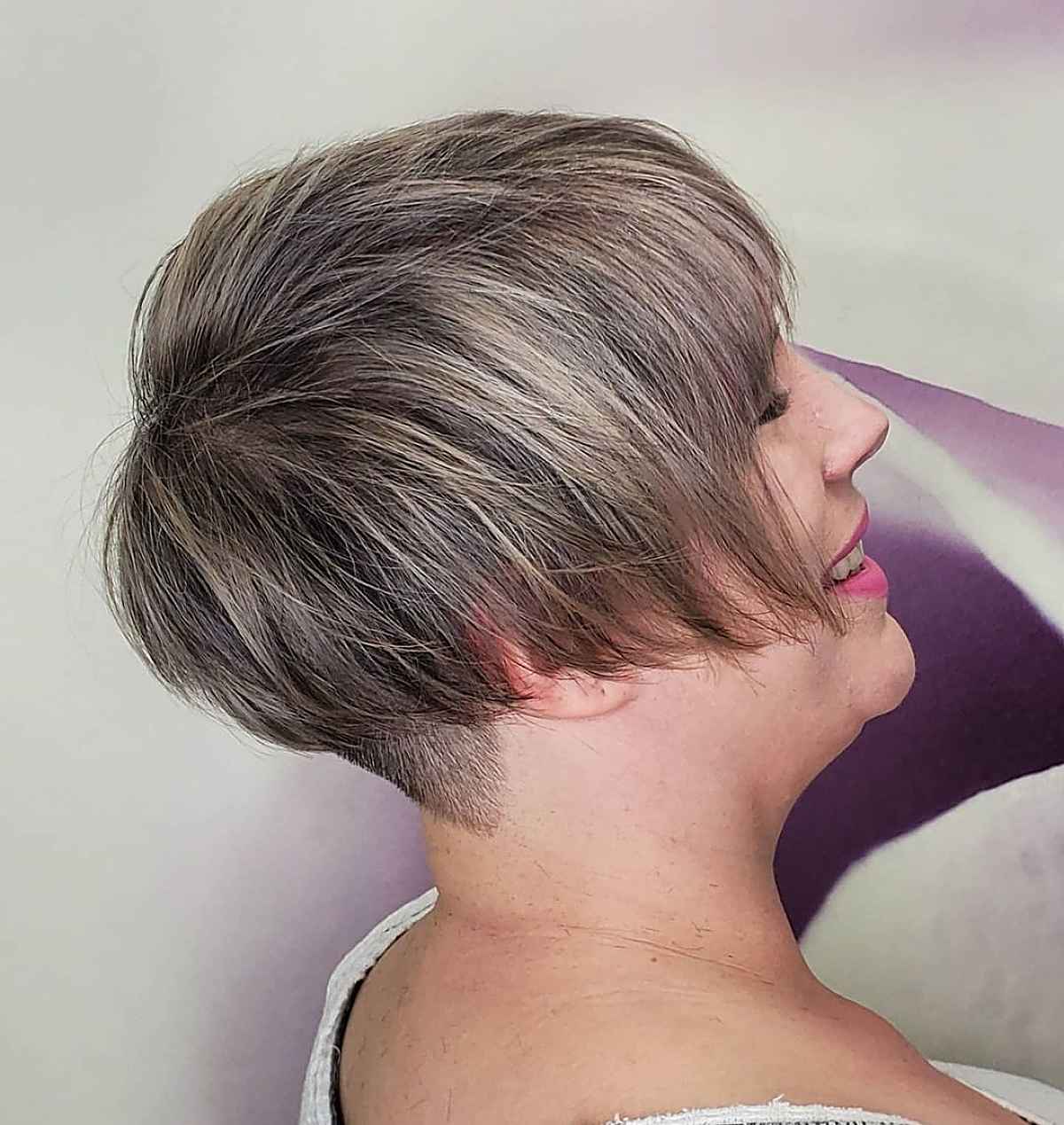 @christina_style
A textured pixie bob for women over 50 is an ideal choice. A pixie bob undercut pixie for over 50 can work on a variety of hair textures. It can remove weight for dense hair, but also create the illusion of volume for thin hair. Remember that shorter lengths require more in salon maintenance, so keep that in mind if time and budget are concerns.