19 Cutest Short Haircuts for Girls Right Now
Sassy Asymmetrical Pixie Haircut for Little Girls
@laurenatcmss
One of the best short haircuts for little girls is an asymmetrical pixie cut. The cutest thing about this cut is you have options with the style," says hairstylist Lauren Cozart of Tallmadge, OH.
This is one of the simple and easy short hairstyles for girls to style. Cozart used KMS Playable Texture. "It gives the hair the right about of volume without having the feeling of too much product in the hair. With this cut, you have to be committed to keeping up with the clipped side of the head. This cut is very face framing and really complements little girls with round faces. Anyone who loves short hair I would highly suggest it," she explains.
Short Top Knot Style for a Toddler
@krza.krystledawn
Try a short top knot style for a toddler using a small hair tie, some product, and a brush. Secure with bobby pins, and spritz with dry shampoo for added texture. Get an accessory to accent the style, as well.
Short Mohawk with Shaved Sides for Emo Girls
@ladybarber402
Explore a fun short mohawk with shaved sides for Emo girls to discover and express your style. Playing around with shaved sides and keeping the length in a short mohawk can be empowering. This is a suitable style for curly or coily hair due to the way the curls stay stacked on top.
Cute Short Razor Cut for Red Hair Color
@hercoloranddesign
Stylist Haley did these natural sun-kissed highlights and a blunt bob with side bangs for this precious red-headed princess! Doesn't it make you want to cry knowing your little baby girl is growing up? The sweet side-swept bangs and choppy texture makes it a popular short hairstyle for girls this year.
Cutest Cut for Curly Hair
@stylebyjennbetty
This super natural rounded bob hairstyle for girls looks so adorable on any textured hair, especially unique black girl curly hair! Leave some pieces of short locks above the face for a cute finish.
Very Short Hairstyle for Girls with Fashion
@sabrina.at.salon.ablaze
A simple yet stylish haircut for girls with short hair. Cute hairstyles and haircuts for girls like this one look great on naturally straight hair as well as textured ones. The side-swept fringe also makes it even better, just make sure to maintain its length and keep it above the eyes.
Neck-Length Short Haircut for Thin Hair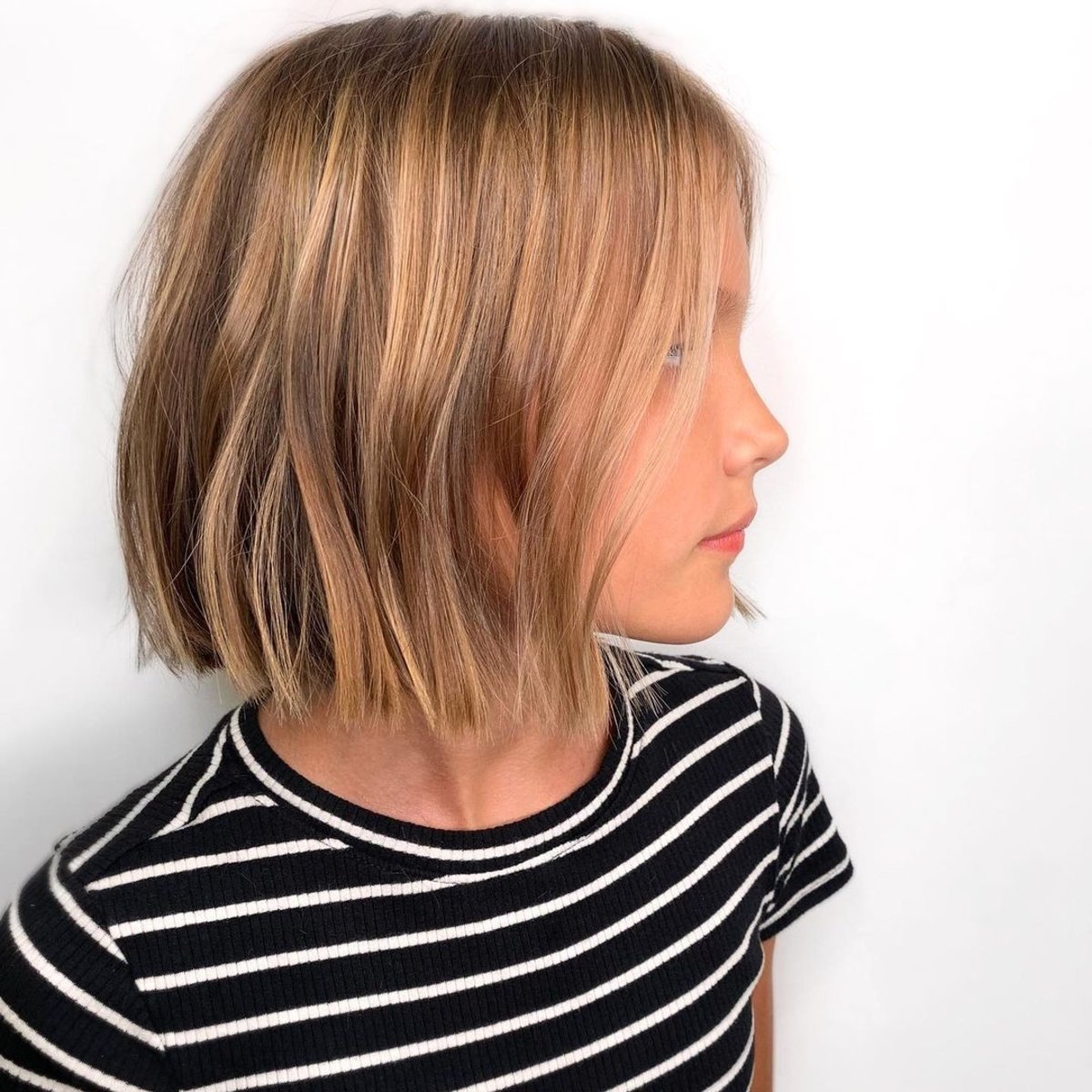 @christinagarciasalon
This dashing blonde bob cut can be worn all year long and is most likely the best choice for young girls with shorter hair, as it's easy to maintain and manage.
Awesome Ear-length Cut with Side Part
@caitlincutshair
These are funky pops of neon green and blue highlights paired with a fun short bob. They were created by hairstylist and color specialist Caitlin Schmidt of Woodbridge, VA.
Fashion hair color in the form of highlights on dark hair is a great way to introduce fun colors without fully committing to short haircuts and hairstyles for girls.
"The haircut is the product of growing out a short pixie," explains Schmidt. "In the in-between stages, keep your nape tidy and add some texture to allow easier styling and less mullet."
The style was achieved with a 1″ flat iron. Smooth over the hair lightly, then on the second pass, slightly bend the iron at the mid shaft and pull through. Let sit and run your fingers through at the end. This will create a tousled look for your little girl. Finish with a light hairspray or texture spray (works great on fiber hair!).
Short Layered Cut for Girls with Fine Hair
@hairbymyriha
This particular short cut for fine hair was created by lead stylist Myriha Warman of Orange Country, CA. "I went with a blunt lob around the face with texturized ends and long layers in the back to give it a little bit more volume," she explains.
This short haircut for girls is perfect for an active lifestyle. You can pull the front half updo a topknot. If you're looking for a more polished look you can throw some beach waves in it, or it also looks awesome for just a get-up-and-go style.
For those seeking a shorter cut, Warman would say it's a perfect go-to. "If you're someone who has long hair and just throws it up in a ponytail every day, it's a great option for a little girls hairstyle. When you get a really nice cut bob or lob, the cut itself is the style. You'll find yourself wearing it down more."
Depending on the shape of the face is where you would determine if you want to do a bob or a super short cut. "I always remind my clients that they can customize the longer hair cut, add a fun flirty face-framing piece, or keep it blunt by texturizing the ends. There is no rules and we can get as creative as we want with it," says Warman.
Perfect Layered Bob for Short Straight Hair
@beautybyashmari
This layered lob is short, sweet, youthful, and refreshed! It was created by future professional Ashley Martinez, of Concord, CA. "The best thing about this short layered haircut is that it accentuates the face shape and is low maintenance for younger girls and women alike," says Martinez.
Every girl with short hair should keep in mind their hair density and hair type. For example, if you have very thick hair, adding the long layers will help balance the weight throughout, rather than having it really heavy at the length.
"Also, considering hair type can affect the outcome of the hair. Just keep in mind, that this kind of straight bob may not look the same for every little girl," she adds.
Graduated Bob with Bangs on Short Hair for Girls
@bymaggiekime
A graduated bob on short hair allows achieving a bolder and voluminous hairstyle. Fine and thin tresses benefit from this short bob the most. It's a short layered bob cut that's requiring low at-home maintenance. Longer layers at the front maximize its edgy style. Use balm when styling a layered bob to create texture and separation like this. When wearing this trend, remember that short hair must be cut sooner since it loses its shape faster.
Shorter Cut Bob for Blonde Girls
@fernthebarber
Want a shorter cut bob? For those little girls who are down for a youthful and classic style, this bob is a must-try. It's a jaw-length bob haircut, perked up with a little texture and a diamond blonde color.
Cool Pixie with a Fade for Girls with Thick Hair
@lovely_chach
This cool pixie with a fade cut will make girls appear edgy and confident. Straight to loose wavy hair textures work best with this styling featuring a buzz cut on one side. Short hair for young girls can be simple and sweet. It's much more ideal if their short hair requires no to minimal styling.
Jaw-Length Blunt Cut with Bangs
@claudiashairstory
A jaw-length blunt cut is much cuter if partnered with a full fringe. This straight cut appears so pretty with bangs and makes managing hair easier. This short haircut for girls is a natural-looking hairstyle—easy to pull off and grow out!
This short blunt cut is a stacked bob haircut graduated to create volume. It was created by stylist Claudia Castillo of Victorville, CA. "Short bangs were added in a slight line to give it shape," she explains.
This haircut is perfect for girls with fine textured hair. It adds fullness and you can straighten it or wave it and it would look just as cute.
Short A-Line Bob Haircut
@keithsfhair
A short a-line bob is a superb choice to enhance a girls' straight, blonde hair. It's one of the kids short haircuts that can make younger girls look older. Level it up with a touch of asymmetry to create an interesting appearance. It's one way to style a classic cut for little ladies.
Adorable Pixie Bob with Curls for Black Girls
@hair_by_kianna
Featuring an adorable pixie bob with curls for black girls! This is a classic bob cut with lots of texture. It's one of the great naturally curly girls haircuts when wanting to pull off short locks. Wear this adorable short hairstyle and learn how to show off your African American natural hair texture—loud and proud!
Edgy Undercut on Short Hair for Young Girls
@guyannescissorhands
Try an edgy undercut on short hair to make a flattering statement. This style is a very cool option for younger girls. Leave long strands above the hairline for the choice of having a side fringe.
Messy Short Angled Bob
@acasasilva
An angled bob is an ideal haircut to go for when looking for something cute and elegant. It's divine when matched with a soft texture and a side part style. This kind of fancy cut never goes out of style for young ladies who want to have a classic blunt cut with easy maintenance.
Short Messy Cut for Girls
@salsalhair
Experience a short messy cut with bangs for a younger-looking finish. The added texture makes thin hair look more full-bodied. Another thing to love about this cute short-length cut for girls hair is that it's low maintenance.