23 Long Pixie Cuts You Can Totally Pull Off
Stunning Pixie with Long Bangs
@renzizgheib
I love asymmetrical long pixie haircuts. This trend is a perfect way to have an edgy, short cut without sacrificing all of your lengths.
If you want to go short without looking too masculine, this is a great option. There is so much versatility with this cut. You can wear this sleek and polished, full of texture and tousled, or have side-swept bangs.
This is a relatively low-maintenance long pixie hair cut without necessarily having to "look" low-maintenance.
Blowout for Long Pixie
@todchukstudio
A blowout for long pixie cuts has endless possibilities. A pixie cut is usually shorter on the sides and longer on top. Pixies usually do better with choppy layers, extra texture, and more volume.
Long Pixie with Swoopy Layers
@alexei.fedorko
A long pixie with swoopy layers is perfect for women who want a comfortable cut that is also chic. A great option for those who want to highlight the cheekbones and eyes, leaving the face more exposed.
Feathered Pixie Bob for Women Over 50
@cabelosfhabioribeiro
Try the feathered pixie bob for women over 50 if you want a modern and easy-to-maintain haircut. It is ideal to cut it every 2 months to keep it short and with a polished finish.
Long Undercut Pixie with Waves
@kadindediginkisasacliolur
A long undercut pixie with waves is a trendy choice. Soft waves with a wand will add a beautiful touch to a long-side swept pixie. The undercut takes away some weight from the shorter side of your haircut and gives a clean style. A super feminine style where you can tuck behind the ear to show off the shaved sides. You're looking at 4-6 weeks for haircut maintenance.
Inverted Pixie Bob
@henniegebhardt
An inverted pixie bob is a shorter version of a stacked bob. If you're ready to sass up your style this may be for you. Have some soft feathery pieces cut around the face to soften the style and have the back stacked for volume and texture. You can wear it straight or curly this cut will look fab on any hairstyle. An undercut shows off the inverted stack in the back with the contrasting cut.
Side-Parted Long Layered Pixie Cut with Choppy Layers for Round Faces
@hairofslytherin
This long layered pixie cut for round faces is all about texture. Asymmetrical long bangs work well on broad faces making them appear narrower. To pull off a softer and cuter look on long pixies, add some waves.
Choppy layers make this haircut a long textured pixie. The layers offer more flattering options for a short hair style and for women who are not entirely comfortable with the shorter length.
Long-Length Asymmetrical Pixie Cut
@dapperbycaitlin
For women who want to keep their natural hair yet show off an edgy round pixie hairstyle, this one's for you. The unevenness of this long-length asymmetrical pixie style, plus the amazing natural texture, both work well in highlighting and balancing the face shape.
Choppy Pixie with Side Bangs For Fine Hair
@courtneyxcentrichair
Who wouldn't want to chop off their hair if it will look like this sleek and edgy long layered pixie?
Hair that's long on top with long bangs leaves room for versatility in styling a long choppy pixie for fine hair.
Long Pixie with Razored Crown Layers
@dreaded.whit
The long pixie with razored crown layers is great because it has the best grow-out and isn't bulky. It works well on ladies with natural texture on their hair.
Utah-based stylist Whitney Kilmer did a full razor cut to achieve the look. "The razor is used to cut without creating harsh lines and also removing bulk from the head," Kilmer notes.
When styling, Kilmer suggests applying a good root pump or moose on hair when still wet.
Sassy Blonde Pixie Style For Thin Hair
@mclainecraighair
"I call this style a long pixie with an undercut," says salon owner and hairstylist McLaine Craig of Rossville, TN.
Craig explains, "it has a beige blonde color with dark roots, and this style has really gained popularity. You can style it straight, wavy, switch your parting, or tuck it behind one ear for an asymmetrical cut. Short, thin hair doesn't have to be boring! Keep the color soft with a root smudge after adding blonde highlights to a pale blonde pixie, and you'll add depth to your short hair."
If you are looking for a twist on shorter hair that's anything but boring, Craig believes this square short haircut is for you! "It has shortness around the nape and ears with length on the top and crown," she adds.
To maintain the blonde hue, use purple shampoo to wash the locks.
Textured Long Top Pixie with the Short Shaved Side and a Fringe
@dangthathairdoe
This long-length pixie is non-traditional. It's a little bit edgy and yet still feminine and was created by hairstylist Lisa Dang of Waterloo, ON.
"The long top with longer bangs give this cut a softer look, and the color screams feminine," says Dang. "The edgy part of this shaved pixie is in the back. It features an undercut (from sides to back) that shapes the hairline into a "V" shape. Long pixie hairstyles look great with waves, sleek, or even textured!"
Dang says the maintenance for this cut and color can last about 8 weeks. "Because the fringe is longer, it can be suitable for even round faces! It does suit most face shapes," she notes.
It's a great cut for women with an existing pixie who want to change things up. Some people think you can only do so much with short hair but that's not true!
Fun Pixie with Undercut
@imsimplyjessy
A fun pixie with undercut is a smart choice for a playful disconnected contrast on the side. An undercut is a perfect option for women with thick hair that simply needs weight taken off to add extra texture to their hair.
Cool Long Curly Pixie Cut
@noemivalenciahair
A daring and sassy long curly pixie haircut for girls with naturally curly hair is all about the texture and definition. Long pixie hairstyles like this look great when leaving some length pieces in front for a flirty touch!
Modern Shaggy Pixie with Long Side-Swept Bangs
@serinastyledme
The best thing about having super cute and short shaggy pixie haircuts is that you don't need to spend much time styling them. This lived-in tousled hair is enough for it to appear fashionable! This long shaggy pixie with a side fringe is perfect for a modern woman with curly and thicker hair.
Tapered Long Pixie With Bangs
@judeviola
A haircut this dreamy and modern only happens if you're confident enough to go with this tapered long pixie cut with bangs! The long face-framing, wispy bangs make this wispy pixie cut even edgier.
Messy Long Pixie Bob Haircut with Long Side Bangs
@demetriusschool
Try an edgy long pixie bob with long side bangs if you are ready to update your style. Longer pixie cuts are a great choice if you're a bit timid about going into a short haircut. The longer lengths around the ears keep this pixie bob cut soft-looking. If you like variety, wear the long bangs styled to either side of long pixie bob haircuts. It's a win-win!
Cute Black Pixie for Naturally Curly Hair
@angeljhairartistry
Longer pixie cuts, like this cute pixie for naturally curly hair, are low-maintenance with an edgy look. Stylist Angel Jenkins of Cary, NC created the cut, leaving the curls with some length to style.
Use the dry cut technique, curl by curl, to get this curly pixie cut. "Layer the hair by angling the shears downwards and make sure you cut the curls where they live," says Jenkins. "Diffuse the curls when styling to maximize the volume of the hair."
Feminine-Looking Long Pixie for Black Women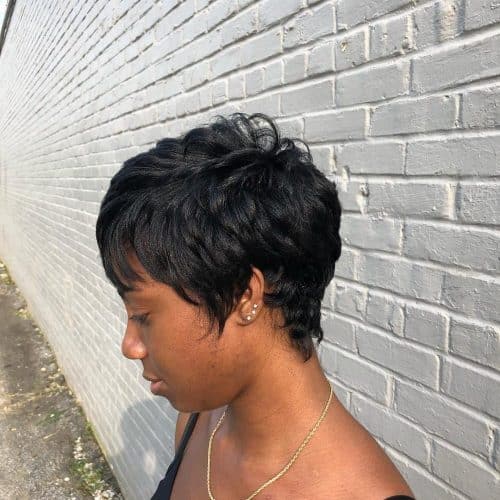 @erikacormierhair
"My client with black hair was wearing a really short pixie and now she's growing it out a little into a long pixie haircut," explains stylist Erika Parham-Cormier of Tucker, GA. "We are keeping it short but more length in the bangs area. She has very thick hair and it's relaxed. I created a dark brown hair color using Pravana Chromasilk 3N. It's dark but still natural-looking."
For women looking considering long pixie haircuts, ask your stylist to look at your head, face shape, and hairline.
Silver Pixie for Older Women
@talknheads
A silver pixie for older women is a very sophisticated style. A long pixie on short hair contains multiple, precisely cut layers and is often shorter in the back and longer around the face. A grey pixie cut allows women to wear their natural hair color with a fun style.
A Long Androgynous Pixie
@haaremitstil
A long androgynous pixie is perfect for most women. Long pixie styles are very common and can be cut and styled in many different ways. Long pixie styles are always in style and stunning on most face shapes.
Long Pixie For Thick Hair
@cortesdecabelos
Try a long pixie for thick hair to keep your hair looking sleek and sharp. A long pixie cut for thick hair is sometimes ideal to avoid the hair from bulking too much when it's short. The length that sits between a bob and pixie keeps a little weight to enable the hair to sit in a sleeker silhouette and thus, will be easier to maintain.
Textured Pixie with V-Cut Layers
@michaelalanphearhair
Pull off a textured pixie with V-cut layers for a quick and easy hairstyle! Style creator Michaela Lanphear of Alabama advises it's for ladies who love low-maintenance.
Lanphear used a scissor-over comb technique to achieve that close tapered finish. She goes on, "I also recommend point-cutting to achieve a pieced-out texture. This creates wispy pieces around the fringe and ears."