42 Popular Red Hair Color Ideas Trending Right Now
Brick Red Middle-Parted Hair
@perf.scherf.parlour
This brick red middle part hair is looking very appealing. You'll love wearing it each day! Keep your tresses, long, and let your red haired curls shine. That's how the added color gets accentuated, too.
Deep Mahogany for Women over 70
@headspacehaus_salon
Deep mahogany for women over 70 glams up any look and adds some pizzazz to any existing color. The nice thing about deeper reddish/purple hues is that they can appear more neutral and brown when not in direct sunlight, creating subtleness and makes it not so overbearing right away.
Coral Red Hair Color
@stoolissaminja
Coral red hair color is a beautiful choice for an all-over hue. Coral is the perfect combination of all the warm tones and suits many skin tones. Red tones do tend to fade more quickly, so regular salon visits are absolutely necessary.
Bright Strawberry Red Hair
@_danielledoeshair
Bright strawberry red hair is radiant, luminous, and vivid in color. Rich copper, red tones are great for natural redheads wanting to add depth and spice up their color. Strawberry red hair hue is vibrant and appears amazing on fair or even on darker skin tones. To show off your fiery red hair, use a flat iron to add loose waves that will show off the vibrancy of your hair.
Copper Tones for Women over 60
@emma_douglas_hairdressing
Gorgeous copper tones for women over 60 look best on medium skin tones with a slightly warm undertone. The warm, coppery hair color will accentuate the glow of your warm complexion.
Peachy Pink Undertones on Red Hair
@gerilynghaisarzadeh
Peachy pink undertones on red hair create an envy-inducing combination of colors. This peach pink balayage for long hair highlight these candy colors.
Auburn Highlights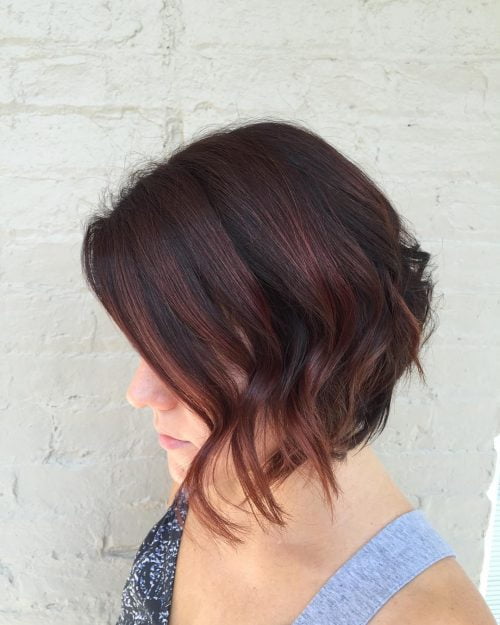 @hollywiit
Auburn highlights are an easy way to attain that modern style of wearing reddish locks. Break up your bright red hair with darker hair dye and give yourself that sassy and trendy image in your photos.
Hints of Strawberry Ombre
@constancerobbins
Hints of strawberry ombre within this red hair will take you places! Flaunt the color in long waves, and enjoy a nice red hair day!
Auburn Red Hair
@daniellestyle
This auburn red hair features a copper color melt. It gives a vibe à la Christina Hendricks. While coloring your red hair, keep it safe by using the best products recommended by your trusted stylist.
Vivid Red Highlights
@the_hairbend3r
These vivid red highlights next to an edgy ombre are vibrant! Use color-safe products to keep the color vibrant. Don't worry about the black roots because you'll have no problem with the grow-out.
Peachy Pastel Red Hair
@sydneyannlopezhair
This peachy pastel red hair is a mixture of pink pastel with peach undertones. This color melt goes on fair to neutral complexions.
Dark Ruby Red
@amberbeckjordhair
This dark ruby red balayage leaves tresses looking edgier and dimensional. Style your hair with subtle waves, finishing it off with a shine spray, and see how the color pops out even better. This ruby red shade is a chic option for ladies with dark hair who want to embrace a fiery look now as a redhead!
Burnt Orange Red
@ailihudson
Burnt orange red hair dye is a great way to spice up your plain ginger hair. Paint your strands with blonde highlights, plus some pink hues inside to give this orange-tinged red hair some dimension.
Deep Sandy Red Shade for Women over 50
@soubecas
The deep sandy red shade for women over 50 adds character and edge to the woman wearing it. Beauty therapist Soubecas Ioannis of Greece made this vivid hair color come to life.
"It needs a good quality of hair to shine and exude luxury. Moisturizing care products and color-enhancing masks are vital for the upkeep," Ioannis explains.
Mahogany With Blonde Highlights
@lafranceglam
Mahogany with blonde highlights is a low-maintenance red color with a bit of spice! This particular color was created by salon owner and stylist Nicole LaFrance of Millbury, MA.
"Warmer red hair colors like mahogany are absolutely stunning," says LaFrance. "Ask your stylist to keep the mahogany base through your hair. Then add in copper balayage pieces to give it a nice dimension."
Red tends to fade faster than other colors. LaFrance says to touch up your balayage every 4-6 months. "A quick routine color melt will get this color looking completely refreshed!"
"I always remind women that these are more high-maintenance than most colors because of the faster fade out," she adds. "Use cold water to wash your hair. Hot was will open that cuticle and make it easier for your color to slip out. Lastly, like having any other color service done, use a good leave-in conditioner once a week! This will help with any color-treated hair damage and restore your hair's moisture!"
Scarlet Red Balayage
@jentheunicornstylist
This scarlet red balayage is a glorious pigment, and it does suit long-length tresses.
Scarlet Red Hair Color
@danonliketheyogurthair
This scarlet red color is a fierce one color application that adds the illusion of highs and lows in the hair. It was created by master colorist Danon Christoffers of Barrington, IL.
Women considering going for a scarlet tone definitely needs to know a few things. Christoffers says, "this can bring out beautiful undertones in your skin that you've never noticed. There are many different shades, ranging from coppery red to violet-red or true red."
They fade fast, so get a good shampoo to not over-cleanse that new pretty tone right off the hair strand. Hair like this needs a touch-up every 4-6 weeks.
Also, Christoffers says it's normal for these tones to stay a bit on the outside of the hair shaft especially if you go a semi. "Seeing a the color runoff in the water when washing or bleed onto towels is very normal, so grab some old ones or dark ones!"
Natural Redhead
@beth_conlin
A natural redhead is the rarest hair color for modern ladies. Nothing can go wrong for you lucky ladies who have natural red hair.
"This natural color is a modern take on the shag cut. You could air dry with some salt spray and still have a messy finish," says hairstylist Beth Conlin of Tigard, OR.
Deeper Red Lowlights
@haircraft_bysarah
Deeper red lowlights create a rich hair color that ladies will drool over. Its flattering reddish tone appears perfect on long, thick hair. Subtle layers will accentuate the color even better.
Magenta Red
@beautyby_coley
"Magenta red can be super fun," says hairstylist Nicole of Derry, NH. "The deep cranberry hues give it just enough subtleness for something a little funky. This color creation is the mix of depth and vibrancy together."
Women with red hair dye ideas should keep this in mind: Fantasy colors are a lot of upkeep.
Nicole suggests you pre-book with your stylist every 6-8 weeks to keep this color fresh. "If you want a hair color like this dyed magenta, dry-shampoo is your best friend. The less you wash it, the longer the color lasts."
Cinnamon Red Fashion
@radicaljason
This cinnamon red fashion color has a rich, fiery hue! It was created by salon owner and stylist Jason Bunce of New Haven, CT. "Sure, you'll own a Queen Elizabeth look by wearing this color. It's pre-lightened from the roots to the ends and then color-melted using a two-part formula to achieve maximum dimension," says Bunce.
"If you want a red hair color, take your skin tone, eye color, and natural hair-color into consideration," he adds.
Garnet Red for Short Hair
@thehivesalonuk
Garnet red for short hair screams vibrancy. "Ask your stylist for a reddish tone on your first visit. Then ask for a plum tone during your second visit," says hairstylist Chloe Lyons of the UK.
"This garnet hair color is amazing for that instant uplift to your hair," adds Lyons. "It's a high-maintenance color that needs to be topped up with toners."
Red and Rose Gold Balayage
@beautyby_brittanyjean
Rose gold balayage is a fierce red hair color. It offers lots of dimension that works well with waves or curls.
Chocolate Red Highlights
@krs_styles
"This color is unlike the more modern shades of red hair," says stylist Katie Spidle of Columbus, MS.
"Red could be a hard color to remove from your strands," she notes. "This color is for women who want a more copper, auburn tone rather than something bright. Plus, it's the shade that suits freckles and can accentuate blue eyes."
Spidle says there are two main things you must consider: the shade you want and the type of upkeep you'll be dealing with. "There are many different shades of red hair color: red-orange, red-violet, blue-red, auburn red, and more!"
Cherry Red Balayage
@nathaliegavrailov
This cherry red balayage features black highlights painted over copper-red hair.
Sunny Red Bronze
@jennie2479
This sunny red bronze is a sunny copper color suited well on a wavy bob cut. It was created by hairstylist Jennifer Ebbinghouser of Sparta, NJ.
"Ask your stylist about a small triangle pattern while freshening up your balayage," says Ebbinghouser. "While toning your red bronze highlight, ask for Redken Shades."
Dyed Poison Apple Red
 @kendalleileen
"This dyed poison apple red color adds brightness to your face," says hairstylist Kendall Wooding of Washington.
"If you want such a color, you must be willing to use professional products," she explains. "Try a pigmented shampoo and conditioner for maintaining the hue like Davines Red Alchemic System."
Dyed reds look great on women with pale skin, and women who don't have pinkish tones in their skin.
Merlot Red Hair Color
 @hairbytawnee
This merlot red hair color is a deep true wine color with balayage bright pieces. "The pieces are painted throughout the ends and in front to frame the face," explains hairstylist Tawnee Hedley of Victoria, BC.
"The depth of this hue allows it to compliment most skin types," adds Hedley. "This merlot shade is also perfect to bring out some stunning green eyes!"
A bright reddish color can be pulled off on many hair types, but it's best paired with healthy hair.
Mahogany With Blonde Highlights
@bam_good_hair
This is a shade of red mahogany with blonde highlights and color melt. "It features a vibrant copper orange with golden balayage accents. Wearing this golden hair is the perfect way to channel your inner Nicole Kidman," explains senior stylist Ashley Bahm of Stillwater, OK.
This color combo is great for women with warm and fair skin tones.
"I especially love a golden-red hue on women with green eyes! This mahogany color is great for women of all hair types," says Bahm.
Bahm recommends you use the base color and balayage throughout (alternating) to add dimension to your color. "Using a sulfate-free shampoo and conditioner and always washing/rinsing with cool water will help maintain your look and keep it beautiful and vibrant. If using a hairspray daily, stay away from hairsprays that are high in alcohol. Alcohol will cause your color to fade faster and get very brassy," she states.
Crimson Red Ringlets
@hairbymeagan
These crimson red ringlets feature vibrant reds and coppers. They were created by stylist Meagan Eldridge of Nashville, TN. "Ask your stylist to combine vibrant crimson with intermingling coppers and bright reds," she notes.
The right shade and tone should be chosen after a thorough consultation. These crimson curls are stunning, full of life, and worth every penny.
Maroon & Violet Burgundy
@ameliarempel
This maroon and violet burgundy color is a rich maroon with balayage highlights. "I love the pops of bright copper that run throughout," says hairstylist Amelia Rempel of Canada.
This color is best suited for women with cooler skin tones or women with fair skin and pink undertones.
"Use cooler water and don't overwash your hair to save color," says Rempel. "Wash your hair with a color-safe shampoo and conditioner such as Goldwell Fade Stop and R+Co Gemstone. If you want to get a color like this, ask for multiple tones of red/copper/violet. The dimensions will give you a really nice fade-out until you can get back to your stylist."
This color is best suited to someone with cooler skin tones or someone with fair skin and pink undertones.
Rempel has this advice for your colorist:
"The base was applied first. Using Topchic Effects and Silk Lift were applied using a freehand balayage technique. This was to make sure the base color would blend in. It was processed for 30 minutes and then toned at the basin for 15 minutes."
Burgundy Red for Summer
@saraihairwizard
This burgundy red was created by master colorist Sarai Speer of Kansas City, MO.
"This is a pretty low-maintenance hairstyle," notes Speer. "The color should be touched up every six to eight weeks to maintain vibrancy."
For women with burgundy undertones in their skin, this color will enhance those.
Use Joico Lumishines and Schwarzkopf colors (and of course Olaplex) to create this red shade.
Western Europe Reddish-brown
@strutmichelle
This Western Europe reddish-brown base color is broken up with copper highlights. "It's ideal if you don't want to settle with old dark or brown hair," says senior stylist and color specialist Michelle Conway of Canada.
Warm red hair color shades give the skin a much-needed glow.
"This color is perfect for women who want to lighten up previously red hair," says Conway. "Microfine copper highlights both lighten up the overall red color, but it gives the old color a pop! When it fades, it can look very similar to Amy Adam's hair color."
Copper really suits women with reddish-brunette hairstyles. But, other shades also include red copper, bright copper, and strawberry blonde.
Rusty Brown Red
@rickikouryakus
"This rusty brown-red color looks great on a dimensional redhead. Just add brighter pieces and a strong baseline," says hairstylist and colorist Ricki Kouryakus of Birmingham, MI.
This rusty brown-red is for women wanting an edgy look, and who's willing to upkeep the dimensional color.
Ruby Red Ombre
@wtfrinna
This bright ruby red ombre with a shadow root was created by hairstylist Marinna Guasto of Long Island, NY.
"A darker root gives it an extra kick and actually makes the color last a little longer between sessions," says Guasto. "Redheads are very difficult to maintain because it's hard for the hair to hold this color."
"I try to stress to people to not use box color and to see a licensed cosmetologist who uses professional color," she adds. "Wash your red ombre hair as little as possible, and always use a heat protectant and low heat. High heat fades color so fast."
Warm Red Hue
@kelsey_theyoungamerican
This warm red hue is seriously giving off autumn vibes! To achieve this color, ask your colorist for a deep orange-red that brings out flushed cheeks.
Soft Apricot
 @evielily_hair
This soft apricot copper has reflective tones. It's vibrant and was created by stylist Evie Williams of Essex.
"A soft apricot copper color can suit any woman, but it is vital to find the right tone," says Williams. "Women with a warm skin tone should ask for a copper gold base."
Light Auburn Hair
@emily_at_hc
Light auburn toasted hair colors never fail to make heads turn. This color was created using an ombre technique.
Medium Copper + Irish Red
@hairbyleahoxo
Medium copper plus an Irish red is a ginger color that will make you want more warm hues. A fiery red glow looks amazing on medium hair.
Dark Brown and Indian Red
@mirhairlove
This dark brown and Indian red with highlights combo is a new idea to brighten up your dark locks.
Dramatic Rosewood Balayage
  @hairgoddesskat
This dramatic rosewood balayage is different than your typical balayage. "This is the perfect hair color for women who want to have fun with their hair," claims stylist Kathleen Austin of Stockton, CA.
"Use a red shampoo and condition such as Fanola," she notes. "This red color balayage is for women with medium, olive, or deep complexions."
Vibrant Fire Engine Red
@hairbykaseyoh
This vibrant fire engine red is so spicy! Doesn't the bright red color almost look like a wig?