18 Volume-Boosting Haircuts for Older Women With Thin Hair
Textured Crop Hairstyles for Women Over 60 with White Blonde Hair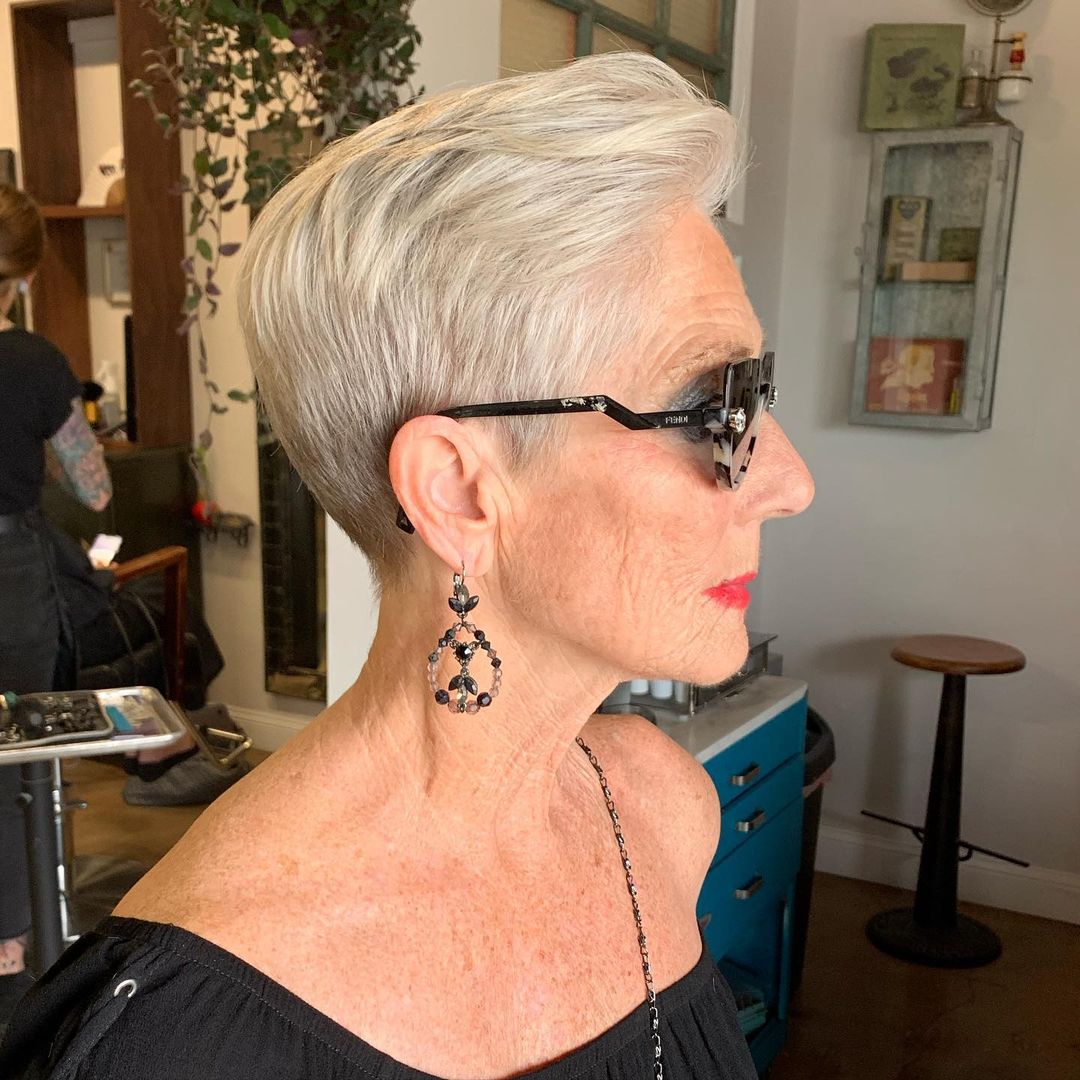 @justindillaha_hair
This textured crop for women over 60 is brimming with sophistication! A textured cut is best haircuts for older women with thin hair. The layers in this short crop create a textured effect. But, when combed towards the back and matched with a white blonde tone, it makes a trendy and sleek style. Keep the hair at the front volumized for an added height and to help the haircut for thin hair look thicker.
Modern Angled Bob Cut for Older Ladies

@silvananeveshair
A modern angled bob haircut for older ladies involves a clean-cut angled around your face and added layers for fullness. A modern bob haircut looks very stylish with side-swept fringe for extra body.
Texturized Choppy Bob for Finer Locks

@chrismaddox_hair
The texturized choppy bob for finer locks has layers that offer a different flair each time you wear it. This short haircut is by stylist Chris Maddox of Greenville, SC. It's ideal if you don't like the same style everyday.
When asked about its styling, Maddox points out that you can use your hands with a dryer. He adds, "A round brush can be used around the part and bang areas to give a bit more volume."
Choppy Pixie on Thin Hair

@soubecas
What's best about a choppy pixie on thin hair is that it freshens the face with its modern style. Beauty therapist Soubecas Ioannis from Greece made this fun, edgy haircut for ladies to try.
"It's suitable for both straight and curly hair, but also all hair types and textures. However, it's not a good idea for very round and full faces," Ioannis states.
The Timeless Pixie Bob for Older Women with Straight Hair

@hair_by_rae.m
The timeless pixie bob haircut never fails to carry out an exciting finish. Short hairstyles like this make a low-maintenance hair idea for a busy, old lady. Whether for a casual or formal event, this straight bob in pixie style can offer an impressive hairstyle.
The Feathered Bob for Thin Hair to Create Thick Hair Illusion

@cabelosfhabioribeiro
The feathered bob hairstyle offers movement that thin tresses typically need. This haircut is jaw-length and features layers to make hair seem flowy, yet fuller. It's a classic look that is best worn by older women.
Graduated Short Bob for Thinning Hair

@chelsea.gilliam.hair
A gorgeous graduated bob for thinning hair looks best on elderly women. This short hairstyle offers a chic and edgy style. It even features side-swept bangs for an added youthful vibe. A short bob like this is easy to style, yet maintenance could be a bit demanding.
The Cute and Classic Wash-and-Go Short Layered Cut

@hair_tezy
The classic wash-and-wear layered cut is something that every grandma must try. This layered bob is always cute, flattering, plus it never goes out of style. The length that touches the jawline in this wash-and-wear cut is perfect because it allows fine, thin hair to appear thicker.
The Lob for Thin Medium-Length Hair

@rosarioabsoluta
The lob for thin, medium-length hair is optimal for older ladies. It's easy to grow out and looks great during the process. You will love how versatile it is, too. Textured? Sleek? Wavy? You can even part it to one side to look like a long asymmetrical bob. The options to style this mid-length hair are endless. Plus, hair styles and cuts like this create an illusion of thick hair that women with thin locks will love.
The Layered Cut for Thin Long Hair

@hairby_vix
A layered cut for thin long hair looks very boho with long layers with fringe. The layers are ideal to give straight hair some movement and slight body. This layered haircut was created by hairstylist Victoria Hernandez of Bettendorf, IA. "It's nothing too crazy but enough to give the hair volume & life. This haircut for thin hair is definitely low-maintenance," says Hernandez.
Great for long hairstyles are loose waves that can last for days! When it comes to styling hairstyles for thin hair, she suggests, "you can't go wrong with a plumper hair spray to give it some volume & finish this style with dry texture spray!"
Face-Framing Cut for Older Women with Glasses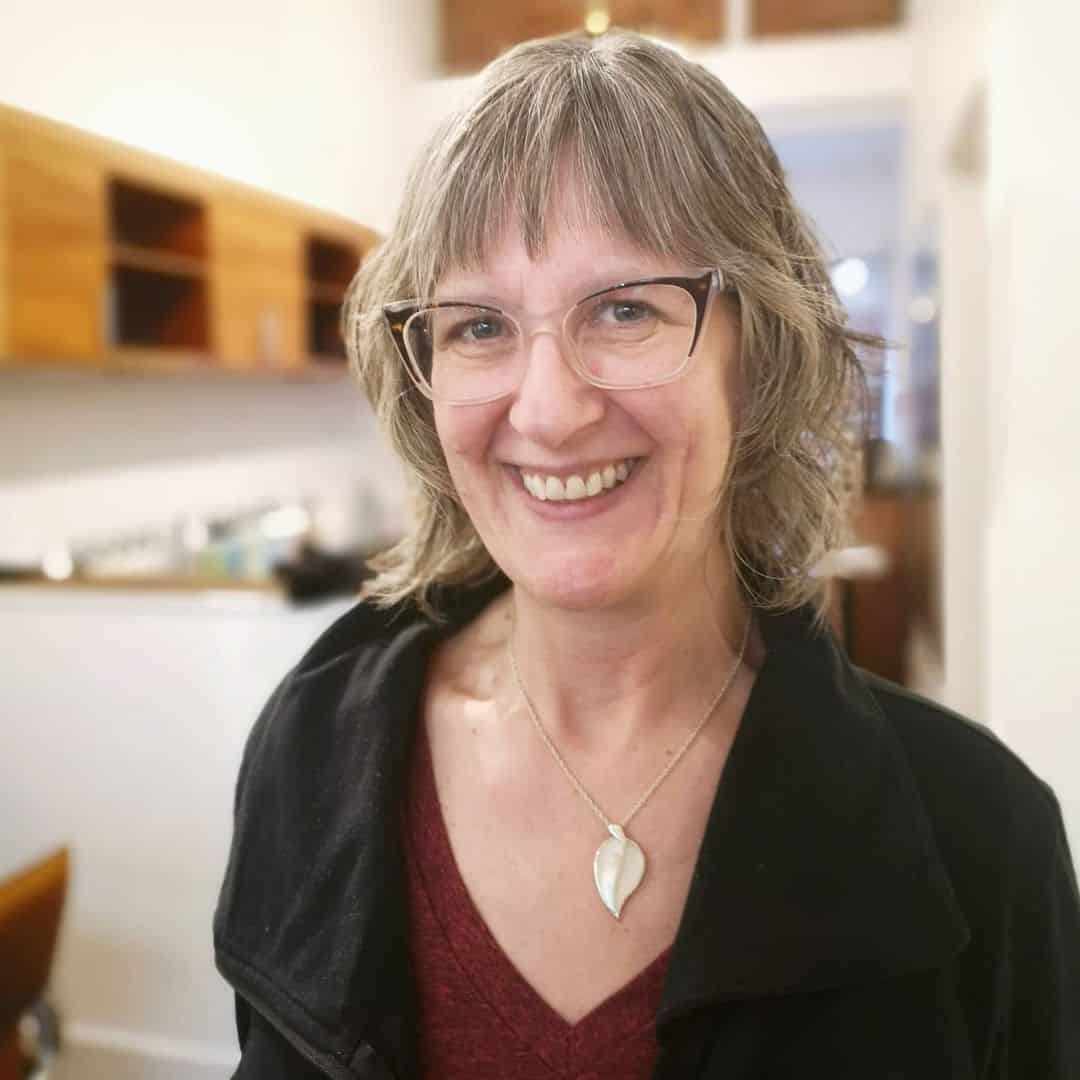 @coiffs.by.khadija
This face-framing cut for women with glasses was created by hairstylist Khadija Jaii of Victoria, BC. "It's is a shag bob with piecey bangs," she explains.
This cut is perfect for women looking for a low-maintenance haircut and style. It grows out very soft because of all the layers and weight removal throughout and in the bangs. Effortless thin hair haircuts work best on women with a bit of movement in their hair – wavy to loose curls.
This cut is also great for fine or thin hair, says Jaii. "The above the shoulder-length doesn't weigh down the hair, and the layers create lots of volume. The bangs also defuse the part, which means that less scalp would show."
Layered Long Pixie for Women Over 70 with Thin Hair

@nikkilarmer.beauty
A layered long pixie for women over 70 is the best option for seniors who want their thin locks to have a fuller looking hair. Maintaining the shape and beauty of the best haircuts for thin hair requires a regular trim every 4 to 6 weeks. Go, add a honey blonde hue to give such short haircuts for women extra wow factor.
Short Shag for Women Over 50

@juliet_stylist292_
A short shag for women over 50 is a great way to get natural-looking texture. It has a feathering effect plus wispy bangs that make one of the best hairstyles for women over 50. Shag haircuts for older women are easy to style and low-maintenance. For middle-aged women wanting to get natural-looking texture that looks sassy, ask for the razor cut technique.
Shaggy Bob with Bangs for Round Faces

@hairbylizgraibe
This shaggy bob with bangs for round faces includes a fringe to hide the wrinkles on the forehead easily! It offers an appearance that looks like the French bob. Getting older doesn't mean wearing a lifeless hair style. Mature women with a round face shape appear promising in chin-length bobs like this. The copper hair color and that wavy hair texture are sure to look youthful on them. They have the best vibe and personality that's suitable for this modern shaggy cut.
Texturized Cut for Thin Curly Hair

@lucindaelleryconsultancy
Consider getting a texturized cut if you have thin curly hair, which older women tend to not think about. What's great about this short curly hair trend is it looks voluminous and bouncy. If you're a lady with thinner hair who doesn't have much time for styling, give this curly hairstyle a try! It works for both natural hair texture or permed hair.
Sassy Texturized Bob for Fine Hair

@hair_by_rae.m
A sassy texturized bob for fine hair can look incredible. Growing older, it's not easy to prevent thinning tresses, and that's normal. So, when wanting to make the hair appear fuller, go for a short haircut with a lot of texture. Ask for a razor cut technique for more detailed edges, too!
Modern Wedge Cut with a Side Fringe for Senior Women

@soubecas
A modern wedge cut is a short-length bob with layers that adds more body to the hair. It has a classic, retro-style finish that flatters older ladies with grey hair. To give hairstyles for seniors with thin hair a younger-looking style, add a side fringe and a deep side part.
The Short Pixie Cut for Thin-Haired Older Women with Gray Hair Color

@hair_by_rae.m
A short pixie cut is a popular haircut among mature women with gray hair. It's shorter in the back so that a breeze can be felt on the nape area. In pixie cuts like this, strands at the front are longer to give access to a side-swept fringe. In the end, how can you say no to trendy, sassy, and glamorous hairstyles for older women?