28 Cute & Easy Updos for Long Hair You Have to See!
Braided Messy Side Bun
@km.hmuartistry
It's a fun textured and tousled hair that's perfect for bridesmaids! This side-do is sure to hold well and look pretty all day.
Braided Updo
@hairbycharr_
Who doesn't love playing around with different styles? This mix of French braids and a twisted low bun adored with a cute floral crown is melting our hearts.
Sleek Braided Low Bun
@marlolynn
If you wanna go simple and easy, these side braids put into a messy low bun are the best option. You can just top it off with a gorgeous hair band for a look fit for royalty!
Naturally Curly Updo
@brooklyncardenas
Fall in love with this super gorgeous curl updo for long hair! The amazing texture is made possible by using anti-frizz products.
Milkmaid Braids
@beautyrushdhairmakeupco
This style is an exquisite mix of French and Dutch braids that finishes neatly and wonderfully! Totally hair goals!
Inspiration for Wedding Updos
@blushandbangsbeauty
Unmistakably beautiful styles for an unforgettable day. Let your face glow by putting your hair in a bun that can be accessorized and styled in the most refined way possible.
Bouffant Updo
@lau.baker_
This one's a beehive hairstyle with a lot of twists! Ideal for days and occasions when you wanna glam up!
Crown Dutch Braid Updo
@studiobraids
Don't you love how the contrasting dark and light tones take this exceptional updo hairstyle to the next level?! This infinite-looking hair tiara will save you on days when you don't feel like washing your hair.
French Braid Updo
@letitbraid
This one features two classic loose and big braids that easily joins into a beautiful low bun. It one of the most elegant updos for long hair that is so perfect for summer or any formal event!
Cute Updo for Black Women
@thereallialovee
Show off your natural beauty with this effortless messy 'do! All you need is a hair tie and some curl defining product, and you'll surely get the best texture and definition for your locks!
Sock Bun
@trulyginger
Every girl should know how to do this really cute and easy hairstyle! With the help of a hair donut, you can get a voluminous and clean look!
Simple French Twist Updo
@kononova_stylist
Q&A with style creator, Anna Kononova
Hairstylist & Makeup Artist in Vladivostok, Russia
How would you describe this look?
The French twist is my favorite updo for long hair. It's a very simple but equally elegant updo that will stay stylish and up-to-date at all times. The most stunning thing about this hairstyle – it's flexibility. I mean you can style this way any type of the hair – shoulder-length or waist-length hair – just varying how tight you roll it. This hairstyle suits also perfect for any occasion, be it a romantic dinner for two or any grand affair. You can style the hair more formally by adding some straight lines, or more romantically – you need just curl some hair locks and decorate the updo with jewelry or flowers.
Any advice for someone considering it?
To create this hairstyle, I only used a hair straightener and a gaufre styler to fill the hair with volume. As to products, I used OSIS silk shine cream to make hair straighter and shinier and also to texturize locks. I also applied OSIS extreme hold hairspray to fix the hairstyle. Please mind, that you've to use any hairspray in short bursts and apply it from a distance to make it invisible.
Perfect Braided Chignon for Prom
@heatherhairandbridalstylist
We're loving this messy hair that combines twists, braids, and a cute bun all together! It gives a soft yet sophisticated vibe that's perfect for a glam night.
Q&A with style creator, Heather Schmick
Hairstylist @ Heather Schmick Hair and Bridal Stylist in Spokane, WA
---
How would you describe this look?
This long hair updo is all about being lived in and bohemian. It's messy yet polished and looks amazing if dressed up or down – its versatility is why it's one of my favorites!
Any advice for someone considering it?
This look is all about being lived in, carefree, and relaxed yet stunning. It can be worn on almost all hair types but is best on medium to long hair and really doesn't require much backcombing or volume.
To achieve this look start by securing the top back with an elastic or bobby pin leaving the hair by your ears out and down. Then take the remaining hair in the back and separate it into 2 or 3 twists and secure with an elastic. Take the twists and wrap them up into a bun-pinning with bobby pins to secure. Take on side by your hair and braid the section pinning it across the bun, then take the other side and twist it back over the bun. To make it a softer style drape the side pieces of hair over the ears and leave some whispies out around the face. Volume spray, texture spray, and a finishing spray are really all you will need! But curling the hair with a wand or iron is a plus. Have fun creating this fun and beautiful look!
Messy Updo
@moonlightbraids
Q&A with style creator, Alina Aarnio
Hairstylist in Tampere, Finland
---
How would you describe this look?
This look is timeless and elegant. The best thing about it is how long it lasted. I did it in the morning and this picture was taken in the evening. It lasted the whole day perfectly!
Any advice for someone considering it?
If you don't have much time, you can do overnight curls, spray some hairspray and just pin them up as I did. This was such an effortless look to do! You don't even need more than a bit over shoulder length hair to do it.
Infinity Knot Bun
@schneeweisschen_rowe
Q&A with style creator, Selina Zeller
Nutrition Student in Bern, Switzerland
---
How would you describe this look?
This is one of the best updos for long hair for a day to night style. That's how I wear it. I usually wear a 3 strand braid over the day and if I have a special event in the evening I can take the braid and twist it in a bun. On this picture, I wear a lazy wrap bun – a wonderful bun and hold so well. You can use any hair accessories you prefer.
Any advice for someone considering it?
This hairstyle is perfect for everyone how has chest length hair or longer, so you can braid enough to wrap it up. I would recommend an invisible hair tie at the end of your tips. Braid as long as it is possible because the hair tassel has to hide under the bun.
With my experience, braiding is much easier without freshly washed hair, so I do this updo on the second day. It looks elegant and more complicated than it really is. Perfect for beginners.
Vintage Updo
@maggiesbridalhair
Q&A with style creator, Maggie Langdon
Hairstylist / Bridal Hair Specialist @ Landis Aveda Salon in Salt Lake City, UT
---
How would you describe this look?
This hairstyle is a vintage glamour low bun with texture and pin curls. The cutest thing about it is the design of the pin curls on the side and that it is guaranteed to stay looking polished all day for photos!
Any advice for someone considering it?
You need to take the time to find the right stylist to do it. Getting a hair consultation prior to the actual appointment helps to make sure the clients show up knowing what to expect and the stylist is prepared. Products for this hairstyle are gel and definitely a lot of hairspray and bobby pins.
Gorgeous Messy Fishtail Updo
@bridevibesandbalayage
Q&A with style creator, Jenna Carrano
Senior Stylist @ S Salon by Salvatore in Shelton, CT
---
How would you describe this look?
I like to think of this look as "polished texture". It has definition and movement that catch your eye yet still has smoothness and simplicity in the bun! The greatest part is the added detail of the French fishtail because most people ask to incorporate a traditional French braid. The fishtail is a beautiful alternative that doesn't get enough credit!
Any advice for someone considering it?
Have your hair blown out the day before to prep for smoothness and volume, as this style does not require curling beforehand. Because of the braid, this is not a super loose style so be prepared to see your hair pulled a little tighter into place. Always ask for pieces to be left out around your face for balance against this tighter look!
Long Updo Hair with Fishtail Braids
@hairbysaretta
Q&A with style creator, Saretta Bowerman
Owner / Stylist @ Blue Water Salon in Naples, FL
---
How would you describe this look?
This look is a classic romantic low updo with a Dutch fishtail braid accent. Romantic style updos are ideal for special events like weddings, proms, and big fancy galas.
Any advice for someone considering it?
To wear this look for a wedding or special event, I would advise that your hair be at least shoulder length. If it is not, consider getting clip-in extensions or use a hair pad for the day off to create fullness.
Cute updos for long hair using a Fishtail show up best on hair that has dimensional color, so if you don't have that already, consider getting highlights or lowlights. Your stylist will need a curling iron, a good setting spray, a texture spray, a finishing hairspray, and lots of bobby pins.
Boho Braided Headband
@emily.blanche.hair
When looking for easy updos for long hair, this Coachella inspired braid crown is the way to go.
Stunning Long Hair in an Easy Updo
@beautybyliujanice
Q&A with style creator, Liu Janice
Freelance Hairstylist & Makeup Services @ in Jakarta, Indonesia
---
How would you describe this look?
This look is one of many easy long hair updos tied lower near the nape that people can try when it comes to attending a wedding party or a graduation ceremony (especially in Jakarta, Indonesia).
This low updo is not too messy and not too stiff, but still neat. Since most of my clients have black or dark brown hair, there isn't much visual texture in many updo styles. This particular updo does show off texture in dark hair and enhances the total look.
Choosing this type of textured low bun like in the photo is a great choice if you have a darker hair color because it adds a little bit of "extra" instead of doing a full chignon low bun. The textured pattern of this look will add a more natural look to the low bun and sometimes, there is no need to use any hairpieces to accentuate this hair.
Any advice for someone considering it?
Try to be very gentle when twisting the long hair for the low bun since the style needs to be kind of messy but still neat. Be very light handed and, of course, pin the hair to the bun with a bobby pin or hairpin tightly to prevent it from falling. To create this look, you need a strong aerosol hairspray, bobby pins, hairpins, a donut bun.
Updos like this work best with hair that is medium to long in length. Any hair types can wear it, but styling is easier when the hair is not too loose and not too stiff.
The hairstyle is suitable for a mature woman that prefers a neat (but not stiff) hairstyle who is attending a wedding party or her daughter or son's graduation ceremony. The impressions from this look are simple but glam, neat with a little touch of messy, and very romantic.
Simple Classic Chignon
@inaroahmad
Q&A with style creator, Ahmad Inaro
Makeup Artist & Hairstylist @ in Jakarta, Indonesia
---
How would you describe this look?
This is one of my favorite updos, and I call it the simple classic chignon. I love this look because it is very simple but looks elegant. It is perfect for a special wedding day.
Any advice for someone considering it?
To get this look, the most important thing is to make a perfectly sleek low ponytail, then make it into a chignon without using too many bobby pins. I suggest using an extra hold hairspray.
This look is perfect for someone who has a thick and long hair, and especially great for someone who has dark hair. This look will show others your personality and lifestyle.
Low Bun Updo
@krystlewaiviohair
Q&A with style creator, Krystle Waivio
Licensed Cosmetologist / Bridal Hair Specialist @ Krystle Waivio Hair in Grand Rapids, MI
---
How would you describe this look?
This is a lived-in but put together low bun updo. My favorite thing about this look is that it looks so easy, breezy, and simple. Fancy buns are popular for most occasions, especially if you are wanting to show accessories as well.
Any advice for someone considering it?
Something to always think about with updos is the client's hair color. This updo works great with dimensional color that shows off movement and texture.
This style was created on medium-length hair with layers. Using a texture spray and volumizing powder will help give volume and whimsy! If the client prefers updos that are a little more put together, pinning wispy ends into the low bun will do the trick.
Romantic Long Loose Updo
@makeup_nadjaboll
Q&A with style creator, Nadja Boll
Make-up Aartist & Hairstylist @ Makeup Artist & Hairstylist Nadja Boll in Vorarlberg, Austria
---
How would you describe this look?
My intention was to create a romantic and loose updo. It's one of my favorite hairstyles to create. I love that it's a quick and playful hairstyle with a touch of an undone look. Messy updos can provide a little unique twist from the traditional sleek and straight ones.
Any advice for someone considering it?
This undone look is both modern and trendy. It is very elegant, stylish, and versatile and could be worn by a bridesmaid or even to a prom.
This kind of hairstyle is recommended for a client with full hair. A big curler, a texture spray, and volume powder are the base products for this style. This look is perfect for all face shapes because you can change the styling in front to flatter specific features.
Romantic & Tousled
@diannejoiealcantara
Q&A with style creator, Dianne Joie Alcantara
Freelance Hairstylist in Baguio City, Philippines
---
How would you describe this look?
I would describe it as a romantic and tousled bridal updo on long hair. It is accented with a makeshift clip to give it a little more bling.
My favorite part about this look is that it's not a very complicated hairstyle to create. Most lengths of hair, aside from the extremely short and the extremely long and voluminous hair, can achieve this look.
Any advice for someone considering it?
I recommend this look for a client who is very sweet, very romantic, and optimistic. It is ideal for someone who isn't very concerned if the entirety of her face is unobstructed as the hairstyle has a very clean front.
Prior to the wedding day itself, I advise my clients not to use any moisturizing products or any product that will make their hair greasy, limp, or lifeless. It's shocking to know that as a hairstylist, I actually prefer hair on the dry side. The heat styling will last much longer and the products I use will eventually round out the dryness that their hair had.
When it comes to length, I usually tell my clients to grow out their hair past their shoulders or cut it if their hair is too long. If you have dark brown to black hair, I recommend coloring it a bit lighter to complement your skin tones. Just to a medium brown or lighter brown, nothing too vibrant such as reds or pinks.
Prior to wearing this updo, just take care your hair. Don't let it dry out too much, but don't use too much oil or moisture.
Easy Casual Updo
@kapsalonploegmakers
Q&A with style creator, Lobke Martens
Stylist @ Kapsalon Ploegmakers in Schaijk, Netherlands
---
How would you describe this look?
This is an easygoing updo for everyday wear. I love the simplicity of this look because women can do it by themselves and look good in less time.
Any advice for someone considering it?
If you want this look, use Redken Windblown to get that full effect on your knot along with a little help from Redken Powder Grip at your roots.
Sophisticated Low Bun
@roslynn.hairdo
Q&A with style creator, Roslynn Viandra
Freelance Hairstylist in Jakarta, Indonesia
---
How would you describe this look?
I think this look is effortless, sophisticated and classic. My favorite thing about this look is how I twisted the ponytail until it become a bun. It's so easy!
Any advice for someone considering it?
Don't forget to use hairnet (if you want it to be more sleek) to secure the ponytail first, then twist until it becomes the shape you want. You can also use a matte wax for the upper section. If you want the look to be more messy, you don't need hairnet.
Clients who have thin hair are perfect for this look. The thicker a person's hair is, the more difficult it is to do the twisted part.
Clients with a small face and a v-shaped jawline are ideal for this look. You can wear this hairstyle in the office, at meetings, or even for a wedding event.
The Messy Bun
@christinasabounjianhair
Q&A with style creator, Christina Sabounjian
Freelance Stylist / Owner @ Christina Sabounjian Hair in Sydney, NSW
---
How would you describe this look and what is your favorite thing about it?
This is one of my favorite looks, and I call it the messy bun. It's an easy way to put your hair up.
What I love most about this style is that it's so versatile. It dresses up any look instantly! It's sophisticated and elegant without being over the top, but also fun and glam at the same time. It gives just a little bit of red carpet flare.
What tips or products do you recommend to recreate this look?
The key product to create this style is something with texture and Hold. For upstyling, there has to be some grit to the hair so it's a lot easier to work with. If it's too soft and clean. the style won't hold.
On this look, I used Wella Professional EIMI Dry Shampoo to prep the hair, then I curled it using my GHD platinum. As I was styling each section, I used Schwarzkopf osis + Dust It. We finished off with my favorite product, Goldwell Hair Fix Strong hairspray.
The best tip I can give for doing upstyles is don't over think. Go with what you're feeling and feel the flow, that's how you'll achieve the best style.
What type of client would you recommend this look for?
I find this look suits most clients! It's that kind of style that is chic and effortless. Most women with all shapes and sizes will do well with this style. Having those pieces around the front of the hair softens the face up. You can also vary with volume for someone with a smaller frame and so on.
It is ideal to have medium to long length hair for this.
Crown Braid for Bridesmaids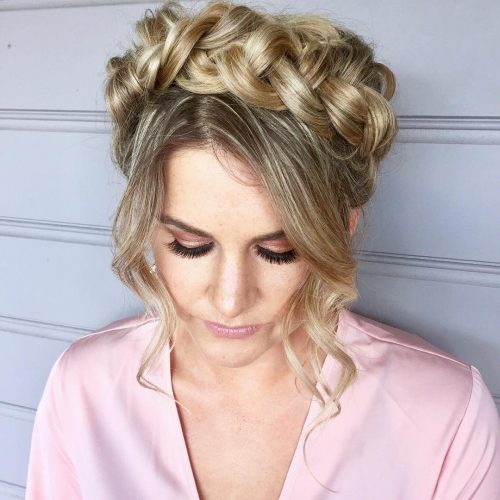 @deelushhair
Q&A with style creator, Danielle Sainty
Freelance Hairstylist @ Deelush Hair in Sydney, AU
---
How would you describe this look and what is your favorite thing about it?
I would describe this look as a crown of braids. The look is very boho chic, and I love the way the braids are the star of this look. Adding in face-framing curls keeps the whole look relaxed and soft.
What tips or products do you recommend to recreate this look?
I started by blow drying the hair smooth with a liquid texture spray to add some grip the hair.
I then divided the hair in half, braiding one section from the back to the front of the head in a Dutch braid or "inside-out braid". Have the client tilt their head forward so you get the right angle while braiding and remember to keep moving around the client to keep the braid close to the head. Leave some hair out around the face.
Repeat with the other side, then spray in a little dry texture spray or light hairspray. Pinch and pull the braid sections to pancake out the braid to make it bigger and fuller looking. Stack the braids across each other to create a crown and secure with pins.
Curls the hair left out away from the face with a large curling tong. Finish with a light spray of hairspray.
What type of client would you recommend this look for?
This style of updos is perfect for brides/bridesmaids in a country wedding, or for the "Bridechilla". You can also add in some flowers or colored hair extensions to be music festival ready. This look is great for warmer days to keep the hair off the neck. This look also suits all face shapes.