The 15 Most Flattering Short Hairstyles for Thick Hair
Versatile Textured Short Pixie Cut for Thick Hair
@luigi_monte
Q&A with style creator, Luigi Altomonte
Hairstylist / Barber / Co-owner @ Fratelli Hair Salon in Cambridge, Cambridgeshire
How would you describe this?
This short pixie cut for thick hair has it all with short sharp edges and lots of internal texture. The short cut starts shorter at the top/back, increasing in length to the front. The shorter sides are clipped with a grade 1 at the hairline.
What's your best advice?
Super short hairstyles for thick hair are not for the faint-hearted, you need to be ready to go this short.
You have to be someone who likes to style their hair because pixie haircuts look better styled. Matte waxes and texture sprays work really well with these shapes. This choppy pixie cut is very versatile and can be shaped in many ways.
Blushing Rose Gold Angled Bob for Thicker Hair
@michelle.zapanta
Opt for a blushing rose gold angled bob for thicker hair to have a fun color and easy-to-style cut. Stylist Michelle Zapanta of California is the one behind this hair idea.
"This is a balayage and baby light combo with a root smudge for a more bold and blended effect. The color, if done right, will usually fade back to a nice blonde. The darker the rose gold is, the longer it will last," Zapanta explains.
Trendy Inverted Bob for Thick Hair
@_elena_bn_
A trendy inverted bob for thick hair is ideal for women who want a short length. For women with thicker hair, who are wanting shorter hair, try a short inverted bob. It's shorter at the nape and gradually and seamlessly gets longer at the top as it angles down to the chin. When styling smooth out using a blowdryer and boar bristle brush.
Short Thick Chin-Length Bob With Edgy Flair
 @pati.rodrigz
Q&A with style creator, Pati Rodriguez
Matrix Bilingual Artistic Educator / Salon Owner @ Lozanía Studio in Milwaukee, WI
---
How would you describe this?
A classic chin-length bob hairstyle for thicker hair can have an edgy flair with fun colors throughout.
The color conceals the undercut that allows this rockin' asymmetrical bob to really take shape and have a lot of movement.
What's your best advice?
This is a great short hairstyle for thick coarse hair. If you're looking to go short, the undercut removes a lot of unnecessary bulk. Any face shape can wear this thick short haircut as the area around the face is left longer and can be customized to their preference.
This is a perfect cut for ladies who have a busy lifestyle. The undercut will give you more wearability and longevity between haircuts. You can even add designs to your undercut!
Muted Edge Short Bob for Thick Hair
@shear_envytupelo
Q&A with style creator, Amber Moyer
Owner @ Shear Envy Salon in Tupelo, MS
---
How would you describe this?
This short choppy bob for thick hair cut is a Muted edge. Muted tones of this color really accentuate the haircut! It's soft, edgy, and fashion-forward hairstyle for thick frizzy hair.
What's your best advice?
There are so many factors to consider when choosing a haircut that will suit you. If you have extremely thick hair and your face shape is round, then get your hair lightly layered throughout and created invisible layers underneath. Also, consider opting for a slight taper around your face to show off your cheekbones! The muted edge is ideal for women with thick hair.
Shattered & Unstructured Wavy Bob for Thick Hair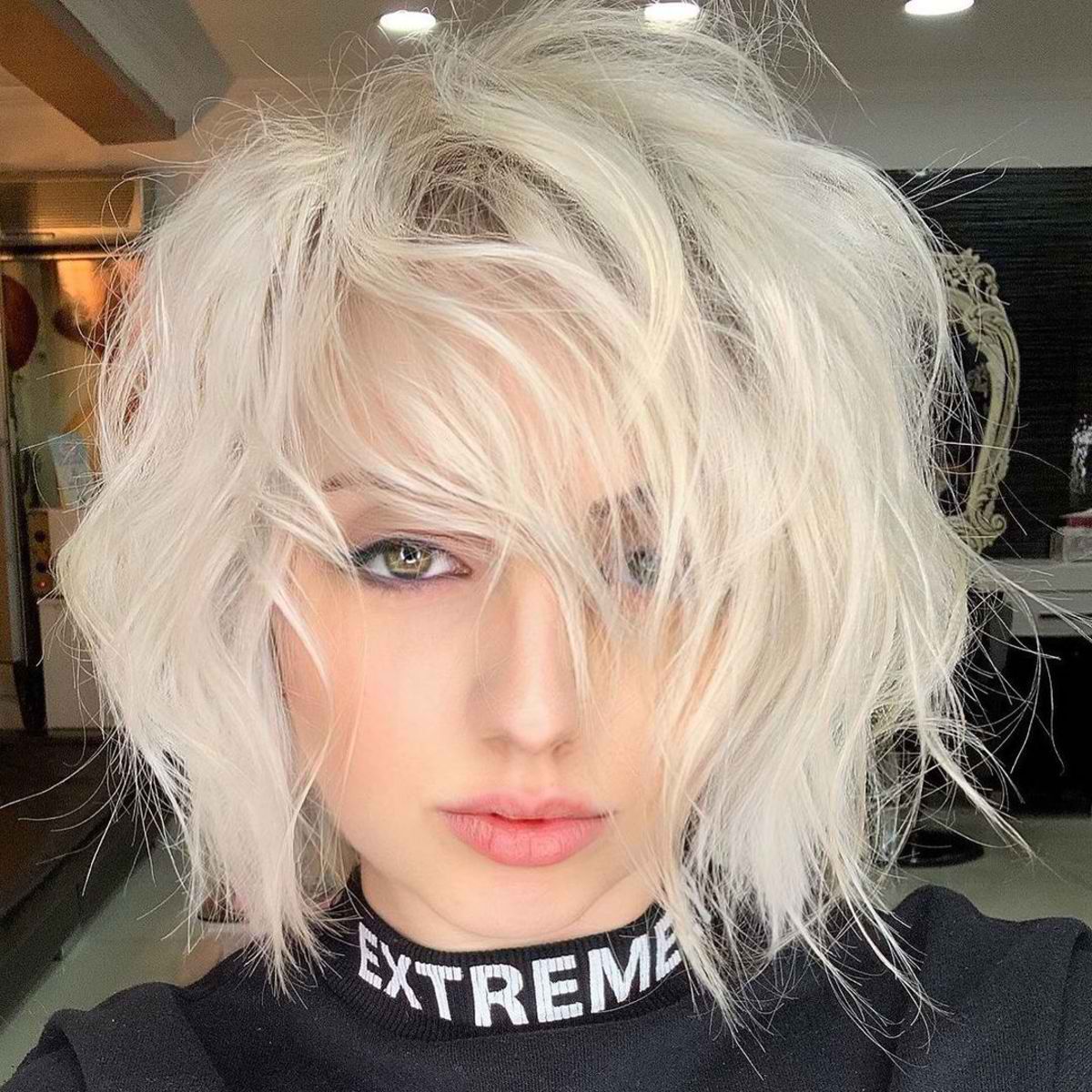 @ayhanonluel
A shattered & unstructured wavy bob for thick hair is a gorgeous hairstyle for short thick hair that needs a tone of texture and weight removal. Using a razor and texture sheets for a short bob haircut for thick wavy hair will work wonders. Use a styling wand to create soft waves and root lift for volume. Finish with hairspray and maybe a little texture paste to piece out the ends more and you'll end up with one of the best hairstyles for thick hair.
Chic Textured Pixie Bob for Short Thick Hair
 @pnwhairstylist
Q&A with style creator, Brenna Torres
Hairstylist @ Elle Marie Hair Studio in Lynnwood, WA
---
How would you describe this?
This short haircut is a chic textured pixie bob for women with thick hair.
There is a lot of dimensions, even with a shorter cut.
What's your best advice?
Know how your hair lies. If you have a lot of strong cowlicks, thinning hair, or a strong part that is hard to change, this cut may not be the one for you.
When it comes to chic short layered hairstyles for thick hair like this, there is so much versatility, so play and have fun with it. Consider styling with spray wax and a straightener. Your options on parting it, styling tools, or products are endless.
Thick Short Bob with Bangs
@28strands
A thick short bob with bangs is the go-to hairstyle if you seek to keep fullness in your hair. Short haircuts for thick hair are a wonderful way to maintain density, adding in layers and texturizing throughout the hair removes some of the bulkiness and creates effortless movement.
Playful Auburn Wavy LOB for Thick Hair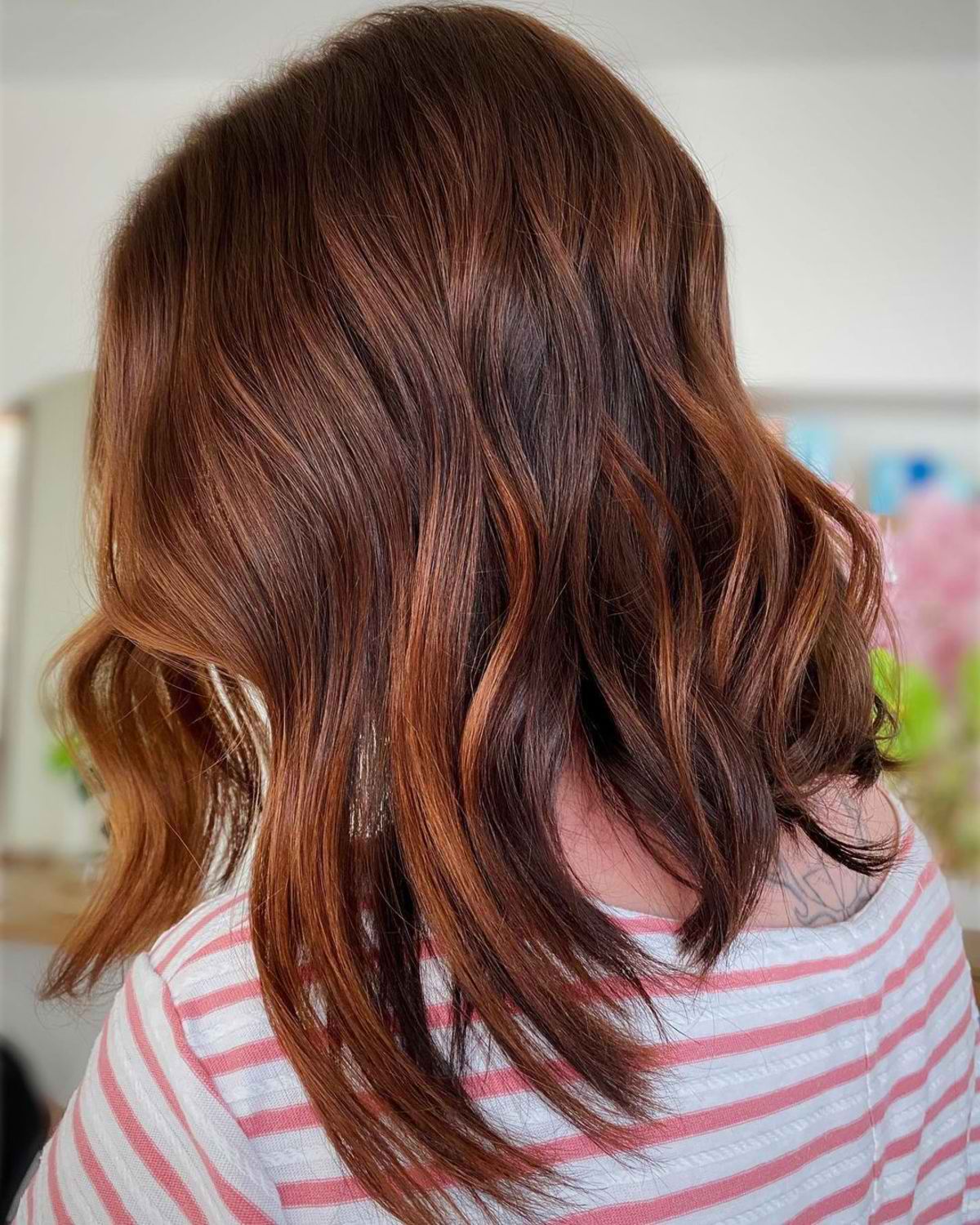 @hairbynicolereyns
A playful auburn wavy lob for thick hair typically hits around the shoulders in the front and over-directs to a shorter length in the back. A lob for thick short hair will add texture to the ends and create piecey movement unless you want your ends to be thick and full. But for more bounce and lightness, ask for more texture and weight removal through the ends.
Disconnected Long Pixie for Short Thick Hair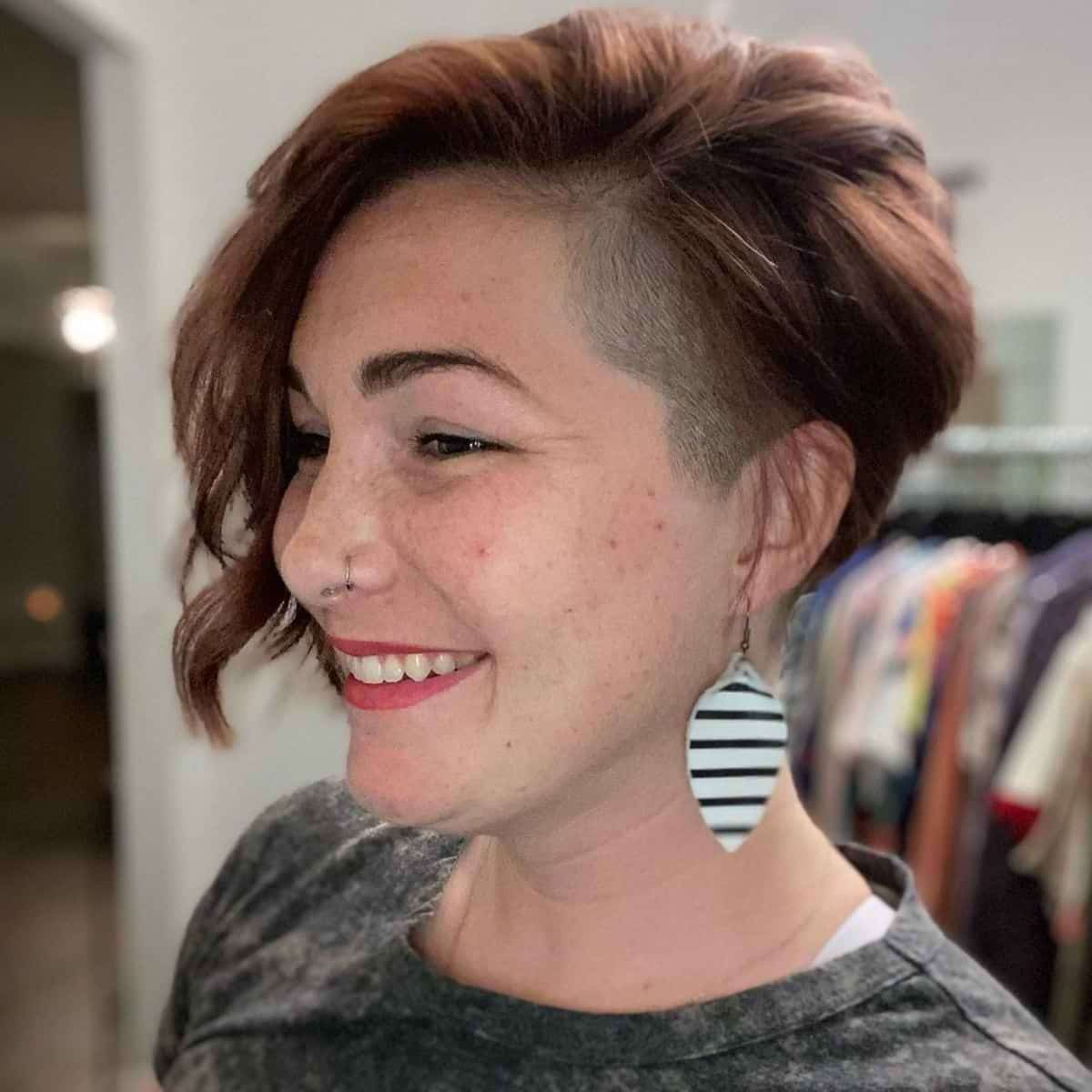 @imsimplyjessy
A disconnected long pixie for short thick hair is a great way to rock a shorter style. Ask your stylist to do an undercut around the sides and nape and create a disconnected pixie with the length covering the occipital bone for fullness and a beautiful shape. Getting rid of that bulk is great when opting for a short cut for thick hair.
Short Textured Stacked Bob with Side Bangs
 @hair.by.craig_parkinson
Q&A with style creator, Craig Parkinson
Freelance Hairstylist / Barber @ Mane Hairdressing in South Yorkshire, UK
---
How would you describe this?
This amazing haircut is a short, textured bob for thick hair with side bangs. If you have thick hair, then this is the perfect hair type to showcase your incredible shape.
This short haircut with bangs shows how much texture and volume you can achieve with it.
What's your best advice?
If you have the perfect oval face shape, you can experiment with many different styles! Short thick haircuts can be flattering for most face shapes.
The best way to achieve thick short hairstyles would be to blow dry the hair with a heat protecting spray. Use a large to a medium round brush. Smooth it with a flat iron and finish with a texturizing or salt spray.
Short Pixie with Long Bangs for Thicker Hair
 @jo_gallagher
Q&A with style creator, Joanne (Argeras) Gallagher
Hairstylist @ Bumble and Bumble in New York, NY
---
How would you describe this?
A short pixie with long bangs for thick hair should have movement by getting a razor cut. This will remove weight while cutting a soft line.
For this cute short hairstyle for thick straight hair, use a broad stroke all over and weight removal through the top.
The length on top is slightly longer and disconnected so depending on the products used, the style can completely change. The softness around the edges that keep it looking feminine.
What's your best advice?
Leaving more length on top can be slightly more forgiving and extend the life of short cuts for girls with thick hair.
Thick short haircuts like this one in particular works on pretty much any face shape and hair texture because of how soft it is.
Playful Copper Layered Bob for Short Thick Hair
 @leaht.hair
Q&A with style creator, Leah Williams
Hairstyling Apprentice @ Jerome Salon in Calgary, AB
---
How would you describe this?
This playful short layered bob haircut for thick hair has layers that quite short. Adding short layers benefits women with short thick hair by removing excess weight and creating movement.
This versatile shape makes it easy to style at home. Short thick hairstyles can look sleek and professional when styled straight or blown out with a round brush.
What's your best advice?
A short layered bob can be well executed on a variety of hair types, but this particular cut was designed for thick hair. The layering is pretty extreme, which makes your hair much more manageable and so much lighter! It's one of those ideal short hairstyles for women with thick hair.
Short Ear-Length Pixie Cut for Thick Hair
 @lisaminthair
Q&A with style creator, Lisa Smith
Owner and Stylist @ Mint Hair Lounge in Port Moody, BC
---
How would you describe this?
A short, ear-length pixie cut is a great cut for women looking for a short hairstyle for thick hair.
This wavy pixie has a structure in the cut that enables it to hold its shape until you need a trim.
What's your best advice?
Ear-length short hairstyle for thick hair can suit older women as well as younger. If you like your hair sleek and sophisticated, this cut lays down smoothly. For the woman that likes texture and fun, you can easily put in a few curls and a texture spray to give it height and volume.
Pixie Undercut for Short Hair That's Thick
@emmalee.studios
A pixie undercut for short hair that's thick is ideal for removing extra bulk. Utah-based stylist Emma Favero has been doing haircuts for thick hair, and this is one of them!
"We did a clipper fade on the sides and point-cutting and texturing on the top. The back is shorter than the front. We also did a slight hard part on the left," explains Favero.
Such a short thick haircut flatters the neck and jawline. It brings out the best facial features!