40 Perfect Haircuts and Hairstyles for Thick Hair
Asymmetrical Bob with Texture for Thick Hair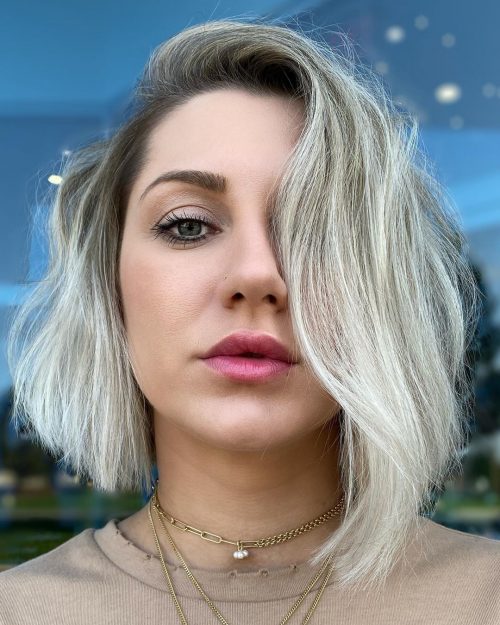 @ambermcmahen
Don't just pull off a common short and thick hairstyle. Take a step up! Rock a deep side-parted, asymmetrical bob with platinum blonde on a dark root. To style thick hair hairstyles like this blunt chop, use minimal texture, and you're good to go.
Modern Wavy Lob for Thicker Hair
@richiemiao
A modern wavy lob for thicker hair is suitable for women with hair that is thick and straight or wavy. The best way to achieve this look is to have a stylist do a lot of texturizing and long layers to remove bulk and weight. It will also make styling a lot easier with a 1 1/4" curling iron.
Thick Choppy Bob Haircut
@kaansayar1
A thick choppy bob haircut can free up your hair from heaviness. Choppy layers work well with thicker hair as they reduce weight. They can even have a movement-enhancing effect on the hair. Most thick-haired ladies tend to avoid bobs due to the density of their hair. However, hairstylists can adapt the techniques used to help make this style wearable for all.
Long Choppy Hair with Bangs for Thick Hair
@themonnikerstudio
If you wanna keep your long thick strands but you're not up to the upkeep it might need, the messy shag with highlights and choppy layers looks great on women with thick hair. It offers a curl texture with tousled locks and great volume throughout your hair and would make your life so much easier.
Low-maintenance haircuts for long thick hair are the way to go to save time and energy styling.
Thick Textured Bob with Waves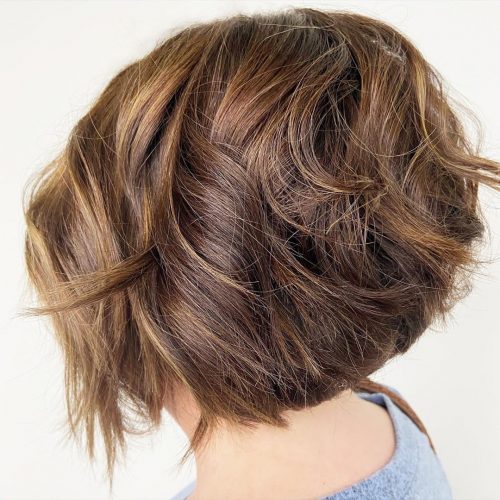 @caylascolorroom
A thick and textured bob is a modern version of a vintage bubble cut. Waves on your short bronde locks create a shape and movement for a much divine appearance of your thick hair styles.
Texturized Shoulder-Length Lob Haircut for Thick Hair
@maurajannetta
This shoulder-length haircut for thick hair is a cross between a lob and an updated shag haircut.
A women's haircut should be easy to style if you embrace your natural texture.
If you're styling haircuts for thick wavy hair, work in sea salt spray and air dry it to bring out the natural waves.
If more volume is desired, blow dry just the roots of this shag for thick hair. Then take a 1-inch curling iron or wand and wrap random sections around it to give the hair some polish and to define the waves.
Best Thick Cut for an Oval Face
@romeufelipe
The best thick cut for an oval face allows for some dimension to the hair with textured layers. These are what bring the face and length some unity. Long hair can drag a face down with added texture and layers, as these create a flow between this space. Layers are a diverse way to add shape and lighten heavy hair, making them one of the best hairstyles for thick hair.
Thick Layered Haircut with Texture
@hair_by_erika_s
Ask for a layered trim from your stylist and leave the chair looking fabulous! This layered hairstyle for thick hair lessens the fullness and thickness of the hair into a more manageable state without removing volume.
Thick Lob Cut with Deep Side Part and Messy Texture
@hairstar86
When a shoulder-grazing lob meets voluminous waves and jagged layers, the result is breathtaking! And, that's evident in this thick and deep side part hair trend in a long messy bob cut. Balayage and babylights do work hand in hand to carry out a nice bronde dimensional illusion in this long thick bob.
The Best Haircut a Round Face and Long Thick Hair
@ricardomaiabsb
The best haircut a round face and long thick hair can have is adding layers to free up some movement and help lift the hair. Women with thicker hair will appreciate the lighter feeling that layers give. Those with a rounder face shape will benefit from the lift and movement, which help elongate the face.
70s Layering with Bangs for Thick Hair
@meaganreitzhair
A '70s layering with bangs for thick hair tends to result in a soft, finer appearance. Think of Brigitte Bardot. Gorgeous and classy, right? Thick haircuts are textured, lived-in, and layered to make the hair appear less poofy. For women considering haircuts for thick tresses and need some sort of style, this is the one.
Side-Swept Thick Wavy Medium Cut
@daniwatermanhair
Smooth vintage waves on your thick locks are one of the best haircut ideas. Having thick hair is a great way to create fancy and wavy hairstyles. If you don't need to add volume to your hair, then this is your look.
To style your thick mane, spray with a really good long-lasting hairspray, put some beautiful make-up on to complement your waves, and you're ready to walk the red carpet!
Perfect Cut for Women Over 60 with Thick Hair
@shearmaiden
Neck-length bobs are the most stylish bob haircuts for women over 60.
White and totally right! This elegant straight natural-colored bob haircut flatters older women with thick tresses out there. It's also easy maintenance, what more can you wish for if your hair is thick?
Easy-to-Wear Haircut for Women over 50 with Thick Hair
@goldsworthyshair
The best haircuts for women over 50 with thick hair are long pixies or pixie bobs.
When it comes to cutting your hair length, less is better if you wanna remove some weight off your thick white hair. A pixie bob for thick hair is easy and fun to wear for older ladies, too!
Blunt Bob for Thick Hair
@acutshair
This cut is a textured bob that's perfect for thick frizzy hair. It has minimal layers to create a heavy look at the bottom, but just enough to give it movement and bounce for girls with much thicker hair.
It's the perfect haircut for girls considering bob haircuts for thick hair!
The Angled Bob for Women with Thick hair
@lagraciacoiffure
The angled bob for women with thick hair is shorter at the back and longer at the front. Hairstyles for thick coarse hair need a lot of undercutting to prevent a bushy look. If you have naturally thick hair, an undercut is a great addition, too!
Soft Layering for Thick Long Hair
@shearstobrooke
This soft layering for thick long hair was created by hairstylist Whitney Henson of Dallas, TX.
"This haircut has no texturizing or weight. Lots of hair was taken out to thin out the thick and healthy hair. For long-length hair, some women would prefer taking off some weight with layers," explains Henson. "Embrace the fullness and simply take the weight out by adding lots of soft layering around the face and long layers through the back."
"When it comes to hairstyles for long thick hair, you have to think about how taking weight out makes it more frizzy if it's not done right," she adds. "Thick layered hair isn't always a struggle when it's done right. Also, it won't hurt to consider some highlights for thick hair to add a bit of radiance."
Face-Framing Cut for Thick Strands
@colourmesue
A face-framing cut for thick strands looks modern and soft. It can accentuate the cheekbones and expose the neck area beautifully. This haircut works best on women with thick strands. This style for thick hair can be straight or wavy, too.
Make sure to go to the right stylist to cut your locks, so you can achieve gorgeous medium hairstyles for thick hair. It has to be well proportioned depending on the face shape and its structure, and seasoned stylists understand this.
Layers with Wispy Bangs for Thick Hair
@alexandrmaslovsky
Choose layers with wispy bangs for thick hair to give soft, weightless movement to your locks. Layers are such a brilliant cut for thick hair, reducing the bulk but also lifting up heavy hair. Wispy bangs add to the flowing layers and bring an element of softness back to the face. They're also super versatile as you can wear them to the side, parted in the center, or as full-on bangs.
Cute Shoulder-Length Haircuts for Thick Hair
@stylesbyame
"Shoulder-length haircuts for thick hair like this are versatile and timeless. A long bob offers the length to showcase thick manes and also removes weight from your hair at the same time," explains hairstylist Ane Putman of Poway, CA.
It's versatile in that it is wearable for almost any woman, especially women with thicker hair.
"The lob haircut for thick hair is really age-appropriate for all women, making it a timeless and classic style that has continued to evolve over the last few decades," states Putman.
"These types of haircuts for thicker hair, try a thermal protectant or primer like Bumble and bumble Hairdressers Invisible Oil Primer to help smooth out the cuticle surface. This will add moisture and all the styling products to coat the outside of the hair shaft to allow for a better blow dry," she adds.
When considering hairstyles for thick wavy hair or a curly look, use a 1 to 1 1/2-inch barrel curling iron.
Bouncy Long Layers for Thick Hair
@mirianmay_
Try bouncy long layers for thick hair to make your locks feel instantly lighter. Layers are a great haircut for ladies with thicker hair as they add movement and bounce. Another great attribute of this technique is the removal of weight from the hair. Keeping your layers long on a thick hairdo allows the weight to be removed from the perimeter and still feel the benefits without being overly layered.
Mid-Length Hairstyle for Thick Hair
@romeufelipe
It's worth it to try this mid-length hairstyle for thick hair. Short cuts can make tresses appear fuller, and this isn't what a dense mane needs. So, a collarbone-length chop is perfect.
Wanna go shorter without letting the hair look bulky? Just choose from one of the trendiest medium-length hairstyles for thick hair! This long bob for thick wavy hair is trendy and versatile—what else is there to look for?
Long Thick Dreadlocks
@amakiya_
Imagine the uniqueness you can manifest with these long thick dreadlocks. Change your hairstyling game, and give your dark brown tresses a new appearance. Wear your sweetest smile and look gorgeous as you pull off this thick, brown hair in a mid-length cut.
Thick Layered Bob on Blonde Hair
@hairbyrebeccalong
For a youthful vibe, dimensional blonde is sure to revamp a shoulder-grazing cut like this. Opt for this thick layered bob with more textured ends, which also removes weight from your hair.
Curly Bob for Thick Frizzy Hair
@sabina.styles
In this neck-length hairstyle, the texture is everything for thick and curly hair! Your thick hair with curls and subtle bangs brings out a new life. Medium hairstyles for thick frizzy hair should run from the chin or slightly past the shoulders to get maximum flow, enhancing its natural texture.
Textured Stacked Bob for Thick Hair
@catkeenam
It's edgy, and you'll be fond of it! Remove the bulkiness from your dense, brown locks by having some graduated layers in a stacked, inverted bob cut. Stacked bobs for thick hair will also help you achieve a round shape at the back of your head.
Naturally Curly Bob for Thick Curly Hair
@curlyonq
Be smart enough to choose the perfect haircut, which can bring the bounciness out of your locks. Go for this naturally curly bob where the ends go around your neckline. Adding a bright blonde hue will boost the lively spirit of your new hair style.
Long Thick Wavy Haircut
@colorbymarina
A long thick wavy haircut is perfect for those who seem to get swamped by their thick tresses. Whether you have a smaller face shape or your hair is just very dense, adding some waves is ideal. They don't only give a bounce but also stop your hair from dragging your facial features down. Try using a straightener to add waves when styling. As thicker hair tends to be heavier, this will ensure the style stays put all day.
Thick Long Shag Haircut with Soft Choppy Layers
@jesssalvagepaints
A thick long shag haircut is sure to make someone look like a darling. The soft shaggy layers bring out a chic and very feminine appearance. The long shag is one of the best hairstyles for thick hair. It offers layers to add volume and movement while thinning out the mid-lengths and ends.
Textured Cut for Very Short Thick Hair
@cabelosfhabioribeiro
This is a textured cut for very short thick hair. It's a commitment to style it each day. The best short haircuts for thick hair are layered and sassy – like this! The layers create a movement and remove weight from tresses.
Layered A-Line Bob for Thick Hair
@hugoalves_h
A layered A-line bob for thick straight hair is a great option when wanting to transform from a long to a short haircut. It's chic and never goes out of style! The added layers are always helpful to ladies with thick hair. It provides body, styling, and lessens the drag of a heavy, thick mane.
Straight Razor Cut Bob for Thick Hair
@hair_by_mollypiller
Try a straight razor-cut bob for thick hair if you want to eliminate bulk. This cut keeps the ends blunt. Razors are great for very thick hair as they still keep structure and shape and soften the edges of a bob. This works well for women who prefer their style a little undone.
Medium-Length Haircut with Bangs for Thick Hair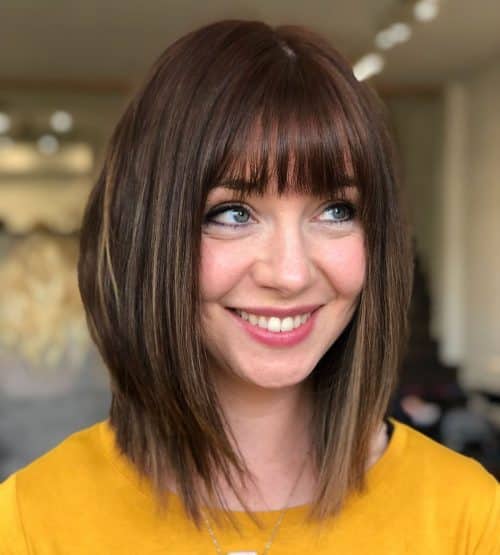 @tanarosehair
This medium-length haircut with bangs is an excellent choice for any density of hair. The chop gives fine tresses a fuller style. The textured ends within medium-length haircuts for thick hair help remove bulkiness.
Collarbone-Length Layered Lob Cut for Thick Hair
@valeurban2.0parrucchieri
An ideal collarbone-length layered cut for thick hair must have finer ends. Thinning out the edges will prevent it from looking bulky. The wavy and middle-parted style also helps the thick hair to have added movement. This layered lob appears more weightless than it is.
Short Pixie Cut with Side-Swept Bangs for Thick Hair
@courtneyxcentrichair
The best short pixie cut for thick hair is here! The nape part is neatly chopped, making it great to feel the breeze on the neck. The hair on top is longer for versatility. Brush them towards the front to form a fringe, or brush them to the back or to the side to create volume.
Side Parted Medium Haircut with Layers for Thick Straight Hair
@nadiafares1
Layers for thick straight hair add extra volume and body without chopping off the length. This long straight hairstyle is ideal for ladies who don't want a dramatic change.
To keep the hair healthy, use a Kérastase's Nutritive Masquintense Thick Hair Mask. It feels softer and can detangle a thick mane. When styling thick hairstyles, use a good moisturizing shampoo and conditioner. Repairative treatments and thermal protection are essentials, too.
Chin-Length Thick Wavy Hair
@leighdoeshair
Rock this chin-length thick wavy hair to achieve an exciting and low-maintenance style, perfect for the summer. The best haircuts for extremely thick hair are textured for added movement. Experience this thick bob hairstyle and show off the density of your mane.
This chin-length thick wavy hair is a loose, wearable graduated bob. It was created by hairstylist Leigh Rieley of Washington, DC. "It can be air dried or blown out and curled. The length falls at the mid-high neck, showing off the jaw line beautifully," says Rieley.
Rieley says it's necessary to carve out lots of negative space so it's easy to style. "Shapes that sit above the shoulder take a bit more convincing in the morning than longer hair. If the hair is too thick, it can become helmet-like.  It's a great cut for women looking to add body and volume to their hair."
Cute Short Layered Cut for Thick Hair
@prissyhippiebeautyshop
Featuring a cute short layered haircut that pairs well with blonde locks! A chic haircut like this on women with dense and unmanageable hair allows the removal of the bulk. This cut has shorter layers to reduce all the weight in thick and frizzy tresses. It's a textured weightless cut that looks awesome on a bright blonde shade, too.
Short Stacked Bob for Thick Hair
@shmoakin_hair
Here's an edgy short stacked bob for thick hair. If your tresses are too dense, get a haircut that has shorter layers to remove some weight. A chop like this can soften the jawline, too. It a great option for square and heart face shapes.
Jaw-Length Bob for Thick Hair
@sergeyshapochka
This jaw-length bob is perfect for women with very thick hair. It's French-inspired and works way better on a straight mane, too. Both the haircut and hairstyle are what will exhibit the fullness of your tresses. Side-swept bangs are added to bring out extra sophistication.