15 Awesome Low Bald Fade Haircuts for Men
For Naturally Curly Haircuts for Men
@universidadedobarbeiro
A wonderful addition to your masterpiece of a hair, the smooth fade provides a warm transition between a full curly top to bare skin.
The Quiff Haircuts For Men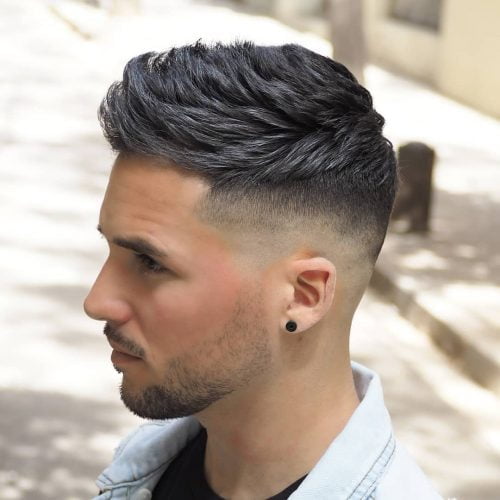 @choppersb
That layered swoosh upwards is the extra that we all need in life.
Awesome Mohawk Haircuts For Men
@3aeed_dehghani
Having shaved sides really puts all eyes on your crazy hair!
Slick Back Long Haircuts for Men
@ahmad_3yesh
When you get those shaved sides for a polished look, having long hair fluffed would be a grand compliment to complete this low bald fade cut.
Short Faux Hawk Haircuts for Men
@thegolden_blade
Party in the front, chill out at the back! Add a few extra inches with a faux hawk fade that's smooth like this.
Short Crew Cut with Bald Fade
@gillythebarber
Try this low bald fade that gives more structure and defines your facial features even more!
With Waves for Black Men
@afrobarberbr
Confirmed 360 waves! Black men blessed with this kind of swag should try this style for the ultimate slick.
Cool Comb Over Haircuts for Men
@slickjameshill
The side part keeps everything professional while the low bald fade style brings a reckless vibe to the table. The right balance that you need.
Low Drop Fade Haircuts for Men
@tufavoritobarber
This is what it looks like when you have been blessed by the fade gods.
Faded Bald Pompadour
@yhea_alhsaneah
At one point you're looking all thick and full, at another, you're wearing that cleaned-up bald low fade. An over-all polished man.
Low Bald Fade with Beard
@salondisalvohairspa
The patella connected to the beard is the bow that wraps ups this low bald fade haircut in a neat package.
Short Afro for Black Men
@cleancutstoronto
Q&A with style creator, Gerson
Barber @ Clean Cuts Barbershop in Toronto, ON
How would you describe this look?
This is an Afro mid-low drop bald fade.
Any advice for someone considering it?
It can be adjusted to many faces and head shapes based on the position the fade is dropped on the occipital bone and the shape built at the side. Use Argan oil and a twist sponge and also a bit holding spray. It can be dressed up or down. It's an active man's haircut, and it's medium maintenance.
Disconnected Undercut with Low Bald Fade
@hungcutshair
Q&A with style creator, Hung Luu
Barber / Stylist @ in New Orleans, LA
---
How would you describe this look?
This is a low bald fade cut with a bunch of short choppy texture on top. It's very easy to wear and style, usually cut to suit the client's head shape. I love the contrast from light to dark. It's chaos within the structure!
Any advice for someone considering it?
For low bald fade haircuts like this, I suggest using any clay on top. Clay is gritty and also dry. Dry hair usually shows of shorter textures super well. This look is great for a more casual carefree lifestyle and very easy to maintain. Just blow dry while scrunching the hair and throw clay in and adjust to your liking. It's a messy style, have fun!
Low Bald Fade + Hard Part Haircuts for Men
@darth_fader_12
Q&A with style creator, Carlos Miguel Chandia
Barber in Las Vegas, NV
---
How would you describe this look?
This look offers satisfaction to those who love both a clean low bald fade hairstyles and some styling freedom up top. My favorite part about this client, in particular, is how the lighter shade of his skin contrasts incredibly with the dark color of his hair. This makes for a fade that can be seen from a mile away.
Any advice for someone considering it?
The secret to styling a combover of any kind or any length is the blow dryer! Most think that the product will put the hair where you want it. While it does help, the real hero in getting your hair to sit/stand right is the blow dryer before the product goes in. I've found recently that most of my clients enjoy a "dry" finish rather than a shine. This calls for a pomade that leaves the hair with a matte look (I prefer ADH Dry) or a powder that helps accentuate texture and leaves the hair looking styled but not shiny (I use Tomb 45 Pure Powder).
Taper Bald Fade Haircuts for Men
@jermecide
Q&A with style creator, Jeremy MacDonald
Barber @ Citrus Hair Salon in Vancouver, BC
---
How would you describe this look?
This is a low fade. My favorite thing about this look is that it's a super clean finish and can really give a nice shape for most head shapes. My client had very fine/thinning hair and this cut filled in all the gaps and gave him a fresh look.
Any advice for someone considering it?
A guy who doesn't want to spend much time on styling every day would totally benefit from this look. It really works on most hair types and face shapes. It can really be tweaked to suit most guys. A little paste and some quick blow drying are all it takes to look as fresh and sharp as this dude.