Top 26 Choppy Haircuts ; Hairstyles You Wi ll See Right Now
Neck-Length Choppy Haircuts
@getglamybykate and @simplygorgeousbyerin
"I would describe this choppy haircuts as a fun, slightly edgy look with blonde highlight," says stylist Kate Vose of Southington, CT. " It's also a cut with choppy jagged ends that can be easily grown out to a longer style if you decide to do so."
Vose styled this blonde hair using Kevin Murphy products. "I washed and conditioned with Angel Wash and Rinse, then spritzed with a little Untangled before the cut. Before the blow dry, I used Anti.Gravity, and after I waved it I sprayed a tiny bit of Session.Spray, tousled it and finished with Shimmer Me Blonde. I used a 1 1/2-inch curling iron and tousled the curls to create fun, sexy waves," she explains.
She adds, "this model has fine hair but a good amount of it, which makes great ideas for short choppy haircuts. It's long enough to be pulled into a ponytail but short enough to make for easy, fast styling whether straight or with waves."
Disconnected Choppy Haircuts Texture on Messy Bob
@skareje
The disconnected choppy haircuts texture on a messy bob is trending right now. This beautiful cut has shorter layers underneath to create a piecy look. Ask your stylist for some point cutting to create even more texture. A curling iron can be used in a random fashion to create a tousled look. A styling wax or texture cream is a must.
Two-Toned Choppy Hair
@styled_by_carolynn
A two-toned choppy haircuts is very popular. The dark roots and light ends make for less maintenance with your color, giving it a lived-in look. The choppy length is achieved by point cutting, and also grows out naturally. If you would like a fairly low-maintenance hairstyle, this one is for you.
Choppy Bob Hairstyle for Girls
@jennifer_level10salon
A choppy bob hairstyle for girls can be great for an easy maintenance style. Created with a blunt cut and many layers helps keep this style easy for morning routines. Looks great on medium-density textures and can be curled or straightened easily to change up the style.
Shaggy Bob with Bangs
@hirohair
The shaggy bob with bangs creates a gorgeous fringe bob. Perfect for heart-shaped faces with the bangs framing the eyes and textured ends right below the chin. Using small metal clips at the root while drying helps to give lift through the crown. Use botanically infused Cult+King "Setspray" to hold your style and protect from heat.
Asymmetrical Choppy Undercut Hair
@nikitenko_elen_
An asymmetrical choppy undercut hair is youthful and gives finer hair the volume it needs. Ladies with short fine hair will love the textured choppiness as it gives fullness to the style. The undercut to the side adds depth to the hair by shadowing the hairline, creating an illusion of thickness.
Spiky and Edgy Short Choppy Haircuts
@ayhanonluel
Try a spiky and edgy short choppy haircut to get maximum movement in your finer hair. Instead of wearing a classic bob, add extra choppiness and spike to fill out thinner hair. Play around with some grooming clay from Aveda for a matte textured hold. The messier, the better.
Textured Choppy Short Bob
@ayhanonluel
A textured choppy short bob can be made to look good on all shapes and textures. Some ideas for short choppy haircuts can vary with the length above or below the chin, how much weight removal needed for fiber to coarse hair, and how much layering shapes do depend on what you want for more or less volume. More layers within choppy bob hairstyles can add more volume and vice-versa.
Layered Choppy Bob with Fringe
@chloescissorhandz
A layered choppy bob with fringe haircut suits most face shapes. Playing with the overall length of the choppy haircuts will help accentuate your desired features and shape. When it comes to layered hairstyles, having those ends textured with a razor, point cutting, or slicing out some internal weight will give you perfect short choppy layered hair.
Easy Modern Textured Lob in Choppy Haircuts
@hezstudio
This choppy haircuts is definitely best described as a lob. It was created by hairstylist Kelly Lamond of Scranton, PA. "It modernizes the appearance of the bob by elongating the length in the front and shortening the hair in the back," says Lamond.
"My favorite thing about this long bob is how it enhances a woman's proportions and features around the face, as well as how it allows for volume and texture to be easily added to the style with the right cut," she explains.
Lamond says maintaining this look is extremely important. "Shorter looks require frequent care. They inherently lose shape more quickly, therefore styling could become more difficult into week four or five due to outgrown movement/layering."
Classic Choppy Short Haircut
@teagancousins.hair
A classic choppy short haircut that has lots of textured layers and wispy ends works well with fine textures creating body and movement to the hair. If you have thicker hair you will want to ask your stylist to remove some weight especially around the nape area. Over-direct the layers in this short choppy hairstyle for a longer look around the face. Style using "Anti-Gravity Lotion" and "Bedroom Hair" by Kevin Murphy.
Medium-Length Choppy Haircuts with Layers
@kashmirhair
This choppy hairstyle with layers was created by hair and makeup artist Kashmir of Boston, MA. "This look is best when it's a little imperfect and lived-in and it's perfect for almost any hair type," explains Kashmir.
"If your hair is bone straight you will need to use a wand or iron to create some irregularity and make it piecey with a texturizing spray like Kevin Murphy Bedroom.Hair," she adds. "If your hair is super curly, a product like Kevin Murphy Hair.Resort will help give it that messy, undone look."
This haircut is literally perfect for everyone, but the choppy texture is what makes it truly spectacular.
Lovely Long Choppy Haircuts with Bangs
@hairbylianale
This long choppy hair with bangs was created by stylist Liana Le of NYC. "Movement and shape complement individual features through this invisible layering technique, leaving an endless range in creativity. This choppy hair with bangs is cool, yet remains truly feminine and soft," says Le.
Her very favorite tip is to shampoo just the bangs and style them day-to-day. "The rest, I leave to the powers of dry shampoo or hair accessories. I'm a believer in not over-shampooing the hair. This habit will be favorable to the longevity of your overall scalp health," she explains.
A fringe is a commitment. Be ready for great hair days, but also annoyingly bad ones.
Side-Parted Choppy Crop
@mainpointsalon
A side-parted choppy crop has lots of movement and texture. Looks great on all face shapes with all the texture thrown in and a side-part. Throw in some curls to spruce up a pixie and spray with a beach spray or hair spray for hold and texture.
Marvelous Medium Choppy Haircuts
@chrisgreenehair
This dark sunkissed balayage on medium-length choppy haircuts is lifted by the subtle babylights and the messiness of the hair. Choppy tresses are the way to go if you're wanting effortless volume and structure.
Face-Framing Long Choppy Hairstyle
@hairbyelvisp
A face-framing long choppy hairstyle has a pretty flow with soft layering and movement. Add some long layering around the face for framing and some big waves to show off the texture. Great for low-maintenance needs and lived-in looks, this cut will grow out nicely for 6+ months.
Messy and Textured Choppy Haircuts
@un.rooted
With a messy and textured cut plus long bangs, you create major hair inspo! It's a choppy haircuts in the form of a modern shag done by razor cutting. The added full choppy bangs are what bring extra fun and edge to the finish.
The key to a great shag like this lies in the locks' natural texture. If you have wavy hair, this razor cut offers an effortless, lived-in vibe when styled with a sea salt spray. Now, if you're looking for what's trendy and low maintenance, this is the one to go for!
Short and Texturized with Top Choppy Layers for Women Over 50
 @michelle.eileen.hair
This short pixie is a choppy and texturized women's short haircut. It was handcrafted by hairstylist Michelle Champney of Noosa Heads, QLD. "What I like most about this pixie with a choppy top is all the length and texture we left around the perimeter of the cut."
For the women that are interested in getting short choppy haircuts like this one,  Champney has a few things for you to keep in mind:
1. What's your hair type? If you have straight hair or minimal wave, this short choppy pixie is fairly easy style for you. If you have curly, unruly, frizzy hair, this is not an achievable look without a LOT of work.
2. Face shape and side profile are always something to be taken into consideration when trying a new style. These short cuts don't leave any room to hide behind. Make sure you're ready for that! You also want to select a hairstylist that is experienced with short length of cuts. A trained stylist will understand how to balance out the haircut to bring symmetry to the face and profile.
3. Products are a must with this style! Without products, you'll end up with a shapeless look. Use a texturizing paste to separate and define the hair. Depending on your hair type, Champney would also recommend a root volumizer for the crown.
4. Your lifestyle plays a huge factor in whether or not this look is right for you. This is a fairly easy look to take care of, but it still requires about ten minutes of work in the morning if you start from wet hair. Another thing to consider is if you mind having hair on your face. This gives it a soft yet edgy look. However, if you hate that feeling and are always pulling your hair back off your face, this might not be the style for you.
5. Expect to be in the salon every five to six weeks to maintain this cut. Short haircuts tend to need frequent trims to keep them in shape.
Shoulder-Length Choppy Locks
@timdbarneshair
Shoulder-length choppy locks keep a professional vibe yet fun style to keep it feeling fresh. Curl or flat iron this cute style and use a good heat protector to maintain hair health. Lays nicely right above the shoulders and really texturizing the ends gives it a choppy style. You can ask your stylist to do one length or shorter in the back with medium long textured layers.
Cool Choppy Blonde Layered Bob
 @marci_and_the_mane
This choppy bob was created by stylist Marci Jameson Krachie of San Diego, CA.
"My favorite thing about it is its versatility" she explains. "If you blow-dry it smooth, it looks like a sleek bob. If you enhance your natural texture or use a curling iron, you get the cool and edgy look shown here."
If you want to wear it messy, Krachie recommends a product like Sail or Rockaway by R+Co that lets you air dry using your natural texture. "This choppy layered bob is perfect for girls who love to air dry," she adds.
Playful and Wavy Choppy Bob for Fine Hair
 @karihaywardhairdesign
This wavy choppy bob for fine hair was created by hairdresser Kari Hayward of Salem, OR.
"You can do so many versions of this haircut to best suit you. You can make it a choppy a-line lob, maybe square, or play with the layering, or even add a fringe. I feel that as long as you keep those front corners in the perimeter it will be on-trend and flatter all face shapes," she explains.
Most importantly,  Hayward says you will need to style this short cut with a curling iron, wand, or flat iron to create those beachy waves.  "I will always cut the bob with precision on the perimeter to allow for a straight look, but I feel that it will always look best with those undone curls."
Short, fine-haired women love it because it can really make their hair appear thicker. With thick hair, you can cut out a lot of weight in the interior to make it feel lighter.
Keep scrolling through our slideshow and note that each choppy wavy bob has some sort of texture to it. Then pick your favorites to show your stylist.
70's Inspired Choppy Shaggy Cut with Feathered Layers
@linda.does.hair
This 70's-inspired choppy shaggy cut with a feathered effect looks fashionable and offers versatility. Considering that it's a choppy shag with a fringe, you'll notice how it's got that 70s rocker vibe. This type of cut allows for volume and extra lift around the crown without giving up its long length.
This 70's inspired choppy shag was razor cut by stylist Linda de Zeeuw of Amsterdam, NL.
"It's also referred to as a shag, a shaggy haircut, or a choppy layered haircut," she explains. "Creating texture with a razor removes bulk from your hair and creates soft layers."
de Zeeuw notes that you'll need a fair amount of hair to create this shaggy cut. "However, women with fine hair types can choose a short shaggy hairstyle.  It's easy to style, easy to maintain, just ask your stylist about the best options for your features and go for it," she adds.
Blonde Choppy Haircuts with Middle Part
@yuleeizyk
To add fullness and texture, try a blonde choppy haircuts with a middle part. Soft layers and a slight angle create the ideal shape for a choppier cut. Although you can create choppiness with any length of hair, it usually works best with shorter, bob-like styles.
Ash Blonde Choppy Pixie Cut for Super Short Straight Hair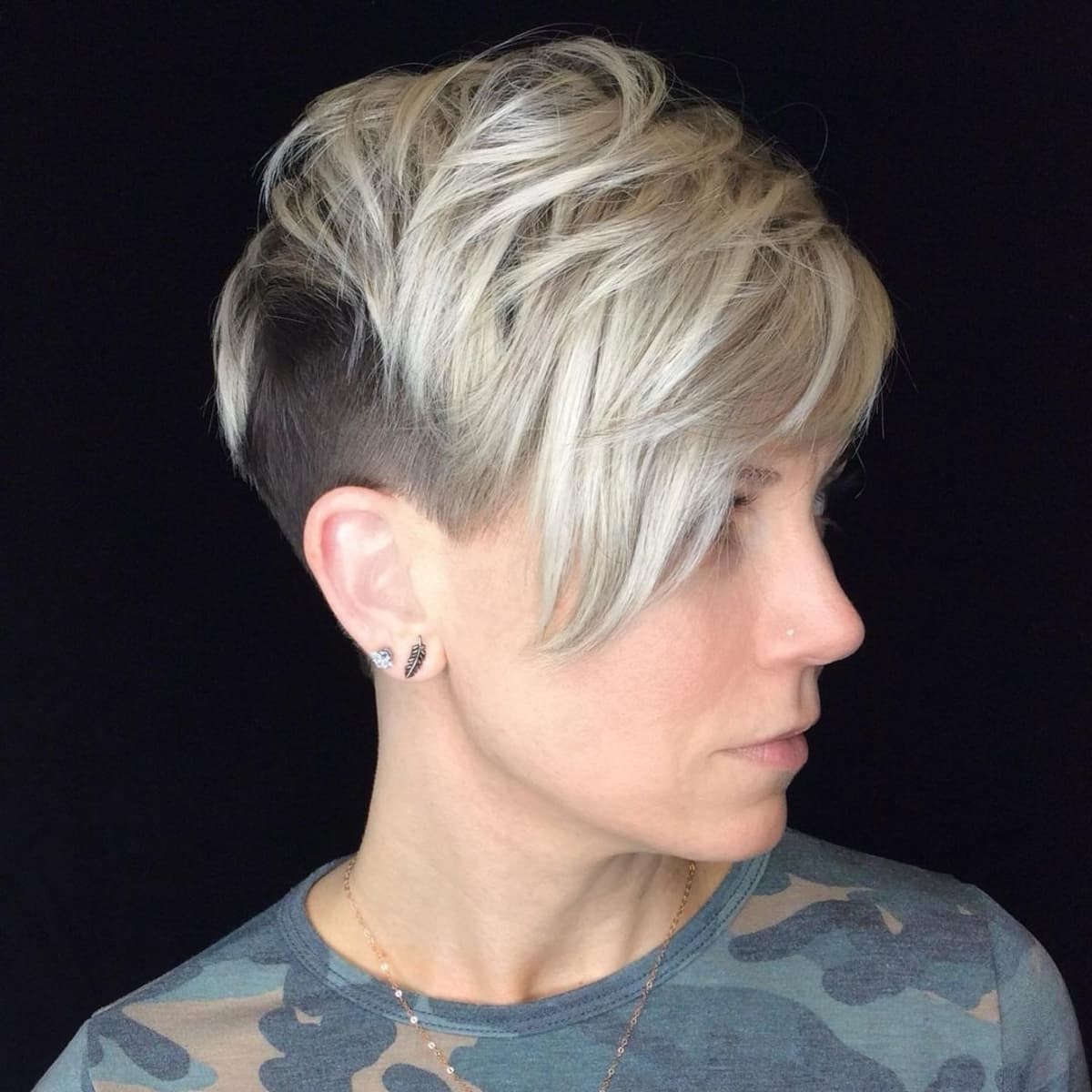 @courtneyxcentrichair
An ash blonde choppy pixie cut for super short straight hair shows off an undercut perfectly. Cool-toned blonde with a darker underneath color makes a super short haircut interesting with the dimension it brings out. Over-directing layers to the back for a longer angle around the face and short layers through the crown for lift.
Choppy Curly Hair with Dark-Rooted Blonde Color
@meghairuh
This blonde choppy curly hair with dark roots is a total eye-catcher. The best hair type is natural curls. If you're trying to grow out a gorgeous choppy curly crop, consider getting this haircut and style.
Gorgeous Choppy Shag for Thick Hair
@cat_chehayl_hair
To give your locks a new body and shape, here's a short shag with bangs you should try! Feel free to style it with texture to bring out a lot of movement to your thick brown hair. To frame your face, opt for choppy bangs and a length that's near your collarbone.