Vintage Glam: 23 Roaring 1920s Hairstyles
Gorgeous Flapper Hair 1920s Hairstyles
@beautylaunchpad
Go all out with an avant-garde platinum blonde pixie fit for that iconic missy girl attitude. That flapper style of hair makes a striking result. Women with a natural glam personality are sure to suit such a crop and waved hairstyle.
Sleek Marcel Waves of the 1920s Hairstyles History
@rubylane_thevintagestylist
Try sleek marcel waves of the 1920s. To add volume, apply curls directly at the root and let set. When styling, gently set the curls on top by spritzing Vicious by R+Co.
Fluffy Curly Hair for Women with Tight Curls
@romeufelipe
Fluffy curly hair is a perfect enhancement and low-maintenance style for women with tight curls. Using cream-based curl-defining products such as Aveda Be-Curly Curl Enhancer and a light volumizing mousse will keep the curls in place, decreasing frizz and adding shine.
The 1920s Hairstyles Side-Parted Curled Bob
@radicalbeyouty
The 1920s Hairstyles side-parted curled bob is an iconic glamour look that is making a comeback. Style using finger waving and a 1" inch curling iron alternating curls and pinning the hair to set them. Finish with Glass Hair by L'ange shine serum.
Afro Style on Natural Hair for African-American Ladies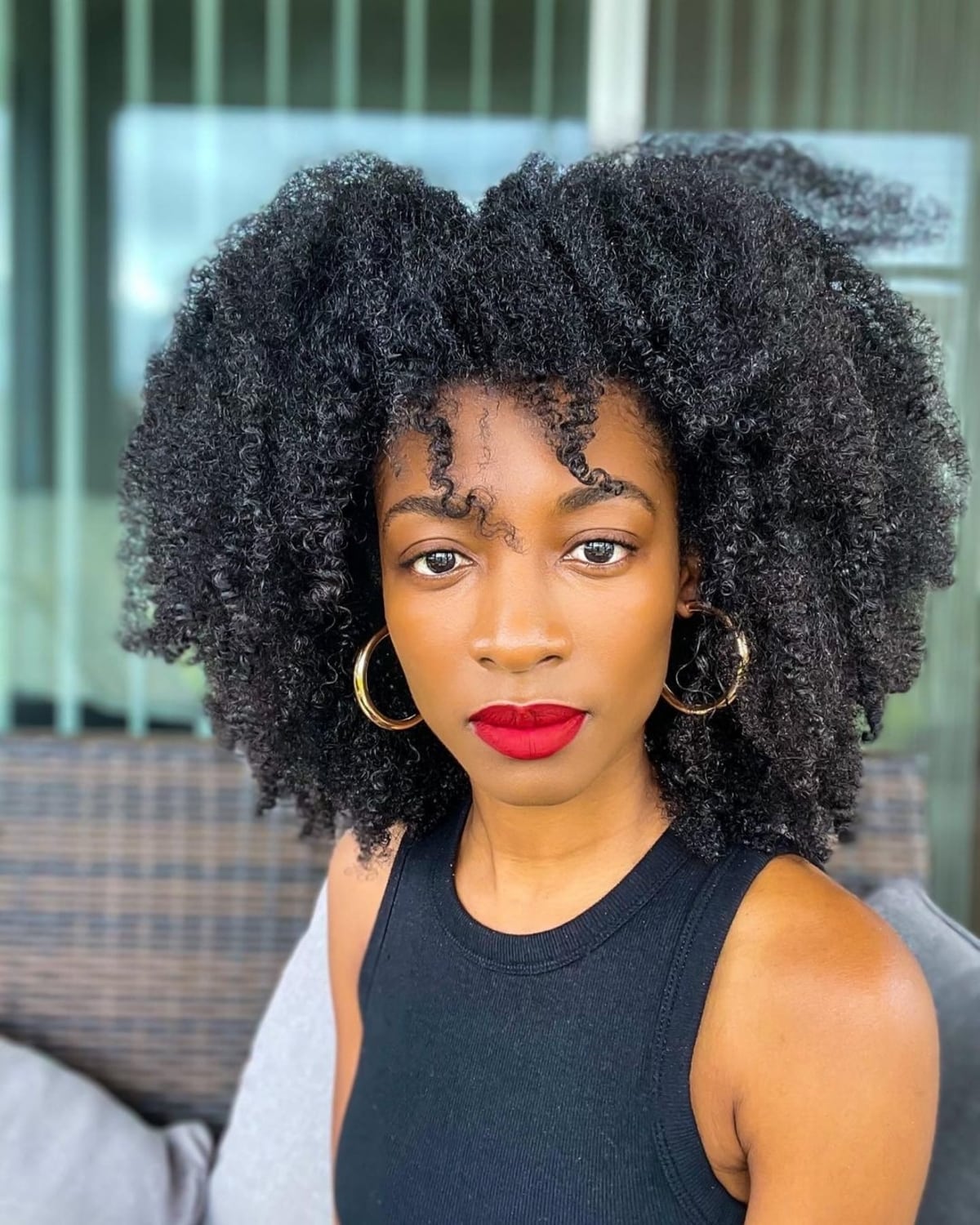 @petite.jhen
Consider an afro style on natural hair for African-American ladies. Ask for a trained hairstylist that can assist with the proper cut and products to achieve such beautiful curls. To give curls definition, try Shea Moisture Coconut & Hibiscus Curl Enhancing Smoothie to damp curls and air dry. For volume, gently pick hair from the root and puff up and out.
Sophisticated Updo with Kiss Curls
@cristinaserafymakeup
Wear a sophisticated updo with kiss curls if you're always battling baby hair. Baby hair has a different growth pattern compared to the rest of the hair. They can feel fluffy when wearing the hair up in a classy updo. So, try adding kiss curls to sleek this hair down with a bit of gel and flattening them down into a "J" shape. This keeps the fluffy hair at bay and works beautifully with sleek updos.
Glam Pin Curls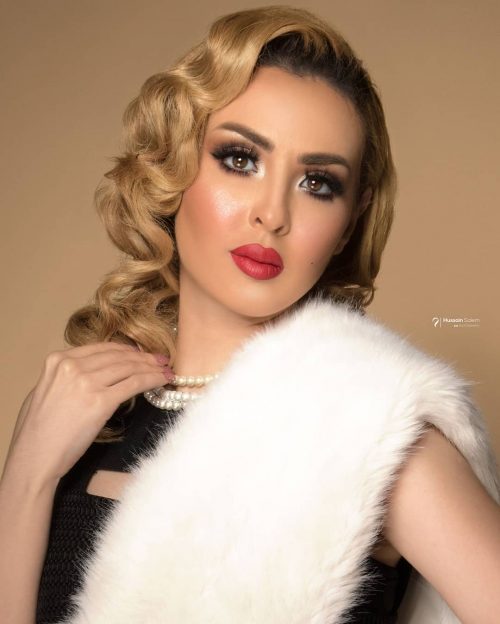 @alya.buti
"I have a strong love for European old hairstyles," hairstylist Alya Buti of Bahrain tells us. "This curly style is a special and classic style. It has a spirit of romantic sensations and it fits with all generations (renewed and continuous style). It reminds me of old movies (Hollywood movies)."
'Not only can your facial features tell you a thing or two about yourself, but your hairstyle can also reveal things about you," she adds. "This look gives a sharp, bold, and fancy style, at the same time it gives softness for the woman. Waves can be changed based on your face and body shape."
Gatsby Inspired 'Do
@_neenz
This look is a Gatsby or 20s inspired chignon. It was created by stylist Janina of Plymouth, MI. "I love the softness of a brushed-out 20s pin curl or finger wave. The way the curl opens up the face at the eye, cheekbone, and jawline is so romantic!"
For styling, Janina advises you to use gel or a mousse on your wet hair and allow time for the curls to set after you use hot rollers or a curling iron before you brush them out." Cool time is essential when you are using a hot tool. This look is perfect for a Gatsby-party but certain aspects of it could be used in a night out too! I love incorporating modernized vintage looks into everyday style," she adds.
Vintage Long Faux Bob
@jeniworsfold_bridalhairstylist
This look is a vintage faux lob (long bob). It was created by bridal hairstylist Jeni Worsfold of England.
"To create the look, which was the vision of a shorter style, I pinned up the underneath back section and styled the top sections of the hair into a 20s wave with a modern twist," explains Worsfold.
"The prettiest thing about this style is how it gives an illusion that the hair is short, when in fact it's pinned into this style," she adds. "It means the client could have shorter hair for the night without having to say goodbye to her lengthy locks for good! Plus, the curls on the side of the face are absolutely eye-catching!"
This style is super versatile for lots of different hair types. Whether your hair is fine, thick, or super long, you can achieve this look.
To style, Worsfold says you'll need to curl the hair using a medium tong and then use a product to define the curls before pinning and then finishing with hairspray.
Glamorous Hollywood Deep Wave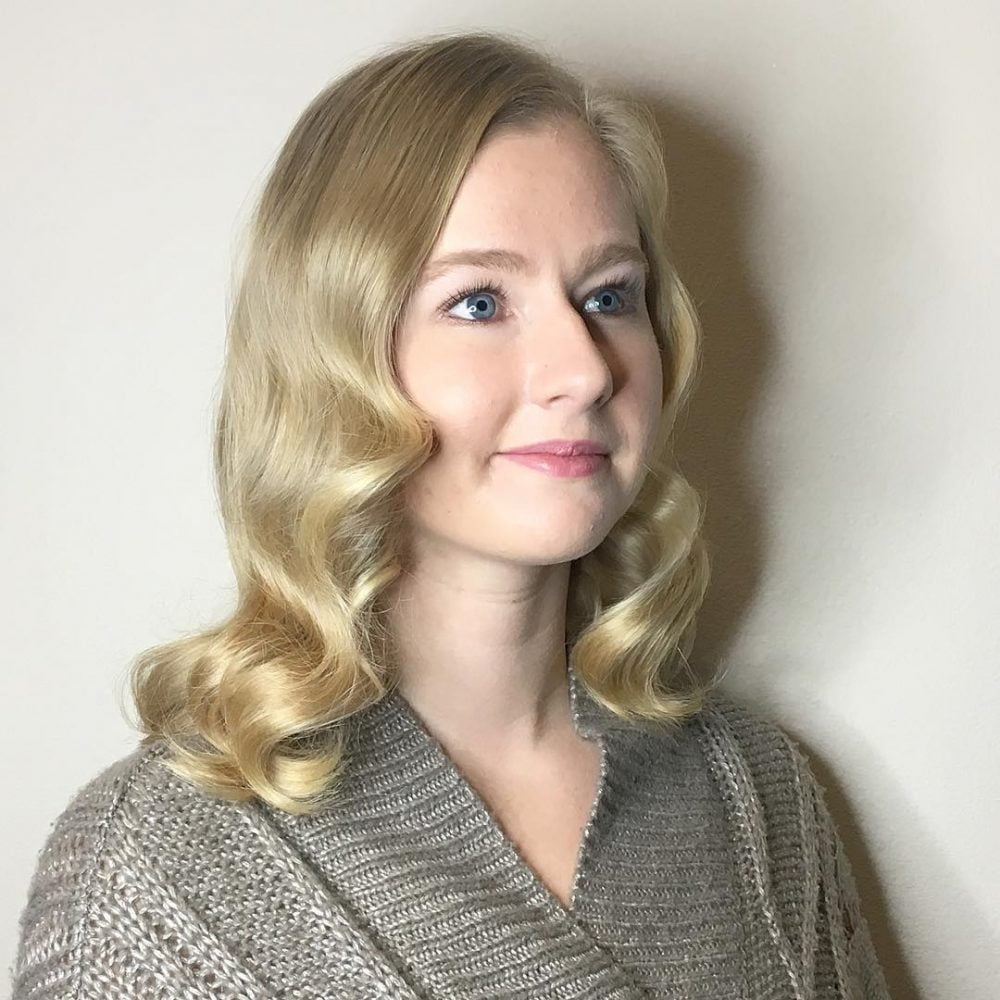 @brianna.w.hair
"I would describe this look as a glamorous Hollywood deep wave or a vintage Great Gatsby hairstyle," says hairstylist and salon owner Brianna Bacon of San Marcos, CA.
If you are considering this hairstyle, Bacon's advice for achieving a deep wave like this is to take the foundation of styling hair from the past and add a modern twist. "In the 20s to 40s setting hair with pin curls and curlers/rollers on wet hair were the key to creating beautiful waves."
Today, however, we can use the heat from our wands or curling irons on dry hair. "I recommend using Kevin Murphy's Anti.Gravity as a product to help this style last all evening," she adds.
Modern 20s Look
@pin_up_curl
This 20s-inspired look with a more modern, softer feel was created by vintage hairstylist Sarah Bloor of the UK.
"A large, sharp wave flows down into a curl-covered Gibson roll at the back," describes Bloor. "True authentic hairstyles from that period could be quite flat to the head, sometimes a little harsh, so making this hairstyle a bit fuller keeps it more up-to-date and flattering."
Bloor says she loves the contrast of the curls against the sharp wave. "The curls and roll can sit along the back of the head, or to one side. The curls can be bigger, smaller, less structured, and more waves can be included."
1920s hairstyles like this one work perfectly on medium to thicker hair, as well as on finer hair, providing it's longer than the shoulder blades. Remember, the more hair you have the more volume and curls you get!
For styling, Bloor says you'll need a small barrel curling tong, and there can be several hair grips and pins involved, so it's all about creating a good foundation for the curls to be placed on. "I tend to use a bun ring cut in half to roll the hair around and for the grips to grip into."
Elegant 20s Updo
@hairby_amandanelson
This look is simple and its elegance brings out the 20s inspiration. "It's perfect for all hair lengths," says stylist Amanda Nelson of Edmonds, WA.
"My favorite thing about this look is that it will last all night long. The hair is wound around the headband, allowing her freedom to dance the night away," she adds.
Platinum Textured Bob
@jreneehairnyc
"I took a classic yet ageless bob and texturized it throughout. I topped it off by clipper cutting the bangs," explains hairstylist Jessica Knight of Brooklyn, NY.
When considering going to a lighter blonde, ask yourself:
1. Do I have preexisting color?
2. How is the condition of my hair?
3. What am I willing to spend?
4. Am I willing to keep up with this color every six weeks?
When considering going short or having bangs, ask yourself:
1. Am I willing to lose length?
2. Am I willing to keep up with bang trims?
A bob can easily transition into another beautiful haircut and looks great at any age. By adding texture, it gives off more fun and versatile look.
"This boyish bob is best suited for women who don't mind putting time into their hair and want to make a bold statement," says Knight.
Timeless Faux Bob 1920s Hairstyles
@lanielaneee
This roaring 20s-inspired faux bob style was created by stylist and salon manager Melanie Lane Durham of California. "The best thing about this style is how timeless it is. This is sure to work best on ladies with a slick straight hair type."
Durham's advice to women considering this look is not to be afraid of bobby pins or hairspray! "You couldn't possibly have enough of either to keep the faux bob rolled up into place."
Mid-Length Hollywood Glamour
@dollylockssalon
This mid-length Hollywood glamour style was handcrafted by stylist Chelle Pillucere of Saint Petersburg, FL.
"When going to a special event, the hairstyle dominates the look," she explains. "I made sure my guest arrived with clean hair with no product in it, then I created the foundation with Balmain Volumizing Texture Spray."
Pillucere curled the hair in horizontal sections and set the curls with pins. "I let the curls cool for a solid 20 minutes, then brushed the hair into the waves and pinned the back up. I finished off this curly hair with Balmain Strong Hold Hairspray," she adds.
Dramatic Finger Wave
@jennababani
This roaring 20s-inspired finger wave was created by independent hairstylist Jenna Babani of Rancho Cucamonga, CA. "It's definitely more of a dramatic play off of a traditional finger wave. We decided to pin it up and create more of an upstyle with it," Babani explains.
Babani's favorite thing about this waved hair is the feminine quality it has overall. "I especially love the waves framing the face," she adds.
This style is requested often, however it is not meant for everyone's hair. Hair texture, length, and cut specifically go a long way in creating a design that will hold the best for each individual woman.
Elegant & Luxury Bobbed Hair
@sofyramos
"When I think of this 20s hairstyle, I think of elegance and luxury," says hairstylist Sofia Ramos de Vides of Guatemala.
"You can adjust the length of this bobbed hair, add more volume, or take away the victory rolls for a less dramatic look. It is completely customizable," she explains.
It's important to blow-dry the hair first to give it some volume and to smooth it out. It's also vital to apply a hair product that will help mold the hair and give it durability. If the hair is too thin, use the Full Volume line from Living Proof.
When styling, Ramos de Vides notes, "the smaller the curler, the better the waves come out! I roll and pin each curl, leaving them pinned until the hair is cool. Once cool, I put the hair down and comb it."
Glamorous Finger Waves On Short 1920s Hairstyles
@publichairhouse
Finger waves are a glamorous and timeless sculpted look that works well with a slicked style. "This is a gentle way to style a crop cut, requiring low heat and some patience for a dry finish," says independent hairstylist Mel Mattison of San Diego, CA.
"I love the art that this Eton crop becomes as it dries, and appreciate the smooth shine that happens when both wet and dry," she adds. "Wet hair and a lightweight gel were used for the model in this cropped hairstyle. Utilize the fine-tooth side of a comb for best results."
Mattison reminds us that you, as the guest, need to help achieve this style. "There is pushing of the hair against the scalp involved. Short hair is easier to maneuver, but most importantly, staying fluid through the sculpting is what makes this come together best."
Soft Finger Wave Styles
@jenmchair
This soft yet structured finger wave style was handcrafted by hairstylist Jen Kohlenberger of Tustin, CA.
"Whenever I want to be able to comb through curls to manipulate them and keep them soft without losing their integrity, I use Kenra Thermal Styling Spray 19," she explains. "To make sure the waves stay consistent and form together for the finished look, take small horizontal sections, spray Kenra Thermal Styling Spray from roots to ends on each section, comb through, wrap on the iron, and clip to cool. When you remove the clip, comb through again and reform with your fingers. It's a tedious process, but the end result is worth it!"
Classic Retro Updo 1920s Hairstyles
@danielleraeireland
This is a classic retro updo with victory rolls to make it stand out a bit more. It was created by hairstylist Danielle Ireland of Robinson, IL.
"My favorite thing about this style would have to be the waves. I've always been a sucker for a vintage wave," says Ireland.
There are really just a few tips Ireland thinks are most important for this style.
"First of all, I always curl all curls in the same direction and pin to really set the curl so that it's easier to manipulate later. A great product to help with this is a soft working hairspray like AG Aerodynamics," she explains.
"Spray as curls are setting and they will retain their curl memory as you brush them out without being sticky. Lastly, backcomb the underside of the curls to bring them together and stay where you want them as you create your waves!"
Long-haired ladies have no fear, this model had hair halfway down her back! Just roll up the underneath, pin it in place, and it becomes the perfect cushion to secure your waves!
Finger Waves on Dry 1920s Hairstyles

YouTube user Makeup Wearables teaches another method for recreating those classic, 1920s finger waves. This one still requires some time and patience, but definitely not as much as the traditional finger wave method. Additionally, you'll be left with soft and touchable hair instead of helmet head (a common side effect of 1920s glam). This method works best for medium to long hair.
Gibson Girls Tuck 1920s Hairstyles
@elleaanorr
Who said messy is chaotic? This divine messy updo is the 1920s hairstyles in a bun that brings easily out the lovely look you're looking for! Amp up your 1920s hairstyles, and it'll be ideal for weddings, romantic dates, or days when you simply wanna look extra.
Glam, Modern-Day Pin Curls
Fashion and beauty blogger Chriselle was asked what her three favorite hairstyles of all time were. The first one that came to mind? "Glam Curls," she says, because the "perfectly polished curls are not only timeless, but also a modern take on the 1920s flapper finger waved hair." To create this updated version of the 1920s girl, Chriselle employed a little trick that includes wrapping warm hair around her fingers to form a pin curl.