15 Hottest Brown Hair with Red Highlights You'll Ever See
Chocolate Brown Hair With Crimson Red Highlights
@studiosavonlaura
These dark cherry shades are great for adding interest to a dark mane without getting too much contrast and lightening. Also complements skin tones with neutral to warm complexions.
Ash Brown Hair With Maroon Highlights
@dsbeautydivas
A blend of rusty warm streaks and ashy light mocha hair creates a multidimensional effect that easily accentuates waves or curls, making it a versatile look.
Caramel Brown Hair With Dark Red Highlights
@brittanyburkehair
This one is an eclectic mix of bright red hues that's perfect when you want to give your style a fresh and bright new look. It's perfect for autumn and for adding dimension and movement.
Brownish Red Hair With Deep Red Highlights
@winonalea
Creating this mix of luscious reds can add more depth to your lengthy waves or actually any hair length and texture. Putting lighter shades at the bottom also create a light and soft finish.
Dark Brown Hair With Light Red Highlights
@hairculturedayspa
This is a perfectly complementing combination of vibrant and dark colors on a long and layered straight cut. This dark brown hair with light red highlights is chic and gives you a subtle hint of gothic.
Chestnut Brown Hair With Copper Highlights
@rt_hairandmakeup
Stylist Rosanna took this lovely natural brunette to a vibrant red with a blend of a dark deep shade to a very bright one at the ends. This combination of colors look stunning especially when under the sunlight.
Natural Brunette Hair With Auburn Highlights
@nyiaauom
The impression of this color melt is truly one-of-a-kind with the softness and dimension it brings. It starts with vibrant reds from the roots and ends with pops of ginger and subtle purple at the tips, making this one a unique hairstyle that's easy to recreate.
Dark Chocolate Brown Hair With Cherry Red Highlights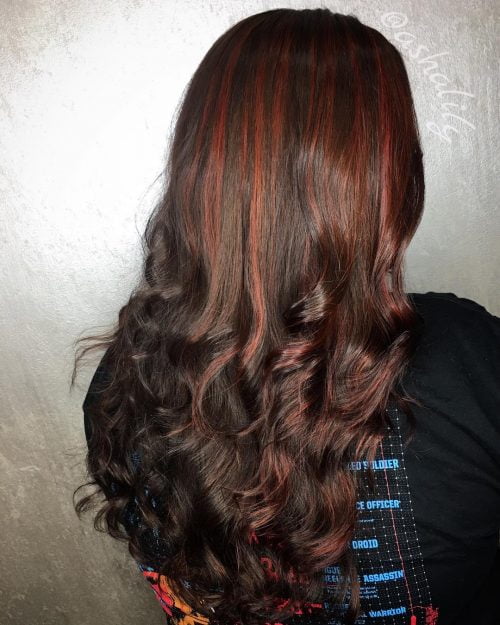 @ashalily
Q&A with style creator, Ashlyn Warren
Salon Owner @ Ashlyn Warren Hair in Spring, TX
How would you describe this look?
We were both so happy with the results of her hair color! She originally came in with purple hair and wanted something more natural but with a little pop of color. She is a natural brunette and for her pop of color, we chose red. The greatest thing about this finished product is how rich and natural of a base color we were able to achieve on top of her previous purple color!
Any advice for someone considering it?
Clients with all hair types can achieve this look. It's important to know that red hair color tends to fade faster than most permanent dyes so it's always recommended that the client uses color safe products at home to extend the life of their hair color. Hot water and high-temperature styling irons can also fade your color faster, so for the clients who like to style their hair daily, I recommend a heat protectant spray for styling.
Mocha Brown Hair With Ruby Red Highlights
@jcoolhair_
Q&A with style creator, Jocelyn Cool
Senior Stylist @ Cloud 9 Salon Spa in Tempe, AZ
---
How would you describe this look?
It's a dimensional color and textured bob haircut. Adding texture to her hair allows the flexibility of styling due to thick hair. I then used Bumble and Bumble invisible oil primer for heat protection and Surf foam spray to add body and a textured feel. I then curled her hair with a hot tools 1″ curling iron, leaving the ends out to give it that effortless waved look.
Any advice for someone considering it?
If you are thinking about this beautiful fun color, keep in mind the maintenance that reds require. Red is one of the fastest colors to fade and the hardest to get out! I would recommend a refresh on this color every 6 weeks. You also need to invest in salon quality shampoo and conditioner (I sent my client home with Color Minded by Bumble and Bumble). This helps keep your color last longer and keep it vibrant in between salon visits.
Long Brunette Hair With Cinnamon Highlights
@myguiltycrown
Q&A with style creator, Gilad Goldstein
Hair Designer @ Ulta Beauty in Harrisburg, PA
---
How would you describe this look?
This is a cherry chocolate balayage color with long, textured layers. The key to a rich color is not over-lifting the highlights. We highlighted to a warm orange color then overlayed with Redken City Beats Big Apple Red for the cherry highlights.
Any advice for someone considering it?
Ask your stylist for long layers cut with a razor for a shattered edge. The key to unlocking this look is in the styling! Think outside the box. Instead of a traditional curling iron, I love using a flat iron to form loose waves and show off the contrast between the base color and the highlights! This look is great for guests looking for head-turning hair color that is low maintenance.
Rich Brown Hair With Burgundy Highlights
@maria.ferrer.riggert
Q&A with style creator, Maria Ferrer Riggert
Salon Owner / Master Hair Stylist @ RUUT Salon in Cumming, GA
---
How would you describe this look?
This color was achieved by using a base color and balayage technique. The base color is a deep crimson or wine color, which can be described as a "cool-red" – meaning violets are present. For the highlight, we chose a more "copper-red" for a brighter pop to reflect the light. The two colors create a nice balance of highlight and contour, in addition to the tremendous shine they each offer.
The cut has a long, round layered shape – meaning the layers start slightly shorter around the face and cascade to being longer towards the back. This can be easier to style on your own at home, as the longer layers in the back can easily be brought around over the shoulder, towards the front when styling. The specific length and shape of this cut can be beneficial on thicker, frizzier hair. The length + shape of the layers in this cut have some weight to them, while still providing great movement to the hair. The weightiness can help contain some of the frizz without compromising movement and swing.
The wavy style was created with a flat iron curling technique, which molds a look that appears to be a soft, natural wave. Styled waves can aid in really showcasing dimension and layering, bringing everything to life. This haircut also offers versatility and can be worn straight, round brushed or even air-dried for those lucky enough to have natural waves.
It's hard to choose one favorite thing about this look. All the pieces and parts play such a major role in the outcome. I guess I could say my favorite thing is that they are all combined.
Any advice for someone considering it?
Reds can be difficult to maintain. The red color pallet is known for fading easily if the correct products are not accompanied at home for proper hair care. I would recommend always consulting with a professional stylist on the best home haircare to increase the beauty and longevity of results. It's also important to consider what is realistic for your lifestyle and the time you have to invest for in-salon maintenance when choosing any hairstyle. It is realistic to expect to refresh this type of color every 4-6 weeks. On the flip side, reds can be difficult to remove if an alternate color is desired. So, the overall commitment should always be considered when considering red tones for hair color.
The red color pallet has so many undertone options. There's endless customization. There are red-violets, copper-reds, and true reds. I've had many clients tell me that they once had their hair colored red and it looked terrible on them. If the correct undertone isn't present, any color can be unbecoming. Guidance on finding the tones that best suit your skin tone and eye color is key to enhancing your overall look.
Short Brown Hair With Strawberry Red Highlights
@anachellestyle
Q&A with style creator, Ana Michelle
Stylist / Colorist @ Salon West in Clearwater, FL
---
How would you describe this look?
Her color is sassy, eye-catching, and could pass for summer or fall. However, I did not touch her color up. She had old faded red color in her hair and was looking for a more refreshing cut for the summer. It shows what a good cut and style can do for your color! I think the style is beachy. The texture is natural but polished and the waves enhanced her natural color. The cut is collarbone length with a small amount of face-framing, long layers throughout for movement, and shorter layers in the back for volume/lift.
The greatest thing about this cut/style/shape is how versatile it is. You can make it sleek and modern, full and edgy, wavy and natural, or depending on your texture, you can scrunch product (like a mousse, texturizing spray, or curl enhancer) in and go. You can still pull it up and also do nice braids. I think it looks very chic on a wide variety of people as well!
Any advice for someone considering it?
A bob can be a low maintenance style if you have a natural wavy/curly texture, but if you have fine and naturally straight hair and would like this style, you will definitely need a styling tool and time to style every day. This style is also better for wider face shapes. The longer pieces in the front will make her face appear slightly longer than it really is. If you have a bold, sassy, and chic personality, this style is for you!
Shoulder Length Hair With Mahogany Highlights
@arcuthi_arcuthe
Q&A with style creator, Claire Simonson
Stylist @ Arcuthi and Arcuthe Barber Shop in Merimbula, NSW
---
How would you describe this look?
Vintage rouge! A mix of deep and light red tones add shine and dimension to this lightly textured lob. An ironed finish with one direction wave completes this look.
It can be loosely combed through with your fingers for a casual look or brushed out to provide an elegant finish for a formal event.
Before styling, Schwarzkopf Osis undercoat primer was applied to damp hair, followed by Osis grip mousse, then blow dried. After ironing waves, the hair was sprayed with Osis Session Label super dry fix.
Any advice for someone considering it?
This suits almost everyone but take into account that maintaining this look can require maintenance. We suggest Evo Fab Pro customized color conditioner as a take-home product to maintain color vibrancy.
Light Brown Hair With Magenta Highlights
@arossidoeshair
Q&A with style creator, Ashley Rossi
Independent Stylist @ Bangz Etc. in Brooksville, FL
---
How would you describe this look?
This look is a sellable pop of fun! The gorgeous melt of red-browns and reds remind me of a raspberry dessert wine. It's a perfect combination of color that can be worn in and out of any job! The melt of two colors gives it dimension and a look of bulk! The pop of color gives you the sense of fun and excitement for someone who can't do a bright crazy color. The color is paired with a layered bob to give this skinny hair some texture and movement.
Any advice for someone considering it?
I say do it! It's fun, practical and sassy! Keep in mind the upkeep and insurance policy (the at-home care). This client has fine hair, which means it tends to not last as long as most colors would. Take care of this color, and your investment is going to project longevity of your color. Using sulfate-free color care shampoo and even color conditioners like Keracare will help prevent color fade out. We all love our hot tools but also make sure that we use a heat protectant to protect our color and integrity of our hair. Keeping our hot tools on a lower temperature will save our hair from a little sizzle!
Medium Chestnut Hair With Subtle Red Highlights
@ellesartistry
Q&A with style creator, Elle Mar
Cosmetology Student @ Hairitage Hair Academy in St. George, UT
---
How would you describe this look?
This type of hair color, brown hair with a thick weave of copper and caramel highlights, can add so much dimension to the hair, making it seem fuller! If you'd like your hair to appear more voluminous, it can be nicely paired with a layered cut!
Any advice for someone considering it?
I love the way the beautiful colors intertwine. Sometimes people have a fear of mixing a bold color, like red, with a light color like blonde, and opt for something more subtle. A strong color definitely is a statement piece.
A color like this is definitely best carried with some beautiful curls, or a nice, voluminous blowout! It's also best carried with a great personality! Such a fun, bold color definitely needs a great style to go with it! There's no right or wrong way to wear a color. Make it your own and have fun!