25 Honey Blonde Hair Color Ideas Trending in 2023
Dark & Light Honey Blonde Hair

@suetyrrellstylist
Blonde waves are the perfect match when you wanna go for a fantastic textured flirty hairstyle. You can style your locks with some braids to push back and show off those dark roots that give an additional dimension to your hair's deeper honey colors. The balance of light and dark makes the honey blonde hair color pop.
Coppery Honey Blonde Color for Older Women

@dessardopatrizia
Coppery honey blonde hair coloring is stunning for older women with a warm complexion. Darker, shadow roots allow for a better grow-out and easier maintenance, too.
Taupe-y Honey Blend for Women Over 50

@gabbydunlophair
A taupe-y honey blend for women over 50 creates a beautiful dimension. The taupe helps add depth and helps the honey blonde look beautiful and bright. Complementary to medium and fair skin tones, ask your stylist to alternate hi-lite colors with lighter pieces around the face.
Chestnut Brown to Light Honey Blonde Ombre

@michelle_aglowhair
This ombre caramel color melt was created by color specialist Michelle Rodriguez of Houston, TX. "It's a color that transitions between a lighter honey blonde and brown hair color. "You can wear it straight and it will look blended," says Rodriguez.
She adds, "This honey-hued color is perfect for someone who wants something low maintenance. It grows out very natural. Adding waves gives it more dimension and texture. If you have fine hair, use texture spray for body."
Honey Blonde Highlights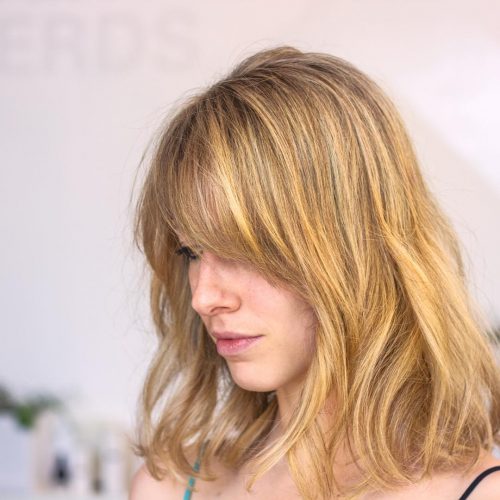 @blondebybritt
This modern Bridgette Bardot with dark honey highlights was created by colorist Brittany Byrd of Brooklyn, NY. "The honey blonde hair with highlights color is soft, warm, and feminine, but the bangs give the overall look an edge and keep everything from looking too saccharine," says Byrd.
This honey hair color is great for anyone since adding soft golden tones to the hair seems to be universally flattering. With the ashy color trends that we've been seeing the last few years, seeing warmth is refreshing.
She adds, "this is particularly true for older women since the complexion naturally cools down as we age. Warmth reinvigorates the skin and adds a cheery overall disposition to your honey shade."
Dark Honey Blonde on Short Hair

@iza_bella_hair
This dark honey blonde hue works well for a girl who like dimension. Senior stylist Izabella of Albany, NY created this dark honey blonde hair color.
Izabella explains how she got this client's hair this darker honey color. "I did her brunette base color then balayaged her hair to create some dimension. I do a lot of balayage on my clients because it has such an easy grow out versus your basic foils."
She adds, "honey blonde looks go great with this particular short hair style."
Sun-Kissed Honey Blonde Highlights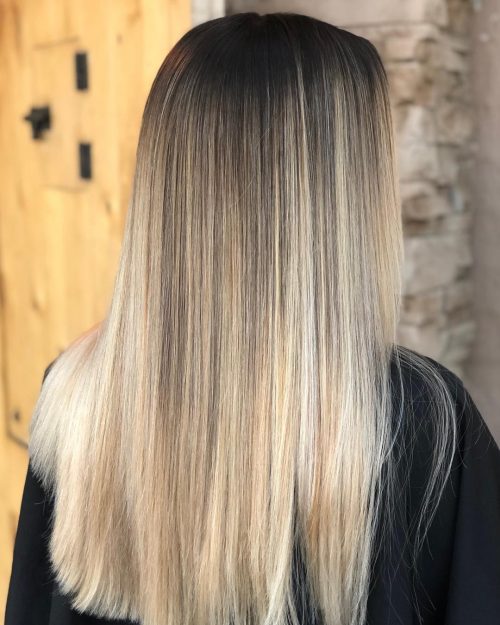 @stephuneee
This honey blonde balayage created by balayage and extension specialist Stephanie Torres of Baldwin Park, CA.
Torres says, "it's a beautiful honey blonde hair that is very trendy and low maintenance. This natural honey hue would be great for anyone wanting to be blonde and not having to come to the salon every 4 weeks."
Ashy Honey Blonde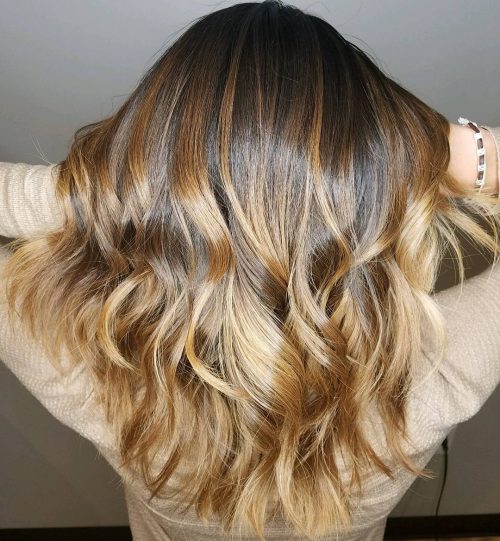 @bonnielovesbalayage
This rich mocha chocolate into honey blonde balayage was created by colorist Bonnie Adamiak-Preisser of Wexford, PA. The haircut has long layers and angles around her face to compliment her face.
Bonnie explains, "we used the ash blonde balayage technique, which means to sweep in French, to get the blend of colors from roots to ends."
She adds, "this took about 3 visits for her to get the ends to that color, so you have to be patient and let the process happens. We do multiple visits to get the dimension and also to keep the integrity of their hair. We also used Smartbond which is L'oreal Professionnel's bond protector."
There are three steps to getting this dark honey blonde hair color. Bonnie breaks these steps down for us:
"Step 1 is added to your color or lightener and seeks out the strong bonds and makes them stronger.
Step 2 is applied after the color is rinsed or shampooed and left on for approximately 10 mins. Step 2 seeks out the weak bonds and makes them stronger.
Step 3 is a take-home to use once a week in place of your conditioner. Step 3 helps to condition your hair and helps steps 1 and 2 last longer"
Light Honey Blonde

@pavel_okhapkin
This light honey blonde hair was created by keeping the natural base and adding pops of blonde foils.
It's an easy to maintain and very natural look for those wanting to have this honey blonde color but still wanting to stay on the natural side of the spectrum.
If you're wondering about the upkeep, this look is great for women who are busy and like a low-maintenance look. However, coming in every 6-8 weeks to maintain a healthy color like this is recommended. Also a take-home treatment is a must so you can maintain healthy hair at home. Keeping light honey blonde hairstyles requires some upkeep.
Bright & Warm Honey Shade

@jadikelleybeauty
This bright and warm honey blonde was created by balayage specialist Jadi Kelley of Bushnell, FL. "this look is a natural alternative to a blonde for those who aren't ready for honey platinum hair or want to keep some warmth to their current color, she explains"
"The best thing about it is how it pulls out the golden honey blonde tones in the skin tone and is bright and warm without being brassy! This is a full babylight done over a grown out balayage, so the upkeep can be pretty high maintenance (but still less than the icy platinum). The time required to achieve this look is a little longer than typical color or foils," says Kelley.
If you wondering if you need to invest in any products, Jadi explains, "the great thing about this honey blonde hair color is it does not require a purple shampoo since we do want to keep the warmer tones! Use Brilliant Blonde color-enhancing shampoo from Monat to keep the golden hues beautiful and the health of the hair at its best with their natural, botanical color enhancers."
This blend of golden blonde could easily be transitioned into a rooty look as it grows out as well. When asking your stylist for streaks of warm blonde, definitely make sure they lift you to the correct level before toning to this beautiful shade versus using natural pigments to counteract the brass that could occur.
Layered Hair with Balayage Honey Blonde Highlights

@marie_atcoloraddiction
Balayage artist Marie Rearick of Danville, PA created this multi-dimensional balayage is a beautiful mix of honey blonde highlights and a warm brown base. "These golden highlights are handpainted and beautifully blended for a sunkissed, natural look," she says.
If you're wondering whether or not this balayage with honey blond highlights is for you, Rearick says, "this shadow root balayage is great for women who are looking for lower maintenance. Handpainted highlights allow for a beautifully blended dimension without the demarcation lines of a heavy foil highlight. Adding a shadow root, typically closer to your natural color, will give you even more longevity between color appointments. These warm honey blonde strands reflect light and complement most skin tones, especially a fair skin tone."
Golden Honey Blonde Hues

@stellastyles_
These golden honey blonde hues were created by hairstylist and barber Christele Beam of Red Bank, NJ. Beam explains, "this is a multi-dimensional color that is great for women wanting both honey blonde and brunette tones."
She adds, "my favorite thing about this honey blonde shade is the versatility it allows and the way the tones amplify features like skin tone and eye color."
"Products are essential in maintaining your honey brown hair. Always use a color-safe shampoo and conditioner as well as a thermal protection product before blow drying and ironing. This client has naturally curly hair, so I styled her with a medium-sized round brush first, and then went in with a 1-inch curling iron," Beam states.
Natural Honey Blonde Balayage Hair

@thedoverparlor
This natural blonde & honey balayage was created by stylist Danielle Frothingham of Dover, NH. Danielle explains, "often when women want to go blonde, they're looking for the ice or neutral look. No one wants to see warm tones anymore, but warm tones are what look the most natural! The natural look is my favorite aspect of honey blonde hair colour."
She adds, "the tone of the final color will vary based on what color the hair started as. Often, warm tones in your skin (reds, yellows) work well with warm tones in your hair (caramel honey). The technique is key and going to a stylist who has been trained to make a smooth and subtle blend up into the root will get you the best results."
Refreshed Honey Beige Blonde Hair

@hilarywatkins.artistry
This honey beige blonde color was created by Hilary Watkins, a stylist in Lincoln NE. Watkins states, "it has warmer tones and dimension added to it! I feel like a lot of the blondies I come across are very cool-toned, so it was fun to change things up a bit. Adding the beige color tones down the honey blonde hair a bit."
Honey Blonde Balayage on Straight Hair

@bianca.hairdresser
This honey blonde balayage was created by colorist Bianca Lucaci of Cluj-Napoca, Romania. "When I think of honey balayage, I think about the natural beauty that can be seen in simplicity. The great part is that this shade of honey blonde stays fresh for a long time because of the warm colors," says Bianca.
Bright Blonde & Creamy Hair

@delamilita
This bright blonde creamy hair was created by hairstylist Milla Kvick of Sweden. Milla explains, "I would describe this honey blonde color with the words luxurious and natural. Right now it is all about warm, rich, and luxurious blonde colors."
When it comes to specific products, she states, "the BlondMe series from Schwarzkopf has a shampoo and conditioner that keeps the color rich and fresh. Personally, I also love Schwarzkopf's Peach Foam Color that you can easily use at home as color-adding aftercare."
Warm blondes tend to require less maintenance and effort if you compare it to keeping up a cool or grey color.
Neutral Honey Blonde Hues

@madelinethestylist
These honey blonde hues were created by Madeline Wilson, a hairstylist in Broad Ripple, IN. "This neutral honey blonde hair was achieved by doing a heavy application of traditional foil highlights and toning out unwanted warm tones," she explains.
The best features of this look include the subtle dimension, the ability to blend her naturally dark base color, and how wearable this shade of honey colored hair is for all skin tones!
"My advice for anyone wanting to achieve honey blonde hair shades would be to trust the process, says Wilson. "This photo was taken after several highlighting appointments spaced eight to ten weeks apart. Full foil highlights are among the safest ways to go from dark to light, but it takes time to build up the coverage of blonde."
She goes onto say, "I also suggest consistent trips to the salon for highlight touch-ups and a trim every six to ten weeks, depending on how fast your hair grows to keep your ends healthy and your new growth nice and bright!"
"I typically don't suggest foil highlights for those who consider themselves low maintenance, but this color and lightning technique would be great for any hair type and anyone with naturally dark hair. To extend your time between salon visits, add a toning shampoo to your hair care regimen to keep those warm tones at bay," says Wilson.
Dark Hair with Honey Blonde Highlights

@emdoeshair_
Mellow honey blonde with highlights is an all-time favorite color to try. This sweet variation of the color is made exciting by having different tones of honey blonde streaks for more dimension.
Dimensional Blonde Shade With Honey Hues

@britt_thomas
This blonde shade with honey hues was created by Britt Thomas, a hairstylist in Fleming Island, FL. Britt explains, "my favorite thing about this honey blonde tone is that it is super low maintenance."
She adds, "with this client, I do a root touch up and a panel balayage pull through with my excess color to give her beautiful dimension without the added cost of highlights. When her ends start to look dingy, I do a toner and she's back to this lovely honey blonde color!"
Honey Blonde Wavy Bob

@mustinnn
Ladies with pale skin take note: This version of the light honey blonde matches a wavy style since there is a range of hair colors that can be played within the style.
Dimensional Honey Blonde Highlights

@nikitahairextensions
Dimensional honey blonde highlights create a luscious color that flatters warm skin tones. Are you wanting this color, but you're afraid to color your virgin locks? Hair extensionist Nikita Doherty from the UK has something for you!
"The technique you can use is a braid-less weave method, which is a combination of beading and sewing. It's suitable for all hair types as long as the correct amount of hair is installed by a professional," says Doherty.
Dark Roots with Honey Blonde Color

@pompandproper
This honey blonde with dark roots was created by master stylist Jocelyn of Vancouver, BC.
It's a low maintenance cut and color and is perfect for most women. However, Jocelyn specifically states, "my client needs to look professional but natural, and has a few greys at her temple to cover. She naturally has dark blonde, straight hair.
She goes on to add, "my advice to a client looking for honey blond hair is that it is ideal if you are already naturally blonde and only going one level lighter than your own for the base color. It is also ideal for light grey coverage/blending. A few face-framing highlights every other root touch-up brightens and adds dimension to an already beautiful tone."
Gorgeous Honey Blonde Colored Hair for Older Women

@laurynsylvia
This honey blonde colored hair for older women was created by stylist Lauryn Sylvia of Palm Desert, CA. She says, "it's a fun short cut with short layers that gives her fine and thinning hair body and volume. The best thing about her honey blonde hair is how the color and the dimension gives her hair a beautifully soft and fuller look."
When it comes to hair products, Lauryn recommends, "use Kevin Murphy Body.Builder mousse and MoroccanOil Strong Hairspray. I love the Design Me Puff Me spray after the blow dry to give roots beautiful lift and add some texture to the hair, too."
Balayage Highlights & Lowlights Honey Blonde

@suminleehair
This is a balayage highlights and lowlights with a shadow root. It was created by Sumin Lee, a hairstylist in Sacramento, CA.
Sumin says, "this honey blonde hair dye has a dimension of the lowlights and the easy grow out from the shadow root."
The easiest way to maintain any color is how and when you wash your hair. Invest in a good shampoo and conditioner and try to wash your hair only when needed. An easy way to stretch out your hair washes is to use a good dry shampoo.
She goes onto to say, "for frequent highlight clients, I like to recommend doing a toning shampoo and deep conditioning treatment once a week. It always breaks my heart a little bit when a client will spend hundreds of dollars on their color but then use $5 shampoo at home and wash it all down the drain."
Warm Honey Blonde Hair

@reakakatie
This warm honey blonde hair color was created by hairstylist Katie Reaka of Wesley Chapel, FL.
Katie explains how she achieves and maintains such a warm color, "I used Matrix Color Graphics lift and tone to create this honey blonde style. To maintain the color and keep the hair healthy, I recommend Joico K-Pak Color Therapy shampoo and conditioner. I also love to use Paul Mitchell Super Skinny Serum to add softness and shine."
"This color is warm/neutral, so it works for a wide variety of skin tones. I recommend these shades of honey blonde to women who want to add dimension and brightness to their hair," she adds.