21 Stunning Examples of Balayage for Dark Hair (2021 Pics)
Honey Highlights on Espresso Brown Hair

@colour.jade
Experience both cool and warm rich hues blended in your locks with a luscious honey balayage like this brown hair balayage!
The ribbons of a golden honey hue create a shine and beautiful dimension to your natural hair color that amazingly requires low upkeep.
Rich Brown Balayage for Natural Curls

@balayage.by.kass
A rich dark brown balayage for natural curls creates dimension and gives dark hair a natural sun-kissed hue. To keep curls looking fresh and hydrated post-color treatment, ask your stylist for a hydrating mask.
Mahogany Balayage

@thechloeerae.hair
A mahogany balayage for darker hair suits all complexions. It allows for easy maintenance, provides a gorgeous color, and adds perfect dimension. There is no way to go wrong with a mahogany balayage in dark hair.
Bronzed Balayage

@hairbeautystudio.cabeleireiros
This bronzed balayage will have everyone staring right at you for minutes on end. The richness of the copper tones will brighten you up and add richness to your hair. Styling your hair with waves will show off the warm metallic glow of this color even more.
Platinum Balayage Highlights on Dark Tresses

@awedeewolff
Platinum balayage highlights on dark tresses are the perfect hair hue any time of year. There are a ton of cool-tone hair trends to try right now and these will go perfect with cooler skin complexions. Choosing the right shade can bring out your natural features!
Ash Blonde Highlights Balayage Dark Hair

@annietrangstylist
Turn your black mane into a high-contrast ashy dimensional blonde with balayage! According to Stylist Annie Trang, virgin hair is the best when it comes to lifting, resulting in a super clean and fresh look.
Such a balayage style for dark hair is ideal if you're wanting to experience a few blonde hair tones for a change.
Light Brown Balayage Highlights on Dark Brown Hair

@maaargaaritashair
A butterscotch and milk chocolate goodness prove how stunning a blended balayage can turn out.
Shades like this hit different on long healthy waves! Start the light brown color in the mid-length of dark brown hair for a less-maintenance style that can last for months!
Blonde Highlights Balayage for Dark Black Hair

@loveurhairr
We're amazed at the stunning high contrast this blonde balayage hairstyle gives.
Blonde highlights on jet black waves produce a simple yet sexy and effective balayage on black hair, perfect for ladies with a warm skin tone.
Rich Burgundy and Dark Chocolate Balayage

@wolfxmua
A deep warm red and a cool brunette surely go together beautifully when blended precisely with a balayage. The mix adds definition to short hair, especially with layered waves.
Copper Highlights Balayage on Dark Hair

@beauty_byeleni
To lighten your cool black mane with warm tones of reddish-brown for added shine, opt for a copper balayage on dark hair.
As you can see, this balayage looks great on straight hair and would look just as good on wavy hair.
Sun-Kissed Balayage with Dark Ash Brown and Golden Tones

@candy_hairart
A gold balayage can add luster and glam to your dark ash brown base.
Some buttery touches plus cool beachy waves are a perfect combination to give depth and texture to your brunette hair, creating a sun-kissed balayage look.
Black to Silver Balayage Ombre

@hairbyapes
Who wouldn't fall for this head-turning balayage with a high-contrast hair color melt?
The layered waves on a V-shape plus the metallic silver undertones create a totally sexy look to amp up your natural hair.
Deep Purple Balayage Highlights

@memmieyo
This dark balayage hair is one stunning alternative – a dimensional plum on wavy hair can make your mane look shiny and full of life!
Rose Gold Balayage Highlights on Short Dark Cocoa Hair

@nancileehair
Take a classic balayage to the next level by going for a rosy glow that brightens your natural dark brunette hair.
This choppy and tousled bob is the perfect canvas for this easy-going brown balayage hair color.
Dark Mocha Balayage Hair with Red Highlights
Sizzle in this sexy crimson-streaked wavy long hairstyle, done with a balayage technique! It's totally a win-win for its edginess and low upkeep requirement.
Midnight Blue Balayage Highlights on Black Hair

@jameslighthiser
These waves of azure streaks on naturally dark hair create a sophisticated balayage inspiration!
It's most mesmerizing on fair to medium skin and can be rocked by any type of hair.
Subtle Light Brown to Dark Balayage Ombre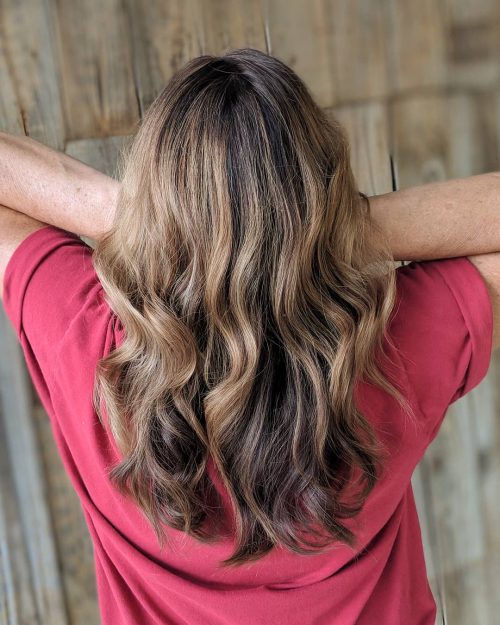 @amandagreen_hairloomsalon
"For this look, we transitioned her summer locks into a lighter shade of rich brown and deep caramel balayage," says stylist Amanda Green of Oxford, AL. "I love the way this look mimics natural sun-kissed tones. The caramel ribbons pop and give beautiful contrast against the darker tone with some movement throughout the ends."
Green states, "getting some balayage highlights for brown hair is ideal for women who can't always make it into the salon every 4-6 weeks but want to stay on-trend."
A balayage is a fantastic idea for women ready to break away from traditional highlights and lowlights. If you're ready for low maintenance, this is for you!
Dark to Blonde Ombre on Brunette Balayage Hair

@fourthgeneration_hairstylist
This lived-in balayage ombré was created by senior stylist Taylor Hawkins of Aiken, SC.
"The most gorgeous thing about it is that although it was freshly done, it looks natural and is a very low-maintenance style," says Hawkins.
Hawkins recommends you use professional products at home. "Conditioning treatments once a month, and professional brand day-to-day products are a must. This kind of hair idea is supposed to look perfectly blended whether the hair is straight or curly, so remember – natural-looking is key," she explains.
A brunette balayage ombré can be for every woman. However, it should only be done on women with no existing artificial color in their hair. So basically, if you're brunette and looking to go lighter but don't want to have to keep up with it every 6 weeks, this look is for you!
Natural Balayage Hair with Grey Highlights

@jordischon
The loveliest thing about this natural balayage look is that the grey highlights help blend natural greys. "Instead of hiding from the greys, we chose to embrace and even enhance them," says master colorist Jordi Schönwetter of Langley, BC.
As stunning as it is, grey-toned hair is not for everyone. Because of how high-maintenance grey or silver-colored hair is, Schönwetter is always realistic with women wanting results like these.
While advising on the importance of professional haircare at home, Schönwetter explains, "use a color-safe shampoo, blonde shampoo (to fight brassiness), protein and moisture treatments, as well as coming in every 3- 6 weeks to refresh the grey tone."
If the hair is dark, whether it is natural or colored, results like these may take a few sessions to achieve, so it's important to be patient and commit to the necessary steps to achieve the goal result.
Deep Auburn Red Balayage Hair Color

@meganrosehairstylist
"It's a sunset balayage with long V-shaped layers and proof that a balayage isn't just for blondes," says hairstylist Megan Rose of Seattle, WA.
Rose says this look is hot for dark-haired women who want to spice things up! "I put a custom color on as an overlay right after her balayage to create these gorgeous tones," she adds.
Balayage and dark hair are not only great for long hair, but medium-length lobs look incredible with this type of dimensional color, too. It's also a great intro to hair color for brunettes who haven't yet taken the plunge.
Caramel Balayage Highlights on Deep Brown Hair

@locksby_lulu
The caramel balayage is so beautiful and was created by hairstylist Alyssa Oolman of Colorado Springs, CO.
"Some of my favorite things with this color are the highs and lows of her natural root between the hand-painted pieces," says Oolman. "Also, using different types of lightener and volumes of developer lets you create a lot of dimension within your lightened pieces."
Hand painting and balayage techniques have been around and aren't going anywhere soon. This style of color is so customizable – you can add dimension wherever you want. The placement of your lighter pieces is a very important conversation to have with your stylist.
Oolman explains, "the lighter pieces and where you can place them can either enhance a feature, bring focus to one area, or having the 'money piece' to bring out the lightened pieces right around your face to enhance your look!"
Another factor to think about with this color is your face shape and lifestyle! Lighter pieces grab attention, darker pieces shy away.
Oolman always recommends coming in for a color glossing service between your blonding services to help maintain and enhance the tones you want to see in your balayage for brown hair! "Depending on how blonde you want your hair to be this technique can take multiple times to achieve. Keep this in mind when thinking of doing a balayage," she adds.