21 Stunning Examples of Caramel Balayage Highlights for 2023
Caramel Balayage on Brown Hair

@konstantinos_hair
A warm caramel blend on brunette hair offers a one-of-a-kind contrast for a more defined and dimensional hairstyle. It's a universal shade that looks brilliant on all skin tones.
Brown with Strawberry Blonde Balayage
@reddoorsalon_amherst
Catch the light on your tresses with this rosy color melt that makes brunette hair even more luscious and shiny! Wavy or straight, this paint job totally works on anyone!
Dark Caramel with Honey Highlights

@stephanie_stylist
Get a little bit of glow from this sweetly tinted chocolate hair that will give you a fresh look! Fabulous on any hair length and texture!
Golden Brown Highlights on Light Brown Hair

@alyssa_at_pinupcurls
This mesmerizing buttery blonde light brown hair is so silky and smooth, and it makes the hair appear soft and healthy!
Ash Blonde and Caramel

@xoxo_balayage
Salted Caramel Balayage on Short Hair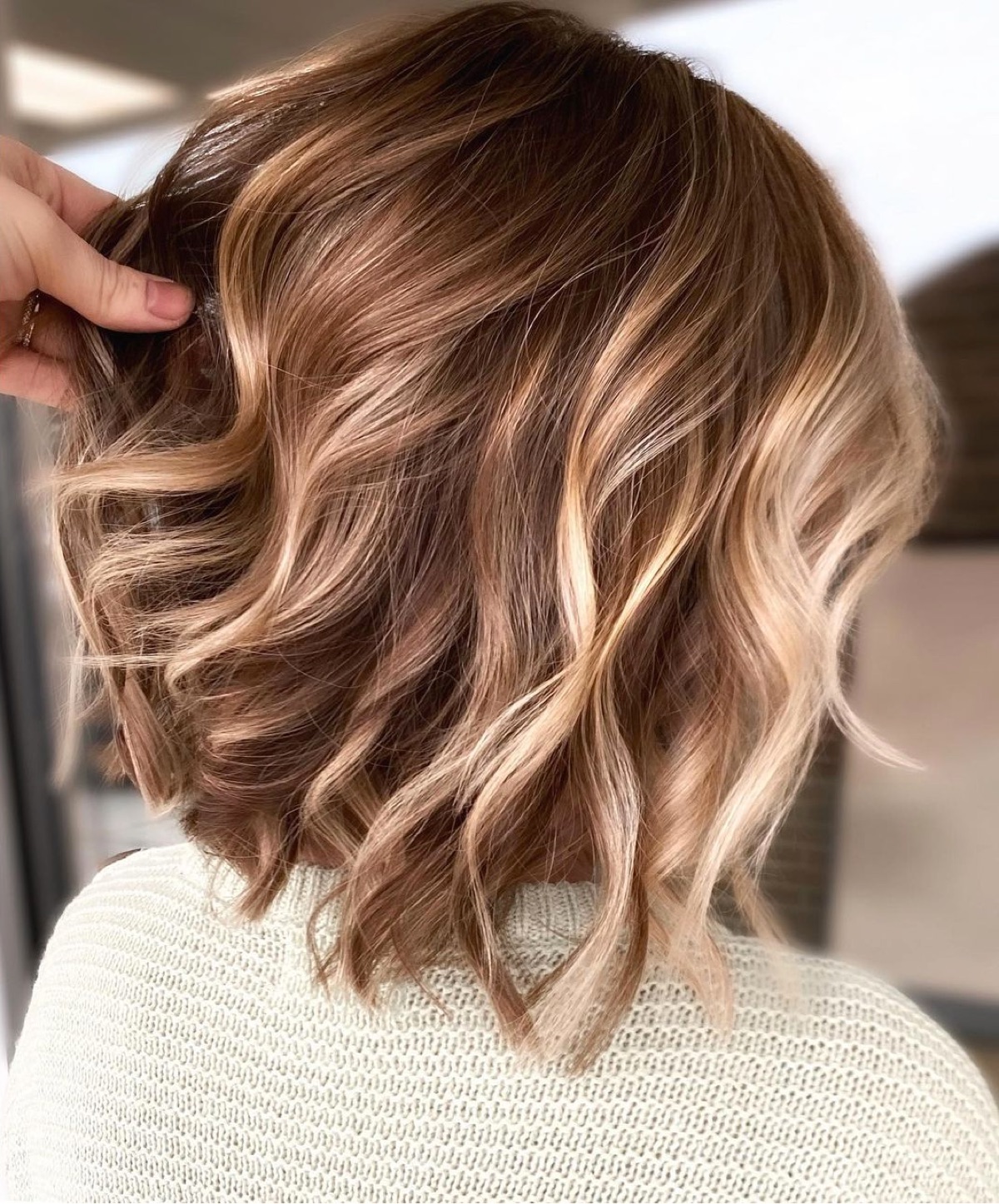 @live_love_dohair
An elegant version of the sun-kissed beachy look on a wavy bob with fringe – this hairstyle looks stunning on anyone looking for a sassy look!
Toffee Balayage Highlights

@morgan_warmerdam_hair
Fall can't come any sooner with this delicious and refreshing hair color melt. It's simple yet beautiful and works well with natural dark hair colors.
Brunette Colored Hair

@colorbyciarra
Get that beautiful light-catching effect on your natural chocolate hair by getting these sweet and warm highlights! Ideal for wavy hair in any length!
Brunette to Blonde Ombre

@hairgirl541
Get rid of your flat hair with this super lovely color melt from dark to light! You'll get a taste of what it's like to be blonde without all the maintenance it requires.
Q&A with style creator, Miranda Hyde
Stylist / Hair Perfectionist @ Devyani Salon in Grants Pass, OR
How would you describe this look?
This look is a beautiful representation of a natural base balayage, and when I mean a natural base, I am referencing that this guest enjoys her natural hair color and just wanted to add dimension and lightness to her ends.
I utilized Paul Mitchell Skylights (a clay-based lightener) to create the space and break up her previous color. Once that process was completed, I went back through the hair and enhanced the mid shaft color with Paul Mitchell The Demi. The Demi is a semi-permanent hair color with a gel-like viscosity which glides through the hair. It added beautiful shine and controlled unnecessary warmth while helping to blend the natural color to the secondary color.
For the ends, I moved across the color wheel and picked a color from Paul Mitchell The Color XG to tone out the remaining pigment tone and add softness to the color on the ends. The cut was determined by where the color lived in the hair to complement it.
This guest wanted to maintain as much length as possible but have a lot of movement and body. As a stylist having great communication and inspirational photos gave us an idea of where to place the color and how to showcase it with a beautiful haircut. I love the differences between warm and cool tones, I feel like the play on those different tones is what makes the combination pop!
Any advice for someone considering it?
Ask yourself where your color is living at now. For example, do you have light hair already and the maintenance is too much, or do you have dark brown and looking to have more lightness added back into the hair. You also have to consider sometimes if the integral value of the hair can withstand the lightening process on the ends to create this look.
This look can be as easy as a highlight service or a complete color correction. Most guests come in with unrealistic expectations and assume a balayage can be achieved in one appointment of 2.5 hours like their normal color appointment has been done within. This look has had two appointments of 3 hours each. Although, maintenance is extremely low which is what this full-time working mother of two needed.
This color technique is treading right now, and there are many different colors and placement ideas out there to create either a low maintenance sombre or a dramatic hombre for everyone!
Black to Caramel Ombre

@hairbykatelyn_greer
Q&A with style creator, Katelyn Greer
Hairstylist @ Amber Rene Salon in Sandy, UT
---
How would you describe this look?
This is a caramel color melt – dark chocolate base melted into warm caramel ends. The hair was balayaged and then colormelted for the blended transition. The soft waves were created by using a straightener, which makes the color pop.
Any advice for someone considering it?
Balayage grows out so natural that it is a great look for someone who is wanting low maintenance and less frequent salon visits. Caramel tones are a great option for brunettes who want to go lighter but don't want to go blonde. This color is not limiting. It can work for every hair type and face shape.
I always recommend a color safe shampoo and conditioner to keep the color from fading. A leave-in treatment is also perfect to add moisture back into your hair after any color service. I also recommend a heat protectant to help keep your hair looking healthy and shiny.
Warm Blonde Balayage on Curly Hair

@radicallycurly
Q&A with style creator, Danielle Green
Founder & Level IV Stylist @ Radically Curly Hair Salon in Henderson, NV
---
How would you describe this look?
I loved creating this look on Natasha's naturally curly hair. The best thing about it is the high contrast between the highlights and the lowlights. This technique brings out the definition and reflects of brightness which makes her curls pop!
Any advice for someone considering it?
This curly technique is low maintenance and perfect for the curly girl likes to visit the salon twice a year for highlights. Proper at-home care with a sulfate-free shampoo or (co-wash) and a deep conditioner once per week is perfect to maintain the health of the hair. Curly cuts 4-6 times per year will keep the ends healthy too.
Butterscotch Balayage on Black Hair

@jacky.alchemist
Q&A with style creator, Jaclyn Madrid
Stylist / Owner @ Alchemy Salon in Houston, TX
---
How would you describe this look?
This light brown hair is what I call yummy golden caramel crips! The way the waves and color flow lightly together just reminds me of apples dipped in caramel!
Any advice for someone considering it?
Consider your morning routine. If you don't do much to your hair and it has an extra curl, it won't look the same. You would have to style it continuously to get this look. This is also for someone who wants a low maintenance color. This picture was taken 4 months after I colored it. She just came in for a haircut actually!
This color is perfect for everyone, but it depends on how you want the outcome. Every hair texture and style is so different. It won't be best on someone with curly hair compared to someone with a light wave. The same thing goes for the product. Some might have more frizz than others, so a blowdry is very important. When looking for style, find one that goes with the same hair type and texture as yours.
Copper Red with Subtle Caramel Balayage Highlights

@colored_by_ashley
Q&A with style creator, Ashley Brinker
Hairstylist @ The New You Styling Salon in Erie, PA
---
How would you describe this look?
It's that time of year – sweaters, pumpkin spiced lattes, and fall hair color! I call this one hot caramel apple cider. I love the depth and dimension this hair color has. Hand painting a few pieces of caramel here and there adds a touch of brightness without taking away from her beautiful base color.
Any advice for someone considering it?
Ask your stylist to stick with caramel or caramel with a touch of red. You want the colors to blend together really well. For the base, I used a mixture of Paul Mitchell's RB's and I used PM Shines to tone her highlights. Paul Mitchell's reds are awesome! She has naturally curly hair, so I cut in some layers to lighten the weight a little.
It's so important to keep your curls moisturized so make sure you're doing weekly at-home conditioning treatments. I also recommend my clients enjoy an in-salon deeper treatment once in a while. This guest was finished with the Curls line from Surface and I gave her some loose curls to really showcase her color.
Chocolate Balayage

@salonzhenya
Q&A with style creator, Zhenya Lazarchuk
Stylist & Owner @ Salon Zhenya at Studio 60 in Woodfin, NC
---
How would you describe this look?
I love this subtle balayage because it provides a multi-dimensional effect for someone who doesn't want a drastic change. When the hair color is not strongly contrasting, the color grows subtly providing a low maintenance upkeep. The subtle highlights also create a glow around the face for a younger feel.
Any advice for someone considering it?
The haircut is an ideal haircut for almost anyone. I would not recommend it for an oblong face shape unless bangs are added. The hair can be pulled back or it could be left down. This haircut is highly recommended for individuals who have a little body wave or curls. The layers allow for the curls and waves to be true to their form and be more visibly defined. This color and cut are great for all lifestyles from a new mom, a professional career woman, to an active individual and anyone in between!
The best hair products for maintaining the slug should always be a leave-in conditioner! To aid in defining the layers and curls, a light mousse is recommended to shape this style. I personally love finishing the style with a light hairspray and a shine spray. I always follow the three rules of Veda taught me and styling hair. Prep – Style – Finish. Products are recommended for each step to ensure your style holds all day.
Sunkissed Caramel Balayage on Dark Brown Hair

@aligoodson
Q&A with style creator, Ali Goodson
Stylist @ Fisher Experience Salon in Braintree, MA
---
How would you describe this look?
This is for those who want to have dimension and contrast but low maintenance! We have fun with the different colors and tones in the ends. This look is accomplished with balayage and toning to caramel tone.
Kate Middleton was our inspiration! We used a style set with texture spray and a 1 1/4″ curling wand.
Any advice for someone considering it?
This look starts off with a great heat protectant and primer spray. I like to use the Bumble and Bumble hairdresser oil spray with 5 to 10 sprays throughout the whole head on clean towel-dried hair. Then use the B.B. thickening mousse, working it in the root then pulling down towards the ends for extra hold in the style. Blow out with a medium-size round brush then spray a textured hairspray once fully dry.
Sectioning the hair is the easier and cleanest way to get the curl pattern you want! Take inch-thick sections and wrap the hair away from the face twice around, keeping the ends out. In the back sections, switch up the direction to create a very tousled look. Spray the hairspray before breaking up the curls up with your fingers, so the hair has time to set and lock-in.
Light Caramel Highlights on Brown Hair

@laurenbakerhair
Q&A with style creator, Lauren Baker
Hairstylist / Makeup Artist @ Bella Style Salon in Slidell, LA
---
How would you describe this look?
These light caramel highlights on brown hair are such a soft and subtle look but it enhances her natural color with a blended caramel contrast. The coolest thing is how versatile it is, with it still looking natural.
Any advice for someone considering it?
This look is great for anyone wanting to specifically enhance their natural color, as it adds some depth and contrast without taking away from it. It looks good when styled and when thrown up in a bun, so it's an amazingly low maintenance color!
Mahogany

@glhgmarkham
Q&A with style creator, Nicole
Stylist @ Great Lengths Hair Gallery in Markham, ON
---
How would you describe this look?
The best thing about this mahogany look is that it was actually a rose gold attempt. We just had to take it in stages as her hair is naturally a level 3/4 so we just went with what her hair lightened to this round.
I wanted to do this without having to compromise length as she wanted to keep it longer and this is the gorgeous color we ended up both loving! I would describe this as a cool muted mahogany brown.
Any advice for someone considering it?
This needs maintenance. Fashion shades will either fade out or turn murky a lot faster than a regular shade will especially if color safe products are not being used at home. If you're into maintaining this gorgeous shade, I would recommend a color refresh every 6-8 weeks. This is for your average woman who likes to keep it simple but also fun as well. It's a perfect fall shade, especially if you're over 50.
This look was styled with Electric London preparation spray and smoothing cream before blowdrying, and then flat ironed waved and finished off with Joico Beach Shake for some texture and shine.
Deep Caramel Highlights on Dark Hair

@hairbyhiggins
Q&A with style creator, Courtney Higgins
Advanced Academy Colourist Student @ Valentino's Grand Salon in Whitby, ON
---
How would you describe this look?
This is a high contrast balayage with a soft melted caramel inspired look. I am completely in love with how the highlights cascade around her most beautiful features such as her lips, cheekbones, and gorgeous eyes.
The caramel tones warmed and complement her skin tone so well and really help to give her an overall natural glow. After box dying her hair black for many years, we were both extremely happy with how light her hair allowed ya to get her, which is a very rare occasion. The hair gods were with us on this day.
Any advice for someone considering it?
Trust in the process. Beauty takes time and it pays to be patient. Trust your hair stylist and the opinions they give you. Balayage tends to look best with a layered haircut, as it helps to showcase the different tones and dimensions in the hair. It is best complemented with curls or a soft wave style.
Someone with a tanned, warm complexion could definitely pull off this color like no one's business. An easy way to tell what tones best compliment you is to take a look at the color of your veins in your arm. Green veins you can pull off warm tones suck as caramels, auburn, rich browns.
Blue veins you are more on the cooler side, so ashy colors or cool blondes would look best. If you have both colored veins you are blessed. You could make any color work! This color accompanied with green, brown, or hazel eyes, and you are guaranteed to stop people on their tracks and make their jaws hit the floor!
Caramel Brown Balayage on Long Hair
@maxineeglynn
Q&A with style creator, Maxine Glynn
Master Stylist @ Instyle Salon (Inside JCPenney) in Freehold, NJ
---
How would you describe this look?
This look is a dimensional caramel balayage. Enhancing the caramel highlights and mixing in darker brown tones create the perfect fall blend. The mix of lighter and darker natural tones paired with a natural soft wave style is my favorite thing about this look.
Any advice for someone considering it?
Anyone desiring and considering getting a caramel balayage should know that this dimensional look can add a lot of depth in the color, but it can also be done in a way where the dimension is subtle and soft so it can really work for everyone.
There are many different natural caramel tones to work with along the color line, so each client's color is uniquely formulated to enhance their beauty and complement their skin tone. A caramel balayage is the perfect color to consider if you're looking for something that's lower maintenance. Balayage highlights are feathered up to the root creating a shadow, so this look stays seamless as it grows out.
Honey Brown Balayage on Medium Length Hair

@xoxo_balayage
Q&A with style creator, Ellie Block
Balayage / Highlight / Color Specialist @ Luxe a Boutique Salon in Lakeway, TX
---
How would you describe this look?
The best about this look was that this was actually a color correction. She had a very brassy, grown-out ombre with no dimension and length that wasn't doing anything but looking scraggly. First, we cut off about four inches and then I balayaged highlights and lowlights into her hair giving her the dimension she very much needed.
We wanted low maintenance look so I brought the balayaged highlights higher around her face and dropped into a halo technique for her sides and back. We chose to have a caramel tone that best complimented her skin tone and natural hair color. Another good thing about this look is how the naturally gorgeous balayaged highs and lows complimented her complexion and brought her back to life!
Any advice for someone considering it?
Go for something natural that accentuates your look and to find the right tones for your unique skin tone. I recommend dimension to all of my clients because it makes the highlights pop and brings so much more life and beauty to the final product. You don't want your hair looking too unnatural for who you are, so stay within the levels you were born to look good in. Keep it simple.
If you're wanting to have a caramel balayage make sure that the toner that you choose is right for you. The last thing you want is a brassy balayage that's meant to be caramel. This balayage will last her at least 4-6 months but I advise your clients to come in for toners and cuts every 6-8 weeks to keep it looking fresh.
Bronde Balayage on Straight Hair

@katelyn_birky_hairstylist
Q&A with style creator, Katelyn Birky
Hairstylist @ Blondies Hair Detailing in Valparaiso, IN
---
How would you describe this look?
This is the perfect caramel balayage highlight on straight hair. What I love about this look is almost everyone can pull this off! It gives your hair such a dimension whether it's worn curly or straight.
Any advice for someone considering it?
This look is great for someone who may want to have lighter pieces in their hair but does not want the every 4-6 weeks of upkeep. It keeps the lighter pieces off your scalp so you don't have that outgrown look. This color is perfect for those professional women and even for those stay at home mommas! As always I would recommend a color-safe shampoo to help keep the lifespan of your color longer and heat protectant to keep your hair nice and healthy.