23 Flattering Dark Hair Colors for Every Skin Tone
Matte Black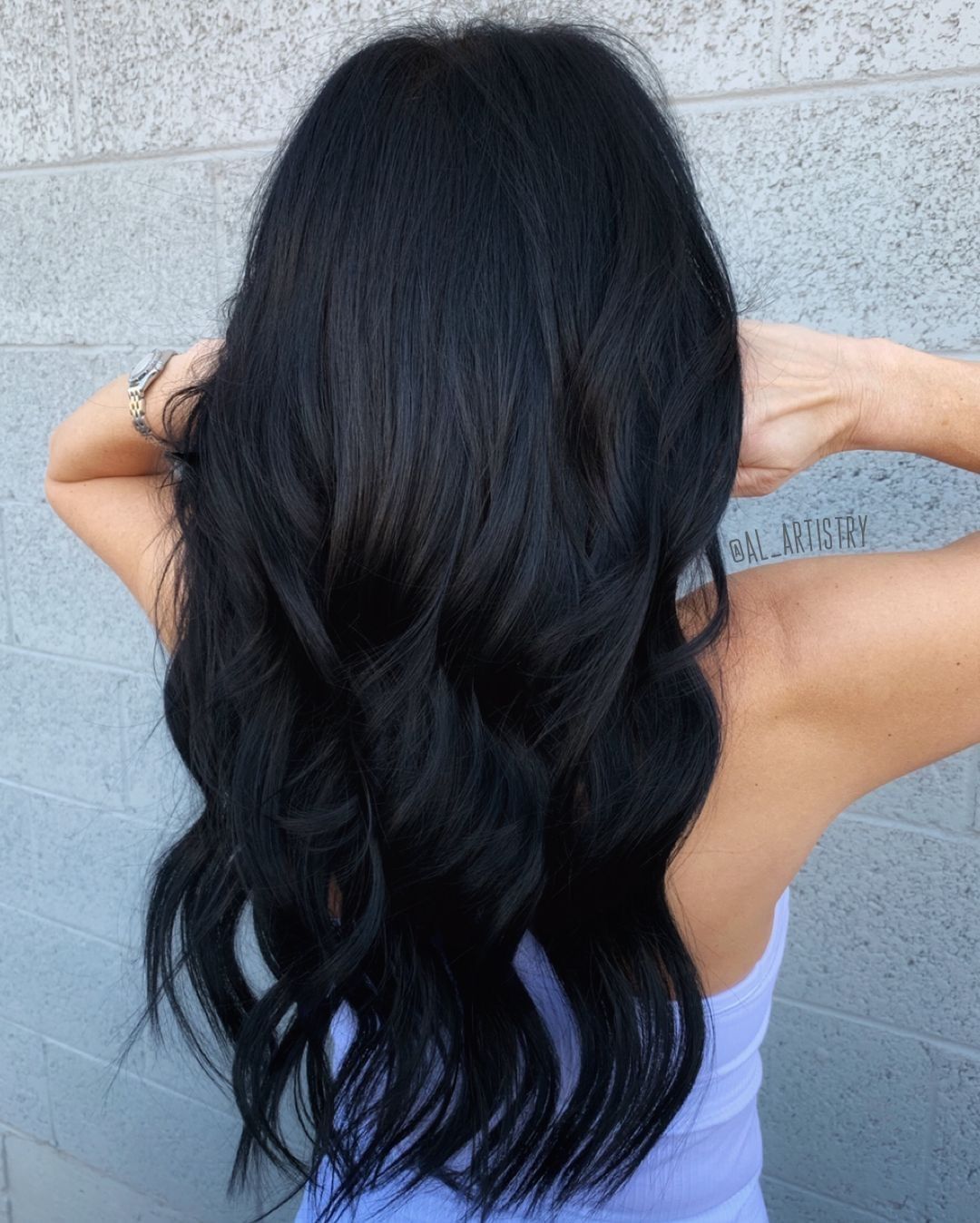 @adrileeartistry
Embrace your black tresses as your natural hair color to boost your beauty and glam. Choose this matte black tone to pair with your long mermaid hair. When styling, use a wand to form effortless waves on your thick mane.
Black Ink Shade

@thecolorsalons
A color that's sure to boost the full shape of your chin-length chop! Aside from its refined outcome, this black ink shade on straight hair makes it look fine and healthy. Light doesn't reflect on darker shades like this one, so the oil will offer your locks a nice, shiny effect.
Hair artist Iris Poldervaart of Amsterdam, NL created this color known as ink-black hair. The sharp bob cut has a ton of glow and a drop of blue.
"The best skin tone for this look would be women with soft pale or very fair skin and not too much warmth. The style is suitable for people with thin to thick hair, and for those who have a bob cut," Poldervaart states.
Bob hairstyles are perfect for women with straight, wavy or curly hair. Poldervaart points out that "a bob is easiest to style with smoothing cream and after it's been towel-dried. Finish this look with a gloss serum and you'll be good to go!"
Dark Mocha Brown

@maloryohaira
This dark mocha brown hair that sits above the shoulders is definitely an effortlessly sassy style. Hairdresser Malory Mendonsa of Kennewick, WA came up with this rich chocolate-colored hair to give the cut a sophisticated edge.
"This guest has tons of heavy, oil-prone hair, so before styling, we use Bumble and bumble All-Style blow dry. When applied right on the roots, it can repel oil for longer and extend the life of your blow-dry. We curled away from the face with a 1 1/4-inch curling iron and broke it up by finishing with Bumble and bumble Dryspun," Mendonsa explains.
A shorter-length bob is perfect for anyone wanting easy wash-and-go hair while still having the option of styling. This warm chocolate brown color is a great option for lighter skin tones wanting to take a trip to the darker side!
Dark Chocolate

@tyler_the_hairstylist
A dark chocolate hair color looks modern and classic, especially with lighter tips. A dark hair shade is definitely still an investment, just like the blonde hair.
Use a color-protecting shampoo and products that don't contain anything that will strip the hair, such as sulfates and alcohol. Keep the hair conditioned because dark hair's best feature is always looking shiny and silky.
Brunettes can have just as much fun as blondes. Going to the dark side is definitely something everyone should give a try!
Naturally Dark Balayage

@_beautynative
This is a custom ash brown balayage by stylist Selina McManus.
The California-based hair artist states, "This woman is very low-maintenance and wanted something to give her beautiful natural dark color a little bit of pop. The cut is long soft layers, with a bit of framing and a fringe. I love enhancing natural color, and a dark hair balayage is perfect for anyone looking for a low-maintenance look. The color really stands out with the style and cut, and I love it!"
This cool brown color is a great look for someone who doesn't have a lot of time to be in the salon. McManus notes that most first-time coloring ladies are worried about the upkeep, and this would be a great way to introduce color. Brunette hair doesn't need to be flat or boring, as a great cut and a few dimensional pieces go a long way.
Dark with Purple Tones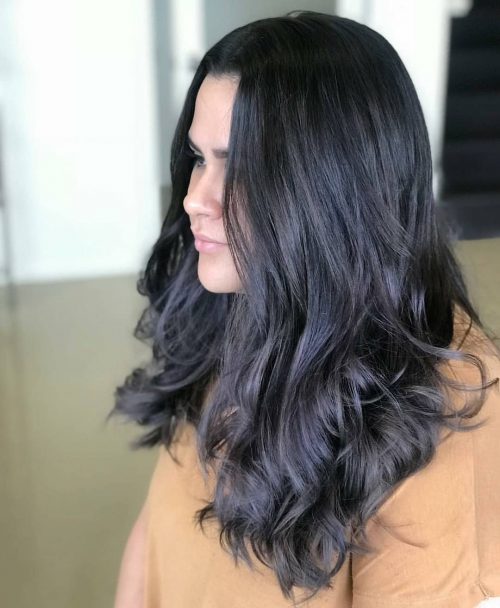 @theolivebranchsalon
Nothing goes well in the classic dark and lovely hair colors than long hair styled with soft waves, too! There's something about these unique hair colors for dark hair that give an elegant edge to match women's style and flair.
Despite it being low-maintenance, make it a habit to apply a hair mask once a week. It keeps the tresses moisturized to look healthy.
Dark Golden Brown

@sadieface
The dark golden brown highlights create a warmer version of a classic brunette color. Created by California-based color specialist Sadie Curtin, it offers the benefits of a lighter softer version without being too light.
Curtin explains, "Chocolate and golden undertones are very present and give the reflective quality everyone is looking for this year. The dimension in this photo comes from golden light brown balayage that is balanced throughout the russet hair and also accented by a wonderful long layered cut."
A warmer look of rich brown hair with light brown highlights is perfect for almost everyone. It's ideal for anyone battling aging. The reflective qualities this color has allows for the light to bounce more off the skin and help hide fine lines.
Curtin adds, "A good rule of thumb when considering hair color – gold reflects and ash absorbs! Dark browns, and dark hair colors with highlights in general, don't have to be boring."
Dark Ash Hue

@haircreators
Get your hair on fleek with this chestnut medium brown base blended with soft medium ashy blonde highlights! Dark hair with blonde highlights is sexy and offers an unparalleled dimension to your long wavy locks. These soft highlights on chestnut hair are one of the best options if you're a woman looking for low-maintenance color.
Deep Dark Brown

@sofiarootshairdevotion
This look is a deep chocolate brown, which is a hair inspiration created by stylist Sofia Davila of Brick Township, NJ. The best thing about this medium brown hair color is the shine and sophistication this look gives off.
To achieve a hair dark brown hue, Davila recommends a conditioning color to add shine and keep the hair as healthy as possible.
"I used Redken's Shades EQ Cream line which is formulated with pomegranate oil, rice protein, and a conditioning polymer," says Davila.
Color-safe shampoo, conditioner, and styling products are a must to maintain this hue. Davila mentions, "I highly recommend sulfate-free products such as Redken's Color Extend Magnetics line."
Dark hair dye reflects beautifully on someone with an olive or tan skin tone. Redken's Shades EQ Cream is a no-lift, no-ammonia hair color, so it's ideal for someone who does not require gray coverage but wants to add depth and shine to their hair.
Shade of Black Ink

@38731u
Look how flattering this natural-looking mane is! The color, which is as dark as a natural shade of black ink, is very versatile for any age, style, or hair type. Got such beautiful long hair with a natural wavy texture? Feel free to add bangs to upgrade your look without compromising your hair length.
Dark Chestnut Brown

@shearluck_salon
Dark colors make the best shiny hair ever with hints of chestnut highlights! Notice how smooth this shade of deep brown is on a longer mid-length chop. It works great on thick and straight tresses, creating a sleeker finish. When washing your locks, use a sulfate-free shampoo for a longer-lasting vibrant hue.
Dark Blue Black

@jbootybb
Perfect for a gorgeous lady who likes something glam and bold! Not too bright, not too shady—this dark steely blue black hair offers a fine, lustrous look. Gloss your short wavy bob with this shade, and it'll be your best accessory every day.
Made by Julie Kathryn, a hairstylist from Maryland, this hair dye is a marriage between muted or smokey teal and blue-black.
"I switched up the typical blue-black trend by adding blended highlights of brighter blue hues. Adding the highlights has created dimension causing the hair to look shinier. Combining this color with this soft, textured bob makes blue hair look sophisticated," Kathryn explains.
Pairing deep or muted vivids with a dark base is a tasteful way to play with color. To achieve this color, hair must be lightened to the orangey stage or lighter. Kathryn adds, "If you have naturally or previously colored dark hair, you will have to sit longer, or you may have to work your way up to your desired color in multiple appointments."
For this cut, an angled bob or lob can be flattering on anyone, can be tailored to each person's need, and is fairly low-maintenance. If you have a round face and don't want to accentuate the shape, Kathryn suggests keeping the length around your face below the jawline.
Inky Black Shade

@taylermadehair
This look is a shoulder-length, straight across (non-angled) textured bob with inky black hair color. Says look creator Tayler Woodward of Texas, "My favorite thing about this look is its versatility because it can be worn many different ways."
When women are considering doing a similar look to this or going shorter to a shoulder-length cut, Woodward's advice is always to ask about their lifestyle.
Woodward goes on, "I follow up that question by telling them that a shoulder-length bob does require more frequent appointments back to the salon to maintain the shape of this look so that it does not go into the "in-between" or "awkward" stage."
The best face shapes for a one-length (minimal layered) cut would be oval, heart, or diamond face shapes. Products to consider using are texture sprays like Redken Wind Blown 05.
To get the textured look, Woodward notes, "it's important to use a 1-inch curling iron, alternating the direction of the waves/curls, and not let the iron set too long. This gives the more lived-in and disheveled look."
The color that Woodward used was Redken Color Gels 3n. The woman's natural color is level 6/7 neutral/warm brown, and she likes to keep it very cool, dark, and rich. She has naturally very thick hair, so there was thinning involved in the cut as well on top of the actual cut and shaping. She has a hidden undercut underneath as well. The cut is still long enough to put in a small ponytail.
Dark Purple

@melissamhair
This dark hair color with a mix and contrast of purple and magenta hues makes a great match with a fun, soft textured lob. The medium-length cut gives movement to the hair and the color.
What's great about the look is the subtle highlights because it's fun and edgy but not too bright. States stylist Melissa Marshall of New Jersey, "It's great for someone looking to play with fashion shades but isn't ready to commit to something bolder. I like to refer to fashion colors as weekend colors because of how fast they lose their vibrancy, so I don't recommend these colors for low-maintenance ladies."
To maintain dark-colored hair, Marshall recommends washing with products for color-treated hair such as Oribe Beautiful Color or R+Co Gemstone. "Both are super gentle on the color and help preserve the vibrancy. Washing the hair less often and with cooler water will also help," Marshall explains.
When styling strands of hair with such cute brown hair color ideas, heat protectant products and not using hot tools over 325 degrees are suggested.
Dark Brunette Balayage

@shelbywhite_hmu
A dark brunette balayage is sure to catch everyone's eyes. It's created by Shelby White, a stylist from Narragansett, RI. The warm tones that balance out the dark roots are something to love about this.
"Think about your starting level in regard to how dark your natural hair is," White suggests when considering getting this look.
White points out, "If you have a darker base, these brunette highlights are great for a low-maintenance look. The warm tones work really well with medium to darker skin tones, as well as any skin color that doesn't have a lot of pink or red. If you have red in your skin tone, this might make the skin look more red."
This dark hair with caramel highlights is a wonderful look for a lady that's more low-maintenance because you're adding color without an every four to six-week commitment. All products used are by Redken.
Dark Ash on Wavy Hair

@ardie81
Get people's attention with a ravishing and low-upkeep dark hair color that's all women need! When you have such a black and lengthy mane, choose a hairstyle that gives extra movement.
Copy this voluminous look using a curling wand to match this dark, rich color. Also, use a shine spray to achieve a more polished version of this dark color hair for beachy wavy hair like yours.
Dark Jet Black

@lorraine_da_silva816
Don't let the phase of growing out a short haircut be so boring. This look features a dark jet black hair color with a neck-length angled bob cut. The result is sure to stun people, seeing how foxy and bold it appears. For an extra gloss, spritz a shine spray on your locks.
This matching fashionable short hair, created by stylist Lorraine da Silva of Florida, is versatile and easy to maintain. It's a clean-cut asymmetrical angle that gives it a modern edgy look.
Taking hair color into consideration, Da Silva points out that it's the kind of haircut that pairs well with any hair color. "This particular haircut suits women who preferably have straight hair, as it would be easier to wear and maintain," says the stylist.
Should you want some volume use a volumizer of your choice and spray it on the roots, then blowdry with a round brush and – voila! If the texture of your hair is more on the wavier side, use a styling frizz control cream.
Da Silva adds, "face shapes are important, as well. Having an oval or a heart-shaped face is better suited for this look."
Overall, this angled bob is a great style to change up your look!
Mahogany Balayage on Dark Hair

@jessyjinstylist
A rich mahogany tone can create luscious darker hair colors with subtle brightness. This rich mahogany tone on a shoulder-grazing lob appears very natural and seductive. You can imagine how this shade suits most skin tones, from fair to olive complexion. Opt for this rich mahogany tone if you want a trend that requires minimal care routine. Or, if mahogany isn't quite your shade, opt for a shade of burgundy, red highlights, auburn highlights, or even medium brown highlights instead!
Dark Ash Black

@stylesbycoley
Sure, there are various shades of black hair and this one is the dark ash black hair color, designed by Coley Nevalsky, a hairstylist from Sturbridge, MA.
"My favorite thing about this is how deep, rich and cool-toned it came out, while still having that slight natural-looking highlight to it," Nevalsky emphasizes.
Nevalsky used JOICO to achieve this color. A combination of sulfate-free, color care shampoo and conditioner are recommended to keep it looking nice and deep.
This darkened hair color is best for the low-maintenance woman with naturally darker hair. Nevalsky continues, "It's ideal for someone that pushes their appointments out closer to ten to 12 weeks rather than six to eight. I believe this would look great with any skin tone."
Dark French Roast

@teased_byp
Your long hair will look stylish in this dark french roast color. It'll look even more natural with dark brown roots. If needed, give your long brown hair subtle layers for the added movement. You can run a flat iron through your ends when styling to avoid a lifeless result, too!
Dark Charcoal Tone

@tammy.ethan
Here's a dark charcoal tone that can make your black brown hair come out more stunning. Its glossy finish works best on thick, fuller-looking locks. When styling, opt for volumized waves to give your long-length mane the soft movement it needs.
Created by stylists Tammy and Ethan of Australia, this mesmerizing color exudes a sense of mystery and looks effortlessly chic. The different unique cool charcoal tones blend together to create lovely shadows.
"To achieve this, we created a solid, even base by using a strong blueish, gray tone from Mydentity. Choosing these tones will also ensure the longevity of such a hair color for dark hair," the stylists state.
To save your hair from further damage, Tammy and Ethan suggest staying away from pre-lightening and instead create a solid base to give your hair more body and shine. This makes it easier to maintain at home without any hassle and will also last till your next visit.
"The keys to maintaining color longevity include using color securing shampoo and conditioner and washing your hair with cooler water. Also, style your hair under low heat and with heat protection products," Tammy and Ethan advise.
For home maintenance, use MyHero Collagen treatment and Olaplex No.3 to keep your hair strong and healthy.
Espresso Hair Color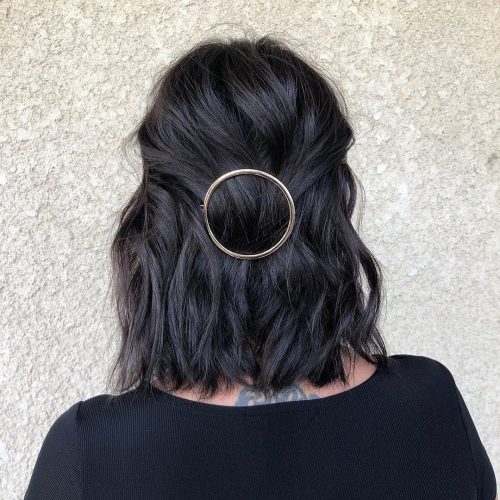 @emma.case.beauty
For someone who's into something minimalist, pretty hair colors such as this shade of dark hair can be your fave! This has a rich espresso brown hue that sheds a glow under the sunlight. Chop your hair where it sits on the shoulders to maintain its fullness. For an easy go-to style, beach waves look pretty on dark brown hair colors with an O-shaped barrette clip as an accessory.
Dark Grey

@lashesbylyssa
Dark hair ideas make a stunning statement, too! Featuring a neutral dark grey shade that works on any chop, whether it's short or a long layered one like this! This neutral-toned black hue with silver is one of the best dark fall hair colors for pale skin complexion.
Give it a touch of glam by styling the hair ends with curls and mist a medium-hold hairspray for a softer finish.