The Complete Style Guide to The Quiff Hairstyle
Barber-Approved 1950s Quiff Style
@adrianllorispeluqueria
The key to 1950s quiff hairstyles is the volume. With your natural wavy texture, it adds shape to your bronde hair resembling a pompadour. The razor fade on the sides is a necessary feature that complements a manly beard.
Finger-Combed Quiff
@theclutchbarbers
Finger combed quiff is a remix to the popular undercut. The main difference is that the quiff is blended into the desired style on top. The undercut is parted around the partial ridge, and a division is made on the sides and the top. Throw in a little product, and you are ready to go!
Big Volume Hair Quiff
@willsalon
This big volume quiff with shaved lines on one side is something to be obsessed with! It'll compliment your dapperness and charm, bringing a dynamic twist to your dark hair.
The Textured Quiff for Long Hair
@amir.oxygen_
This is an awesome long quiff haircut. You can see how volume and texture can bring life to your lengthy, dark hair. Strands are delicately fixed, carrying out an illusion of a textured quiff with layers and waves. Even without a beard, the payoff of this long hairstyle is sure to make ladies sweep off their feet.
Voluminous Quiff Fringe
@vaan_barber
If you think volume is everything when it comes to styling, then this high volume quiff can be your go-to look! This voluminous quiff fringe makes your dark, thin hair appear fuller and suave in all angles.
Perfect Slicked Back Quiff
@hayden_cassidy
If you think that a perfect slicked back quiff doesn't exist, you might haven't seen this trend. Rock a loose textured and pompadour-styled look by getting yourself sharp faded sides. Your dark hair, with a pop of brown hue, will make a great impression.
Modern Quiff for Curly Hair
@rm_barber
The best quiffs for curly hair men have texture. Looking for an alternative way to flaunt your curls? Aim for curly hair fade like this dude because a tousled look is in style nowadays. The sides are faded to easily emphasize the movement that's happening to the hair on top. This curly quiff is a must-try!
Messy Quiff
@emporio_barber_shop
This messy quiff is dope, and there's no denying! Try this messy modern quiff hairstyle if you love to add some texture and movement to your black hair to go with neat sides.
Wavy Quiff
@juanfrangonzalez20
This wavy quiff hairstyle is not your typical quiff! Time to bring out the natural texture of your dark hair and let it be your most attractive feature. The bald fade sides help the curls stand out, resulting in this very stylish, tousled quiff style.
Short Quiff
@ismaeldemarin
A neat and short quiff is your perfect bet when going for a more discreet edge. Achieve it by giving your dark, medium hair on top some soft spikes for styling. A surgical line will add hotness to the total look, too!
Disconnected Undercut Quiff for Boys
@kvenzo.barber.cuts
Quiffs can work for guys of all ages. This disconnected undercut with a quiff for boys will upgrade your little guy's appearance. The shaved lines on both sides will match the sharply styled hair on top.
Cool and Classic Quiff Hairstyle for Short Hair
@kelistonfbarber
Build your "good guy" image while wearing a suave hairstyle such as this quiff. The fusion of long hair on top plus the faded sides with shaved lines make a cool, classic quiff hairstyle.
High Fade Quiff Haircut
@diogo__silvabarbeiro
This textured high fade quiff haircut is your best option when you want to add some volumized spikes to your look. This is the high fade quiff with a shaved line on the sides to establish the undercut finish to your black hair.
Small Quiff Style
@dimarzobarber
Adding subdued shaved lines on the faded side is such a fitting idea to ginger up this small quiff style. Partner it with a full beard for a masculine and dapper edge.
A Cool Quiff Short Sides
@seuelias
This is one of the shortest quiffs you'll see here, guys. Achieve a sharp haircut and style with a brushed up quiff with short sides to emphasize the hair on top. Complete the look with a beard and mustache to create a vigorous finish.
Trending Quiff Hairstyle for Medium Hair
@titan.mcz
When your copper brown hair seems unexciting, try adding volume to a quiff haircut and you'll never go wrong. Waves create texture, stirring up a trending quiff hairstyle for that medium hair of yours. Use the right amount of styling product for a flawless look that lasts all day.
The Side-Swept Quiff
@heretic_matth
A side-swept quiff with a side spit curl? That's a clever hair idea for men. With faded sides and texturized black hair on top, you'll be one very attractive gentleman.
The Shaved Sides Quiff
@cheobarberpr
To make your look stand out, guarantee that your black hair is texturized with a neat skin fade quiff cut. The shaved sides and nape of this quiff are about to give you that edgy finish you're longing for.
Quiff Hairstyle with Tapered Sides
@ionut_somesan_the_barber
This quiff with tapered sides is for the lazy guy – to the ordinary and hasty guy who can't devote time to laying their hair every morning. It's designed by Ionut Somesan, a barber from Bucharest, RO.
"What I like most about the quiff haircut is its simple, easy, and it looks good. Even if you don't style it carefully, you can use your handles to style it," says Somesan.
Somesan recommends that after washing the hair, use a hair conditioner to make it easier to style with a matte wax. Dry the hair by starting from the top of the head to break the whirlwind towards the end.
Somesan adds, "Use maximum heat power and at minimum speed so as not to risk the hair flying in all directions. In the final part, I prefer a strong fixative that I use very little to shine and fix the rebellious threads."
More tips from Somesan is to dry the hair to almost 80% and then style when at home, and don't rub the hair with a towel, but gently damp it down instead. When washing, avoid using nails. Lastly, use of professional products for a beautiful, shiny, and easy to style hair!
Asian Quiff Hairstyle with Taper Fade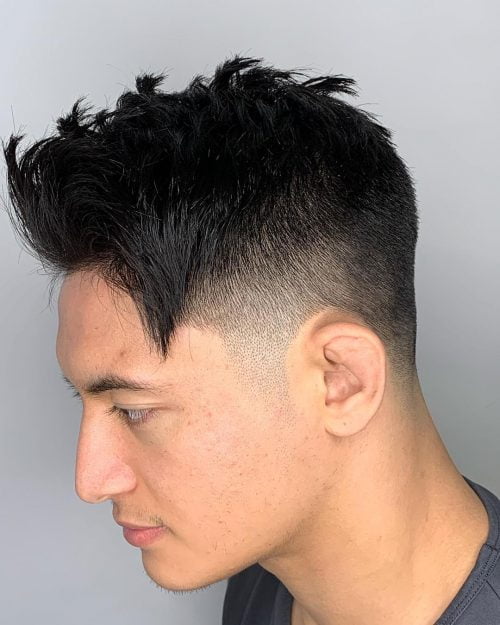 @iamdanielwinter
This is the Asian quiff hairstyle with a taper fade to class up your black, thick hair.
This style is made by hair artist Daniel Winter from California. "It's a play on a traditional side part with short tapered sides, and a good amount of disconnection at the partial from the ear forward. The model has extremely coarse stubborn hair leaving the extra length in the right places allows for easy control and style without the extra fuss," Winter explains.
When committing to a taper fade with quiff style like this, Winter suggests making sure you're ready to style every day. The stylist notes, "use a blow dryer to polish and create separation and movement and a low moisture matte styling product. This shape is perfect for square face and head shapes."