28 Best Light Purple Hair Colors Trending in 2021
Dark to Light Purple Ombre Hair

@__lighten__up
Make it look like the lighter violet hue is dripping unavoidably onto your dark purple hair roots with this ombre idea! Ask your colorist for a dark to light purple ombre hair color if you're looking for a change. This is such a stunning upgrade for women with dark hair.
Light Red Purple Balayage

@azraa_beauty
Go bold with a light red purple balayage. With multiple shades of pinks and violets, a red-purple balayage is either created with permanent hair colors for a more natural look or with fashion colors for a bold, vivid touch. Ask your stylist which sulfate-free and color-safe products they recommend to keep your violets bright and long-lasting.
Light Purple Hair with Platinum Highlights

@jadebyida
Try light purple hair with platinum highlights if you want to elevate your blonde hue. It is vital to know that light purple is considered a pastel shade. It fades quickly depending on your hair wash routine. Maintain your pastel violet hue with a staining shampoo or conditioner like Morroccanoil's Color Depositing Mask in Lilac.
Silver Hair with Purple Streaks

@lisa.loves.hair
Silver hair with purple streaks works great for those naturally born level 6 and up. It is key to have a consultation with your stylist to make sure light purple hair colors are a fit for you while keeping the integrity of your hair in check. Setting realistic goals on how long this look will take comes highly suggested. Typically, this requires a high-maintenance color service and multiple salon sessions to get to the desired hue.
Light Plum Purple Brown Hair

@missconnoway
Light plum purple brown hair is a bright and vivid hair color that gives brunettes a fun change to their tresses. Deep plum purple highlights and softer violet tones are a great tone on tone coloration in dark hair. These grape purple tones look amazing in contrast with fairer skin tones.
Light Burgundy Purple

@xcellenthairsquare
Light burgundy purple is a unique hair color that leaves everyone staring at your violet locks. These warm purple and red tones look stunning on darker skin tones and allow women with dark hair to experiment with a lighter shade in their hair. A violet and burgundy hue gives contrast and pops the hair color more, leaving you with a renewed radiant glow.
Light Pink and Purple Hair

@_mymyhair
Light pink and purple hair is a fun way to try out a pastel ombre hair color. By melting smokey pastel purple hues with peachy pink tones, it gives a sunset feel to your hair color. Cool purple icy tones blending into light warm rosy pink tones create a multi-tonal hair color that is fun and fresh.
Light Blue and Purple Hair Highlights

@jsmithbeauty_
Light blue and purple hair highlights are the perfect combinations of cool pastel tones that give the hair some cotton candy vibes. Deeper blue streaks intertwined with pastel purple and icy blue tones give a multifaceted color that is very unique and fun. To accentuate the vivid blue and purple tones, use a flat iron to add loose waves that will show off this funky hair color.
Light Grey and Purple Balayage

@haarcompagnietmjondalen
A soft mix of lilac and platinum hair is what you need to get this gorgeous light purple hue! The tones are guaranteed to add extra excitement to your natural hair.
Silver Light Purple with Dark Roots

@mojkahair
Softly curled hair guarantees a ravishing look, especially on your long light purple hair with dark roots. This is a great sign that you need to switch your permanent hair color.
Light Ash Purple

@maidencolor
Only two things could go down when attempting this ash purple hair. The first is that you end up completely shabby. The other one is that you'll stand out and be a trendsetter for this raving lighter purple hair color!
Light Grey Purple Balayage

@theglamteamnj_dina
Stormy says she wants her moody, gorgeous purple locks back! These are flattering light purple balayage shades on darker hair for the cool-toned girl.
Light Purple Balayage

@hairbyapes
Sugar, spice, and everything nice—The magic that's in this lilac light purple balayage has everyone at the edge of their seats! This particular color trend features dark roots, so ladies who have black hair can rock it.
Brown Hair with Light Purple Highlights

@hairbykarwho
The deeper you look, the more interesting it gets—Get a hold of the subtle purple highlights on brown hair!
Blonde Hair with Light Purple Highlights

@hairbyowlz
I could see a bonanza of pale colors in this blonde hair with light purple highlights! It's like a parade of celebration that's just a flick of hair away. Paint your rooted blonde hair purple and witness the same gorgeous dimension.
Light Lilac Hair Color

@kyleemariehair
A hint of light purple in that platinum blonde seems to do the trick to make a gorgeous shade of lilac hair.
Dusty Purple

@cutcolordesign
A dusty purple is a cool shade of pastel color that works on both cool and warm skin tones. California-based stylist Diane Escobar created it with a color melt technique.
"Pastel colors fade quick," says Escobar. "So, proper treatments are necessary. Using salon-quality products to wash and style the hair is a must. These include the Viral Pastel Lavender Color Wash and the Brazilian Bond builder color care shampoo and conditioner."
Reverse Purple Ombre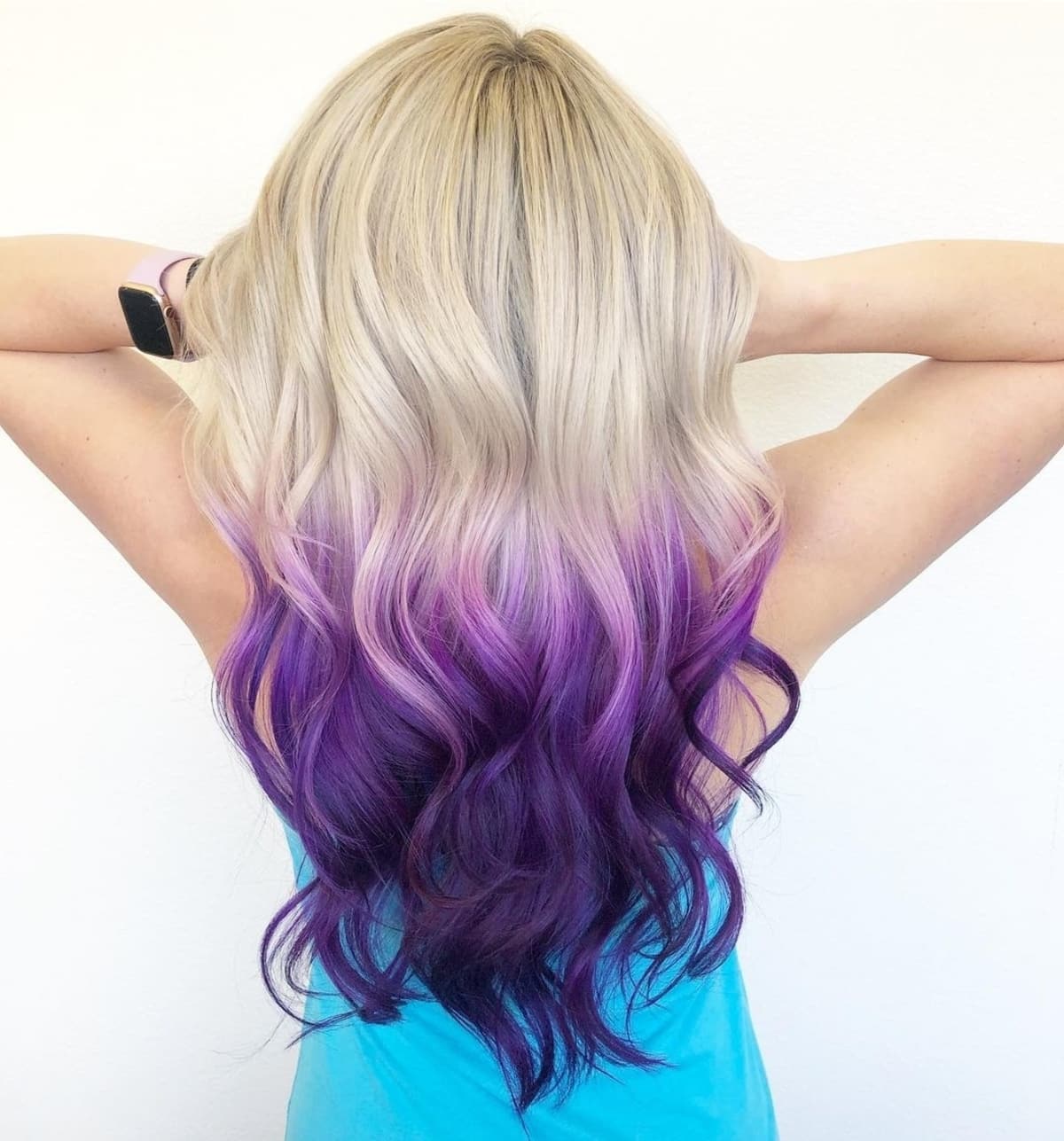 @joyahairdesign
Reverse purple ombre is a vivid hair color that's a guaranteed attention-grabber. Stylist Joya Smith of San Diego, CA does fun colors like this one.
Smith emphasizes that vivid tones are a commitment and aren't cheap to keep. "You'll need to maintain the color more frequently at the salon while using professional products at home. Vivid direct dyes fade quickly, so they're best suited if who wash your hair 1-2 times per week," Smith explains.
Light Metallic Purple Hair

@sheartale
This light metallic purple is similar to a type of platinum, like a silver lilac. "It's icy platinum that almost has an iridescent pastel purple hair hue about it. When it moves and in different lighting, you see pops of purple, silver, white, and almost a shade of blue," according to the style creator, Megan Campbell of Las Vegas.
This hair dye is considered a pastel tone. Campbell states, "anytime we are dealing with soft pastel shades like silver, blush, lilac, baby blue, or even mint just to name a few, we are talking about a semi-permanent tone. Meaning, it can last only a few washes to a few weeks depending on care."
Campbell warns that this pastel hair color is not a cheap one to achieve. The lighter the hair is, to begin with, the easier it will be to lift. Anything darker than a dark blonde can expect either a very long day in the salon or multiple visits to even achieve that level of blonde and not compromise the cuticle of the hair.
A Shade of Light Purple Periwinkle

@livforcolor
This is a light periwinkle color that has slight blue tones at the end, created by cosmetologist Olivia Esenbock of California.
This light purple hair dye isn't for everyone. To push the hair and achieve these soft metallic silver tones can be dangerous to hair health, especially for women with naturally dark and/or curly hair. Esenbock suggests, "Use gentle color-safe products and a silver conditioner to maintain the hair tone, plus a heat protectant, and regular deep conditioning or mask type treatments."
A silk pillowcase is a great thing for hair that has been processed, too. It's not for the everyday ponytail kind of gal, as it can cause breakage to these delicate purplish silver hair.
Light Purple Amethyst

@lucypalmerhair
This light purple amethyst is on the spectrum of a brighter violet hue that's combined with razor cutting. "Add a pastel lilac color to really bring it to life and soften the edge," suggests style creator Lucy Palmer from Doha, QA.
How many of you have considered taking the plunge into purple? If you are, just know that the vast shades of light purple will cater to most of you, whether you are blonde and just want that lilac hue, or even if you want to channel that darker edgy side of you.
Palmer points out, "Find the perfect product combo to add texture and definition but also a high-shine. Regular visits to your stylist to tone and upkeep this color is critical. Like any color, it can go dull, so add an extra gloss to your toning to give you that mighty shine!"
Light Purple Violet

@dotson_k
This is a light purple-lilac balayage done on a long inverted bob cut that has a lot of texture and movement, made by stylist Katelyn Dotson of Kansas City. The dimension in tone creates a lived-in balayage feel to an unnatural, pastel color.
Maintaining these vivid strands is an investment in time as well as monetarily, according to Dotson. While the overall look has a pastel purple balayage feel to it, the process is much different. Dotson says, "this service took 8 hours, $500, and requires at-home maintenance products to keep the hair healthy and shiny."
What's nice about a light violet hair color like this is that it does not need to be maintained. The violet fades beautifully and flatters the skin tone and eye color. When thinking about a color like this, use a picture as inspiration and trust that your stylist has the training and ability to pick the best shades and tones for you.
Metallic Light Blue and Purple

@beautybytrexo
This is a blue and purple metallic color melt using different shades of lavender and silver from Pulp Riot. Designed by stylist Theresa Lanno of Florida, she says, "the two colors blend and complement each other making an icy look. The dark purple hair tone is placed at the roots for a shadow effect, too."
"Color melts look the best with a little bit of wave and texture, so finish your lavender bits with a curling iron and texture spray," says Lanno.
Based on Lanno's tips, the first things to consider when wanting this blend of purple shades are the health of your hair and how blonde you are able to get. She explains, "Your hair must be platinum to get a silver lavender hair color."
Lanno adds that when it comes to light purple hair, avoid pools and oceans, and make sure your stylist is using Olaplex to keep your hair strong. For at-home care, you can get a tinted Olaplex #3 treatment to keep your color fresh between appointments. Use a low heat setting on your hot tools, too.
Light Pastel Purple

@sugarskullsbysarah
This light pastel purple is on the spectrum of soft purples. As the color fades, it tones the hair and then goes back to being a beautiful blonde. "There's also a little hidden rainbow in the back of this one," says style creator Sarah Thiele of Canada, describing this hair color.
Pastel vivids are high-maintenance. Thiele mentions, "they're not easy to achieve unless you are already a clean platinum blonde, and they don't have a very long life span – think up to 10 washes.  If you wash in cold water, wash once a week or less, and use professional products then you will be able to enjoy them for a while."
Light Lavender Purple

@seolahair
Consider a light lavender purple color. This soft but vivid pastel violet color melts into the muted subtle pastel pink creating a color that pops, but is sweet and delicate.
This purple-tinted hair is best if you have naturally blonde hair! This would be a color palette for women who are into self-expression and femme looks.
Light Purple on Short Hair

@hairbysamstahl
This light purple on short hair was lightened to the palest yellow from a medium brown and dyed with Schwarzkopf Professional pastel lilac hues, going slightly darker at the perimeter to create depth and weight on her fine hair. Samantha Stahl of Chicago is the hairstylist behind this gem.
This light purple hair is high-maintenance. Stahl advises, "you'll need to be in the salon every 4 to 6 weeks to have your hair lightened and maintain the tone in the hair. During the 4-6 weeks, there are products you can purchase that will deposit like Overtone and KeraColor Conditioner to help maintain the pastel shade. Also, the fade from light purple will be great and make for a wonderful white blonde if done correctly."
Light Brown and Purple Balayage

@hairbycandicea6
Here's a light brown and purple balayage that shows off a bright and bold purple version of hair, created by stylist Candice Ayers of California.
"Utilizing the previous balayage, it transitions the hair easily into a statement color that is vibrant yet soft at the same time. Don't be afraid to take your blonde hair to the next level by adding colors and dimension," says Ayers.
"Also, consider if you're willing to change your shampoo routine. Ask yourself if can you go a few more days between washes. Minimize heat when styling and use cooler water when washing to help prolong bright colors. Color deposit shampoo is best for vivid maintenance. Ask what to expect for fading," Ayers adds.
Very Light Purple

@beautybyrue
This very light purple hairstyle is a lot of fun. "It was such a great transformation! The different shades of lilac were melted into each other. Fashion color is a very customizable thing," says the style creator from Massachusetts, Ruth Perlman.
Women considering pastel fashion shades like this lilac shade should know that it can be a lot of upkeep. You need to make sure your stylist gets your hair light enough first for the lilac color to show up true to tone!
Perlman says to always wash your hair with cool water as this keeps the hair cuticle sealed and allows the fashion color to last longer. Dry shampoo will be your best friend, too. You don't want to wash your hair every day in general but especially when trying to maintain fashion colors.