21 Curtain Bangs to Flatter Every Face Shape and Hair Type (2021 Trend Alert)
Example of Curtain Bangs for Oval Face Shapes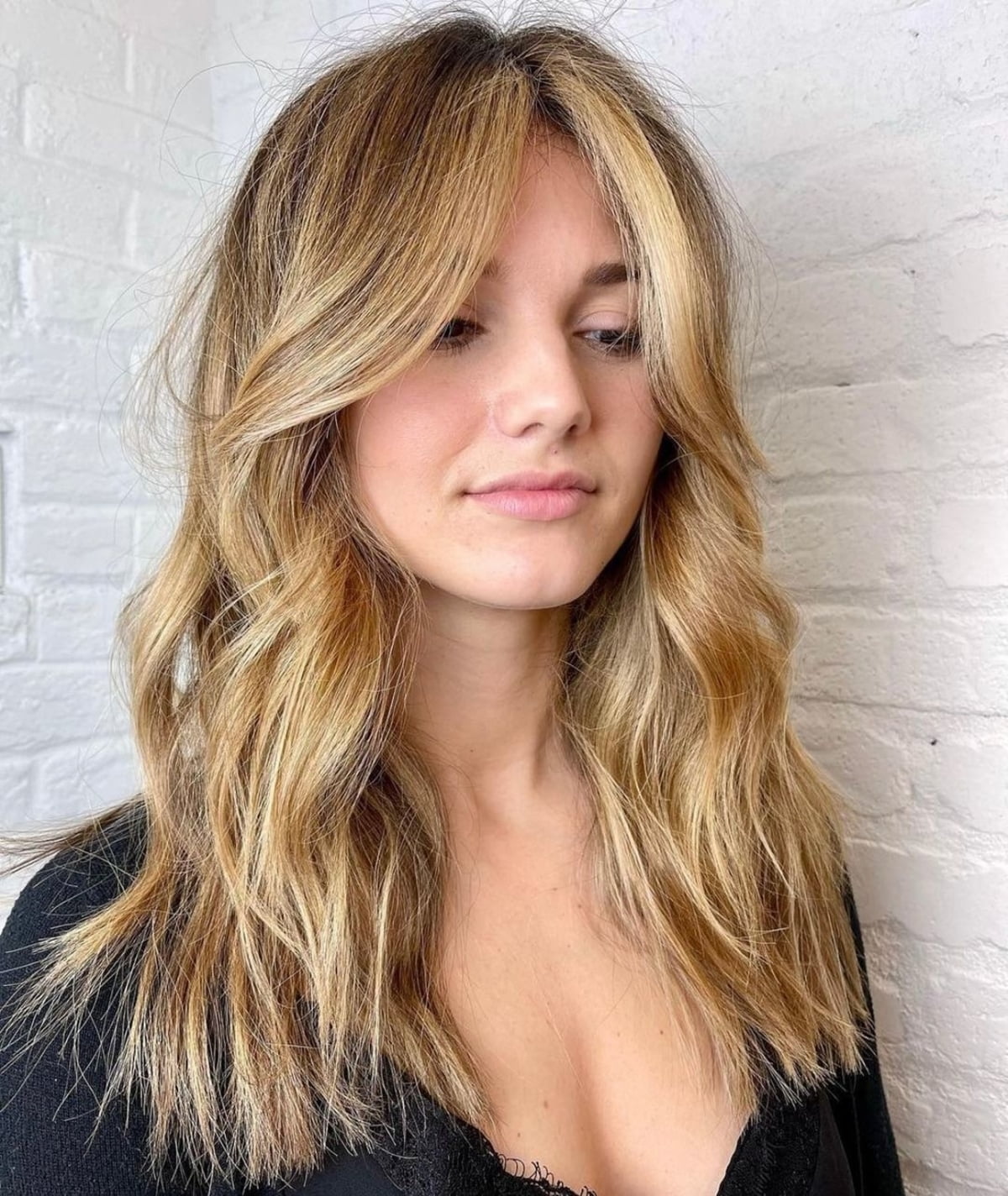 A stunning example of how curtain bangs for oval face shapes can frame the face and add softness to a haircut. This fringe helps in adding width to the cheekbones, too, and creates movement around the face. Use a ¼ inch barrel flat iron for styling and finish, then use R+CO flexible hold hairspray.
Flattering for Long Hair
@hannahandersen.mane
What's very flattering for long hair are curtain bangs that frame and contour the face. A lot of times, women can get drowned out by a lot of tresses. Thus, allowing curtain bangs for long hair gives it more movement and draws attention toward the face. Wearing a curtain fringe is always a fun, new option that's flattering for any face shape.
Wispy Curtain Bangs
@victorkeyrouz
Wispy curtain bangs are perfect for all face shapes. It enhances eyes and cheekbones. Feel free to ask your stylist to texturize for movement, too. The best way to style curtain bangs is by using a round brush and a blow dryer with a low heat setting. Keep blow-drying from left to right until these perfect selfies bangs are fully dry.
The Shag with Curtain Fringe
@waxxapeldoorn
A shag with a curtain fringe is a haircut that ladies with thin, fine hair will enjoy. The body and movement that this messy chop offers creates a full-bodied look. When styling, Hairstory's hair balm makes a superb choice of product. It creates the perfect shaggy waves!
Flattering for Round Face Shapes
@foxandmaneguildford
What's flattering for round face shapes is a curtain fringe to accentuate the cheekbones. Breaking the face up at the width of the cheeks is going to slim and shape this area beautifully. Keeping the length slightly longer is more suitable for curtain bangs for a round face shape.
Bardot Bangs
@jomcintyrehair
Sure, we've all lusted over Bardot bangs that frame the face and soften a haircut. With texture being the focus, the soft cut and subtle flick to the bangs grace the face perfectly.
The Curtain French Bob
@miguelboghos
The curtain French bob is the epitome of all bobs, bringing bangs up to date. This cut has a seductive layered shape to enhance volume and width with an elegant curtain fringe to embrace the movement. Keep in mind that some styling will be required. Use a round brush to maintain the flicky French bob with curtain bangs style.
The Curtain Lob
@tonykazzazz
The curtain lob is totally attainable for thicker-haired women. There's no need to shy away from lob haircuts with curtain bangs just because of your hair density. The length sitting below the shoulder allows for the weight to still hold the shape down. It even keeps the bangs a little longer than eye length with some layers to soften the shape and highlight a prominent cheekbone.
Stunning Curly Fringe for Curly Hair
@brushsalonyvr
Now, a stunning curly fringe for curly hair should never be shied away from. But you should know that a curtain bangs and curly hair combo can be difficult. However, allowing a smaller section of hair to sit on either side of the face opens the eyes in the most striking area. You can always start small with the amount of hair, and if you enjoy the shape, ask your stylist to cut the fringe wider.
Cute Bangs for Straight Hair
@nataliee_mont.hair
Add a 70's vibe with cute bangs for straight hair to enhance your shape. Straighter hair has a tendency to fall flat, however, combining curtain bangs with straighter hair adds interest around the face. This fringe also breaks up the face to length ratio. It works great on longer face shapes, adding width to the cheekbones.
Curtain Bangs with Layers
@waxxapeldoorn
Try curtain bangs with layers to add life to boring hair. Flowing layers from the fringe that blend around the face will add a textured, yet soft movement. It creates an effortless style, which won't lose its bounce.
Beautiful Fringe on Medium Length Hair
@aaronhofman
Get everyone to lust after your locks with beautiful fringe on medium-length hair. Mid-length hair can feel like you're in that in-between stage of hair growth, but adding curtain bangs to your cut breaks up the length. They also bring the interest back to the face.
Curtain Fringe for Wavy Hair
@aaronhofman
Curtain bangs with wavy hair ooze chic appeal! The eye-framing shape beautifully sweeps the face and falls perfectly into the hair wave for a modern Bardot feel.
Long Curtain Bangs
@tayloredlocks
Adding long curtain bangs to your haircut allows you to play with a subtle shape that will boost your style. Hair doesn't need to be overly layered, which works great for finer hair. Long bangs add shape to weaker areas of the hairline.
Ideal for Long Face Shapes
@waxxapeldoorn
Adding width to your cheeks is ideal for long face shapes regardless of the length of your hair. Curtain bangs for a long face shape are perfect, sweeping both outer areas to open up the cheekbones and add fullness. Having layers that sit around the shoulder area will only elevate this effect.
Cute Fringe on Short Hair
@max_rokitskiy_stylist
A cute fringe on short hair looks soft and creates a face-framing effect. These curtain bangs on a short haircut are versatile and easy to grow out. They have a natural movement that works on a shag.
70s Curtain Bangs
@waxxapeldoorn
70s curtain bangs are classic yet trendy and are easy to maintain. If they get a bit longer, feel free to pin them to the sides or tuck them behind the ears. One of the best things about this fringe is they suit any wavy haircuts, either long or short.
Perfect for Square Face Shape
@tom_ross_memauricemeade
What's perfect for a square face shape is a curtain fringe that highlights cheeks and jawline. This low-maintenance cut was made by stylist Tom Ross Metcalf from Claremont, WA. It requires a trim every 5-6 weeks for maintenance.
Curtain bangs for square faces need "a soft edge to really get that effortless flow," says Metcalf. "Achieve it using a round brush to create some volume at the roots and a slight bend on the ends."
Complimenting Bangs for Diamond Face Shapes
@hairnerdsalon
The most complimenting bangs for diamond face shapes are the curtain fringe. Australian hairstylist, Shantelle, agrees with the idea as she creates this chop. "This haircut is versatile and can frame the eye line and cheekbones."
Curtain bangs for diamond faces work for all hair types but require quick styling. It's also great when tresses are either in a ponytail or bun.
Shantelle uses the point-cutting method, so the hair creates a soft, layered-sweeping shape and cheekbone-grazing bangs.
Face-Framing Curtain Bangs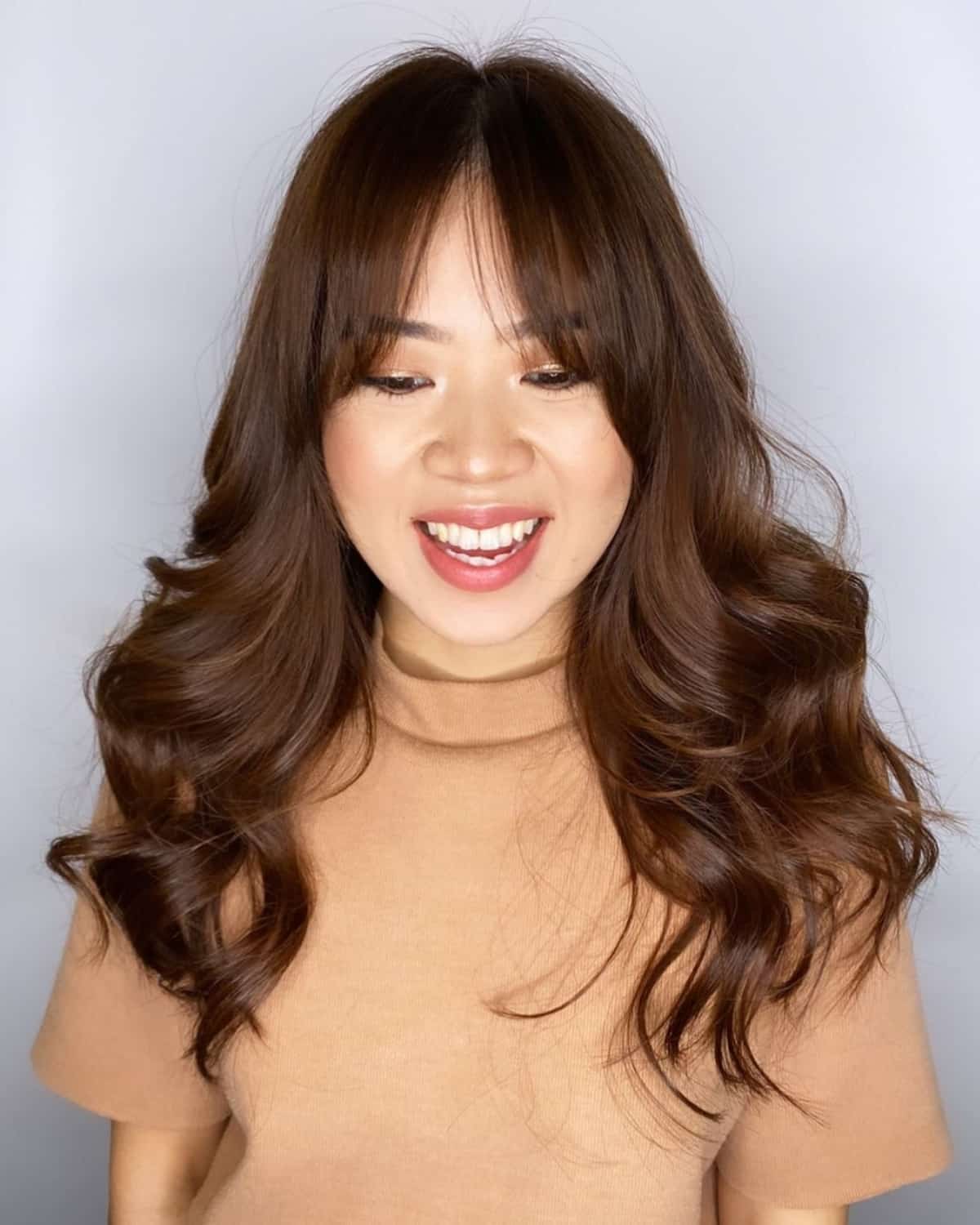 @amandajoy12
Face-framing curtain bangs are the feminine and '70s-inspired fringe, parted in the center. This chic style is created by a salon owner and stylist from Australia, Amanda Joy O'Connor.
This type of bangs is for a lady with long hair who wants a change without losing the length.
"With styling, less is more," says O'Connor. She recommends blow-drying to create a softer body on the ends. Dry shampoo is an absolute must, too!
The Curtain Bob
@mattjones_edwardsandco
The curtain bob has the '70s-inspired curtain bangs on a short bob haircut. This chop is a masterpiece by a talented stylist in Australia, Matthew Jones. It looks more contemporary, modern, and very feminine.
"All the slicing and layering enhance natural texture," he says. "It'll create something gorgeous heat-free when washed."
Jones recommends the GHD Soft Curl Tong to boost its texture and a JAYE Dry Texture Spray to finish it off.