38 Sweetest Caramel Highlights on Light and Dark Brown Hair
Medium Dark Brown Hair with Caramel Highlights
@hairbymegand
"These caramel brown highlights for dark brown hair are a great way to add a subtle dimension to brunettes. The brown balayage pieces bring out the layers added to the haircut, too," says hairstylist Megan Dinh of Falls Church, VA. "This dimensional caramel hair color is for any wanting a very easy maintenance look."
"Caramel tones can start to get extremely warm if not taken care of," notes Dinh. "Anyone considering this look should definitely consider investing in a color-safe shampoo and a blue/purple shampoo to maintain the hue and prevent the color from becoming too brassy."
Straight hair or wavy hair? The color is one that would suit any hair type. This color would also suit light to medium skin tones that also have warm undertones.
Ash Blonde Balayage on Caramel Hair
@denise.marie79
Ash blonde balayage on caramel hair is a popular option for women who are looking for a low-maintenance hairstyle. Finish the look with beachy waves and glimmery highlights hitting your hair where the sun naturally would.
Caramel Hues for Cinnamon Blonde Hair
@katkolors
Caramel hues for cinnamon blonde hair give the perfect amount of highlights and dimension. To get this color, ask your colorist for a dimensional balayage and copper color melt.
Rose Gold and Caramel Highlights
@mariabonitany
Rose gold and caramel highlights look stunning on a naturally darker, reddish hair hue. This is a great way to brighten up your natural roots. Adding in a different shadow root and some streaks with a brighter rose gold helps achieve a well-blended grow out and dimension.
Light Brown Hair with Highlights
@bae.mccready
Light brown hair with highlights is the go-to hair hue if you're wanting to alter your hair while keeping it under low-maintenance. Using a free-hand painting technique, your stylist can create ribbons of honey and caramel blonde highlights on light brown hair to add an equal balance of brightness and dimension.
Dark Brown and Caramel Blonde Highlights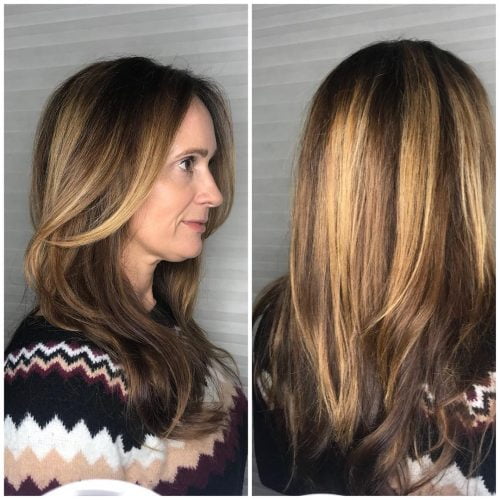 @lisaamato
This caramel bronde balayage shows a natural-looking hair color. It was created by hairstylist Lisa Amato of Boulder, CO.
"I do balayage highlights with almost all clients. It's a great way to go lighter without highlighting the whole head with the traditional foil highlight look. It's also much more modern," says Amato.
Amato recommends this brown and blonde balayage hair for clients looking for natural-looking hair color with natural-looking sun-kissed highlights.
This is great for a woman who is looking for lower maintenance highlights. Typically, ladies that get balayage only get their hair highlighted every 3-5 months, depending on how fast their hair grows.
Lived-In Beachy Dark To Light Brown Caramel Hair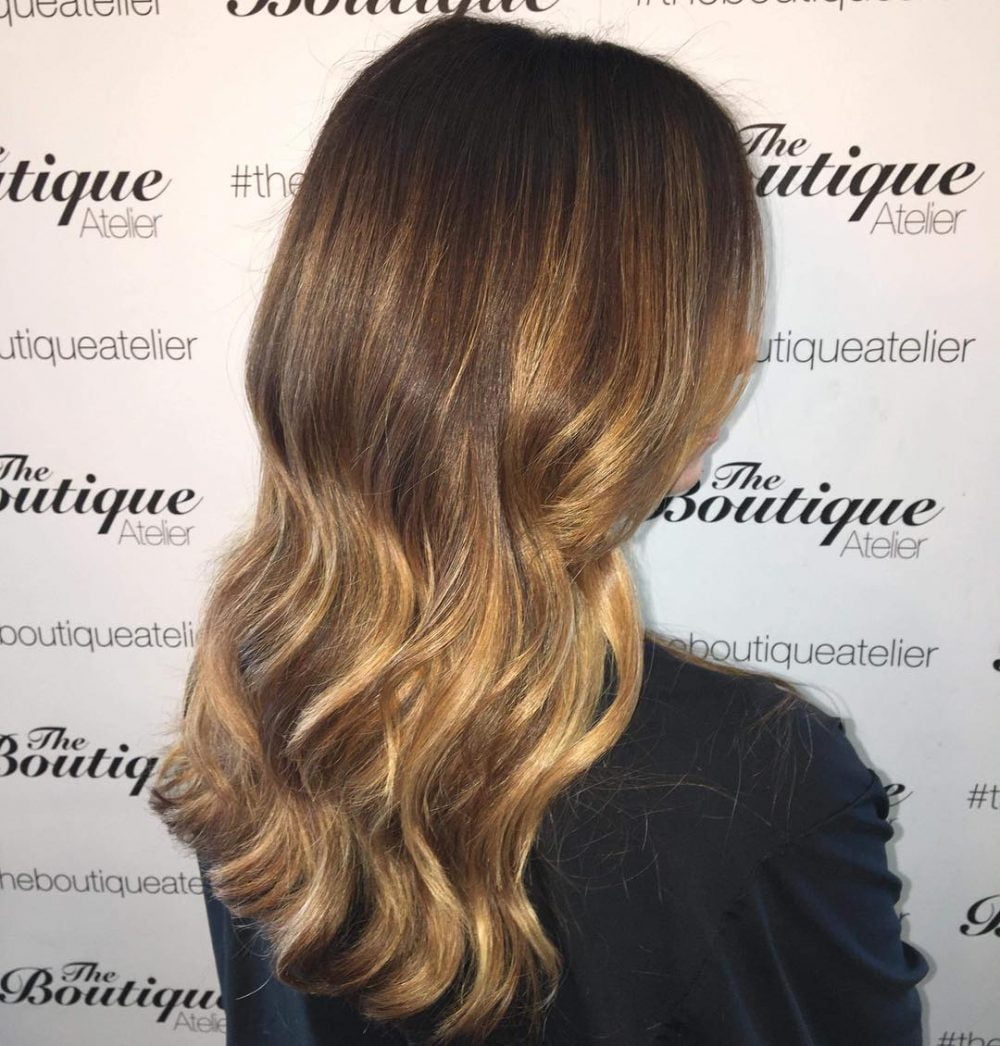 @the_boutique_atelier
"I consider this caramel brown hair to be a lived-in beachy look. I love the multi-dimensional tones of caramel and how soft it is from roots to ends. The highlights, in this case, are low-maintenance," says stylist and color technician Lindsey Flavell of England.
"Be prepared to get your roots touched up every six to eight weeks," says Flavell. "At that appointment, I would also refresh the ends with a toner. I would then suggest she come back every four to six months to refresh her hair highlights."
She adds, "I feel that this brown balayage hair is for everyone. The soft and beachy look is on-trend at the moment, so this look is perfect for any brunette that just wants to add more to their current look."
Sun-Kissed Caramel Halo Highlights on Dark Brown Hair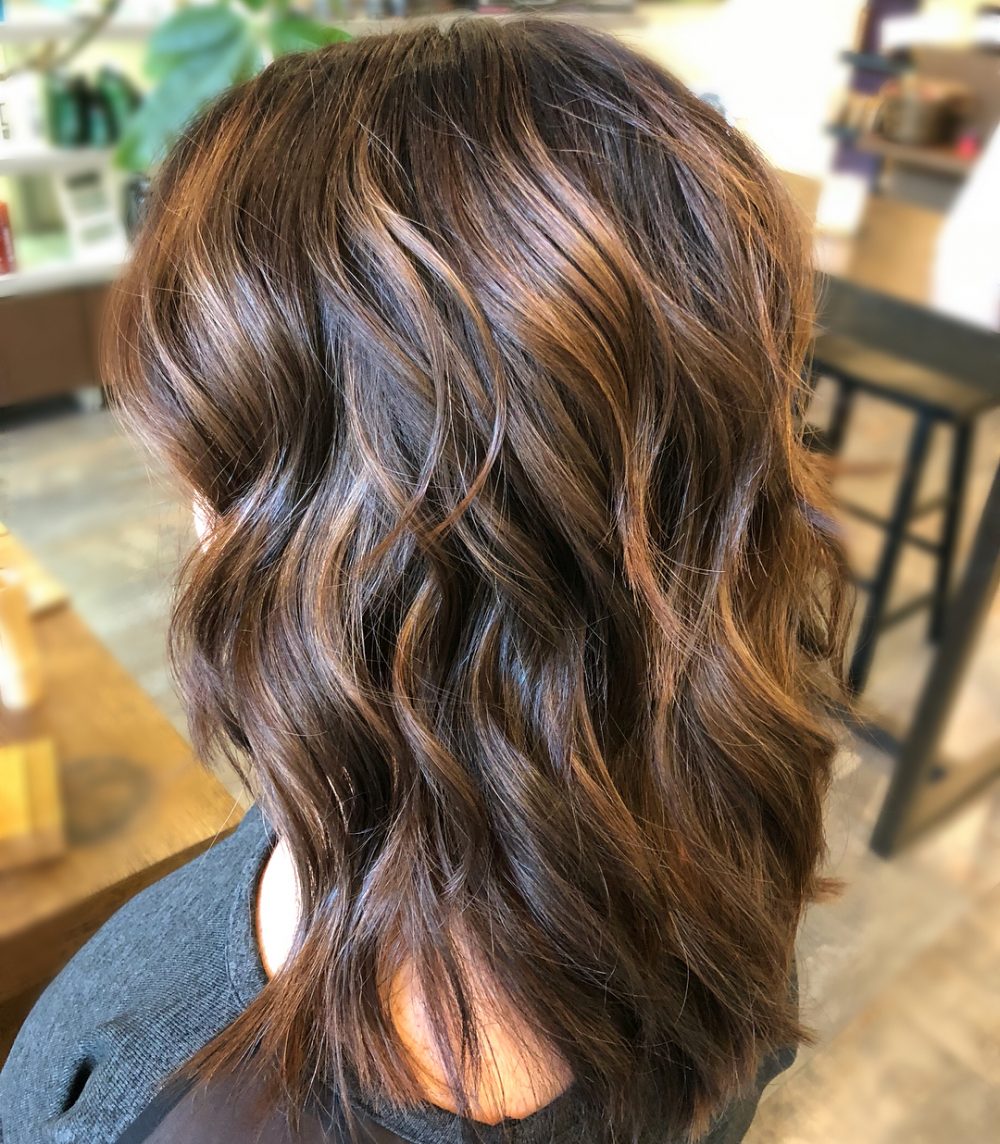 @lady_lockhart
"I absolutely love this dark brown hair with caramel highlights because it's so soft and subtle that it almost looks natural," says hairstylist Kristen Lockhart of Chino, CA.
"I love the balayage technique, however, it's not for everyone," she explains. "This was a lot of painting on top of the hair, which looks wonderful straight, but the curl is really what shows off that natural lowlight from underneath. Consider styling these natural-looking caramel highlights with some sort of texture."
Pick Me Up Caramel Hairstyle for Thin Locks
@beautybylichelle
These highlights on dark hair were created by hairstylist Lichelle Townsend of Monroe, MI. "It's something subtle yet noticeable to feel like you changed your look but didn't go too crazy with it," says Townsend.
Townsend notes that highlights aren't for everyone, "but when done right to get them to blend naturally with the hair, anyone can rock them! There are different techniques to make the highlights naturally grow out beautifully so you don't have to get them touched up every month if you are on a budget."
As for products, she likes Miracle 20 by Matrix because "it's not too heavy, but leaves the hair super soft and hydrated." She adds, "if your hair is very damaged, I would not recommend highlights as they would just be more damaging."
Soft Caramel Brown Highlights on Dark Brown Bob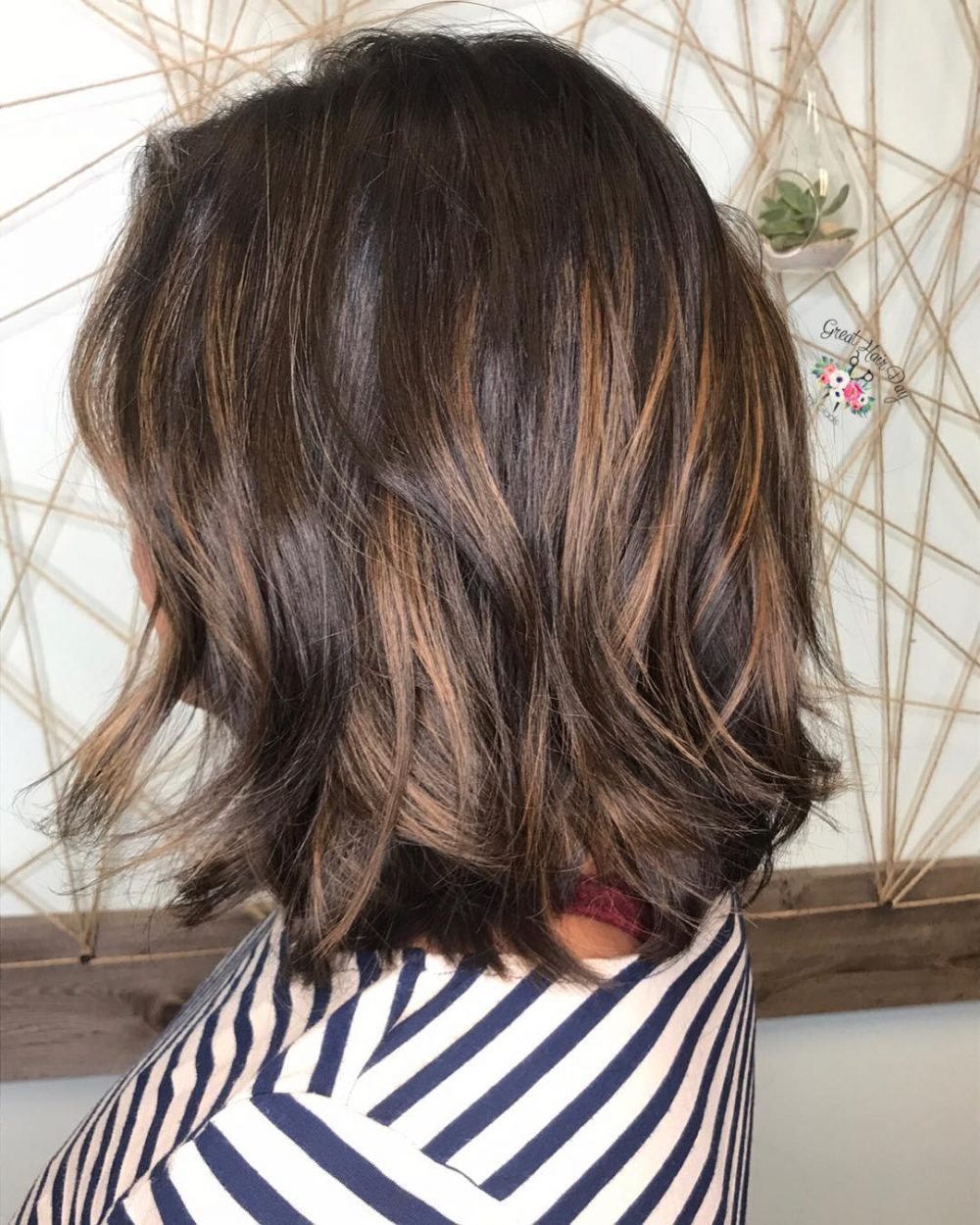 @greathairdaybygladis
This short textured bob with caramel hues was created by stylist and colorist Gladis Contreras of Corona, CA.
"My preference for toning natural brunettes is to keep the rich caramel tone not far from the natural level," says Contreras. "And, though it's perfect for brown locks, these highlights can also work for black hair."
The best part is that the maintenance is very low. Seven to eight weeks is the perfect timing to pre-book for a haircut and toner. The lightening process is not needed at every visit, but every other visit for a full process.
If you are considering a soft caramel balayage, Contreras recommends asking yourself if you're ready to do your part to care for your hair in between salon visits.
Caramel Highlights Swirled On Dark Brown Hair
@gcandco_
These caramel accents on a dark mane look soft and subtle. "It's classy and sassy with a pop of color," says salon owner and head stylist Cathy Korbis of Canada.
Korbis used Wella hair color, Oligo Professional bleach, and Olaplex for healthy processing and healthy hair.
"Such highlights for brown hair are easy to maintain, especially for women that don't color their hair often. The caramel swirl on brown hair color is a perfect blend of natural with a pop of rich tone. A few babylights give it added softness, making it perfect for any brunette," she adds.
Subtle Bronde Dimension for Brunettes
@heather_g12
This caramel with blonde highlights is a chic hair trend with a subtle dimension that appears effortless. It was created by salon owner and stylist Heather Guderian of Covington, LA.
"This color has lighter shades that look amazing with soft waves," says Guderian. "I recommend a 1 1/-inch curling iron and Redken Control Addict for curling. After curling, pull your fingers through the curls with a little Redken Diamond Oil."
Beachy Caramel Balayage on Dark Hair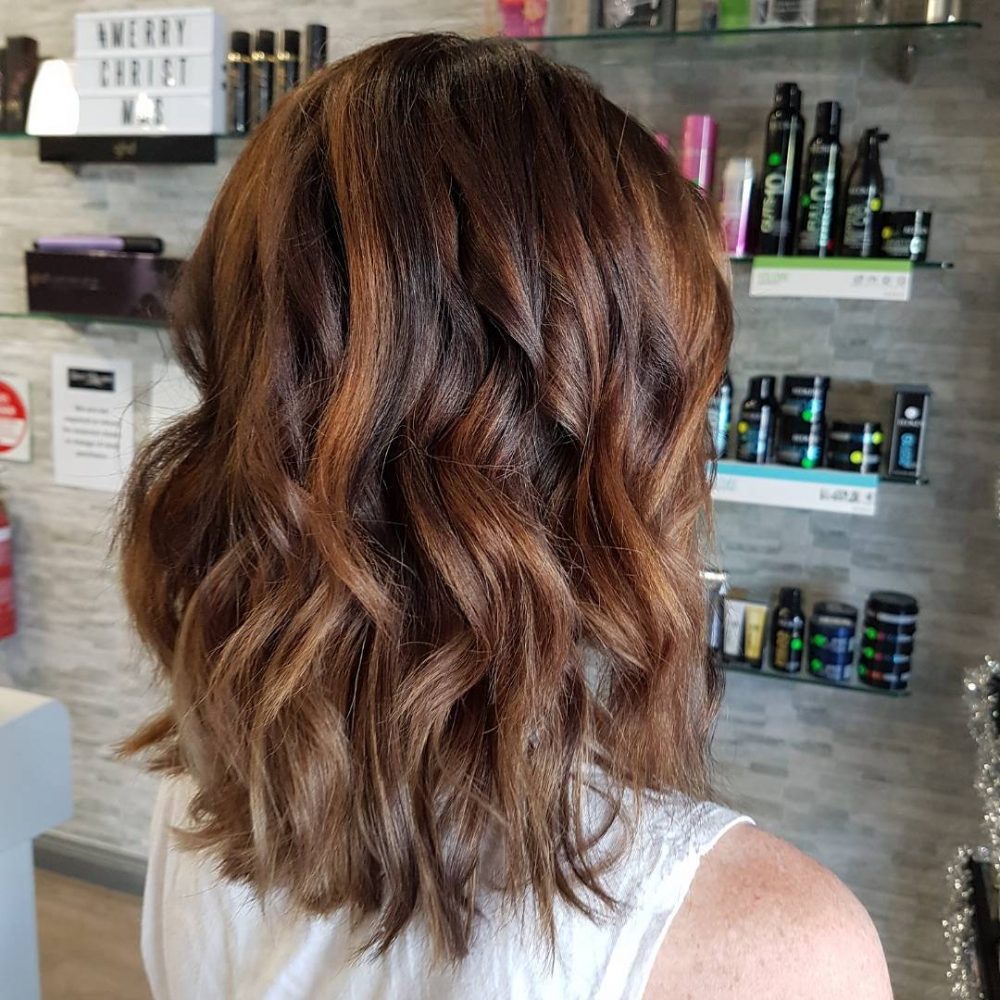 @sheareleganceinverell
"Achieve this medium brown hair with highlights by opting for a beachy caramel balayage," says salon owner and hairdresser Steph Symes of Inverell, NSW.
The beachy waves bring the whole look together. This look is very versatile and you can wear it anywhere.
Symes says, "this color is a great way to transition from a dark brown into a lighter shade without too much effort and maintenance. It breaks up color without too much change."
Dark Brown to Light Ombre Highlights for Dark Hair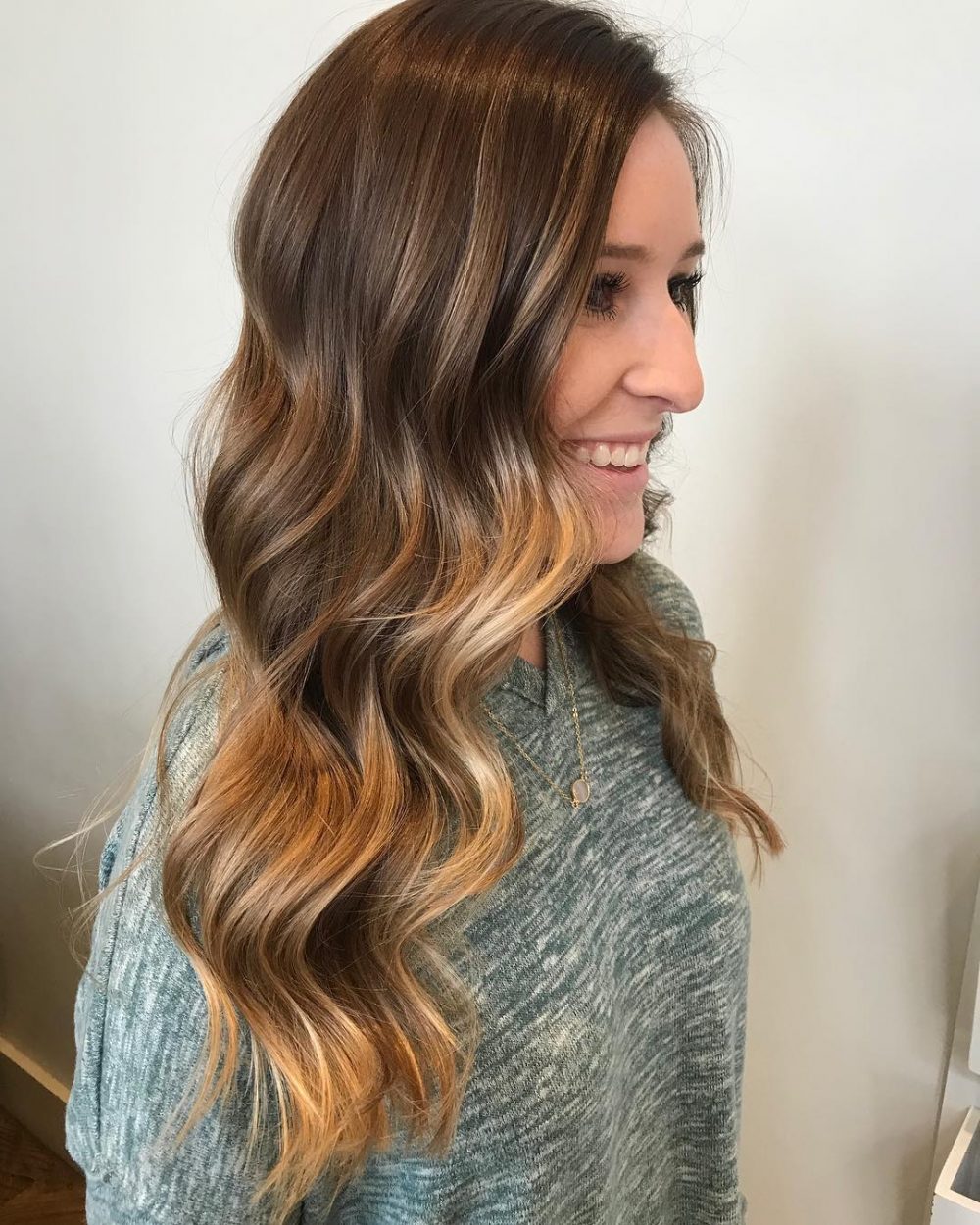 @taliagrace12
The luscious caramel and honey blonde hues in these long locks are very dimensional and soft. They were created by advanced stylist Talia Stone of Springfield, MO.
"These highlights for dark hair create a lot of dimensions which in turn creates more depth and a thicker appearance," says Stone. "This is great for a woman who is looking to enhance their fine texture."
This color is ideal for women who want a lower maintenance color because you're not committed to being in the salon chair every six to eight weeks getting retouched. The blonde is carefully placed just far enough off the scalp so it grows out effortlessly without any noticeable outgrowth.
Mocha Brown Hair with Copper and Caramel Highlights
@michellehairdesigner
This mocha brown hair with copper and caramel highlights includes multiple warm tones. They were created by hair designer Michelle Lambert of Levittown, NY.
"Any woman that wants low-maintenance hair color and style is the perfect candidate for this look," explains Lambert. "I made her base color match the same level as her natural color and added mocha to warm up her natural color. We utilized her existing highlights by adding copper lowlights and toning the rest with a caramel shade."
She adds, "here I utilized the natural wave by spraying Redken Fashion Waves on damp hair before blowdrying. After the hair was dry, I loosely curled the front and top layers with a 1-inch curling iron, finishing with a spray of Redken Wax Blast."
Natural Caramel Highlights Blend with Soft Curls
@deeply_rootd
This is dark brown hair with caramel highlights on a mid-length haircut with bangs.
"This shade is low-maintenance, warm, and natural. I️ love that this look has contrast and depth, but is still such a natural blend," says stylist and salon owner Kellie Hatch of Show Low, AZ.
"Too much dark or too much light can sometimes wash out a girl's skin tone," says Hatch. "Staying close to their natural base color with some pops of a lighter tone that is two to three shades lighter can balance everything out."
She goes on to explain, "I️ can touch up regrowth/grey coverage for several months before touching the highlights. The warm tones in this color work best on women with medium colored skin."
Lovely Light Brown Hair with Caramel Highlights
@katieealm
Go above and beyond with these caramel blonde lush waves on brunette hair. An enticing trick to make it more interesting is the addition of these delicious caramel highlights that can accentuate and brighten the waves.
Warm Foilayage Hair with Highlights
@leannaslovelylocks
This is a caramel foilayage on a dark base was created on a woman with virgin hair, by hairstylist Leanna Matthews of Canada. "It's a soft look that I blended with a hand painting technique rather than straight up highlights in foil," she notes.
To maintain this color, Matthews recommends coming in about every two months to refresh the caramel with a toning service. "This is a great way to renew your look without paying the cost of an entire foilayage. Another option is to bring the caramel tones up higher with a partial foilayage/balayage after the new growth becomes too long," she adds.
Whether you have skinny or thick hair, this color would be gorgeous on women with golden undertones in their skin. It's all about placement and how light or dark you choose for those caramel accents.
Caramel Highlights on Brown Curly Hair
@kaykolors_
These caramel highlights on brown curly hair are straight-up hot! Why go plain and dull when you can have a bold hair transformation? Style your long curls with texture, and flaunt a bouncy, fuller-looking hairstyle.
Creamy Caramel Highlights on Short Hair
@tinamarie.hair
These creamy caramel highlights on short hair look so fun and chic! The combo of dark-rooted babylights and balayage truly adds effortless dimension.
Long and Straight Brown Hair with Caramel Highlights
@gissellenewlook
Waist-length strands catch attention but don't stop making a great impression from there, so try this dark brown hair with highlights. This straight brown hair with caramel highlights is beautiful—guaranteed! Bring out more long layers, too, to add details to the ends and tips.
Mousy Brown Hair with Caramel Highlights and Beachy Waves
@live_love_dohair
It's the mousy brown hair with caramel highlights to flatter your olive skin tone. The sun-kissed and caramel color melt effects take a few sessions, yet its dreamy result won't bother you. Incorporate voluminous waves to class up your long v-cut.
Hints of Caramel Color and Golden Blonde Hue on Light Brown Hair
@aliemery_color
Here's a drizzle of a caramel hue plus golden blonde highlights for your next hair transformation! The caramel golden highlights on light brown hair give an appearance of absolute shimmer. Don't waste the gorgeousness of these tones, so match them with a medium-length chop and waves.
"The hair color in this long, layered bob haircut has a natural movement and flow accented with a rich dimension," says hairstylist Alison Kraus of Okemos, MI.
"Working with her natural brunette color, I enhanced it using a demi-permanent color to create a rich chocolate brown with no grow-out," she explains. "Then, I added some fun balayage pieces to give her many different styling options which will also give her many different looks with this color."
It's a perfect subtle change for a woman who is just starting their color journey or even a long-time color guest wanting something new!
Warm Caramel Highlights on Short Dark Brown Hair
@hairby_kaylajuppe
Two-toned hair colors like this caramel mane seem to be receiving all the rave and reviews.
Brown Balayage Hair with Caramel Highlights and Lowlights
@lectric_lex
Spice up your dark brown locks with this mix of highlights and lowlights. With this hair length, you can really explore and experiment with different coloring methods.
Highlights on Chocolate Brown Hair
@hairbykkate
"Naturally, sun-kissed is how I would describe this warm caramel balayage on chocolate brown hair. From its loose beachy waves to its pops of color, this look expresses a natural beachy glow," says hairstylist Kate Francis of Canada.
She adds, "when I picture this chocolate and caramel hair, I think anyone can rock it!"
Another bonus to this look is the natural roots which minimize the visits for maintenances, therefore, your color can last for months without having to return for touch-ups.
Light Brown Hair with Caramel Highlights
@katyskuts
Don't be afraid to pull off this stylish light brown hair with caramel highlights. Its warm hue will flatter your light skin tone while framing your face. to your long mane, and bring out the volume.
Caramel Balayage Highlights
@maryannecostahairstyling
Gorgeous is just one of countless words to describe this light caramel balayage hair. Have fun incorporating these eye-catching caramel balayage highlights to your long tresses. And, you know what style suits this the best? Loose curls will uplift its glam, for sure!
Medium Brown Hair with Caramel Highlights
@mishane_walles
Try brightening up your medium brown hair with caramel highlights! You can't deny how this trend screams glamour. Opt for caramel babylights to achieve a softer and more natural-looking dimension.
Caramel Ombre
@nicoletacristinapopa
Do you ever like to try a new hair color for your long, dense mane without too much of commitment? No worries—the prettiest caramel ombre is here!
"In this look, the technique used allowed me to correct the natural cross-fading shades between the roots and hair. I used these colors to provide brightness and volume to her hair and to hide her damaged hair," says stylist Nicoleta Popa of Romania.
Popa recommends this color for women with a smaller height, with hair volume problems, or with an unsatisfying history of dye jobs. She adds, "the waves will look good on women with medium-length to long hair, too."
Burgundy and Caramel Highlights
@passionateworks
These burgundy and caramel highlights will brighten your dark locks in such a flirty way. Note the chic dimensional effect in this balayage. Grant your mid-length chop some soft waves to complete your total babe look!
Dark Caramel Highlights on Black Base Color
@miguel6944
These dark caramel highlights appear stunning, that you won't resist getting them. Notice how glossy it turns out when done on a black base color. Boost its shine by styling your lengthy mane with beach waves for smooth movement and volume.
Light Caramel Highlights
@amerakilook
The whole idea of partial light caramel highlights with a balayage method is genius. So, what now? Grow your thin hair long, then bring out loose waves to channel your inner beach babe.
Red and Caramel Highlights
@ds.turningheadssalon
Pops of red and caramel highlights with lowlights never fail to create a trend that's on fire with glam! Blessed with long tresses? This dimensional look will work best on your hair length, spiced up with beachy waves.
Blonde and Caramel Highlights
@taylor.extensionbar
Wanting a full-bodied and beautiful dimensional look? Caramel tones won't let you down. These trendy blonde and caramel highlights add texture to a lengthy mane. Soft waves for a subtle movement won't hurt the entire style, so go for it.
Auburn and Caramel Highlights
@hair_by_abbi_k
The tonal variations in this auburn caramel hair are on point, making the dimension look flawless. Achieve this stunning look by getting auburn and caramel highlights. It's an excellent balayage to jazz up your long, wavy locks.
Face-Framing Chunky Caramel Highlights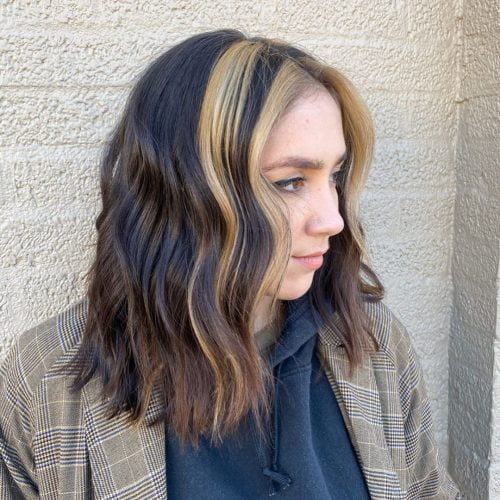 @__emkate
Achievable with chunky caramel highlights, this unique look offers a face-framing effect. So what are you waiting for? Bring back the 90's trend as you pair this color with a wavy, shoulder-grazing chop.
Brown Hair with a Few Caramel Highlights
@kpmastercolor
There's always something about the subtle and natural-looking balayage that's captivating. Take it from this brown hair with a few caramel highlights! A shoulder-length cut plus loose curls feel so right for this shade, too!
This look has a chocolate brown base color with naturally placed caramel highlights. It was created by hairstylist Kathryn Christman of Chula Vista, CA.
"It's a universal placement of dimensional color," says Christman. "This one-length cut with chin-length face-framing has elegant clean lines when worn straight, but for a more textured fun look, style with a curling iron or flat iron."