27 Edgy Examples of Hidden Undercut Designs for Women
Gorgeous Flower Undercut Haircut in Mandala Pattern
@amanda_zenruf
It's surely worth having a larger shaved undercut when you've got a gorgeous mandala flower design like this. Such a flower undercut would look great with an updo hairstyle like a top bun.
Sleek Undercut Ponytail for Little Girl
@princezzchik
A sleek undercut ponytail for little girls can be a fun way to add style especially when you want to show off some design/artwork on the back of your head. You can easily wear your hair down to cover up the design. Take into account you will have a grow-out period of at least 4-6 months to get all hair back in a ponytail. A small price to pay for such a cute style.
A Cool Zig Zag Undercut Pattern
@likeavocadobutnot
A cool zig zag undercut pattern is super fresh. A clean fade into a pixie, crop, or undercut to start and a zig-zag line to compliment the bone structure and shape of your head. There are so many ways to do them and the creativity of your stylist can shine. Just ask your stylist if they are comfortable with fades and designs first because this is no doubt a specialty service.
Back Braid Style with an Undercut
@revampedbyveronic
A back braid style with an Undercut is a fantastic way to remove bulk and weight in the hair, especially when adding in braids. Adding a design to the undercut is a way to show creativity and individuality.
Undercut with Animal Print
@bleachedandblown
Not for the timid, an undercut with an animal print sure makes a statement. You will need to choose a stylist that has experience in doing such looks. The color is a work of art and will take some time to accomplish. Frequent trips to the salon will be mandatory to maintain the cut and design.
Unique Honeycomb Undercut Design
@kelleidoscopehair
A honeycomb undercut design is a fun choice, and any design can be utilized. Undercuts can be done on any length hair or hair type. These designs can be done with clippers and some artistic talent.
Snowflake Winter Design
@kaylasaveda
A snowflake winter design undercut is for you if you like would like to show your wild side, but need the option to hide it as well. Wear your hair up and it shows. Let your hair down and it's hidden. The clipper cut design really makes a statement.
Pixie Undercut Bob with Long Bangs and a Shaved Line Design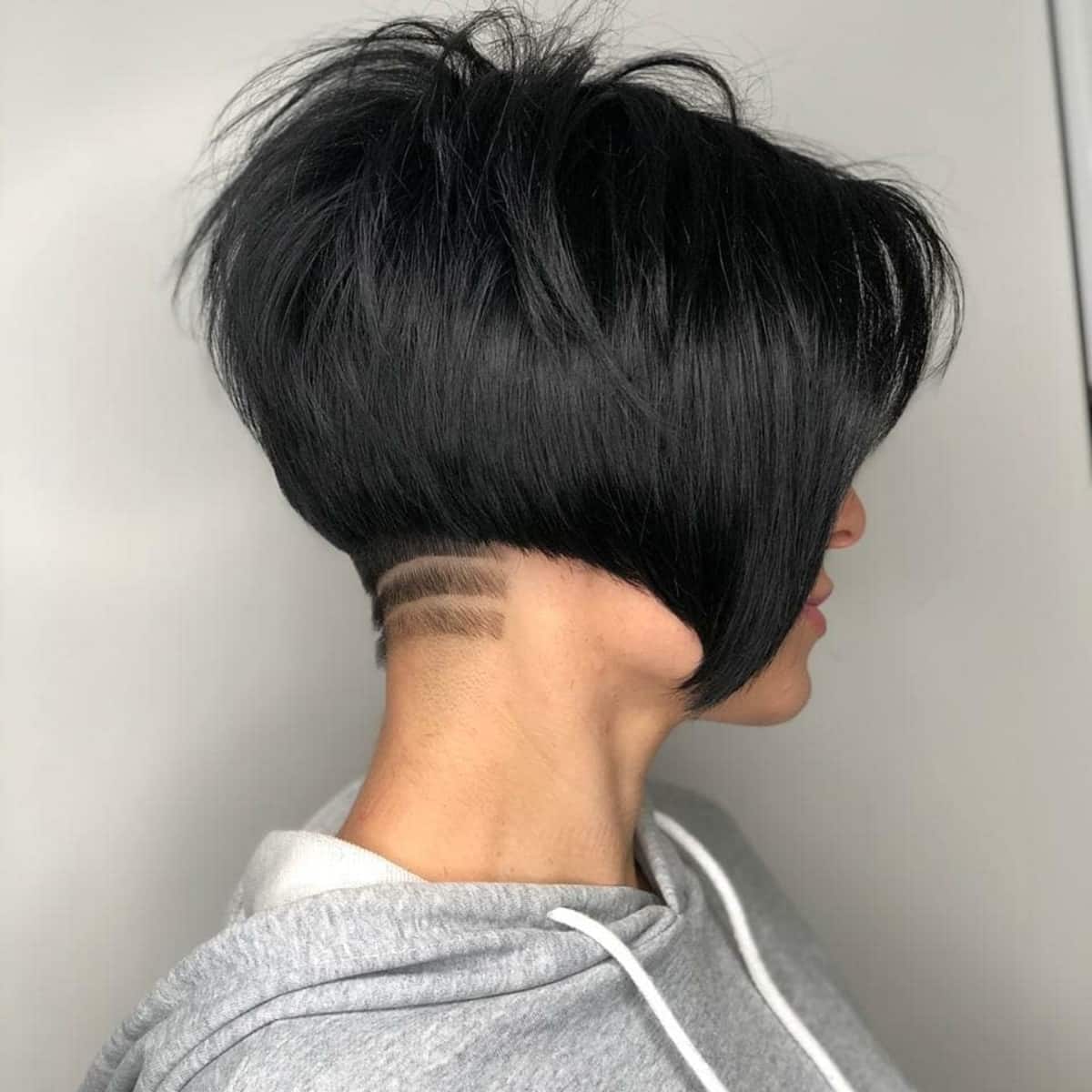 @tanyusha_younusova
A pixie undercut bob with long bangs and a shaved line design is a fashion-forward style, great for sleek straight hair. This works whether your hair is naturally sleek, or if you love styling your hair this way. An undercut bob looks fierce with a strong line chiseling out the jaw. The emphasis of the shaved line design adds extra detail. It even makes the silhouette of the head shape even stronger.
Beautiful Diamond Design and Geometric Pattern
@tonys.page
Stylist Tony created this fun and funky diamond undercut design. We love how much precision and creativity were put into this exquisite undercut hair work!
Cool Tribal Design Shaved Undercut for Women
@lacey.san.nicolas
Rock your short candy pink hair by pairing it with a contrasting black geometric triangle pattern! The discrete undercut technique and tribal shaved design will totally give anyone an edge as long as you have the confidence to wear it.
Fabulous Lotus Flower Design on Undercut
@tim_cagle
Get your undercut hairstyle women design popping up like daisies with this pretty superb floral creation! This lotus flower print for your undercut can be shaved in several areas. Pair this lotus undercut with a top bun for a chic, feminine vibe that's kind of edgy.
Trendy Radial Design on Slicked Back Undercut for Short Hair
@dsa_thebarber
This slicked back undercut features designs that are really unique and modern work that makes use of curved lines and different contrasts. Short haircuts like this are great if you want to have a neat and sharp look.
Brilliant Diamond Print on Women Undercut Hair
@nagybotond_b
The geometric undercut haircut pattern coupled with precise gradation in this V-shaved undercut nape is the definition of classic art. These overlapping triangles effortlessly give off a classy and sophisticated yet hip vibe.
Simple Heart Print Undercut Design for Curly Hair
@v.luciano.bella
A simple and feminine touch to your shaved nape makes all the difference for undercut designs. This lovely heart design is sure to get everyone's attention!
Amazing Star Hair Tattoo Design
@highclassbarbershop570
Create star design gradients by playing with different hair lengths in your undercut! This truly epic art in an undercut for women would not be possible if not done by an expert stylist. This edgy haircut is for bold and confident women.
Cute Flower Arrangement Design on Mohawk Pixie Cut
@colemurray86
This design is a wild orchid art that goes perfectly with a funky pink pixie cut mohawk undercut! Notice the undercut hair design and the consistent short hair length that's responsible for the stunning contrast these undercut hairstyles have!
Impressive Side Lotus Mandala Undercut Design
@angela_skullptures
Show your punk yet sweet personality with a pink and yellow floral artwork on a faded side undercut. You can get creative with vivid side undercut designs as long as you're up for the added upkeep they require.
Spider Web Design for Women's Undercut
@vicesalon.fortsmith
A spider web design for women's undercuts is a fun way to take out bulk from the hair. This funky haircut is created by salon owner Mel Winker from Arkansas. She warns, "It can be high-maintenance and will need cleaning up every two weeks."
Winker believes that not only the cut but the color is for all women to try. "The violet is dark and rich under most lighting. It gives off a gorgeous purple sheen under sunlight," she describes.
Outstanding Leaf Undercut Hairstyle
@a_vonhoffman
According to Hair Artist Ashley Von Hoffman of Carlsbad, CA, "this undercut leaf design with an upside down V shaped line is organic. It's like the leaf fell right out of the hair. Add a bit of color to make this shaved haircut stand out more within your natural hair color."
"These undercut design cuts are for women with very dense hair," she adds. "It helps to reduce product use, shorten dry time, and add flair to any ponytail or top knot. Undercut designs are also fun to change up for any season, festival, or special occasion."
Pretty Spiral Layout Undercut Design with Small Braid
@hairmastertanya
"This is a classic undercut hairstyle. The contrasting short and long in itself attracts attention. Plus, the design enhances the undercut! Undercut patterns on the shaved temple of only one side, make it unique," explains Barber Tanya of Moscow, Russia.
Tanya explains that thanks to the asymmetry of this undercut hairstyle for women, the neck is visually extended, and its beautiful bend is emphasized.
"The average duration of the undercut is from 2 to 3 weeks. After this time, hair grows and the design is lost. Maintenance will require a regular visit to the salon," she adds.
Lovely Owl Undercut Women Design on Long Hair
@a_vonhoffman
Ashley Von Hoffman, a hair artist in Carlsbad, CA describes this particular undercut pattern as a "Night Owl under long hair." Hoffman explains, "free-form undercuts are where the design lines create the shaved parting shape. As opposed to seeing the traditional triangle or half head parting."
Colored easy undercut designs are awesome. The colorful tones accentuate the undercut women design and keep its shapes much longer as it grows out.
Hoffman goes on to say, "it can be so liberating to only deal with half of that dense hair, 50% less dry and styling time, less product needed to tame the main, and endless styling possibilities. Undercuts can be shaved with the designs on the sides, too, if you're looking to pack more punch with your next haircut."
Stylish Simple Undercut Hairstyle on Red Copper Tone
@luisatorres.hair and @colourandcurls
"Not only does the girl in the photo show the buzzed side that sets herself apart from others, but the unique design is an added flair to such a long hair undercut. Simplicity is key when it comes to undercut designs," explains senior barber and stylist Luisa Torres of Portland, OR.
Luisa also advises you to not let the undercut to take away from the rest of the hair. "With the vibrant hair and undercut underneath to match, everyone is going to your undercut styles. This undercut long hair is also a great cut for women who are a little bit edgy and love bright colors."
Courtney Sholes, also a stylist in Portland, OR adds that "under cut designs can be placed in several places, depending on the designs, on the head in various sizes, like the nape or sides. An undercut is going to be loud regardless of the location, so you have to keep that in mind before you go buzzing off a good deal of length."
When it comes to the grow out process, Sholes says, "hair typically grows only a half inch a month, so it's going to take a long time to get to the original length. With that said, you'll be seeing a barber or stylist more frequently to buzz it down to a nice manageable length before it gets shabby. This typically happens every 4 weeks."
Both Hair MW stylists agree that, "if you're considering getting an undercut, understand that the designs make it high maintenance! It will need to be buzzed and the design recut about every two weeks. Sometimes an outline is required for a very intricate undercut. There are plenty of cool undercut designs readily available."
Stunning Undercut Geometric Design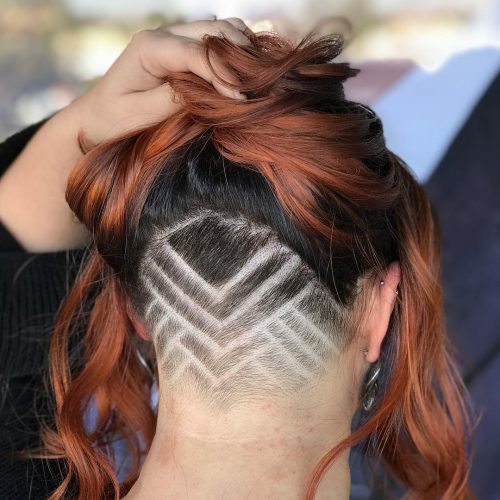 @hairby.michellemarks
Female undercut designs such as the geometric or even the aztec pattern with lines are edgy and fun. This one has straight lines with a structured feel, says hair artist Michelle Marks of Santa Maria, CA.
Marks also encourages you to consider the grow out. "They're fun, and you can change the design about every 3 weeks because it grows out so fast. One reason most women choose to get an undercut is to reduce the amount of thickness to their hair. Once it's shaved off underneath, it takes a lot of weight off the head. When women wear their hair up, they can really show off their unique style with an undercut with design."
Magnificent Undercut Pixie with Mermaid Design
@madovey and @shearfabulous
"The undercut mermaid design ideas have equal parts anarchy and glamour. Don't you love the nape undercut design in the 2-for-1 pattern?" Asks team lead and educator Melissa Corley at Salon Red in Atlanta, GA.
Corley also suggests you consider "lifestyle, maintenance, and product choice when deciding if this pixie haircut is for you. Undercut designs for females grow out quickly and will typically need to be redone every three to four weeks."
K.D. O'Hair, a level 2 stylist and team member of Melissa's believes, "everyone should take a hair risk every once in a while to try something different. It may change your entire life and leave you with something you love even more." She adds, "if you're weary, you can have designed undercuts hidden by your long hair. It can actually take an unnecessary amount of weight out for thick hair within the nape undercut area. So you can style your undercut more easily."
Cool Triangle Nape Undercut Hair Design
@_hair_by_natalie_
Natalie Thonrton, master stylist in Mesa, AZ, debunks the stereotypes stating, "this undercut is edgy but feminine, and that's always the goal with women's undercut designs. You don't have to be a boy to have some fun with clippers!"
She goes onto say, "if you're bored with your hair but not ready to get rid of length, undercuts are the way to go! Women undercut designs can be big and bold or small and subtle. If you like to wear your hair up, you can reveal your undercut, or it can be your little secret. Not to mention undercuts are a great way to lose some extra hair for the ladies with thick hair!"
Popular Triangle Undercut Idea
@joifulhair_makeup
"A concealed undercut can hide surprising designs," says hairstylist Cierra Joi Webster of Las Vegas, NV. "When you want to show off the design undercut you just need to put your hair up in a bun or ponytail. Either way, undercuts are easy to conceal."
For women who might be hesitant of an undercut design, Webster says, "if you have been wanting this cut for forever but never had the guts, just do it. Life is too short for boring hair! If you want to keep the design intact though, you would need to cut your undercut every two weeks. This cut is perfect for women with thick hair who want to have a textured bob but their hair is too bulky."
Spectacular Undercut Flower Design
@dennisjosephbabyliss
"This is a shaved side symmetrical flower design on long layered hair," explains style creator and director of marking Dennis Colpitts of the BaBylissPRO in Stamford, CT. "The greatest part of this design is that you can either expose the design for a night out or cover it by letting the long layers fall over top of the design. There's also an integration of design on top of the shaved side."
When it comes to styling, Dennis adds, "when the design is fresh use a little bit of pomade/wax on the design to help add depth and contrast from the shorter/longer shaved lengths. The design will start to grow back in the first 2 weeks. So if it's something you choose to keep you can continue to get different patterns to change it up. If you don't want to continue on then you can cover the shaved side with your longer layers while the hair continues to grow."