16 Trendiest Ways to Style Short Faux Locs Right Now
Thick Faux Locs
@chumasoko
Look at your best with these thick faux locs protective style on your hair that length goes beyond your shoulders. Each loc is neatly done and looks so flattering on natural black hair.
Individual Crochet Faux Locs
@fauxlocsbyjalisa
Creating a icon, short faux locs takes time and steady hands. Wear those individual crochet locs with added bead work and accessories.
Red Faux Locs
@ronitrawalker
Are you loving your naturally curly hair? Color it with vibrant red, then turn it into sided dreadlocks to spice things up. These red faux locs for short hair will surely match your edgy spirit.
With Curly Ends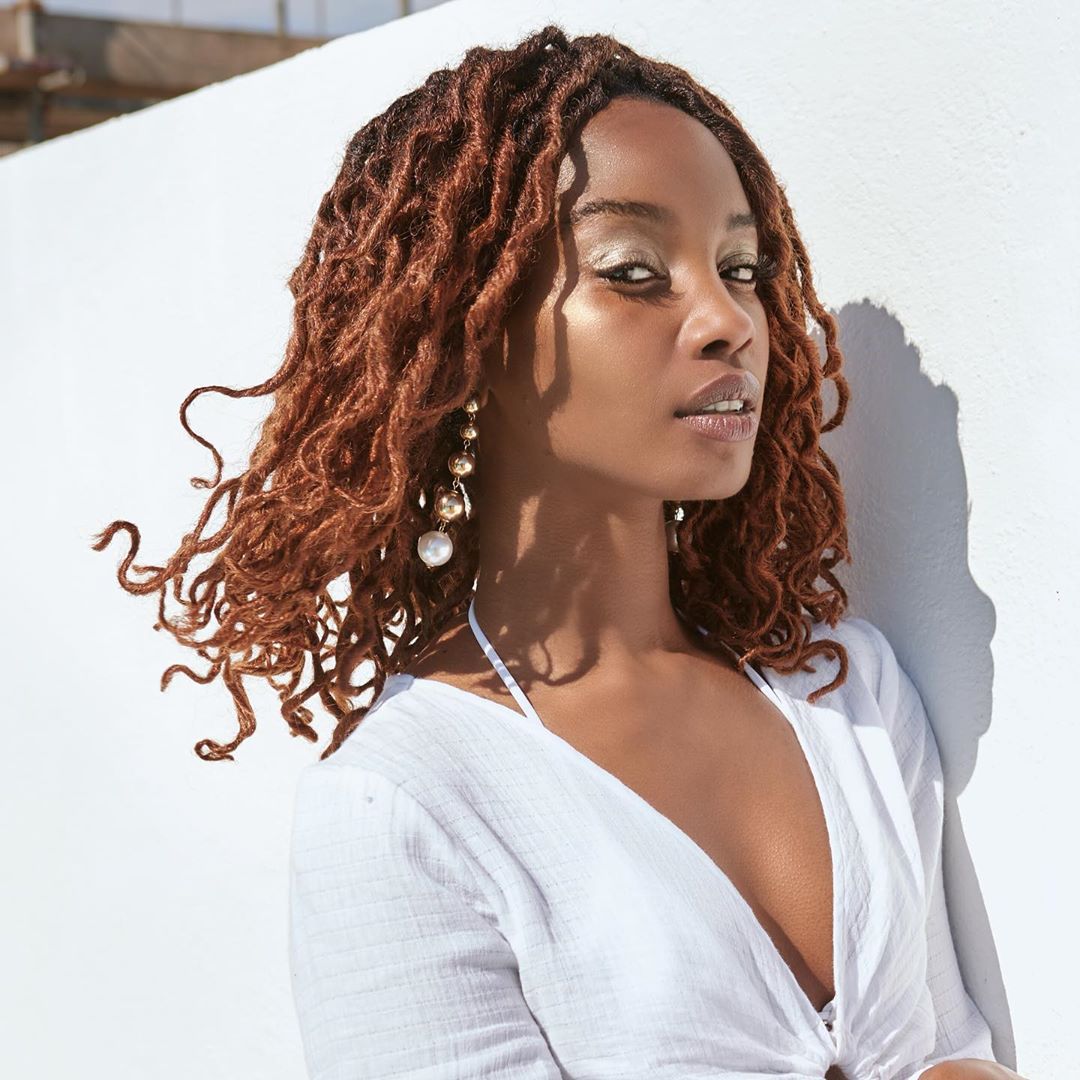 @boholocs
Let your faux locs down to your shoulders, jazz it up with curly ends, and next thing you know, you are the star in a fun boho-themed party. These yarn-like and protective locs look fascinating on ladies with fiery ginger hair color on dark roots.
Braided Faux Locs
@high__endstylist
Imagine how strong your vibe is going to be when having these braided faux locs on your naturally black and short hair. The fusion of almost undercut, the box braid, and excellent starter dreadlocks is admirable enough.
Curly Faux Locs
@baje_hair
Stylist Lois Astrid is undoubtedly right when she said that "curls give a different glow." These starter curly faux locs style is one of the best ideas to do on your short black hair. Try it and let people know how unique your taste is.
Crochet Goddess Faux Locs
@princesseud
Nothing is better than this crochet goddess short faux locs hairstyle on a pure black hair. Match it up with your goddess-looking face, and you are ready to be on all big occasions in the neighborhood.
Bob Faux Locs
@fauxlocs_bynomzz
What a youthful look for ladies who like to rock a short bob faux locs! An awesome faux dreadlocks hairstyle such as this one is also a great protective style for women's hair.
Blonde Faux Locs
@nneunfiltered
Upgrade your whole style with a change with blonde short faux locs!
Curly Crochet Faux Locs
@cutelooksdar
One of a kind curly crochet faux locs make for a stunning short hairstyle. The crocheted roots ending in a nice loose curl gives dynamic approach to the whole hairstyle.
Very Short Locs with Shaved Sides
@astoldbybrittanyd
Give emphasis to your very short faux locs with shaved sides! This style brings out your masculinity which is a nice touch of charming look for a cool gal such as you!
The Goddess Faux Locs Bob
@biggnaicaa_
The caramel ends put a nice twist to the short, Goddess faux locs bob. This is super glam in the most convenient way!
Jumbo Faux Locs
@i_do_hair_studios
Jumbo short faux locs are a great protective black hairstyle for ladies with thick hair.
According to freelance hairstylist, Xta Agyei, "You can have it messy. It can be shampooed, styled, and kept for a very long time. You can cut it off when you don't want this look or style anymore and still have your natural hair back."
Agyei warns that it's not a style for tender-headed persons. "Your hair type should be around 3a/3b to 4a/4c. A person who doesn't like messy hair should not consider this style."
Small Locs with Cool Marley Hair
@uriahbelle
Small, short faux locs are very similar to dreads.
"These locs are very lightweight and breathable to wear during the summer while still being able to protect your natural hair underneath," says it's hair stylist Annabella Ulysse of Queens, NY
Ulysse recommends this hairstyle to someone who's looking for a protective hairstyle and if your lifestyle involves lots of work outs and for the busy professional. The benefit  of this look is that "you don't need to deal with the struggle of having lots of hair to tie up or in their face," advises Ulysse.
Crochet Faux Locs
@fauxbyyonnie
A bob style crochet faux locs on short hair really stands out by adding loops at the ends.
Style creator, Ayonna Brown of Temple Hills, MD says this is one of her newer signature looks.
When considering this, Brown's best advice is to "always try to aim after long-lasting Marley hair brands like Jamaican twist or Cuban braid. Long term faux loc lovers even use human hair, and it's smart to use all-natural loc products like Tropical Roots to help your hair grow while enjoying this hairstyle.
Bohemian Faux Locs
@youngmedusas_
Shorter faux locs can also work as dreadlocks without having to lock your hair.protective style that allows you to experiment with dreadlocks without actually having to lock your hair.
The beauty about this style according to it's creator, Camella of Fort Lauderdale, FL is that "the older they get the better they look over time. If installed properly, there's less tension on your hair which results in no damage, just protection."
Camella's most important advice is for you to know that "hair care starts before the install. I cannot stress this enough. You have to take care of your hair before installing the faux locs simply because you will not have access to the shaft of your hair only the roots. This will prevent your hair from drying out."