35 Gorgeous Hairstyles for Long Blonde Hair
Long Layered Blonde Balayage Hair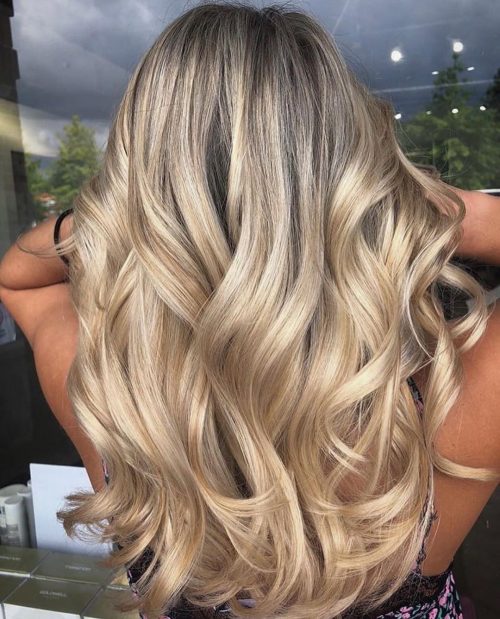 @kphairdesigns
This long layered blonde balayage hair is the definition of beauty and fashion. The layered chop, the wavy style, and the bright blonde hue—all work together hand in hand. It's matched with a shadow root, so it's easier to manage. To keep its shine, wash the colored hair with purple shampoo.
This blonde balayage for long hair is the perfect neutral sandy blonde. It was created by senior stylist Kristina of Nesconset, NY. Simple, clean, crisp, and easy to wear wavy, textured, or straight!
"Be patient," says Kristina, "beautiful, long, blonde hair is a labor of love. It takes time and persistence to achieve. Use professionally recommended home care products such as Goldwell's Kerasilk. These products will keep your blonde bright and shiny, without the unwanted buildup."
Long Blonde Wavy Hairstyle
@refinedhairbyelke
A long blonde wavy hairstyle has a vibrant color with a soft root melt to keep the grow-out natural. Balayage specialist Elke Butler from Australia is behind this gorgeous wavy style.
"The root smudge enables to push a 10-12 week regrowth," says Butler. "This color is for a lady who wants to be blonde without feeling high maintenance."
Butler suggests a deep cleansing shampoo to remove any dirt and elements that stick to the hair.
Cool Beach Waves on Long Blonde Locks
@hairbymelinaelise
Opt for cool beach waves to amp up long blonde locks. The longer the hair, the better the results. To style a gem like this, misting a sea salt spray is a must. That how you can get those beautiful sultry sea salt waves.
Formal Updo with Curls for Long Hair
@blushandmane
This formal updo with loose curls for long fair hair is such a glorious masterpiece. The secret to its beauty lies in how textured and piece-y it turns out. The more tousled it is, the softer and more flawless it appears. This hairdo works more glorious with a beige blonde.
Blonde Half Up Bun Hairdo for Longer Hair
@shelbywhite_hmu
This blonde half-up bun hairdo is so elegant it can take your breath away! If you're blessed with long and thick tresses, don't hesitate to copy this trend. It's easy! Grab your long blonde strands from the top area, twist them, and bring them all up into a bun. Use bobby pins to hold the style in place. For the finishing touch, don't forget to add waves that can reinforce the color's dimension.
Beautiful Fishtail Braid for Long Hair
@braidedblondelocks
This is one of the most compelling ways to show off your dimensional blonde. Wear a beautiful fishtail braid that jazzes up your long tresses. Your natural wavy texture is what adds a romantic vibe to your blonde look, making it perfect for a special event like a wedding.
Beige Blonde with Long Wavy Hair
@mannie_mak
You can achieve a warmed up look with a beige blonde ombre on your long hair and capture a shiny and sumptuous look that everyone wants this season. The darker blonde roots plus the big beachy waves create a whole new dimension on this long wavy hairstyle that is ideal for any type of hair.
Silvery Blonde Hair with a Long Braided Ponytail
@florentina.marciuc.hairstylist
This very long silver-blonde hue for long blonde hair was created by hairstylist Florentina Marciuc of Cluj-Napoca. A bright blonde catches the eyes of everyone.
"The fading process is irreversible and can be aggressive with long blonde streaks. Make sure your hair looks flawless by following your hair stylists' advice," adds Marciuc.
Long White Blonde Hairstyle
@roxanaelenarotaru
A long white blonde hairstyle is truly eye-catching and works beautifully on cooler skin tones. This type of blonde is high maintenance and needs root touch-up's every 6 weeks. For lower maintenance of this shade of blonde, an option could be highlighted blonde hair and still achieving this tone with a little more dimension of your natural color.
Caramel Blonde + Hair Long + Ombre Highlights
@diogoguerrahairstylist
Combining caramel blonde ombre highlights creates a fun, elegant-looking style. The soft ombre gives a warm, sun-kissed result that works wonders on waves. It makes the perfect hairstyle with a chic and modern dimension for women. Time to boost your brown hair with these sweet caramel blonde highlights!
Rose Gold Hair with Long Beachy Waves
@taranicolestylez
An enhanced textured rose gold highlights on long, wavy blonde hair that will please anyone this season! This cotton candy hue would suit anyone with a cold undertone and anyone willing to commit to the upkeep this enchanting hair needs.
Buttery Golden Blonde on a Long Straight Cut
@mg_hairstyles
"It's a rich buttery golden blonde balayage – light brown root color blended with baby lights and balayage to create a seamless appearance from top to bottom," says hairstylist Melissa Galich of Trumbull, CT.
There's a rich tonality and dimension to the long blonde hair. It gives you the ability to wear it naturally straight or curl it, and the color will just pop.
"Straight hair which is fine to medium would be more ideal for this long blond hair. A coarser texture would not achieve the same results and not look as good on a day to day basis," she adds.
A blonde balayage can look good anywhere from 12 weeks to six months.
Champagne Blonde Waves for Long Hair
@luis_aguilar_estilista
Champagne blonde waves for long hair have an ever-so-slight touch of coolness. When combining creamy undertones with long blonde hairstyles, champagne blonde looks extremely shiny and tends to look best with pale skin with light eyes.
Long Platinum Blonde Hair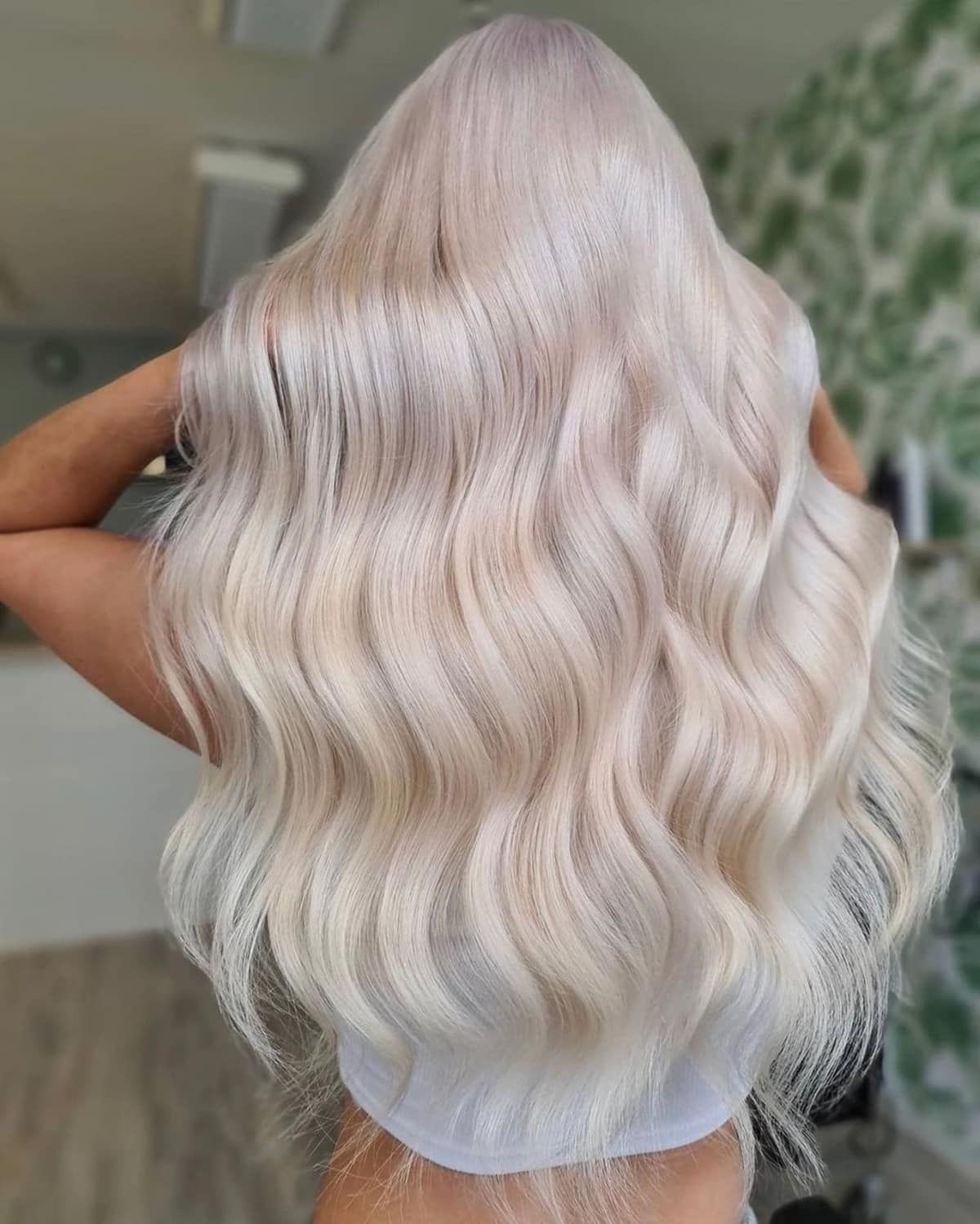 @queenkinghair
Long platinum blonde hair looks best on ladies with cool skin tones. An all over blonde for long hair is gorgeous straight or wavy.
Classic Blonde Highlights
@karihillhair
Classic blonde highlights are a trend to go for when wanting hair with a chic dimension. This is one of the many ways to level up a typical haircut. The highlights balance out with the lowlights. Thus, allowing the mane to show movement and depth. To preserve the brightness of the blonde hue, wash the hair with purple shampoo once a week.
"These classic blonde highlights are a natural soft, sun-kissed, beach waved, California blonde," says hair stylist and style creator Kari Hill of Los Angeles, CA.
"Ask your stylist what color works best with your skin tone," syas Hill. "To achieve this golden blonde ask for natural soft babylights. Preferably, brighter around the face to look sun-kissed and vibrant."
Modern-Day Chamomile Blonde Long Hair
@megan_thomas_furr
This all natural, modern-day long blonde hairstyle was created by stylist Megan Thomas of Cape Town, Western Cape.
"You get the illusion of extremely blonde looking hair because none of the ends are left untouched," explains Thomas. "It's not low maintenance because babylights were added with a fading out technique at the top to make it very natural looking."
Healthy hair should be your number one priority, especially when it comes to hairstyles for long blonde hair.
Women with a finer hair strands will benefit most from a cut like this says Thomas. "That's because this hair type can handle color best. It also helps make the hair look much fuller."
Long Neutral Ashy Blonde Balayage + Babylights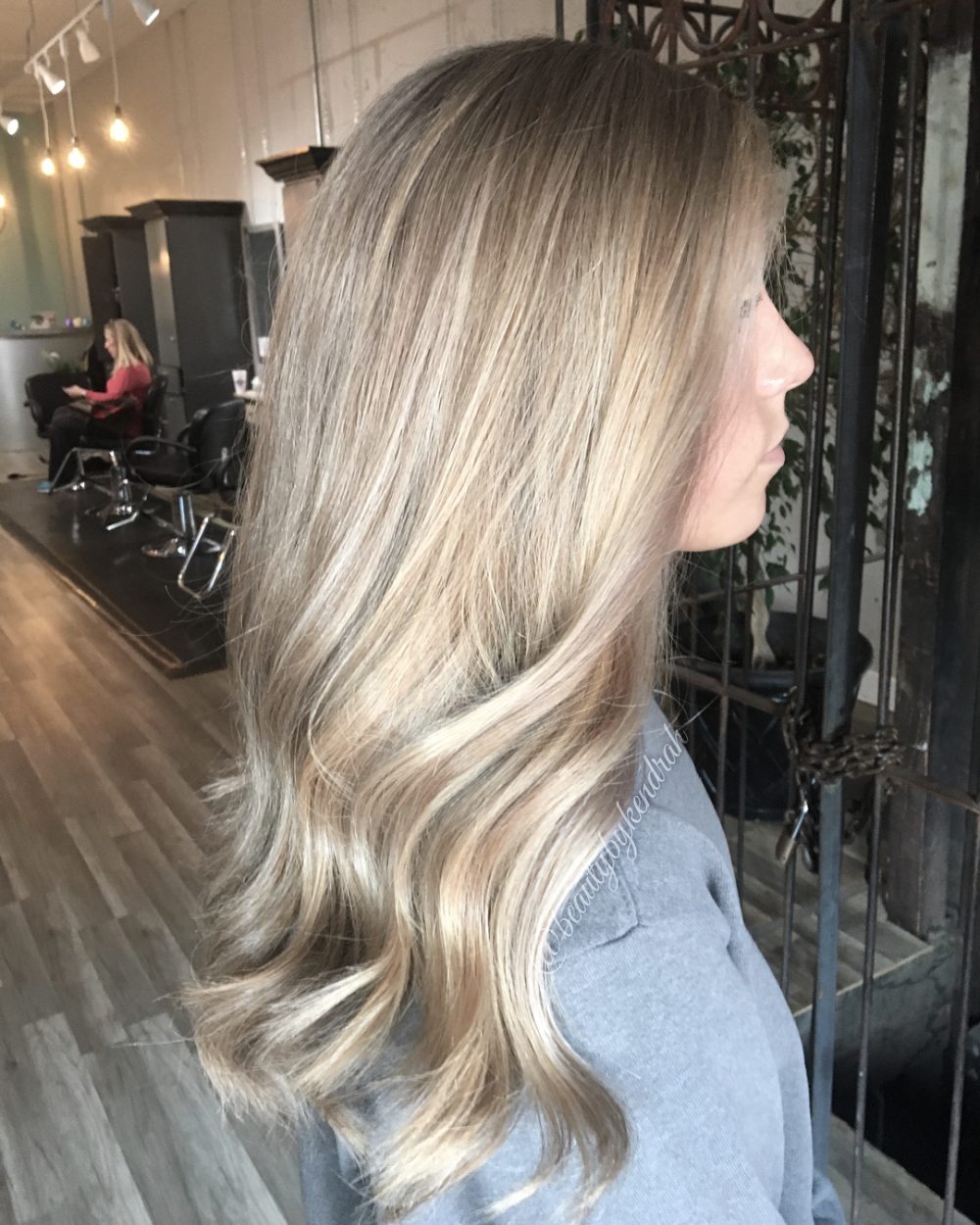 @beautybykendrah
Professional hairstylist Kendra Hamby of Atlanta, GA created this neutral ashy blonde balayage with babylights!
A foilayage was used, Hamby says, "which is just a combination of a full highlight and balayage." It's the easiest way to brighten a woman up to give her long blonde hair dimension. This technique is great for color corrections because it works to break up an old color.
Since this long light blonde hair brings the brightness all the way up to the root, it's a higher maintenance color that requires six to eight week touch-ups for most women. Especially women with a dark base/bright blonde contrast. Visit your stylist after four weeks to re-tone and refresh their color between appointments!
Light Blonde Icing Balayage on Longer Hair
@hairbytaylorrange
This long light blonde balayage was created by hair designer and colorist Taylor Range of Andover, MN. "It's natural looking and a very low maintenance color that can be tweaked and specially laid out for any woman with light blonde hair that's long," says Range.
If you're looking for long blonde hairstyles that are easy and only needs to be touched up a couple times a year, Range says that this blonde long hair is for you. "Just keep in mind that it might take a couple of sessions to achieve the level of lightness desired."
Long Ashy Blonde Waves
@beautybyella___
"These long ashy blonde waves took effort and creativity," says hair and makeup artist Ella Gjekay of Bloomfield, MI. "If you don't want traditional highlighted blonde, but something close, ask for this color. You only need to go in for touch ups every three to four months."
Use a blue/purple shampoo on your hair once a week to keep the color on the ashy side. Apply a heat protectant before using any tools in order to not compromise the integrity of the blonde hair. This is because it will be sensitive due to the lightening process.
"Long blonde hairstyles look great with beach waves and is a low maintenance color," she adds.
Lived-In Golden Blonde Layered Hair
@nataliepalomino
"Find yourself a colorist that specializes in blondes," advises Natalie Palomino, a stylist and owner of North Salon in Corona Del Mar, CA. "Gone are days of mass foil highlights that deliver an unnatural, stripe-like style. Today, women want a brighter and softer, but natural blonde hair, much like the natural highlights given to a little girl by the sun in summer."
If you not only want a soft and creamy blonde, and grey coverage opt for this long blonde hair. The softer highlights and visible deeper root color leaves a ton of room and time for new growth.
"It is important to know that the lighter you want to go, depending on your natural hair color, the longer it may take to achieve this light of a blonde," says Palomino.
She adds, "if you are susceptible to warmth or yellowing of your blonde over time, try a purple shampoo and conditioner. Davines Alchemic Shampoo and Conditioner is great for long blonde haircuts."
Lived-In Rooted Long Blonde Hair
@allisonmccartney
This is a rooty, lived-in blonde with marshmallow, vanilla and platinum blonde hair color tones. It was created by stylist Allison Cole of Conroe, TX. The shadow root transitions to the bright blonde ends.
"My advice for women considering hairstyles for long blonde hair would be to make sure you're prepared for the amount of time it takes to produce this end result," says Cole. "If it's achievable, you'll need to maintain your platinum blonde hair with professional products. The proper shampoo, conditioner, treatments, thermal protectants, styling products and tools protect the integrity of the platinum blonde. It can be costly, but is well worth the investment."
Bright & Dimensional Sandy Blonde with Long Hair
@platinum.gypsy
This sandy long blonde hair is so soft and natural, says Tara Weinberger, a stylist in New York, NY. "It maintains its brightness while still having plenty of dimension. It's hard to tell if you're just naturally that blonde or if you've had it colored."
This sandy blonde color is for the girl who hates her roots, who wants to be really bright and blonde, but is low maintenance and doesn't want to be in the salon every six weeks. The upkeep for this is about every three months. Ask for a mixture of babylights and balayage to achieve brightness. It will also still have the depth and dimension that will let you have a smooth and soft grow out.
Modern Dirty Blonde with Long Hair
@courtneybodgerhair
Technical color director, Courtney Bodger of South Yarra, VIC created this very modern blonde foiled hairstyle. "It's also known as a lived-in blonde. Gone are the days where you put 1,000 back to back foils in someone's head. Now it is all about the placement of the foils, where you put them and why. At the moment we are making the roots more natural and going slightly heavier around the face and on some of the ends," she adds.
The brighter hairline on this color emphasizes how natural the roots are. It will grow out beautifully for up to the next three months!
"If you are an existing heavy foiled blonde lady wanting to change your hair to this type of blonde, you may feel slightly darker, but it will actually look blonder with less maintenance and damage," adds Bodger.
Healthy Ash Blonde Long Hair
@itskylekyle
"This is a healthy ash blonde hair color. It's not quite platinum hair, but still vibrant and beautiful," says style creator Kyle James Engman of Pasadena, CA.
"This blonde hair was achieved with very little damage. It will take several processes, but still, your hair will be healthier and blonder than ever," he adds.
Use a moisturizing cream like Atlantis from R+Co. This can be used as a leave-in or a blow-out cream. Also, do regular at-home Olaplex treatments using no. 3.
The last product is No Yellow purple shampoo from Fanola. As you wash your hair, the toner will fade out, so lather your hair with a purple shampoo at least once a week to help keep those beautiful ashy tones nice and vibrant.
Being such a beautiful, ashy blonde can take a lot of maintenance, says Engman. "It has to be properly taken care of in order to keep it fresh and healthy once you leave the salon."
Lived-In Center Parted Long Haired Blonde
@samanthas.hairskinbrowco
A lived-in center-parted long-haired blonde gives a high maintenance color more longevity. The ultra modern shadow root doesn't take away from the stunning brightness of the blonde. In fact, the contrast only brightens up the flawless long blonde tresses. Long blonde haircuts with a center part totally rock this lived-in look.
Messy French Vanilla Long Blonde With Layers
Amie Jorgensen / Instagram
This messy haircut features long layers and a long fringe. It was created by hairstylist Amie Jorgensen of Beverly Hills, CA. "In regards to the color, achieved was an effortless beachy blonde.  This blonde color is a French vanilla blonde that compliments fair skin," adds Jorgensen.
Follow these three easy steps to wash and style your long blonde hairdo.
1. Apply product to damp hair. Try Big Sexy Hair Core Flex Leave-In Reconstructor on mid-lengths to ends. It's an amazing hydrating leave-in for processed color, especially blondes.  Also, try the Wella EMI Sugar Lift Spray for volume and hold.
2. Rough dry your hair until it is 50% dry. Then, using a nozzle to smooth the cuticle, blow dry your hair section by section, making sure you have enough tension to smooth the hair from the roots to the ends. Blow the hair away from the face to create volume at the roots and/or use a curling iron to create a bend on the ends.
3. Once your blonde hair is completely dry, flip your head upside down and shake it out with your fingers for an effortless style. Use a flexible light-hold hairspray to finish.
Long + Sleek + Straight + Blonde
@kassiebanueloshair
Do you have a thing about long straight blonde hair? If so, give this a burl! Allow your fine locks to grow until it reaches your waist. Play with a platinum blonde hue for an appeal that will stand out.
Long Layers on Blonde Hair
@like_the_color_teal
A hairstyle that suits your bright golden blonde! Babylights and balayage do the job together so you can spruce up your long layers. Loose waves create a flow that looks effortless throughout the day.
Blonde + Long Hair with Bangs
@nelsonstylist
Be the prettiest of them all, and pull off your blonde locks with a fringe! Level up your hairstyling game as you keep your long blonde hair with bangs and soft waves.
Beautiful Side Swept Fishtail Braid Ponytail
@missysueblog
This beautiful side-swept fishtail braid ponytail is a gem for long tresses. If the hair has a dimensional blonde, such an updo is ideal to accentuate the tones. Soften this beautiful fishtail braid by pulling out a few strands to loosen it.
Face Framing Long Blonde Layered Hair
@kelseyrosehairstylist
What your pretty face needs are a cut and style to give it a much-needed emphasis. Try this face-framing layered hair, and draw so much attention. Full blonde highlights in this long hairstyle will complement your fair skin tone.
Half Updo Hairstyle with Bangs
@habitsalon
Do a half updo hairstyle with bangs if you're looking for something that takes a few minutes to create. This easy-to-copy hairstyle offers a flirty vibe that suits soft blonde curls the most. It looks fun to wear—no doubt!
Long Side-Swept Bangs Style for Blondes
@hairbykayleighelizabeth
These side-swept bangs, if partnered with layers, give women with long hair movement and volume. Enhance the style with subtle waves to accentuate the layers. The finish looks softer and chic on a creamy blonde shade. It's so stunning that you'll love it from the root down to the ends!
Curly Dark Blonde Hair
@tomsmithhd
Rock this dark curly blonde hair and appear as glamorous as ever! The beachy wave effect is easier to achieve with either a flat iron or a wand. Golden locks plus beachy, voluminous curls? The combo of waves and dark blonde makes an ideal and dreamy finish for stylish ladies out there!
Waist Length Honey Blonde Hair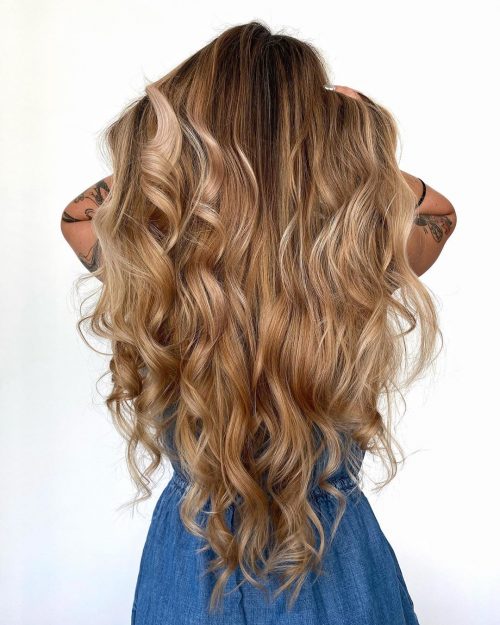 @shadebalayage
This gorgeous waist-length honey blonde hair offers versatility. It works on both a sleek, straight style or voluminous, wavy hair. With its amazing honey color, waves work better to show off the blonde dimension. The pops of honey neutral blonde color make it ideal for lighter and olive skin tones.