19 Chic Asymmetrical Short Hair Ideas You'll Love
Asymmetrical Bangs
@nikitenko_elen_
Asymmetrical bangs can help soften up your style. For women who aren't afraid of shaving their hairline, rounding out the face shape with scissors and clippers makes your appearance quite interesting. Rounding out the hairline compliments women blessed with diamond-shaped faces.
Asymmetrical Haircut with Jagged Ends for African-American Women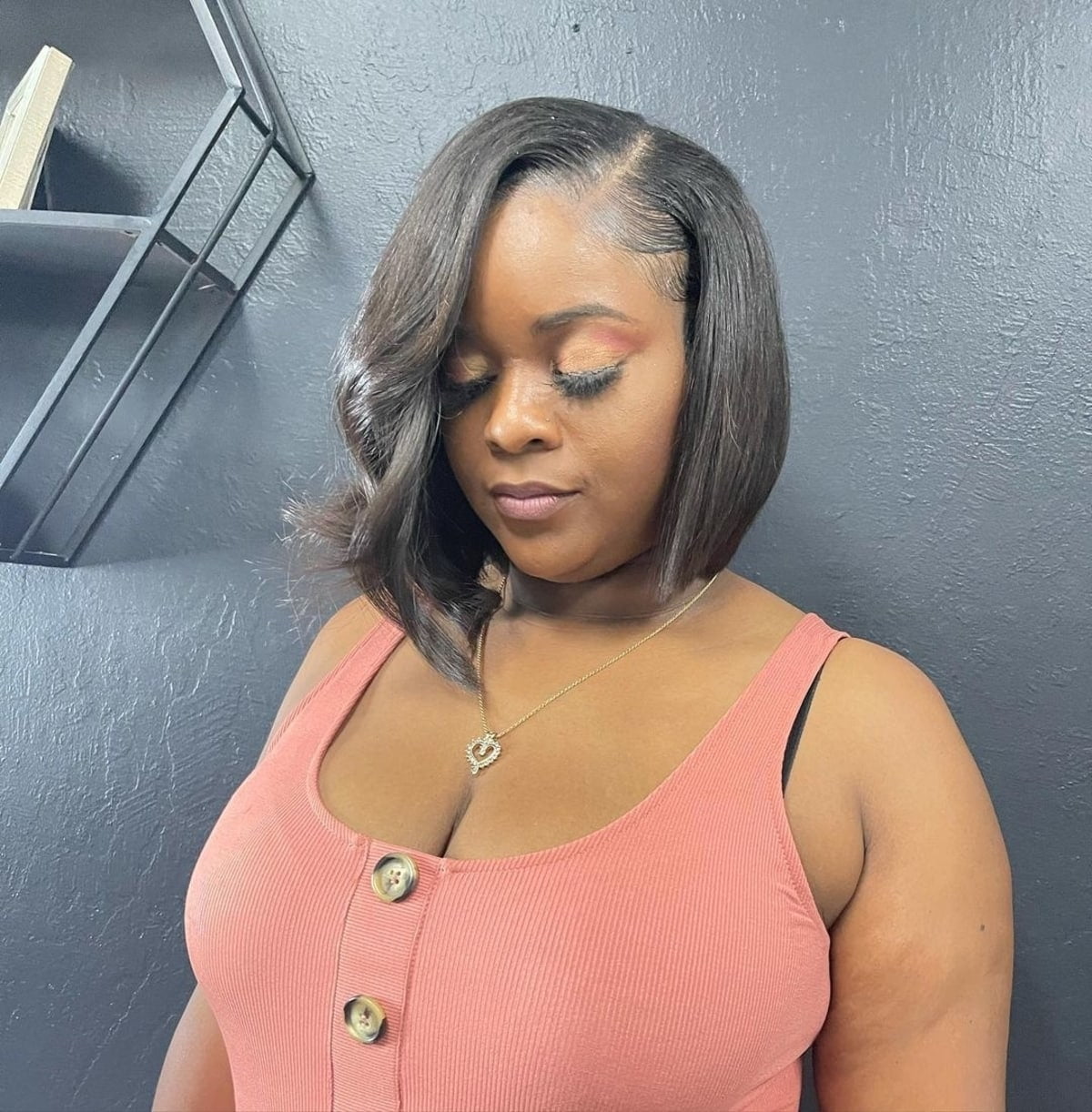 @beautilogic
An asymmetrical haircut with jagged ends for African-American women is versatile because, besides the traditional version with the elongated ends at the front, you can invest in different finishes to match your taste and style.
Short Asymmetrical Haircut on Older Women with Gray Hair
@thebeautyoperator_
A short asymmetrical haircut on older women with gray hair is an excellent choice. Particularly for those who aspire to have a youthful-looking and modern haircut while keeping the maintenance quick and easy.
Spiky Asymmetrical Haircut for Women Over 50
@dessardopatrizia
A spiky asymmetrical haircut for women over 50 is perfect for almost all hair types. Medium and short hair look beautiful in this hairdo. This haircut gives more lightness and modernity to the overall appearance.
Asymmetrical Side-Swept Hair
@nikitenko_elen
For asymmetrical short hair, a side-swept haircut is stunning on ladies with fine hair to create a fuller-looking style. A side-swept bob has various layers and long face-framing pieces to elongate the face.
Short Curly Hair
@nikitenko_elen_
A short curly hair with a heavy part to one side compliments an alluring asymmetrical cut. This curly pixie cut works best for women with naturally curly hair but can also work when a curling iron is used to produce the curls. Softening the lines will change the aesthetic of this hairstyle completely.
Asymmetrical Layered Cut
@fernanducruz
Rock an asymmetrical layered cut to give hair with a side part an extra edge. An asymmetrical short hair cut happens naturally when the hair is cut with a side parting, so emphasizing this length gives so much more style and interest to a bob. The side part also gives a lift to the front of the hair from sweeping shorter layers which can be adapted whether your hair is thin or thick.
Shaggy Cut in Asymmetrical Style
@jillians_house_of_hair
The untamed manner compliments the unevenness of this asymmetrical hairstyle for wavy hair.
"This look is modern and chic – a sassy twist to the classic bob," says master stylist Jillian White of Lakeside, NS. "My favorite thing about this asymmetrical wavy lob is the versatility. You can go from straight to curly/wavy, and the balayaged highlights add depth and dimension for a low-maintenance, stylish look!"
White recommends you use a bit of volumizing mousse. "You can wash-and-go if need be, blow dry straight for a smooth sleek look, or use a 1-inch curling iron to add some wave and texture," she adds.
Short Asymmetric Hair with a Shaved Side
@jessyjinstylist
This is a choppy asymmetrical undercut with a design. A choppy cut works best for fine hair, building the layers and texture up. What makes this cut unique is its gradient surgical line on the undercut.
"I like the simplicity of it," says hair artist Jessy Jin of Vancouver, BC. "It has details but does not look too busy. It looks especially great on thick and dark hair because the design looks more contrasting."
"I love an asymmetrical hair cut, as it creates an interesting factor," she states.  "Also, if you have light hair and want the design to look more contrasting, you can consider getting a low-commitment demi-permanent color for styling."
Asymmetrical Pixie Cut
@nikitenko_elen_
An asymmetrical pixie cut with two polar opposite lengths is an edgy style that can still be professional as well. With the right outfit, you can dress this style up or down for work or for some night-outs over the weekends.
Asymmetrical with Undercut on Straight Hair
@hairbyhelen_d
The uneven angles on this asymmetrical cut shape the face to lessen rounder edges. The undercut, along with the magenta hair color, is fashion advanced!
"Describing this hair might be as complex as the cut and color itself. I would say it's a contemporary, deep mauve, asymmetrical bob with bangs," says hairstylist Helen Demakis of Cambridge, MA.
"The client and I really have to communicate and work together," she explains. "From her undercut to her short bangs, I'm always checking in. This look is the full package for me personally. I felt connected to the client and was creatively so satisfied with this color and cut."
Also, Demakis says to use color-safe shampoo and cool water while rinsing. "The neat thing about this chop is that you can tweak it to work with almost any face shape and hair texture. This cut could be longer, not have bangs, or even on someone with curly hair," she notes.
Asymmetrical Textured Cut For Thick Hair
@patricciuti
Those girls out there enjoy a nice, clean-cut across with a short angled bob in an asymmetrical cut.
Asymmetrical angled bob cuts are perfect for most face shapes and hair textures. This one was created by hairstylist Patricia Ricciuti of Exton, PA. "I cut in the overall shape, then went in with a texture shear to lighten up her hair density. Then finished with a razor for soft edges," explains Ricciuti.
"I added my favorite mousse Rodeo by R+CO. Next was a blowout, slightly disheveled for that undone look," she notes. "Add a bit of texture paste to the fringe and you are ready to go."
This cut is very versatile – can also be worn sleek or curled. A great cut like this adds instant style plus interest to your overall look. This cut works for women of all ages.
An Edgy Short Haircut with Bangs for Black Locks
@cutbyleslie
This asymmetrical cut is an edgier take on your usual pixie cut and is much longer due to the swoop bangs. This gives the asymmetrical effect and shapes your face in a flattering way. Style this black hair in such a way that form is kept, with layers and layers of ruffled texture.
This particular cut was created by hairstylist Leslie Chin-Schmitt of San Francisco, CA.
"To wear a cut like this takes some confidence, however, texturing and adjusting the length allows us to cater to your features. By doing so, most women can wear a variation of this style," says Chin-Schmitt.
"The asymmetry is a great way to customize the look and can be a great detail to use on people who want a little face coverage in addition to adding a little more edginess," she adds.
Asymmetrical Long Bob for Wavy Hair
@raenikole
Thin-haired ladies, adding waves to your asymmetrical hair can boost volume. This long bob enjoys such features which add a natural effect to your appearance.
"Her highlight application was done with an organic placement about a year ago, and they're made to grow out soft and smooth," says master stylist Rae Steele of Covina, CA. "The long layered bob like this can be tailored to suit all face shapes and textures."
"The right hairdresser can assess your face shape with you to create the best look for your face, texture, and body shape," explains Steele. "I achieved this cut with a razor, which leaves the most beautiful texture in the hair. I know the razor has gotten a bad rep over the years, which is why it's important to make sure your stylist is trained to use it."
For at-home care, it's truly meant to be air-dried with a salt spray. Not all salt sprays are created equal, so talk with your stylist about which would be best for your texture.
Asymmetric Crop For Over 60
@bladesalon
Here's an asymmetrical crop created by salon owner and stylist Jay Roberts of Rocky Hill, CT.
"I began by looking at her face shape and hair texture. Then, I used a razor for the cut, taking "U" shaped partings at the apex and vertical sections to reduce weight at the sides and nape," says Roberts. "I then took diagonal sections on the top and over directed to a stationary guide at the top!"
"Talk with your stylist about the effect short asymmetrical haircuts have on the various face shapes," he notes. "It's ideal for oval-shaped faces. It softens the line of the face height in the crown and creates length and minimizes the fullness of a round face."
👉See more short haircuts for women over 60
Short Asymmetrical Haircut for Fine Hair
@hairyoucare
"I've chosen to do a very formal, straight-lined haircut with a little bit of perk up because back then such asymmetry was on top of hair trends," says hairstylist Vaida Murinaite of Galway, IE.
This type of look is best styled as smooth, straight hair.
Murinaite's favorite thing about this style is that asymmetrical haircuts never go out of fashion. "A well-executed and designed asymmetrical haircut can certainly suit any face shape or hair texture."
A good hairdryer, hairbrush, and your favorite styling product are needed to make it look chic! However, for an extra sleek look or flip edge, you would need to use straighteners, and for a softer line look, curling tongs/wand would be a go-to tool.
Short Asymmetrical Textured Cut for Round Faces
@southsea.stylist
This short asymmetrical hairstyle for blonde hair enhances the face, complete with the side bangs that cut the width to lengthen the face. Choppy, tapered layers help give round faces some edges.
This asymmetrical cut is a futuristic textured bob that was created by colorist and hair designer Wade Bennett of Southsea, UK.
"The cutting techniques used included back cutting and freehand curving for weight removal," explains Bennett. "A moisture treatment was applied with thermal protection before straightening and dry cutting to create the desired texture."
Bennett goes onto say, "I cut the fringe and graduation freehand with the intention of creating an open and fresh look around her face. The professional products used include Potion 9, Trilliant, and Micro Fibre web."
Bennett recommends this to women with thick hair who want something easy to maintain. The cut also works well when dried with a natural wave.
Modern Long Asymmetrical Bob
@nick.hairwizard
This cut is an exaggerated asymmetrical cut through the means of multiple dry cutting techniques. It was handcrafted by hairstylist Nicholas Burns of Las Vegas, NV.
When asked, Burns' favorite part of this process was the sculpting of the hair through point cutting and dry-stroking techniques.
"Rock asymmetrical bobs," he exclaims. "Analyze your hair type and face and see if one would be possible and or flattering for you. I would adjust things like moving the weight line to decrease the angle to better fit their face as well as give them general tips on the daily styling to better achieve this same look at home."
Asymmetric Cut for Thin Hair with an Ash Blonde Color
@evolvemodernhairdressing
Creating an asymmetrical or uneven cut can make thin hair appear thicker. The deep side-part lumps all the volume to one side and can also be enhanced with layers and flyaway ends.
"This is a modern interpretation of the classic, short bob. I worked with her hair weight and texture and created an asymmetric shape. Then, I boosted her already naturally light hair with an ash blonde hue using some perfectly placed balayage," explains hairstylist Beth Vermillion of Pittsburgh, PA.
"This cut works great with medium density hair and textures ranging from straight to curly," says Vermillion. "The layering would be different depending upon the hair texture, of course."
Vermillion wrap dried the hair with a paddle brush, using only Evo's happy campers' wearable treatment for thermal protection. "Then I finished with Shebang A Bang spray wax for a flexible piecey look on her dry hair," she adds.