These 23 Short Shaggy Bob Haircuts Are The On-Trend Look Right Now
Jaw-Length Shaggy Bob
@mainpointsalon
A jaw-length shaggier bob flatters square and oblong face shapes. Parted in the center, this modern shag haircut frames and softens the face. Don't forget to jazz your hair up with texture and subtle waves if needed.
Short Shaggy Asymmetrical Bob
@nikitenko_elen_
A short shaggy asymmetrical bob has both short parts and more elongated parts. The idea is that these disconnected ends create a very edgy look with a modern touch.
Dark Brown Short Shaggy Hair
@salsalhair
A dark brown short shaggy hair is perfect for all types of textured and all kinds of lengths. The dark brown hue brings a sophisticated and elegant look to the modern haircut.
Short Shaggy Bob for Thick Hair
@hellobeyoutifulhairsalon
A short shag-like bob for thick hair is a smart way to remove bulk. A shag cut adds body with texture and dimension and is low-maintenance. Try Texture Tonic by Aveda for a lived-in style.
Short Shaggy Choppy Bob
@eblackdoeshair
Part a short shag choppy bob down the middle and pair it with long curtain bangs. It creates a style that opens up your face, accentuating the cheekbones. Finish the look with a warm balayage to complement a light skin tone.
Shaggy Bob for Wavy, Short Hair
@kz_hair_artistry
A shaggy bob for wavy, short hair works on both younger and older women. Feel free to upgrade its texture by adding a dimensional blonde hair color. Shags like this demand higher maintenance, requiring you to visit a salon every 4-6 weeks.
Short Shaggy Bob Cut
@yukistylist
A short shaggy bob cut can make fine hair appear fuller and livelier! This chop, when jazzed up with a lot of texture, results in a tousled style. To enhance the definition, finish it off with a texturizing spray.
Short Shaggy Inverted Bob
@rute_boazhair
A shaggy and short inverted bob looks best when partnered with waves because the wavy style gives the hair fullness and life. The shaggy hair cut and style are ideal on tresses with blonde highlights as the combo creates a chic dimension.
Messy Short Shaggy Bob for Older Women
@rute_boazhair
The textured waves in a shaggy short bob for older women resemble a messy, undone style with a youthful edge. This short bob that's shaggy brings hair back to life! For women with thinning locks, this style creates an illusion of greater density.
👉 See more shaggy hairstyles for older women.
Shaggy Short Bob for Round Faces
@hairbydrewhenry
The shaggy short bob cut for round faces looks great when worn with glasses. Shaggy haircuts look best with texture added to it. There's also an added fringe to break up the roundness of the face.
Ear-Length Shaggy Bob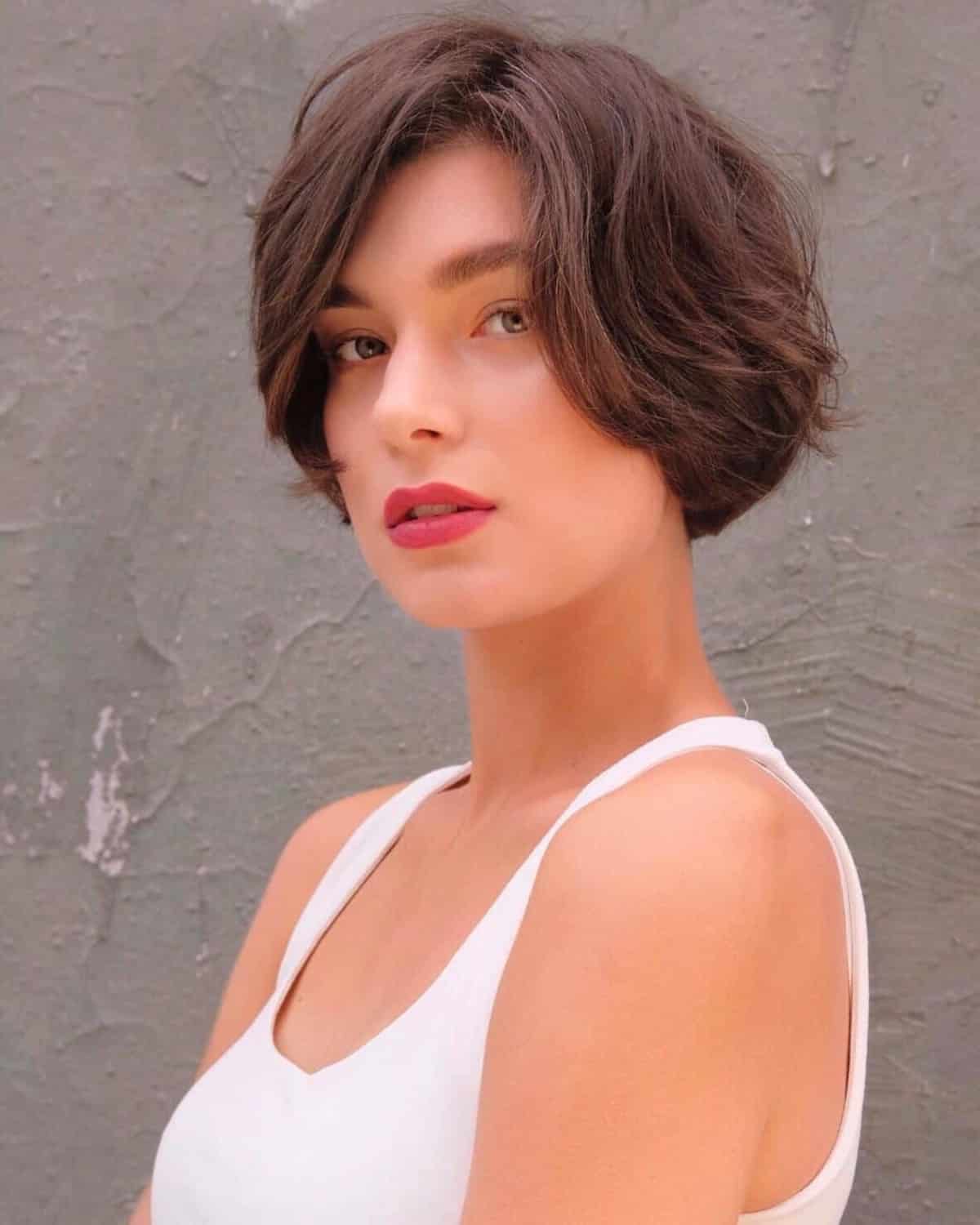 @mainpointsalon
Rock an ear-length bob that's shaggy if you want a haircut that's easy to style! This short chop with a soft wavy texture softens a square face shape and is ideal for women with thick hair.
Short Shag Bob Haircut for Fine Hair
@mainpointsalon
A short shaggy bob haircut for fine hair suits most face shapes. This shaggy hairstyle opens up the face, enhancing its features. When styling, spritz the locks with a salt spray to boost the texture.
Blonde Short Shaggy Layered Bob
@hairartbyjude
A short and shaggy layered bob adds drama to straight hair. When amped up with texture and waves, the funky style forms movement and subtle volume. To achieve a fresher edge, paint it a sandy ash blonde.
Short Layered Shag-Like Bob
@danielle.hairstylist
Add a wispy fringe to a short layered shag-like bob to enhance the grow-out process. The bangs suit the movement of a wavy shag. This short shaggy bob hairstyle is easy to mimic, which makes it great for an everyday look.
Short Curly Shaggy Bob
@celladiggshair
A short and curly shaggy bob gives curly textures more definition. Pair it with bangs to reduce the thickness of the hair while framing the face. Curls tend to get dry and frizzy, so use a moisturizer or conditioner.
👉 See more curly bob with bangs hairstyle ideas.
Shaggy Bob for Short Thin Hair
@brianaguilarhair
A shaggy bob for short, thin hair creates a flowy, effortless style. To recreate this bob, ask for subtle shaggy layers and short bangs.
Chin-Length Shaggy Bob
@thecuttingroomatrivo
A chin-length shaggy bob and beach waves are a perfect match. The wavy texture intensifies the movement of the hair. To achieve its shaggiest style, use a curling iron and hairspray.
Very Short Bob with Shaggy Layers
@janecutz
A very short bob with shaggy layers can you help hair look like it has a thicker density. It even offers a more voluminous finish with movement and texture. Like other shaggy bob haircuts, this one is ideal for thin, fine hair.
Very Short Shaggy Bob
@classiclois_hairstylist
A very short shaggy bob gives hair lots of movement and texture. Adding bangs gives it a vintage vibe. To boost its appearance, opt for this shaggy haircut if you have a naturally wavy texture.
Short Shaggy Bob Haircut
@hirohair
Pairing a short shaggy bob haircut with a middle part will look good on most face shapes. It's the perfect balance to accentuate facial features. Add waves to create a soft and modern style.
Shorter Shaggy Bob
@lily.et.les.cheveux
A shorter shaggy bob with a micro fringe parted in the center is a classic way to bring back the vintage '70s trend. The natural texture works best on wavy or curly hair.
Short Inverted Shaggy Bob
@casey.grundy.hair
A short inverted shaggy bob is ideal if you have thin, fine hair. Chic ladies who love wavy hair will enjoy wearing this. Add a few blonde pieces for a more radiant finish.
Short Shaggy Bob with Bangs
@maurilima_
A short, shaggy bob with bangs looks best when styled with tousled waves and volume. Ask your stylist if you have the correct amount of texture for a shaggy, tousled bob.