26 Easy Hairstyles for Long Straight Hair
Feathered Layers for Straight Long Hair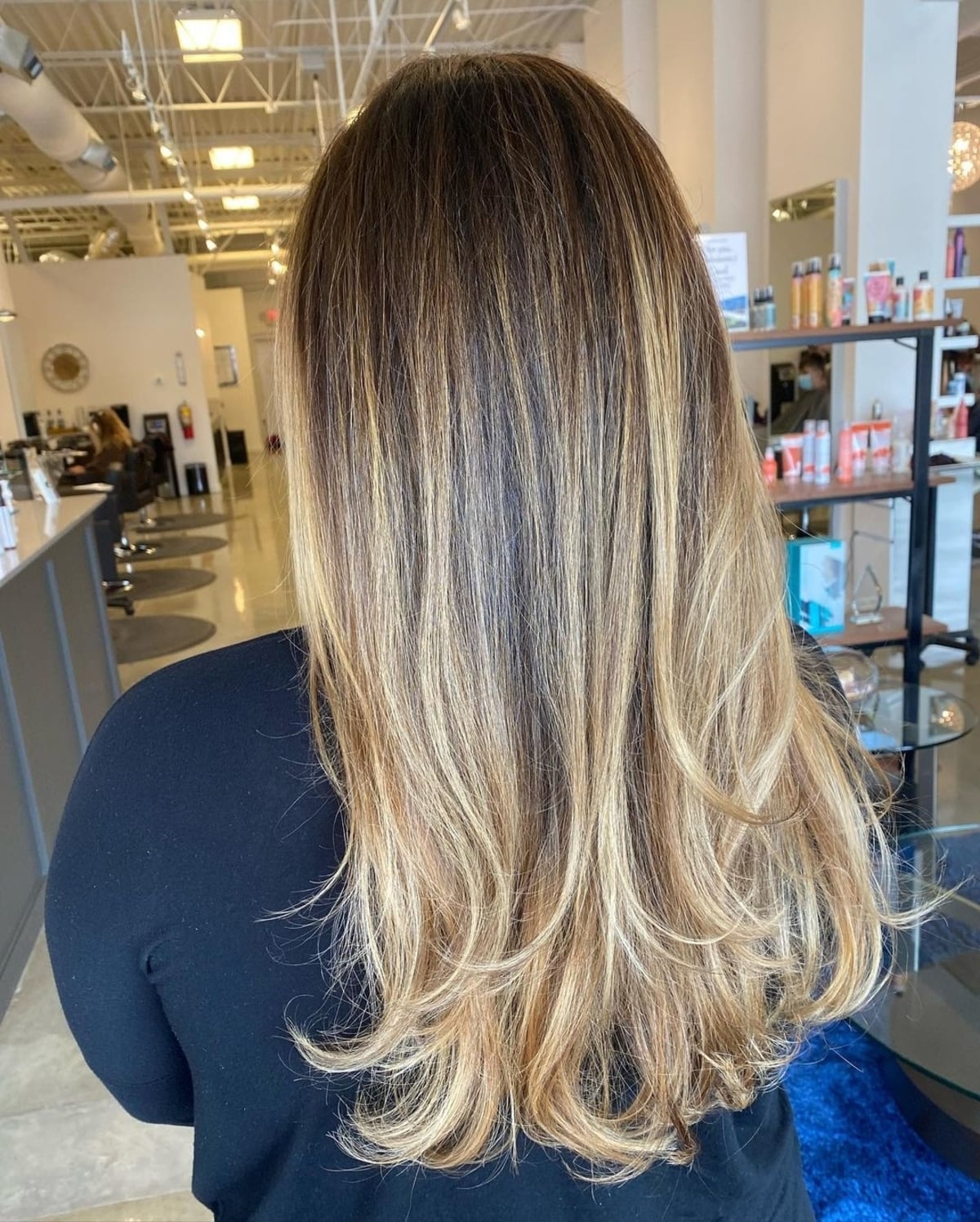 @elizjohnshair
Try feathered layers for straight long hair to enhance movement to heavier hair types. Long hair has a tendency to weigh itself down easily, but the best haircut for long straight hair layered with face-framing pieces will simply add some feather-like shape which gives flow and style to your beautiful long hair.
Stylish Long Choppy Layers with Bangs for Straight Hair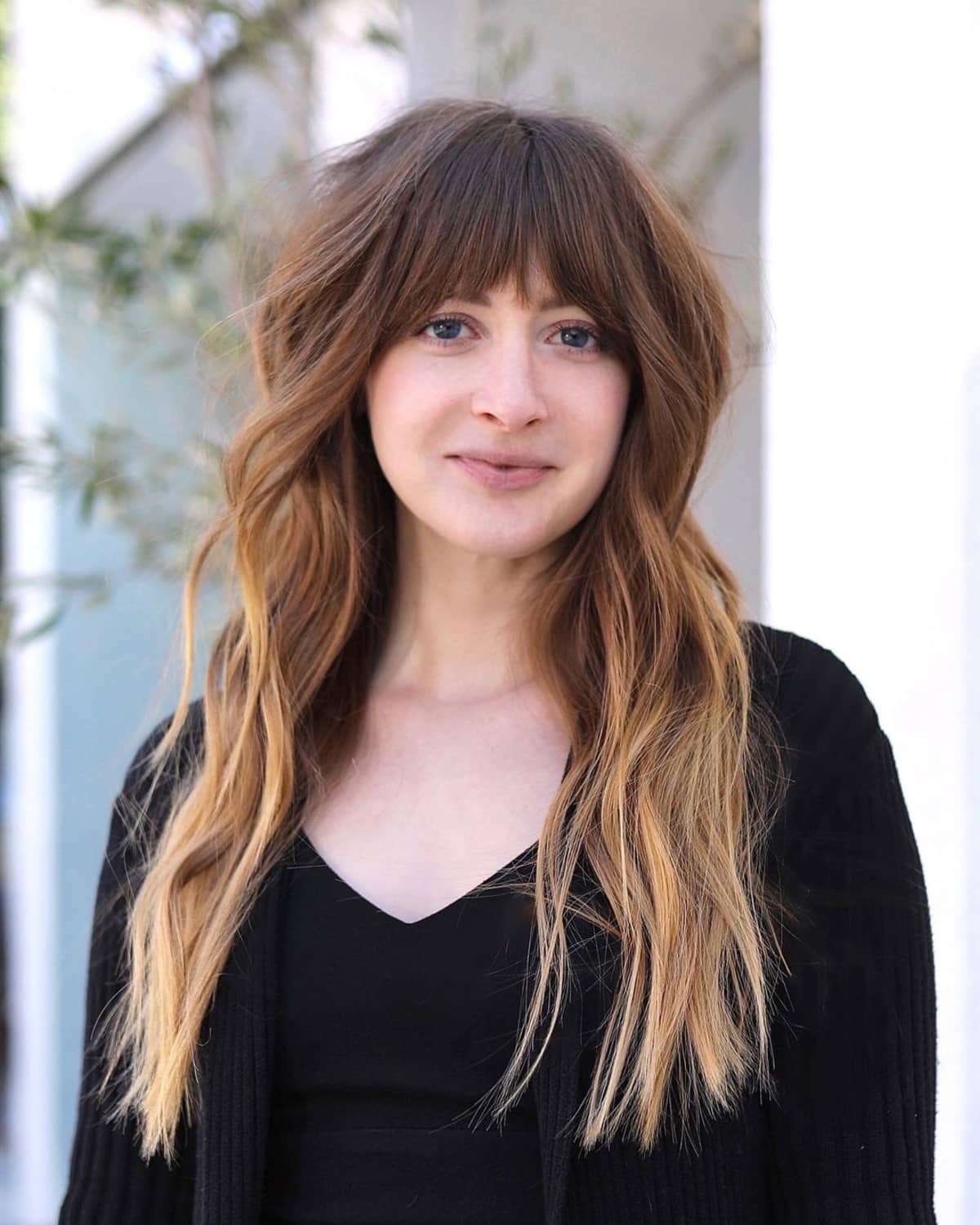 @hirohair
Stylish long choppy layers with bangs for straight hair can bring the interest of the hairstyle back to your face, which works fantastically on long face shapes. A long straight cut can benefit from a choppy layered style as it instantly draws shape back to the upper part of the hair. An extra benefit would be to add some bangs to bring life back to the face and shorten longer faces.
Modern Straight Long Bob Hairstyle
@amandaraney_hair
This is a super trendy straight hairstyle for long hair when you combine a metallic rose gold with the ever so classic lob. Hairstyles for long straight hair are so versatile that any woman can own it no matter the skin tone or face shape.
Straight Textured Layers with Blunt Bangs on Long Hair
@alimackenziehair
This fresh straight haircut for long hair with bangs complements these lengths without getting too heavy and provides just the right amount of fullness to the whole shag look. It's a perfect yet simple long cut for oval faces.
Long Layers for Women with Straight Hair
@salon_sessions
Long straight hair with long layers is a gorgeous combination. Add in bangs for better face-framing.
Longer Step Cut with Curled Ends for Straight Hair with Layers
@salonno1coiffure
Wear the very trendy sombre with long step layers with curled ends like these for a soft dimensional look. Wavy ends create more depth and enhance the ombre effect of this straight hairstyle on long hair with shorter layers.
Perfect Straightened Cut for Long Thin Hair
@drycutter_90degrees
Most of the time, it's almost perfect to just let long straight hair that's thin do its thing. Straight hairstyles for long hair work best if it's amazingly shiny, so better use the best flat iron even when you're naturally straight.
Silky Long Layered Ombre Hair
@beautybyalasia
Purple is one of the hottest among fashion color ombres right now. An ombre on straight long hair works better if you have thick hair that won't need much volume to look stunning.
Gorgeously Long Waist Length Long Cut for Straight Hair
@andreasanastasis
There's a lot going on with this wonderfully done waist-length hair with long layers, and we're loving all of them! The mixture of blonde and orange highlights perfectly placed around the face softens her sharp jawline.
Beautiful Long Hair Cut for Straight Fine Hair
@jennicanisa_
The most attractive way to wear long jet black hair is to simply have it in layers. These gorgeous subtle layers can soften angular facial features and add interest to the choppy ends.
Long Shag with a Side Part
@honeylullasalon
What's great about a long shag with a side part are the longer layers at the back and around the face. Stylist Honey Lulla of India created this cut to frame the face and add volume.
Lulla upgraded the cut with the blonde hue using the two-tone technique. She notes, "I've created two different undertones before the application of the base color."
"The highlights around the face frame it well and enhance the haircut and layers," she adds.
Blunt Cut with a Middle Part on Straight Long Hair
@igorkhonin
Try a blunt cut with a middle part on straight, long hair for a high-class style. Long straight hair tends to be dull and lifeless. By adding a middle part and smoothing the hair, the blunt cut gives a major definition.
Straight V Cut for Black Women with Long Straight Hair
@kaaatwalk
There's sleekness, healthiness, and shine in this straight haircut for long hair that was created by stylist and salon owner Kelly Walker of Virginia Beach, VA.
"Lightly style the hair off the neck and back to prevent the natural hair from reverting, meaning curling up in its natural state," adds Walker. "Also, comb and wrap the hair in a beehive at night to preserve the straight style until shampooing."
A Simple Long Straight Ponytail
@hairbytashalouisec
A simple long straight ponytail is a beautiful, classic hairstyle. A long hairstyle for straight hair like this can easily be dressed up with business attire or be dressed down for a casual day out. Either way, this ponytail on long tresses will always be trendy.
Cute Angled Cut with Long Side Bangs for Straight Hair
@kimosabi.doeshair
A cute angled cut with long side bangs for straight hair is perfect for ladies who love versatility. Created by stylist Kimberly of Florida, this long straight hairstyle is also low-maintenance.
Kimberly does most of her cuts when the tresses are still dry. "I'll do the fundamental haircut when wet, but always refine the hair after the finish. Depending on the hair type, this will include texturizing and removing weight and length," she explains.
Blonde Long Hair with Long Layers Hairstyles
@edithgonzalezhair
A blonde long hair with long layers hairstyle looks best with babylights and a money piece. Stylist Edith Gonzalez of New Mexico opted for this straight hair idea to frame the face and add radiance around it.
"I did babylights for a natural look, and so the money piece would stand out more," says Gonzalez. "The color is honestly great for anyone because of how low-maintenance it is."
Long Layering for Straight Hair
@honeylullasalon
Long layering for straight hair can create a nice face-framing effect. It suits women with an oval or round face shape, says Honey Lulla, a stylist and salon co-founder from India.
Lulla used a classic foiling technique to give this cut a blend of warm and cool tones. "These give a sun-kissed effect, adding a lot of volume and glamour to the hair. Long straight haircuts show these details beautifully," she adds.
Natural Blended Balayage on Long Straight Hair
 @kendravanderlugthair
Hairstylist Kendra Vanderlugt of Palm Beach Gardens, FL created this very natural blended brown balayage on long straight hair. "This long straight cut is very easy to maintain," she adds.
If you're looking for something low maintenance and easy to maintain and style, this long straight hairstyle is for you. Use a smoothing serum at the end to control your flyaways.
Dark Brown Long Layered Haircut with Balayage
 @ginarizzohair
This long layered haircut with balayage was created by stylist Gina Rizzo of Ridgewood, NJ. "The sides are layered and the back of the hair was cut in vertical sections," she explains. "Doing so elevated the hair to a 45-degree angle. Then, using the shortest layer as a guide, the top was cut at a 90-degree angle. The square layers on top give the hair beautiful movement."
This cut on long and straight hair is versatile and low maintenance. It looks beautiful straight, blown out with body, or curled. This cut is great for women with long hair of any texture. It's low maintenance, yet gives the hair a great style.
When it comes to styling, Rizzo says, "blow dry hair in sections with a large round brush using a smoothing blow dry cream or volumizing mousse. Exact product use will vary depending on the hair type and desired outcome."
Sleek Face Framing Long Layers with Dark Brunette Roots Style
 @thewillieboyhair
"The goal of this cut was round layers," explains cosmetologist Will Burkowske of Los Alamitos, CA. "This long haircut is fun because there are several round shapes coming together to create the overall style."
Will goes on to explain, "place a rounded perimeter to begin the cut. Then add the round layers. Finally, the face-framing layers were added and styled round, giving the overall cut another stylish element. This cut works best on women with straight, medium texture hair."
This haircut, in particular, is a great cut for long, straight tresses. The rounded elements accentuate the hair type. If you have an oval face shape, it compliments the cut.
This is a great cut for a woman who doesn't mind a little styling by creating some bend on the ends and some swooping movement back for the face framing. High Dive by R+Co is a great moisture and shine cream that gives styles like this a sleek finish.
Rooted Platinum Blonde on Long Straight Hair
@sofiaherrera702
A rooted platinum blonde on long straight hair is a beautiful style worth trying. The rooted color gives you a more lived-in style. Also, this allows for fewer appointments. This long straight hair color and cut make styling effortless.
Movement with Long Layers on Straight Hair
 @emmascissorhands
"This straight layered haircut for long hair allows you to maintain the long length of your hair at the perimeter, but still create movement with longer layers throughout the interior of the haircut," says licensed cosmetologist Emma Geiger of Minneapolis, MN.
Don't you love the face-framing that opens up the facial features and complements the face shape?
This haircut on long, straight hair would work well for women with a versatile lifestyle. You can wear this hair up, blow it out, or let it air dry. It's the perfect style for a night out, prom, work events, or even a wedding. There are many options!
For this particular style, Geiger recommends you use Aveda Smooth Infusion Style Prep and Aveda Confixor Liquid Gel "to maintain a frizz-free hold." She adds, "then use boar bristle round brushes for a round brush hard set. Once the curls cool, remove the brushes and twist out the hair to form the bouncy movement shown in the photo. Finish it off with some Air hairspray for a soft hold throughout and to control any flyaways."
Effortless Long Straight Layering
@missmelissa_hair
Effortless long straight layering hair doesn't actually need to be straightened. An effortless style on long locks can easily be achieved by blow-drying with a large round brush. This technique gives the long layered straight hair volume and flip that accentuates the layers.
Perfect Face-Framing Long Straight Hair
@igorkhonin
The perfect face-framing long straight hair is easy to achieve by adding a lighter color around the face. Long straight hair can be very sexy and elegant if given highlights and a beautiful, silky, sleek look. To style long hairstyles for women, be sure to blow-dry downward to avoid any major flyaways. Use heat protectants and a shine spray after.
Long & Straight Chocolate Brown Color Melt
@hair.love.stories
Consider a long and straight chocolate brown color melt if you're in need of richness. To style your long straight hair, try Aveda Smooth Infusion line for a sleek finish and shine.
Soft Creamy Blonde on Long Straight Hair
@hairby.breanne
Consider a soft creamy blonde on long straight hair for dimension. Long haircuts for women can suit just about any face shape. A blunt cut can create the appearance of fullness when styled straight. Spritz It's a 10 leave-in with Keratin for protection against heat damage before always styling.