Top 28 Haircuts and Hairstyles for Heart Shaped Faces
Sweet Caramel Hair for Heart-Shaped Ladies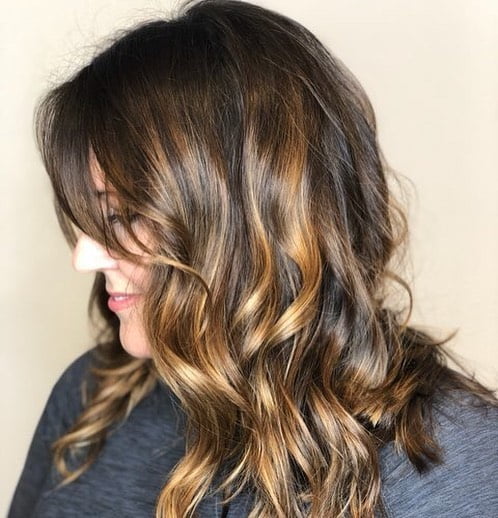 @hildabfoundrysalon
Your heart face shape needs nothing but this sweet caramel hair to boost your charm! The balayage creates a soft finish that goes well with your lock's subtle waves. With a chop that grazes the shoulders plus some side bangs, the result will be fantastic!
Layers and Long Bangs for a Heart Face
@stylinwithkat
Accentuate your cheekbones with some layers and bangs, added to your medium-length haircut. This trim will look more exciting with loose waves for movement and mahogany color for a vibrant hue.
Cute Chin Length Textured Platinum Bob for a Heart Face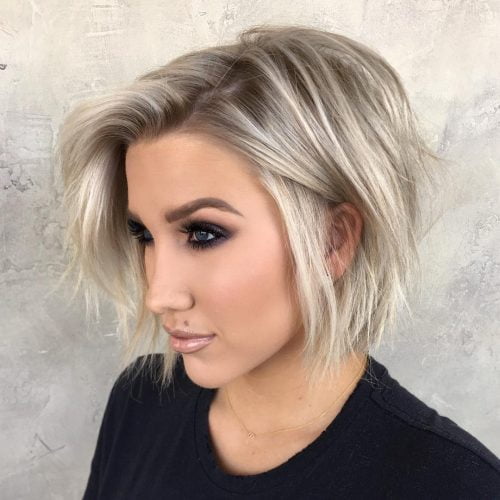 @hairby_chrissy
It's possible to have your bob textured yet soft and silky at the same time! The platinum blonde with dark natural roots on short hair will make for an easy grow-out from an effortless, low-maintenance look.
Pixie Cut With Dark Copper Red Hair for a Heart Face
@il_benessere_dei_capelli
A smart effective trick to maintain a fashion color like copper red, which is usually hard to maintain and lasts only for a short time, is to chop your hair into a long pixie cut. Now, feel free to opt for bangs that sweep to the side for an added edge. The longer side creates an illusion of an asymmetrical cut to suit a heart-shaped face.
Bouncy Short Bob for Heart-Shaped Face Women
@chrisk202
This layered bob for a heart faced woman was created by salon owner and stylist Chris Keller of Washington, DC. "It seems common to also call it a textured bob. The frame of it sits below the chin, but the long bangs sweep across just below lips to break up any solid face framing lines."
For styling, Keller recommends you blow-dry with a Denman or paddle to get dry then do half twists with a curling iron or wand. "Take a section and put the wand in midshaft. Only do one revolution, leaving out the ends for a softer more natural style."
He goes on to say, "this works for all women due to the perimeter being just below the chin or longer and that soft break of bangs between cheeks and chin. It flatters all face shapes, but works best on heart shaped face women."
Textured Shoulder Length Shag for a Heart Face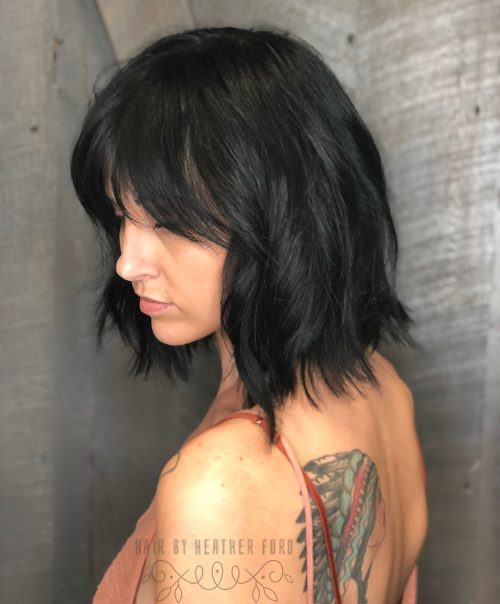 @heatherford_hair
This interior texture layer cut was handcrafted by stylist Heather of Winter Park, FL. "This cut helps to collapse weight without too much movement on the top. It's one of those flattering hairstyles for heart shaped faces," she says.
If your hair is thick and you want to create this style, Heather recommends you use Bumble & Bumble Hairdresser's Invisible Oil for primer and Bumble & Bumble Straight blow dry cream as the second layer. "Lastly, use Bumble & Bumble Brilliantine as the finishing product to add a polished but textured feel to the ends," she adds.
Long, Side Swept Hair for Heart-Shaped Face
@by_ashc
This long, side-swept hair for a heart-shaped face was created with a curling iron by stylist Ashtyn Castellon of Dallas, TX. "Don't you love the variation in technique to create different textures? It gives a polished effortless style, and the side bangs personalize the fringe trend to fit the heart face shape," explains Castellon.
Hair is personal and every trend can be tweaked to fit an individual. A side fringe brought a balance to this heart shape face, while accentuating her killer cheekbones.
Castellon says you can easily air dry your hair overnight and curl it the next morning. "In the salon, this style is achieved in 35 minutes from wet to finished. Bangs should always be blow dried, especially if you have any cowlicks that will affect the style," she adds.
A Denman brush is great for controlling fringe as you blow-dry and a round brush can create volume and more movement on the ends if desired. A curling iron with a clamp can create multiple textures for any type of style. Always pay attention to the temperature setting and keep up with your scheduled cuts to keep the integrity of your hair!
Chic Long Ash Blonde Ombre with Long Bangs for Heart Faces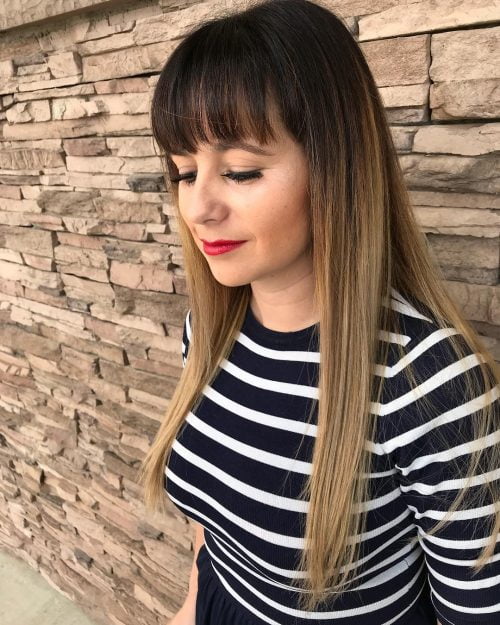 @snipsandlipsbylisette
"This is a combination of chic modern meets pinup," says hair artist Lisette Ramirez of Lancaster, CA. "The textured straight bangs make all the difference for heart and long face shape hairstyles!"
"Bangs definitely need some maintenance," says Ramirez. "Make sure that the length meets your heart face frame. If you have a heart-shaped face, consider adding a little fringe on the sides to connect with your layers. It will help soften your face and jawline. Texture spray is also your best friend. It is flexible to play with but it gives just the right amount of hold."
To keep the hair healthy and shiny, Ramirez recommends using Moroccan oil to moisture and repair. "If you have a longer forehead, maybe consider a "Zoey Deschanel" bangs which is a full bangs that you can wear straight or parted."
Jewel-Toned Queen of Heart Faces
@amyartski
"The soft, ashy tones complement the jewel-toned peekaboos to create a soft blend for heart faces," says stylist Amy Wronski of Chicago, IL.
"The side bangs are a key element to this cut," notes Wronski. "This fringe is perfect for heart-shaped faces because it starts by balancing out the widest part of the face while it can draw attention toward the eye and flattering the cheekbone. On the other hand, it softens the structures and features of a square shaped face, as well."
As for the rest of the haircut, Wrongski says the vast majority of women with medium length hair can pull off these textured layers with a beachy wave finish. "Outside of coming in for consistent bang trims and regular trims, the only thing high maintenance about this cut is the color. It can only be achieved on level 8 hair or (preferably) higher."
Don't get haircuts for a heart-shaped face like this if you're unwilling to invest a fair amount of time and money.
Choppy Lob with Grown Out Bangs for a Heart Faced Woman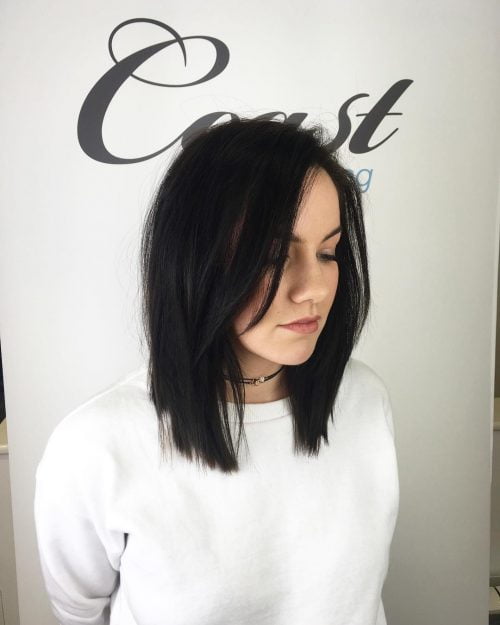 @coasthairdressing
This is a shoulder-length choppy lob cut to the decolletage with extra long, grown-out bangs. "It's perfect for a heart shape faced woman," says top stylist Ryan Pettitt of Dorset.
"This cut works best on thick hair that is simply styled with an Argan oil or EVO. Those with a more unruly mane might need a straightener," she adds.
Fringey Lob for a Sharp Heart Face
 @elenahansenhair
This face-framing, fringey lob for a sharp heart face was created by stylist Elena Hansen of Las Vegas, NV. "Go shorter and add some texture for maximum volume and movement," exclaims Hansen.
"This cut is great for thick-haired girls," she adds. "It has a lot of hidden interior layers that help push the hair up for volume and take out some weight. The ends are textured, and of course, a cool, wispy fringe was added!"
Smooth Transition Waves for a Heart Face
 @hairtherapybykari
"Check out these smooth transition waves for a heart face," says master level stylist Kari Wawrzonek of Allen, TX. "Whether it is worn with waves or straight, it's a smooth transition from dark to light. If you never wear your hair curled and it's naturally very straight, go for this blend."
Wawrzonek says to ask your stylist to take the lightening process slow and steady so you can enjoy the styles in between. "If you damage the hair, then you won't be able to enjoy it when you get to your goal."
Trust your hairdresser and the process when he/she says it will take multiple appointments to achieve the desired style.
Piecey Bob if Your Face is Heart-Shaped
 @hai.stylist
Try this piecey bob if your face is heart-shaped. It's effortless with just the right amount of flirty bounce. This particular cut was created by hairstylist Hai Tran of Wichita, KS.
"A piecey bob is a great style for fine hair that thirsts for fullness and dimension," says Tran. "Keeping the ends more tapered and no longer than chin-length helps emphasize and balance the heart face shape right at the cheekbones."
Tran suggests you try L'anza AirPaste Spray. "It is the first sprayable stylist paste and it's perfect for texture, body and definition."
Lived-In Textured Bob for Heart Faced Women
 @jayne_oscaroscarcarindale
This lived-in textured bob for heart faces was created by master stylist Jayne Pausina of Post Shop, QLD. "It's achieved by dry-cutting to create texture and movement with invisible layering techniques."
"The lob pretty much suits most women," says Pausina. "It's also a look that suits most lifestyles for women that like minimal work required to those that like to spend time on their hair. It's a great change for those who don't want to lose all their length and still love to tie their hair up."
This cut is easy to blast dry as it looks amazing when "undone", but it also styles out glamorously.
Short to Medium Textured Bob for Women with Heart Face Shapes
 @smashdyestocut
This short to medium textured bob was handcrafted by hairstylist Ashleigh Leick of Edina, MN. "It has lots of versatility that the texture brings out, whether it is styled straight or curly," says Leick.
This cut complements the shape of a heart face along with a slightly wavy natural texture.
"This modern and popular haircut worked really well with women with some natural wave to their very thick hair," explains Leick. "Add a ton of texture without jeopardizing the foundation of the haircut. If you have fine/straight hair, a similar haircut is achievable but will need to be catered to that hair type."
It's very rare that can you achieve the ever-popular curly bob style without product and some heat styling. Leick suggests you use a blowout cream for fullness, heat protection, and frizz control before blow drying. "On dry hair, use a thermal setting spray before curling for best results," she adds.
Natural Choppy Lob for a Heart Shaped Face
 @donnadondons
This is a low maintenance, textured, beachy and tousled style. It was created by hairstylist Donna Brabham of Australia. "It is very natural and versatile suits women with heart shaped faces," says Brabham.
She goes on to say, this style would suit straight to wavy hair, and if below the chin, a heart facial shape. Having it cut slightly longer at the front will create a slimming and face lengthening effect."
Classy Boho Layers for the Queen of Heart Faces
 @hair.by.beatrix
These long layers are a beautiful mix of classy and bohemian and were created by master stylist Beatrix Balog of Baltimore, MD.
"The most important step before you do a haircut is to analyze the heart shape of the face," states Balog. "This is vital in order to emphasize some features more and soften others to make the face closer to perfect proportion with the haircut."
Balog goes on to explain, "the layers have to complement each other and create a nice blending frame around the face. Overtexturizing can be a huge problem, just as much as a total blunt cut. You have to find the perfect combination. Ask for a deep point haircutting technique on your hair. They create hidden layers under the characteristic dominant layers. This is a great way to lighten heavy curly hair."
Modern Razored Edge Bob for a Heart Face
 @mane_ivysalon
This is a modern, razored edge bob for heart face shaped women. It was handcrafted by salon owner and stylist Michelle Zeller Porumb of Peoria, AZ. "The layers are all done by texturizing following the shape of the head rather than the traditionally stacked bob," she explains.
For styling, Porumb suggests you use Unite Boosta Spray for volume at the root when wet, Unite Texturiza and Beach Day when dry, and a T3 1 1/4-inch barrel iron to create effortless beach waves.
This cut is great for women who have long thick hair, but a petite shape and their hair is taking them over. It is also great for fine hair to create more body and make it look and feel thicker.
Short Hair with Blunt Bangs and a Heart Face Shape
@joyfff
Straight cut bangs on a bowl cut never looked so good! Ash gray hair really complemented this look that was perfectly done for a heart-shaped face.
Wavy Layers with Long Side-Swept Bangs for Heart Faces
@quynhair
The bangs are an exceptional addition to this look because it narrows down the width of a heart-shaped face. Let's not forget the graduated cut and the punchy hair color for the complete ensemble.
Long Straight Hair with Fringe Bangs for a Heart Face
@ashleycaloca
Wispy bangs on long locks looks so kawaii! The layering done by stylist Ashley was flawlessly executed.
Ombre Dimensions for Heart Shaped Faces
Color can be used to distribute weight and balance facial features. The darker part of this ombre technique makes the top of the head appear narrower, while the lighter part makes the bottom of the face look fuller. Plus, the warmth of the hair color suits the summer season, too!
How To Style:
1. Apply a styling product to wet hair.
2. Blow-dry with a round brush.
3. Apply thermal protection.
4. Vertically wrap sections of hair, starting at the nose level, downwards on a large barrel iron.
5. Use a flexible hold finishing spray to set the style.
Try Hold Me Tight by Paul Mitchell since it delivers a flexible hold that lasts all day.
Depending on the amount of hair colored, placement, and color contrast, this color technique will look good on any hair type. This particular style will not look good on faces that are wide at the bottom. However, it's perfect for a heart face shape.
Deep Side Part for a Heart Shaped Face
Curling just the bottom half of your hair will create fullness where heart-shaped faces needs it most.
How To Style:
1. Apply a styling product to wet hair.
2. Blow-dry with a large round brush.
3. Apply thermal protection to hair.
4. Vertically wrap the bottom half of sections of hair around a large barrel iron.
5. Finish with a flexible hold hairspray.
Try Hot Off The Press by Paul Mitchell. It gives you thermal protection and works as a hairspray. It will protect your hair from the heat of the iron and also make each curl last all day.
Unlike a heart shaped face, this style will not look good on shapes that are wider at the bottom part of their face as it will only create more width in this area.
Long Hair with a Center Part and a Heart Face Shape
@realrobsonsouza
Try long hair with a center part for a heart face shape. The center part draws interest to the center, maximizing your beauty. Long hair works best on younger women with heart-shaped faces and healthier hair strands of medium density. Lengthy hair takes some maintenance, so make sure you are willing to take the time to wash and blow out your beautiful mane.
Face-Framing Layers for a Heart Face Shape
Face-framing layers fill in the jawline area which make the chin appear less narrow.
How To Style:
1. Apply styling product to wet hair.
2. Blow-dry with a paddle brush.
3. Apply thermal protection to hair.
4. Smooth with a flat iron, making sure to bevel the face framing forward and under.
5. Apply a serum for shine.
Apply Paul Mitchell's Super Skinny Serum to wet hair for a smooth, conditioned and frizz free finish. Apply it to dry hair for more shine.
Face-framing layers make both round face and square face appear narrower and soften the jaws of a heart shape. This looks best with medium to thick hair.
Side-Parted Lob Hairstyle for a Heart-Shaped Face
A long bob softens a heart-shaped face's strong jaw line. Parted to the side, it narrows the forehead which is the widest part of this shape.
How To Style:
1. Apply a styling product to wet hair.
2. Blow-dry with a brush.
3. Apply thermal protection to the hair.
4. Smooth with a flat iron.
5. Apply a serum for shine.
For a high-shine finish, try Paul Mitchell's Gloss Drops.
Shoulder-Length Flip for the Queen of Heart Shaped Faces
This shoulder length style is perfect for heart-shaped faces. It has enough length to be used as face framing to add fullness to the jaw area. The flips on the ends add even more needed fullness to the bottom of the face and the side part makes the forehead appear less wide.
How To Style:
1. Apply a styling product to wet hair.
2. Blow-dry with a large round brush, flipping the ends out.
3. Use a flexible hold hairspray to set the style.
Fast Form by Paul Mitchell is a cream gel that will help sculpt your hair to the shape of your round brush.
This style could add unnecessary fullness to the bottom of the face for shapes that are bottom heavy. Triangular shaped faces should avoid this style. Heart faces are perfect candidates.
Queen of Heart Face Shapes
For a special occasion, this look is sure to turn some heads with soft curls that are loosely pinned up. The side-swept bangs narrow the top of the head and emphasize the eyes and the cheekbones. The tendrils will help soften angles on the bottom of the face.
How To Style:
1. After applying thermal protection, curl second-day hair with a large barrel iron.
2. Divide hair into four sections: top, both sides and back.
3. Ponytail the back.
4. Pin curls from the ponytail up around the base of the ponytail.
5. Lightly backcomb the top section.
6. Pin curls from the top section back.
7. Leaving a few pieces out, loosely pull the curls from the side back and secure them with pins.
8. When you are happy with the shape, secure it with a firm hold hairspray.
Extra-Body Finishing Spray by Paul Mitchell will keep your style in place all day and also give it a flake-free, shiny finish.
It will work best with medium to high density hair that is medium to long in length.